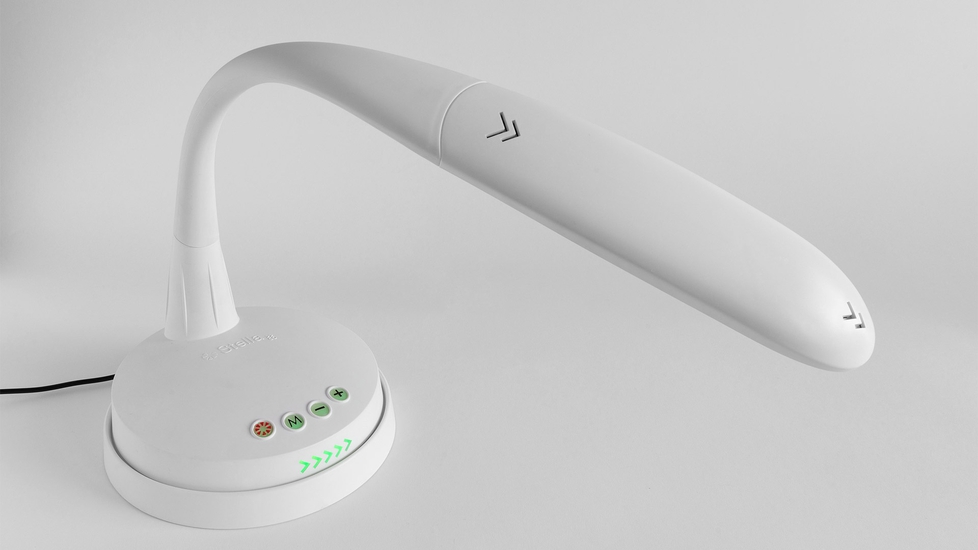 Stella Lighting Wireless LED Task Lamp
Bought by 1 Microsoft employee
FREE shipping Mar 28 - Mar 30. FREE 30-day returns.
Sold and shipped by Stella Lighting. Visit our store
Stella Lighting Wireless LED Task Lamp at a glance.
Portable battery powered LED lamp, with enough power for 11 hours on a single charge. Choose warm, natural, or cool light thanks to tri-spectrum technology and 10 levels of brightness.
• Portable LED lamp
• Low wattage consumption
• Minimal heat & no UV emitted
• No bulb replacement
• Qi-certified charging pad
• 2-year warranty
Deep dive into specs
Stella GO Portable LED Lamp – Keep your workstation illuminated
Modern wireless desk lamps come in different sizes and designs, but not all of them compile as many functional characteristics as the Stella GO Portable LED lamp does. You don't have to keep looking for office lighting ideas – this lamp has about everything you ever need to keep your workstation appropriately illuminated. Good illumination is associated with productivity and efficiency boosts. Thus, making sure that your desk has good lighting can make a difference in your everyday life. It is an essential part of a room's ergonomics. The Stella GO wireless desk lamp has become one of many people's preferred options for lighting. What is it exactly that makes this lamp so special? Let's find out why this wireless LED table lamp can be perfect for you.
Benefits & Advantages of a Portable LED Lamp
Stella GO Portable LED Lamp is one of the best lighting solutions available in the market at the moment. Stella GO Portable LED Lamp, stylized as "Stella»GO" by the company, is one of the best lightings found within the Stella catalog. It comes with several advantages that make it quite versatile and useful for any purpose.
1. Take it anywhere & Use it all day: While office floor lamps need to be in a specific area most of the time due to their size, a wireless charging LED desk lamp is the opposite. You can take it pretty much anywhere you go without problems. It doesn't consume too much space but illuminates your whole work area, allowing you to see all your peripherals clearly. This LED task light has a battery life of 11 hours. It will function for the same amount of time, even at the highest brightness levels.
2. Choose between three light temperatures & Modify the brightness levels:If you'd like to bring a different atmosphere to your room from time to time, you can be sure that you will be able to do so thanks to the Stella GO Portable LED Lamp. You can choose between three temperature options, warm, natural and cool. Set the option you prefer and start working comfortably. Not all lamps allow you to modify the brightness levels as you find it more convenient. However, this wireless LED table lamp allows you to choose between 10 brightness levels based on your preferences. All you need to do is click the "+" button to modify it to what you prefer at the moment. Modifying the brightness levels will not cause the lamp to produce more heat nor UV radiation.
3. Compatible with wireless charging: As a portable LED table lamp, you need to recharge it for it to function continuously without problems. This device is Qi-certified and comes with a wireless charging pad. Besides that, it also includes a three-prong charger, which means that you can charge devices compatible with USB, USB-C and Lightning connections.
Key considerations when buying wireless charging led desk lamps
The Stella GO portable lamp can be useful in diverse situations. Many people rely on this lamp to be their main source of lighting during their work sessions. However, this lamp can be useful in different scenarios. You can use it as a night light in your bedroom or as a reading companion pretty much anywhere, for instance. The Qi-certified wireless charging pad will allow you to continue using it without needing cords. You can now keep your office desk as clean as possible. It doesn't emit UV and produces very minimal heat. On the other hand, incandescent light bulbs are prone to overheating and use way more power than they need. If you want to make your workstation a wire-free place, adding this portable LED table lamp to your layout can be the best thing you can do. You will be able to keep your workstation appropriately illuminated while avoiding problems like eye strain.
About Stella
Stella is a company dedicated to the production of innovative lighting solutions. It was first established in 2014, and since then, they have added tons of useful and stylish products to their catalog. The mission of the company implies reducing the risk of developing sight problems and eye disease. These products have become widely popular due to their excellent quality. The brand continues improving its technology and is continually adding new and innovative illumination sources to its list.
FAQs
Don't see the answer to your question?
When does my warranty start?
Your warranty is only valid when the product has been registered with the serial number from the box and known place of purchase, via
Stella Lighting website
.
Why do I need 3 color temperature modes? What are they each for?
Color temperature modes can be used to match the ambiance and level of light needed for the time of day and the type of space. Try all three to decide which one suits your needs best.
What will happen if I do not register the warranty right after purchasing?
You can register anytime before the warranty period expires (based on purchase date).
What makes Stella Lighting products better than other task lighting products on the market?
LED technology is more efficient, less power hungry, more adjustable, and doesn't require bulb changes. Plus, Stella comes with a repair and replacement warranty.
What do the different buttons on my lamp base do?
The "sun" button turns the lamp on and off, the up and down arrows change the dimming level, and the "M" button selects the color temperature mode (warm white, natural white or cool white).
When I plug my lamp in it flashes once then turns off, is there a short?
That flash is a good thing, and is a part of the normal lamp operation. It tells us that the LED's are functioning and the lamp has power.
When plugging the connector into the back of the lamp it seems to stick out a little or is loose.
A small amount of the metal of the plug will often be visible after the lamp is plugged in. This is perfectly safe and does not interfere with the lamp's function. If, however, your plug doesn't stay in place, please contact us for warranty or repair service.
If I need to ship the light back, what sort of packaging do I need?
We ask that you ship the light back in its original box. If you no longer have the retail box, please package the light in an appropriately sized box and include all accessories, such as power supply, remote, and warranty card and ensure that there is adequate packing material to protect the lamp.