Royal Kludge Redragon K617 Fizz 60% Wired RGB Gaming Keyboard
- Royal Kludge Redragon K617 Gaming Keyboard
$42
Kostenloser & flexibler Versand
GroßbestellungSparen Sie bis zu 

4%
Color: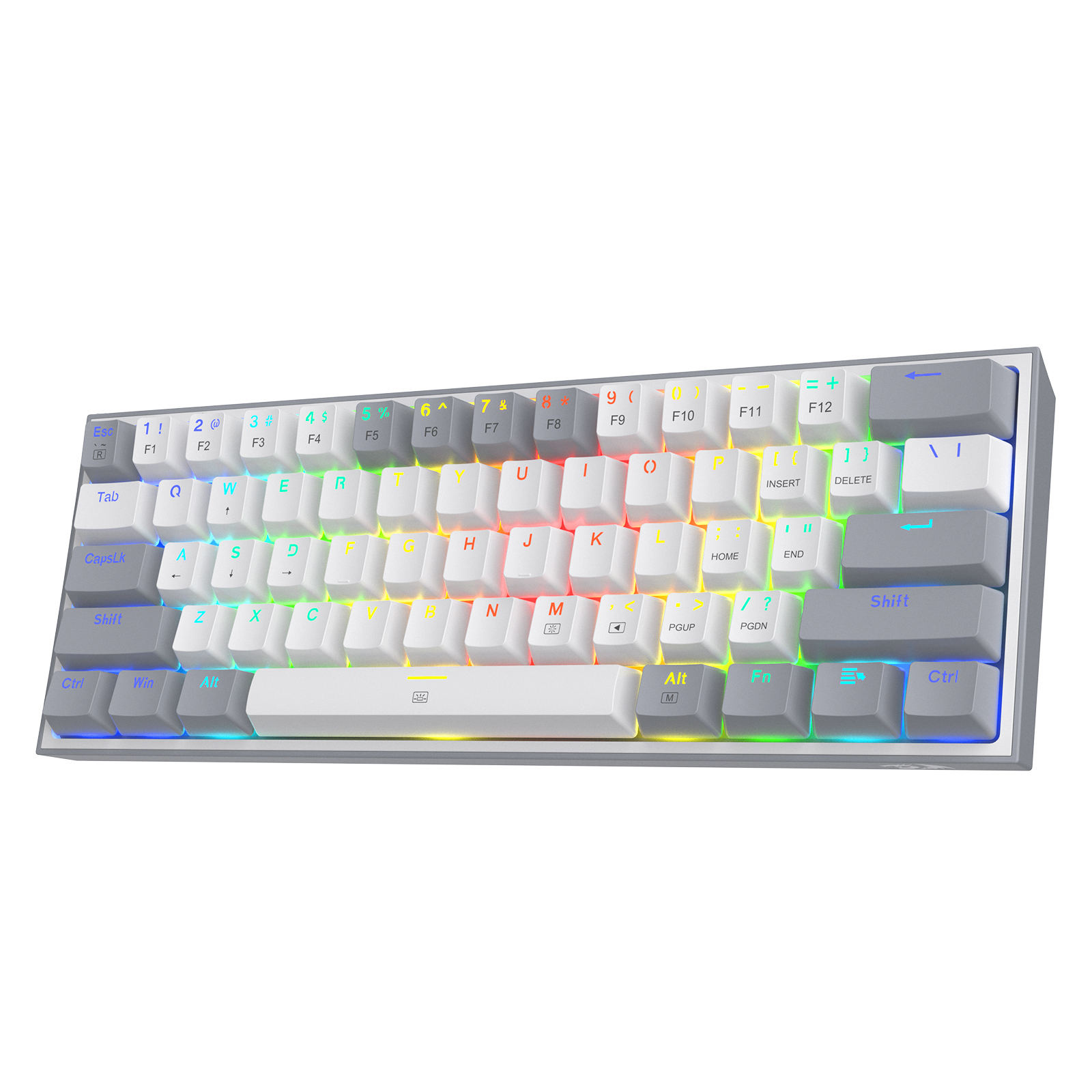 Not available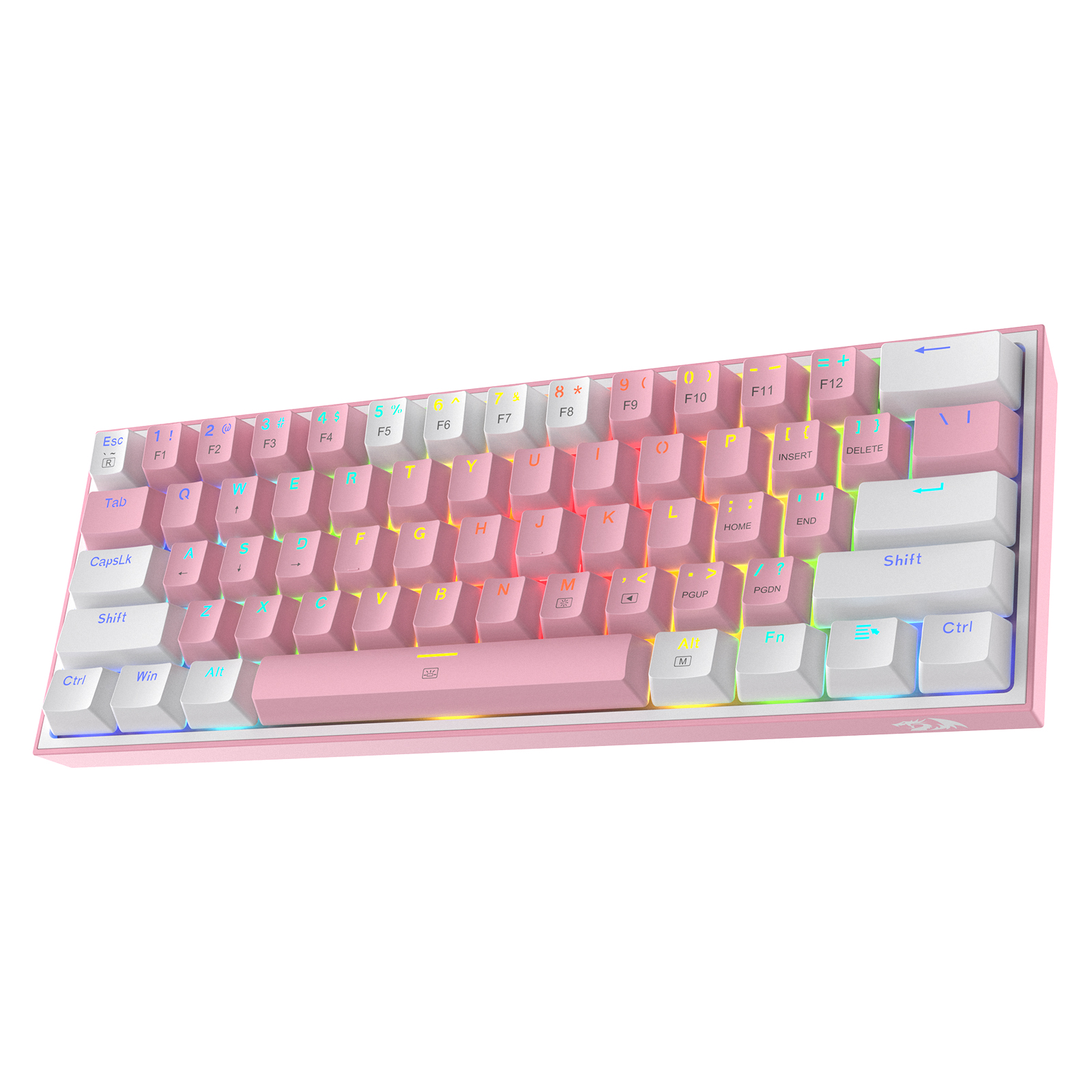 Not available
Mich benachrichtigen, wenn dieser Artikel verfügbar ist
Geben Sie unten Ihre E-Mail-Adresse ein. Wir informieren Sie, wenn es wieder vorrätig ist.
Verkauft und versandt von Royal Kludge

Price Match Guarantee
• 61 Keys • RGB Backlit • Pro Software Supported • Type C Connecting • Hot-swappable Red Switch • Slim and Compact
• 1-year warranty
Slim Fresh K617: Redragon's new 60% layout wired keyboard in a refreshing style with a no-brainer deal economic offer. Compact 61 keys with selected keycaps, dedicated for FPS Gamers and efficient working. Hot-Swappable Red Switches: Most quiet mechanical switch, linear and soft key travel makes every click easy to register. Hot-swappable with other Redragon switches. Made to last with switches rated for 50 million keypresses. Vibrant RGB: Up to 20 presets backlighting modes are free to choose by the keyboard itself. Brightness and flowing speed is also adjustable on board. Select your own preferred modes for any playing. Pro Software Customizable: Expand your options using the available software to design your own new modes and effects found on redragonshop. Macros with different keybindings or shortcuts for more efficient work and gaming. Dedicated for FPS Gamer: Place the keyboard proper straight on your desktop and no more crooked ways for mouse space-saving, your mouse will never hit the keyboard anymore. Enjoy waving the mouse without any worries and go get that Team Kills.
Tief in die Spezifikationen eintauchen
Merkmale
Spezifikationen
FAQs
RGB keyboards are a specialized kind of LED backlit keyboard that can produce whatever color you want by simultaneously projecting different combinations of red, green, and blue light, much like a TV. In order to personalize your keyboard experience, RGB keyboard software allows you to assign custom colors to individual keys or to assign colors to certain sequences. You may even sync the keyboard's illumination with the status of certain programs, in-game events, or your computer's actual processing power. In the beginning, RGB gaming keyboards, like a Redragon K617 Fizz 60, were popular as add-ons for high-end PC gaming setups, it is simply one of the best-wired gaming keyboards and must-have computer accessories for your setup.
What is an RGB gaming Keyboard?
Before we get into what an RGB keyboard is, let's define what it isn't. This isn't only a backlit keyboard in which the individual keys' labels are lit up. Not only does this keyboard not have the ability to assign custom colors to each set of keys, but it is also not a multi-color keyboard. We recommend Redragon K617 Fizz 60. With an RGB keyboard, like a Redragon K617 Fizz 60, you may assign any of the over 16 million colors available on the RGB color wheel to each individual key or too many keys at once. Because of this, RGB keyboards are a huge, colorful upgrade over traditional backlit keyboards or keyboards that only show a limited palette of colors. Visit Autonomous and learn more about must-have desk accessories. The best wired gaming keyboard, like a Redragon K617 Fizz 60 is a specialized kind of backlit keyboard that uses LEDs to display arbitrary color mixtures by simultaneously emitting red, green, and blue light. At first, the RGB gaming keyboard was a popular peripheral for high-end PC gaming setups at home.
Why Should You Get a Redragon K617 - RGB Gaming Keyboard?
If you're a gamer, you know that an RGB gaming keyboard makes it easier to find the WASD keys so you can press them more efficiently. Still, there's more to an RGB gaming keyboard than just navigating the game world. There are various options available on the RGB keyboard. There are some that are useful and others that are only for looks. To begin with, the WASD keys are easy to find on an RGB keyboard, allowing you to make full advantage of the North, South, East, and West keystroke directions.
Slender and Refreshing Redragon K617 - Switches, Red, Hot-Swappable
The new 60% layout Redragon gaming keyboard is a breath of fresh air and a great value in every gaming setup. Miniature keyboard with 61 carefully chosen keys, optimized for first-person shooter gaming and productive work. With Redragon gaming keyboard linear and gentle key travel, the world's quietest mechanical switch makes it simple to discern each and every click. Compatible with other Redragon switches in a hot swap. 50 million key presses rating on the switches means it will survive a long time.
Intensely Colored RGB - Modified Expert Software
The Redragon K617 keyboard's backlighting may be customized in up to 20 different ways. On board, you may alter the brightness and the rate of flow. To play, choose the settings that you like using the most. Make use of the tools provided by Redragon shop to create completely new settings and effects. The ability to program your own shortcuts and keybindings into macros to speed up your work and gameplay. If you put the keyboard in a straight line on your desk instead of tilting it to save desk space, the mouse will stop accidentally clicking on it. Let your problems melt away as you carelessly wave the mouse and rack up the Team Kills.