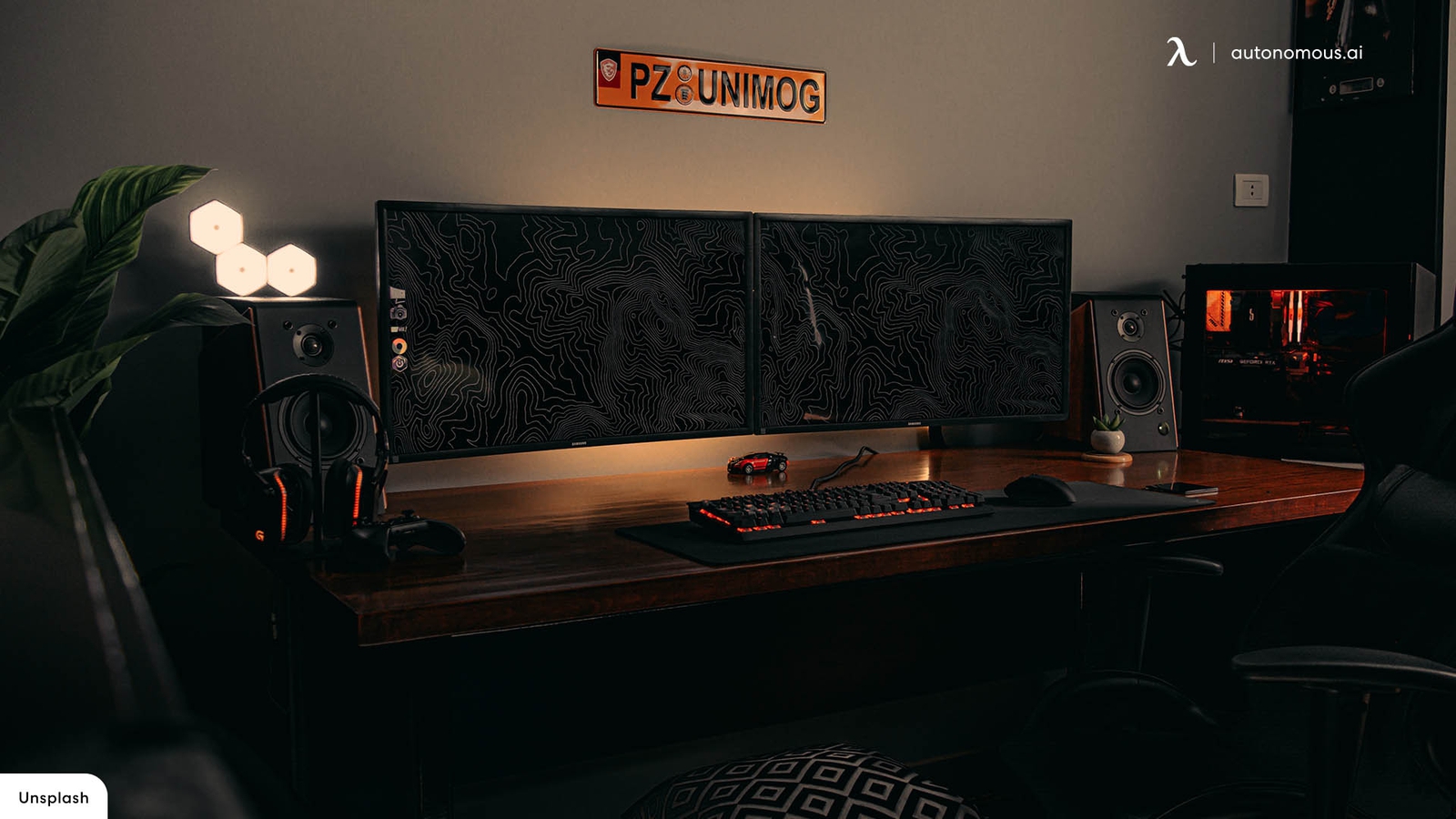 Workplace Inspiration
A Guide to Building a Pro Gaming PC & Inspiring Gaming Setup Ideas

Jake Wilson
|
Jan 27, 2022
20,120 Views
The phrase it's just a game is a cardinal sin in the gaming world, especially at the pro level. Amateur gamers across the globe tune in to watch their online gaming heroes stream gameplay on YouTube and other social media platforms to improve their skills, learn some tips and tricks, or be impressed. Something else the gamer vlog trend does is provide insight into how these professional experts organize their PC gaming setup.
You may think that being the best is all down to skill, but the equipment and environment you use play a significant role. 
In this ultimate guide to a pro gaming PC setup, we look at what makes all this stuff important, what exactly you need, and the best way to put it all together to up your game. Our nine-step guide to a professional gaming desk setup makes it easy to plan your playing space to perfection. 
Essential Pro Gamer Equipment
Before we launch into our detailed guide of pro gaming PC setup, here is a quick summary of what you need for the complete look and function of a professional gaming setup idea: 
A good quality desk
Ergonomic gaming chair
Powerful PC
High-quality monitor or monitors
A compatible keyboard
Responsive mouse and mousepad
Headset with acute sound and microphone
Speakers
Lighting
Other gaming accessories that suit your style and personality 
Please note that we are not talking about consoles in this guide. The PC gaming setup we are suggesting works with any type of gaming, regardless of what you play or what you play it on. 
Building a Pro Gaming PC: 5 Steps for Optimal Performance
Building a professional gaming PC is an exciting endeavor that allows gamers to optimize their gaming experience and unlock the true potential of their favorite titles. However, the process can be daunting for those who are unfamiliar with the intricacies of PC hardware. In this article, we will guide you through the essential steps to build a PC gaming setup, ensuring you have the necessary knowledge to create a high-performance gaming rig.
Step 1: Define Your Budget and Requirements
The first step in building a pro gaming PC is to determine your budget and gaming requirements. Set a realistic budget, considering the cost of quality components. Identify the types of games you intend to play and the desired resolution and graphics settings. This will help you allocate your budget efficiently and ensure you select the right hardware components to meet your gaming needs.
Step 2: Research and Choose the Right Components
Research is crucial when it comes to selecting the components for your gaming PC. Pay close attention to the processor (CPU), graphics card (GPU), memory (RAM), storage, power supply, and motherboard. Look for components that offer high performance and compatibility with your chosen games and software.
Consider the latest generation of CPUs and GPUs, as they often provide significant performance gains. Determine whether you prefer an Intel or AMD processor and choose a graphics card that can handle your desired game settings. Opt for a minimum of 16GB RAM, ensuring smooth multitasking and future-proofing your system.
Step 3: Assemble Your Gaming PC
Assembling a gaming PC may seem intimidating, but it's a rewarding process that allows you to customize your rig. Start by preparing a clean and static-free workspace. Refer to the manuals and guides provided with each component to understand how they fit together.
Begin by installing the CPU onto the motherboard, applying thermal paste if necessary. Install the RAM modules and connect the motherboard to the power supply. Mount the storage devices, such as solid-state drives (SSDs) or hard disk drives (HDDs), and connect them to the motherboard using the appropriate cables.
Next, install the graphics card into the PCIe slot and connect it to the power supply. Attach the necessary cooling solutions, such as fans or liquid coolers, to ensure optimal temperature control. Double-check all connections to ensure everything is properly secured.
Step 4: Install the Operating System and Drivers
Once your hardware is assembled, it's time to install the operating system (OS) and essential drivers. Create a bootable USB drive with the OS of your choice, such as Windows or Linux. Follow the installation instructions and customize the settings according to your preferences.
After the OS installation, install the latest drivers for your components. Visit the manufacturers' websites to download the most recent drivers for your GPU, motherboard, and other peripherals. Updated drivers enhance performance, stability, and compatibility, ensuring your gaming PC operates at its full potential.
Step 5: Optimize and Personalize Your System
To optimize your gaming experience, tweak system settings and install useful software. Adjust graphics settings within games to achieve the perfect balance between performance and visual quality. Consider installing monitoring software to keep an eye on temperatures and system performance.
Personalize your PC by customizing the desktop background, installing game launchers, and configuring peripherals. Take advantage of gaming-centric software, such as overclocking utilities, that can boost your system's performance when necessary.
10 Best Ideas to Decorate Your PC Gaming Setup
Here are our best gaming setup ideas and styles for your gaming desk and gaming rooms. You can use them to create a futuristic gaming setup and add an element of excitement to your gaming room. 
1. Decorate Your Backdrop with Enticing Posters
What is a gaming room without posters? Dull and boring. It is the enticing posters that make your gaming room look classy and attractive, even if you are a fan of minimalism. You may think of framing your favorite superhero posters or the posters of video games that you love. Putting these framed posters symmetrically on your backdrop can add an aesthetic and artistic touch to your gaming room.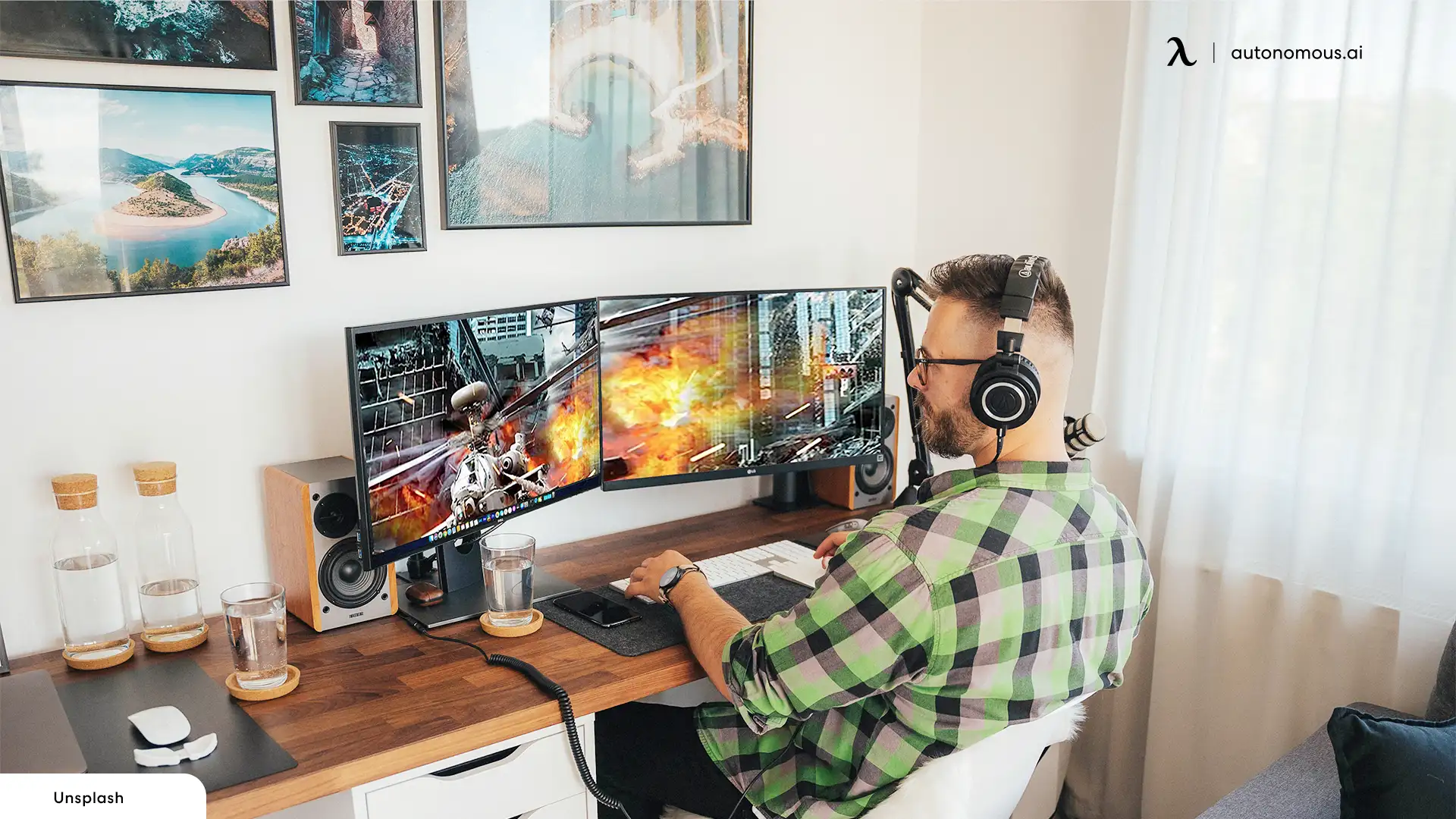 2. Put Around Nanoleaf Aurora Light Panels on Walls
Have you seen the Nanoleaf Aurora light panels? These light panels are put up on walls like posters. The exciting thing about Aurora lights is that they are available in various polygonal shapes, so you can choose the one you find aesthetically pleasing. The best part is that you can put up these unique shaped light panels in any pattern that you like. So, Aurora Nanoleaf lights kick your artistic side and let you get creative with your gaming room design.
3. Use Uniquely Patterned Acoustic Panels
Acoustic panels are something that carries great importance in a gaming room. Being a gamer yourself, you would have realized that your sound system echoes in your entire room, and the sound quality deteriorates. This is often because sound waves get reflected from walls and echo. The acoustic panels help you avoid that and have a crispier sound effect. To ensure that you get a little artsy with acoustic panels as well, you should go for a unique patterned acoustic panel.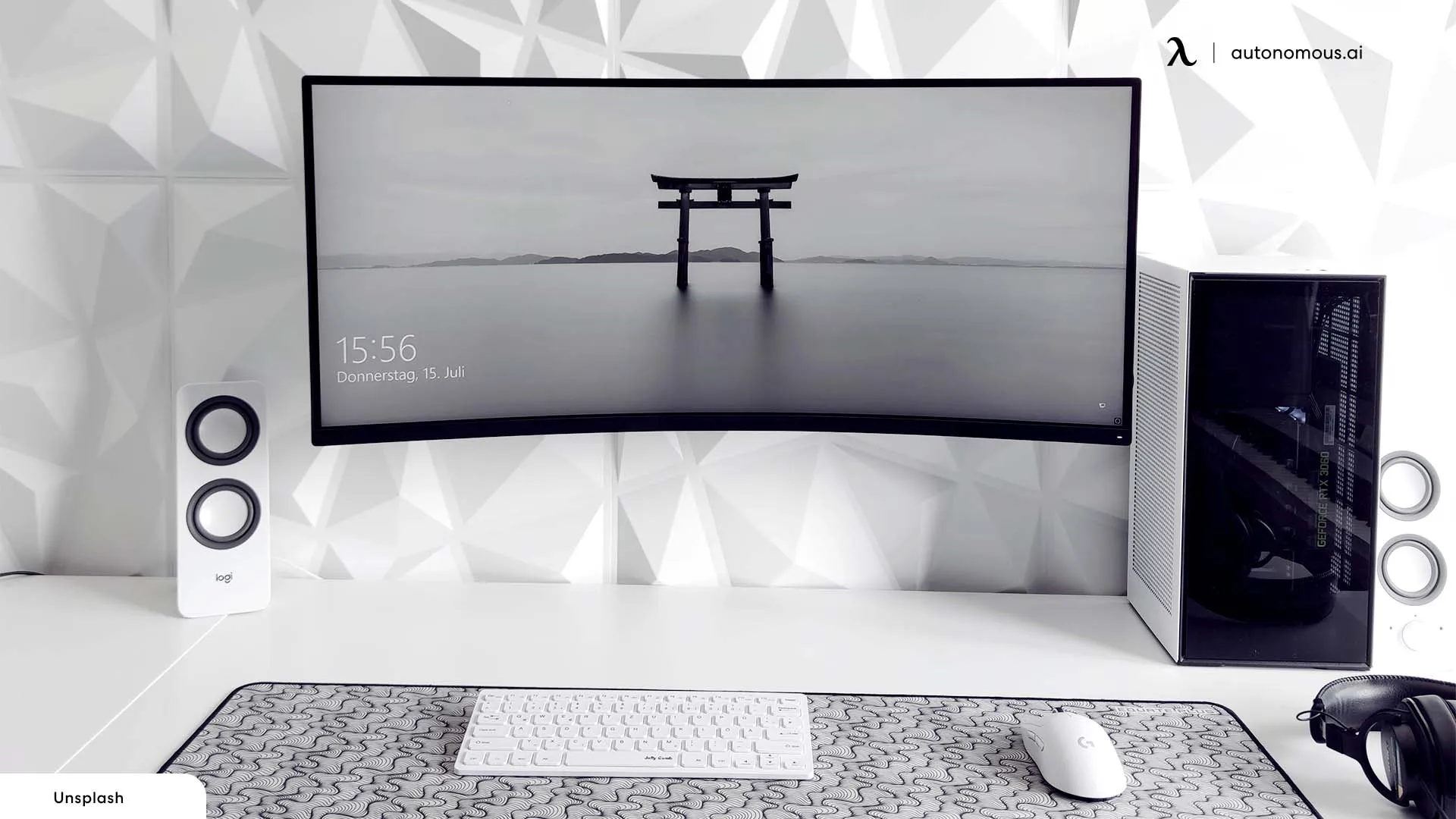 4. Create a Combo of Nature and Neon
Putting up neon lights in the gaming room has become the latest fad but coupling it with a vertical garden is something unique. You can think of putting up some neon light bars on your gaming room walls and couple them with indoor hanging plants. If you love nature a lot, you may even think of having a vertical garden to enhance the element of nature in your gaming room.
5. Design A hobbyist Gaming Room Setup
Hobbyists love placing their collections around their gaming room, and this is the fact that makes their room look unique. You can do that too by installing a few floating shelves in your room and placing your favorite falcons, Star Wars décor, and Lego fighters on them. To add an extra artsy touch to your cool gaming setup, you can think of putting a few LED strips around them too.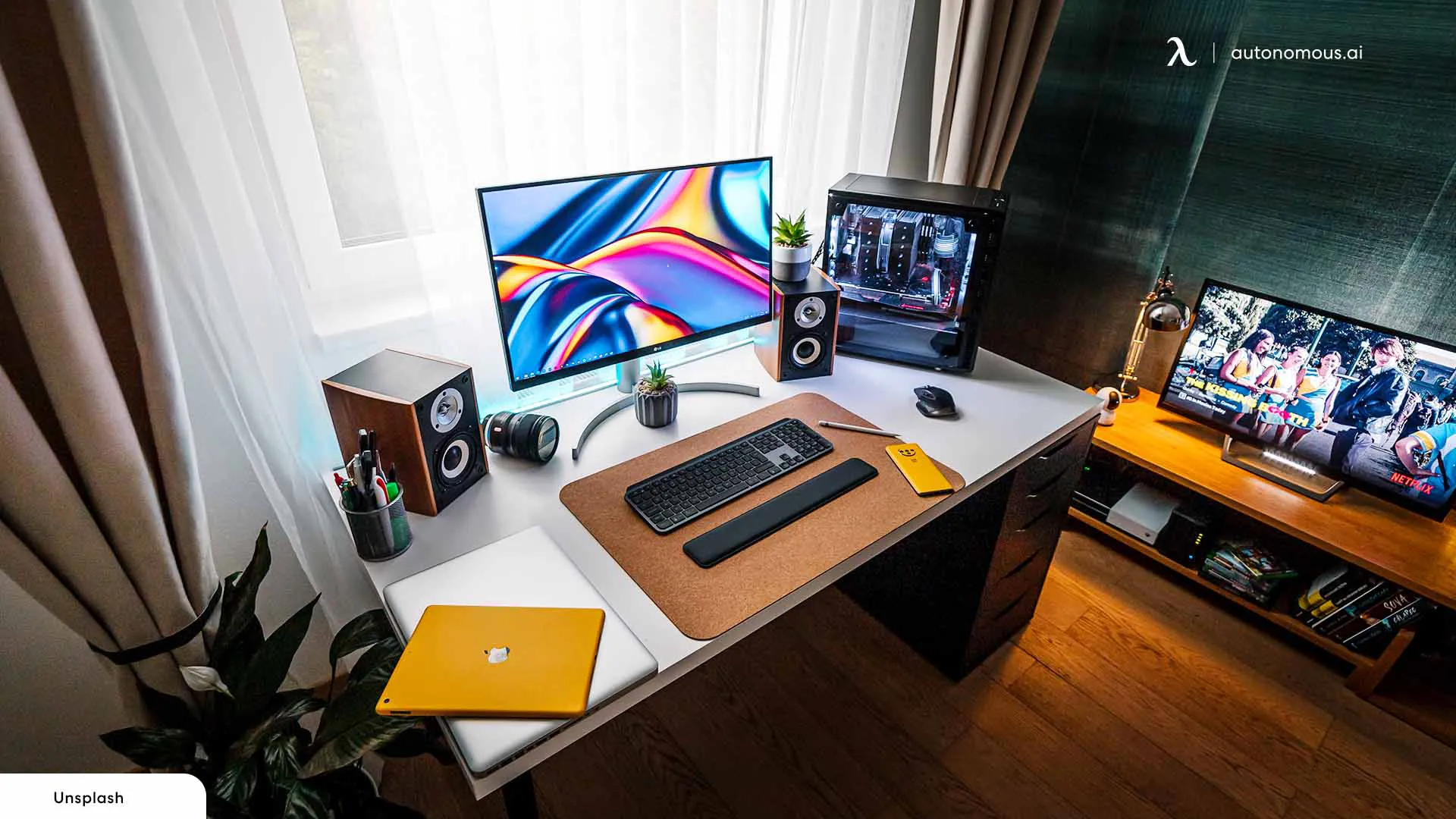 6. Get Some Cool Peripheries for Your Gaming Desk Setup
Getting cool computer gadgets and peripheries is one way of redesigning your gaming desk setup. Think of getting an LED-lit mouse and a split mechanical keyboard to create a more futuristic gaming setup. In addition, a widescreen monitor would look great for your gaming setup too. Such additions will not only make your gaming room look more aesthetic but will also enhance your gaming experience.
7. Upgrade Your PC Towers to The Modern LED-lit Gaming PCs
Nowadays, modern PC gamers are reinventing their PC towers by adding cool LED-lit CPU cooling fans. Such lit PC towers are known for adding a unique touch to your gaming PC setup, so doing this reinvention will never disappoint you. What previously looked like a big box relaxing on your gaming desk will now look like an innovative and artistic reinvention. 
8. Bring a Pair of Speakers for Your Gaming Setup
Having top-notch sound effects is something that every gamer desires. A gaming desk setup will be incomplete if you do not ensure that you have a well-maintained sound system. So, to ensure that you do have one, you should invest in a pair of speakers and place them on some speaker stands on your desk to add a unique and stylish look.
9. Use LED Lights to Add a Backlit Effect Around Your Gaming Room Accessories
Adding a backlit effect is one of the coolest gaming setup ideas that you can adopt. What you can do is place an LED strip underneath the edges of your desk or behind your monitor. Doing so will add a backlighting effect to your gaming furniture and accessories and enhance their looks. Gamers usually use blue LED strip lights; however, you may think of choosing some other bright color too.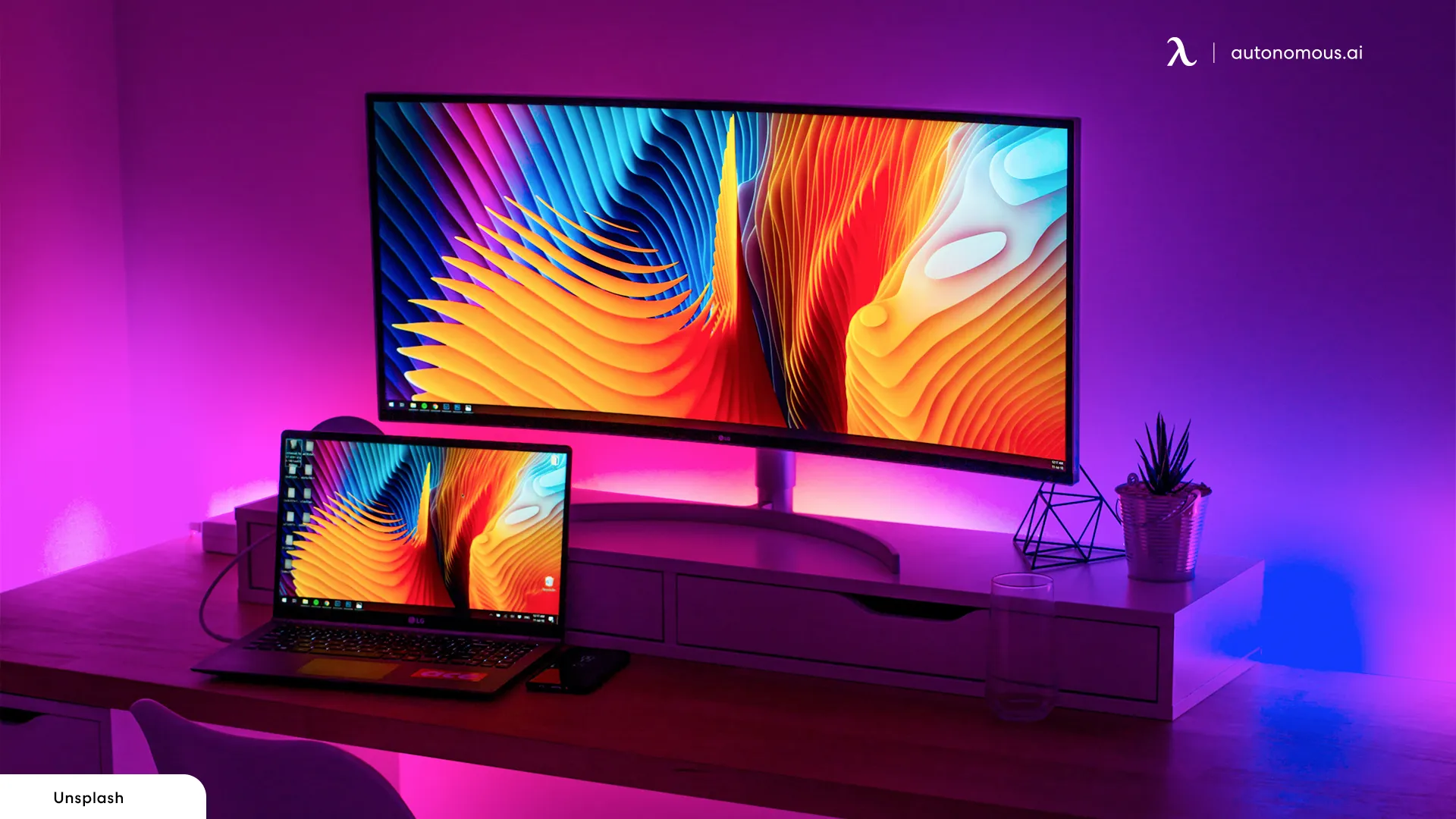 10. Don't Forget to Invest In Ergonomic Gaming Furniture
Your gaming chair is above everything that you add to your gaming setup, so ensure that you choose it wisely. The dream gaming setups are all about comfort, aesthetics, and ergonomics. We dealt with the aesthetics part in our other gaming setup ideas; what's left is the gaming furniture. So, ensure that you have the most comfortable gaming chair that looks aesthetically pleasing as well.
Importance of Ergonomics to Gamers
It doesn't matter if you have a pink girly gaming setup or an RGB gaming setup. It is important for you to look after the ergonomics of the whole setup to make sure that you'll feel comfortable during each gaming session.
Without proper ergonomics, you'll be prone to feeling discomfort and pain in areas like the lower back and wrists. A monitor with an improper height may cause neck pain as you'll have to flex it to be able to see the screen properly.
Every item you have in your pro gaming PC setup should provide harmony for the whole room. This way, you'll feel more comfortable, and it will be easier for you to concentrate on the tasks at hand. After all, gaming and office work have tons of similarities, especially when it comes to being seated for prolonged periods.
How to Place Gaming Accessories Ergonomically
1.  Keyboard
Keep your keyboard about two or three inches above your knees. If possible, try to find a desk or an external keyboard tray that allows you to keep it in the appropriate position at all times in your cool gaming setup. Furthermore, make sure that you choose a keyboard that has soft keys that don't require too much effort to press.
A wrist rest may be recommendable in certain cases, as it can help you keep your hands in a comfortable position while you're gaming.
2.  Mouse
A professional gaming desk setup should have a mouse positioned about two or three inches above the knees. Try to place it in front of your dominant shoulder, in an area where you don't have to make a "big" effort to be able to reach it. Plus, try to keep the movement of the wrist as reduced as possible to avoid injuries or pain – use your elbow instead.
3.  Monitor
Whether you have a dual-monitor gaming setup or an  ultrawide gaming setup, it is crucial for your displays to be placed correctly. The screen should be one or two feet away from your face, at a distance where you don't have to make an effort to see everything on the screen clearly.
Additionally, please note down in your best gaming setup that your monitor should be about 15 or 30 degrees below your field of view, depending on your body proportions. This is to avoid craning to be able to see what's on the screen. A huge gaming setup requires proper monitor settings for the user to be comfortable at all times.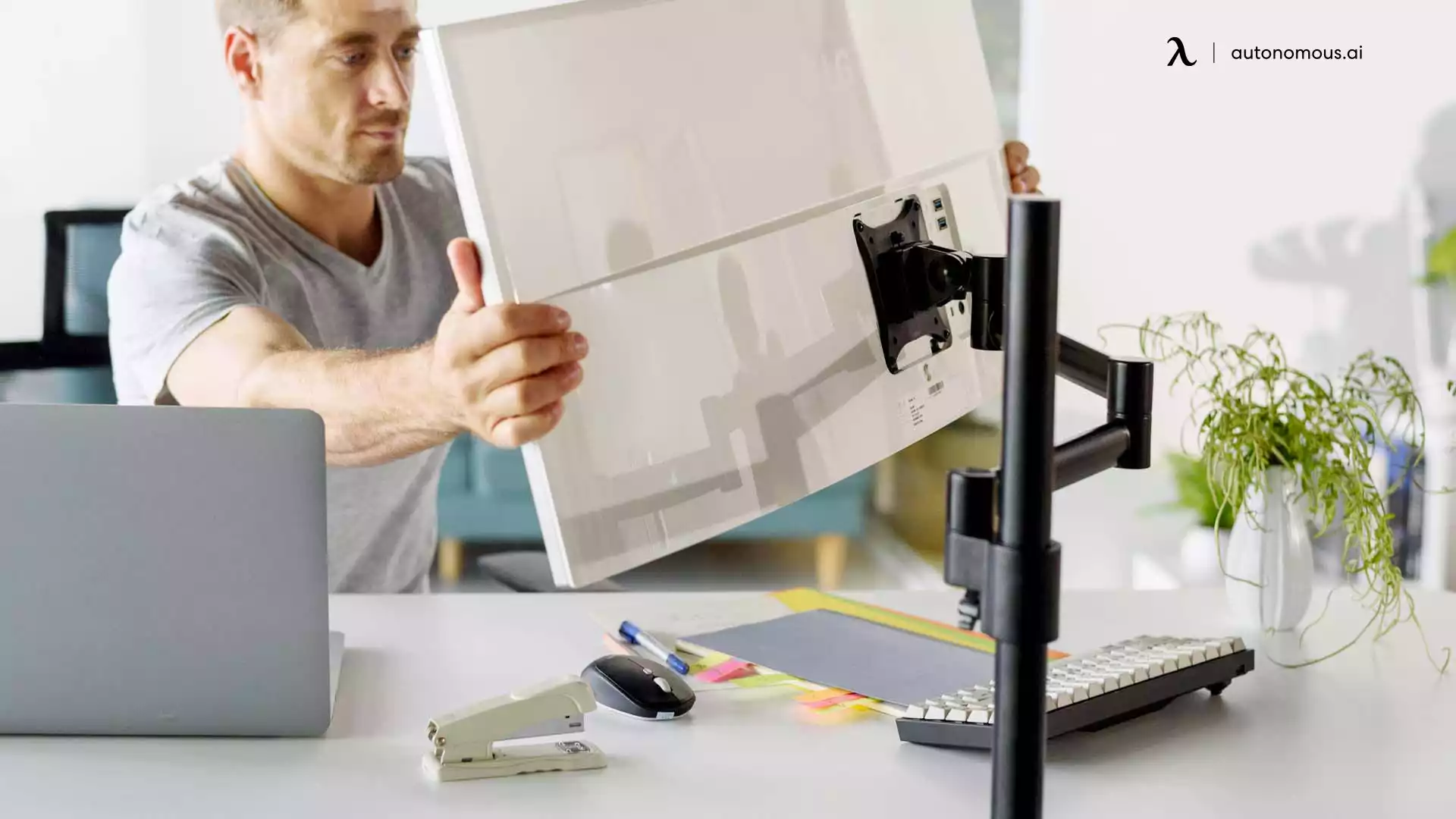 Our Ultimate Guide to Achieving The Best Gaming Desk Setup in 9 Steps
Here is the nine-step guide to the perfect huge gaming setup ideas for passionate amateurs, touch competitors, and professionals. We already gave you an idea of what you need, but this guide goes into detail, providing tips and tricks for picking the best options. 
On top of that, we also have a few excellent product recommendations throughout for pointers on where to start looking. 
Step 1: What Type of Desk
A huge gaming setup is no good without a sturdy, stylish base. The desk you use is the foundation of the whole thing and can completely change the overall aesthetic. Let's take a look at some of the most popular options. 
Corner Desks
A corner gaming desk is a huge hit amongst professionals, mostly for the luxury of extra space. Anybody who prefers to have dual monitors is sure to love this option. Corner desks are L-shaped and, unsurprisingly, fit snugly into the corner of a room. They come in many sizes, but what matters more is their strength. 
If you opt for a corner desk, make sure you check the weight capacity if you plan to pile on multiple monitors, consoles, and accessories. This is even more important if you have a sit/stand option- you don't want everything collapsing on the way up! 
Standing Desks
This is another pro gamer equipment you should have. Gaming standing desk designs are plentiful, considering that stand-up desks are the big thing right now. The main thing to consider here is the type of control (electric or manual) and what height range is available. You need a desk that raises to the right eye level for you but is also comfortable to sit at. 
One thing to consider about a standing desk for gaming is how likely you are to use it. Some people find that they rarely use the standing setting and feel like they wasted their money. However, it is extremely beneficial for your health and well-being to stand up and move around regularly. If you spend a long time playing, perhaps this is exactly what you need to keep your mind and body alert and ready. 
Whatever style of desk you choose, what matters the most is how easily you can move around and how well it supports your gear. Appearance is one thing, but functionality is key.
True Gaming Desk
Step 2: Ergonomic Chair or Gaming Chair
It is impossible to discuss the best gaming setups without mentioning the iconic gaming chair. Forget your everyday office chair: these designs are at the next level. These pro gamer equipment are specifically designed for maximum comfort and support for hours at a time. 
They mostly have ergonomic designs - something you should class as a priority if you want to look after your body. Ergonomic chairs focus on posture support and muscle relief to limit strain and pain. 
Style-wise, gaming chairs cover a wide spectrum of aesthetics. Some follow the race car design- others are more executive. A big part of it is personal preference, although the following elements are essential: 
Think, high-quality cushioning
A strong steel frame with a high weight capacity and durability guaranteed
Head and neck support
Armrests (preferably 3D adjustable)
Adjustable recline angles and swivel for ease of movement 
You can find premium pro chairs with built-in speakers, headphone jacks, and other electronic features, but these are secondary luxuries- not essentials. 
Step 3: Choosing PC
Full setup for gamers relies heavily on the inner workings and capabilities of the computer. You can play using most standard units, but not at this professional level. Prebuilt gaming PCs are more reliable, faster, have better refresh and reaction times, and more efficient storage. They also, as you may have guessed, come with a much higher price tag. 
This is one of those investments that are worth it if you play a lot. Of course, there are more budget-friendly options available, but you don't want to compromise too much on quality. 
Some of the qualities you don't want to go without are: 
A high GB RAM for storage
Premium core processors
WiFi-enabled (ideally)
Speed and reliability
Sturdy construction built to last
Cooling systems
At least a two-year warranty (more if you are paying a lot of money) 
Step 4: Flat Monitor or Curved Monitor
Of course, the monitor matters, considering it is your gateway to the gameplay. Whether you work with one or two doesn't make much difference- what is most essential is the quality of the screen. 
You want one with a decent-sized screen with high-quality graphics. Over 25 inches is preferable for pro gamers, with the refresh rate amongst the most important features (to avoid dreaded lagging). Resolution and pixel density are other things to look for and compare between models, combined with the style of the screen. 
Step 5: Gaming Keyboard vs Mechanical Keyboard
Believe it or not, not all keyboards are created equally. When thinking about the best gaming setup purposes, you want one with high-rise, responsive keys that allow you to move quickly and precisely. It also helps to have lights built into the keys for easy visibility if you play in a darker environment. 
Step 6: The Mouse and Mouse Pad
Pro gamers usually use corded mouse controls rather than cordless because of the increased responsibility and sensitivity. What matters the most is how comfortable it feels for you while you use it, along with how well it interacts and reacts to your movements.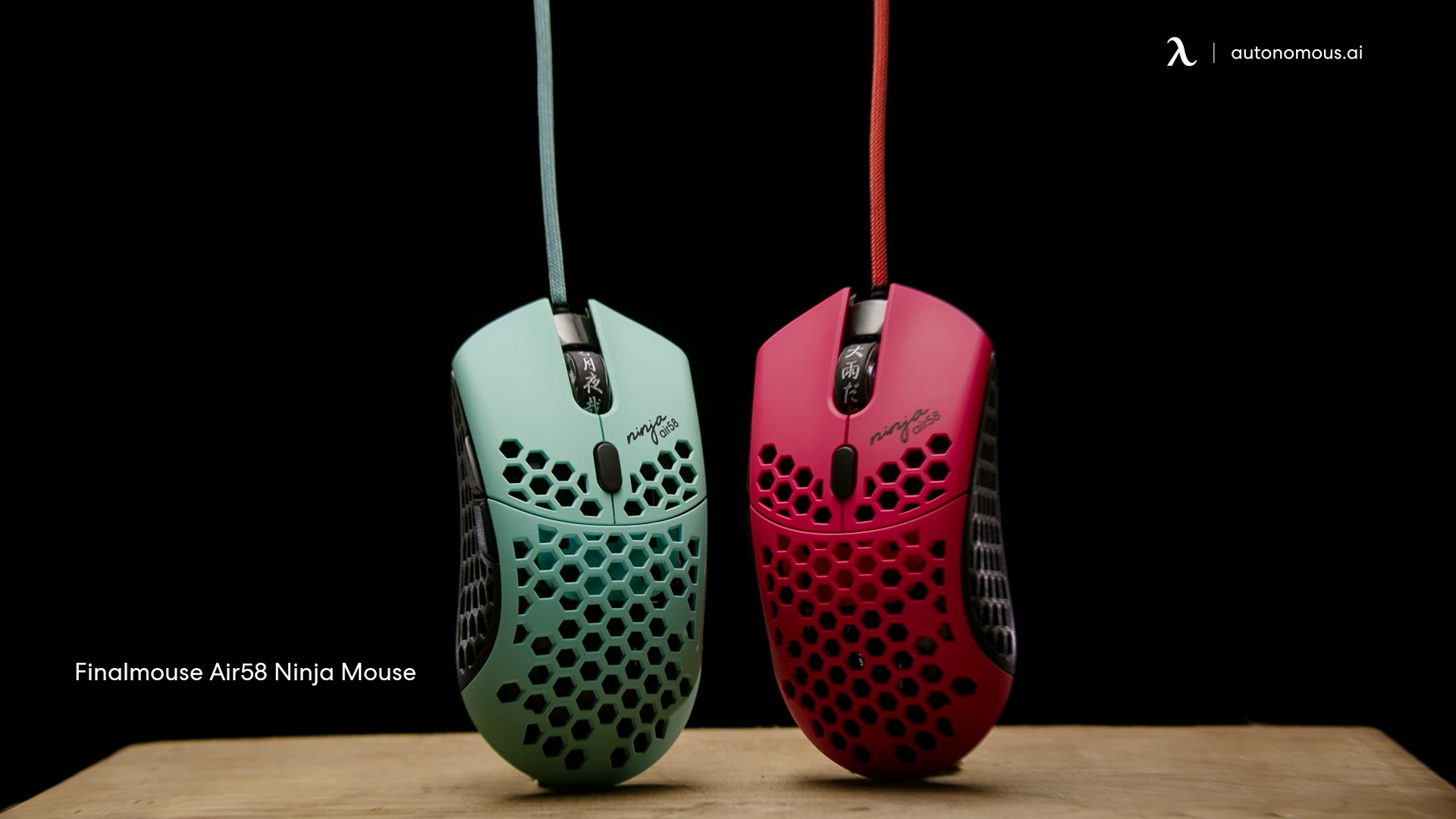 Step 7: The Headset
Noise-canceling headphones are winners in this category, especially for professional gamers. Many games rely on paying extremely close attention to small sound details in a game, which is made much easier with a product like this. 
You don't really need any fancy extra features. In fact, the highest-ranked headset amongst 2022 pro-gamers (mentioned below) has very few fancy extras but is used by around 20% of all pros. The main things you need are crisp, clear sound quality and a built-in mic. It also helps if they are comfortable to wear.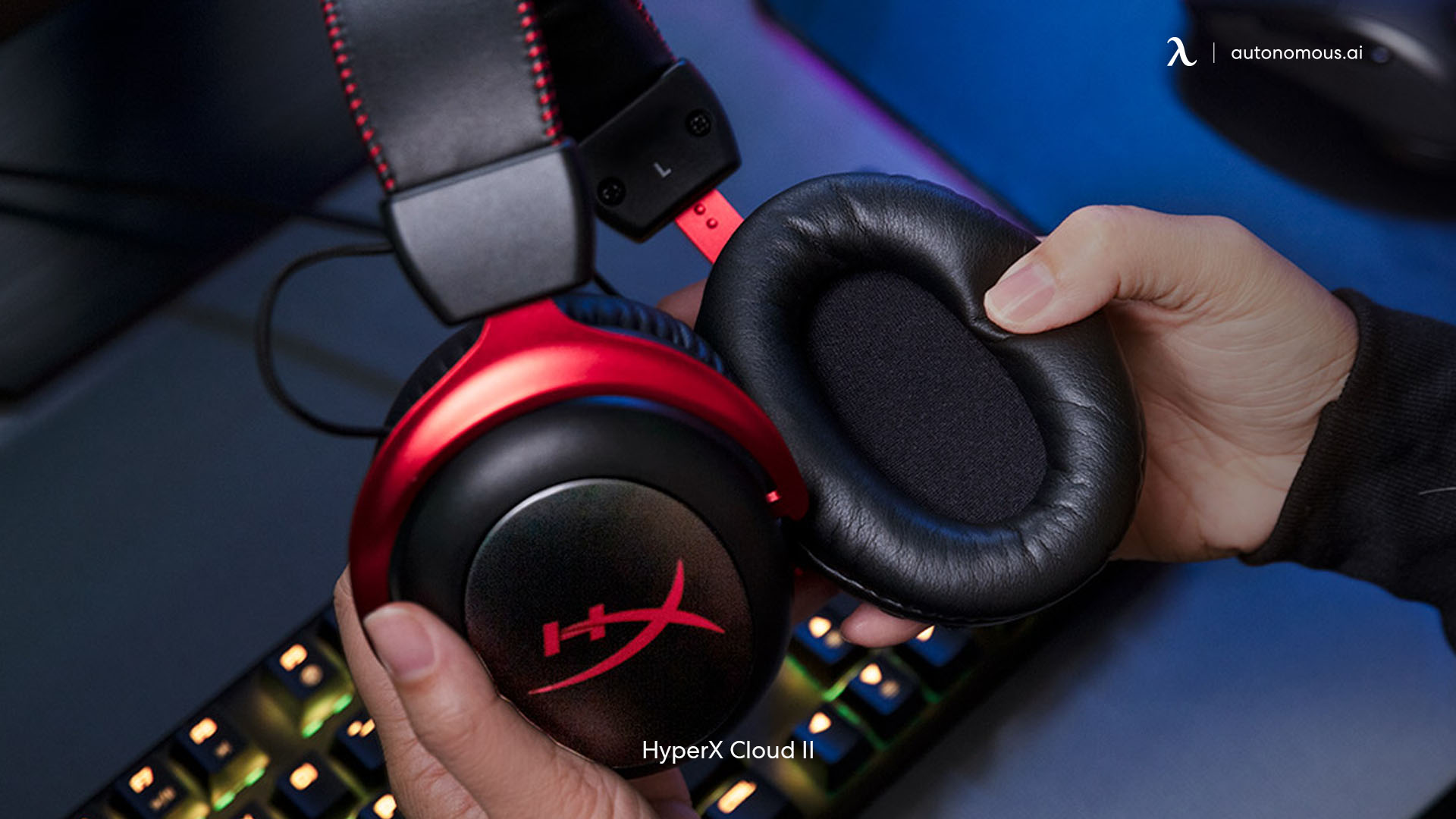 Step 8: The Speaker
Surround-sound is one way to fully immerse yourself into a game, but it is not entirely necessary. Most pro gamers play with headsets to have a closer connection to the sound, but it is worthwhile having an additional speaker on hand. 
Even a high-quality portable speaker can do the trick, as long as it lets you hear what you need to and fully fills the space with clear sound. 
1 year
Step 9: The Lighting
Lighting is important for three reasons: to see what you are doing, to protect your eyes, and to create an atmosphere in your pro gaming space. Most professionals you see streaming on social media use LED lighting around their full setup for gamers, adding a whole new level to the overall effect. 
Some people like a dark space to game in, while others focus better in a well-lit space. Whatever side of the fence you are on, there are plenty of options out there. Here are a few pro gaming PC setup lighting tips from us: 
You want to avoid glare or reflection on the screen, so avoid any poorly-placed lighting shining directly onto the screen. Shadows are also a big no-no, so don't have lighting directly behind you.
LED lighting is an excellent choice for cool gaming setups because it provides luminosity without overpowering the space. Many LED light accessories let you change the colors to go with your mood or game.
Side lighting is perfect for brightening a space without detracting from the focus on the monitor. However, you need to make sure it is even and balanced.
You can work lighting in through your gaming desk accessories for a more personal touch.
Too much brightness when gaming can cause eye problems and headaches, which are not conducive to effective gameplay. Consider blue light protective eyewear to minimize the effects and avoid fluorescent bulbs. 
Why Does Your Gaming Setup Matter?
The gaming furniture you use can make or break you in the gaming world, especially when playing with the big boys in the professional realm. Even if you play purely as an amateur, the chances are there is a fair bit of competition between you and your online friends! 
A poorly thought-out setup makes it less comfortable and more difficult to easily reach what you need when you need it. It is also more likely to cause eye, neck, and back strain if you are not sitting in the optimal position. 
Put it this way: if you were going to spend five hours in the office working at a desk, on a computer, you wouldn't just throw together a place to sit with no thought for your comfort, productivity, and concentration. Well, the same applies to anyone spending a fair few hours on the PC for gaming purposes. 
Whatever your poison is and however talented you are, the correct setup can only bring improvement. If you take your gaming seriously, then you should really think about investing in a best gaming setup.
Pros and Cons of a Professional Gaming Setup
How do you know if a full-blown pro gamer Esports-style setup is for you? The truth is that most people with a passion for gaming dream of a setup like this, but it is not practical for everyone. 
Here are a few of the main pros and cons of a professional gaming setup. 
Pros of a Professional Gaming Setup
You can play in comfort for as long as you want knowing your posture is supported and your muscles are not under strain.
The overall look of the best gaming setup is just cool- no doubt about it! If you plan to live stream or record videos for social media, you need to have the style.
Many people say the setup helps them focus better on the game since they are immersed in the setting.
Good quality gaming equipment is more powerful and better suited to gameplay, with faster response times and fewer issues with lagging.
If you are genuinely good enough to have a shot at becoming a real pro, this type of setup is a huge tool to help you get there.
Cons of a Professional Gaming Setup
Most high-quality equipment is not cheap, although there are budget alternatives for almost everything. There is no doubt about it- you need to spend a bit of money to achieve the ideal pro gaming PC setup.
When everything comes together, it can take up a fair deal of space. A professional gamer's setup is not designed to be compact and discreet, so space is definitely a consideration.
If you don't game a lot, a full professional setup may seem like overkill.
Some accessories and PCs can use a lot more energy than others, so consider that when you are planning your purchases.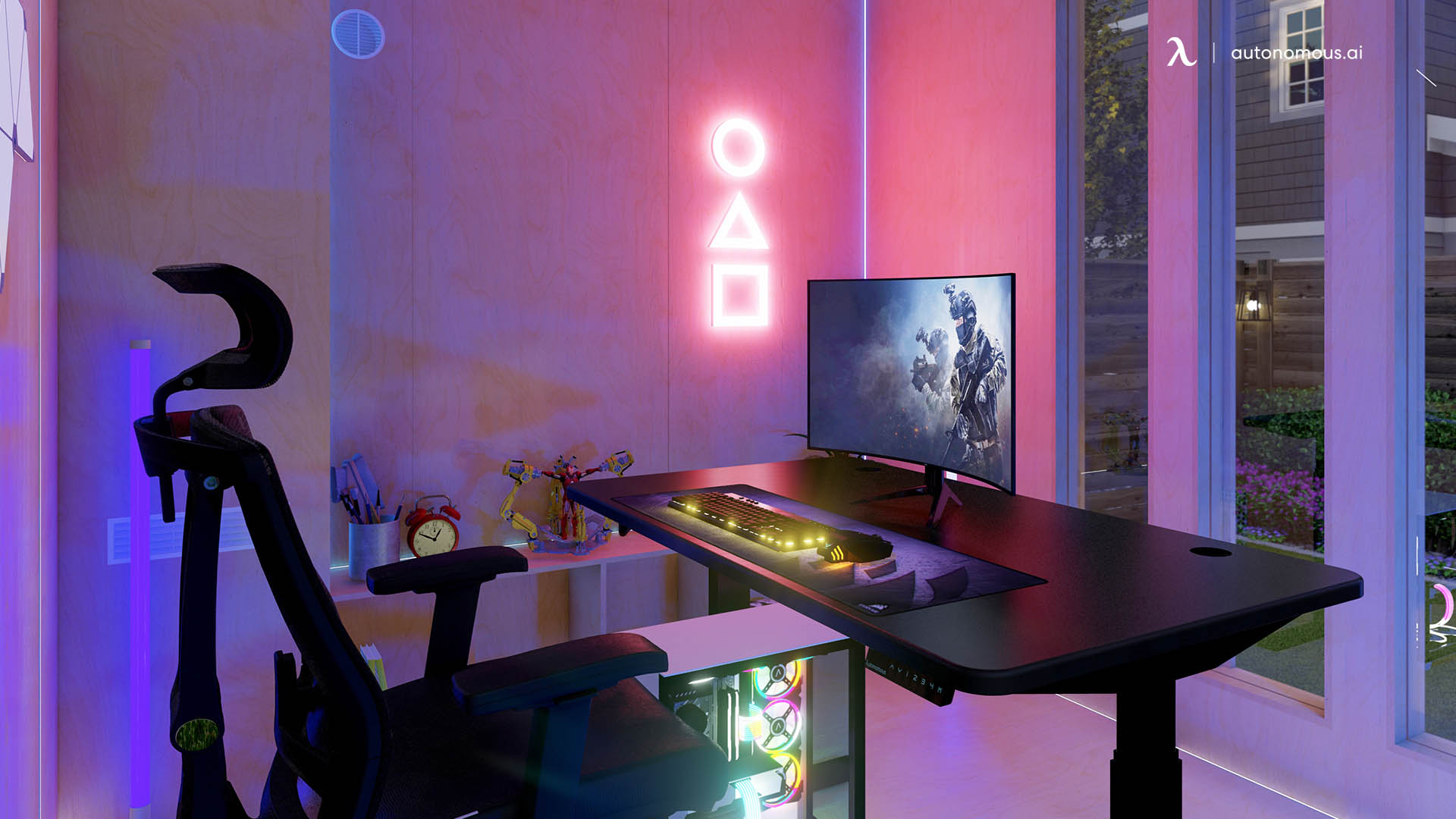 How is Gaming Beneficial?
Gaming has become one of the most popular hobbies in the modern era. However, for some, playing video games has become a lifestyle and even a professional path due to the high number of opportunities that can arise from producing video game-related content, such as streaming, among many other areas.
However, the advantages of gaming go beyond entertainment. Here we have some of the benefits that gaming could bring to your life, even if you don't have the best gaming setup.
1.  Improved manual dexterity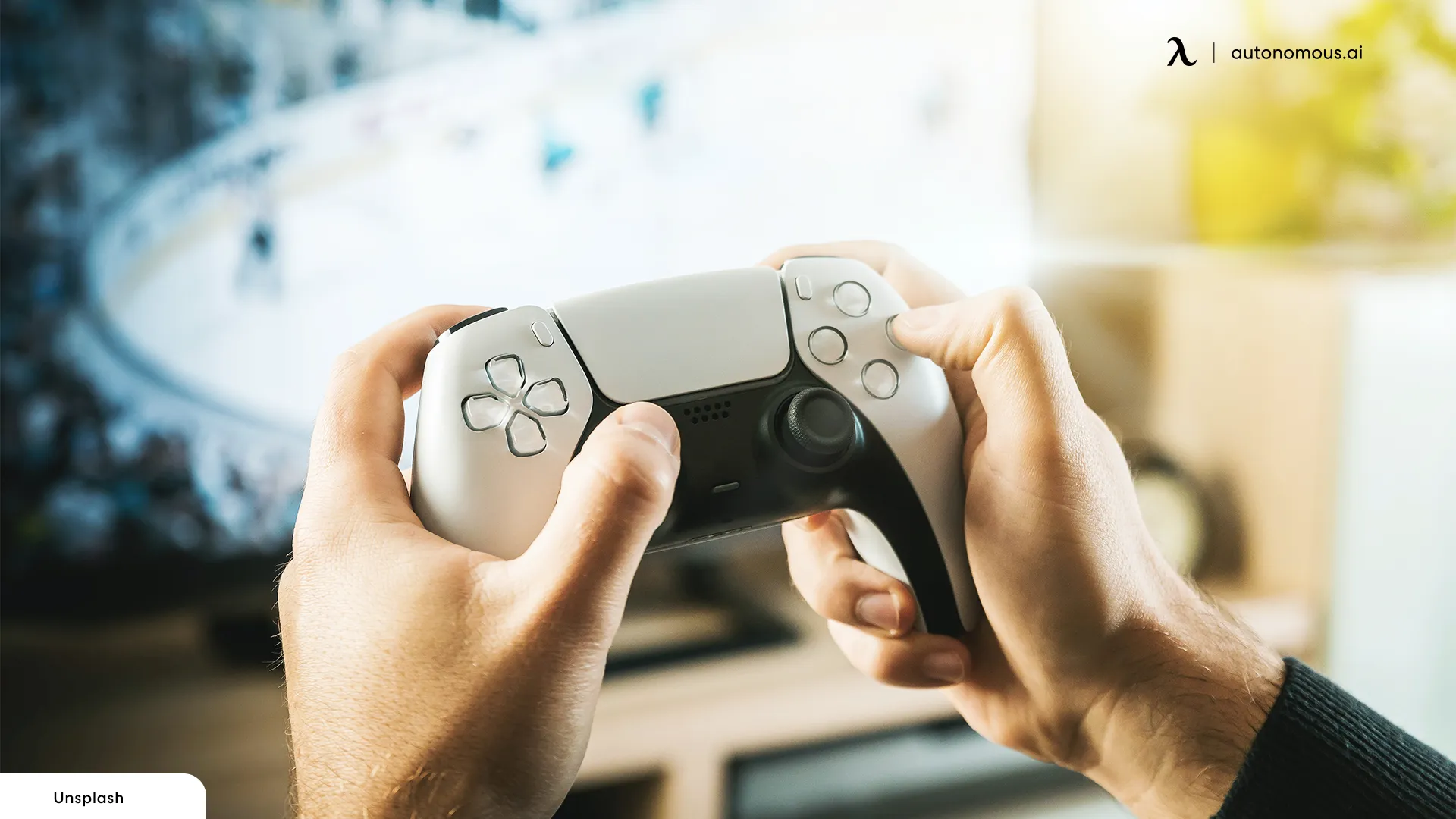 A study found out that people who play video games are relatively "faster" when it comes to completing certain complicated procedures. The same study found that these people are 37% less likely to commit mistakes than those who don't play video games.
It's also important to note that certain video games have been used as physical therapy in stroke victims. This therapy has the intention of helping the individuals recover control over their hands and wrists.
2.  Increased gray matter
According to a study, playing video games can help your organism produce gray matter in the brain. Furthermore, the same investigation found that it could boost brain connectivity. Let's not forget that gray matter has a key role in certain cognitive functions, such as memory and perception. It is also linked to muscle control and spatial navigation.
3.  Problem-solving skills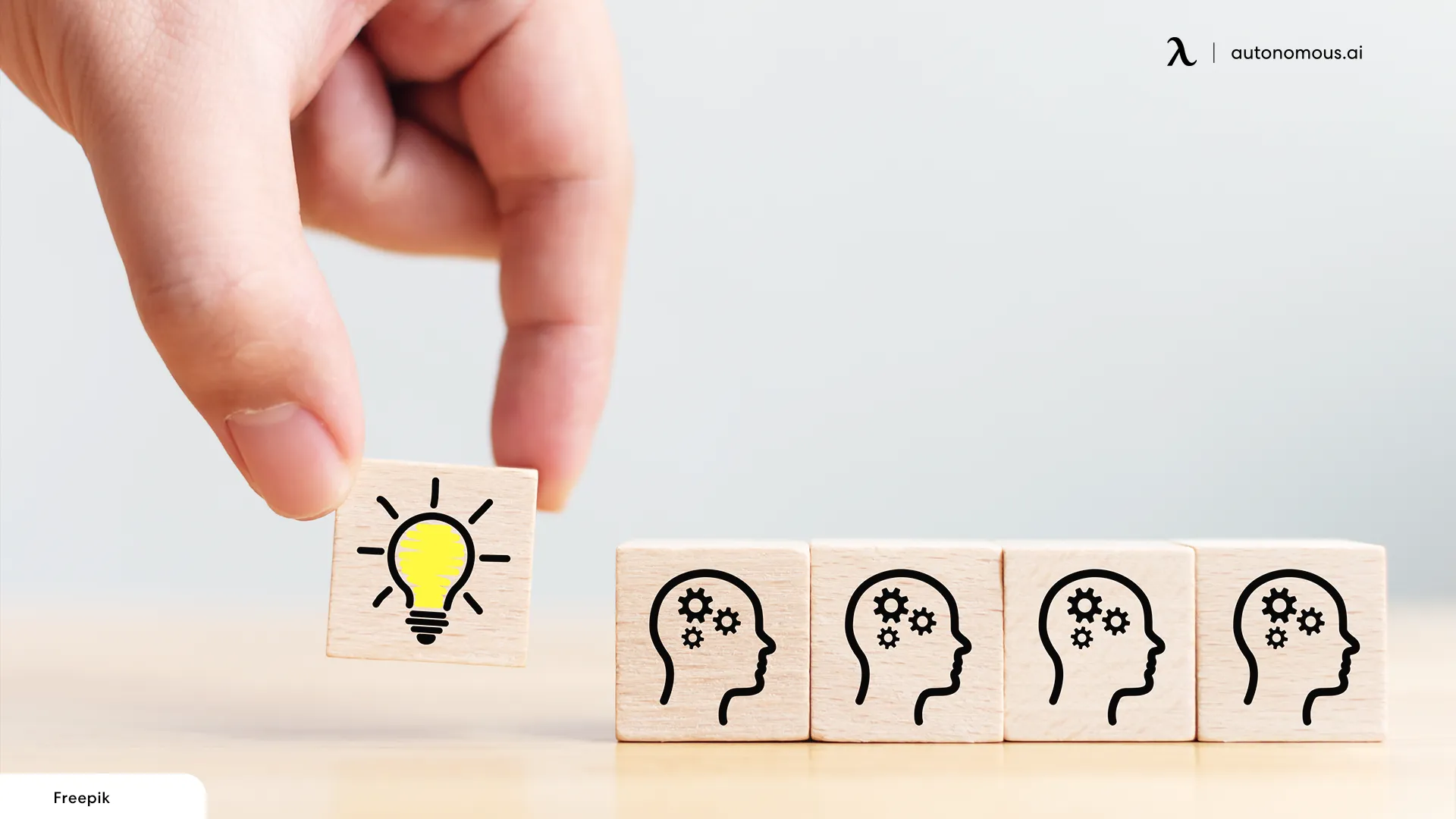 The same study published via APA suggests that playing video games may help children acquire problem-solving abilities. Teenagers who play certain genres of video games that include a strategy to a certain degree, such as RPGs, have shown higher problem-solving skills and better grades in the long term. It is also associated with creativity improvements.
4.  Improved mood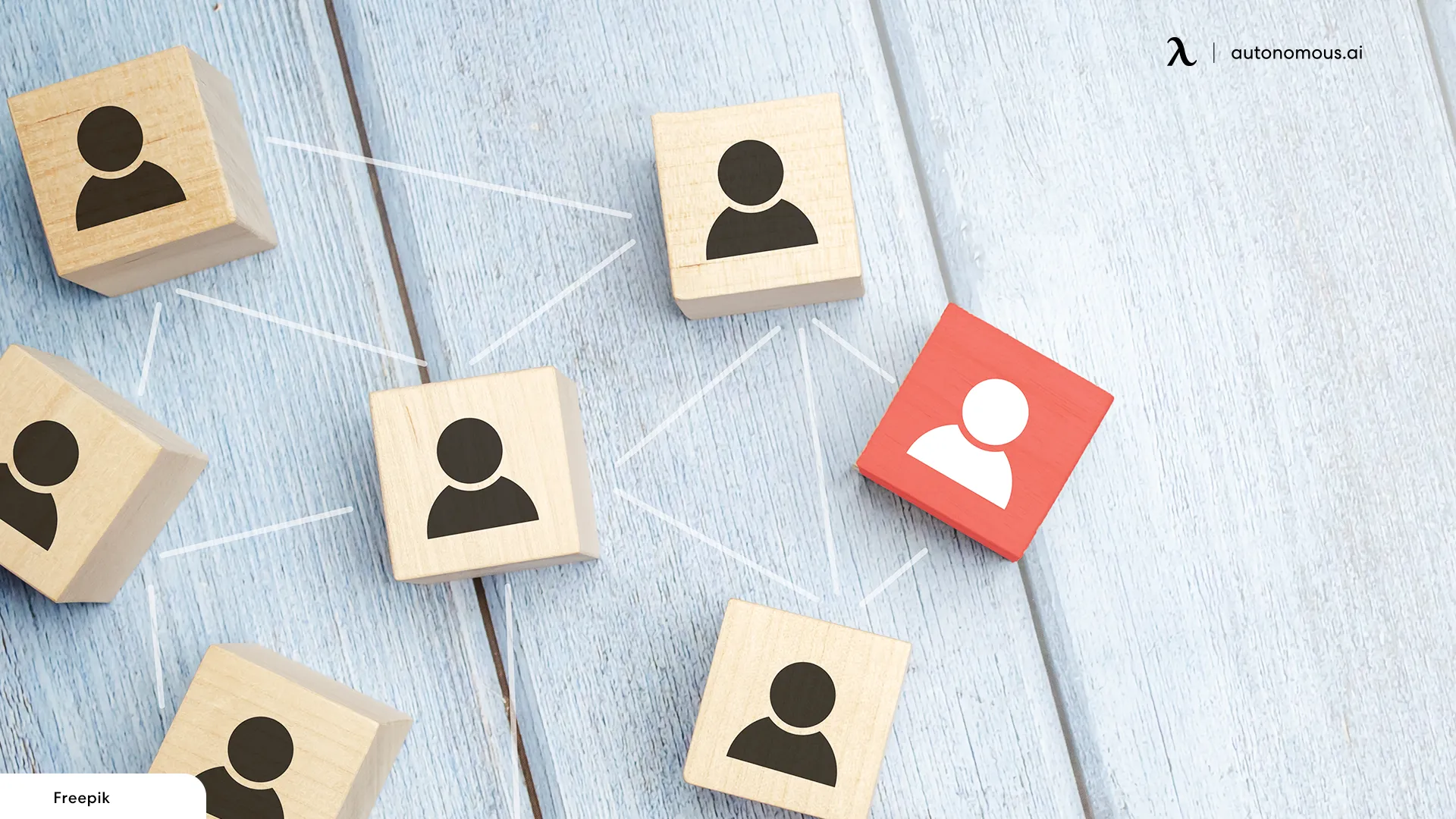 Some video games are quite accessible and easy to follow. This can result in mood improvements and relaxation, helping people overcome feelings of anxiety. So, overall, you can say that video games can "make you happier" during tough times. Of course, this depends on several factors.
Another similar aspect of the APA study associated with video games includes resilience. The study suggests that video games can help individuals cope with constant failure, develop emotional resilience, and use the newly acquired skills in their daily lives.
5.  Social skills
The video game panorama has changed a lot in the last decade. In the past, gamers used to play isolated from the rest of the world as wireless connectivity wasn't a thing. However, it is now possible to connect with others via video games, as multiplayer, either co-op or player vs. player video games have become quite prominent in the scene.
Therefore, some video games require the person to have cooperation or leadership skills, depending on the nature of the video game itself.
Final Thoughts
We hope that you gained some useful insights from the gaming setup styles which we shared above. Designing the gaming setup of your dreams will become a piece of cake if you follow our ideas. Choosing the best gaming setup ideas and ergonomic gaming furniture will come a long way.
You would be glad to know that we have recently introduced our gamer purchase program to offer you the best gaming furniture. The gamer purchase program is designed to offer you multiple discount offers to make it easier for you to get your favorite gaming furniture and accessories. You can simply sign up for this program using your email and make your purchases at a discounted price. This is a win-win situation for you as you get the comfort as well as the discount. So, go ahead and make your first purchase today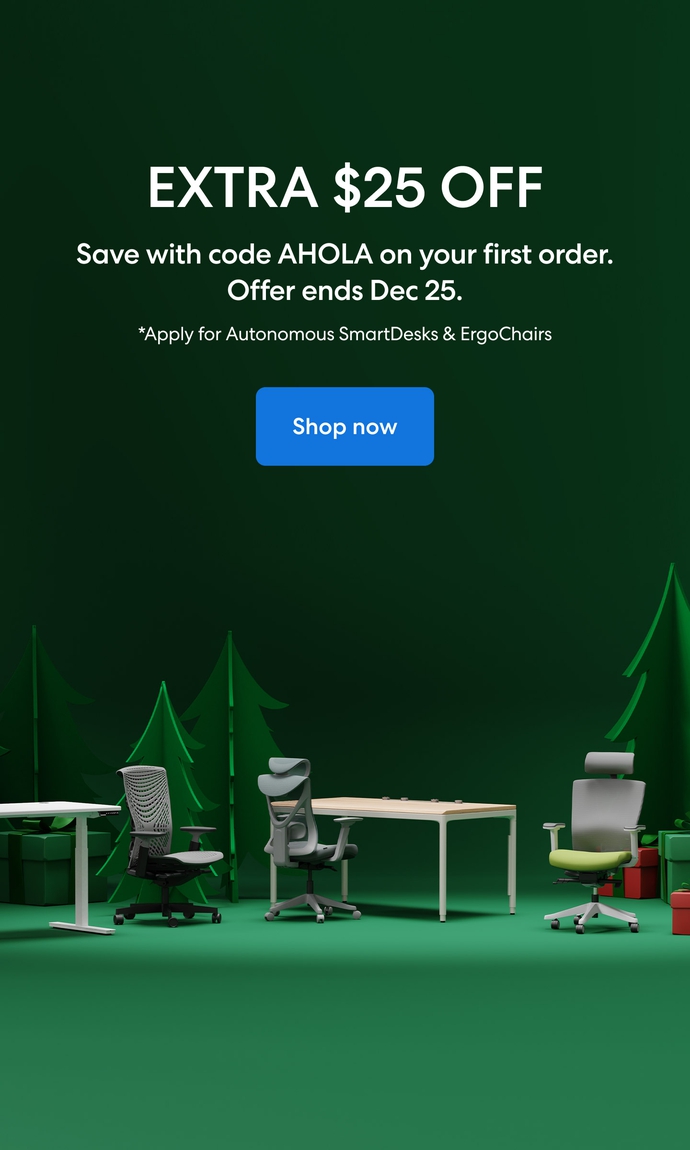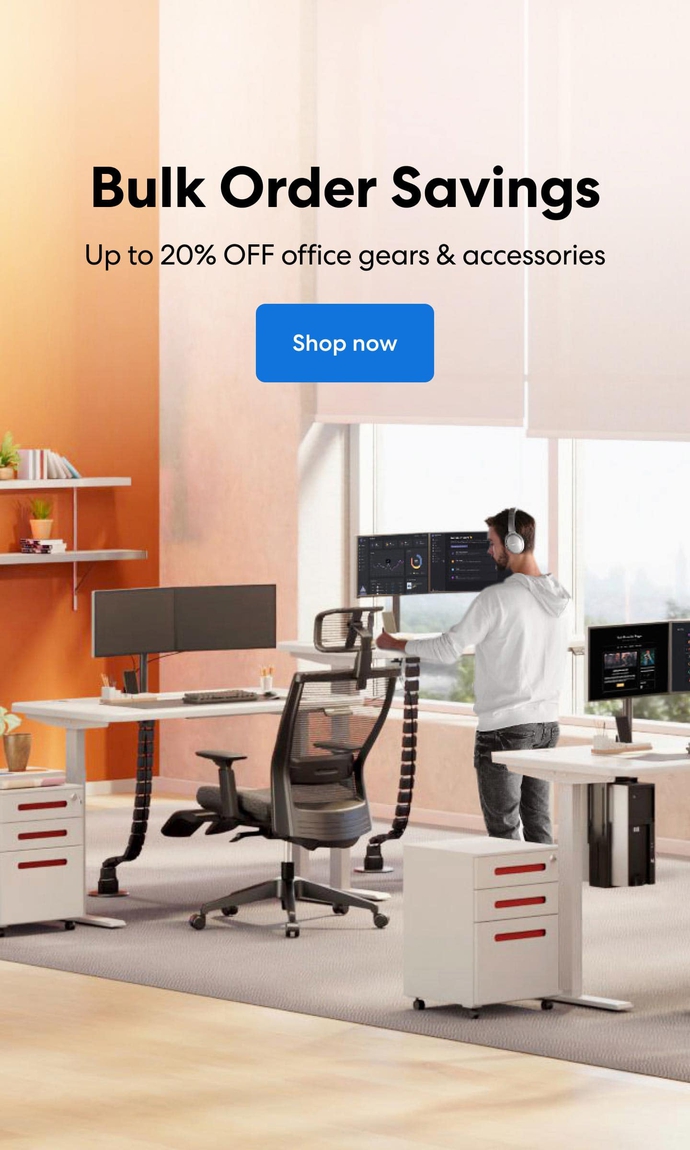 Subcribe newsletter and get $100 OFF.
Receive product updates, special offers, ergo tips, and inspiration form our team.