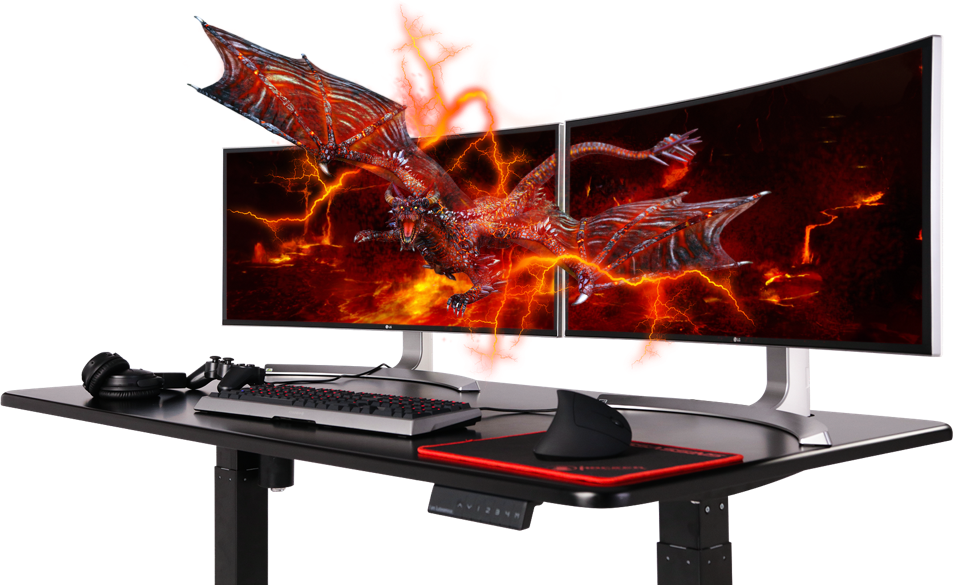 LEVEL UP YOUR GAME WITH
Autonomous Standing Gaming Desk
Your gaming desk is the center of your battlestation, the place that provides you an exhilarating gaming experience. So why settle with conventional gaming table? Try your hands on Autonomous height adjustable gaming desks which its superior quality are built to let you game better while not compromising on your comfort and well-beings.
Tracking Information: Available
Huge and Efficient Gaming Space
Autonomous standing gaming desk features a 70.5" length and 30" width table top, providing gamers enough space to accommodate all their gear while keeping things organized. Now you can enjoy every gaming session with maximum comfort.
Height Adjustable Gaming Desk for
 Maximum Flexibility
Competitive gaming on fixed height conventional desks for long periods of time could take a toll both on your gaming quality and physical health. We believe the ultimate gaming desk should adapt to you. Our Autonomous height adjustable standing desk, allowing you to change from sitting to standing at the touch of a button, gives you limitless flexibility to boost your energy and focus.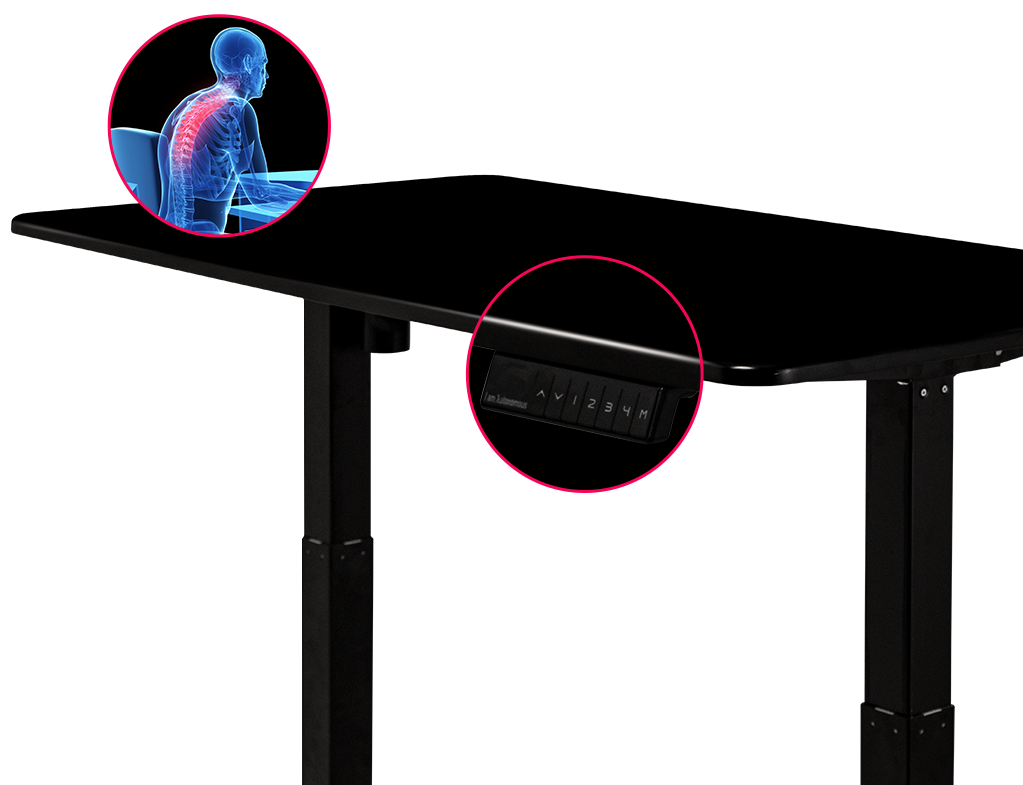 Heavy duty high performance stand up desk
Autonomous stand up gaming desks are built to last. The sturdy table top, industrial-grade steel adjustable height frame and advanced electric motor system can lift up to 300lbs, more than enough for any heavy-duty gear you have—and more than capable of withstanding the occasional fist pounding!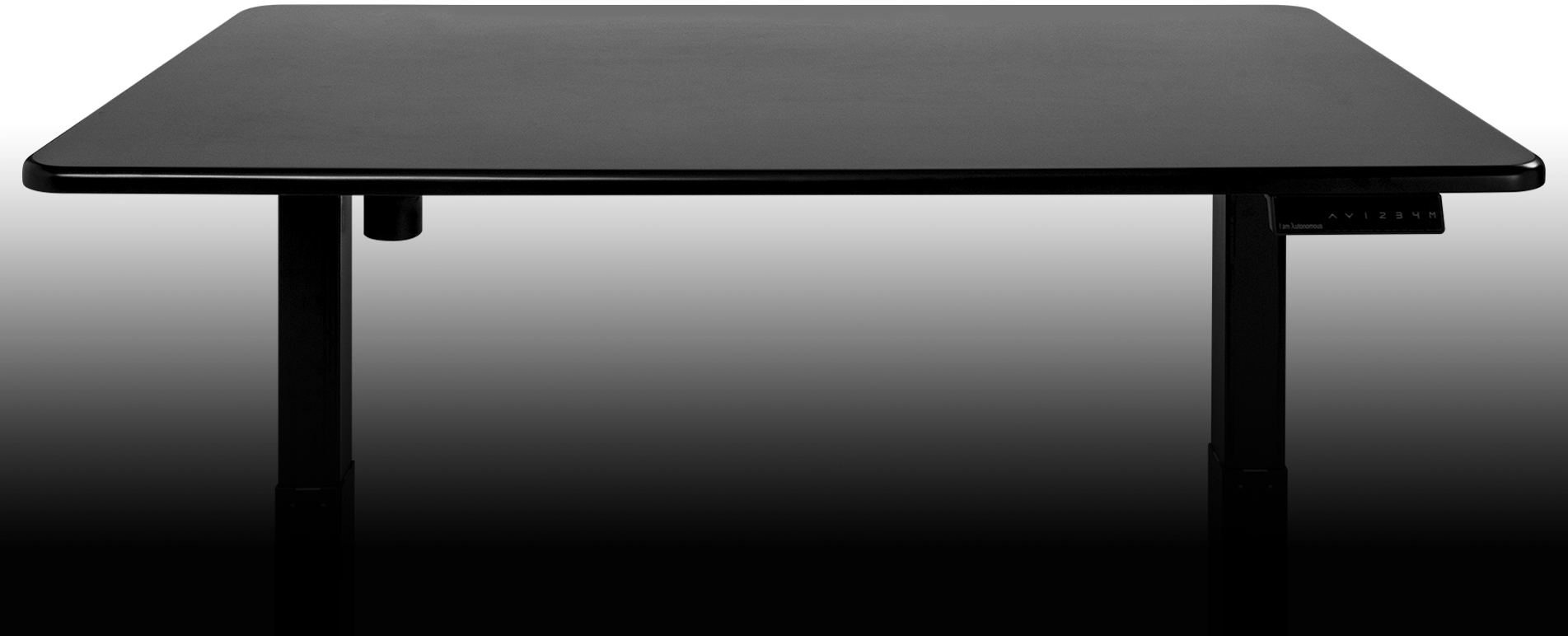 Advanced noise cancellation engineering
Reduce noisy distractions while you're gaming. With advanced engineering and manufacturing and an electric dual motor system, Autonomous gaming desk is nearly silent, with a sound level of only 39 dB during movement.
 The most affordable gaming desk
We proudly produce the best height adjustable gaming desk that won't break the bank. Stay at the top of your game with the ideal gaming setup at an affordable price.
SMARTDESK CORE
From $399
BEST SELLER
Desktop color choices: Black/ White/ Walnut
Dimensions: 53"x29"
Lifting motors: Dual motor system
Lifting speed: 2.3 in/ second
Lifting capacity: 300 lbs
Height range: 28" - 47"
Warranty: 5 years
Autonomous gaming desk reviews
I made the best choice
While trying to support that gaming hobby of my fiancé, I thought to get him this gaming desk from Autonomous and trust me, it's a bold step because I was unsure as to whether he would like it. But it was really the best thing I have done because he loved it. Right from the design, the color scheme and the texture, it was just like a dream desk for him. The screws are lined in perfectly without coming through the top of the desk. Although one of the screws was found missing when I received it but it was replaced immediately I complained about it. The assembling was pretty easy and took us less than an hour to set everything straight. The cable management are neatly cutout and the desk was very stable. We arranged two monitors on it along with a laptop and as I have expected, the desk accommodated them very well. The height adjustable presets featured on this desk is usually absent in most other chairs out there. It really helped prevent straining of my fiancé's eyes and help support his ergonomics. The last thing I would expect to experience on the desk is wear and tear because the steel and wood material used in the whole construction of it is incredible durable and sturdy. Everything about the desk was just as it was described here and if I have to by more desks, it would definitely be this one.
1 person found this helpful
A masterpiece
The desk feels great, sturdy, roomy, and simple. I like having the monitors properly arranged on the desk and I was able to achieve this with this desk. Height adjustable with four presets, steel frames, spacious wood tops, fully-electric and an awesome cable management – absolutely incredible. I didn't bother with any extra monitor holder at the back nor any separate holder for speakers because the wide top space is just enough to setup my gaming gears comfortably. The construction is nice with the metal legs and the texture of the desk top is excellent. Assembling it isn't the easiest thing in the world but it wasn't really difficult as I have expected it would be. I just had to lay on my back so as to put in the screws and tighten the legs perfectly. I discovered if not properly screwed, the desk would wobble and slack which is not something to tolerate, so I had to spend extra effort doing that. It fits perfectly into my room and the color I chose out of the available three is makes a good blend with my room color. I like how timely it was delivered and it's a desk I would love to recommend to my friends and anybody.
2 persons found this helpful
Strong and Durable
I purchased this desk for my son's gaming setup and we both really love the desk. The desk is just exactly has it is described and advertised here. Although I had to wait an extra two days which was probably due to a problem when shipping but I got it intact and well packed. The desk is highly functional as my son described it but the features were not so impressive. The design is sleek and the build material is very durable. The steel edges gave me a good impression that it would be long lasting and would withstand wear and tear. Up till now, it has not shown a sign of getting spoilt anytime soon though it hasn't been bought for long. All of the holes for tightening the holes are well hidden underneath and its clean flat surface wouldn't be affected from having to drive in nuts from the top. However, I think featuring things like cup holder, monitor holder, media holder, drawer or cabinets would have made the desk even more fascinating but unfortunately, they are not present and that I don't appreciate. Though I like this desk, I may not recommend except if this features and more added or improved.
5 persons found this helpful
Amazing design
I'm a game addict and one of the things I don't joke with anything that involves gaming. Meanwhile, we just moved to our new apartment and I thought to get a new gaming desk as the one I was using before is already old. I opted in to purchase this desk mainly because the design was compact and not at all complex, and I also like its sturdiness. I like the steel frames and powerful motors it is made of because it carried the weight of my gaming gears quite easily and without slacking. The cable management seems quite okay although I had to be very careful with it to avoid any damage. One other interesting thing I enjoyed is its height adjustment as it really offered enough flexibility to switch heights and appreciate ergonomics. But one of the biggest issue I have with it is that I couldn't find any extra space like side cabinets to keep my things. It would have been the best alternative to storing my other gaming tools so as to avoid cluttering the top but couldn't find any. Also, it does not feature something like an elevated monitor stand which would really suffice for holding an extra monitor.
7 persons found this helpful
My perfect spot
Well, for this kind of price, it is very decent and it is about the best gaming desk you would find around that price range. At first, I was a bit skeptical about buying this product from Autonomous as I have not tried any of their product before, however I had to buy because of my budget. This game desk has been the top spot for me because whenever I look at my neatly arranged monitors and pads on it, I always want to play a game. I really didn't expect much when I was buying so I wouldn't be overly disappointed but this desk really offered more than I could think of. The design is amazing and it is very spacious on the top. The assembling was pretty easy although I had to lend a couple more hands for thorough setting up. An amazing feature I'm really in love with in this desk is that it is a fully-electric sit-to-stand desk which allows me to have a full control of everything gaming on it. At times, my friends and neighbors also come around to use my desk and I needed not to worry about height of the desk because it features four height preset which makes it height adjustable. So, in all, the desk has been incredibly good and worth more than the value
7 persons found this helpful
A fascinating desk
My experience using this desk is really fascinating. For me, the desk is just the best desk I've ever owned. It is just as amazing as it looks in the picture and its top is wide enough to hold any gaming setup you might have in mind. Placing an order wasn't difficult and it came intact just as I expected. It took me a bit of time assembling it although it wasn't really hard and the end result was just exactly what I expected. I figured out it's well worth it. The only issue I have with the desk is that I hate the fact that it has just two legs which gets me scared at first. At times I get concerned too because of the safety of my precious monitors and the accessories I placed on it, so I thought to be extra careful with it. I also have issues with the four height presets because I thought having more than that number or a customizable height adjustment feature would be the best. However, every time at the desk was always a thrilling moment for me because I get my game thirst adequately satisfies which for me, it's all that matters.
12 persons found this helpful
Very strong and spacious
I was really looking for something that would be ground heavy, sturdy and definitely accommodate my 3 monitors without having to clutter the desk. I was at the verge of opting for a lesser quality desk because most desks out there are just either too expensive or not up to quality. This gaming desk was the perfect fit for my 3 monitor setup with an amazing wire management. Coming to terms with this desk was easy for me because is really met my expectations. I was able to arrange my gaming gears and other accessories too and there are still uncluttered space to arrange other things. When setting up, it look wobble at first but when I tightened the boat deeper, it stood just straight as I wanted and didn't give a slack even when I was intentionally shaking it. I also like the fact that I can adjust the height of the desk to my desired height. When I tried my first combat game on it, I was trying to be extra careful with the desk but I loosened so well on the long run when the thrill of the game finally got me; it's awesome to know that despite all my hard use on it, it withstood the combat and was still perfectly intact. So I really have no complaint about this gaming desk.
16 persons found this helpful
A great fit for my room
I am a very picky person and so I've spent like 3 weeks doing my research for the best gaming desk for my room until I came across this desk from Autonomous. Actually, I was referred by my friend and I thought to check through. Went through their description and other customer's reviews and I decided to make my purchase. Sure, I had mixed feelings but when it got to me, it was just the perfect fit for my taste. More importantly, it fitted greatly well into my room and I was very excited it did. I chose the walnut color because it blends very well with the color of my room. It is solid and quite heavy and this makes it to stand firmly and rigidly on the ground. There were precut holes on the cable management so it was easy for me fitting it though setting the whole thing was not so straightforward for me because it took more time than I expected. The edges are neatly shaped and the design is simple. However, I hate the fact that I can feel some bumps of the mouse plate when moving my mouse. Other than that, I think it would be a good fit for anybody looking for a simple design and an extra fit for the room.
2 persons found this helpful
Extra value for my money
Overall, the table looks great plus I like the feel and texture of its material. It is sturdy, strong, easy to assemble and it was shipped right on time to me. I was concerned at first as to the time of arrival because I've had bad experience of shipping time from my previous suppliers. But when I saw what other customers said about their other products, then I was calmed. It is very spacious on the top and I've been able to neatly arrange my pc and other gaming accessories and there are still spaces left. It's one of the best purchases have done in a very long time. The screws were neatly placed and the cable management is very superb. I discovered that the table was perfectly made to offer me the best ergonomics I could ever have wished for. I've been using it for a couple of days now and I can conclude that it's more value for my money. The only issue is that it does not feature any cabinet or side drawers to keep other stuffs inside. For me, having this is important but I think I can overlook that because I'm getting more interesting use of the desk even at that price.
4 persons found this helpful
Perfect gaming gift
My friend is a game addict and I thought to buy him a new gaming desk as a gift for his 23rd birthday. So, having this desk right on time was a serious thing for me, and it definitely came at the right time. The desk's design is really awesome and I like the fact that I could choose between three colors for my friend who has a great pick for white. The colors I found are white, black and walnut. I was able to help my friend in the setting and assembling the desk and as we follow the instructions, everything went easy without having any glitches. The quality seems quite good and I like the material too. It is sturdy just as they claimed it to be. It is well designed with adjustable height and the mouse pad material is very amazing though I wish it was smaller so there are smoother lines when mounting things on it. The cable management is good but it wouldn't be bad if improved as it may get overloaded very fast. Altogether, it was a perfect gift and my friend really liked it. I'm looking to get a standing game desk soon and no doubt, I'm getting this for myself.
8 persons found this helpful