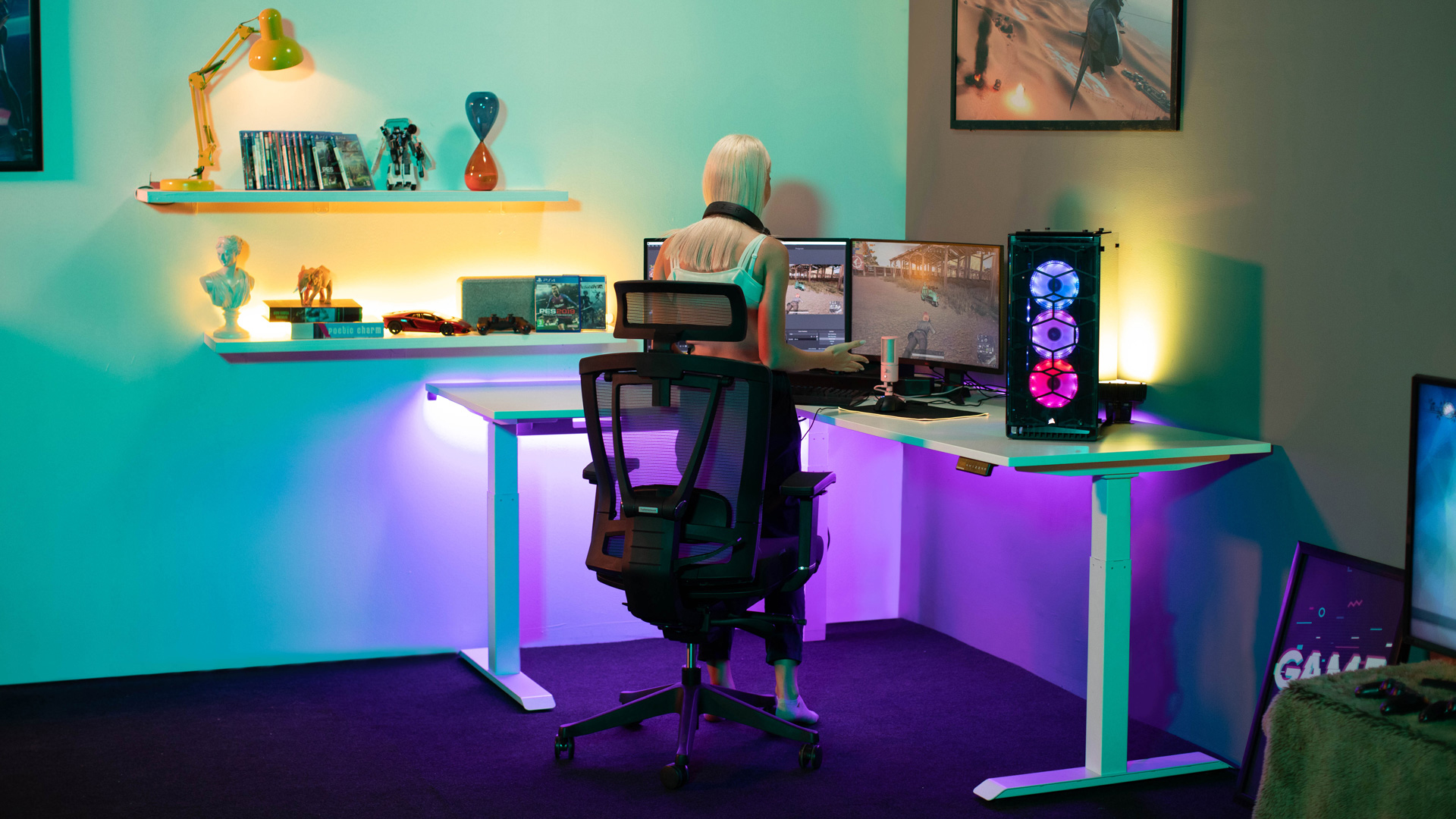 Broaden your horizons
It's time to set up the perfect battle station for your home gaming experience. Our broader
standing smart desk
gives you the perfect foundation for your rig. They all offer a huge amount of space and can support several hundred pounds of equipment – so a 3 monitor, 2 CPU pro gaming setup will fit with ease. Serious desks for serious gamers!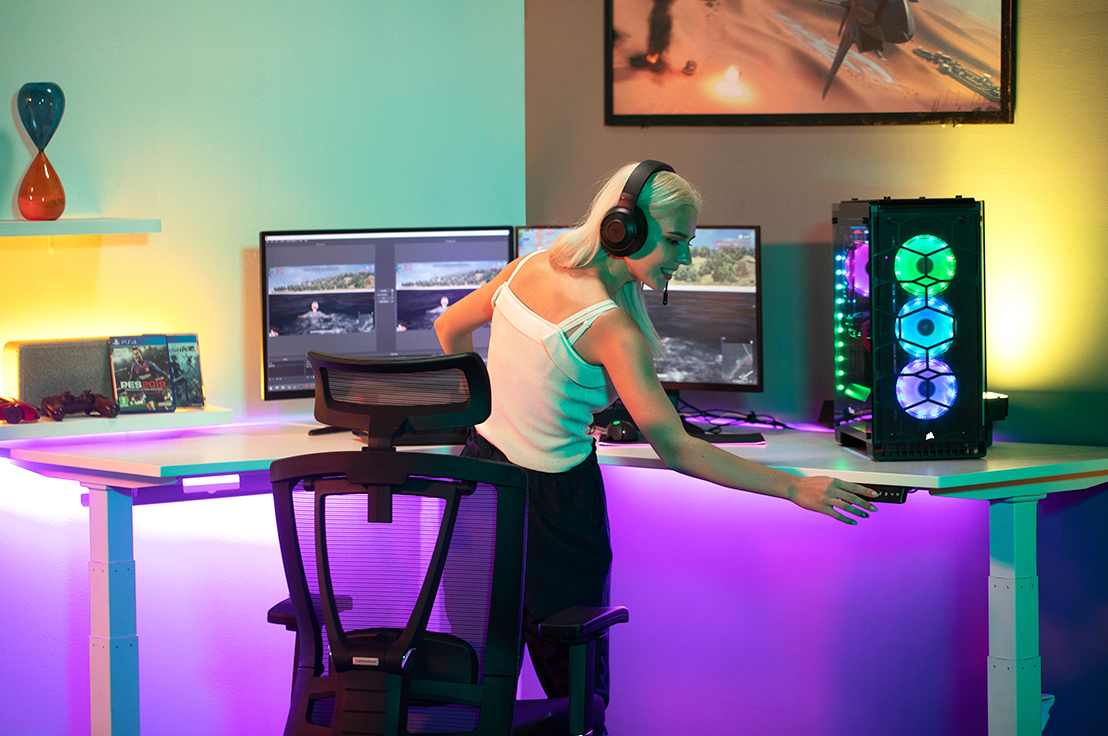 Effortless precision
When the game's on, there's no room for error or shakiness. Our
dual-motor standing desks
provide a firm foundation and effortless gliding between four customizable presets, so you can position them precisely at the touch of a button. It's time to raise your gaming experience to the next level!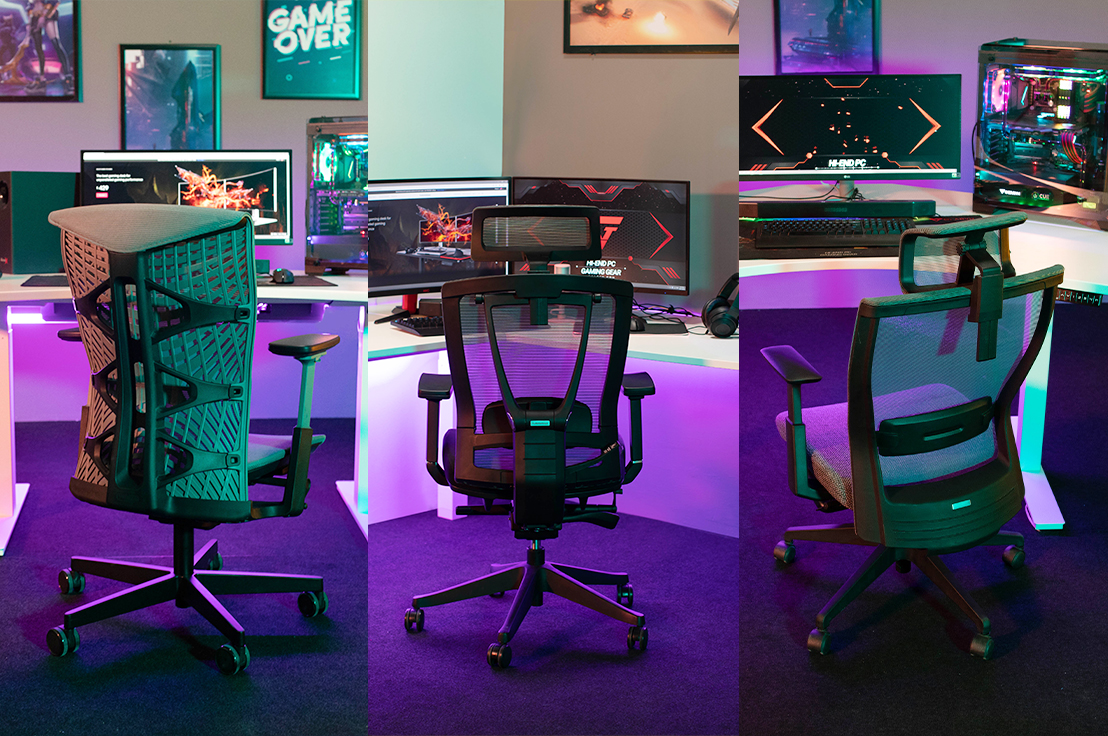 Cool, calm and collected
Keep a cool head when the action is really heating up! Made from premium materials like memory foam and TPE, our chairs are perfect for long gaming sessions, as they are super comfortable, cool and airy. Customize yours further with an optional head or footrest and create the perfect place to take down your enemies!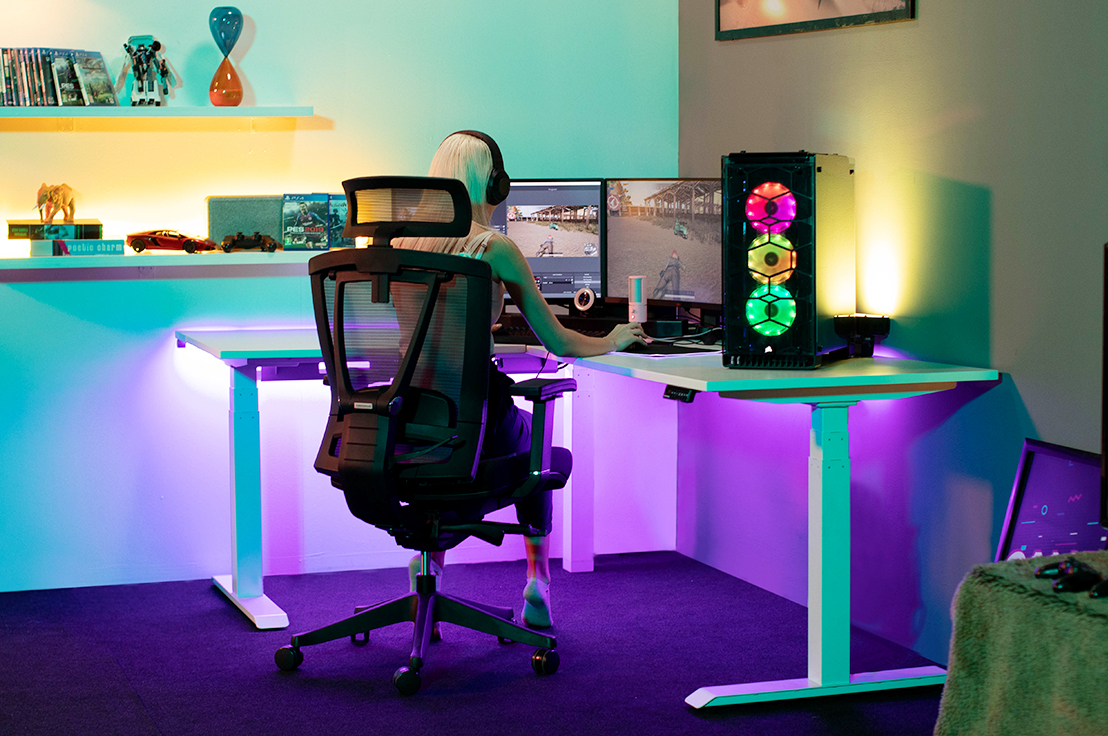 Find your gaming sweet-spot
We are strong believers in versatility and built our
ergonomic gaming chair
with that in mind. Our goal was to create a fully adjustable chair to keep your posture perfect. The angle of the headrest, the armrest position, the back tilt and tension, the seat tilt and height are all totally adjustable – you cannot get a more personalized experience. Your back will thank you, your enemies won't!
Customize your winning gaming setup
If you're unsure of what to pick from our product line, let's take a look at our gaming setup suggestions: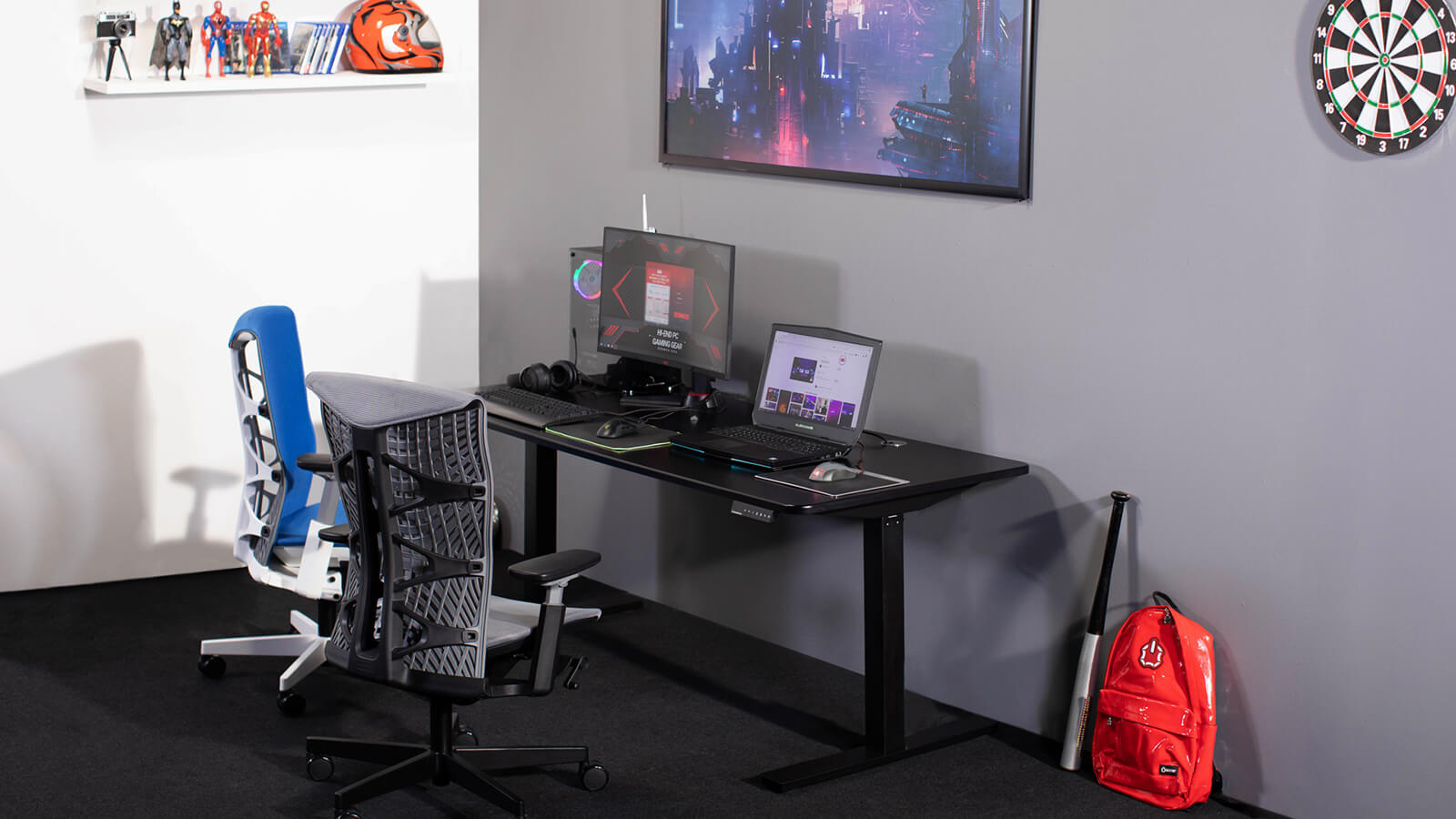 The gaming workstation
If you're an office worker by day, but a gamer by night, The XL SmartDesk and
ErgoChair Pro+
are the ideal gaming setup for you. Our XL desk top boasts a whopping 70.5 x 30 inch surface, which can easily accommodate a couple of monitors, your CPU and provide loads of extra space for any other peripherals or accessories. With powder-coated steel and a built-in dual-lifting motor, this robust gaming desk lets you move between 4 preferred height levels at the touch of a button. The ErgoChair Pro+ may not look like your average gaming chair but never judge a book by its cover! This chair's special lumbar design absolutely loves your back and protects your upright posture – it's great for switching between work and play mode.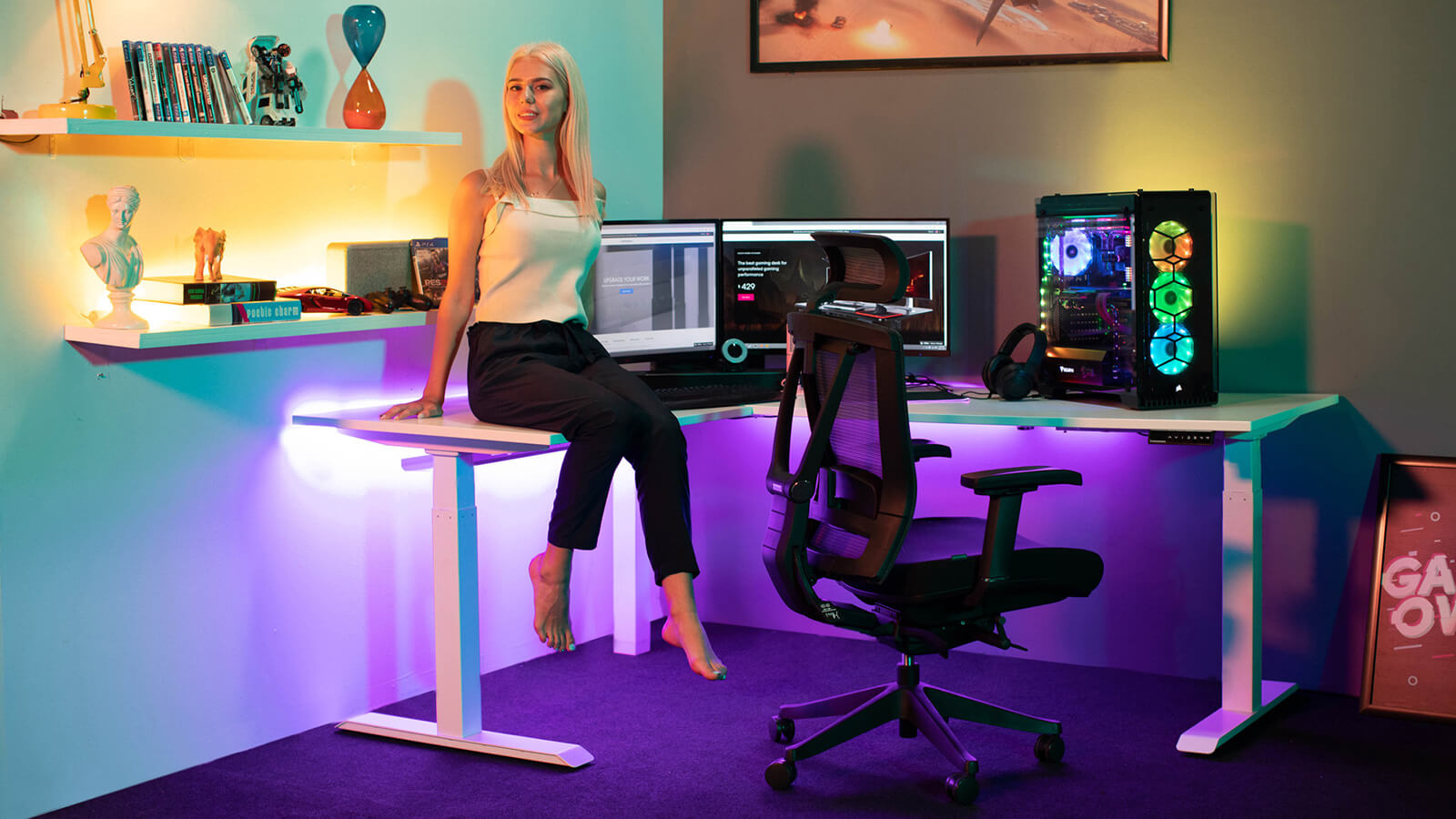 The professional streamer set
Streamers, this is the one for you! The
SmartDesk Corner
and ErgoChair Pro are a winning combination. To make the best videos and keep your followers happy, you'll need enough space for all your streaming and gaming accessories. This large yet efficient gaming desk keeps everything within arm's reach and its ability to seamlessly move between standing and sitting at the touch of a button can really help with those longer streaming sessions! To top it all off, our best-selling and fully adjustable
ErgoChair Pro
will keep you comfortable and your back healthy as you create your awesome content - it's a perfect streaming and gaming chair!
A Complete Guide for Gaming Setup
Are you looking for the latest gaming stations? Why not design one of the most immersive setups all by yourself? An ideal layout for gaming all day must be attractive, functional, and highly comfortable. Here is a complete guide for a gaming setup, specially curated to help you build a customized design! So, how can you get a well-designed and power-packed gaming arrangement?
All you need is a set of gaming desk accessories, and you are good to go. These can be ergonomic keyboards, noise-canceling headphones, cable management systems, and more. That, along with the two key essential items—gaming setup desk and an ergonomic chair. Yes, it is that simple! Read on to discover how to arrange a performative gaming system at home.
Ergonomic Gaming Desk
Are you wondering why an ergonomic desk for gaming? Whether you play for short durations or prolonged hours, keeping your posture correct is of the utmost importance. It helps eliminate body stiffness, pain, muscle tension, and discomfort. Moreover, it lets you have a highly productive and efficient gaming experience.
For example, if you choose a standard desk, you cannot adjust it to your desired height. Resultantly, you will end up slouching over the screen. Alternatively, it may be too high and uncomfortable for playing. Are you still not convinced about the significance of a gaming setup desk? Here are some reasons you cannot ignore.
Customize Desktop & Frame
If you are a gaming enthusiast, you very well understand the importance of an attractive gaming arrangement. A well-organized layout can instantly elevate your gaming experience, while a standard one might make it dull. One of the best things about a gaming desk is that you can customize it according to your requirement.
You can choose the desktop color from multiple options like white, walnut, black, and more. Moreover, you can pick the desk with the frame of your preference. You must know that the best ergonomic gaming desk is of high quality, which is made to last long. So, you also needn't worry about its durability.
Increase Gaming Experience
If you want to have top-notch gaming sessions right at home, nothing is better than an adjustable gaming desk. It comes with a dual-motor system and a control pad to let you change the desk height within seconds. All of this, with a memory saving option and minimal noise. Now you can concentrate on your game while maintaining the right position of your desk.
Did you know your gaming setup pc screen must align with your eyes? While many other desks may not suit your height, an ergonomic desk is perfect for this matter. Moreover, if you sit for prolonged hours (which you do), you are sure to experience muscle stiffness. If you choose this desk, you can increase its height to play while you stand and stretch your muscles simultaneously.
Ergonomic Gaming Chair
While an ergonomic desk makes for the ideal screen position and accessibility, an ergonomic chair is necessary for the ultimate gaming setup. Sitting on a hard, uncomfortable chair all day long will not only hurt your back but also hamper your game. If you want to get the ideal gamer posture, an ergonomic chair is downright essential. Here are some benefits of this chair!
High-Quality Material
One of the prime qualities of an ergonomic chair is its quality material. It features top polyester fabric that covers extra soft foam so that your body remains at rest throughout the game. Furthermore, its nylon plastic frame ensures the longevity of the product, even if you use it for multiple hours every day.
Adjustable Headrest
Another excellent feature of this chair is that it comes with an adjustable headrest. You can change the height as well as the tilt of this headrest according to your wish. Therefore, whether you are in the middle of a heated gaming session or break, the head support will meet your needs.
Back & Lumbar Support
Do you often experience lower back pain or shoulder stiffness? Well, it is bound to happen after sitting on a stiff chair during the never-ending game playing. The right gaming setup requires an ergonomic chair with an ergonomic shape and multiple height adjustable features. Moreover, it comes with superior lumbar support for your lower back to eliminate pain!
Tilting Function
Whether you want to have a relaxed playing session or a short nap, the ergonomic chair is your best mate. It lets you tilt the back up to 20 degrees and lock it in the desired position. What makes it completely unique is that this chair also allows you to slide the seat forward for the ideal resting position.
Gaming Desk Setup
Now that you are aware of the two absolute necessities of a gaming setup let us get to accessorizing. Any layout is incomplete without the right additions, especially if you want an immersive gaming experience. One of the best gaming setup ideas is to include a bright LED lamp. While you love playing for hours, you must care for your eyesight. Plus, turning off the lights while keeping the LED light on gives the perfect playing ambiance.
Apart from that, an essential factor for the right gaming desk setup is having quality audio outputs. You need both—noise-canceling wireless headphones and speakers. While you require the former for playing with real-time partners, speakers turn the gaming setup room into a legit game zone. Another comfortable accessory is a keyboard tray for gaming. It will prevent any strain on your hands and let you play from your desired distance.
Having taken care of comfort, looks, and experience, there is one aspect you cannot miss—organization. You need to keep the clutter at bay by arranging the chords and keeping only essential items on the desk. The perfect accessories for this are a cable tray and a charger clamp. With these, you can keep your desk clear at all times and forget to pause your game to put your laptop or phone on charge.
EndNote
An ergonomic gaming layout is quintessential for pro gamers and novices alike. In this article, you get a complete insight into all the gaming accessories you need to upgrade your setup and gameplay. Now that you have all the information for the ideal layout, go and design the ultimate gaming setup now!
Show more