If you are a true gamer looking for accessories to fulfill your place, you've come to the right place. We have prepared the list of most important gaming desk accessories, which we believe, will not only improve your gaming experience but also increase your wellbeings. What's more, they will be useful not just for your gaming needs, but for professional needs as well, and much more.
1. Standing Desk
First of all, just like any real gamer, your main problem (besides glitches and bugs in your favorite games) is most likely the inability to sit at the desk for extended periods of time. We know that it really becomes a nuisance that your body doesn't want to listen to you and stay sore-free during extended gaming sessions. And sometimes you really have to continue to play, it's just too fun or you simply have to finish something. This is completely understandable and that's why you need something that will help fight those back and neck pains that are bound to arise after long sessions.One of the best solutions for this is a height-adjustable standing desk.
Some might think that this is even worse, as you have to stand all the while, but the truth is that you will feel much better standing than sitting for too long. If not that, your body will thank you, as a lot of sitting can cause plenty of health problems in the long run. And we know that it's really a bother to think about such things, especially if they will happen in the future, but as a long time gamer with all sorts of back and neck problems, I can honestly tell you that it's much better to think about your health in advance and make sure that you everything remains as it should be in the long run. The future you will praise you for it. Besides the fact that a standing desk is truly beneficial for your health, it can get you to move more and thus really improve your health and fitness level. Take a look at our discussion on the best and easy exercises that you can do at the stand up desk.
2. Ergonomic Office Chair
The second gaming desk accessories we recommend is an ergonomic office chair even though using one instead of a gaming chair might be a strange concept for many of us. But you don't have to take it from us, you can check out a review named ErgoChair 2 By Autonomous – Goodbye Gaming Chairs written by Keith May - editor at WccFtech. He said that "I'm using it here for my workflow and gaming sessions and it has become a point of contention between my wife and me to the point that I'm having to order her one as well so she'll stop stealing mine while I'm out."
Having won the WccFtech's Editor Choice of Award, ErgoChair 2 might be worth for you to check out at here. Pair that with a sit to stand desk and you will have a golden combo.
3. Monitor Stand
With a great height adjustable standing desk made for gaming, you might not need a monitor stand that will enable you to set your monitor on an even higher level, but more often than not, people prefer to have their monitors on a very high level. The stand up desk can adjust its height a lot, but it still has its limits, so you'll probably need something to put the monitor right where you want it to be.
There are a lot of different monitors stands that you can get, plenty of which will go perfectly with your sit-stand desk. The design is not always important to gamers, but why not have the surroundings looking great when you can? It will definitely improve your mood when everything around you looks amazing.
4. Charging Station for Your Phone
A long time ago gamers didn't need their smartphones (if you go further into the past, smartphones didn't even exist!) but today with all the accompanying apps that go with many games, you will certainly need it. Besides that, your phone is necessary even without these apps existing, since, well, how can you not have your phone close to you while you're playing a video game for a long time?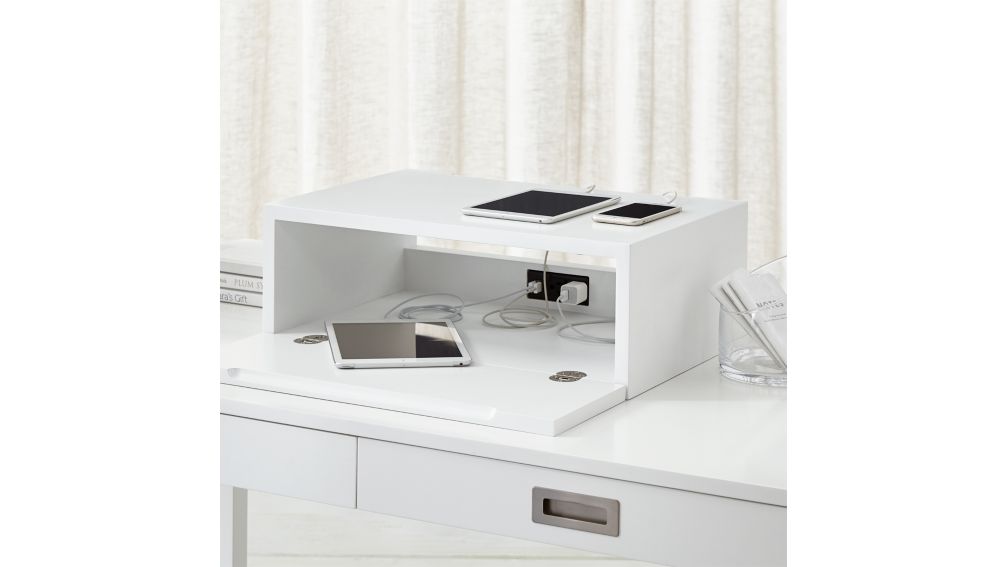 With that in mind, another problem arises – keeping the phone charged up. A solution for this is a charging station. You can choose from a huge variety of charging stations, you can even get one that can charge most of the devices you have, not just the phone. Besides its practical usefulness, a charging station is also great for reducing clutter at your standing desk. And in the end, let's not forget that they look really awesome!
5. Smart Desk Clock
Time is truly at its most important in this day and age, and we really depend on it. We are so dependent on time that one could argue that we are addicted to checking the time every 10 minutes or so. But who can blame us, it's necessary. We have to be aware of the time because of our jobs, in order to not get carried away, and much more.
Getting carried away is one of the biggest problems gamers face. Games are fun and it's only natural to get carried away, but you still have to try and avoid this. The best way to do it is to get a smart clock for your desk. A smart desk clock can be truly useful as it will be in your sight so you will unconsciously look at it from time to time. Besides that, it can do a wide variety of things as well. It's not called a smart clock for no reason.
Depending on what you want from a smart desk clock, there's a huge variety to select from. This is not something that anyone should help you with, it's something that you have to choose for yourself, minding your own specific needs and preferences.
6. Noise-canceling Headphones
Every gamer needs headphones, but not every gamer has good headphones. The quality of this product can make a huge difference in gaming. You need to be selective here and even think like a musician.
The best headphones for gamers are over-the-ear headphones with good sound quality and noise-cancelation feature. You can consider several different vendors, many of them have great headphones, but always mind these two things when finding the ones you'll eventually get.
7. Desk Air Purifier
If you ask me, the air you bread should be clean and fresh. The problem with air inside, and especially in the room where your stand up desk is, can get truly stuffy and unpleasant. Opening the window will do the trick, but more often than not, the air outside is even worse. This is especially the case if you live in a big urban area.
If you want to truly deal with this problem and start breathing a pleasant air devoid of dust particles and bad odors, you should get yourself an air purifier for the height-adjustable standing desk. One of the better ones you can get is usually small and compact, basically perfect for your gaming desk. You can also consider a portable air purifier which you can pack and carry on your travels for example. These are basically the same as the regular desk ones but offer this useful additional feature.
8. Magnetic screwdriver
As someone smart has already said: "if you can use a screwdriver, then you can build a PC". Because of this, a screwdriver is a must accessory for a sit-stand desk as it's a must for any kind of tinkering on the PC. If you want to fix something, change something, add new parts or change existing ones, or simply properly clean your desktop computer, you will need a screwdriver.
Naturally, the best option here is to have a magnetic screwdriver and just to be on the safe side, you should have one with removable bits and several different tips.
If you want to get really serious about it, you should get the whole package of tools that will come in handy for the PC.
9. Ergonomic cushions
Height-adjustable standing desks are definitely different from regular desks, and precisely because you are standing, you should get some proper ergonomic cushions for your hands. This is good for regular desks as well, but basically necessary with standing desks. Since you're standing, more pressure will be put on the hands, and in the long run, the desk can damage your arms and cause pains, which is why it's very important to have good ergonomic cushions for both hands.
10. Ergonomic mouse pad
Instead of getting two cushions and one mouse pad, you can get only one cushion and one ergonomic mouse pad. Like it was previously mentioned, ergonomic cushions are very important if you want to keep the hands healthy and pain-free.
Besides your health, an ergonomic mouse pad is basically necessary since any kind of mouse pad is necessary. If we have to explain that to you, you shouldn't call yourself a gamer… What we should say is that an ergonomic mouse pad is much better and more useful than a regular one, which is why you should definitely consider getting one.
11. Webcam
You are probably thinking "why would I need a webcam?" right about now. Well, you don't, but if you have a Twitch account and think that many of the players there are real noobs and that you can do better, then you definitely need a webcam.
Why should they get all the attention when you are certain that you can do better than them? Get yourself a webcam right now and start making those videos!
12. Under-the-desk Headphone Stand Mount
After all of these accessories which you are probably going to get soon if you don't already own them all, you are most likely realizing that your desk is getting quite full. If you don't want to get rid of anything, one of the better solutions is to get an under-the-desk headphone stand mount. You can get it for a low price from several vendors and it will really be a useful feature for storing the headphones (which tend to occupy the most space for no reason).
You can easily install it under the sit-stand desk and hang your headphones. They will remain at an arm's reach for you to easily and quickly get them whenever you need them.
13. Cable Management System
You don't even have to be a gamer to know how annoying cables can get. This is especially the case with desktop computers which have to have a lot of cables that can cause a mess if not properly managed. This can actually get even worse with a height-adjustable standing desk.
For all of these reasons, it would be good to get a decent cable management system. Such a system usually includes small cable drops which are attached to the desk where you want a specific cable to go, because these drops hold them. Simple as that.
Another useful thing here is one of those cable management sleeves which easily collect a couple of the cables and make the whole mess of cables a bit more organized.
Conclusion
So, when you take a look at it, the height-adjustable standing desk for gaming can get even better with all of these cool gadgets that every gamer should have.
All 13 gaming desk accessories can easily be found online and you should definitely take a look if you want to buy one. We won't suggest a specific brand as there are many, and besides, it's much better for you to see for yourself which one suits you best.
Sort by

Top comments

This week

This month
13 Cool Gaming Desk Accessories Every Gamer Should Have