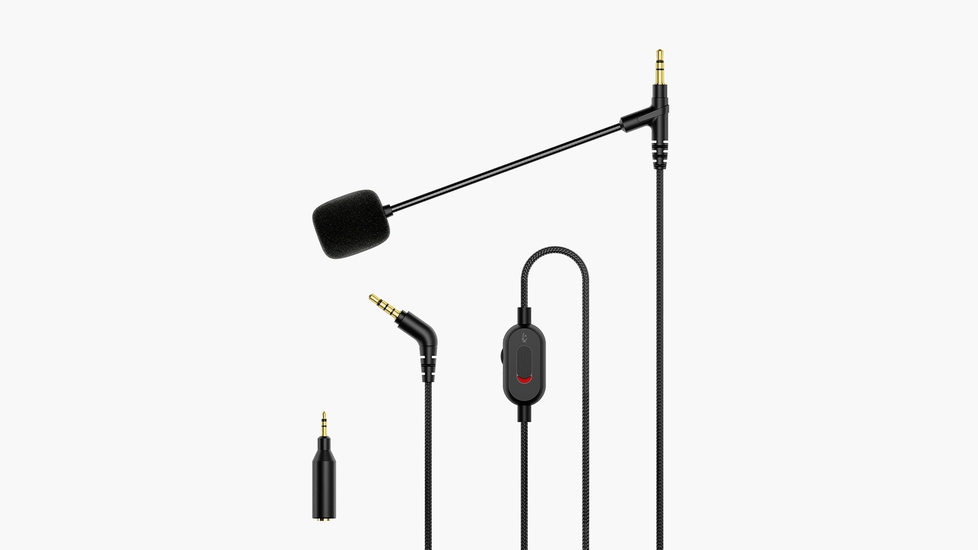 MEE audio MEE Audio ClearSpeak Headset Cable: with Boom Microphone
Buy now
Add to cart
FREE shipping Dec 07 - Dec 11. FREE 30-day returns.
Bought by 1+ Disney employees.
Sold and shipped by MEE audio
• Audio cable with built-in microphone transforms your favorite wired or wireless headphones into a professional-grade headset for teleconferencing, gaming, and phone calls • Flexible boom mic with echo reduction delivers superior volume and audio quality for crystal-clear communication in any environment • Durable nylon-sheathed cable features built-in mute switch and volume control • Compatible with most wired and wireless headphones featuring standard 3.5 mm audio input; 2.5 mm adapter included for headphones with 2.5 mm input • For use with pcs, laptops, gaming consoles, tablets, smartphones, and other devices with a standard 3.5 mm headset jack
• 1-year warranty
Transform your favorite headphones into a professional-grade headset for teleconferencing and gaming. Features a flexible boom microphone that eliminates echoes and background noise to ensure your voice is loud and clear in any environment. Compatible with most wired and wireless headphones with standard 3.5 mm or 2.5 mm audio input
Deep dive into specs
A Guide On MEE Audio ClearSpeak
In order to use the headset microphone hands-free, it has a built-in headband. Converting the human voice into electrical impulses allows for a great deal of flexibility in movement. The headset microphone, like a MEE audio ClearSpeak may be used to make phone calls when paired with headphones or earbuds, they are one of the best office accessories. When you're on the phone, your hands are available to do other things, like work on your computer. Wireless and cable headset microphones are available in a variety of configurations. If you work from home, here are essential home office desk accessories for you by Autonomous. Earphones or headphones are often paired with headset microphones. Headsets come in a broad variety of styles and price points. Although the stereo sound may be produced using headphones with a second ear cup and a microphone connected to the arm, this design greatly reduces the listener's ability to hear background noise. A neckband option is also available for these headsets. Headsets with a single earcup allow for a more accurate reading of background noise. In-ear headphones, as well as a microphone, are typically included with mobile phones and smartphones. When using wireless headsets, the mic is attached directly to the in-ear earphones via an arm of various lengths. Muting the headset mic is common on professional headsets like MEE audio ClearSpeak.
Why Go For Noise Cancelling Headset With Boom Mic
If you're using a basic without noise cancellation, your coworkers and the caller will be able to hear you while you're talking. Most callers find this to be quite inconvenient. You and your colleagues' chats will be audible to the person on the other end of the phone whenever there is quiet between you. MEE audio ClearSpeak headphone cable with boom mic will allow your caller to hear you well despite the surrounding noise, making it one of the best smart devices. Only mumblings from employees in the background will be heard during these periods of quiet, rather than a full dialogue. The caller will be able to hear your voice more clearly if you are wearing a high-quality noise cancelling headset with boom mic. This is critical because the less information you have to repeat, the more accurate your communication will be. In a professional business setting, it's critical to preserve callers' trust and confidence while selling items and gathering credit card information, thus, using a headset keeps them focused on your discussion and less distracted by background noise. Passive noise-attenuating headphones or no headphones do not enhance the signal-to-noise ratio in the aviation environment as much as noise-canceling headphones, making it easier to hear vital information like safety alerts. Active noise cancellation is used in headsets with boom microphones to eliminate low-frequency noise, while soundproofing is used to block out higher-frequency noise.
Benefits Of Noise-Cancellation
Hearing protection against consistent levels of noise may be provided with MEE audio ClearSpeak, you obtain significantly more noise attenuation than with regular headphones. This is fantastic news for folks who want to keep their ears healthy since they can reduce the volume of the music to a more pleasurable and comfortable level yet still be heard over loud noises generated by the surrounding environment. Noise-canceling headphones are a boon to those who must travel by rail or aircraft and need to sleep, read, study, or work while the outside noise is muffled. The use of noise-canceling headphones allows users to concentrate on many activities without being distracted by outside sounds.
Features Of MEE Audio ClearSpeak
Use a professional-grade headset cable with a microphone with your wire and wireless headphones for clear conversation anywhere. Built-in echo reduction in a flexible boom microphone. A well-placed steel boom microphone may pick up your voice without echoes and with less noise in the background, making it easier to be heard. As a result of computers and gaming consoles. Compatible with PC, laptop, game console, tablet, and smartphone devices with a 3.5 mm headphone jack. Compatibility - Wireless and cable headphones with a 3.5 mm input signal are all compatible with this device's audio output. Select earphones with 2.5 mm input need the supplied 2.5 mm adaptor. The QC headphones from Bose are not compatible.