Since the outbreak, the demand for home office gadgets and office desk accessories has increased. However, as businesses throughout the world adjust to an ever-changing health crisis, one thing stays constant: the term "working from home." 
Long story short, winter has arrived, and our home offices must be in tip-top shape if we are to collectively propel this planet into the future. In a nutshell, people must adapt or risk being left behind. 
Creating a daily, weekly, and monthly structure for your home office environment requires the right tools, which Autonomous provides. We've combed through our archives (and beyond) looking for the best cutting-edge home office desk accessories to keep you organized, physically healthy, and ready to tackle anything. 
Here is a list of some must have office accessories:
35 Essential Home Office Desk Accessories This Year
1. Autonomous Wrist Rests
Ergonomic wrist rests are so popular in home offices that they're frequently built into the design of a keyboard tray. If you're working on a setup that doesn't already have these features, you may appreciate the ergonomic benefits of a wrist rest. 
The Autonomous wrist rest is a winner thanks to its combination of support, elasticity, and sweat-wicking properties. Other rests may be too soft, too rigid, or formed strangely. Some of them even have unusual chemical scents. In addition, Autonomous offers wrist rests in a variety of colors to complement your personal style.
2. Desk Lamp
Good lighting is essential for preventing eye strain while staring at work on your monitor. Taking hourly breaks and making a concentrated effort to blink (among other things) is also an important factor to reduce eyestrain. 
These work from home desk accessories can also help in brightening up your workstation, which may aid to reduce general fatigue. Traditional lamps and overhead lighting can be helpful, but the key is to focus the direct lighting on your subject. 
The small and adjustable form factor allows the buyer to angle it straight over his or her computer or keyboard without obstructing their vision. This lamp's base rests off to the side, while the thin plank of LEDs fades into the bezels of a display. Changing the LED desk lamp's brightness and warmth is a breeze. 
To rotate among the five-tone options, press the touch-sensitive button, or slide your finger across the base to increase or decrease brightness. 
3. Wireless Power Bank
Autonomous' Lexon wireless power bank is hard to beat if you're looking for an all-in-one wireless charging stand for your Apple devices. Because of its sleek design and trustworthy operation, it has been recommended by many. 
This work from home desk accessory has a wireless charging power of up to 15W for an iPhone, AirPods, and Apple Watch. As a result, it has the potential to significantly reduce cable clutter. 
4. Headphone Stand
Having a pair of headphones within arm's reach is probably necessary for individuals who like (or need) to listen to the radio or music streams while doing other activities. When you're done with that task, though, having a specialized stand to hold your headphones is an easy way to keep your desk tidy and prevent your headset from getting scratched. 
There are plenty of options available for these work from home desk essentials, but we recommend Beaverpeak if you want a stand with a little more use. 
5. Adjustable Laptop Tray
This is another product that should be included in the home office desk accessories checklist. This spring-loaded arm is connected to a tray (about the size of a dinner tray) that you may lower, swivel, lift, and swing toward or away from you as needed. The base can be screwed into place or secured to the edge of a desk.
6. Desk Organizers
Lipper's Bamboo Four-Tier Desk Organizer is a fantastic home office desk essential for removing clutter in a compact space. It has two locked drawers and two open spaces that are 75 inches in length and about two inches in height. 
This makes the organizer ideal for storing home office supplies such as cables, hard drives, scissors, pens, staplers, sticky notes, paper clips, and other random desk items that look better hidden. The top shelf can also be used to store other items such as a clock or a pair of earbuds.
7. Mug
Mug is the most unusual of our suggestions, yet it is far from a cliché. The concept is simple: it's a mug that can't be knocked over by accident. Thus far, it's delivered on that promise. What appears to be a redesigned rubber suction cup attached to the base is the secret to this. 
The stainless-steel tumblers from Mug keep liquids hot for up to six hours and cold for up to 24 hours. These home office desk essentials are available in 12- and 16-ounce sizes, as well as a selection of colorful and fashionable colors in matte and sparkly finishes. 
8. Bluetooth Mouse
Here is another item in our home office desk accessories list. A Logitech MX Master Three Bluetooth mouse has the accuracy and flat-out practical ergonomics of the greatest business computers and workstations, but no touchpad can equal the precision of the Logitech Bluetooth mouse. 
The current version of the MX Master mouse has a distinctive scroll wheel with two different settings (one ratcheted, one free-scrolling), and it charges through a USB-C port.
9. Standing Desk
Studies have shown that sitting for long hours a day can result in detrimental physical side effects, and while there isn't exact proof to back this theory up, it's better to be cautious. 
Autonomous offers the best standing desks that can be easily adjusted to suit your height whether you prefer to sit or stand while working. By pushing the up and down arrows on a keypad on the right side of the desk, you can adjust its position. Specific heights can also be saved in the panel's memory for quick access. 
10. Multi-Port Hub
Many current laptops now come with fewer ports to compress the computer into a smaller, lighter box. If you work at a desk, Anker's Apex Thunderbolt Dock can help you overcome this issue. Let's consider this home office desk essential for your workspace.
11. Desk Mat
Switching to a standing desk can help ease the soreness that comes with sitting for long periods of time, no matter where you work. While working at a standing desk relieves back strain, standing for long can put a strain on your feet, knees, and legs. That's where an anti-fatigue mat can help you stand more comfortably for long hours. Autonomous standing mats make the best standing desk accessories.
12. Monitor Arm
A monitor arm could be a work-from-home desk essential that all workers need. 
Monitor arms solve eye problems by allowing workers to modify the position, height, angle, and distance of their monitor screens while working, ensuring that their eyes aren't being strained.
13. Noise Cancelling Headphones
This is another of the must-have desk accessories. If you work in a noisy setting or prefer to listen to music through headphones, the Bang & Olufsen Beoplay HXs are the perfect option for must-have office accessories.
In a relatively small design, the headphones feature great active noise-cancelling features and audio quality. Bang & Olufsen claims they can last up to 30 hours on a single charge, which we found to be true.
14. Scented Candles
Some days are more stressful than others, and a sweet or tropical scent might help to ease the tension. Set a candle on your desk to help you relax and complete your to-do list. 
15. Keyboard
You could be using a laptop at home or a desktop at the office. If you want to improve your typing speed and efficiency, consider investing in a reliable quick action keyboard made specifically for office use. 
At Autonomous, you can get the Cloud Nine ErgoTKL ergonomic keyboard. This keyboard was created with office workers in mind and is extremely user-friendly. 
16. Cellphone Stand
Every home office should have a smartphone stand, one of the must-have desk accessories. It makes Skype and video calls a lot easier, as it allows you to use both hands to check important documents on your laptop. 
17. Ergonomic Seat Cushion
Don't forget about the bottom part of your spine when sitting for long hours. The tension on your lower spinal discs and buttocks can be eased by using a seat cushion. It also pulls your pelvis forward, supporting your brain's natural lumbar bend. Since your bottom carries a lot of weight, you need to show it some care.
18. Pen Holder
Cute desk decorations make "coming to work" a more pleasurable experience. A pen holder can add some personality to your workspace. It makes it easy to access your pens and pencils. Additionally, it eliminates the need to dig through a pencil case before tossing everything on your desk.
19. Book Shelf
You should have this item in your home if you like to read. It can hold your books, as well as your relevant files and paperwork. Bookshelves can also be used to complement the interior design of your office. Having a bookcase with your favorite books and magazines can be a great work-from-home desk accessory.
 20. Wi-Fi Router
If you work from home, your entire day is dependent on a reliable internet connection. We've tested several new routers, but Linksys' Velop MX5 has consistently outperformed them. 
The tall, white router connects to your ISP's cable modem and provides a powerful wireless network with a range of up to 3,000 square feet. 
This computer desk accessory is compatible with Wi-Fi Six, the most recent version of the wireless standard, which is quicker, has a greater range, and is more secure. Although most technology isn't yet equipped with Wi-Fi Six, all your current devices should connect without issues. 
21. HD Webcam
Over the last year and a half, video conferencing has become an essential element of many people's jobs, and it shows no signs of slowing down. This fact requires the use of a high-quality webcam to appear professional. 
The MEE Audio CL8A webcam built for gamers, but because of its distinctive appearance, it's suggested for everyone. A light ring surrounds the camera, which is usually an optional home office desk accessory.
22. Microphone
After you've set up a solid webcam, it's time to pair it with a suitable USB microphone. Shure's MV7 is our top pick, as it outperforms every other microphone in its class. This makes a great computer desk accessory.
23. Autonomous ErgoStool
The ErgoStool by Autonomous engages your core and strengthens your back. It encourages Dynamic Sitting, which simply means that the bouncing stool encourages you to change your posture in order to boost your mobility and energy levels. The stool also features height adjustment for your comfort.
24. Mini Flash Drive for Phone
This home office desk accessory is a must-have for professionals who work on their smartphones as much as they do on their PCs. The iXpand Mini Flash Drive backs up your iPhone or iPad camera roll constantly, ensuring the safety of your thousands of images, videos, and files. 
You may never be concerned about running out of space again. It also has a lightning and USB port, allowing you to easily transfer all your data to your computer. 
25. Desk Pad
The greatest desk pad mats also serve as mousepads. It is one of the must-have home office desk accessories in your working corner. However, instead of limiting your mouse's range of motion to a little square, it gives you plenty of room. It also contributes to the cleanliness of your desk, as its water-resistant surfaces make spills simple to clean. 
Many people also find that having a desk pad helps them organize their workstation, which is especially true for desk pads with built-in pockets for important documents and small calendars. We recommend purchasing the cork desk pad by Autonomous.
26. Keyboard Tray
Keyboard trays can be used to store your keyboard and other peripherals away from your office desk. Most keyboard trays come with the slide-in and out feature, which allows you to save space when the keyboard is not in use.
 Our suggestion is the Uncaged Ergonomics KT1 Under-Desk Keyboard Tray that lets you type while keeping your keyboard in a neutral or negative tilt, and the mouse remains level. It is one of the best desk accessories in terms of space saving.
27. Power Dock
Charging docks use electromagnetic fields to transfer energy between the charger and the device. This ends the purpose of wires. They are safer and more environmentally friendly than traditional chargers. They also save you the cost of buying new cables whenever your old one breaks. 
We recommend Autonomous Power Dock. You can charge your phone both vertically and horizontally. Furthermore, it allows you to keep your phone in view while charging.
28. CPU Holder
One of the most important work desk accessories is a CPU holder. These give you a designated place for your CPU while saving office space at the same time.
The Mount-It! Under Desk CPU Holder has a weight capacity of 22 lbs. and is also wall mountable. It is compatible with CPUs of height from 11.8" to 21" and width from 3.5" to 8". Its 10-year warranty is a bonus.
29. Laptop Stand
Laptop stands are platforms where you place your laptop, so the screen comes up to your eye height. This promotes better posture and puts less stress on your eyes. Furthermore, it prevents strain on your back and neck caused when you bend them while working.
30. Monitor
There is no question as to why a monitor is an essential office desk item. Almost all your daily office work is done on your monitor, which is why it is extremely important that you use the right monitor. This would be very beneficial as good monitors provide you with clearer pictures, better speakers, more USB ports and improved ergonomics. To put it simply, a good monitor will have a very positive impact on your work life.
A good monitor is the Pixio Monitor PXC325 which features a borderless, curved display. It provides sharp images and a very smooth performance. It also comes with a 165Hz refresh rate, an eye-saver mode, and HDR compatibility.
You can even use a monitor stand for desks to improve your experience further. A monitor arm for desks can be used to set your monitor in the most comfortable position. It would allow you to adjust the angle of your monitor along with its height and depth.
Unleash Your Creativity with the Yaber PICO T1 Smart Projector
The Yaber PICO T1 Smart Projector isn't just for entertainment—it's a canvas for your creativity. This powerful yet compact projector lets you unleash your artistic talents, transforming any surface into a captivating display. Showcase your photos, videos, or artwork with ease, and let your imagination take center stage. Whether you're a professional photographer, a creative hobbyist, or simply looking to share your memories in a unique way, the PICO T1 is your perfect companion. Its portability and advanced features make it an ideal tool for presentations, workshops, or simply adding a touch of magic to any gathering. Embrace your inner artist with the Yaber PICO T1 Smart Projector.
31. Watch Organizer
A watch organizer would allow you to display your elegant watches right on your desk. These organizers protect them from dust and scratches. It also gives a luxurious look to your office desk. Basically, this desk setup accessory would allow you to display and protect your watches while keeping them easy to access.
Some watch organizers also come with drawers to help you store your desk things and prized watches together.
32. Speakers
Almost all computers have speakers already fitted in, but their audio quality is usually not up to the mark. Listening to low-quality audio can be very irritating, which is why we recommend you get a speaker that is compatible with your computer and provides high-quality audio.
33. Charging Station
A charging station comes with many charging ports, allowing you to charge more than one device simultaneously. These can come in handy at the workspace, where you might have to simultaneously charge your phone and some other device. A charging station can also be very time-effective as you won't have to wait for one device to charge before you can charge another.
34. File And Document Organizer
One of the essential work desk accessories is a file and document organizer. You can keep all your important papers, letters, files, books, magazines and documents in the same place on the top of your desk. This would reduce the chance of your important documents getting lost or misplaced. Furthermore, you will save a lot of time when you won't have to search through dozens of drawers and piles of paper every time you need a document. 
Some file organizers also come with the feature of displaying your files and documents at an angle that makes them all visible from your position. These will make sure that you always know where every one of your papers is. It is one of the best desk accessories for office storage & organization.
35. Standing Desk Converter
A standing desk converter is a desk item that can be placed on the top of your desk to raise your workstation up or down while you work. This would allow you to work both while sitting and standing. 
There are health risks associated with both sitting and standing too much. A study has even called sitting 'the new smoking. However, being on your feet for too long is just as harmful. A standing desk converter can prove to be very beneficial as it allows you to switch between working while sitting and standing.
While setting up a desk, it is important that you have all the necessary desk setup accessories. Ensuring that you have the correct desk items will not only save you from wasting your precious office time but will also help provide you with a better working experience while improving the quality of your work at the same time.
Conclusion
It can be difficult to persuade yourself to sit down and get to work. However, the process is made a little easier when you arrive at a cool, fully equipped desk. Maintaining motivation throughout the workday requires some cool desk accessories. Gifts that brighten the cubicle and promote invention can be a great motivator for those coworkers who dread long hours at the office.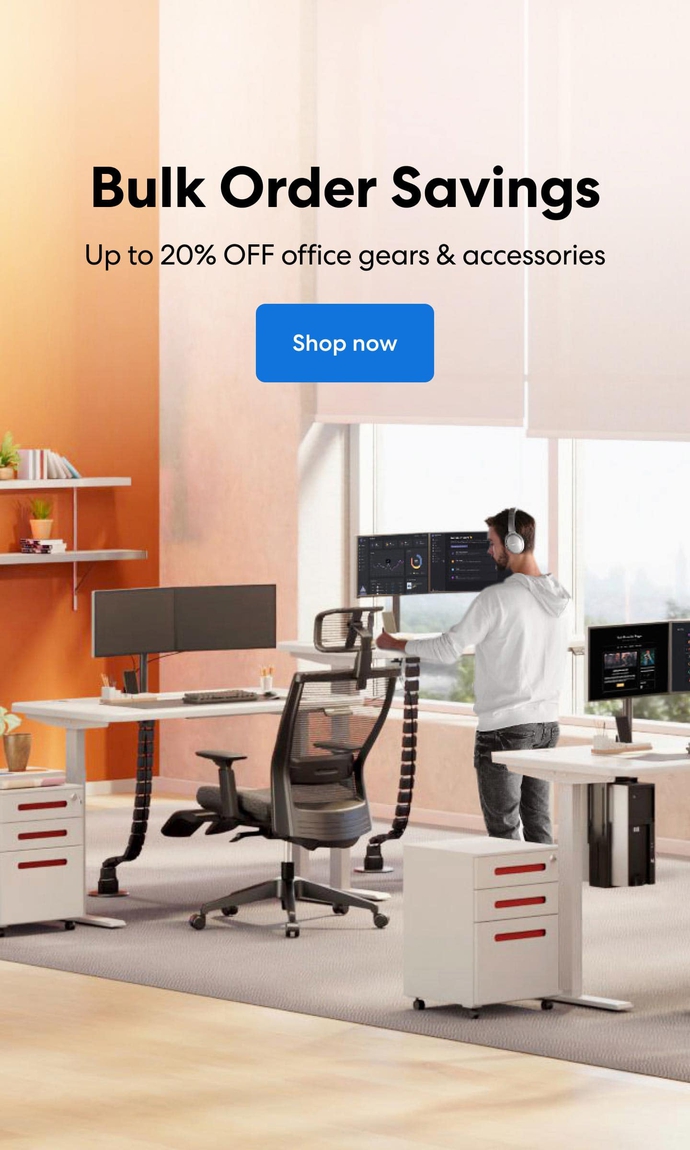 Subcribe newsletter and get $100 OFF.
Receive product updates, special offers, ergo tips, and inspiration form our team.