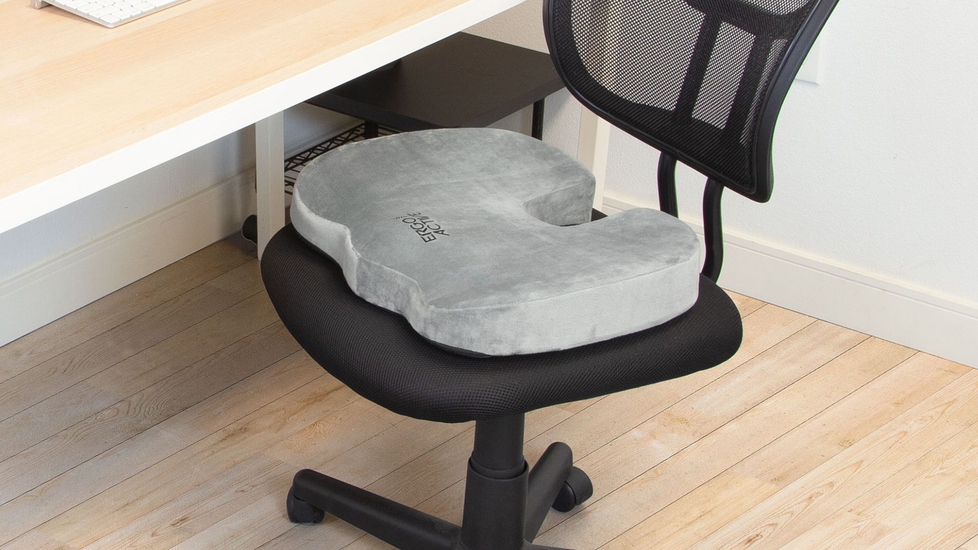 Mount-It! ErgoActive Cooling Gel Seat Cushion
5 reviews
Visit our store
$31
$39
(-20%)
Free shipping
For your teamSave up to 

4%
Buy now
Add to cart
FREE shipping Sep 24 - Sep 26. FREE 30-day returns.
Sold and shipped by Mount-It!
• Remove pressure points in hips, low back, and coccyx • Cooling gel reduces heat buildup • Memory foam conforms to your body • Removable, washable cover • Dimensions: 17.5" x 13.75" x 3" Material: gel, memory foam
• 10-year warranty
Use this seat cushion anywhere! The nonslip bottom keeps it in place. Office chairs, desk chairs, computer chairs, sofas, couches, car seats, airplane seats, wheelchairs, and recliners can all be upgraded to properly position your spine when you sit
Deep dive into specs
Features
Specs
FAQs
reviews
4.8
As a person who suffers from back discomfort, I can tell you how difficult it may be to sit still. Driving a car or sitting at a desk all day might be extremely taxing. Although it's difficult to tell which seat cushions are the greatest for back pain alleviation, According to three experts, finding a little more about how seat cushions may help alleviate the discomfort of sitting all day. ErgoActive Cooling Gel Seat Cushion comes to the rescue. These cooling chair pads may be made from a wide range of materials. Gel is a common substance that may be found in combination with memory foam products. Does your job, gaming, or driving need a lot of sitting? This orthopedic gel pad seat cushion may help alleviate your coccyx ache. Boost your productivity by regaining a sense of well-being! Even after hours of sitting, this best cooling seat cushion keeps its form. No matter how tall or small you are, this best cooling seat cushion will provide the base-level support your spine needs, no matter what. However, if you have lower back pain here are ergonomic chairs for lower back pain on Autonomous, but we recommend ErgoChair Core for all your needs.
Why You Should Get ErgoActive Cooling Gel Seat Cushion:
You may put this cooling office chair cushion to good use anywhere you choose! The non-slip bottom ensures that it doesn't fall over. It is possible to modify a wide variety of everyday items, including chairs, sofas, car seats, aircraft seats, and even wheelchairs and recliners, in order to ensure that your spine is correctly aligned as you sit. Even in a professional setting, no one enjoys butt sweat. A layer of impact-absorbing gel disperses the heat from your body. You may wash the cover every few weeks, and it won't shrink! Sitting for an extended amount of time is a familiar sensation for many of us. If you do it often, it might rapidly become uncomfortable. In addition to poor posture with tight muscles, prolonged sitting may cause back discomfort over time. If you work for long hours, here are the most comfortable office chairs for long hour sitting on Autonomous for you. Sitting on a gel pad seat cushion may be beneficial. These cushions are meant to alleviate discomfort in the hips as well as the lower back by minimizing the amount of pressure exerted on them. They may also help you sit in a more upright position.
Benefits of Using ErgoActive Cooling Gel Seat Cushion:
Keeps You Cool & Decrease Stress
While giving support, the gel might give a cooling effect. In addition to relieving symptoms of sciatica, postpartum pain, and pressure ulcers if the gel cushion is shaped correctly, it may also assist alleviate other problems. The Gel pad seat cushion may alleviate the tension on the aylio coccyx, hips, or back while you're sitting down. Because of its cut-out shape, ErgoActive Cooling Gel Seat Cushion reduces the amount of tension these body parts experience when sitting for a lengthy period of time.
Better Posture & Better Circulation
Long periods of time spent sitting have been shown in several studies to be harmful to one's health. Prolonged sitting not only impedes circulation, but it may also lead to spinal issues. It is possible for these health problems to begin in the cervical area of your spine and go all the way down to your lower back. It's also hard to get enough blood to your legs and back while you're sitting. As a result, the body's muscles and tissues in these areas will not get the oxygen they need to be healthy. As a consequence, your body's metabolic rate may slow down. You're more prone to experience fatigue and sluggishness. This best cooling seat cushion makes increasing blood flow to the pelvis, back, and legs easier.
Comfort
Cooling chair pads and cushions of ErgoActive Cooling Gel Seat Cushion are designed to adjust to your body's unique contours, allowing you to sit comfortably. Your body requires a seat that adapts to your shape for optimal performance. Your body weight will be spread evenly throughout the whole seat as a result.