Smart Products
28 Picks of Desk Chair for Back Pain in 2022
25,319 Views
If you are struggling with lower back pain, the reasoning for this may be poor posture. Office workers tend to sit for extended periods, the result of this may have adverse effects on your physical health. There is a lot of evidence that the use of an ergonomic chair reduces lower back pain. A chair with lumbar support and cushioning aids posture control and can help alleviate strain and provide relief for lower back pain.
With over 65 million individuals in the United States suffering from increasing back pain, it's only natural for designers to create equipment that is more in sync with our bodies, particularly workplace furnishings. Desk workers generally spend most of their work in an inactive, seated position, aggravating existing back problems.
Creating a simple decision to replace the current desk chair with an office chair for back pain will help you be much more relaxed and comfortable during the day. Ergonomically designed chairs with constructed back support are the greatest workplace chairs for increasing back discomfort. Amongst the chair and the natural inward bend of your vertebrae, the lumbar area, often known as your lower spine, requires support.
This assistance of the best office chair for back pain aids in the maintenance of a healthier posture. The general instinct is to slump or lean forwards without back support, forcing your spinal muscle fibers even harder to maintain proper spinal alignment. Which eventually ends up exhausting them.
Are you an office worker experiencing the discomfort of lower back pain? What is causing your lower back pain, and do you need a chair with lumbar support? Autonomous has your back covered. We offer some of the best office chairs lower back pain.
What Are the Best Office Chairs for Lower Back Pain?
The market for ergonomic chairs is quite vast. Many companies claim to have the best ergonomic chair for back pain. The task of finding the best ergonomic chair for lower back support is therefore challenging. Autonomous has done the bulk of the search for you and we have put together some fantastic options to help you choose the best office chair for back pain.
Lumbar support is vital when looking for the best office chair for lower back pain since it relieves the strain and strain on your lowest spinal column. Some backache desk seats provide built-in ergonomically designed support for your head, shoulders, and arms. These chairs offer a higher backrest and are larger. Such seats may be ideal for your workplace in size and character.
There are several mid-back level office chairs for back problems that give top-quality comfort in a much more compact shape if you are short on the room or want a sleeker style. Some office chairs have the option to recline, which is a useful property for back problems. It's occasionally comfier to recline at a modest angle, and it makes the seat look more natural to remain seated in.
Nonetheless, you would also like the reclining armchair to accommodate your typical back curve rather than leaving you slumped over or asleep. Therefore, we've collected multiple best desk chairs for back support that are likely to satisfy your spine's and your workplace's unique requirements.
The capacity to genuinely improve your life is something that all top swivel chairs have in the connection. The greatest office chairs available, even if you're working from home or keeping active at the office, have ergonomic characteristics that support your entire body, making it feasible to rise after a long day without a sore spine or neck.
And let's face it: You should not spend all of your day working from a couch or a dining chair, no matter how alluring it may seem to do so. A specialized ergonomic chair is a smart purchase if you desire to feel at ease as you do your responsibilities. Below, we have selected several of the best office chairs for back pain options.
We have selected 28 of the best office chairs with back support that offer you lumbar support, increase your output and productivity, improve your posture, and promote many more benefits. We have tried each of these office chairs with back support, which is why we can vouch that they're not just stylish; they also help keep you pain-free and properly comfortable even following a long day. Learn more about the finest office chairs for ergonomics below. A wide range of designs, including traditional executive armchairs, distinctive contemporary designs, and even ergonomic chairs for back pain, have been reviewed by us.
1. The Autonomous ErgoChair Pro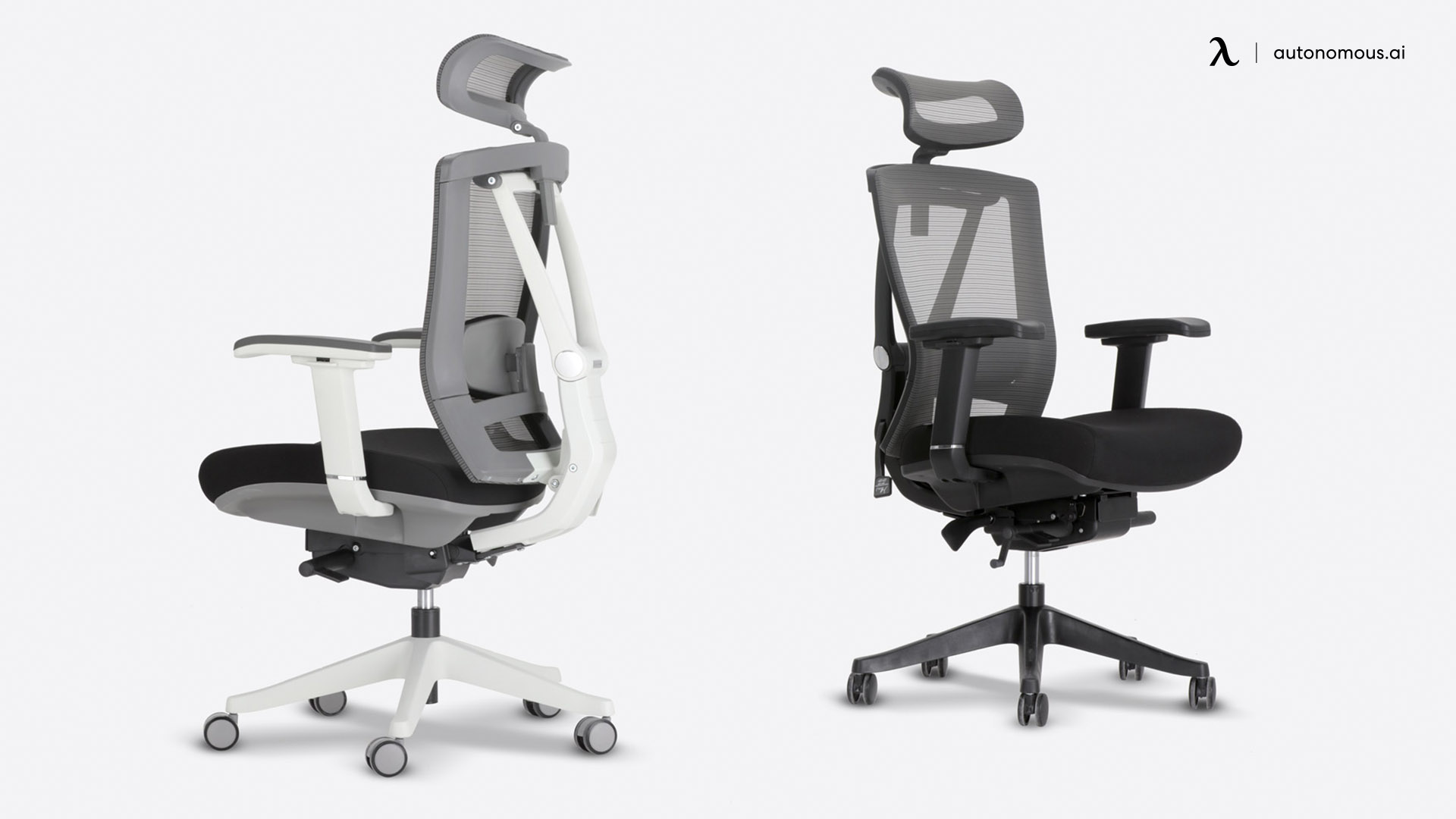 The ErgoChair Pro is considered one of the best desk chairs for back pain on the market when it comes to lumbar support. The design of this seat incorporates a flexible lumbar system and customizable user preferences.
2. The Autonomous ErgoChair Pro+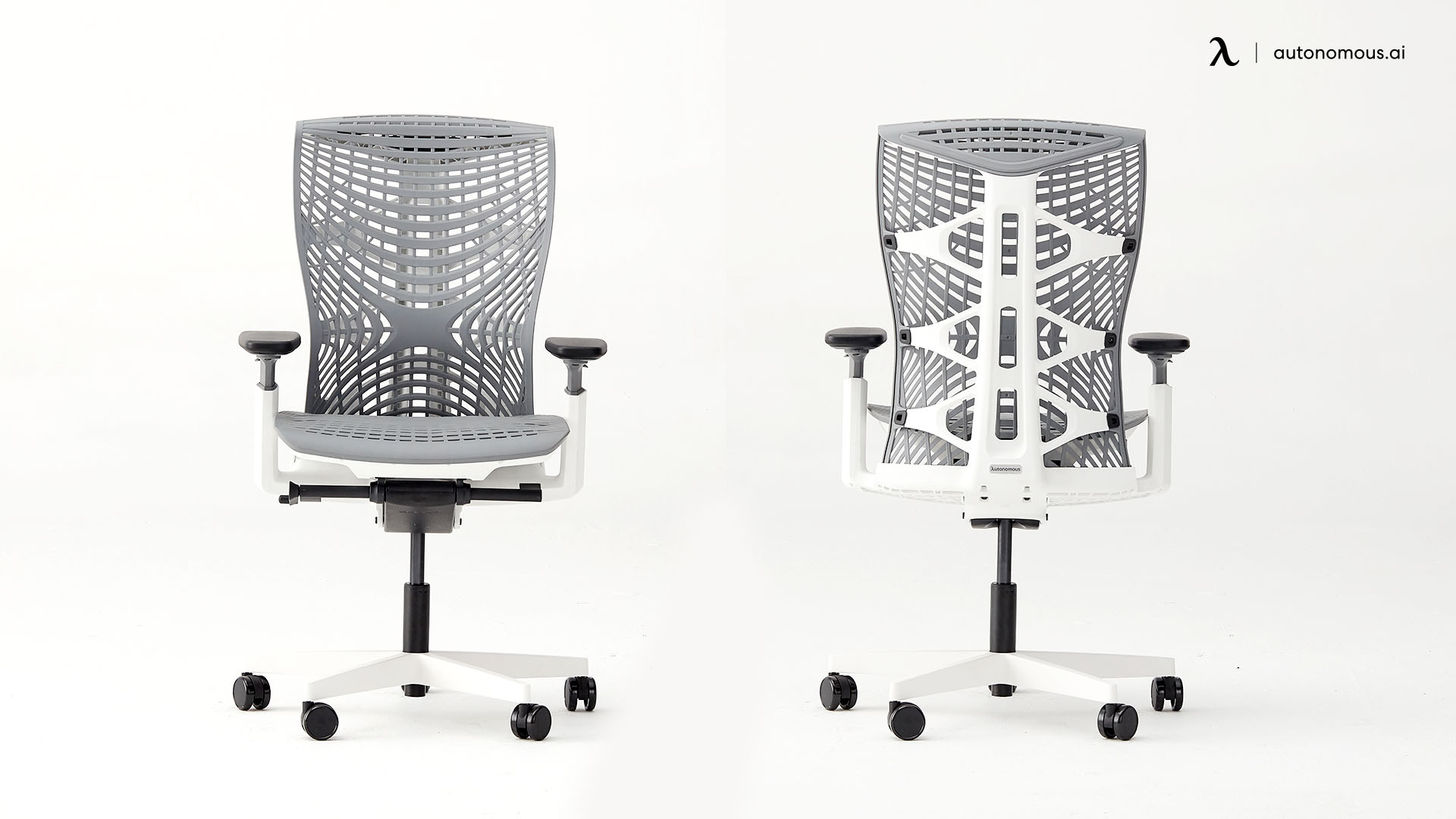 This office chair for back pain has a distinctive fishbone design and ErgoChair Pro+ is designed with the alleviation of back pain in mind.
3. The Autonomous ErgoChair Recline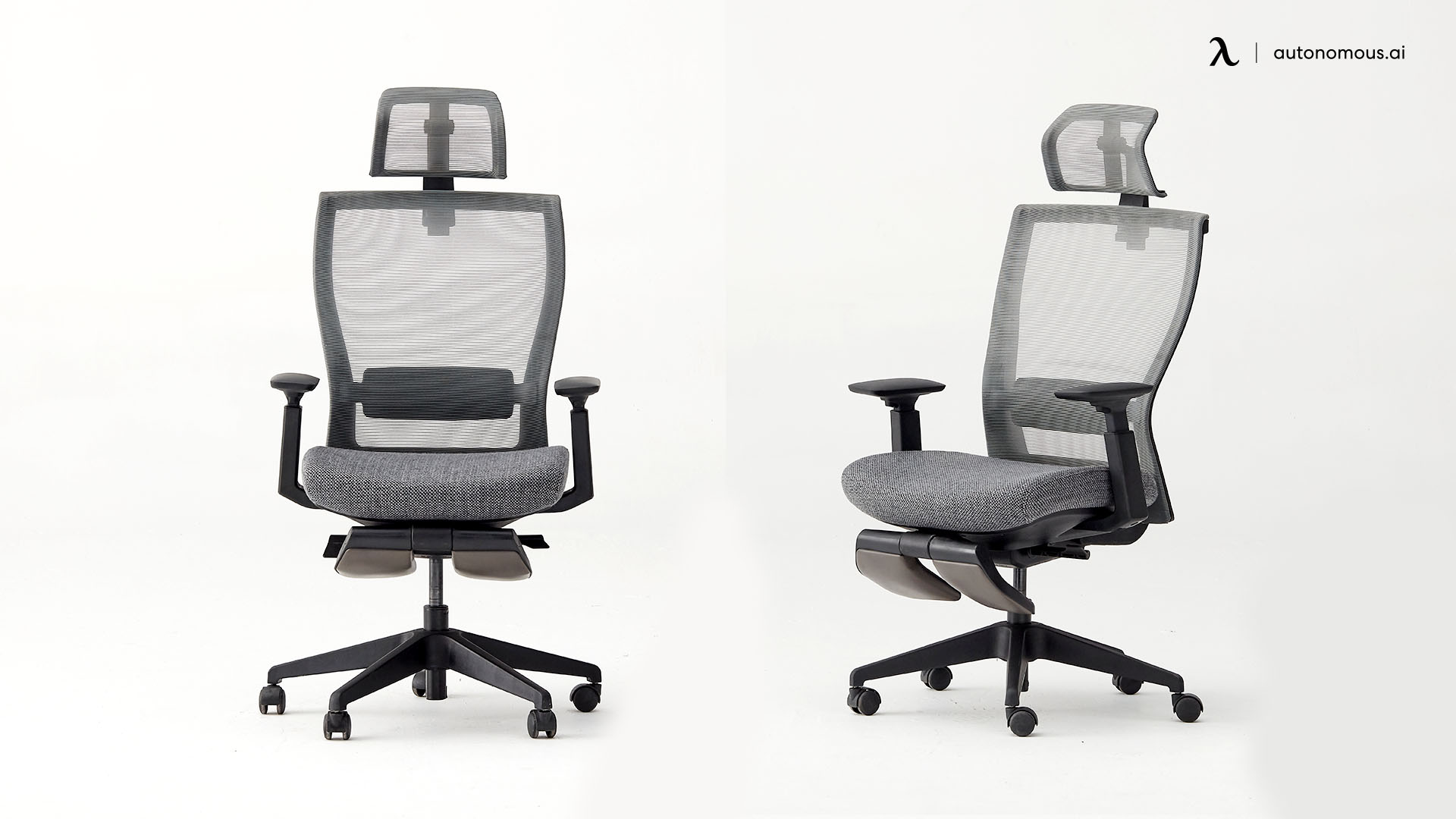 ErgoChair Recline allows for its user to recline instantly and guarantees comfort. It is a good option for your best office chair for back pain.
4. The Autonomous ErgoStool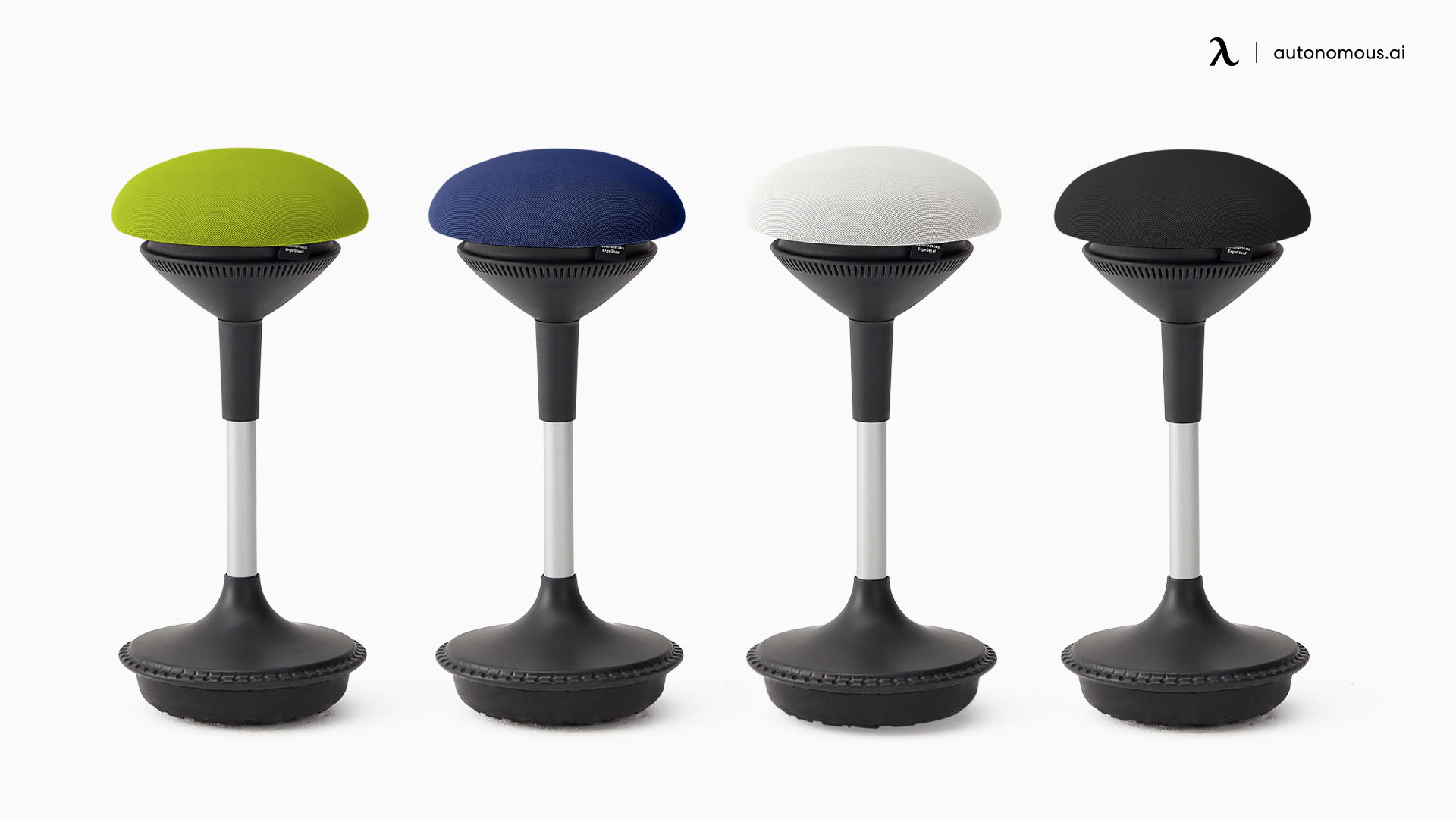 This specialized office chair is a cost-effective option for office workers. The ErgoStool provides excellent ergonomic features, assists posture control, and engages the core while seated. It is rated as one of the best office chair for lower back pain.
5. Autonomous ErgoChair Core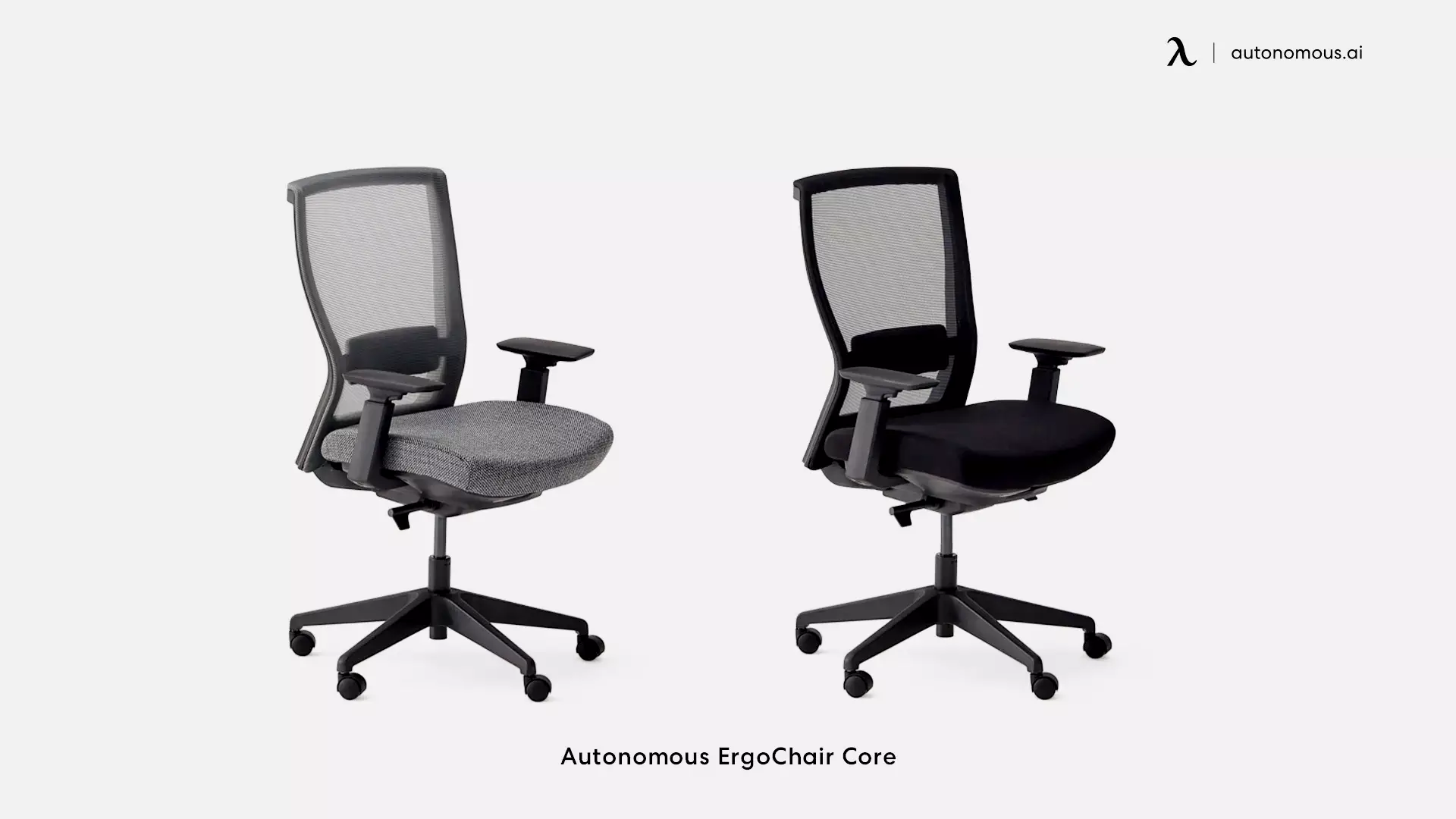 This ergonomic chair for back pain looks great in the office and comes close to many more expensive versions in terms of convenience and appearance. We believe the mesh backrest and the nice degree of back support that accompanies it are the advantages hereafter utilizing it for many days. Professional therapists have recognized this as an important parameter for determining if a chair effectively relieves backache. The backrest, headrest, armrests, length, and tilting of this best office chair for lower back pain under $300 are all fully adjustable.
6. Ergonomic Chair: Hardwood Floors Caster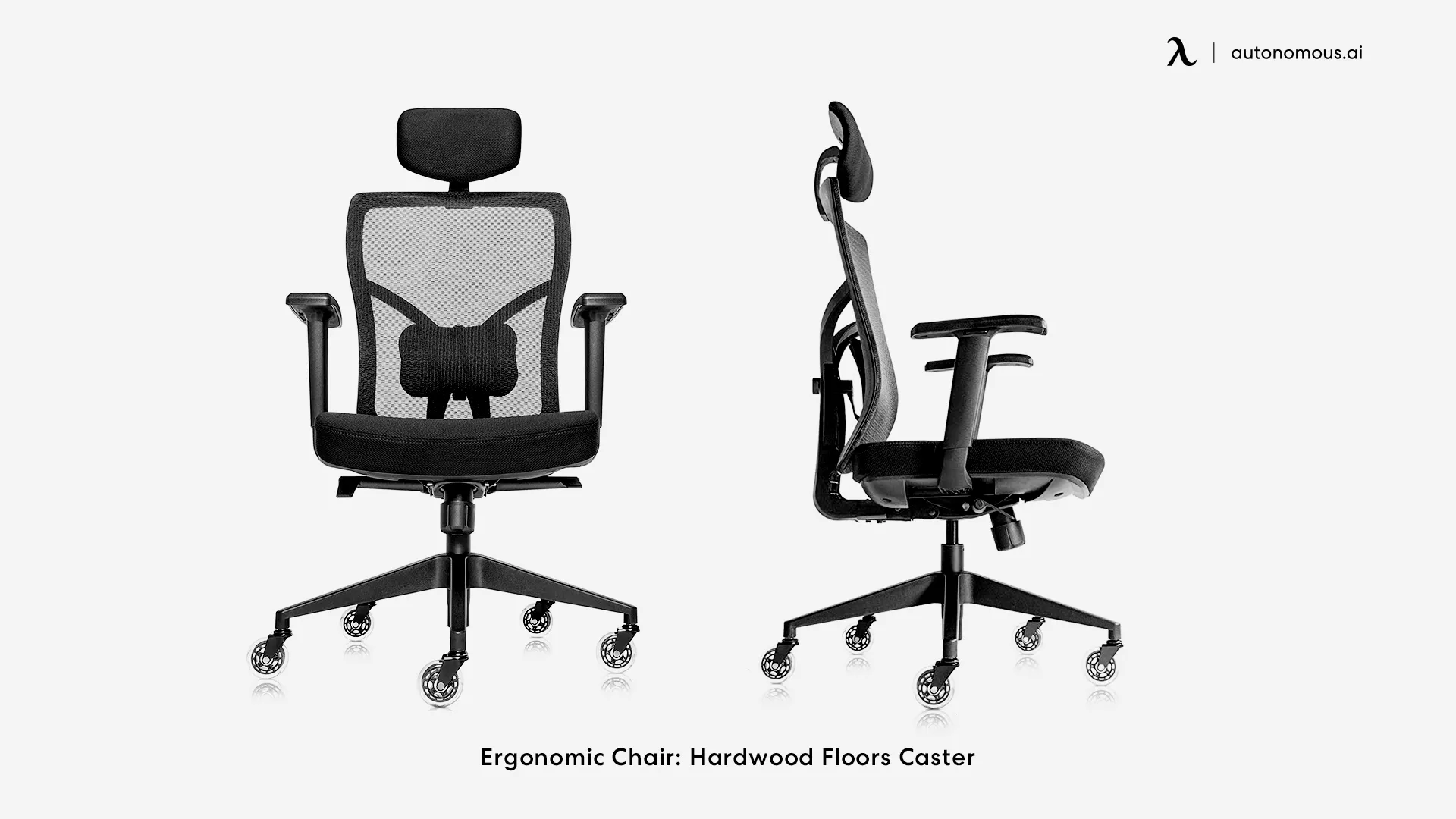 If you spend a lot of time at the workplace, a computer ergonomic chair for back problems that better support your body is a good investment. Our top pick is an Ergonomic Chair with Hardwood Casters. The curved cushion on The Office Oasis ergonomic mesh office chair adapts to your motions with ease, cradling and supporting your backbone and preventing you from sagging or slumping. We have discovered that this office chair for back pain holds you properly with knees significantly lower than hips and feet planted on the floor.
7. Basic Office Chair by FinerCrafts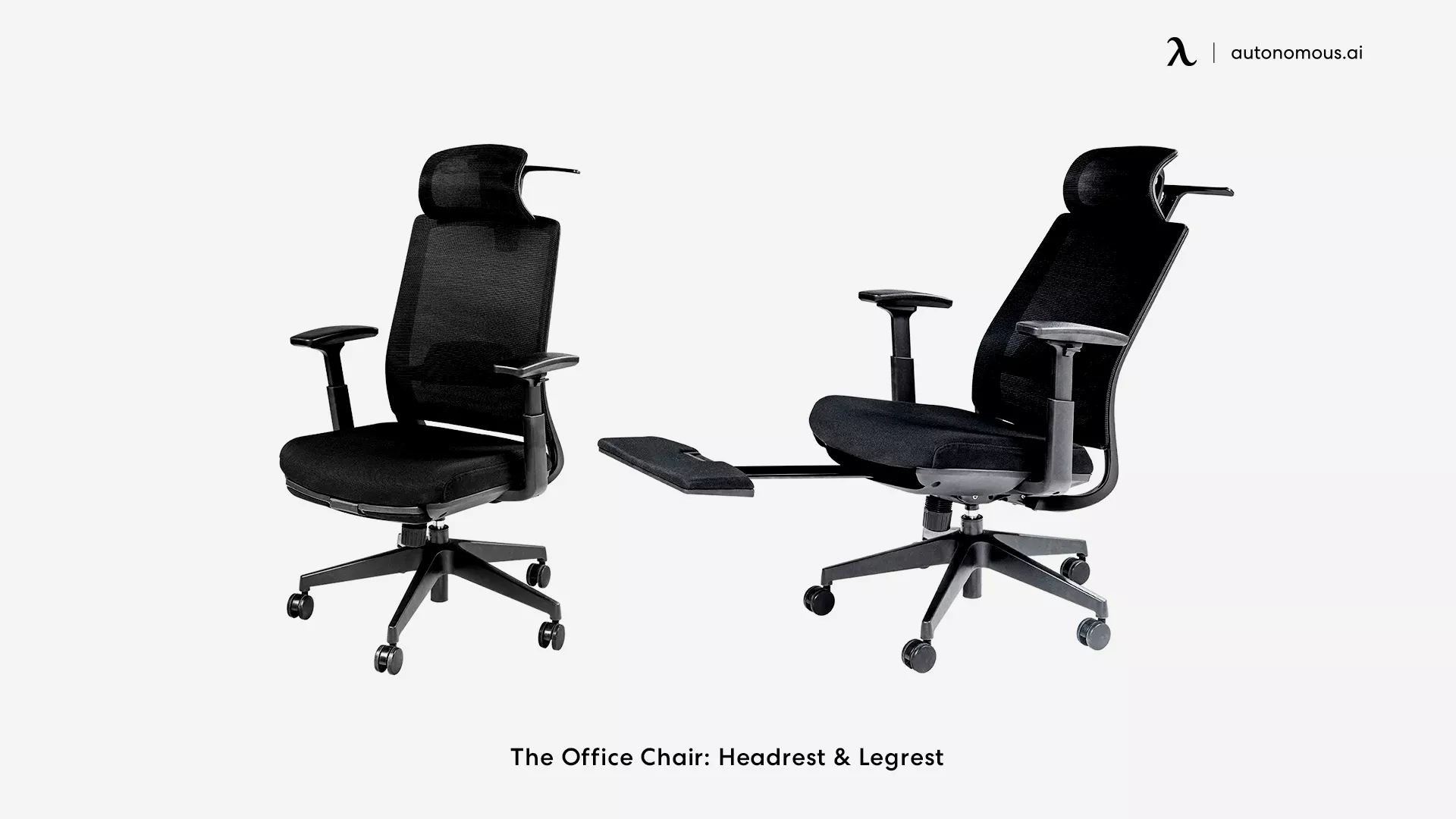 Office furniture is costly. Choose the FinerCrafts ergonomic chair if you're on a tight budget. Due to the obvious cheaper price, this office chair for back pain is budget-friendly without sacrificing ergonomic benefits. The seat is meant to reflect and maintain your back's inherent curvature and provide lumbar support to relieve lower back tension. You'll also like how simple it is to put this chair together.
8. Ergonomic Office Chair by Logicfox with Adjustable, Breathable Mesh Seat
This chair's ergonomic design has a sturdy frame and a back made of a perfectly elastic, breathable mesh. Grid-weaving technique, that's more ventilated yet skin-friendly but also offers enough support with tensile strength, is used in the perforated seat material. With complete assistance for your shoulder blades and arms to recline, the multi-functional flipping armrests may be adjusted upward and downwards, front and back, and rotated to either side. You may turn the seat's arms up or tuck it beneath the table to save room. The Logicfox's mesh ergonomic desk chair also boasts a smooth reclining position with 4 locking modes and a chair tilt range of up to 45 degrees.
9. Armrests and Headrest Chair by KERDOM Office Chair
This office chair with a headrest and adjustable arm is ergonomically structured for people suffering from backache. It has several multipurpose features, including 360-degree rotation, tilt lock mechanism, and hydraulic chair height adjustment. Because of the seat's ergonomic design, you may work for extended periods while maintaining a calm posture, making it easier to release strain and tired muscles. It has a deep cushion and a high-density, ventilated mesh back to provide you with one of the most comfortable postures. The reinforced explosion-proof chair plate provides you with a double covering and increased comfort.
10. Logicfox Ergonomic Office Armchair with Saddle-shaped Sponge Seat
The saddle-shaped spongy chair is created with a cozy thick cushion seating and a permeable mesh backrest to reduce leg strain during extended sitting and to keep your spine cool. This ergonomic office chair for back pain has a stylish design and a sturdy but supportive backrest. You may adjust this seat's back inclination elastically to lean more securely. It has a comfortable reclining position with three locking modes and a 40° variation of seat tilt. Your body receives a cozy adjustment when you are seated on this chair.
11. Logicfox Arm Chair with Double Lumbar Support
A 2D adaptable lumbar assistance is a prominent feature of this double lumbar support arm chair. This is a top-notch layout which we refer to as the lumbar and spinal separation design. It gives your waist unwavering support and eases pain and discomfort. Additionally, it has a range of up to 40° backrest tilt and numerous locking configurations. Its flip-up armrests help enhance room savings while maintaining a neat and clean environment in your room. You may lift the armrest or tuck it beneath the desktop at your workplace or home. This back pain computer chair has an adjustable 2D lumbar support built into the design. This is an incredibly good design.
12. Duramont Reclining Leather Office Chair with Ergonomic Design
You get the most support possible for ease and comfort thanks to the high back construction. You may stay comfortable even if you are required to spend hours seated because of the chair's soft cushioning and cascading seat edges, which relieve strain on your legs' backs. Forget about uncomfortably padded workplace seats that interfere with your ability to focus. This executive armchair was made to be as comfortable as possible for you. You may adjust the workplace chair in any way you choose to meet all of your convenience requirements. The chair includes a locking mechanism that will let you safely maintain the necessary inclination (90 to 155 degrees.)
13. High Back Office Chair for Back Pain By KERDOM
This ergonomic office seat offers four support zones and the appropriate lumbar assistance. It is simple to modify to fit various purposes. The flexible luxury backrest and cushion of the KERDOM high-back ergonomic office chair are all made of mesh fabric. In contrast to conventional chairs, it prevents your spine and hips from perspiring and enables you to rest nicely for longer. The wheels have a 360° range of motion. Due to its softness and smoothness, it will protect your floor from disturbance and scratches. And it works with carpet, hardwood, and other sorts of floors.
14. KERDOM Ergonomic Chair Featuring Double Lumbar Support
The ergonomically designed KERDOM high back ergonomic chair offers correct back support and 5 support points for the skull, back, hips, arms, and feet. It is simple to modify to fit various purposes. This armchair has a flexible backrest and padding made of perforated mesh fabric. In contrast to ordinary seats, the chair keeps your spine and glutes dry and lets you sit properly for lengthy periods. The office chair requires a few simple tools with clear instructions to put together.
15. KERDOM Ergonomic Chair Made for Wooden Floor
The ergonomic design of this lower back pain desk chair offers correct, comfortable seating as well as four support spots for the skull, back, buttocks, as well as arms. To accommodate various demands, the seat is entirely adjustable. It is also very suitable for persons between 5'4" and 6'4". The KERDOM high back office chair's back and seat padding are permeable. It is made stable, well-shaped, yet elastic using a high-quality cloth. You'll undoubtedly feel comfortable using it once you do.
16. Serta Ergonomic Executive Office Chair
This lower back pain desk chair has high-end luxurious leather bonded ergonomics chair which has built-in motion technology to increase flexibility and improve core strength. This is an eco-friendly office chair that you can get to relieve your back pain. The AIR lumbar support not only cradles your tailbone but also helps you maintain a good posture. This ergonomic low back chair can carry up to 400 lbs of weight and comes with a 1-year warranty. The entire structure is of steel and covered with faux leather. Also, you can adjust the height as per your requirement.
17. OHAHO Gaming Chair
This is another best desk chair for lower back pain. This seat is the ideal lower back pain desk chair for computer work and gaming. The chair is designed to look the part and give you the needed support to achieve those high gaming scores. This chair also has the design of an office chair for lower back pain. If you are caught between mid-back vs. high back chairs, then you've to worry no longer. This chair is the best office chair for back pain for any gamer. The entire body of the chair is of steel and covered with high-quality leather. This chair can easily carry up to 300 pounds. Along with the seat, the backrest is of a high-density sponge. The main reason it can hold up to 300 pounds is due to a heavy-duty wheelbase. Even if you are not a pro gamer, you can easily afford this chair.
18. URBNFit Exercise Ball
If you are looking for an easy way to relieve your back pain, this ball is the best office chair for back pain solution. You can use this ball as a part of your exercise routine to correct your pain and posture. This ball has an anti-slip feature and can carry any weight. An interesting ergonomics chair that makes use of an exercise ball and a back support system. This is undoubtedly the best office chair for back pain for those who enjoy exercises and yoga. This seat allows for various sitting options and offers anti-slip technology.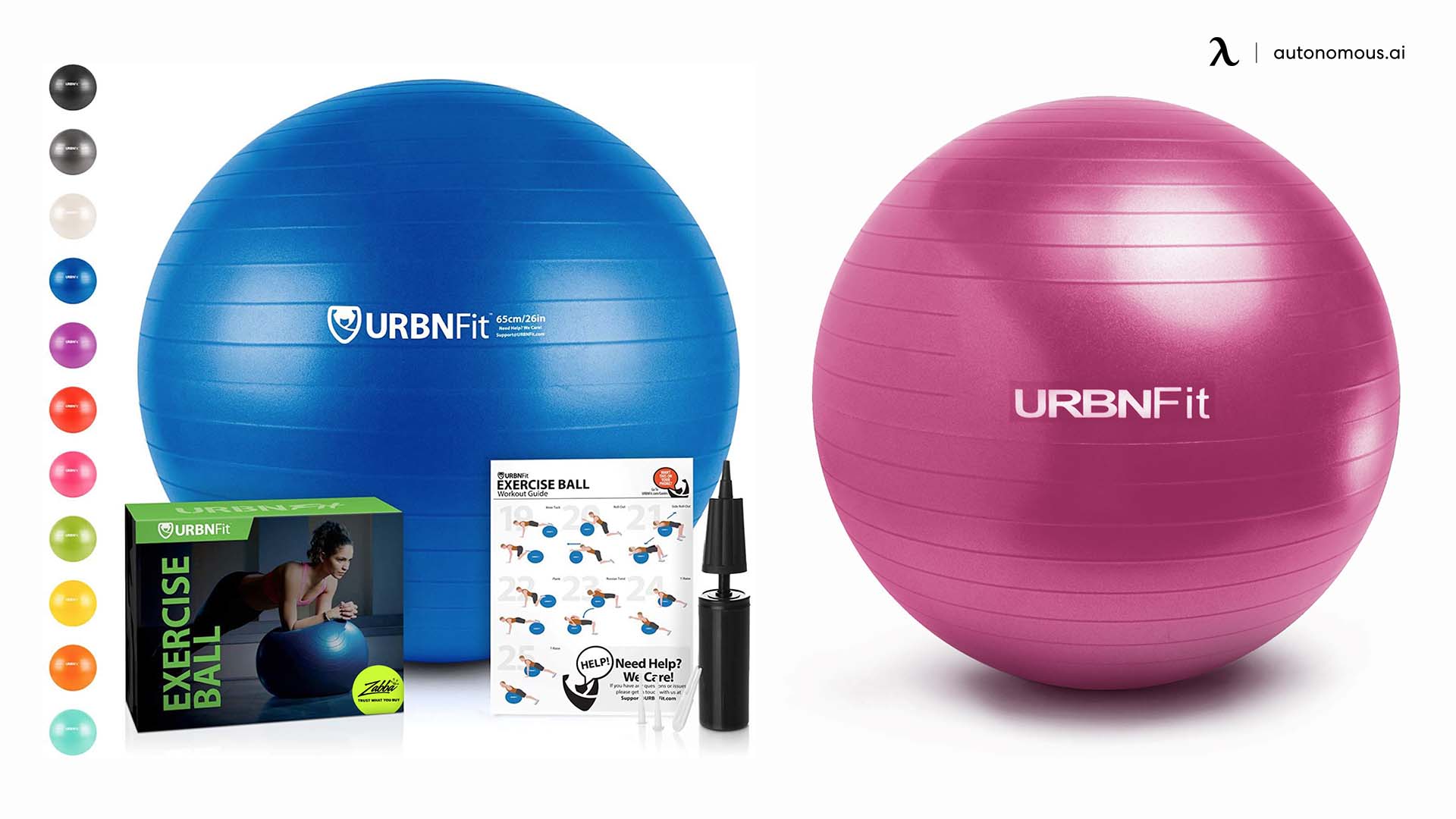 19. Modway Articulate Office Chair
If you want affordable chairs for bad backs, you can go for this one. The armrests and seat height are adjustable. The backrest has mesh design to give you comfort. The foam seat makes it comfortable for you to sit for long hours and acts as the best lumbar support pillow. The best chair for back pain has an adjustable height adjustment feature too and can carry more than 200 lbs of weight.
20. The Autonomous AvoChair
If you're looking for the best desk chairs for back support that allow you to move freely, then AvoChair is the right choice for you. This chair can carry up to 250 lbs. of weight and comes with a 2-year warranty. With this best chair for back pain, you can take advantage of the back tilt angle. The elastomeric mesh makes sure that the heat isn't trapped and your skin can breathe easily. This is one of the best office chairs for upper back pain. The adjustable tilt in the lumbar support allows the even distribution of one's body weight.
21. Steelcase Leap Ergonomic chair
If you want a highly comfortable office chair with a minimalistic design, then you can go for this model. The best chair for back pain is available with a red padded seat. This back pain computer chair has a sturdy design, and it can carry the weight of any adult user. You don't have to worry as it has a non-slip surface. The height of the chair is adjustable and is one of the best ergonomic low back chairs. Apart from workplace, you can use the chair at your in-house bar counter. The molded foam interior makes your buttocks comfortable while you sit.
22. Humanscale Ergonomic Office Chair
Do you have to spend long hours in front of your desktop? If so, then there are high chances that you've experienced neck/back pain at work in a chair at some point in time. To solve your pain problem, Humanscale brings one of the best office chairs for back pain. The Humanscale chair has a pivoting backrest design that allows you to rest your back without slouching on the desk. With this backrest, you can keep your back straight and maintain the correct posture. The lumbar support makes sure that you don't have any seating issues. The best chair for lumbar support can support up to 300 lbs.
Having back pain or neck pain has become common among many people. The main reason behind this back pain at work in a chair is that people don't maintain the proper posture while working/studying on their desktops. So if you want to correct your posture and avoid your back pain to come back; here above are the ten best office chairs for back pain.
23. Zipcode Mesh Chair
You may be amazed with this best chair for back pain. This mesh chair is equipped with lumbar support, is budget-friendly, and has a backrest seat that is designed to follow the curve of the spine. This chair is easy to assemble and one of the best office chairs for back pain. This chair gives you the utmost comfort and comes with a modern design. Unlike other chairs, you can go for different colored mesh backrests and the cushion. The wheels help you glide through one end of the room to the other, even on hard surfaces. You can adjust the four features of this chair, the seat angle, height, back angle, and armrest, to your comfort. You can easily adjust them with the manual buttons present. The price of this chair is quite affordable.
24. Tempur-Pedic TP9000 Mesh Chair
This seat is designed with long-lasting memory foam for extra comfort. It is a good office chair for back pain. If you are looking for the best office chair for back pain, then this is the chair for you. If you're a short heighted person, then you can surely go for this chair as you can adjust its height as low as you want. The chair's cushion gives excellent support for your lumbar portion. The armrest is not only properly padded, but one can also take out the armrest if not needed. You can recline the chair to 135 degrees and swirl 360 degrees.
25. Herman Miller Ergonomic Chair
Do you want the best chair for lower back pain with stylish design? If yes, this chair is for you. This mesh chair is designed for developers who want to take customization to the next level and boasts a range of luxury ergonomic features. If you want your chair to be luxurious as well as comfortable, then this best chair for lumbar support is the one for you. This chair comes with a mesh backrest that allows proper airflow. You can adjust not only the height but also the armrest and the tilt tension. The 2.5' dual-wheel casters will enable one to move the chair freely from one place to another. The forward seat tilt makes sure that you don't have to slouch and do the work.
26. Ergonomic Mesh Office Chair Gabrylly
This office chair for back pain can assist in decreasing and avoiding back discomfort throughout your working time by providing four ergonomically designed support points just at the head, spine, buttocks, and wrists, as well as enhanced back support. For extra comfort, the perforated seat and backrest assist in circulating air. In other words, it should be comfy enough to remain seated for a whole eight-hour working week without sweating.
27. Ergonomic Office Chair Ticova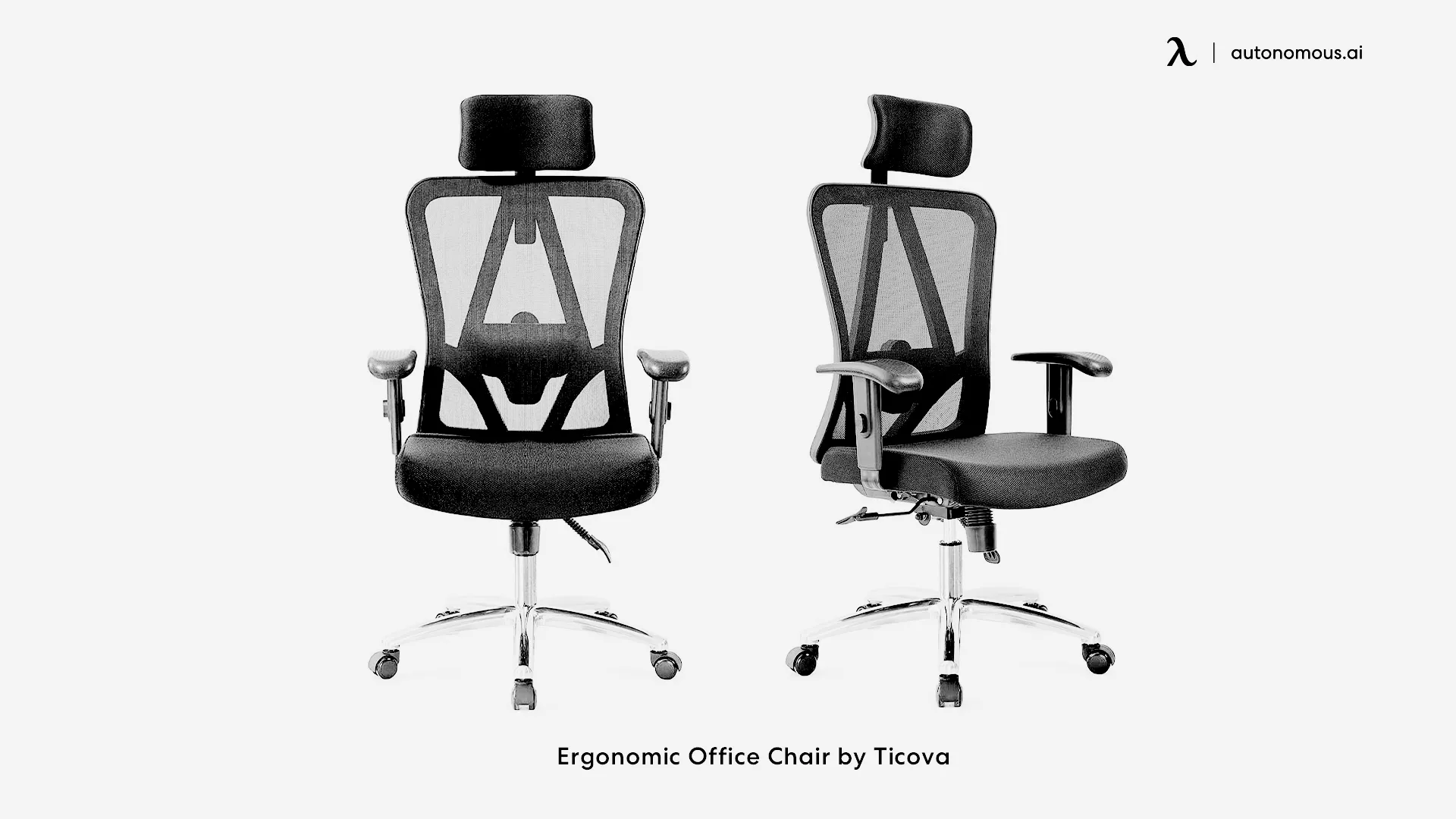 This ergonomically designed back pain computer chair includes heated lumbar support, making it very easy to achieve a comfortable posture at your workplace, thanks to its tilting back and adjustable headrest. It also has back support and a multiple-layered seat cushion for further convenience if you're stuck to your workstation for most of the day. The cushioning also includes a W-shaped, waterfall-edge structure that helps give a greater surface area of assistance for your butt and thighs.
28. Ergonomic Desk Chair by FelixKing
A full-back desk chair is not the most realistic choice if your workspace is limited. Fortunately, this mid-back office chair is comfortable and small enough to fit into most workplace settings. The chair's customizable back covers your waist while still offering back support, allowing you to sit comfortably. You can also use the ErgoActive lumbar support pillow for extra comfort with this chair.
What is Lower Back Pain and What Are the Causes of Lower Bad Pain?
The lower part of your back is also known as the lumbar region. Lower back pain is felt below the waist. The straining of muscles, spine osteoarthritis, and sciatica are some of the common causes of back pain. All of these causes can be brought on by poor posture. In short, lower back pain can be caused by a single incidence which strains your lower back or from a prolonged strain whereby pressure builds up over some time.
Lower back pain is an ergonomic office injury, a common experience for the average office worker. Some reasons for lower back pain include extended periods sitting at a desk, working throughout the day with poor posture, an inactive lifestyle, and below-par ergonomics at a workstation.
Poor posture puts pressure on your entire body. This prolonged pressure causes straining that leads your muscles to twist into knots and contract. When your office furniture and desk set up is not built with ergonomics in mind, individuals tend to develop poor habits such as slouching back and forth in their chairs.
Suggestions to Reduce Lower Back Pain
If you are experiencing discomfort in lower back pain, there are various suggestions to reduce and alleviate your discomfort. Here are some of our useful tips to reduce lower back pain:
Fixing Your Posture
There are 6 essential steps you can follow to ensure you have good posture.
Be mindful of elbow positioning – begin by making sure your arms are directly parallel to your spine and resting your hands on your workstation. If you have a keyboard, your hands should be placed at a 90-degree angle.
The space between your thighs and the edge of the seat – it is vital to keep your legs at the correct elevation when at your workstation. Check the space between your thighs and seat edge and adjust your seat accordingly.
Low back support – your lower back region should have a slight arch at the lumbar curve and your bottom pressed towards the back of the seat. Having this seated posture takes the pressure off your spinal discs and alleviates lower back pain.
Check your armrest – your elbows should be resting gently on the armrests and your shoulder would feel slightly lifted.
Check your eye level – when sitting at your workstation your eyes should come straight into contact with the screen monitor when looking straight ahead.
The Pros and Cons of Using an Ergonomic Office Chair
As an office worker, you spend the bulk of the workday sitting in an office chair at your workstation. By using an ergonomic chair for back pain, you can avoid the discomfort of lower back pain and ensure good posture. Ergonomic chairs such as the ErgoChair Pro are one of the best chairs for lower back pain. The benefits of using an ergonomic desk chair include:
Desk chairs for back pain provide numerous other benefits as well, nonetheless, as with most things in life, there are certain downsides and drawbacks. The disadvantages of ergonomic office chairs include:
Finding the Best Office Chairs for Lower Back Pain
When you are making the purchase of a best office chair for back pain make sure you are using the following universal criteria and considering these tips:
Frequently Asked Questions (FAQs)
1. Are office chairs bad for my back?
It depends upon the type of office chair you're using. If it's not an ergonomic chair, then it's gonna be bad for your chair.
2. Which chair is good for my back?
Ergonomic chairs are good for your back. These best chairs for lumbar support have the perfect design, which gives proper support to your lumbar region and your back. Sitting on these chairs improves your posture.
3. Is it better to sit without back support?
No, as one will end up slouching on the desk. And if you continue to sit in a bad posture, it will cause back pain at work in a chair.
4. Are recliners good for my back?
Yes, they are good for your back as it helps you to maintain an upright position.
The Final Verdict

Chronic back pain is quite frequent in the United States, with over 28percent of the total individuals reporting it. It is especially common in elderly persons, particularly women. As a result, having the ideal office chair or appropriately arranging your workstation to improve back health is critical. It's a growing issue many workers have dealt with over the years.
People frequently utilize whichever office chair is offered at their employment or any armchair that seems to be accessible at home. However, the key to selecting a decent desk chair for back problems is figuring out which one is right for you—which you won't know unless you try it.
Furthermore, whenever you purchase a desk chair, do not forget to check out autonomous offers, especially for the Autonomous Employee Purchase Program (EPP), a great discount initiative for employees who have started to work from home. Moreover, they also offer EPP for Developers/Programmers, which is a discount, especially for their programmers.
Similarly, the Autonomous also offers EPP for government officials, teachers, and students. These discounts help you purchase your favorite products without worrying about your budget. The prices of all products become reasonable.
Numerous office workers experience the discomfort of lower back pain. Sitting in the same position at your workstation with poor posture can have many adverse effects. By investing in an office chair for back pain, you can reduce lower back pain and alleviate that discomfort. If you have any questions about the best computer chair for lower back pain and lower back support – please feel free to comment below or contact us via email.
Hey, you have special pricing through your company.
Get exclusive rewards
for your first Autonomous blog subscription.
WRITTEN BYAutonomous
We build office products to help you work smarter.