Smart Products
The 25 Most Expensive Office Chairs & Reviews 2023
3,702 Views
Every office needs an appropriate office chair. You can find office chairs at diverse prices and designs, such as mid-century office chairs. We've already listed some of the best budget office chairs, and now it is the turn of some of the most expensive office chairs.
However, does the price really matter? Well, when it comes to office chairs 350 lbs, the price usually is a reflection of the features and quality of the chair. While it is possible to find some good office chairs at accessible prices, some of the best models tend to be quite expensive.
Why Are Office Chairs So Expensive?
There are tons of high-end office chair brands in the market. However, what is it exactly that makes them so expensive? The factors range from ergonomic aspects to resistance and durability. Of course, not everything that shines is gold, but some expensive chairs are quite worth the money based on the features they offer, such as the following:
Comfort

: Chairs are supposed to make you feel comfortable throughout the day. It's very common for expensive office chairs to be built on commercial-grade foam, which adjusts to your body shape and allows you to sit comfortably for prolonged periods.

Build

quality: Of course, you want your office chair to be as durable as possible. Some office chairs are quite expensive due to their robust architecture, typically made of materials like aluminum or even high-end plastic. Sometimes, they are made of materials like mesh to provide more airflow to the user, although there are tons of other options that can offer a similar benefit.

Adjustments

: If you're interested in buying the most expensive office chair, please make sure that it has all the adjustments you need. This includes seat height, armrest height, lumbar support, seat depth, and tension, among many other adjustments that can help you personalize your seating experience based on your preferences and needs.

Extra features

: Some chairs also include some additions, such as a footrest or a headrest. Office chairs with footrests are quite common in today's world, and most of the time, they are accompanied by other features that can improve your experience with your new chair.
Some brands may also offer customization (either for the color or perhaps the features included), which can affect the price to a certain degree. The good part is that, besides being expensive, office chairs also tend to have quite extended warranties.
Next up, we'll review some of the best expensive office chairs you can find on the market.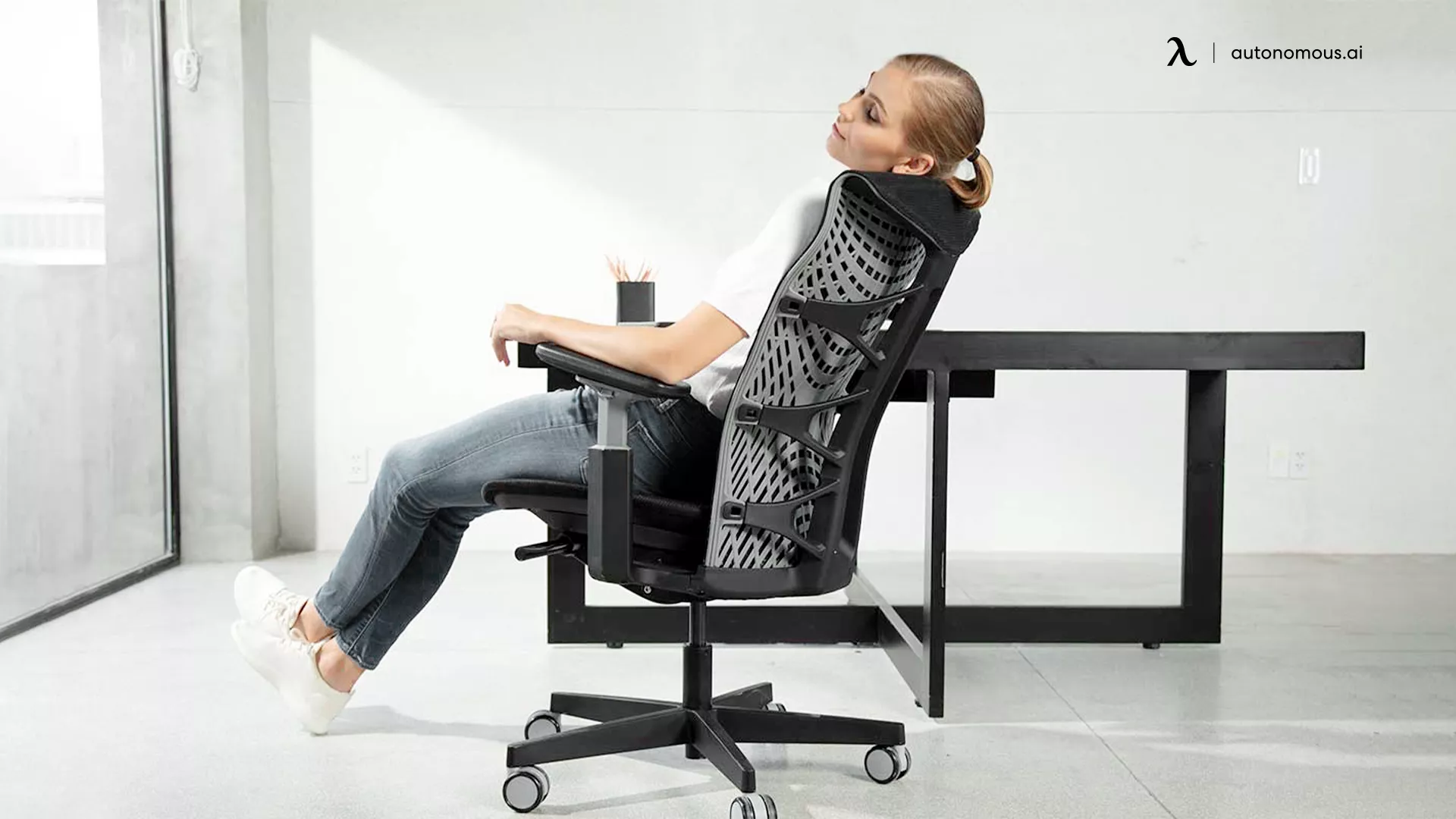 Top Expensive Office Chairs From Premium Brands
1. Autonomous ErgoChair Plus
The first option is the Autonomous ErgoChair Plus, which besides being a premium office chair, it's also the most affordable on the list.
This chair contains everything you need to feel comfortable during your work sessions. It is made from earth-friendly TPE, providing it with a robust structure. You can be sure that this chair will accompany you for a long time. Still, you can choose between cooling naked TPE or breathable mesh.
The Autonomous ErgoChair Plus adapts to the natural curve of your spine and encourages your natural mobility. Hence, you can be 100% sure that your comfort is more than assured. Plus, the chair has a weight capacity of 300 pounds.
Dimensions
28"L x 28"W x 40" - 44"H
Seat height
17" - 21"
Materials
Naked TPE version: 100% TPE upholstery with ABS plastic frame.
Mesh version: 100% TPE and polyester fabric upholstery with ABS plastic frame.
Colors
Black Frame, Naked Black TPE
Black Frame, Naked Grey TPE
White Frame, Naked Grey TPE
Grey TPE with Blue Mesh
Grey TPE with Grey Mesh
Black TPE with Black Mesh
Weight capacity
300 lbs
Warranty
5 years
2. Wegner Swivel Chair
The Wegner Swivel Chair is quite peculiar. It is designed to keep your mid to lower back supported. It is made from the best materials, including solid wood that comes from 150-year-old trees, which is then left to dry for two years in a humidity-controlled setting.
As of 2022, the price of this chair is over $13,000!
3. Aston Chair
The Aston Chair is less pretentious than the Wegner Swivel Chair, but it doesn't fall behind. This chair is fully customizable, allowing you to choose some of the essential features, such as the color and even the upholstery and finish materials. It costs about $3,000.
4. Vitra Grand Executive Highback Chair
Here we have another expensive office chair, which has a total price of $5,240. It has adjustable neck support, armrest, and leather upholstery. About 70% is recyclable if you dispose of it properly, too.
5. Fritz Hansen Oxford Chair
Next up, we have this chair at a price of $4,043. It has a more minimalistic look than most chairs, but it is made from high-quality metal and leather. This chair can be customized to a certain degree, including different types of leather and back heights.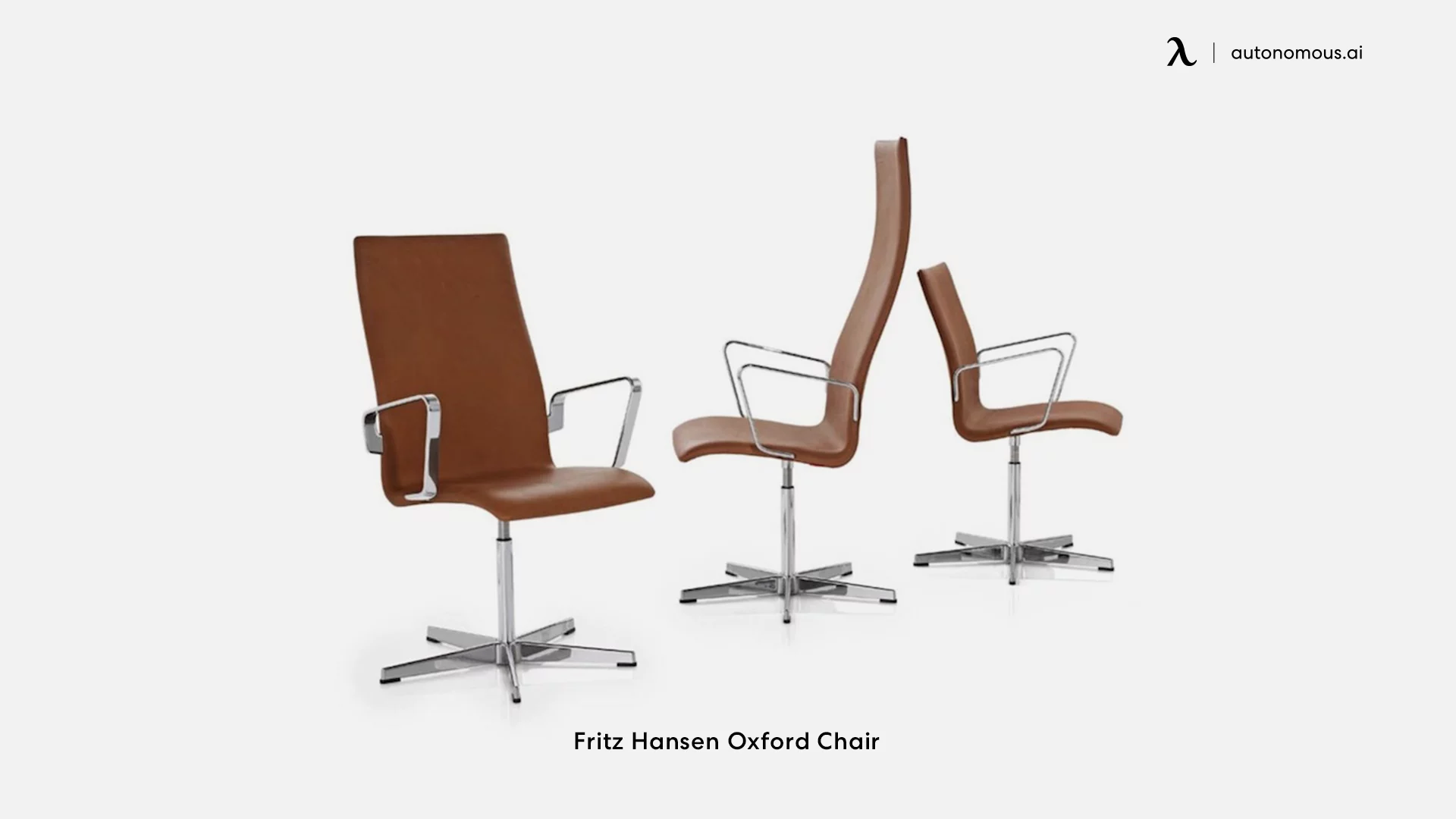 6. Vitra HeadLine Management Chair
This expensive desk chair is slightly more affordable, with a price of $3,245. It has a high back and includes a headrest, and it is made of premium leather that was finely perforated. Hence, it is designed to keep the user's temperature as cool as possible.
7. Arne Jacobson Egg Chair
This chair costs almost $7,900. This chair was originally designed for the lobby of the Royal Hotel, located in Copenhagen. You can still encounter the original chairs at the hotel. It has been designed to alienate the human body's natural curves.
8. Eames Soft Pad Management Chair
This chair is one of the premium models available at Herman Miller. It includes considerably thick cushions that invite you to sit upon looking at it. It includes several adjustment features, too, making it appropriate for all office environments.
9. Arper Aston Direction Chair
This chair has a minimalistic look, but that doesn't make it less expensive. It has a price of $2,521 and is covered in a polyurethane chair. It comes with some of the essential features, including tilt movements, wheels, and height adjustment.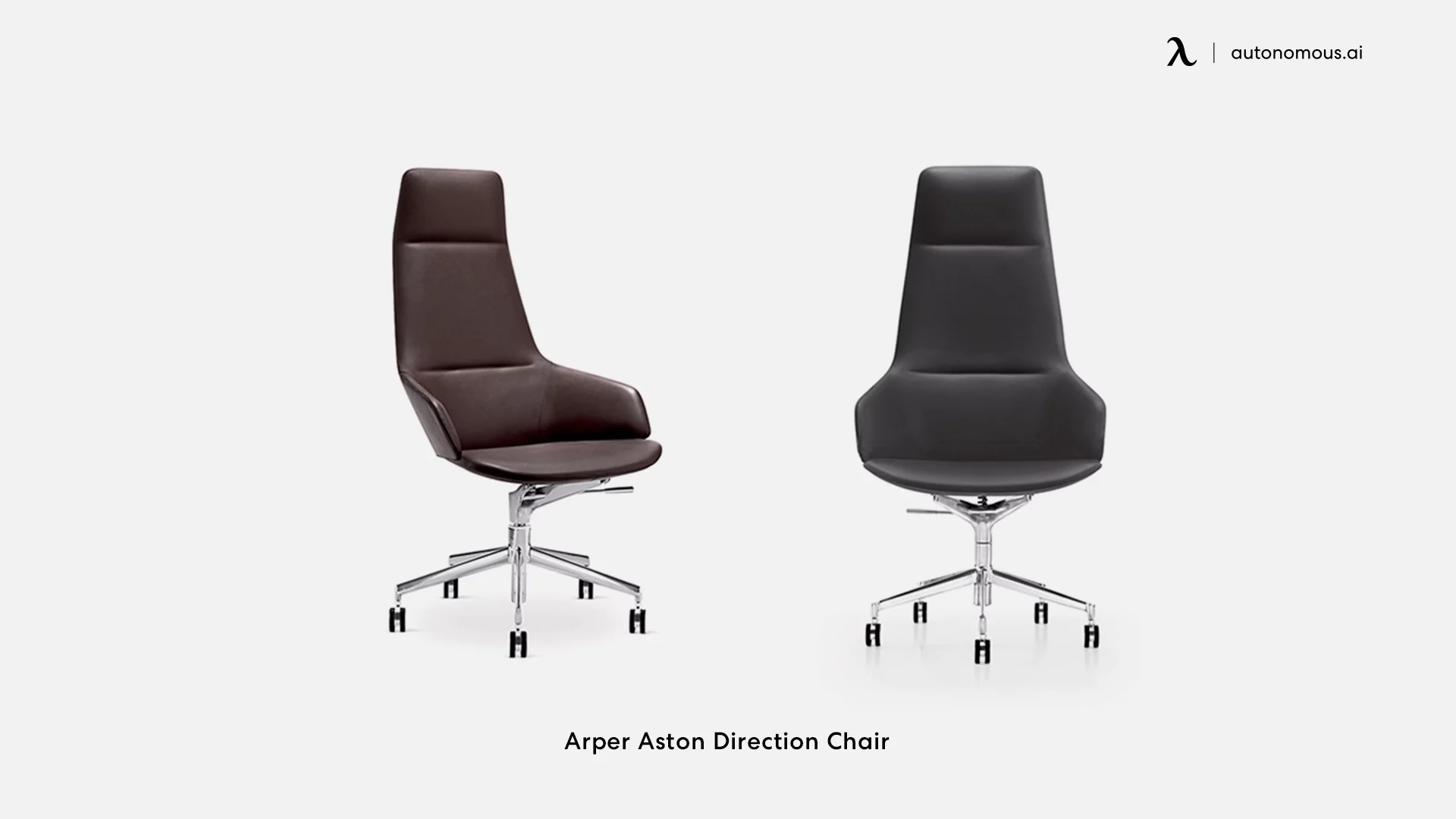 10. Pininfarina: Xten Office Chair
The last chair on the list is the most expensive chair you'll see. It has a total price of $1.5 million. The chair is designed to be customizable as you move through the day, as both the back and the seat are independent of each other. It is available in four colors, including blue and red.
11. Branch Ergonomic Chair
This office chair is immensely comfortable on top of being stylish. Each time you sit down, you will likely leave a comfortable sign due to its adjustable support on the lumbar and its synchronous tilt. The thin back of this chair keeps it from being rigid while providing ergonomic support.
For a pleasant experience, also over extended periods, the cushion seat is constructed of foam with high density and features a water-resistant weave. This office chair with adjustable lumbar support also provides the ideal angle thanks to the chair's additional seven adjustable points, including the seat pan's depth, lumbar support, and tilt. 
12. Herman Miller Aeron Chair
If you're searching for an expensive desk chair, it's impossible to miss this one. This tall adjustable office chair is an absolute delight. This recognizable chair is incredibly supportive and offers the feature of modifying it according to your preference. The chair's revolutionary PostureFit SL lumbar support enables the user to sit with their chest wide, back straight, and pelvis gently sloping forward, ensuring that your future entails absolutely zero signs of back issues. Additionally, its convenience and ease of assembly became clear to me after it was delivered, and no installation was required.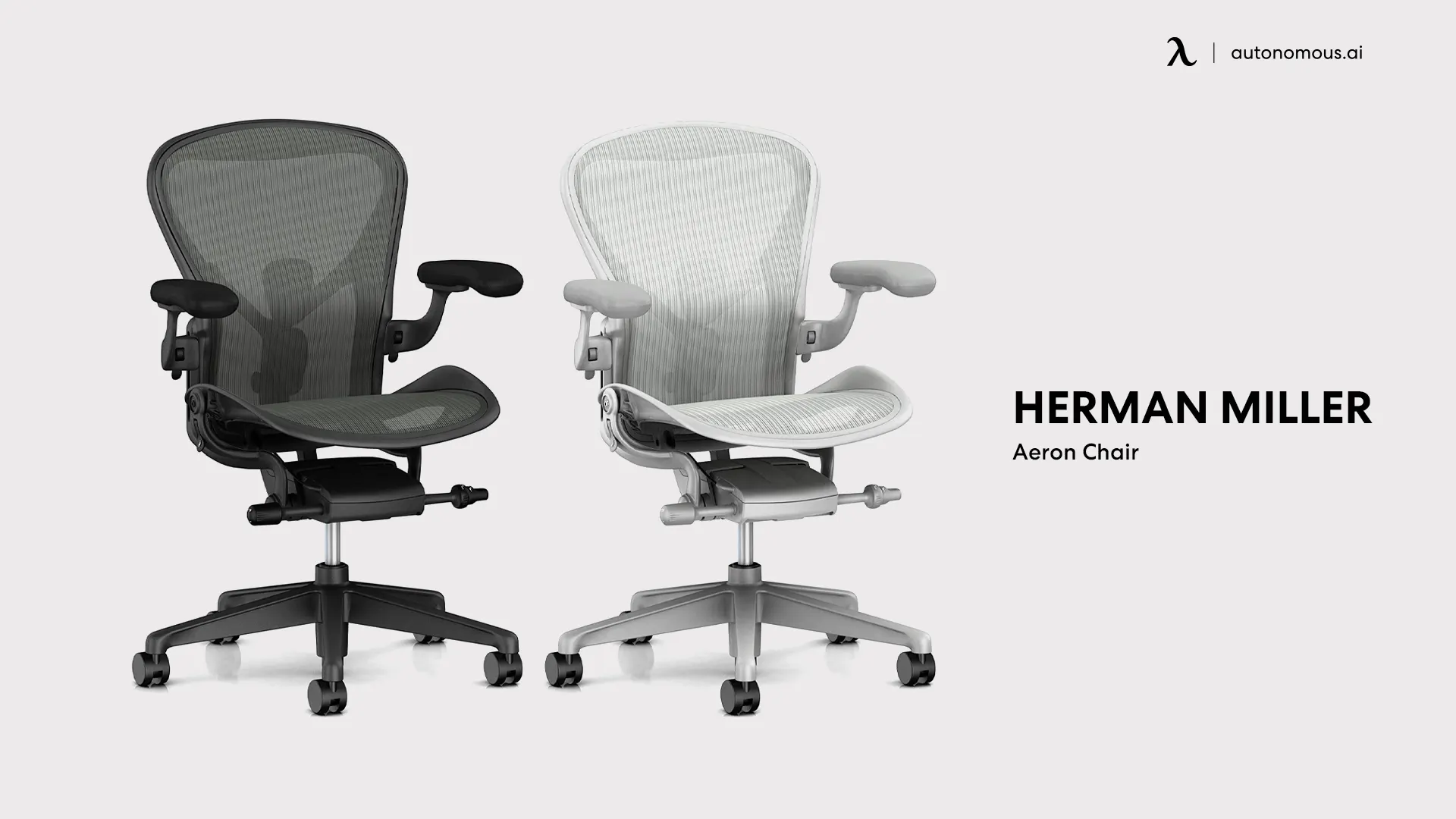 13. Fully Desk Chair
This chair is one of the best among big and tall office chairs. It offers complete back support, a comforting and cushioned seat, and a nice fabric back. Therefore, it'll allow you to spend hours on the chair yet remain comfortable. One of this adjustable-height chair's best perk is its curved back, which aids in back support. It can also be posed as a reclining office chair due to its locking backrest and reclining feature.
14. Flash Furniture High-Back Faux Leather Executive Chair
If you want to feel like your own boss and are searching for the most expensive office chair, look no further! We've got one with a supremely elite look and exceptional comfort. This elevated beauty has tufted suede leather, so it's visually appealing.
However, on top of the looks, it also has an ample personality because it's a very supportive and comfy chair. Your back will be better supported because of its substantial height, which will benefit your lower back. Additionally, the tilt lock allows you to control how much the chair can recline. Various body types can use the chair.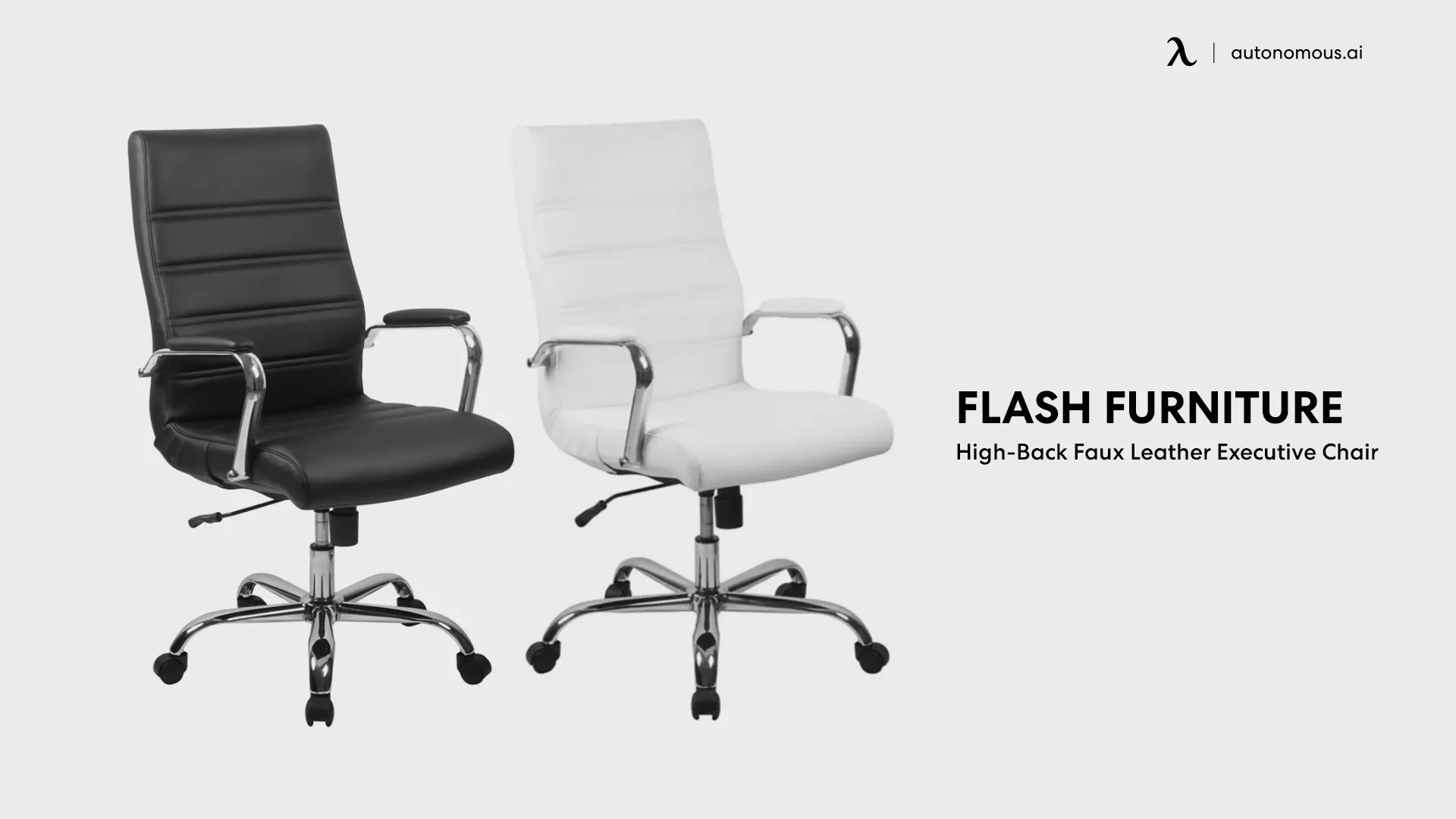 15. Generation by Knoll
Despite being one of the most expensive chairs in the market, Generation truly does justice to its price. This chair's sheer flexibility allows it to be posed as a conference room chair too. Both the ability to tilt and height adjustment are superbly engineered. Despite having a high back, the chair's engineering allows it to be extremely flexible and considers the reality that the typical person switches postures in their seats multiple times daily. This is its greatest feature.
16. HumanScale Freedom Headrest Chair
This expensive computer chair is one of the unique ones on the market. It stands out because of its ability to adjust to all body types without requiring manual controls. An example of this would include its headrest, which moves according to the seated person's head movement. Moreover, its backrest and recline are similarly adjustable.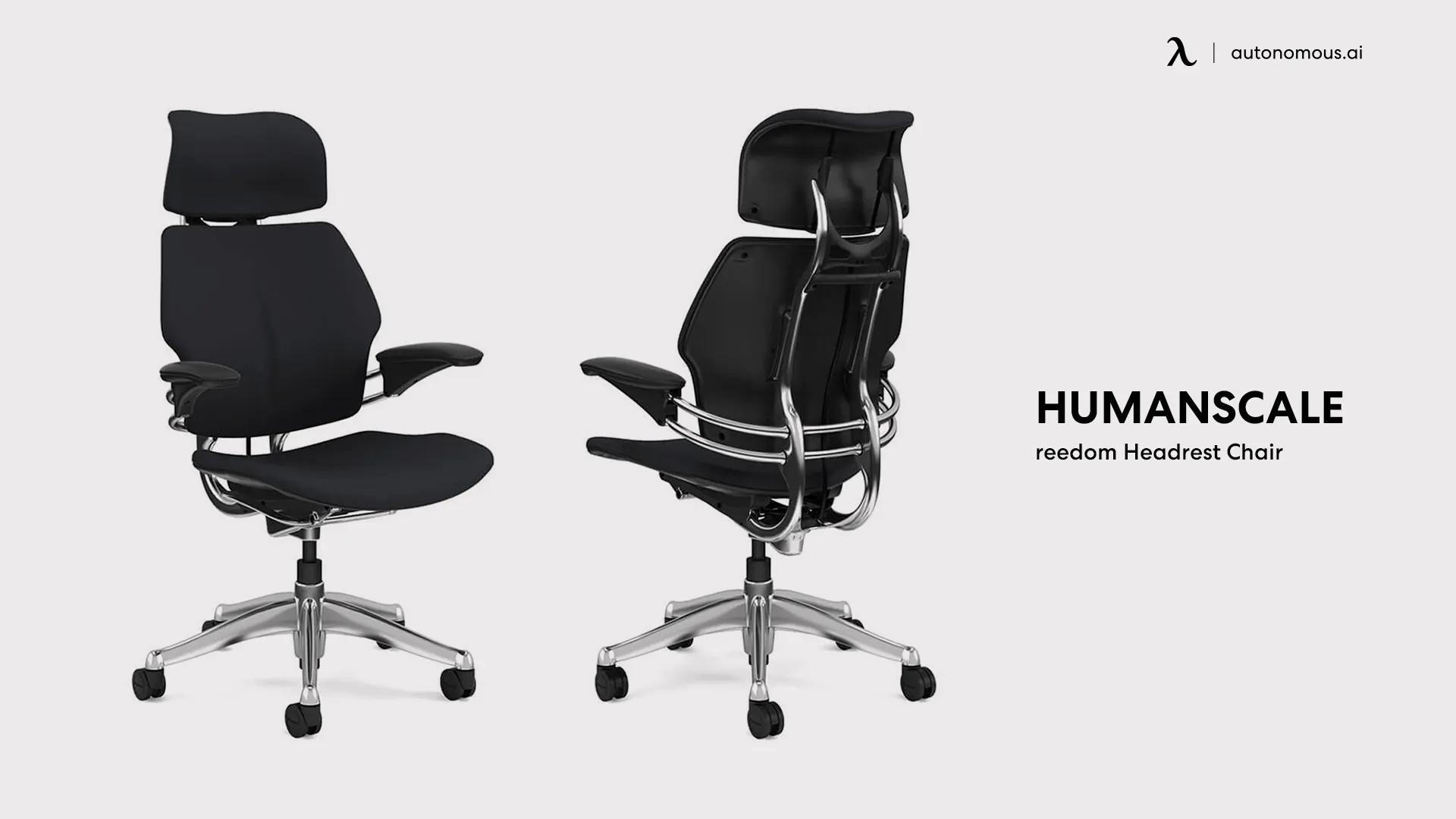 17. Ticova Ergonomic Office Chair
With an ergonomic design, this chair is likely to make it one of your favorites if you're meant to spend long hours working. If you particularly have a remote computer job and wish to keep your posture intact and your lower back pain-free, the Ticova Ergonomic Office Chair may be among the best in the market!
18. Modloft Downing Swivel Office Chair
This elite-looking and incredibly unique chair is a complete pleasure to sit in. This modern-looking style and exceptional aesthetics are likely to exceed all your expectations among the array of expensive chairs. Its existence is that of a statement piece, perfectly justifying its price through the refined wood, textured fabric, and steel base.
19. ReGeneration by Knoll
Here's another adaptation of Generation by Knoll. However, this one is much lighter and provides ample comfort. Additionally, it offers complete adjustability to aid your back, head, and neck as you spend hours working and attempting to take on the world. Moreover, this chair has a sustainable aspect because its frame is made of recycled bottles made of plastic. Additionally, it can tingle your aesthetic sense through its variety of available colors.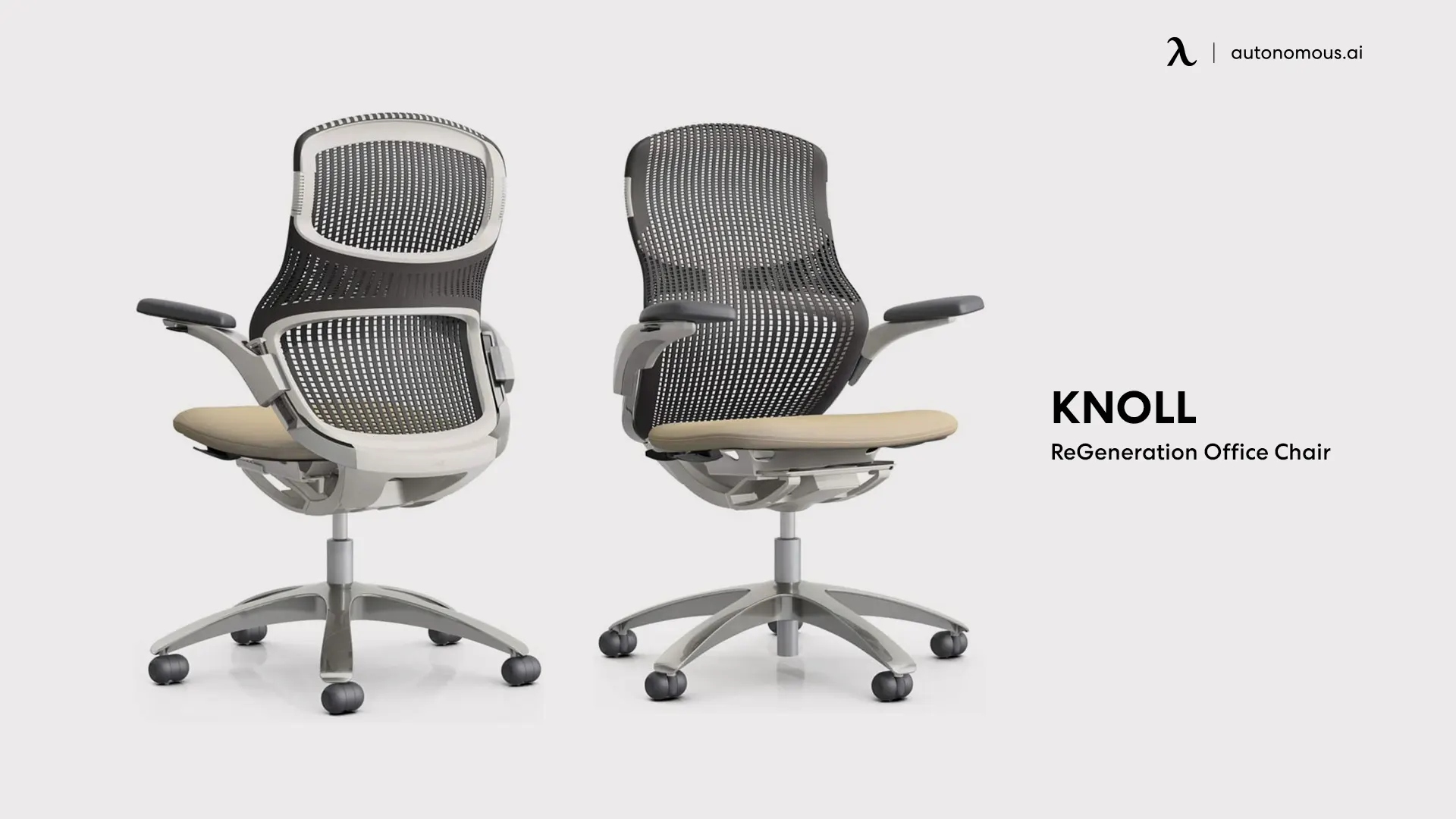 20. Mavix M9
In all workspaces, the Mavix M9 is among the best additions. This expensive office chair carries numerous features, including a recline lock and various reclining positions. Moreover, it offers the opportunity to adapt the depth of the seat while also providing adjustable neck and head support. It also offers height adjustability so your back will rest at the height you need.
21. X-Chair X4 Leather Chair
Leather screams class; we all know it. This chair is one of the best ones when it comes to headrests. It offers dynamic back support and will aid you in moving however and whenever you want. Additionally, it also has reclining capabilities. However, its most unique feature is its 159-dollar heating, cooling, and massage unit add-on.
22. HAG Capisco Chair
This expensive office chair looks immensely peculiar yet surprises you with its capabilities. It has an incredibly chic look and is incredibly versatile in its features. You can shift positions and directions according to your ease and preference. Moreover, the seat itself is like a saddle seat. This allows you to remain in the ideal spinal posture.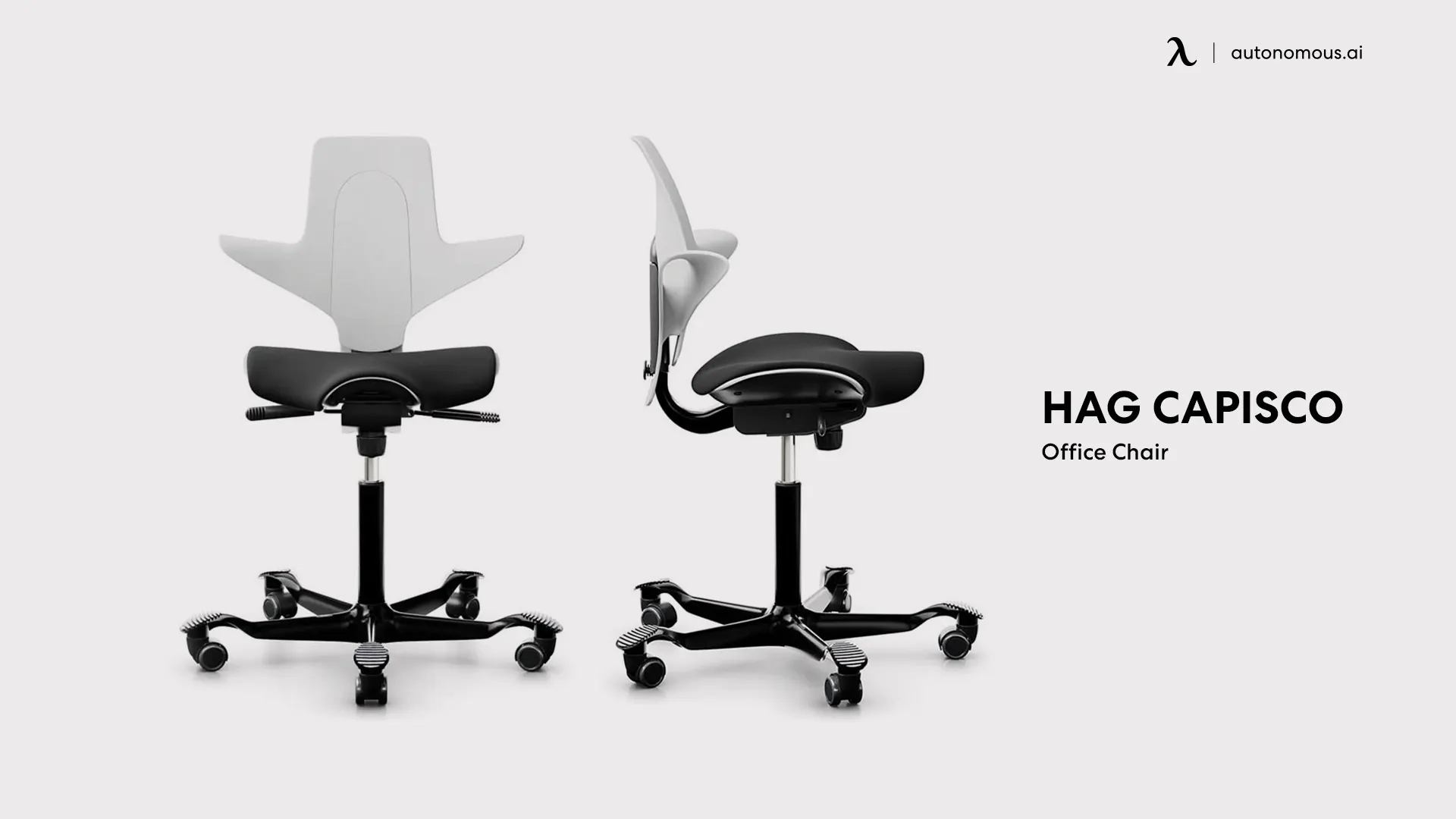 23. Afternoon Light x Emeco Officer Chair
If your ultimate goal is sustainability and aesthetic appeal, this chair will surely catch the eye of anyone who walks into the room! This chair is the epitome of elegance through its expensive fabric and beautiful design. Additionally, this may benefit your lower back pain because it's designed to make you sit upright and attain optimal posture.
24. Zeph Multipurpose Armchair
To sum it up, this chair is the superman of all office chairs. It has a movable base through its wheels and remains height adjustable for complete flexibility of preferences. Moreover, this expensive office chair is prone to following you around based on your posture or position. Therefore, the Zeph is likely to cater to each position if you lean or scooch while working. This chair also comes with an armless version.
25. Marc Newson Task Chair
This chair undoubtedly has the potential to emerge as one of your favorites because its design can exceed all expectations. In terms of testability, height adjustability, design, flexibility, and comfort, this chair is among the best ones on the market. It comes in various unique colors, including petal, umber, ink, and graphite. It also looks incredibly high-end due to the denim fabric used.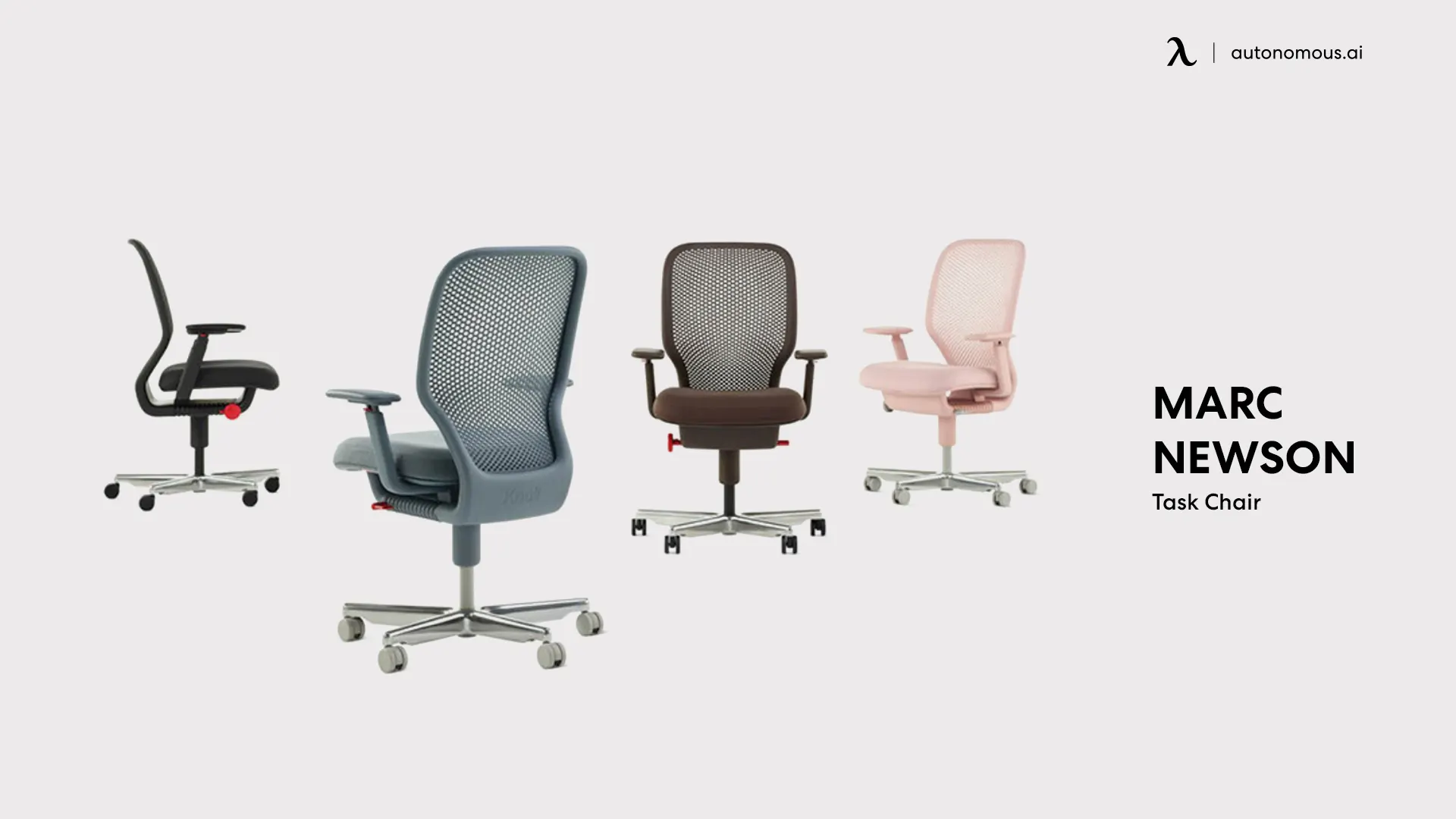 Autonomous Employee Purchase Program
Are you interested in acquiring a high-quality office chair? Our employee purchase program has you covered! The Autonomous Employee Purchase Program allows you to acquire office equipment, including ergonomic chairs, standing desks, and other office accessories, at special pricing. Hence, if you're looking forward to improving your current home office, now is the time to do so!

Subcribe newsletter and get $100 OFF.
Receive product updates, special offers, ergo tips, and inspiration form our team.
WRITTEN BYAutonomous
We build office products to help you work smarter.