Smart Products
What Are the Top 5 High Back Office Chairs with Adjustable Arm Features?

Autonomous
|
May 28, 2021
2,330 Views
One of the biggest quests office workers face is finding the best high back office chair that can reduce lower back pain. Workers also want a unit to help make sitting for long periods in front of a desk more bearable. An ergonomic office chair can be constructed with many features that make this a possibility for office workers.
However, one of the most crucial elements of any high back office chair is adjustable armrests. The inclusion of this feature can effortlessly enhance the ergonomic benefits offered when sitting in front of your desk for your entire working day.
We are going to discuss the advantage of having adjustable armrests with your high back office chair, why you should invest in this type of ergonomic unit, and which are the best on the market. Continue reading to find out more.
What Is Ergonomics?
Many people understand that ergonomic furniture is an asset in any workspace. However, not all completely comprehend what ergonomics is. This is the discipline of performance while working.
Ergonomics is different for each job type and there is not any precise method of measuring efficiency when comparing varied working environments. Thus, various methods exist for approaching the inclusion of ergonomics in a job atmosphere.
Nonetheless, the goal is to maximize efficiency in a specific environment. One of the best ways to achieve optimal ergonomics is through putting in office chairs. 
Why Should You Include a High Back Ergonomic Chair with Armrests in Your Workspace?
Adjustable armrests play a vital role in reducing shoulder and neck strain while reducing the chances of office workers slouching forward while seated in their high back office chairs. The inclusion of adjustable armrests works to enhance the overall benefit of a high-back ergonomic office chair.
These armrests support the elbows, which take the weight off your shoulders and neck. This helps in creating a more comfortable working environment. Additionally, these adjustable armrests relieve the pressure on your chair's seat while helping you avoid pain in the buttock's region. Therefore, it is an excellent addition to your workspace.
Why Is Ergonomic Furniture Important in a Workspace?
Ergonomic furniture, such as a high back office chair with adjustable armrests, is an invaluable asset in any office space. This is because such pieces work to reduce unnecessary movement while eliminating strange working positions and awkward resting.
Thus, the inclusion of these ergonomic pieces makes a workspace more efficient. This is because it helps office workers take less time to complete a task, as they are more comfortable and have reduced stress placed on their back, neck, and shoulders.
From this, ergonomic furniture works to increase productivity, job satisfaction, and comfort. These benefits make an ergonomic high back office chair a crucial element of any office workspace.
What Are the Pros of an Ergonomic Office Chair with Adjustable Armrest Features?
One of the most prevalent advantages of purchasing an ergonomic adjustable armrest office chair is that this unit can promote enhanced seated posture. Many office workers tend to slouch as they are working at their desks.
This is because their office chairs are improperly designed. However, including adjustable armrests helps office workers gain more support while they are seated, which enhances their spinal alignment. This translates to the presence of a healthier posture.
Sitting correctly comes with its own set of benefits, including healthy digestion and better blood circulation. Better posture also reduces muscle tension and aches. This means you can reduce back and neck pain by including an ergonomic high back office chair with adjustable armrests in your workspace. 
What Are the Cons of an Ergonomic Office Chair with Adjustable Armrest Features?
Almost no cons exist when implementing an ergonomic office chair with adjustable armrest features. This is at least true from a physical perspective. This is because such ergonomic office furniture does an excellent job in supporting your body.
However, many office workers might choose to avoid these office chairs with adjustable armrests because of the cost associated with these investments. Having an ergonomic office chair with flexible features like a high back office chair with adjustable arms comes with a hefty price, as you are paying for quality.
Nonetheless, many chair users and experts claim that this price is worthwhile. This is because you are preventing muscle aches while promoting productivity. That is why you can find many office workstations boasting ergonomic office chairs with adjustable armrests. 
What Is the Best High Back Office Chair with Adjustable Arms?
So, you have decided that an ergonomic office chair is the right addition to your workspace. That is great! However, you are possibly stumped after looking through the internet. It is no secret that ergonomic furniture is in high demand.
Thus, the market is overly saturated with endless options, which can make picking the right ergonomic office chair challenging. That's why we have searched the market to identify five of the top picks for the best ergonomic chair with high back features to make your decision easier. Here is what we found to help you buy an ergonomic chair: 
1. ErgoChair Pro - High Back Office Chair with Arms
The ErgoChair Pro is an exceptional addition of a high back office chair with adjustable arms to any workspace for various reasons. However, its advanced design is what makes this chair stand out from the rest. It is constructed to be fully supportive while offering adjustability and enhanced breathability. This offers a more comfortable seating experience.
The chair is equipped to provide you top-of-the-range additions that work to maintain healthy spinal alignment. These features also help reduce the stress placed on your muscles while sitting. There is also flexible lumbar support that is designed for any seated position and is complemented by adjustable armrests and a smooth reclining ability equipped with five lockable positions.
This ergonomic office chair also comes with an adjustable backrest, height adjustment, headrest, and seat tilt. The adjustability allows you to make the necessary alterations to this high back office chair with adjustable arms to ensure you are receiving customized comfort and support to the regions placed under stress while sitting for extended periods, such as your hips, neck, shoulders, and back.
Additionally, this ergonomic office chair with armrests can comfortably support up to 300 lbs. It also offers another excellent feature, which is the inclusion of a TPE or a mesh back, which helps support your spine and optimizes airflow for added breathability. Finally, this high back office chair with adjustable arms is constructed from 100 percent earth-friendly materials.
2. ErgoChair Plus High Back Office Chair with Arms
The ErgoChair Plus is designed as one of the most dynamic ergonomic office chairs currently on the market. The inclusion of adjustable arms in this construction only enhances the ergonomic benefits offered when using the unit.
One of the best things about this high back office chair with adjustable arms is that it is inspired by movement. Thus, the mechanisms included in its construction focus on the needs of workers who move a lot during their working day, which helps offer unmatched comfort.
A well-liked addition to the design of this ergonomic office chair is that it is equipped with frameless construction. This inclusion offers unhindered movement. The construction of this high back office chair includes earth friendly TPE, which makes this product 10 times more durable than other ergonomic models.
It is hard to beat a chair that promotes natural mobility and provides adaptive spinal support. Additionally, you can choose between a TPE or breathable mesh inclusion. Lastly, this ergonomic chair can support weight up to 300 lbs. 
3. Steelcase Series 1 - High Back Ergonomic Chair with Armrests
This is an entry-level ergonomic gaming chair with armrests that's a suitable option for those who aren't entirely invested in ergonomics but still wish to enhance the comfort they receive while working. The Steelcase Series 1 Ergonomic Chair has a compact and simple design while offering various intuitive adjustment controls.
This high back office chair with adjustable arms is designed with a breathable mesh high-back that has a 3D Micro Knit design for enhanced support and flexibility. You also get many ergonomic features with this design including, tilt control, seat depth, lumbar height, arm height, and seat height adjustments.
Additionally, the armrests are designed to be soft and supportive while entirely adjustable. They can slide backward and forward, side-to-side, and can pivot approximately 40 degrees.  
4. Flash Furniture - Ergonomic High Back Chair with Adjustable Arms
This Flash Furniture ergonomic office chair is equipped with a high-back mesh that enhances breathability while offering optimized comfort. This model is widely known for being one of the most versatile and high-performing chairs while coming at a low price.
It is equipped with a tilt tension adjustment knob, adjustable headrest, and armrests while including advanced lumbar support for added comfort. Additionally,this high back office chair with adjustable arms boasts a professional and sleek appearance that can fit with most workspaces. The construction is made with quality materials for increased durability. 
5. Alera Elusion - High Back Office Chair with Adjustable Arms
This Alera Elusion model boosts a simple design while offering advanced features. It is equipped with a full mesh back, which offers increased breathability and comfort for extended hours in front of your desk. It also includes a waterfall-edge seat cushion. This helps maintain regular levels of leg circulation.
Additionally, it offers a simple design. Nonetheless, many people might find its appearance boring to look at, but it can easily fit into any office space. It is also constructed with cheap materials, which reduces durability. Thus, it is not the best option for long-term use. 
FAQs
How Can You Make Your Office More Ergonomic?
Ergonomic office chairs with adjustable arms can upgrade the work experience in your office. However, other accompanying ergonomic accessories can make your workday more comfortable too. A standing desk can take the advantages offered by an adjustable chair with arms one step further. Additionally, you cannot complete an ergonomic desk setup without a mouse or keyboard tray. 
How Should I Adjust My Ergonomic Chair?
To gain the most out of your ergonomic office chair, you should position your adjustable armrests so that your elbows are lying at an 80-degree angle. This helps you prevent wrist, neck, and shoulder pain at the end of your working day.
How Should I Sit While Working at My Office Desk?
There is a specific way to position your body while you are working, which prevents muscle cramps and aches. You should always avoid slouching when working. Sitting up straight with your arms parallel to the floor is extremely beneficial in negating stress placed on the back and neck.
Additionally, both feet should be placed flat on the floor, as this promotes blood circulation. The circulation is restricted when you cross your legs, which is why you should avoid doing this.
Even if you have a high back office chair with adjustable arms, you should keep your computer screen between 20 and 40 inches away from you when using it. Keeping the screen too close can cause eye strain. Your computer screen should also be placed at your eye level.
Why Do I Need to be Comfortable While I Am Working?
Likely, you do not have time to focus on comfort when you are working all day. However, this often leads to aches and pains towards the end of the day, which makes you regret not paying enough attention to correcting your posture or ensuring your feet were placed flat on the floor.
Thankfully, an office chair with adjustable armrests can help you maintain a good posture without even trying. This enhances the comfort offered when you are working. An ergonomic chair with adjusting arms is equipped to keep your body aligned, which helps avoid uncomfortable muscle pains. Thus, you can focus on the tasks you need to complete while your chair keeps you comfortable.
Are Armrests Good for Ergonomics?
Yes, armrests are great for ergonomics. However, adjustable armrests are the best option when looking to increase the ergonomics of a workspace. These arms help promote good sitting formation and posture, which can lead to more significant health benefits in the future.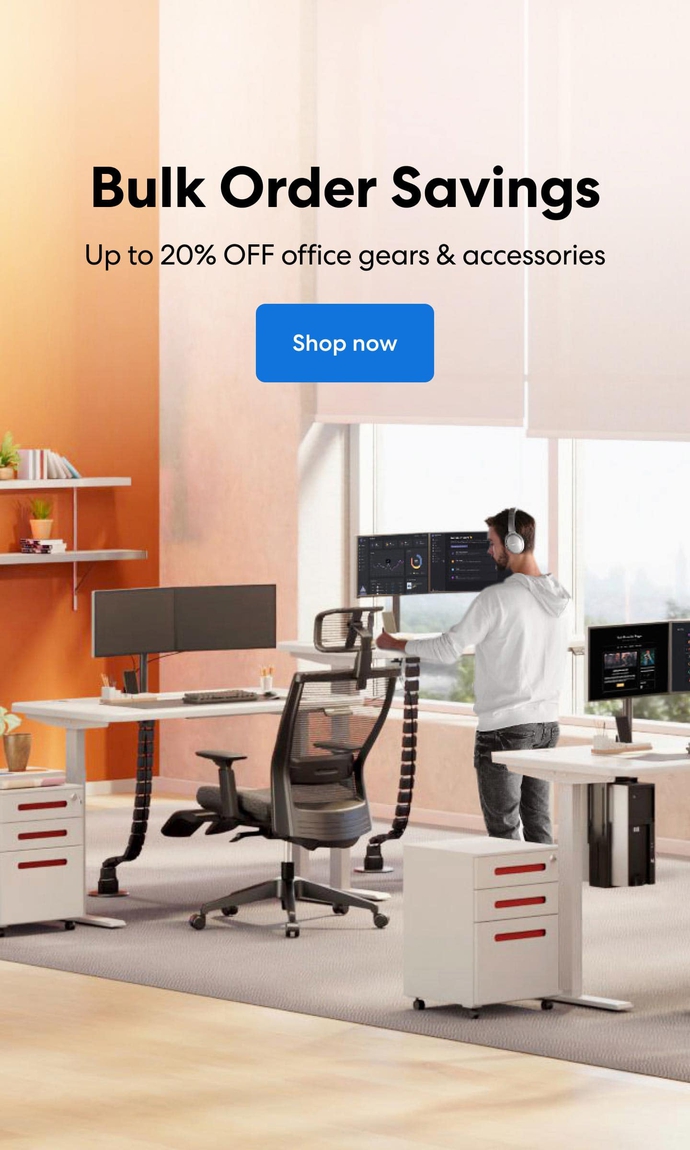 Subcribe newsletter and get $100 OFF.
Receive product updates, special offers, ergo tips, and inspiration form our team.