If you're plus size, you probably know how uncomfortable it is to sit in a narrow chair as you complete your daily responsibilities. Not only does it make you feel isolated, but it may also cause harm to you because the chair wasn't designed to cater to the needs of people outside the average norm. However, wide desk chairs are here to change the game.
While standard ergonomic chairs appeal to the average population, extra wide desk chairs are more comfortable for people with waistlines above the average – about 40 inches for males and 38.7 inches for females. However, this fact makes these types of chairs more complicated to find.
Today, we'll give you some of the best options you can choose for a wide-seat office chair. Perhaps you'll find the best addition to your home office by the end of the article.
Why Should You Choose a Wide Office Chair?
You should consider them for your needs for numerous reasons. It's amazing how well these wide desk chairs support the back. It is possible to adjust both the angle and height of the adjustable backrest support. As a result of the height adjustment, you will receive outstanding support for your lower back's lumbar region. A key feature of these chairs is that their backrests are designed to support your spine's curve, particularly in the lower spine. Besides adjusting the forward angle, you can also adjust the backward angle. You can lock these chairs in place with the locking mechanism.
Wide Desk Chairs – Best 28 Picks
Many brands have been adding double-wide desk chairs to the list of available ergonomic chairs. This makes it easier to shop for them, but bear in mind that not all chairs are equally made. Thus, some of them may be better than others.
Although the list provided here doesn't have any order, in particular, you'll find some of the best options you can use as a plus-size person.
1. Autonomous Vertagear Gaming Chair
The Vertagear Gaming Chair by Autonomous is one of the brand's latest additions. It has everything you need to be comfortable during your gaming session or office hours, including lumbar support pads and a removable neck. You can also adjust every other aspect of it, including the tilt and back recline. Plus, it can support up to 330 lbs.
Dimensions
20.7" W x 47.25" - 51.25" H
Materials
Steel frame
Class-4 gas lift
Aluminium base
Penta RS1 casters
PUC leather
UPHR foam
Colors
Black/Carbon, Black/Blue, Black/Red, Black/Green, Black/White, White/Red, White/Black
Weight capacity
330 lbs
Warranty
10 Years for Metal frame
2 years for other components
Feature
Removable neck + lumbar support pads
Adjustable tilt tension with lock system
Industrial-grade class-4 gas lift
80° - 140° back recline
2. ErgoChair Plus
The ErgoChair Plus by Autonomous is another good addition to your office. This extra wide desk chair has everything you'll ever need in an office chair.
This wide office desk chair is equipped with intuitive technology that will adapt to your body easily, regardless of your size. It has adaptive spinal support that will keep you comfortable at all times, no matter what position you take throughout the day. Additionally, it can support up to 300 lbs.
You can choose between TPE or mesh as the chair material. Both are equally good and durable, but mesh allows you more breathability to keep your body as fresh as possible.
Dimensions
28"L x 28"W x 40" - 44"H
Seat height
17" - 21"
Materials
Naked TPE version: 100% TPE upholstery with ABS plastic frame.
Mesh version: 100% TPE and polyester fabric upholstery with ABS plastic frame.
Colors
Black Frame, Naked Black TPE
Black Frame, Naked Grey TPE
White Frame, Naked Grey TPE
Grey TPE with Blue Mesh
Grey TPE with Grey Mesh
Black TPE with Black Mesh
Weight capacity
300 lbs
Warranty
5 years
Feature
Adjustable armrest, back tilt angle and tension, seat height
3. Autonomous ErgoChair Core
The ErgoChair Core is a budget-friendly chair that offers comfort and just the right amount of adjustability. The ErgoChair Core is priced at under $350.00 and comes with premium adjustability features along the height, lumbar support area, seat pan, and armrests. Aside from providing a great sitting experience, those details also make the chair appear more expensive and classier. 
The mesh backrest distributes weight evenly and has a thickly padded home seat with a high-quality polyester shell. In addition to all this, the chair has a balancing mechanism that lets you switch from an upright ergonomic sitting position to an 18-degree recline in a single move. Under the seat, you will have the height and tilt controls. If you pay a little extra in addition to the base price, you can even upgrade the chair with a headrest and footrest for proper posture for sitting at a desk.
Dimensions
28" - 45"L x 28"W x 45" - 49"H
Seat height
18" - 21"
Materials
Polyester fabric with molded foam interior and durable nylon plastic frame
Colors
All Black without headrest and legrest
Cool Gray without headrest and legrest
Weight capacity
250 lbs
Warranty
1 year
Feature
Adjustable armrest, back tilt angle, seat height
4. Northread Game Chair: Lumbar Support
| | |
| --- | --- |
| Dimensions | 20.9"D x 27.8"W x 53.5"H |
| Materials | Breathable premium PU leather |
| Colors | Black & White |
| Weight capacity | 250 lbs |
| Warranty | 1 year |
| Feature | Adjustable lumbar, height, swivel, reclining from 90-155° |
5. EUREKA ERGONOMIC GX5 Series Gaming Chair
| | |
| --- | --- |
| Dimensions | 28.0''W x 28.3''L x 52.4'''-55.9''H |
| Materials | Leather |
| Colors | Black and Blue |
| Weight capacity | 330 lbs |
| Warranty | 5 years |
| Feature | Class-4 gas lift, recline 180°, 3D armrests |
6. BOULIES Boulies Master Chair VER. 2022
| | |
| --- | --- |
| Dimensions | 28"L x 29"W x 46" - 50"H |
| Seat height | 17.7" - 20" |
| Materials | Polyester water repellent fabric with microfiber suede and strong steel frame; Aluminum foot base, 100% cold-cure foam; PU casters, Class 4 gas lift; Metal 4D armrests |
| Colors | Black, Blue, Brown, Charcoal, Carolina blue, Ash grey |
| Weight capacity | 300 lbs |
| Warranty | 2 years |
| Feature | Adjustable armrest, back reclining angle, lumbar support, seat tilt, tension and height |
7. Skyline Decor X30 Gaming Chair: Slide-Out Footrest
| | |
| --- | --- |
| Dimensions | 29"W x 29" - 60"D x 48" - 51"H |
| Seat height | 18" - 21.5" |
| Materials | Leather and polyurethane |
| Colors | Gray, Blue, Red, White |
| Weight capacity | 280 lbs |
| Warranty | 1 month |
8. EUREKA ERGONOMIC Ergonomic Gaming Office Chair: Python II
| | |
| --- | --- |
| Dimensions | 26.38"L x 26.38"W x 51-55" H |
| Materials | Polyester fabric with molded foam interior and durable steel frame; PU handrest pads |
| Colors | Black & White, Black & Red |
| Weight capacity | 275 lbs |
| Warranty | 5 years |
9. Skyline Decor X40 Gaming Chair: Slide-Out Footrest
| | |
| --- | --- |
| Dimensions | 28"W x 29.25" - 68"D x 48" - 51.25"H |
| Seat height | 18.5" - 22.5" |
| Materials | LeatherSoft, 5-star nylon base |
| Colors | Black, Black/Gray, Red, Black/Purple, Black/Blue, Black/Orange, White |
| Weight capacity | 280 lbs |
| Warranty | 1 month |
10. Techni Mobili TS-92 Office-PC Gaming Chair
Dimensions
27.5''L x 27''W x 50-53''H
Materials
High quality PU, Nylon base
Colors
Black & White
Weight capacity
250 lbs
Warranty
Parts and defects: 2 years
Internal steel frame: Lifetime
Feature
Neck and lumbar support pillows, adjustable 2D padded armrests and pneumatic seat height adjustments
11. Techni Mobili High Back Gaming Chair
Dimensions
31''L x 27.5''W x 51.25 - 55.25''H
Colors
Black & White
Weight capacity
250 lbs
Warranty
Parts and defects: 2 years
Internal steel frame: Lifetime
Feature
Height adjustable memory foam seat, reclining back mechanism up to 150 degrees, tilt & tension mechanism control
12. Italian Design Ergonomic High Back Office Chair From Undesk
This is a high-back Executive General covered in PU Leather with durable synthetic leather oil that makes the double-wide office chair water-resistant and much smoother. It has a double layer of soft cushioning that reduces pressure build-up on your thighs and back. The thicker headrest and higher backrest adjust to your spine automatically for additional support and pressure reduction. 
It has pneumatic seat height adjustment where the backrest reclines up to 135 degrees and is locked in specific angle points. The wide computer chair also comes with a 360-degree rotation and swivel casters.
13. AmazonBasics Modern Executive Office Chair
This chair is the perfect choice for anyone who prefers comfort. It has a basic design but is extremely comfortable with the well-padded seat and height adjustment controls. It even has padded armrests and a backrest that is slightly curved to support and improve your posture. 
The conference room chair is covered with a thick and durable bonded leather material with segmented padding that offers the right amount of comfort to your lower back and hips. It has a neat and clean finish and can support up to 275 lbs.
14. Hon Ignition 2.0 Ergonomic Chair
This wide desk chair has managed to get all the ergonomic factors right. It combines a springy mesh backrest that offers full support with a thick foam seat covered in mesh fabric. You can adjust the tilt tension, tilt lock, seat depth, seat height, and height-adjustable arms. The chair has superb office chairs parts and builds quality with really great lumbar support, which is discernible once you're seated in it.
15. Modway Articulate Ergonomic Chair
Modway's chair offers great comfort for the price point. The chair has five-point dual-wheeled hooded casters that easily glide across carpets or hardwood floors without damaging them. Like all other chairs, this office chair accessories design includes a mesh back and a padded cushion seat. Regarding the seat, you can choose between mesh and vinyl and colors that include green, black, and blue. 
The reclining office chair can support up to 331 pounds and with adjustable features that fit anyone's needs. You can even customize individual parts on this chair, like the tilt and lock system, height-adjustable armrests, and one-touch chair height adjustment.
16. ALL33 BackStrong C1 Office Chair
This is a one-of-a-kind chair that decompresses the lumbar curve so that your thoracic spine is gently lifted for instant posture improvement. It is also designed to relieve pressure on all the crucial points throughout your shoulders, neck, and back no matter how long you stay seated. Now all this is possible because of the chair's unique design called Sit-in-Motion technology.
This design is built based on how the seat pan cradles your lower back and pelvis region. The chair moves and rocks with your movement, reducing discomfort while stimulating circulation. It even has a 360-degree swivel arm that folds away if you don't require them.
17. Flash Furniture Tall And Big Office Chair
This wide desk chair has the best design that is modern and understated. It has four height adjustment levels from 18.25 to 22.25 inches. It has an impressive weight-bearing capacity that makes it suitable for people of all sizes, with a maximum limit of 500 lbs. 
The seat has a waterfall design that helps in reducing the pressure build-up on your legs and back. It has foam padding that offers the right amount of comfort and support. In addition, there is a very high backrest that ensures that all of the pressure is removed from the shoulders and neck. Although the armrests are fixed, they are still comfortably padded. 
The frame has white upholstery with a tile lock mechanism for adjusting recline or rocking functions, pneumatic levers for added height adjustments, and 360-degree rotating caster wheels.
18. HumanScale Diffrient Smart
The Diffrient Smart chair is the top choice when it comes to premium mesh task chairs. If the name sounds familiar, it is because this chair is similar to the Diffrient World extra wide office chair. This version of the Diffrient chair has a parrot seat as opposed to the open mesh seat on the World version. The Diffrient Smart wide seat office chair May come with less customization, but it is still a great option as a task chair.   
The Diffrient Smart Has a free recline mechanism which means that it can automatically recline based on the weight of the person sitting in it. One unique thing about this particular machine is that it does not rock like a knee-tilt or the synchro-tilt mechanism. 
Instead, the back edge of the seat pan rises so you can sit comfortably. This new reclining style allows you to keep your eyes towards the front no matter how far you recline back as you change your seating positions during the day.
19. Modway Articulate Ergonomic Mesh Office Chair
This chair from Modway has a supportive mesh covering, adjustable armrests, and seed height. The design of the chair offers you more variety that decreases the chances of repetitive stress injuries. Along with this chair, we recommend getting a kneeling chair or exercise ball.
20. Cooler Master Caliber X1C
The Caliber X1C gaming chair is our final pick for this list. It is a very well-built solid desk chair with a lot of seating capacity and recline function. We know that several premium gaming chairs now come with fabric coverings, but the X1C's Material is better because it is smooth and can be cleaned off easily. 
The Caliber X1C gaming chair Combines faux leather upholstery and generously dense padding with a tilt function and a wide range of armrest adjustments. And at $399, the X1C might not be the cheapest gaming chair, but it is definitely worth the investment. 
21. BestMassage Big and Tall
This chair has the widest and deepest seat we've found in office chairs for heavy persons. In addition, this chair's seat has the following impressive dimensions: 27.4 inches wide and 24.4 inches in length. The Big and Tall chair by BestMassage is one of the best wide desk chairs you can find in the market, especially because it can support up to 500 lbs!
Additionally, the chair allows you enough freedom regarding seat tilt and adjustability. So, this chair is quite sturdy, durable, and comfortable. It's the perfect combo for a plus-size person.
22. Flash Furniture HERCULES Series Big & Tall
This heavy-duty reclining office chair has been in the market for quite a while, as Flash Furniture has become one of the leading wide desk chair manufacturers. Thus, you can expect the quality of this chair to be a bit higher than most of the options listed here.
The Big & Tall chair is the perfect chair for plus-size people for multiple reasons. First, it can lift up to 500 lbs without problems, while everything else is easily adjustable. Thus, it's another recommendable option if you'd like to equip your office or gaming room with something more comfortable based on your body proportions.
23. Steelcase Gesture
Steelcase is another renowned office chair brand. As for their Steelcase Gesture model, they haven't disappointed their customers at all. Although this wide desk chair is costlier than others, it's a safe investment. It adapts to your body easily and will keep you comfortable for several hours. In addition, it supports 400 lbs at maximum, which is the only drawback we've found on this chair.
24. OIF Mid-Back Office Chair
This wide desk chair option has a weight capacity of 450 lbs, more than the average for traditional office chairs. Some people won't like the classic design, but others may find it quite appealing. It's a budget option, so it doesn't have too many extra adjustability features to offer. Despite that, you can be sure that it will keep your body comfortable for a long while.
25. OFM ESS Big & Tall Leather Executive Chair
If you'd like to add something classier, perhaps this leather wide computer chair by OFM ESS may be the best option for you. It has wider dimensions than other options listed: 25 inches wide and 22.5 inches in length. Unfortunately, despite having a larger seat, it can only support up to 400 lbs.
26. Vinsetto Ergonomic
This wide desk chair was designed specifically for people with measurements above the average. Thus, you can expect it to have wider dimensions than the average: 29.25 inches wide and 31.5 inches in length. Plus, its high weight capacity makes it suitable for all kinds of users, as it has a weight capacity of 500 lbs. Plus, the padding is so thick you won't even feel discomfort after being seated for several hours. The only drawback it has is its hard assembling.
27. VON Racer Big & Tall Gaming Chair
If you'd like something that falls more on the gaming side, this double-wide desk chair is for you. All of it is appropriately equipped with intuitive technology to keep your body comfortable at all times. As a result, it is suitable for office work and gaming. Plus, the modern design makes it quite good-looking, unlike other old-fashioned models. The only drawback we found for this chair is the weight capacity: 400 lbs.
28. OneSpace Taft Meshback Oversized Chair
This extra wide desk chair has one strong point regarding the rest of the models: 30.5" wide! Combined with the 500 lbs weight capacity and the mesh back, it is the perfect combination to keep you comfortable at all times. Plus, it's extremely easy to adjust it to your body proportions, making it perfect for all kinds of users.
Video ads for product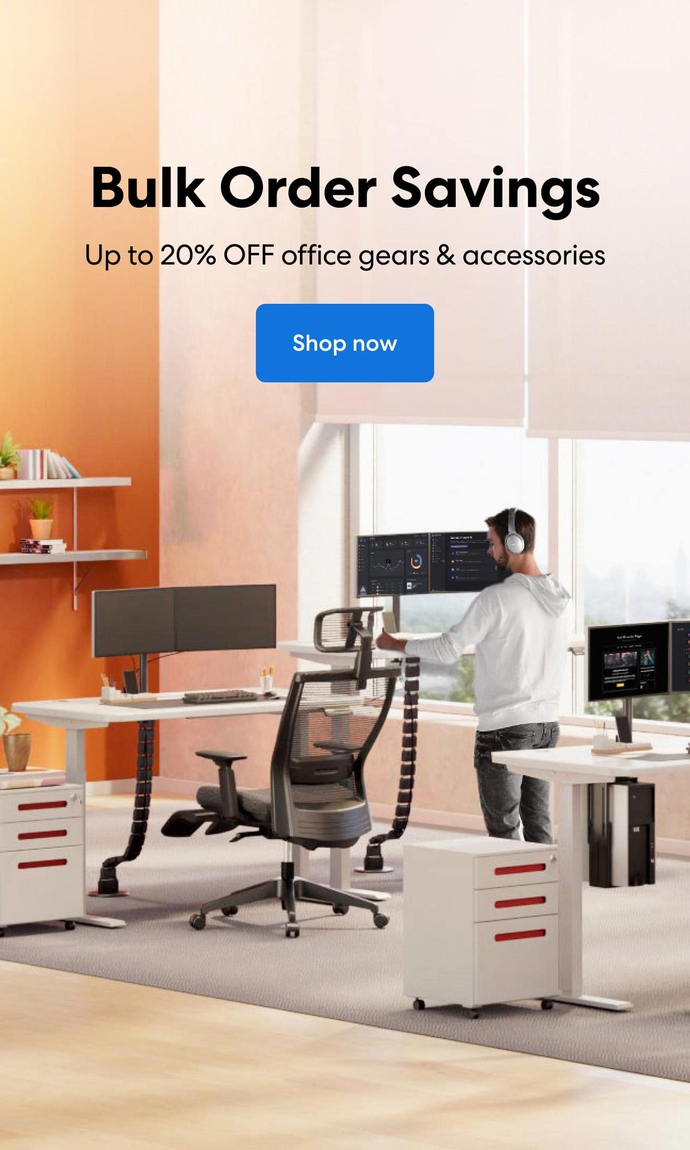 Subcribe newsletter and get $100 OFF.
Receive product updates, special offers, ergo tips, and inspiration form our team.