Smart Products
10 Best Wide Office Chairs to Maximize Your Comfort
If you're plus size, you probably know how uncomfortable it is to sit in a narrow chair as you complete your daily responsibilities. Not only does it make you feel isolated, but it may also cause harm to you because the chair wasn't designed to cater to the needs of people outside the average norm. However, wide office chairs are here to change the game.
While standard ergonomic chairs appeal to the average population, extra wide office chairs are more comfortable for people with waistlines above the average – about 40 inches for males and 38.7 inches for females. However, this fact makes these types of chairs more complicated to find.
Today, we'll give you some of the best options you can choose for a wide-seat office chair. Perhaps you'll find the best addition to your home office by the end of the article.
Wide Office Chairs – Best 10 Picks
Many brands have been adding double-wide office chairs to the list of available ergonomic chairs. This makes it easier to shop for them, but bear in mind that not all chairs are equally made. Thus, some of them may be better than others.
Although the list provided here doesn't have any order, in particular, you'll find some of the best options you can use as a plus-size person.
1. Autonomous Vertagear Gaming Chair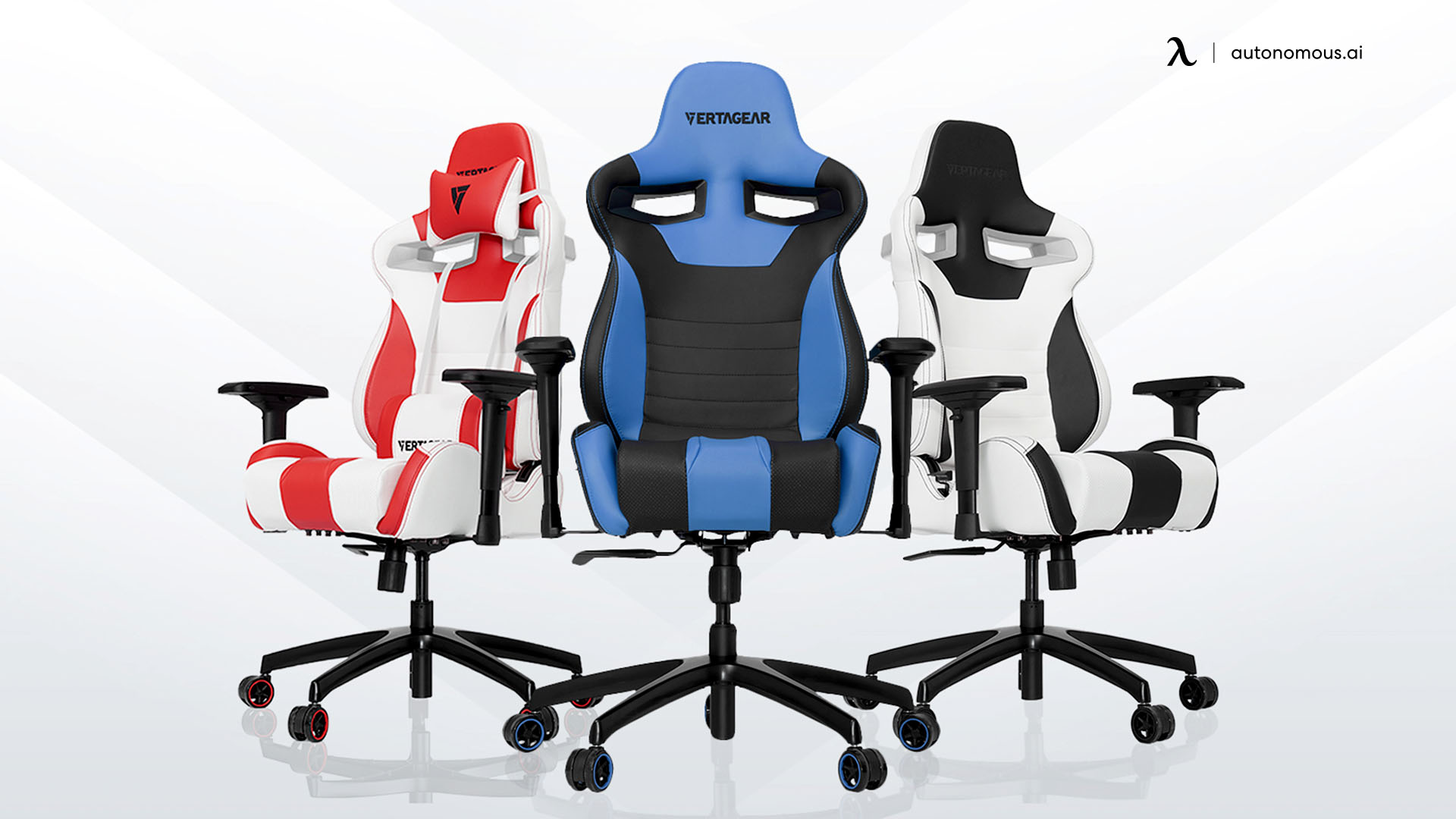 The Vertagear Gaming Chair by Autonomous is one of the brand's latest additions. It has everything you need to be comfortable during your gaming session or office hours, including lumbar support pads and a removable neck. You can also adjust every other aspect of it, including the tilt and back recline. Plus, it can support up to 330 lbs.
2. ErgoChair Pro+
The ErgoChair Pro+ by Autonomous is another good addition to your office. This extra wide office chair has everything you'll ever need in an office chair.
This wide office desk chair is equipped with intuitive technology that will adapt to your body easily, regardless of your size. It has adaptive spinal support that will keep you comfortable at all times, no matter what position you take throughout the day. Additionally, it can support up to 300 lbs.
You can choose between TPE or mesh as the chair material. Both are equally good and durable, but mesh allows you more breathability to keep your body as fresh as possible.
3. BestMassage Big and Tall
This chair has the widest and deepest seat we've found in office chairs for heavy persons. In addition, this chair's seat has the following impressive dimensions: 27.4 inches wide and 24.4 inches in length. The Big and Tall chair by BestMassage is one of the best wide office chairs you can find in the market, especially because it can support up to 500 lbs!
Additionally, the chair allows you enough freedom regarding seat tilt and adjustability. So, this chair is quite sturdy, durable, and comfortable. It's the perfect combo for a plus-size person.
4. Flash Furniture HERCULES Series Big & Tall
This heavy-duty reclining office chair has been in the market for quite a while, as Flash Furniture has become one of the leading wide office chair manufacturers. Thus, you can expect the quality of this chair to be a bit higher than most of the options listed here.
The Big & Tall chair is the perfect chair for plus-size people for multiple reasons. First, it can lift up to 500 lbs without problems, while everything else is easily adjustable. Thus, it's another recommendable option if you'd like to equip your office or gaming room with something more comfortable based on your body proportions.
5. Steelcase Gesture
Steelcase is another renowned office chair brand. As for their Steelcase Gesture model, they haven't disappointed their customers at all. Although this wide office chair is costlier than others, it's a safe investment. It adapts to your body easily and will keep you comfortable for several hours. In addition, it supports 400 lbs at maximum, which is the only drawback we've found on this chair.
6. OIF Mid-Back Office Chair
This wide office chair option has a weight capacity of 450 lbs, more than the average for traditional office chairs. Some people won't like the classic design, but others may find it quite appealing. It's a budget option, so it doesn't have too many extra adjustability features to offer. Despite that, you can be sure that it will keep your body comfortable for a long while.
7. OFM ESS Big & Tall Leather Executive Chair
If you'd like to add something classier, perhaps this leather wide office chair by OFM ESS may be the best option for you. It has wider dimensions than other options listed: 25 inches wide and 22.5 inches in length. Unfortunately, despite having a larger seat, it can only support up to 400 lbs.
8. Vinsetto Ergonomic
This wide office chair was designed specifically for people with measurements above the average. Thus, you can expect it to have wider dimensions than the average: 29.25 inches wide and 31.5 inches in length. Plus, its high weight capacity makes it suitable for all kinds of users, as it has a weight capacity of 500 lbs. Plus, the padding is so thick you won't even feel discomfort after being seated for several hours. The only drawback it has is its hard assembling.
9. OneSpace Taft Meshback Oversized Chair
This extra wide office chair has one strong point regarding the rest of the models: 30.5" wide! Combined with the 500 lbs weight capacity and the mesh back, it is the perfect combination to keep you comfortable at all times. Plus, it's extremely easy to adjust it to your body proportions, making it perfect for all kinds of users.
10. VON Racer Big & Tall Gaming Chair
If you'd like something that falls more on the gaming side, this double-wide office chair is for you. All of it is appropriately equipped with intuitive technology to keep your body comfortable at all times. As a result, it is suitable for office work and gaming. Plus, the modern design makes it quite good-looking, unlike other old-fashioned models. The only drawback we found for this chair is the weight capacity: 400 lbs.
Hey, you have special pricing through your company.
Get exclusive rewards
for your first Autonomous blog subscription.
WRITTEN BYAutonomous
We build office products to help you work smarter.
Coming at You Live from Autonomous' Social Media!