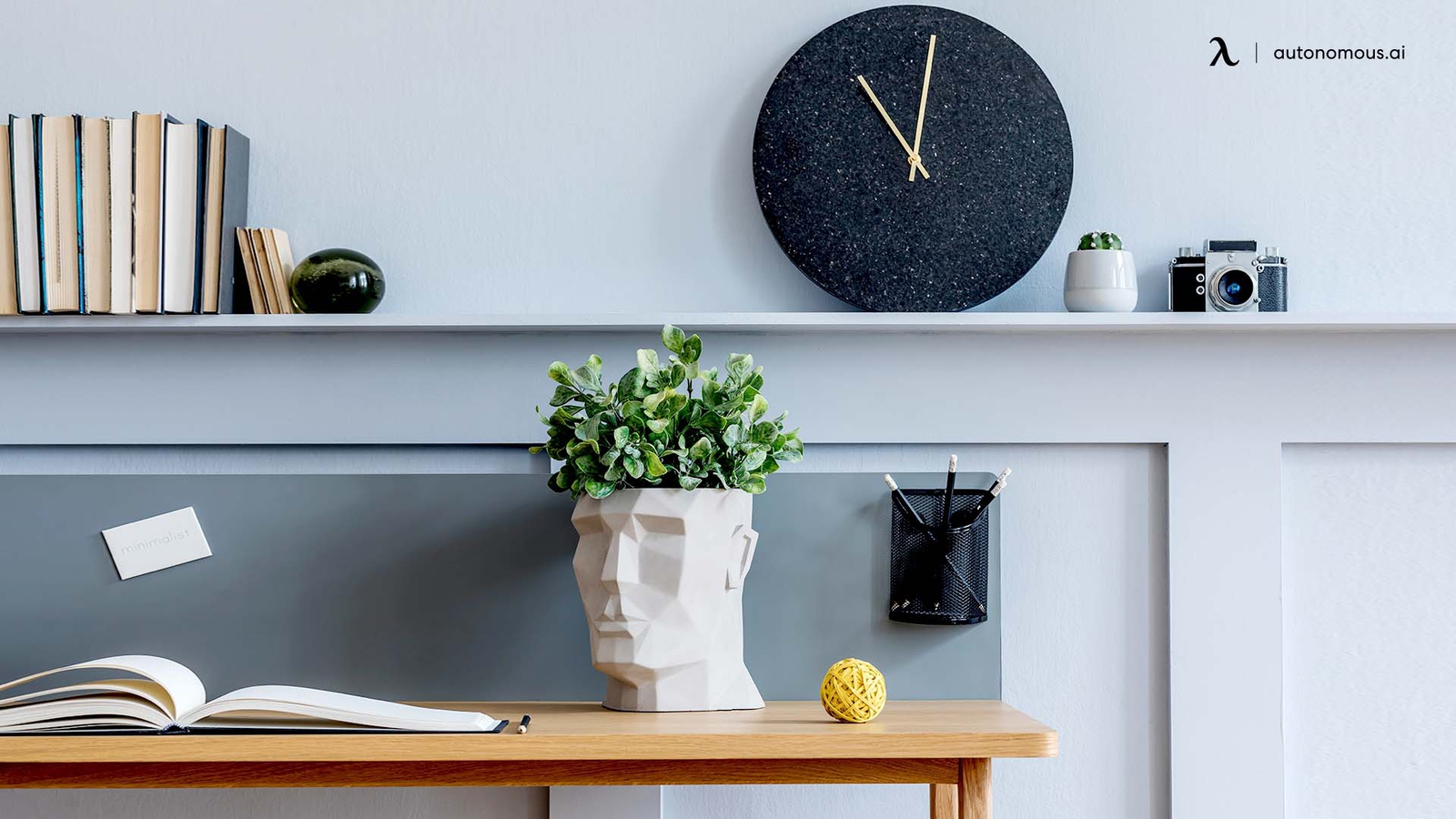 Workplace Inspiration
15+ Inspiring Home Office Setup Ideas & Must-Have Essentials

Autonomous
|
Feb 22, 2022
28,394 Views
It is the start of a new year, which often means time to redecorate, change, or spruce things up a bit. Your home office setup is always a place where you can switch things up. Your home office setup is not as simple as putting together a bunch of things that you like. The way you arrange things has to have a positive impact on your performance and productivity. From office chairs to standing desks and even your desk accessories, you need to put a bit more thought into this. What is the type of vibe you are going for?
If you are looking for a cool and essential type of home office setup, then you have come to the right place. There are so many office furniture ideas to incorporate into your workspace. Keep reading to find out how to transform your 2022 office space.
Time to clean-up, and be ready to welcome the new year. If you are looking for some cool and functional home office setups, here are our choices.
What Do You Need for Your Office Setup? How to Set up Home Office?
It is no small stress on our bodies to work eight hours a day with some lunch and snack breaks, which can even harm our health. Consider installing the right office furniture to ensure that your home office setup is enjoyable and doesn't lead to back pain.
Organizational and individual ergonomics are often neglected in the workplace. It takes an hour to complete. Static postures are detrimental to health when they are adopted while working for long hours. In order to create an ergonomic work environment for the user, the office should undergo an ergonomic assessment, and the employees should be trained on how to sit correctly and ergonomically.
A work-from-home setup ergonomics system involves adjusting the environment so the user can use it comfortably. Users should have a chair and desk that conforms to their body dimensions. This comfortable working environment is thermal, acoustic, and illuminated, with easy access to tools for working and understanding how their bodies relate to the furniture used and assigned tasks.
To determine how to set up your office, you need to know what should be in your workspace. There are certain things that you need to function correctly in your home office setup. These items include:
1. Office Desk
The type of office desk you choose is crucial. Previously, office desks were big, bulky, and often a nuisance. Today, you can choose a desk that adapts to suit your needs and lifestyle. This means that you can put your health first.
You can improve your health by using a standing desk to create the best office setup. In order to comfortably type, your chair should be low enough to allow you to sit comfortably. It would help if your elbow were open between 90 and 110 degrees. It doesn't matter what it is: a laptop, a notebook, a stapler, or anything else you need. The underlying commodity must also be great for everything to work together.
The elbows can be strained when the table is too high, which can cause strain to the wrists and shoulders. It is possible to also use an adjustable desk from a home desk at standing work. As more and more studies revealed the health problems associated with excessive sitting, such as back pain, standing desks became more popular. The ideal desk height can be achieved with an adjustable work-from-home desk, regardless of your preferred setup.
If you do not have an adaptable standing desk in 2022, you need to reconsider your choices. The market for these tables continues to expand as there is such high demand. Why consider an adjustable standing desk? These products offer various physical and mental health benefits. The sleek design is also perfect to fit into any type of office space. You also have the opportunity to alternate between standing and sitting. This results in increased physical movement, which boosts your work performance, mental capacity, and overall mood and well-being.
Autonomous standing desks are a great addition to any home office setup space. Their design and functionality are excellent. The SmartDesk Core is a highly recommended option if you are looking for an ideal home office setup in 2022.
Pros of Standing Desks
Standing desks provide various health benefits
Increased movement
Sleek and simple design
Can fit into any space
Improves your mood and energy levels
You can alternate between sitting and standing
Cons of Standing Desks
They can be expensive
The desks often require self-assembly
2. Office Chair
In addition to desks and chairs, home offices need various equipment. It must have the best available alternative because you spend most of your day sitting down. In addition to lumbar support, the chair should have all the desirable features.
Choosing an ergonomic chair is probably one of the essential steps in designing your office setup. If you do not have an ergonomic chair yet, you need to make the change. Much like the standing desks, ergonomic chairs are produced with your health in mind. They are made to adapt to your body and to provide the necessary support that you need.
Your office chair in home office setup must be adjustable, just like your desk. Sitting correctly means putting your feet flat on the ground and bending your knees at a 90-degree angle. The best sitting posture can be difficult to achieve with an office chair that cannot be adjusted. In order to prevent back pain, you should also ensure your office chair has lumbar support.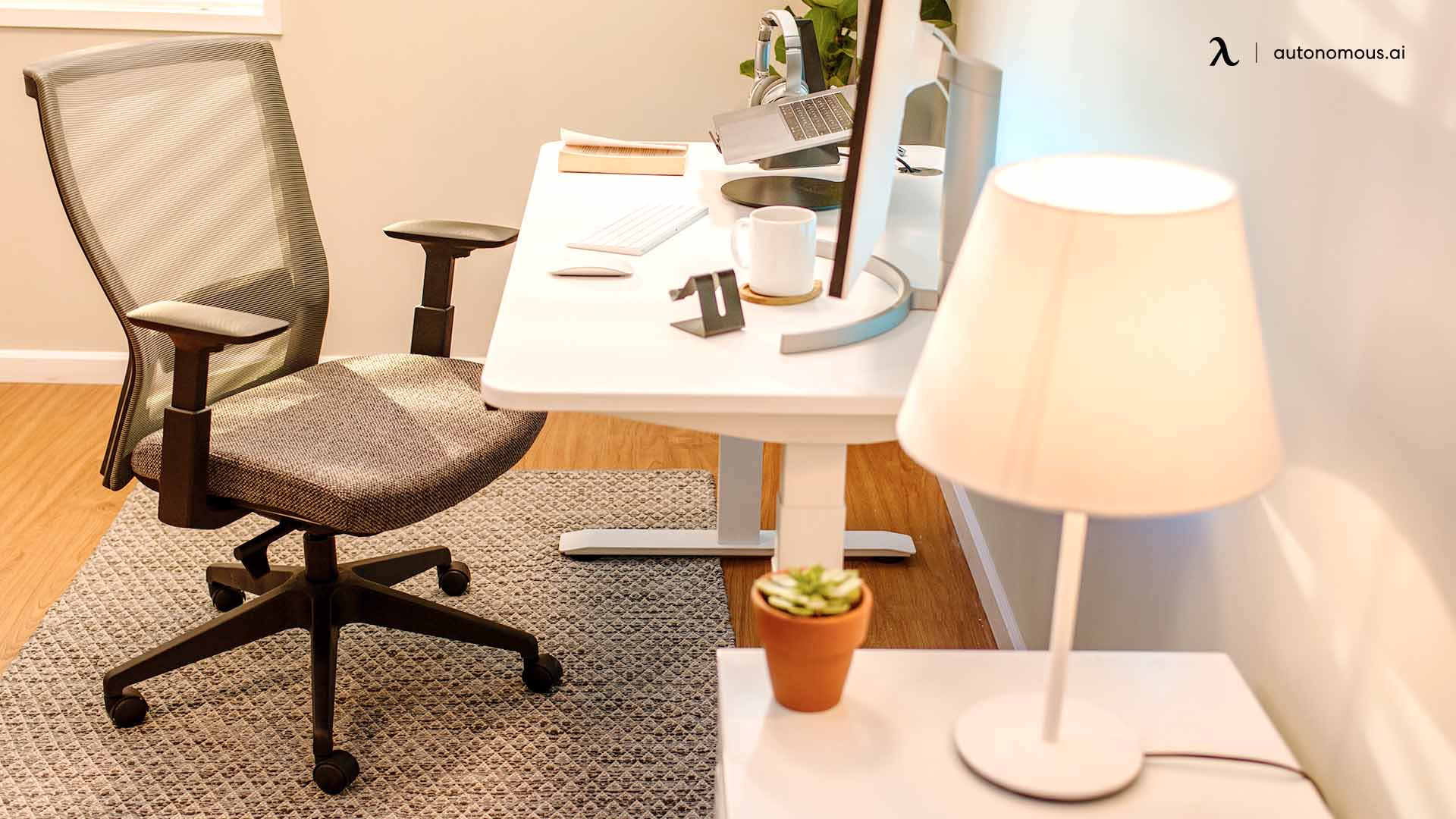 Besides lumbar suport, features of these chairs often include adjustable height, depth, and width, a headrest, and a reclining quality. Your seat is something that you spend hours on every single day. Thus, you want to ensure that you are comfortable and not doing anything harmful to your health. The ErgoChair Pro provides optimal comfort and flexibility. You are not going to find an ergonomic chair that can offer much more than this product can in 2022. It is one of the best office chairs available on the market.
Pros of Ergonomic Chair
Reduced back and neck pain
It improves your posture and helps to align your spine
It is comfortable
Increases productivity and motivation
Offers various physical and mental benefits
Aesthetically pleasing designs
Made to be durable and long-lasting
Cons of Ergonomic Chair
They are expensive products. It is an investment
They often require self-assembly
3. Laptop/PC
The majority of people cannot do their jobs without a laptop or a PC. Laptops provide greater flexibility as you do not have to be stuck in one place when you want to get work done. A laptop is more ideal for a work from home setup. These are also the more popular choices in 2022. More and more people are investing in high-quality laptops, such as MacBook, as you can take your work on the go. Given current situations, working from home is becoming a more popular thing; hence, having a laptop makes the process more convenient for you.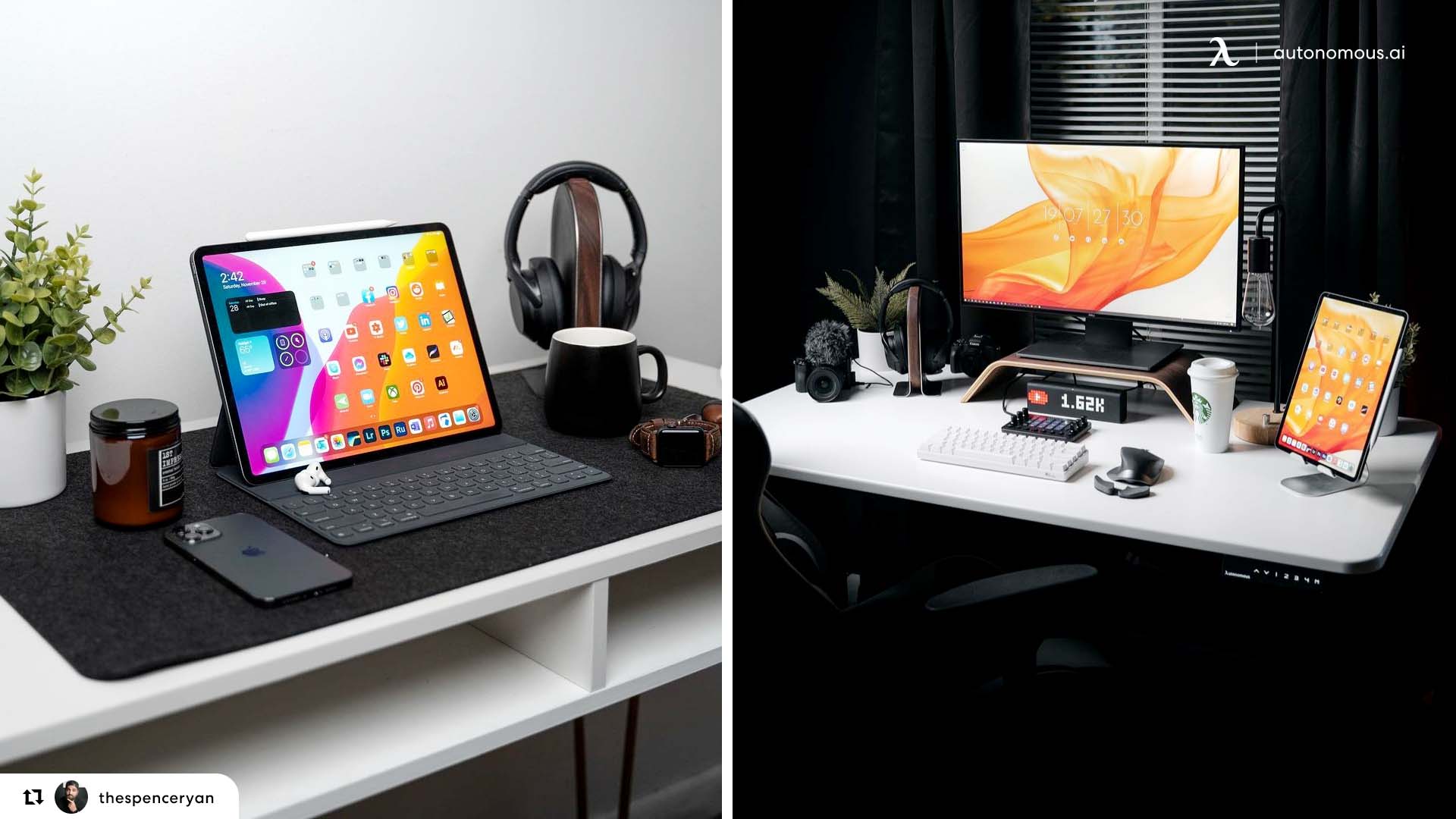 A laptop or PC is an investment; therefore, you want to ensure that you take note of all the features before purchasing one. Your product needs to be suitable for your line of work. The placement of a laptop is also crucial when it comes to your setup. Your screen should be placed directly in front of you and should be at eye level to make sure that you are using the correct posture.
Pros of Laptops and PCs
Makes work a convenient and quicker process
There is less admin work for you
You can access all files and important documents easily
Your work is often stored safely and securely
Cons of Laptops and PCs
Laptops and PCs are a huge investment
The lighting is not good for your health
It can often make people lazier
You could get stuck if your laptop or PC crashes
4. Monitor
Certain office workers need a monitor, especially if you have to spend long periods looking at the screen. A monitor is a great option to accompany your laptop. Having a monitor can be beneficial as it can improve your time management and productivity. This is possible as you can run multiple programs simultaneously. The setup and placement of your monitor are the same as that of a laptop – it should be directly in front of you and at eye level.
If you are utilizing a dual-monitor system, the placement is going to differ slightly. Positioning depends on how often you use each computer screen. If you use both equally, they should be placed together at the same angles. The edges should be touching, and they should be directly in front of you. If you use one of the monitors about 80% of the time, then it should be in front of you, and the other should be placed off to the side.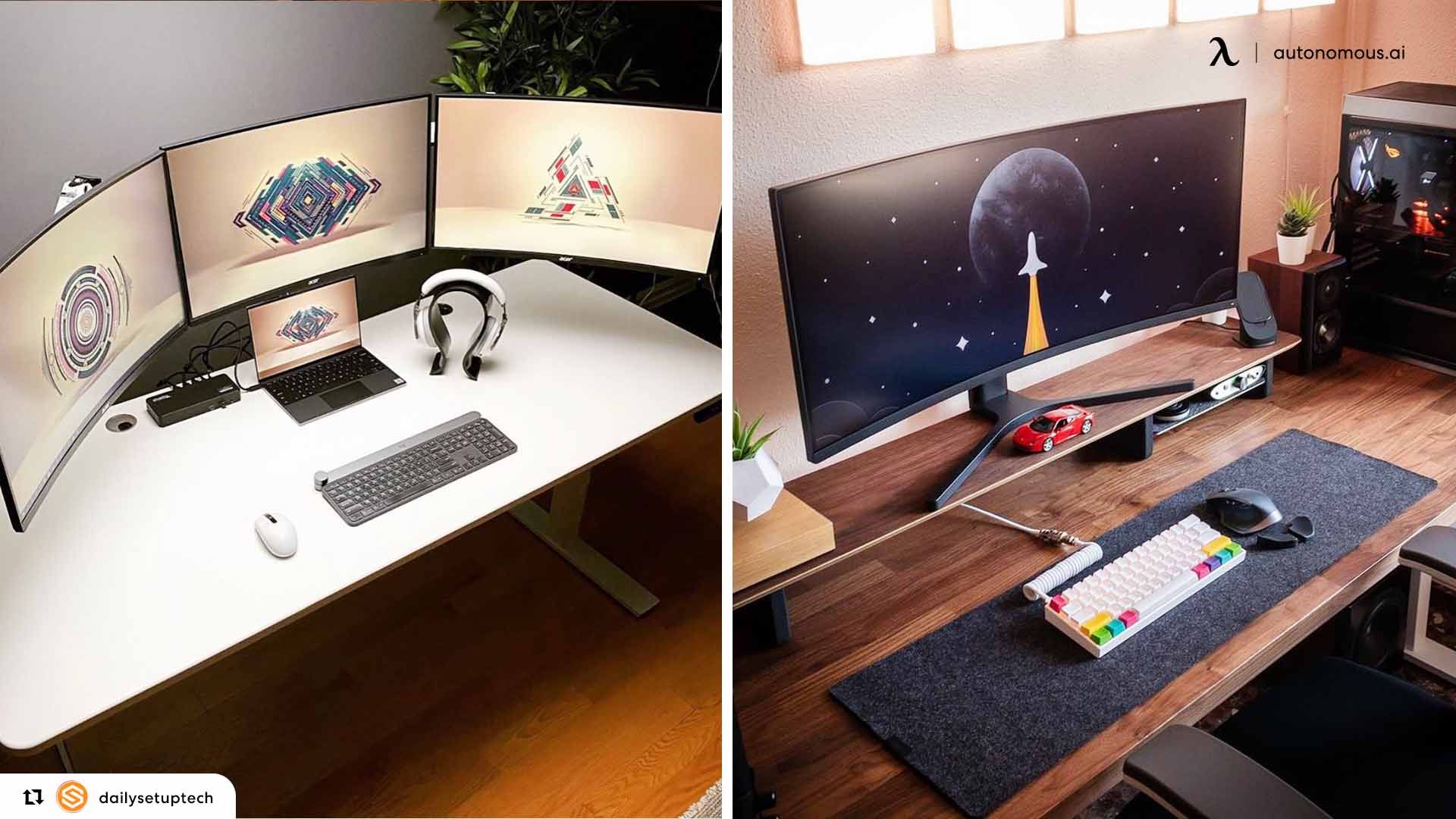 The pros and cons are similar to those of a laptop. Additional pros include that a larger screen can be more user-friendly. Another disadvantage to consider is that large screens can often get in the way and take up a great deal of space. If you are looking for a monitor, the Apple Mac options are of fantastic quality.
Pros of Monitor
You can power all your devices simultaneously
You can charge your devices while you are working
These products enable you to work for extended periods
It is possible to work at your desk setup
Cons of Monitor
Cables can be scattered all over the place
It may use a great deal of electricity
These are not always completely safe
5. USB/Adapter
Your best office setup is likely going to grow. You can be assured that you are going to add new tools to your workspace, which means that you are going to need an outlet to get power from. Adapters and USBs are those things that we rely on heavily but do not realize. Make sure that your work from a home office has safe and sufficient power outlets. Keep your environment safe by going for options that have surge protection.
Purchasing a power strip that contains both adapters and a USB port ensures that you can keep all your devices running smoothly. If you also want to reduce the appearance of these cables, it is advisable to attach the power strip to walls or furniture. Dell and Corsair are trustworthy brands.
6. Keyboard and Mouse
Keyboards and mouses are objects that are used by almost everyone who uses a laptop or computer. Unfortunately, these products are not good for your wrist health at all. It is for this reason that it is important to invest in a good quality keyboard.
There are plenty of brands that produce keyboards, but it is best to opt for wireless options as they are more flexible. A good brand to look into is Logitech. Wireless options also provide a cleaner looking work setup. Seeing tangled chords is something you want to leave behind in 2020. This also clears up your mind, which is essential for any work environment. To reduce the strain placed on your wrists, you need to ensure that you pay attention to the position of your wrists. They should be in a straight line or slightly below your hands.
Pros of Keyboard and Mouse
It is easy to navigate through your work
Assists in speeding up the work process
Cons of Keyboard and Mouse
They have a negative impact on your wrist health
It can be expensive to invest in these items
They can clutter up your space
7. Headphones
Noise-canceling headphones could be an absolute gamechanger to your work from home desk setup designated areas. These headphones can eliminate all distractions from your surrounding area. In 2022, most people work remotely from home, which means that having children running around the house and dogs barking in the garden is a common occurrence. It is vital to get rid of these noises to improve productivity; hence, making headphones an essential component of your setup.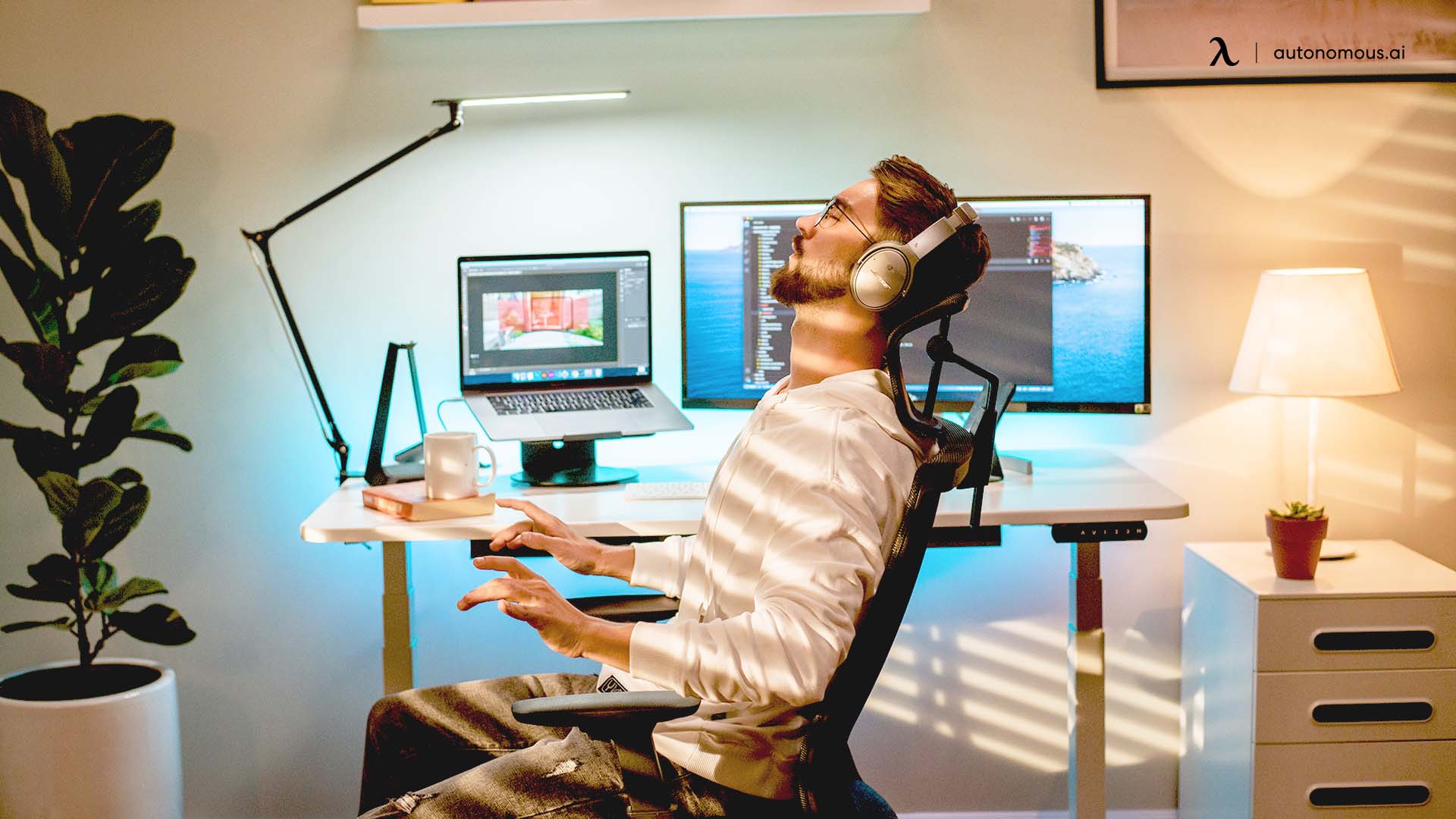 If you are looking into purchasing a pair of headphones, Sony and Apple produce high-quality options.
Pros of Headphone
It is easier to get into work-mode
Eliminates surrounding distractions
Helps you to feel like you are at work, which results in increased productivity
Can improve your focus
Cons of Headphone
A slightly more expensive investment
They can be uncomfortable
May get in the way of your working
Makes it impossible to hear if there is an emergency going on in the background
8. Speakers
Listening to music is a great way to focus and keep your concentration for many individuals. Speakers can fill up the room to give you the impression that you are still in the office. These background noises are very beneficial to some people.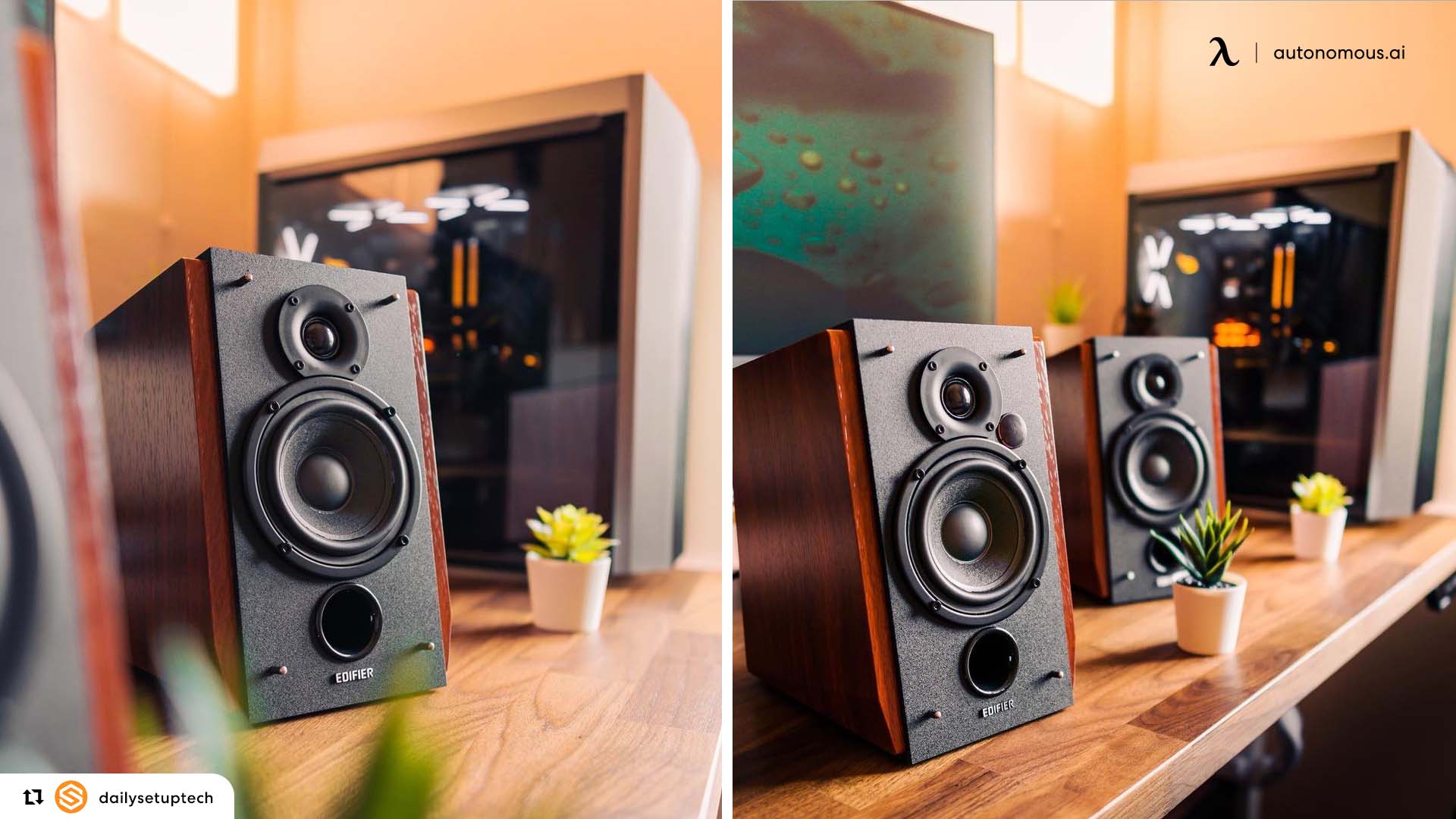 In 2022, it is very simple to connect your speaker to your laptop or phone through Bluetooth and USBs. An excellent brand to look at would be JBL. They manufacture top of the range speakers that are versatile.
Pros of Speakers
Boosted energy levels
Improved focus and concentration
Helps to create a work environment
Cons of Speakers
Speakers are an investment
Not everyone can work efficiently with noise; it is a distraction to some
9. Webcams and Microphones
Working from home often means that various online meetings are going to take place. You are going to need an effective webcam and microphone to ensure that you can communicate properly with your colleagues. Investing in these products is a way to increase the professionalism of your home office.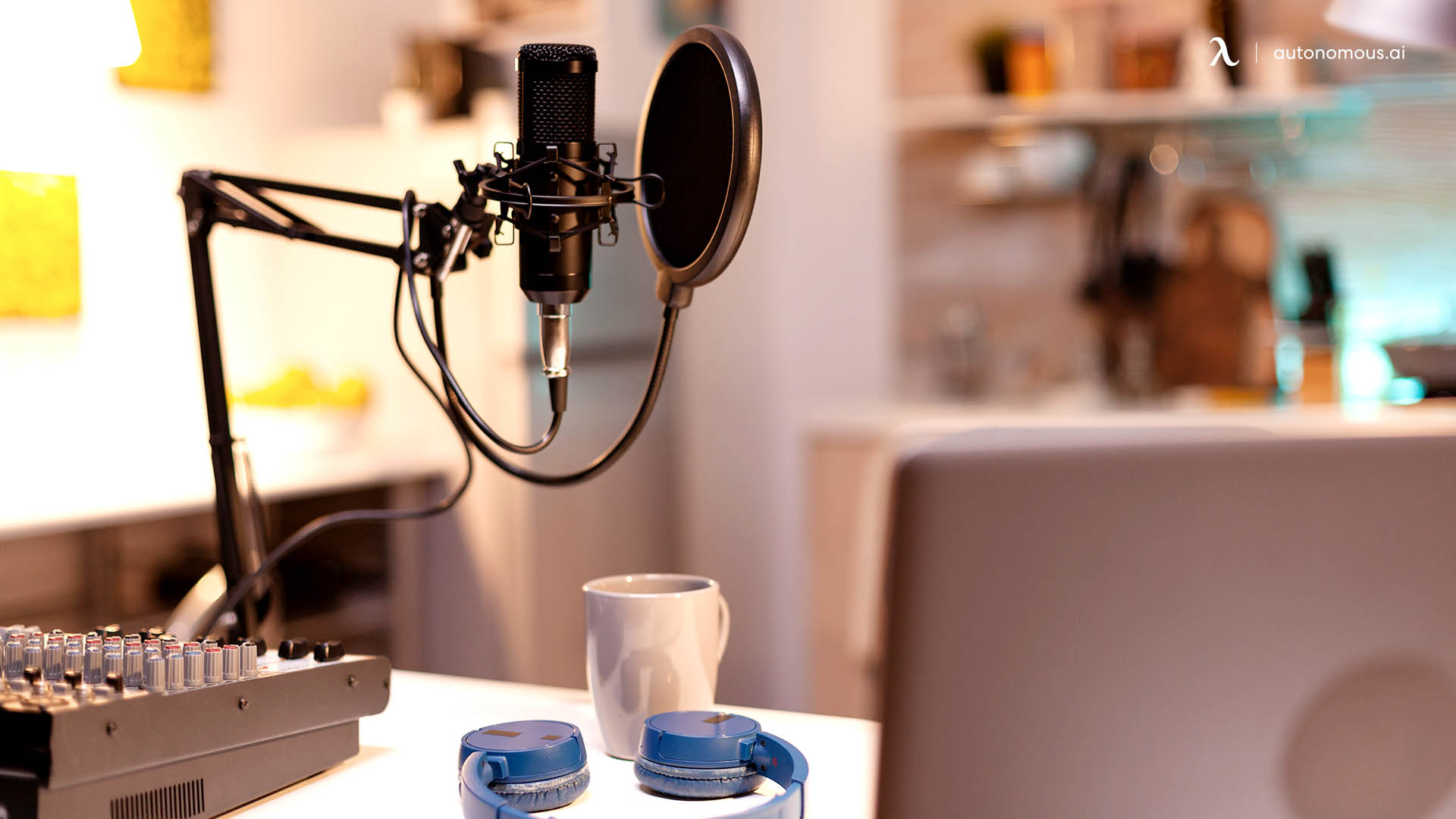 Some of the best webcams and microphones are from Logitech. They are reliable and often used by various content creators to make good quality content, which means that they can take your professional home office space to the next level.
Pros of Webcams and Microphones
Often reasonably affordable products
Increase your level of professionalism
Cons of Webcams and Microphones
Can be difficult for some people to operate
10. Desk Accessories
Everyone loves some good standing desk accessories! It is important not to get carried away with your desk accessories as this can often add clutter to your space. Try to keep the essentials on your desk and make them easily accessible to limit the amount of movement you have to make. Office accessories provided by Autonomous are products that you can play around to find what suits your preferences. Accessories are how you can add your personal touch to your workspace.
11. Ergonomic Footrest
An ergonomic footrest might seem unnecessary if your table and chair are adjustable. An ergonomic footrest is not only used to elevate the feet, but it can also do many other things. Leg muscles are kept active by some designs. Some footstools have "bumps" that stimulate the pressure points on your feet. You prevent aches and pains with something like that, but you also actively treat them.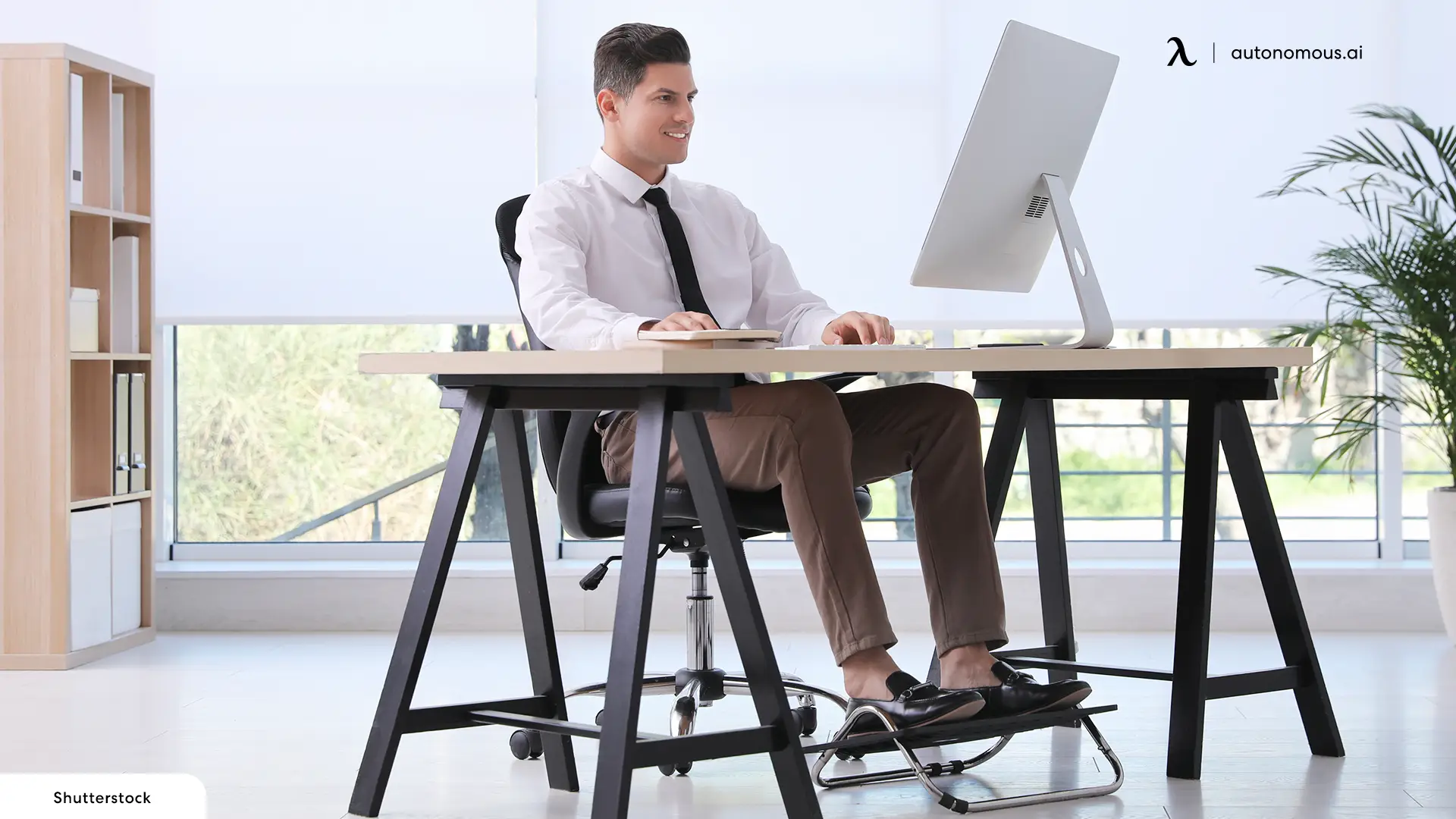 10 Inspiring Types of Home Office Setup
1. Color Pops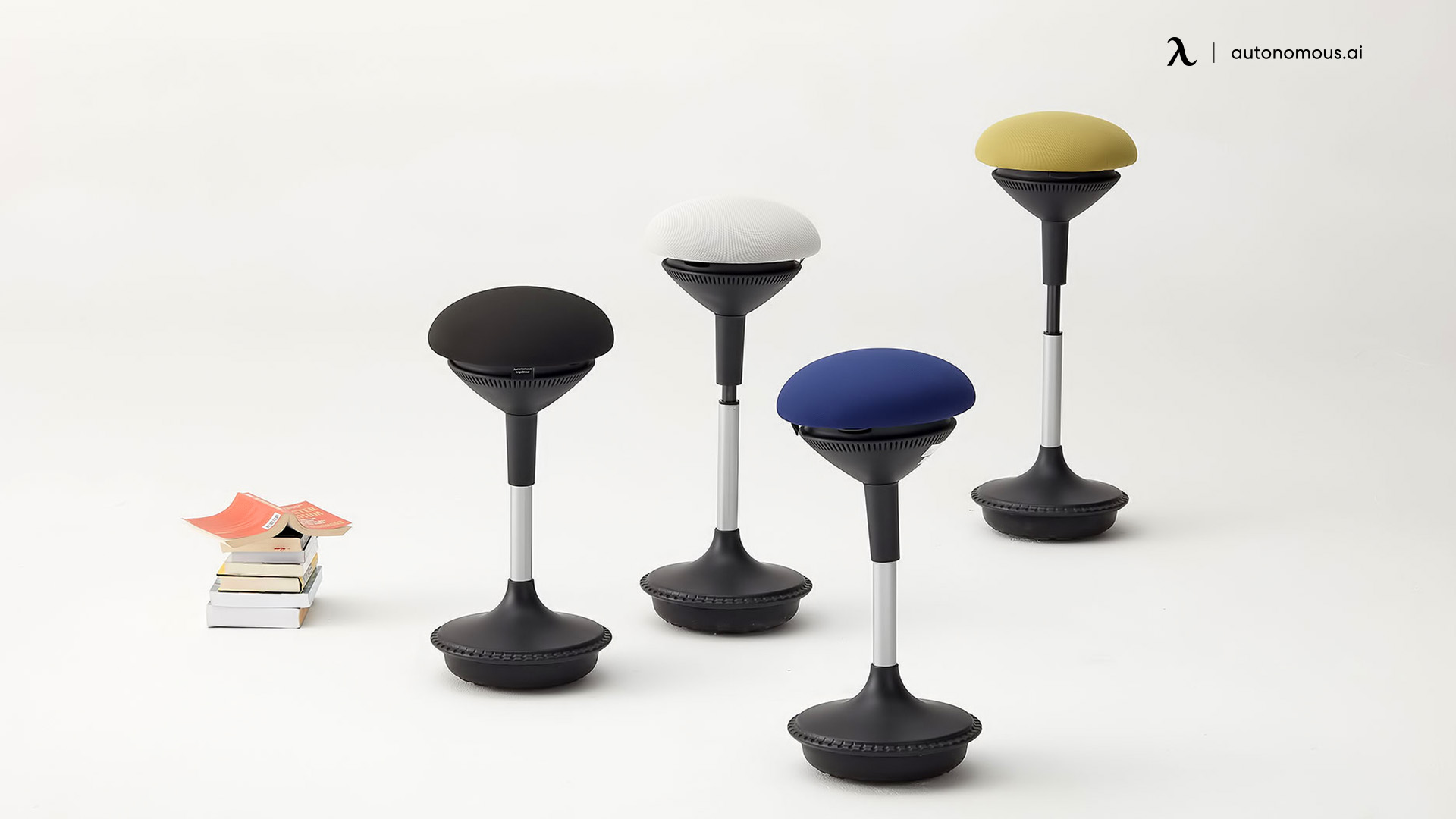 Add color to your home this festive season with green and red as you celebrate Christmas and New Year.  It's time to add some vibrant colors to your home. You can always choose from an ErgoStool that is easily stackable under your work desk for your work from home setup.  Save some space as you get on and get off this Ergostool with ease with the ergonomically designed slope of the seat.  
This comfortable, ergonomically designed stool works best for your health for tasks that require movement often.  It is available in four different colors and has an adjustable height of ten inches for your ease. The weighted base of the stool ensures sturdiness as you use it.
2. Serene White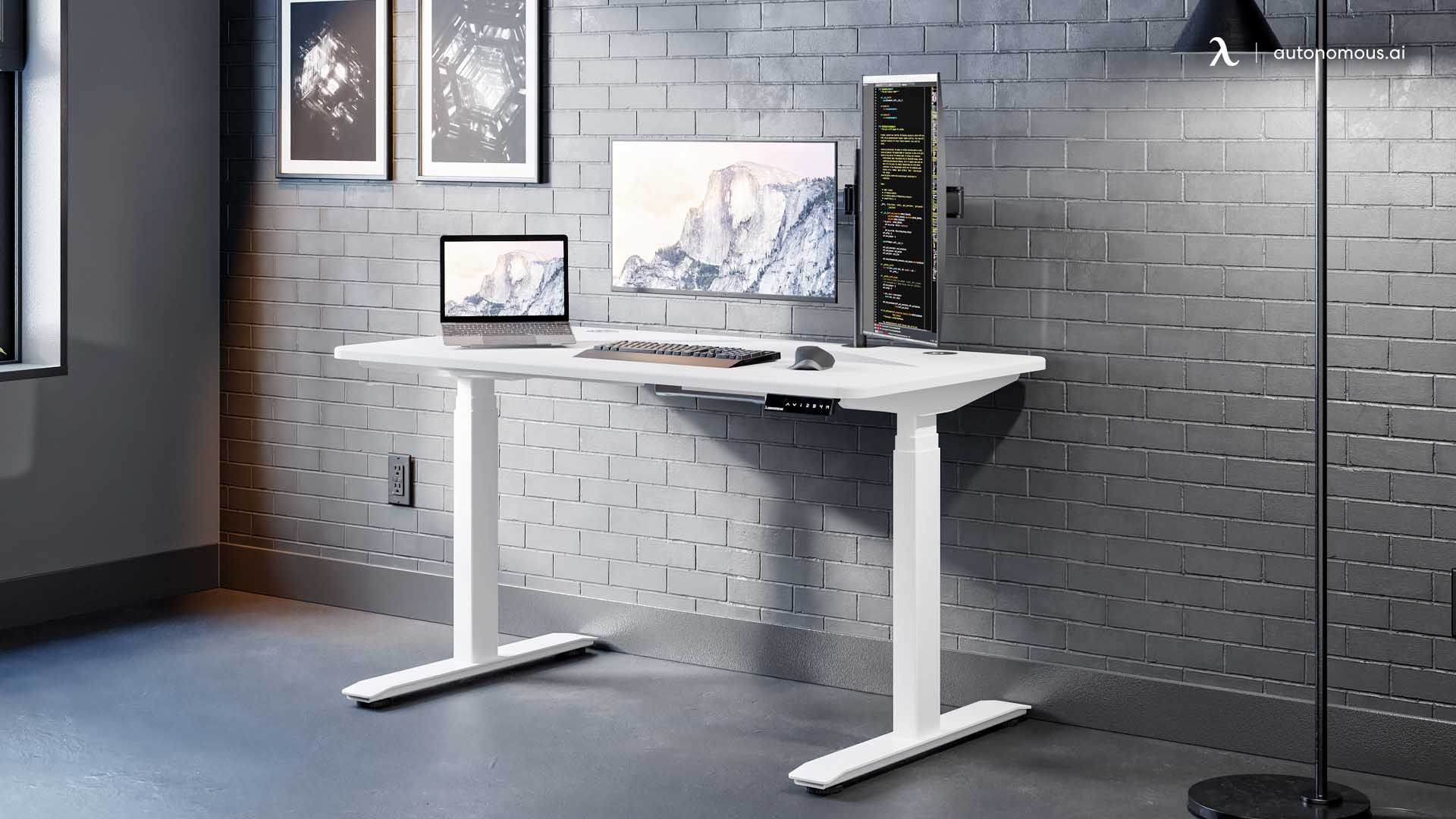 Now redo your office to reflect white; white the color of snow, adds much to your décor with the green Christmas tree and all the golden arrangements.  There is nothing much purer than white as you consider a work desk like the SmartDesk Pro that eases your working.  How is that? The desk can easily be raised or lowered to offer you a choice to stand or sit down to work.  This shift between standing or sitting and work creates muscle movement in your body.  Your body thus consumes the glucose in your blood. This reduces your risk of any cardiac-related health issues compared to sitting for long hours at work. Get more insights into a minimalist desk setup.
3. Koi Pond Set-up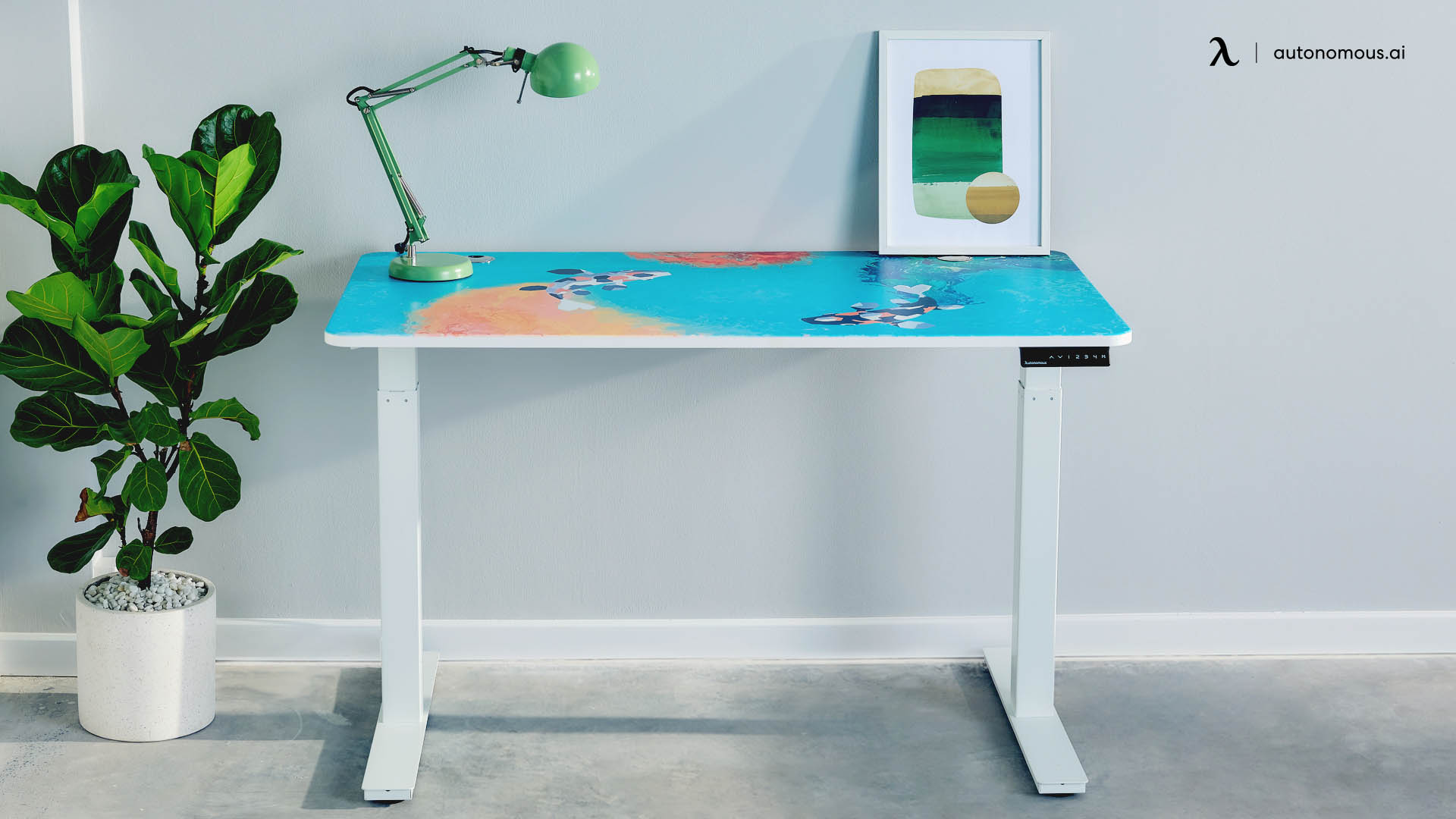 How about having a desktop with a theme?  That's right. Now get yourself a SmartDesk Core standing electric desk for bringing in good luck with Feng Shui.  With a desktop that has the Koi Pond, you can cool off as you click away at work. 
The SmartDesk Core is your answer to a fitter you. How? Well, as you change your position from sitting to standing as you work, muscles in the body remain active. They don't stiffen as much as they would if you were to work long hours sitting down. Say goodbye to all the aches and pains.
Set up the desk by the window or deep inside the room. With the SmartDesk Core offering you a variable height between 29.4" to 48", you have greater flexibility.  Choose a height setting of your choice and save it for immediate use. No need to check the settings every time. You can choose a pure white frame to go with this desktop.  The powerful yet silent dual motors work peacefully at only 40dB.
4. Natural Green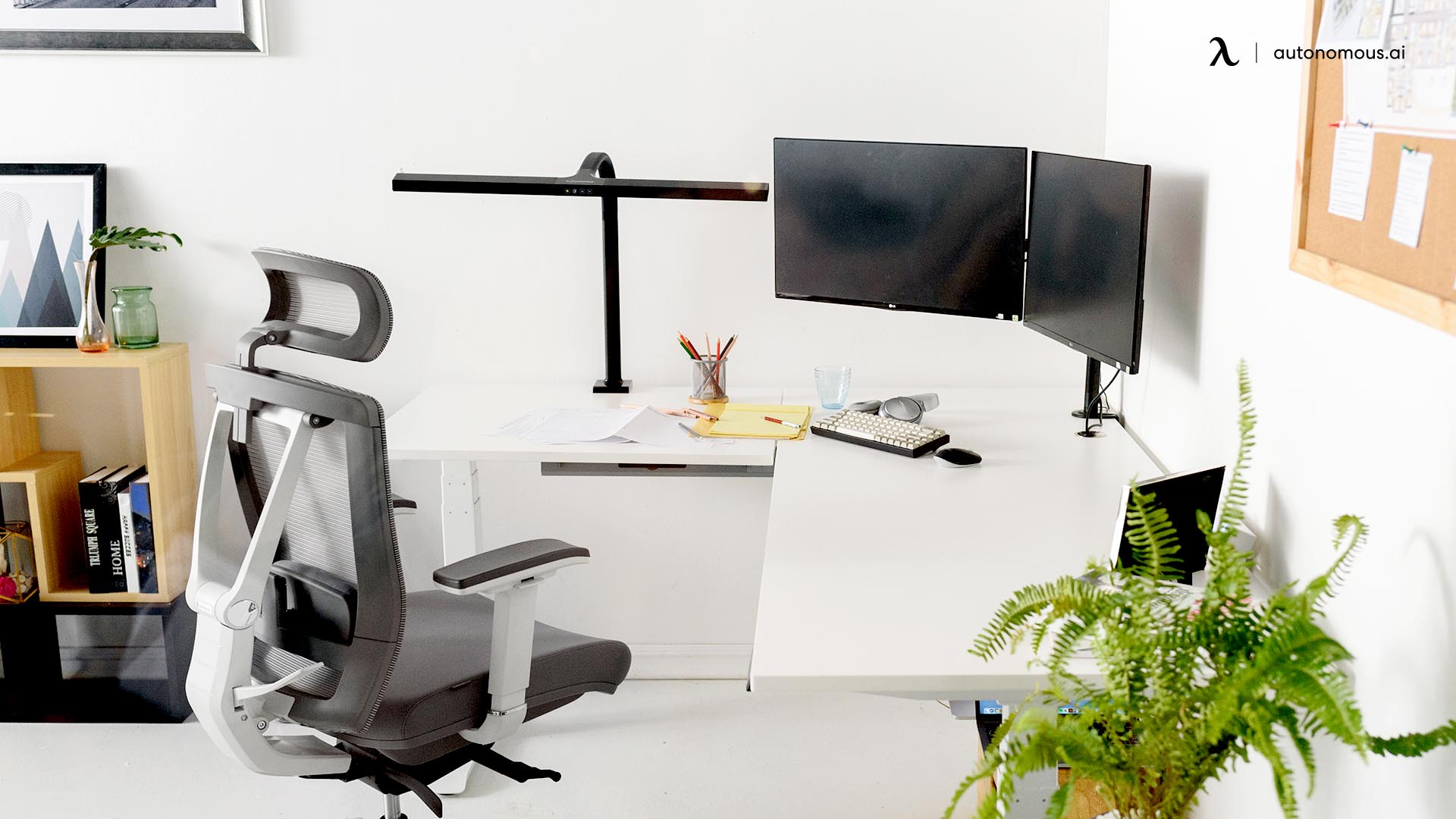 Bring nature inside the house with potted plants year-round. Add a dash of green on your desktop, too, as you consider a small plant to adorn it.  Well, there's always the choice of using green printed wallpaper to style your walls.
Don't forget to match it up with a SmartDesk Corner for your best office setups. The L-shaped desk gives you lots of space to work. You can easily spread those rolls of blueprints on your desk or plan out the maritime studies.  Who would not be attracted to a home office setup by the window, where you have greenery all around you, inside and outside the house, overlooking the gardens?
The SmartDesk Corner is the right choice for the best home office setup. You can even adjust the desk's height between 29.4" to 48".  Burn a few calories as you stand to work or shift into a sitting posture as you lower the desk using the silent triple electric motors.  Save up to four programmable settings for your ease.
5. Cooling Blue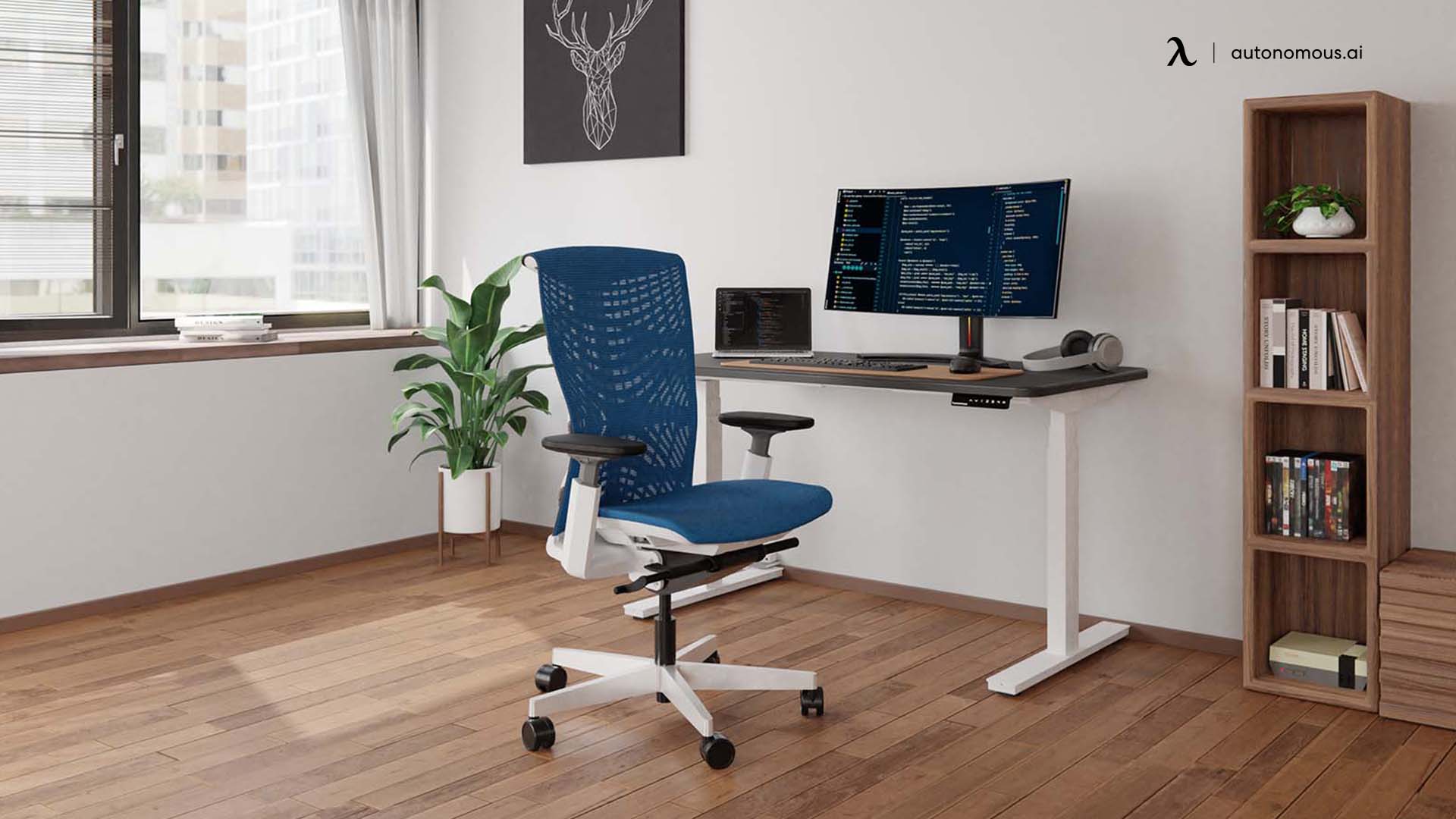 As you wonder which shades of blue to choose from, don't miss the exciting combination that the ErgoChair Plus offers. Match up your soft furnishings like sofa cushions and tapestry to create a cool and pleasant environment.  With the ErgoChair Plus, stay relaxed as you work tirelessly at your ultimate setup home office.
Adjust the backrest for a maximum recline of up to twenty-five degrees, as you feel your spine supported by the firm chair back. Contribute to the environment as you use this chair made from earth-friendly materials, offering you higher durability. You will love the soft and firm swivel as you roll the chair over to fetch a document from your desk.  Built for heavy people, this chair can easily take a payload of 300 lbs.
6. Pristine Scenic View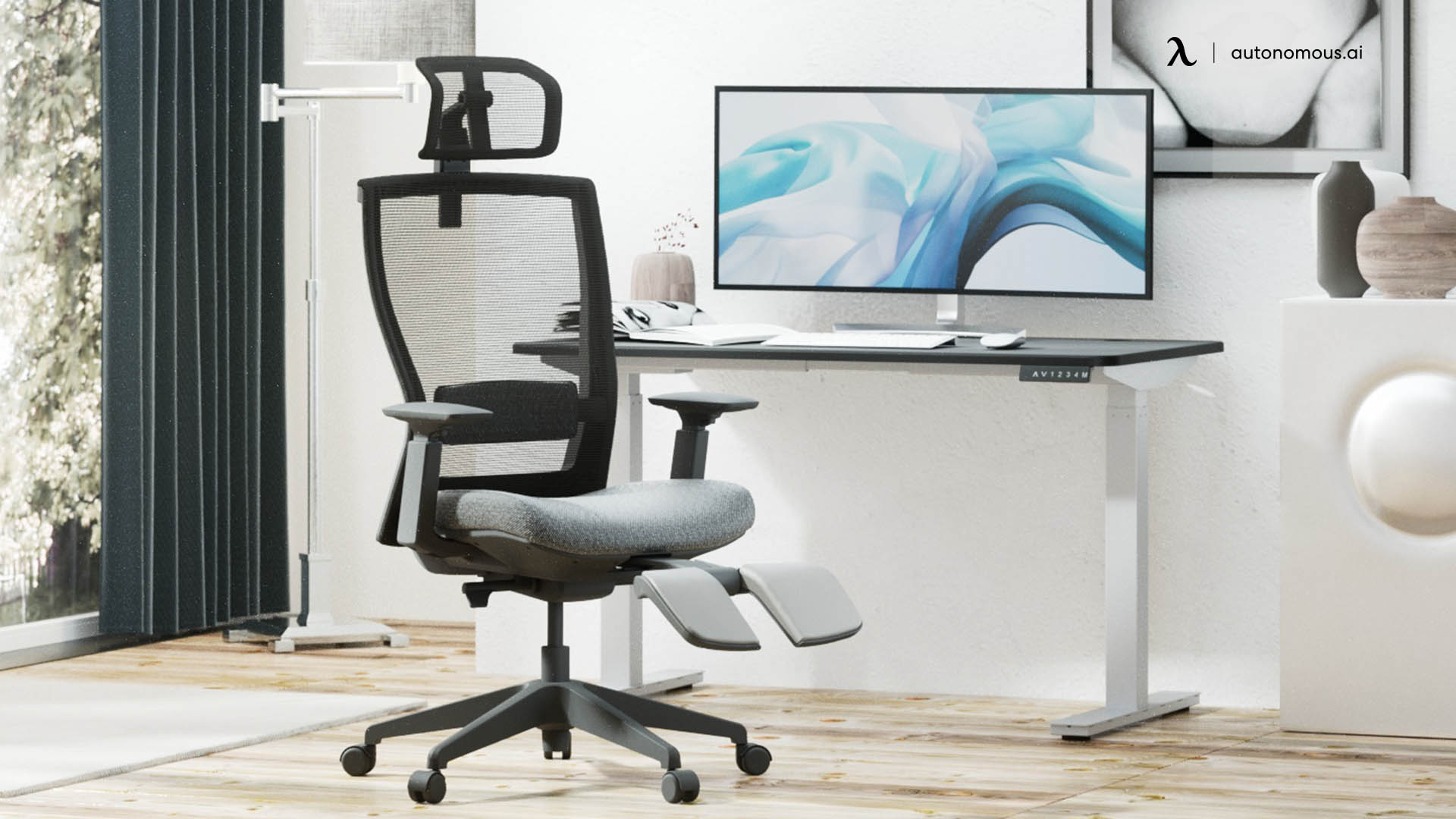 If you work long and tiring hours, staring at a computer system can be straining for the eyes and the mind. Free up some mind space, and cool those eyes with an aesthetic desk setup desk against the window. Maximize the natural light to filter through your room and brighten your day. Get yourself an ErgoChair Recline to enjoy the view while pondering over a document or when you need to think deeply before making a decision.
7. A Stand Out Desk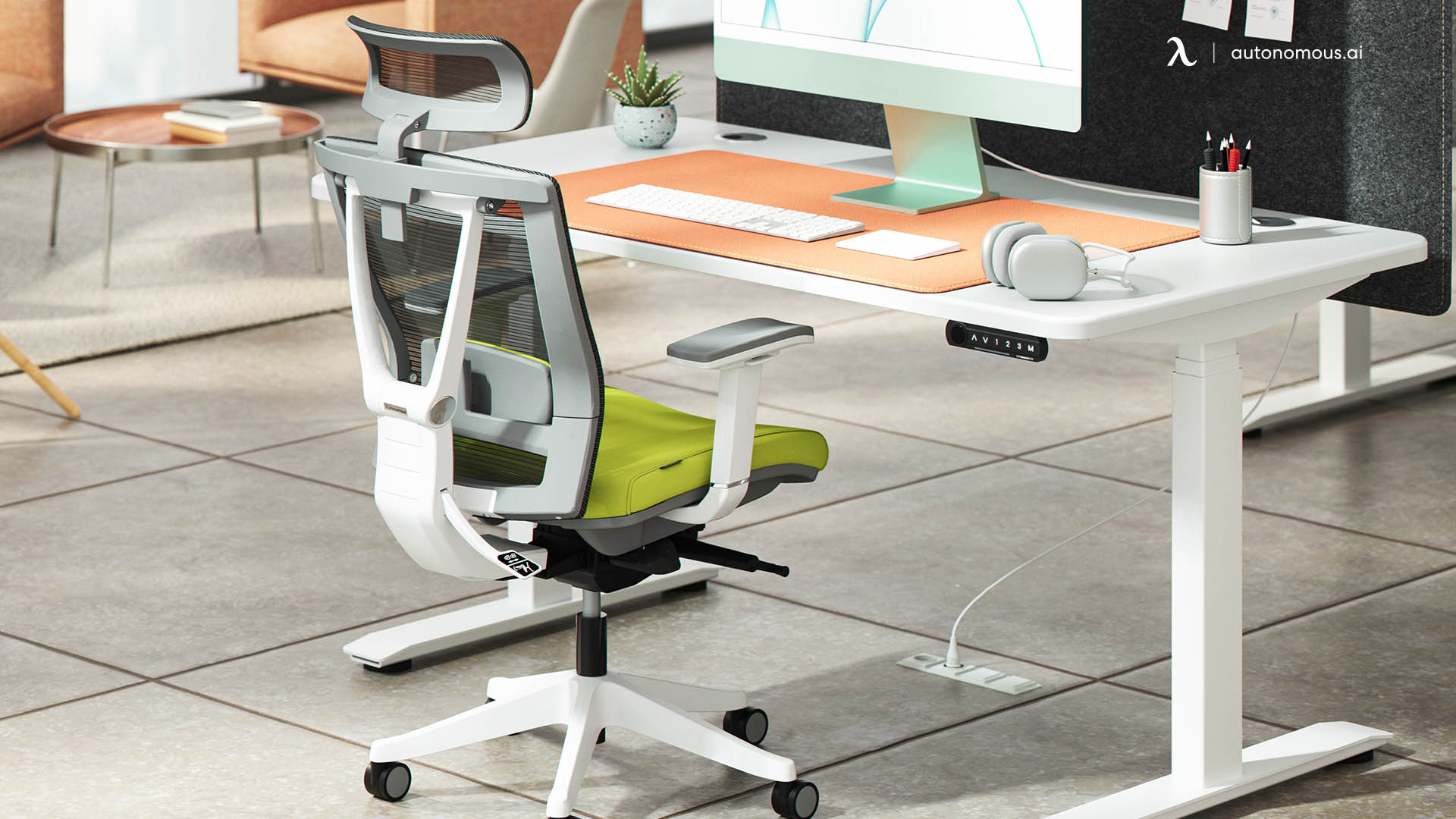 Set up your home office in your living room or a common room with your partner or spouse. If you are a small family, you don't want to be away from your loved ones all day long.  Choose a simple SmartDesk frame with your choice of a desktop. Easily set up two workstations on either side for your work from home desk setup.  To get your own workspace, you can always add a privacy panel for those times when you need attention.
If you have the space, you can always choose to work using the SmartDesk Duo to feel togetherness. This gives you two different workspaces and independent desktop controls to raise or lower the table's height.  You are safe with a cable management tray that stores away all unnecessary cords. Two independent programmable keypads offer you storage of up to four program settings for varying heights for each desk.  Don't miss the central frame that hides all the cabling for both desks.
8. RGB Home Office Setup
RGB lighting desk setup ideas are available in many themes, such as cyberpunk, typical RGB lights, or single LED lights. An RGB light theme is a design idea that uses an LED light system that illuminates a desk's backside - usually against a wall - and allows any RGB color to be displayed.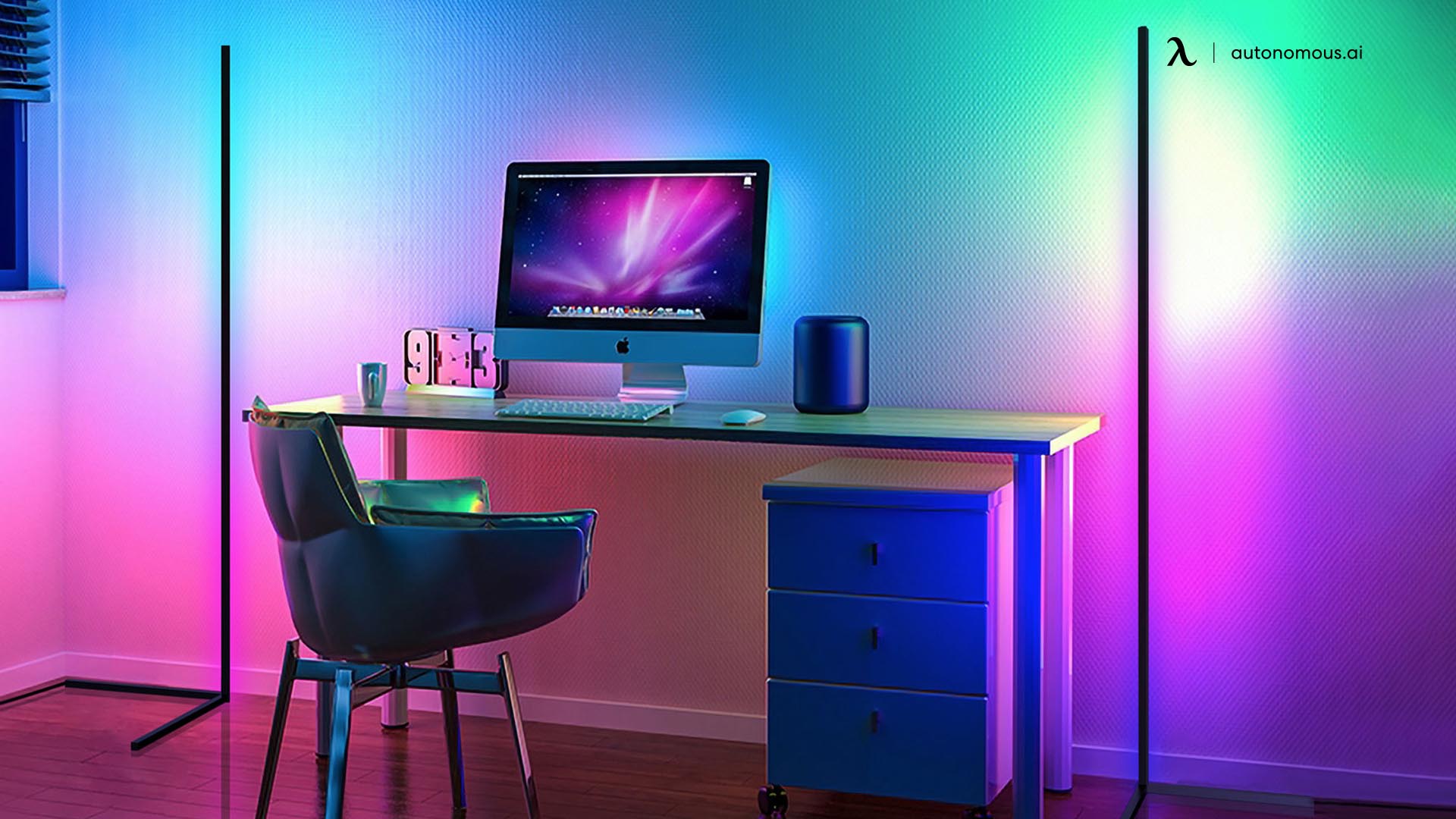 9. Decor with Plants
There are more benefits to having real plants in your office layout ideas than just adding color. All nasty toxins, including formaldehyde and benzene, can be removed from the air using them. Have trouble keeping your plants alive? Nothing to worry about. A good choice would be to grow hardy, good luck plants for home that will not be killed easily, such as aloe vera, spider, or dracaena.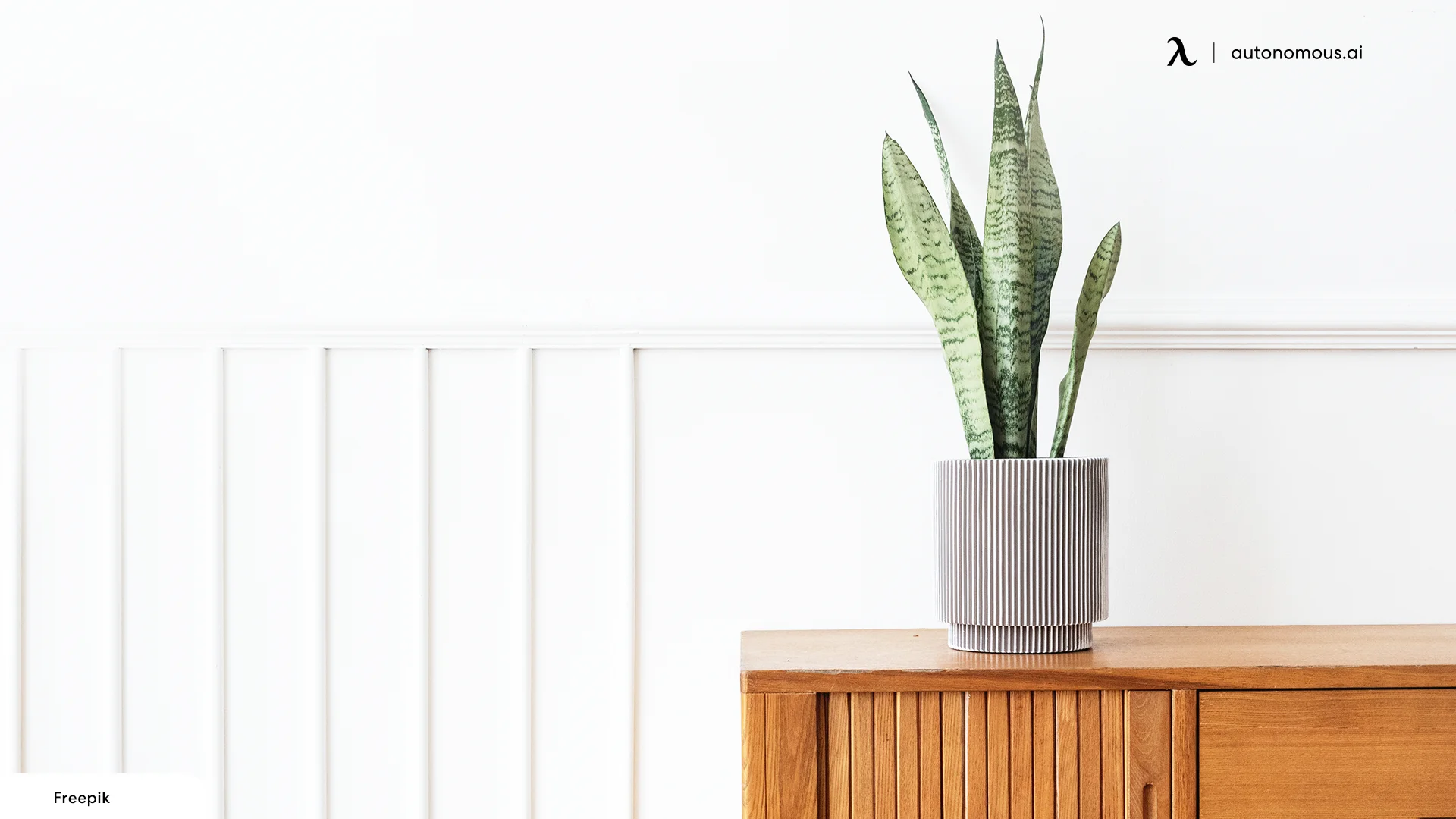 10. Neutral Home Office Setup
There is little to no expenditure in this neutral feng shui office layout, and it is the easiest to do. Consider neutral colors such as beige, gray, and blue for your primary colors to add serenity to an otherwise frantic office. Colors that make you feel energized and ready to work can be accented with bolder colors.
11. Minimalist Style
The minimalist style embraces simplicity and functionality, creating a clean and uncluttered workspace. With a focus on clean lines and a neutral color palette, this home office setup idea emphasizes essential items and encourages a decluttered work environment. A sleek desk, comfortable chair, and hidden cable management solutions contribute to a minimalist aesthetic, allowing you to focus on your work without distractions.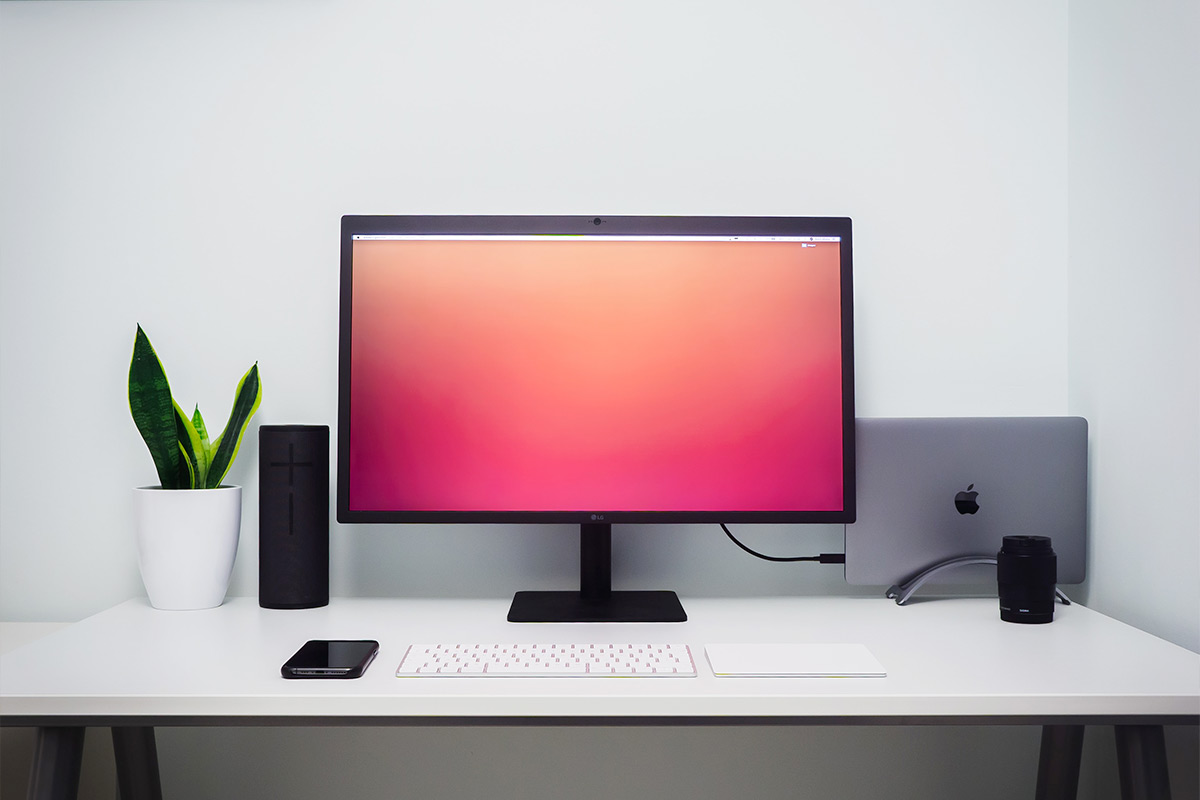 12. Scandinavian Style
The Scandinavian style is known for its light and airy atmosphere, combining natural elements with functional design. Light-colored wood furniture, such as birch or pine, creates a warm and inviting workspace. This work from home setup often incorporates white or pastel shades, along with pops of color through artwork or textiles. Adding plants and greenery brings a touch of nature indoors, fostering a calming and inspiring environment.
13. Industrial Style
Inspired by warehouses and factories, the industrial style embraces a raw and edgy aesthetic. Exposed brick walls, concrete floors, and metal accents create a rugged yet stylish backdrop for your home office. Vintage or retro accessories, such as an old typewriter or industrial lighting fixtures, add character to the space. The combination of distressed wood and metal furniture complements the industrial theme, resulting in a unique and visually appealing workspace.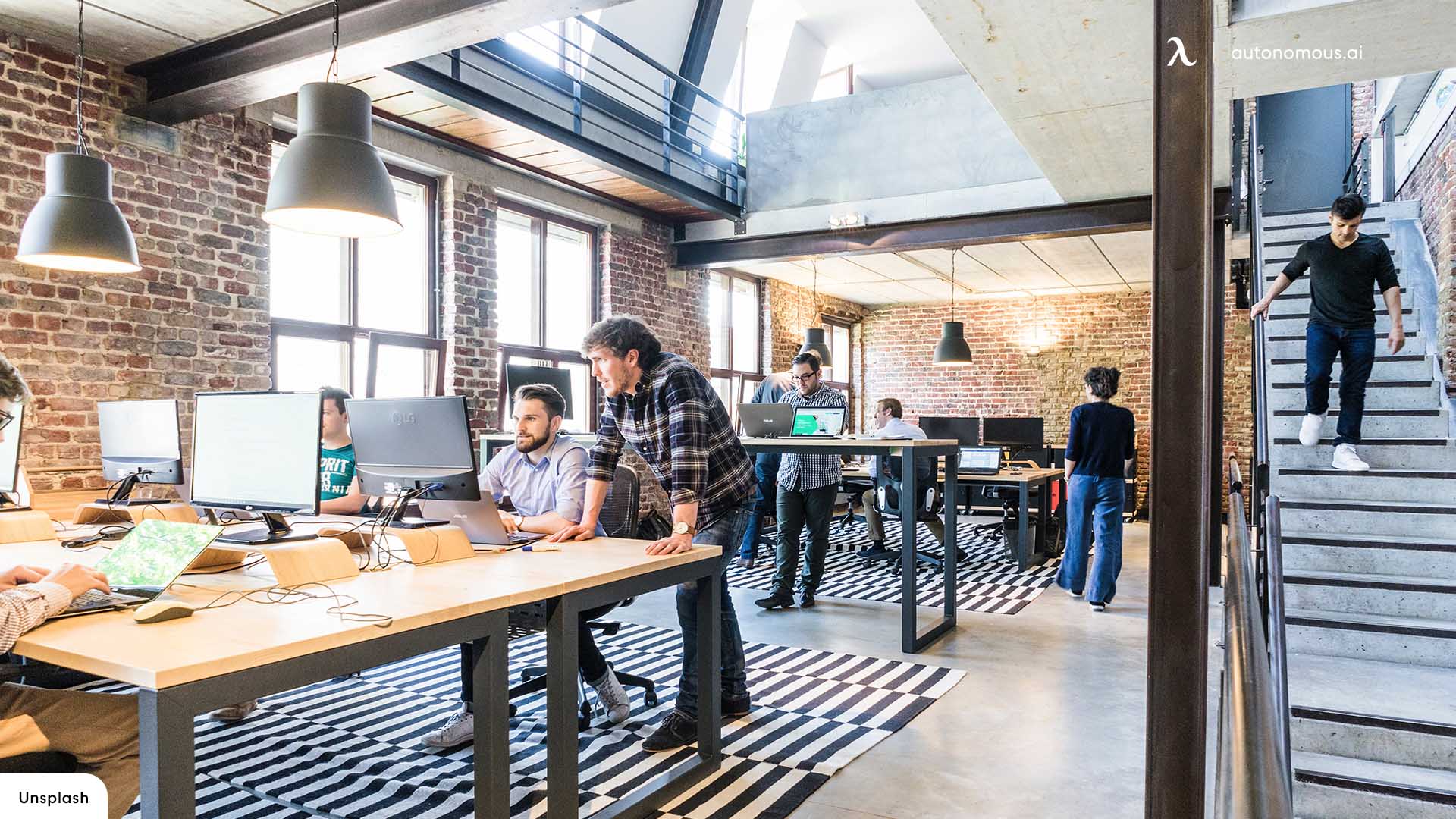 14. Mid-Century Modern Style
The mid-century modern style takes cues from the design trends of the 1950s and 1960s, showcasing a retro-inspired workspace. Clean lines, organic shapes, and a mix of vibrant colors characterize this home office setup style. Furniture made from teak or walnut wood adds a touch of warmth and sophistication. Eames-style chairs and statement pieces evoke a sense of timeless elegance, making your home office a stylish and comfortable place to work.
15. Bohemian Style
The bohemian style embraces a relaxed and eclectic atmosphere, allowing for creativity and personal expression. A mix of patterns, textures, and colors creates a visually stimulating workspace. Layered rugs, floor cushions, and cozy seating options contribute to a laid-back and comfortable environment. Plants, macrame wall hangings, and vintage furniture pieces add a bohemian touch, resulting in a workspace that reflects your individuality.
16. Contemporary Style
The contemporary style represents a sleek and sophisticated workspace with a focus on functionality and modern technology integration. Clean lines, a neutral color scheme, and a clutter-free environment are key aspects of this work from home setup style. Streamlined furniture and statement lighting fixtures create a visually appealing and efficient workspace. Integrating smart devices and wireless chargers allows for seamless connectivity and convenience.
17. Rustic Style
The rustic style brings warmth and coziness to your home office, inspired by nature and natural materials. Wooden furniture, especially in distressed or reclaimed styles, adds character and charm. Earthy tones, such as browns and greens, create a soothing environment. Rustic decor elements like farmhouse-inspired accessories and vintage accents complete the cozy and inviting atmosphere.
18. Modern Farmhouse Style
Combining modern and rustic elements, the modern farmhouse style creates a harmonious blend of comfort and functionality. White or light-colored walls serve as a backdrop for farmhouse-inspired accents. Barn doors, shiplap walls, and reclaimed wood accents add rustic charm. Farmhouse-style furniture, such as a farmhouse desk or a vintage-inspired chair, creates a cozy and inviting workspace with a touch of nostalgia.
Apply the 'Work Triangle' Concept to Your Space Layout
Think of your work area layout as you would a kitchen - the 'work triangle' concept can also be applied to offices. Decide what storage and surfaces you will need based on your specific processes. Move around as if you were working. You can express your style and brand with every choice you make by selecting colors, furnishings, and details that reflect your personality.
Ergonomic Mouse
Hand contours are taken into account when designing an ergonomic mouse. The user interface is comfortable. A side scroll wheel and an up-down scroll wheel are also included. If you want to prevent wrist pain, this is the perfect product.
Mechanical Keyboard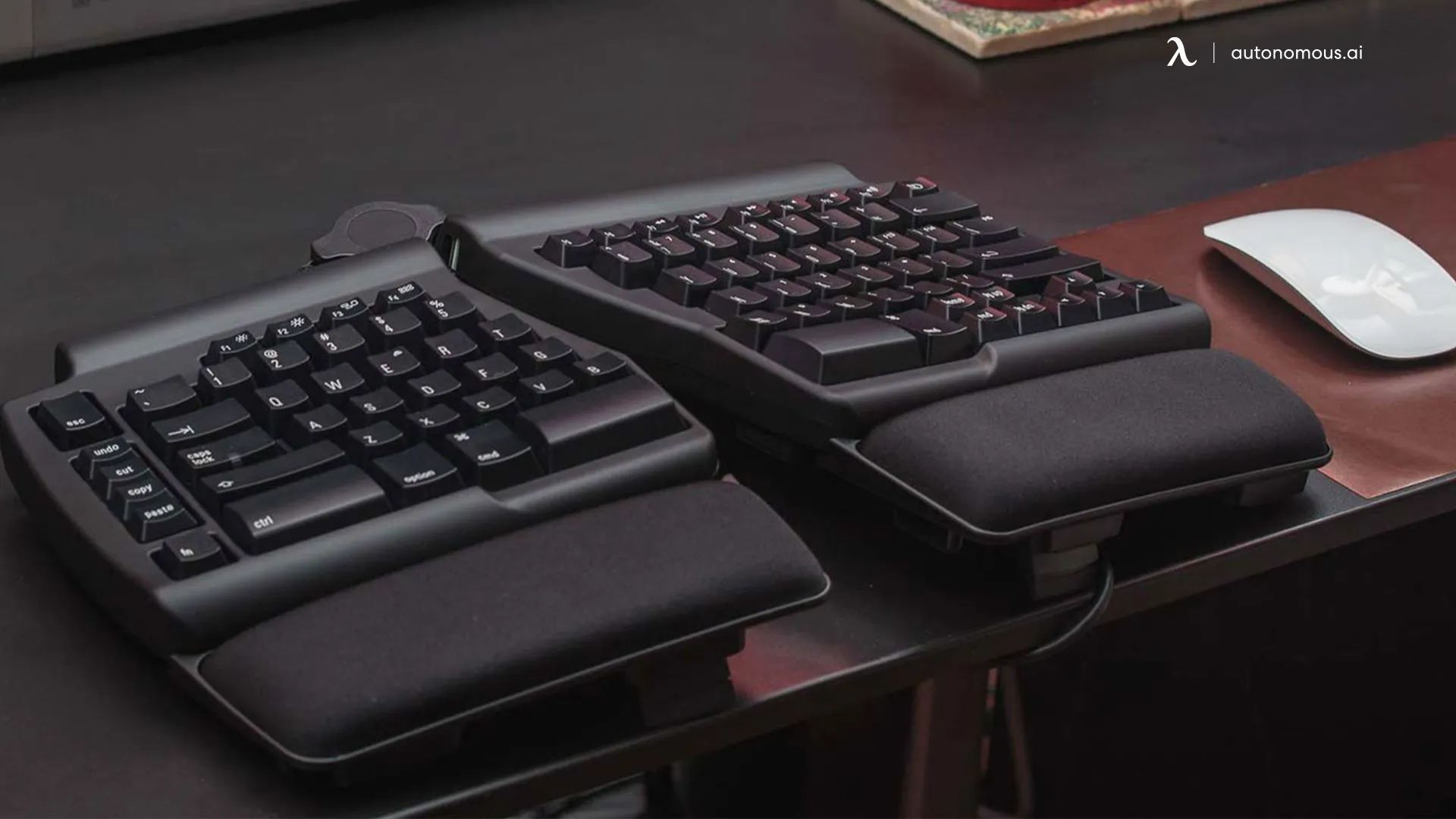 It is necessary to own a high-end mechanical keyboard if you do a lot of typing in the office.
Lamp
The importance of good lighting in home office setup cannot be underestimated. Using a lamp with different settings is important, so your eyes are not overworked.
Monitor UV Filter
Keeping your eyes glued to a screen for long periods is bad. It is possible to block blue light from your computer using UV monitor filters, typically anti-glare, anti-scratch, and anti-glare.
Wrist rests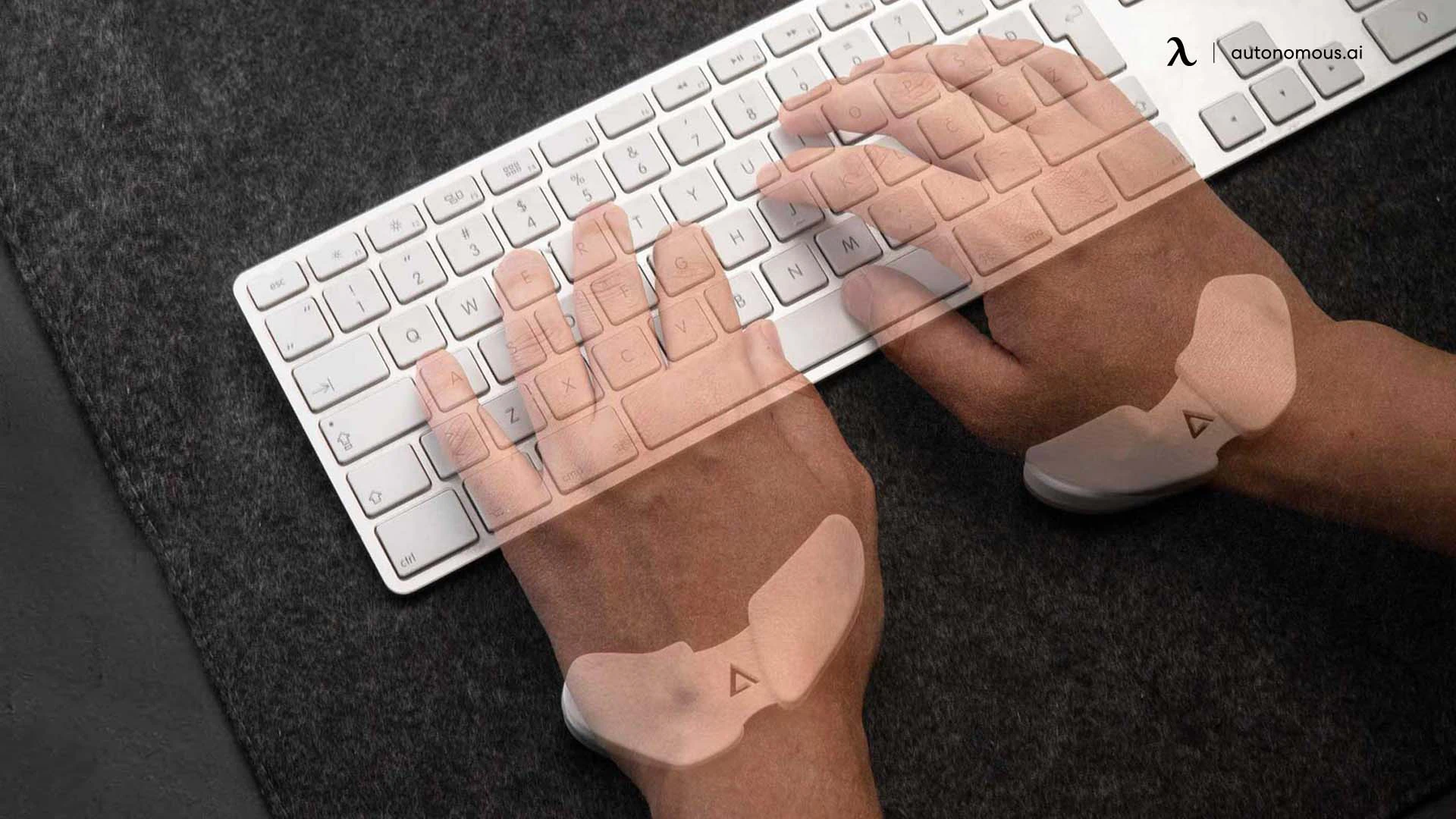 Despite the ergonomics gurus' disagreements, putting something under the wrists is better since individuals tend to flop them. However, they don't contain gel. They help to maintain a relatively neutral wrist position.
The Bottom Line
There are so many different types of setups that you can incorporate into your home office. There are certain things that are essential to have in your home office. 2022 is the perfect year to invest in your home office and to explore an ultimate home office setup idea. A desk setup guide is going to help you design your dream workspace.
Whatever be your choice of a home office setup, you can always customize it for your comfort. Choose wisely between a host of desks and chairs for your long-term health and comfort.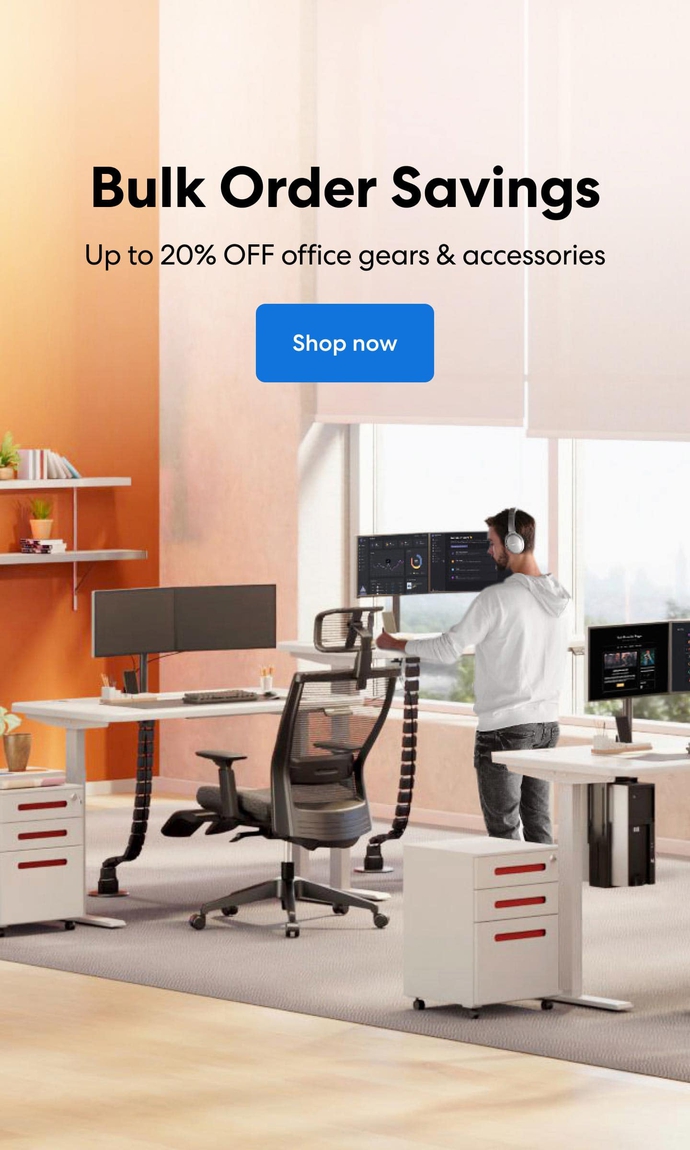 Subcribe newsletter and get $100 OFF.
Receive product updates, special offers, ergo tips, and inspiration form our team.