It is the start of a new year, which often means time to redecorate, change, or spruce things up a bit. Your home office setup is always a place where you can switch things up. Your home office setup is not as simple as putting together a bunch of things that you like. The way you arrange things has to have a positive impact on your performance and productivity. From office chairs to standing desks and even your desk accessories, you need to put a bit more thought into this. What is the type of vibe you are going for?
If you are looking for a cool and essential type of home office setup, then you have come to the right place. There are so many office furniture ideas to incorporate into your workspace. Keep reading to find out how to transform your 2021 office space.
What Do You Need for Your Office Setup?
To determine how to set up your office, you need to know what should be in your workspace. There are certain things that you need to function correctly in your home office setup. These items include:
1. Office Desk
The type of office desk you choose is crucial. Previously, office desks were big, bulky, and often a nuisance. Today, you can choose a desk that adapts to suit your needs and lifestyle. This means that you can put your health first.
If you do not have an adaptable standing desk in 2021, you need to reconsider your choices. The market for these tables continues to expand as there is such high demand. Why consider an adjustable standing desk? These products offer various physical and mental health benefits. The sleek design is also perfect to fit into any type of office space. You also have the opportunity to alternate between standing and sitting. This results in increased physical movement, which boosts your work performance, mental capacity, and overall mood and well-being.
Autonomous standing desks are a great addition to any home office setup space. Their design and functionality are excellent. The SmartDesk Core is a highly recommended option if you are looking for an ideal home office setup in 2021.
Standing desks provide various health benefits.
Increased movement
Sleek and simple design
Can fit into any space
Improves your mood and energy levels
You can alternate between sitting and standing.
They can be expensive.
The desks often require self-assembly.
2. Office Chair
Choosing an ergonomic chair is probably one of the essential steps in designing your office setup. If you do not have an ergonomic chair yet, you need to make the change. Much like the standing desks, ergonomic chairs are produced with your health in mind. They are made to adapt to your body and to provide the necessary support that you need.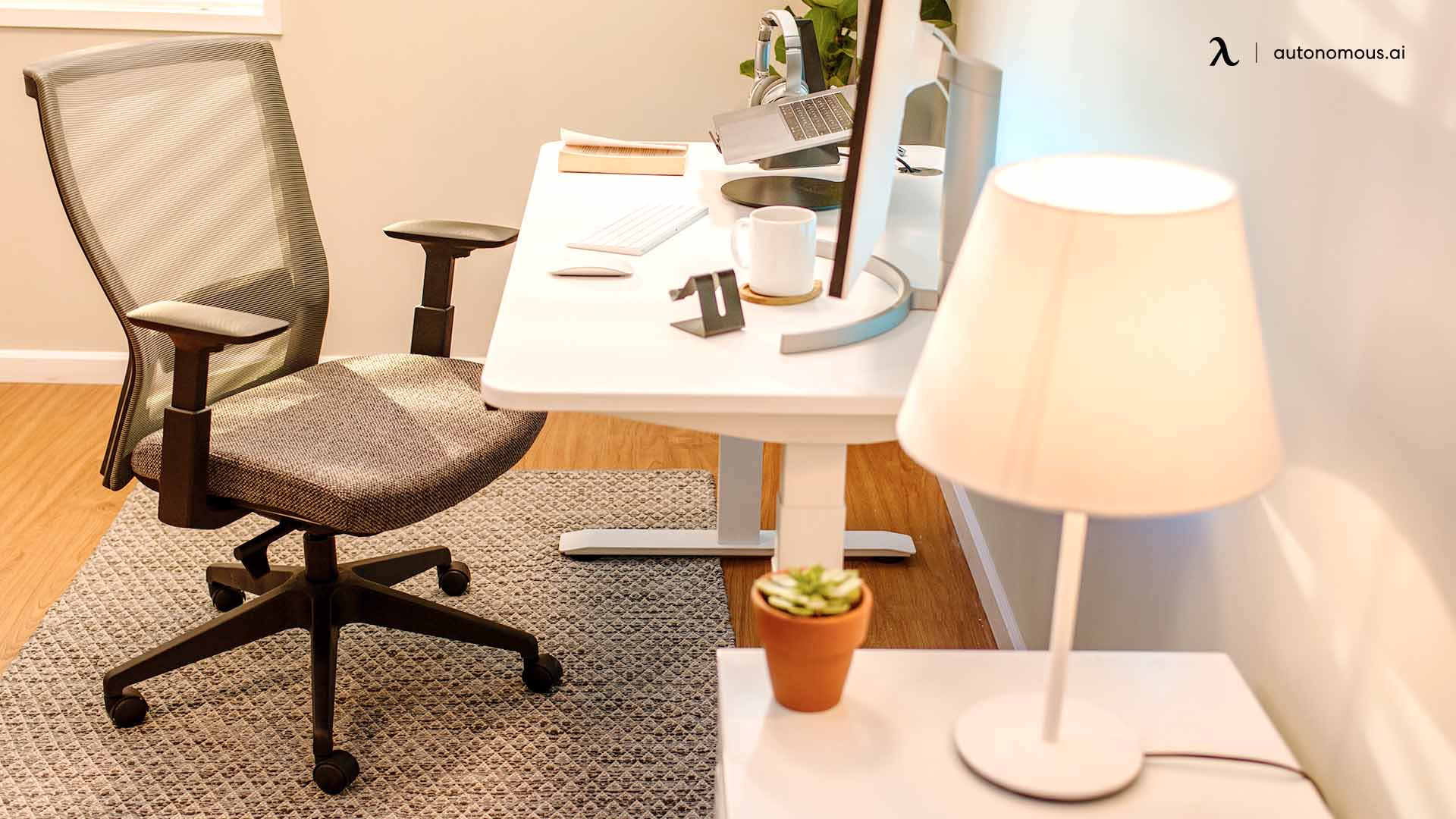 Features of these chairs often include lumbar support, adjustable height, depth, and width, a headrest, and a reclining quality. Your seat is something that you spend hours on every single day. Thus, you want to ensure that you are comfortable and not doing anything harmful to your health. The ErgoChair Pro provides optimal comfort and flexibility. You are not going to find an ergonomic chair that can offer much more than this product can in 2021. It is one of the best office chairs available on the market.
Reduced back and neck pain
It improves your posture and helps to align your spine.
It is comfortable.
Increases productivity and motivation
Offers various physical and mental benefits
Aesthetically pleasing designs
Made to be durable and long-lasting
They are expensive products. It is an investment.
They often require self-assembly.
3. Laptop/PC
The majority of people cannot do their jobs without a laptop or a PC. Laptops provide greater flexibility as you do not have to be stuck in one place when you want to get work done. A laptop is more ideal for a work from home setup. These are also the more popular choices in 2021. More and more people are investing in high-quality laptops, such as MacBook, as you can take your work on the go. Given current situations, working from home is becoming a more popular thing; hence, having a laptop makes the process more convenient for you.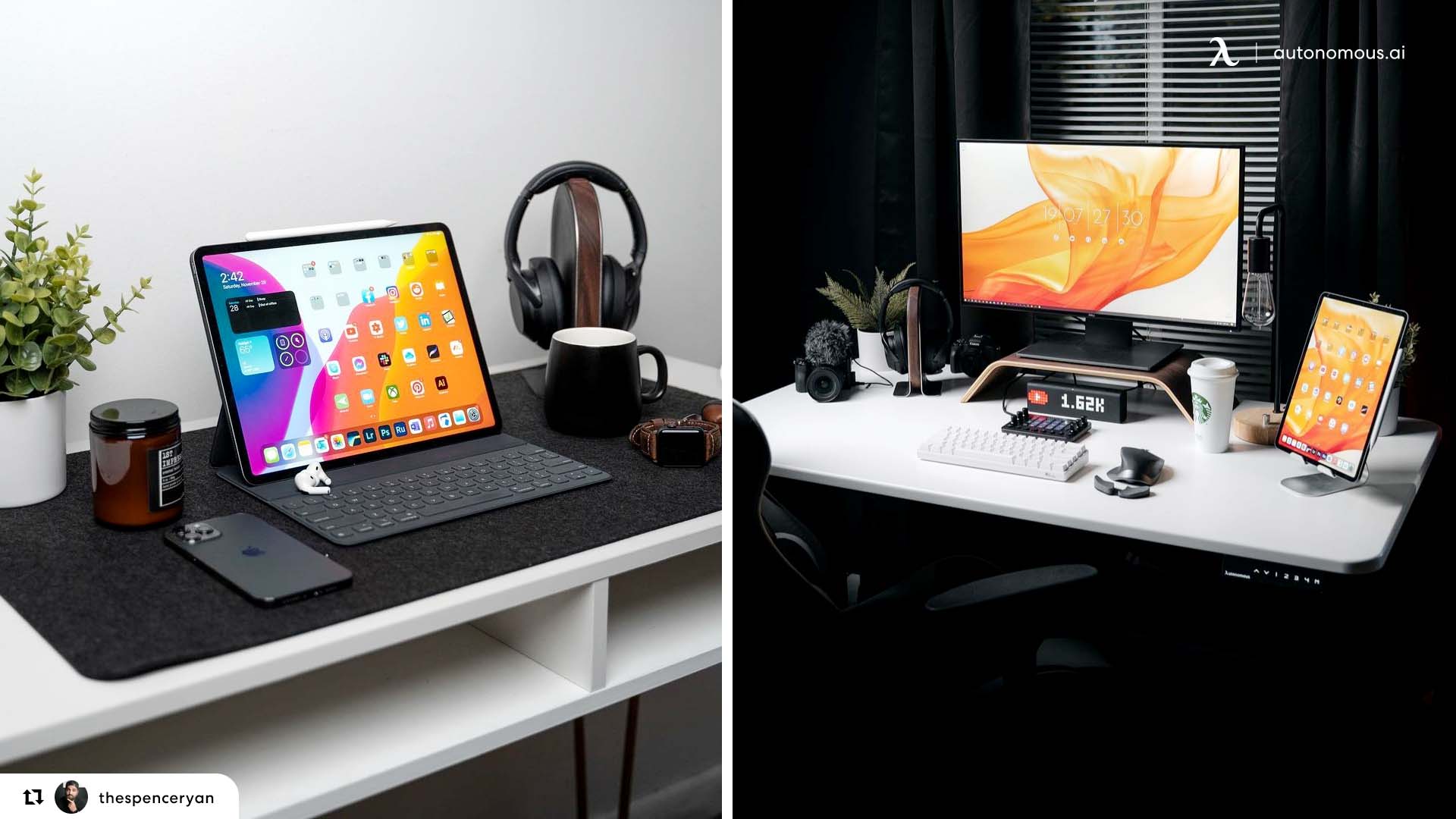 A laptop or PC is an investment; therefore, you want to ensure that you take note of all the features before purchasing one. Your product needs to be suitable for your line of work. The placement of a laptop is also crucial when it comes to your setup. Your screen should be placed directly in front of you and should be at eye level to make sure that you are using the correct posture.
Makes work a convenient and quicker process
There is less admin work for you.
You can access all files and important documents easily.
Your work is often stored safely and securely.
Laptops and PCs are a huge investment.
The lighting is not good for your health.
It can often make people lazier.
You could get stuck if your laptop or PC crashes.
4. Monitor
Certain office workers need a monitor, especially if you have to spend long periods looking at the screen. A monitor is a great option to accompany your laptop. Having a monitor can be beneficial as it can improve your time management and productivity. This is possible as you can run multiple programs simultaneously. The setup and placement of your monitor are the same as that of a laptop – it should be directly in front of you and at eye level.
If you are utilizing a dual-monitor system, the placement is going to differ slightly. Positioning depends on how often you use each computer screen. If you use both equally, they should be placed together at the same angles. The edges should be touching, and they should be directly in front of you. If you use one of the monitors about 80% of the time, then it should be in front of you, and the other should be placed off to the side.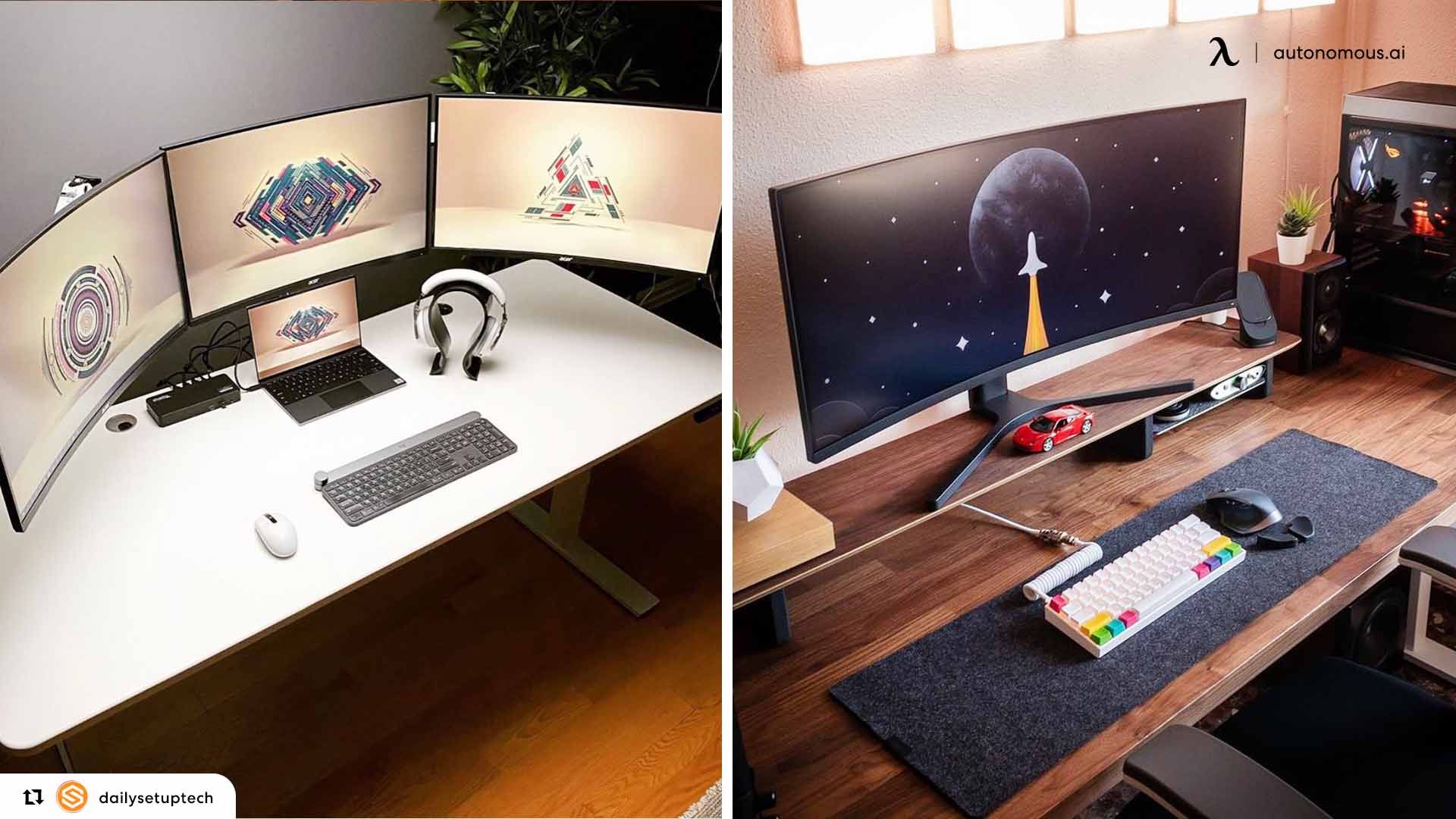 The pros and cons are similar to those of a laptop. Additional pros include that a larger screen can be more user-friendly. Another disadvantage to consider is that large screens can often get in the way and take up a great deal of space. If you are looking for a monitor, the Apple Mac options are of fantastic quality.
5. USB/Adapter
Your home office equipment setup is likely going to grow. You can be assured that you are going to add new tools to your workspace, which means that you are going to need an outlet to get power from. Adapters and USBs are those things that we rely on heavily but do not realize. Make sure that your work from a home office has safe and sufficient power outlets. Keep your environment safe by going for options that have surge protection.
Purchasing a power strip that contains both adapters and a USB port ensures that you can keep all your devices running smoothly. If you also want to reduce the appearance of these cables, it is advisable to attach the power strip to walls or furniture. Dell and Corsair are trustworthy brands.
You can power all your devices simultaneously.
You can charge your devices while you are working.
These products enable you to work for extended periods.
It is possible to work at your desk setup.
Cables can be scattered all over the place.
It may use a great deal of electricity.
These are not always completely safe.
6. Keyboard and Mouse
Keyboards and mouses are objects that are used by almost everyone who uses a laptop or computer. Unfortunately, these products are not good for your wrist health at all. It is for this reason that it is important to invest in a good quality keyboard.
There are plenty of brands that produce keyboards, but it is best to opt for wireless options as they are more flexible. A good brand to look into is Logitech. Wireless options also provide a cleaner looking work setup. Seeing tangled chords is something you want to leave behind in 2020. This also clears up your mind, which is essential for any work environment. To reduce the strain placed on your wrists, you need to ensure that you pay attention to the position of your wrists. They should be in a straight line or slightly below your hands.
It is easy to navigate through your work.
Assists in speeding up the work process
They have a negative impact on your wrist health.
It can be expensive to invest in these items.
They can clutter up your space.
7. Headphones
Noise-canceling headphones could be an absolute gamechanger to your desk setup work from home designated areas. These headphones can eliminate all distractions from your surrounding area. In 2021, most people work remotely from home, which means that having children running around the house and dogs barking in the garden is a common occurrence. It is vital to get rid of these noises to improve productivity; hence, making headphones an essential component of your setup.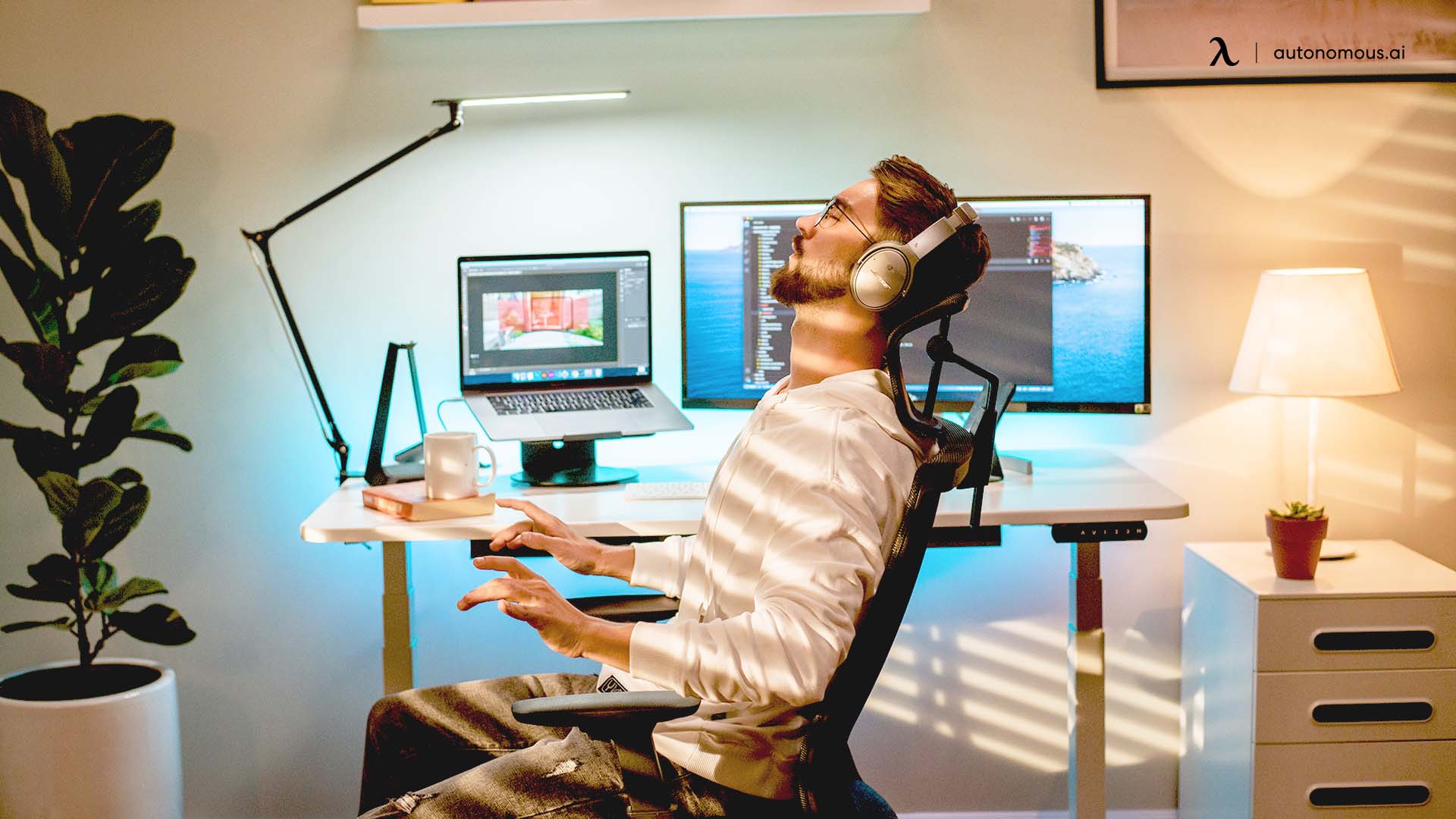 If you are looking into purchasing a pair of headphones, Sony and Apple produce high-quality options.
It is easier to get into work-mode.
Eliminates surrounding distractions
Helps you to feel like you are at work, which results in increased productivity
Can improve your focus
A slightly more expensive investment
They can be uncomfortable.
May get in the way of your working.
Makes it impossible to hear if there is an emergency going on in the background
8. Speakers
Listening to music is a great way to focus and keep your concentration for many individuals. Speakers can fill up the room to give you the impression that you are still in the office. These background noises are very beneficial to some people.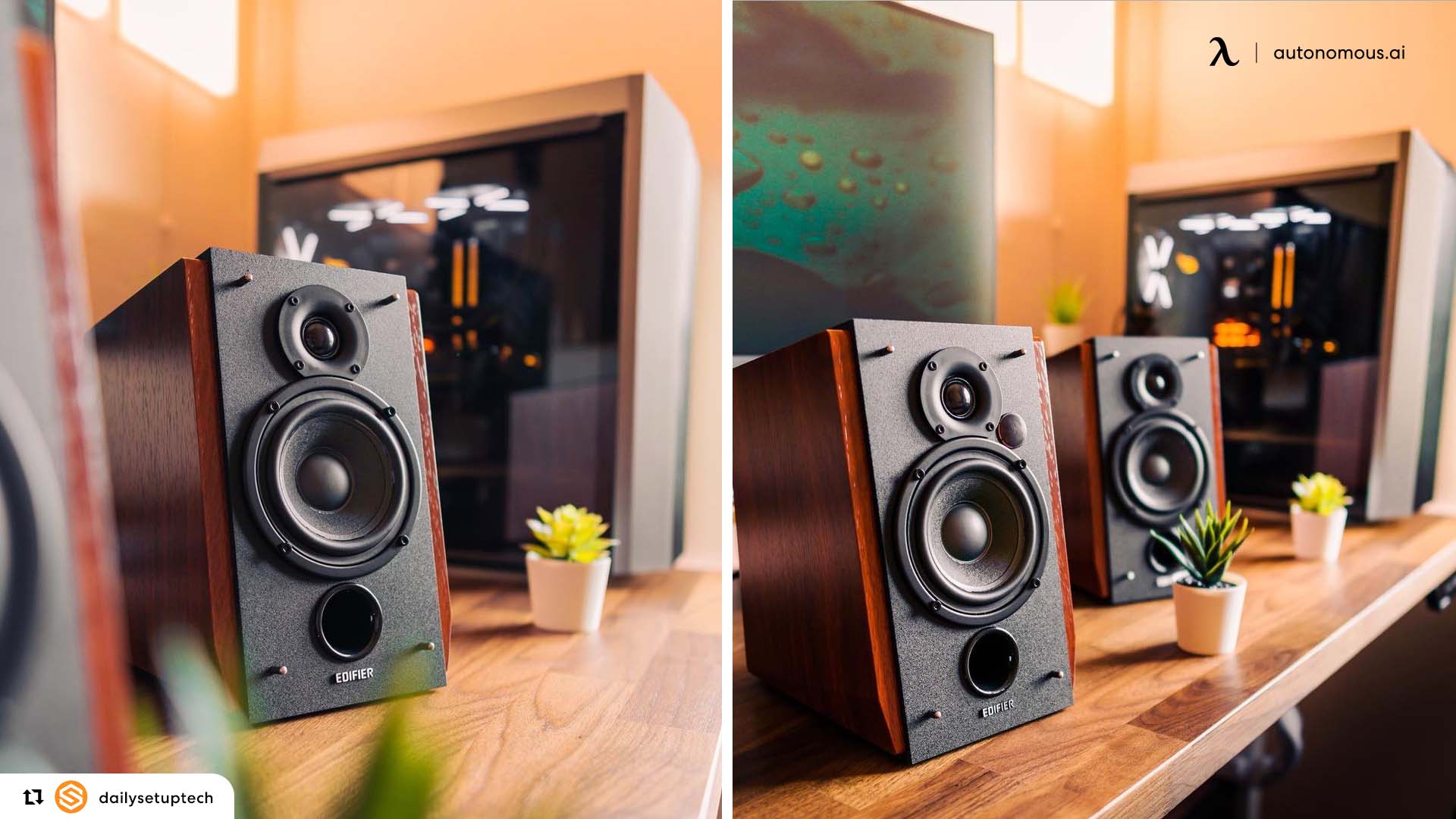 In 2021, it is very simple to connect your speaker to your laptop or phone through Bluetooth and USBs. An excellent brand to look at would be JBL. They manufacture top of the range speakers that are versatile.
Boosted energy levels
Improved focus and concentration
Helps to create a work environment
Speakers are an investment.
Not everyone can work efficiently with noise; it is a distraction to some.
9. Webcams and Microphones
Working from home often means that various online meetings are going to take place. You are going to need an effective webcam and microphone to ensure that you can communicate properly with your colleagues. Investing in these products is a way to increase the professionalism of your home office.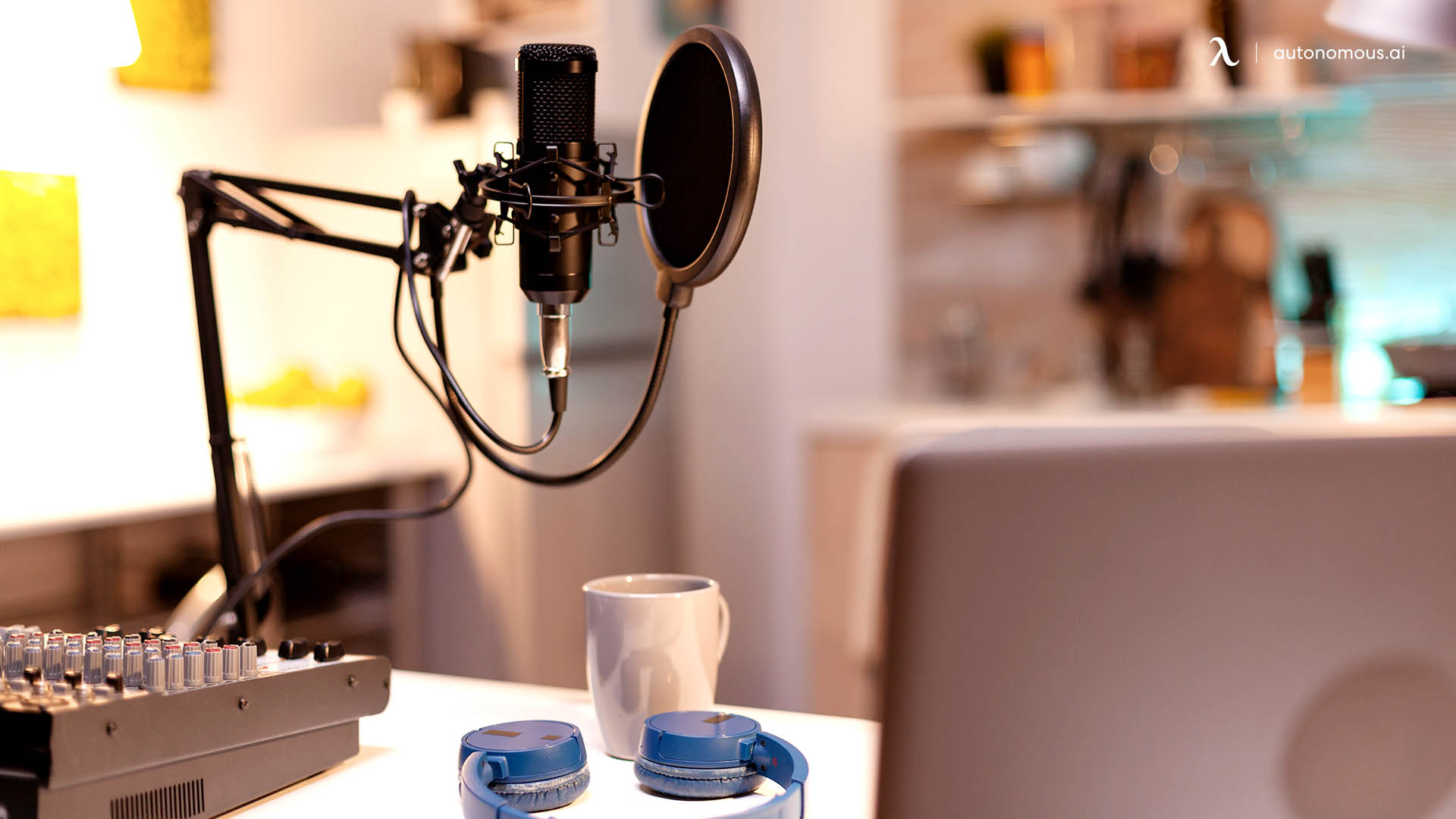 Some of the best webcams and microphones are from Logitech. They are reliable and often used by various content creators to make good quality content, which means that they can take your professional home office space to the next level.
Often reasonably affordable products.
Increase your level of professionalism
Can be difficult for some people to operate
10. Desk Accessories
Everyone loves some good standing desk accessories! It is important not to get carried away with your desk accessories as this can often add clutter to your space. Try to keep the essentials on your desk and make them easily accessible to limit the amount of movement you have to make. Office accessories provided by Autonomous are products that you can play around to find what suits your preferences. Accessories are how you can add your personal touch to your workspace.
You can add your personal touch to your space.
It is easy for your desk to get cluttered.
The Bottom Line
There are so many different types of setups that you can incorporate into your home office. There are certain things that are essential to have in your home office. 2021 is the perfect year to invest in your home office and to explore a home office setup idea. A desk setup guide is going to help you design your dream workspace.
Get exclusive rewards
for your first Autonomous blog subscription.

WRITTEN BYAutonomous
We build office products to help you work smarter.
Coming at You Live from Autonomous' Social Media!
Please fill the information below.
Thank you!