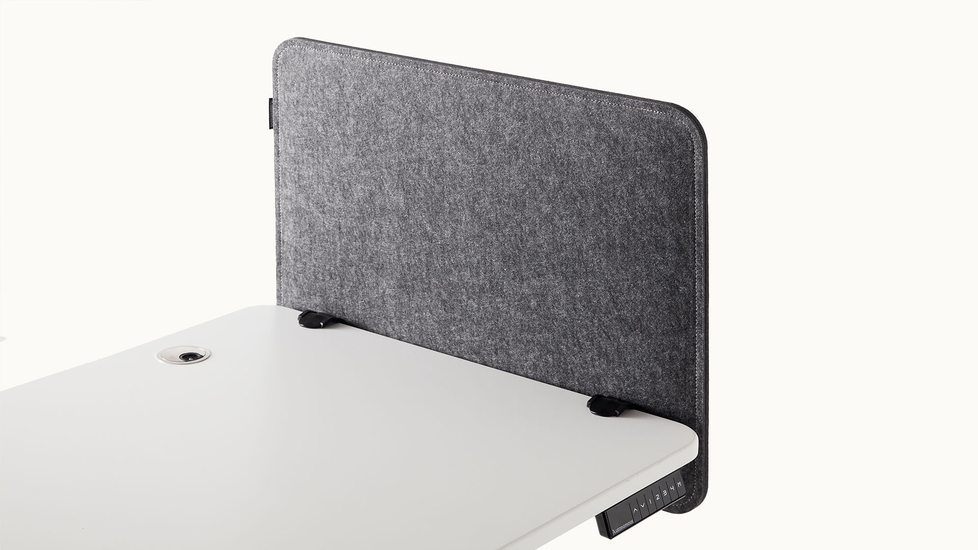 FAQs
Don't see the answer to your question?
What options of Privacy Panel do you offer?
We offer 2 options: Side panel and Front panel that you can clamp to your desk and use instantly.
What colors of Privacy Panel I can choose from?
We offer only one color for both Side and Front panels: Dark grey. It's monotone, premium color that matches any office style of you.
What are dimensions of Side and Front panels?
The front one is: 47"L x 21"H  x 0.47"T.
The side one is: 27.5"L x 21"H x 0.47"T.
What is the panel made of for noise absorbing?
All our panels are stiched (not glued) by 3 fiberboards of recycled polyester that makes the product extremely sturdy.
What is NRC? What does NRC of your Privacy Panel mean?
The NRC is the noise reduction coefficient. An NRC of 0 means the product absorbs no sound. An NRC of 1 means the product absorbs all sound. Our Privacy Panel has NRC of .85 which means you can still enjoy your private quiet place without isolating yourself from the environment.
Do the panels come assembled?
You only need to tighten the panel to your desk using clamps already assembled to the fiberboard. It will take you less than 5 minutes to set up your Privacy Panel.
Can I stick or pin my memos on the Privacy Panel? Will it reduce the quality of the product?
For sure you can stick and pin memos, pictures, note, etc. on the panel that won't affect the quality of the product itself. Our Privacy Panel is made for this usage.
We currently ship anywhere in the USA. International delivery is on the way, we'll happily keep you updated!
Do I have to pay shipping when returning it per your free 30 day trial. How does return shipping work?
We are happy to cover the cost of shipping if you request a return before the end of your 30 day trial period.