Workplace Inspiration
10 Computer Desk Setup Ideas Perfect for Small Home Office Space

Autonomous
|
Mar 18, 2021
12,281 Views
As a remote worker, you are always looking for some ideal way to get your ergonomics workspace right so that you can have a more productive day. Maintaining productivity becomes quite challenging when you are working in a small home office. Are you among those remote workers who are looking for some office desk setup ideas at home that can help them boost their productivity?
Are you short of desk setup ideas? Investing in office desk setup ideas is worth each penny because the result will be increased productivity and better energy levels. It is also true that a minimalist desk setup is a new trend, and the phrase less is more is applicable for a workplace because the increased clutter only gives rise to messy thoughts and frustration while working.
But while you are searching for the right home office setup ideas, you might have a hard time picking the ideal office desk layout, pairing it with the right furniture, choosing the best desk accessories, and having trouble with a proper three monitor setup. This could lead to loss of motivation and extra spending on the home office setup. However, a productive workplace doesn't have to be expensive, and with the right desktop setup ideas, you can get minimum designs and maximum productivity.
This article will cover some of the best desk setup ideas that fall right under your budget.
Well, then we would say you have come to the right place. We have scoured the web to find out some of the most innovative desk setup ideas for small spaces to help you have the perfect home office even if you are short on space. These ideas will not only keep you productive but will also keep you healthier. So, without any delay, let's have a look at them.
Which Furniture And Equipments Should You Invest In Your Productive Desk Setup?
1. Invest in a Standing Desk
It is ideal for getting an adjustable standing desk for a small space, as that improves your work ergonomics. Since you are required to divide your time between sitting and standing, setting your desk at the right height is crucial. A home office desk like the SmartDesk Core by Autonomous is a suitable choice in this regard.
Such desks are a vital component of home office setup ideas, as they make you more productive. The best part is, these are motorized standing desks, so you can adjust their height with a single button. If you only have a corner space available in your home office, you can think of going for an L-shaped desk, too, as they let you utilize corners efficiently.
2. Bring an Ergonomic Chair
To design a complete home office setup, it is vital that you have an ergonomic chair as well. These chairs are designed to keep you upright and eliminate any sort of muscle strain. Therefore, once you use them, you are able to have a reliable sitting surface.
In this way, you can rest assured that your sitting time is also well-spent, and you stay productive round the clock.
3. Invest in a Monitor Arm
All desk setup ideas would be incomplete without a monitor arm. Since you will be arranging your monitor at the eye level to ensure you do not encounter any neck injury or chronic muscle pain, you will have to place your computer at a particular angle. A monitor arm allows you to do that efficiently.
This is even more ideal when you are dealing with multiple monitors. You can adjust the height and angle of your monitor as you divide the time between sitting and standing. As a result, you can smoothly shift from a sitting to a standing session.
4. Use a Cable Tray
Here is an important accessories you cannot miss in your office desk setup ideas. It is often much of a hassle when you have too many cables crowded on your working desk or around your working space. Such an issue becomes even more unbearable in a small space. If there is no other way that you shift to cordless accessories completely, it is vital that you use a cable tray. It can be conveniently added to a standing desk and helps avoid clutter on your workspace, freeing up more space and allowing you to work more efficiently.
5. Add Computer Glasses
Computer glasses are vital equipment when you are designing a home office setup idea. These glasses help block the blue light when you are working with your computer for prolonged hours. Consequently, your sleep schedule remains unchanged, and you tend to stay healthier, leading to you being more productive in performing tasks. Nevertheless, these glasses are not a requirement if you already have prescription glasses.
6. Shift to Cordless Accessories
It is always significant to have lesser clutter, and cordless accessories can help you achieve that. You can opt for buying a Bluetooth keyboard and a high-quality Bluetooth mouse to make your job easier. Such office desk accessories will make your workspace look tidier. It is easier to work more in a clean workspace, so you can rest assured that this arrangement will boost your productivity.
7. Invest in a Keyboard and Laptop Stand
It is vital that you correct your sitting posture to work more effectively and efficiently. A keyboard and laptop stand in desktop setup ideas helps you achieve that. It helps you place your laptop at an accurate angle to avoid any muscle strain. Therefore, you can work longer hours without getting fatigued.
8. Add Multiple Monitors
It can be really tough to view minor details on a single computer, so you should consider adding multiple monitors to your desk setup idea. This helps you view the data more clearly, which in turn helps avoid any mistakes. This equipment is vital, especially when you are a programmer or have to analyze some data.
9. Add High-Quality Lighting
The addition of high-quality lighting in your office desk layout is significant. Your productivity is immensely affected by the presence of light in the area where you are working. Ideally, you should select an area that is closer to some natural light source, like a window.
Nevertheless, it is often difficult to have that in a small space. So, you can add an ultra-wide LED desk lamp or any other high-quality desk lamp that keeps your workspace brightly lit. With a desk lamp, you have the liberty to choose the light color that makes you feel more relieved. You may choose a warmer light or a full spectrum one as per your desire.
10. Incorporate Greenery in Your Workspace
It is always best to incorporate greenery in your office desk layout. This makes it look more appealing and refreshing. Therefore, it can be a unique desktop setup idea to add some small office plants around your working desk, maybe on some nearby shelf. Once you do that, you can see a noticeable improvement in your mood and overall productivity.
Computer Desk Setup Ideas and Themes
Colorful Home Office LED Light Setup
Color psychology focuses on the importance of bright colors in our surroundings to get the desired mood. However, it is also true that each color can impact a different region of the brain, thus giving rise to various emotions. Especially in a workplace, a simple shift in colors can bring the desired outcome.
You can choose the best color through altering the wall paint, or even a colorful set of LED desk lights can make your workstation a perfect place to brainstorm ideas.
The Minimalist Wood Desk Setup
Wood is an all-time classy piece of furniture that can suit and compliment any workplace. The right wooden furniture can make a workstation productive and aesthetically pleasing. Wood desk setups are usually ageless and for people who love minimalism over everything. Wooden furniture is also an idea for a professional home office setup that likes to play in the shades of beige.
All-White Desk Setup
If you have been searching for an office desk setup that never disappoints you and also moves forward with you as time passes, then an all-white desk setup idea is your safest bet. The benefit of choosing white furniture over others is that it is easy to clean and looks decent. White furniture also gives a calming effect to the mind.
All-Black Desk Setup
Gaming desk setups or desk setups for programmers are usually all black because they find the dark as their ally. Black desk setups aren't just for the emo kind, but black is also a timeless color to be chosen in a home office setup or even a professional workplace. A black desk setup can make the entire workplace look quiet and focused and complement the rooms with darker themes.
Monochrome Desk Setup
Some people love a flashy, loud play on colors, while some like things just too basic. Either way, it's about finding your calling and discovering what motivated you to do the best. A monochrome desk setup idea is a minimalist desk design with a professional outlook. Such desk setups look sophisticated and amazingly enough to put you in a strong focus on work.
Modern Minimal Battle station Gaming Setup
Want an elaborate gaming setup without going overboard on expenses? The modern, minimal gaming desk setup is the right approach for you. This gaming setup can be easily placed in the corner of the room with an L-shaped desk, or you can find any suitable place to create a dual or triple monitor setup.
Glass Desk Setup
Glass is a modern look that never goes out of style. Glass desk setup ideas are classy and make a workplace look much more professional. The glass surface is also smooth and usually free from permanent scratches. But to make sure your glass surface stays with you, invest in a strong quality glass desk setup that will be durable for the long run.
Aesthetic Desk Setup
Is your mood and motivation to work governed by your work desk setup? Well, no wonder that's a scientific fact. Our moods while working are the clearest reflection of our workplace setup, and thus you need to be wise about it. If you love aesthetically pleasing designs, then an aesthetic desk setup will do the job for you. You can decorate the work desk with various desk accessories or add a tiny plan to give your workstation a pretty final look.
Mobile-Friendly Desk Setup
Sitting or working in the same position for hours is detrimental to health in many ways. Switching between sit stand positions while working makes the user feel comfortable, easily spending hours being productive. Height adjustable standing desks are a great option for mobile-friendly desk setups as they give you the freedom to switch between sit and stand positions.
Natural Theme Desk Setup
If you have a home office with a beautiful view or merely a convenient location for a desk next to a window, consider yourself lucky. The natural light will give plenty of outside inspiration, but you can take it a step further by sprinkling a few plants about.
Frequently Asked Questions
How to Make a Good Desk Setup?
To make a proper desk setup for your home office, there must be a proper emphasis on comfortable furniture as well as suitable lighting. In addition, make sure you choose a location that offers you complete focus during work hours.
How do you Layout a Small Office?
Setting up a workstation in the corner is a great idea if you are short on space to create a home office setup. Corner work desk setups ensure maximum privacy and also allow the user to sit and work quietly.
Where Should I Put an L-shaped Desk?
As the name suggests, L-shaped desks are made in the shape of the letter L, and they are also known as corner desks. L-shaped work desks can be placed in the corner of the room, so the center of the room is free for other tasks.
How Do I Set Up A Desk Setup At Home?
Place the computer monitors in such a way that you don't have to twist your neck, tilt or shrug your head or back. Place your keyboard in front of you by moving it back so that your forearms are supported on the front portion of the desk as you type.
The Bottom Line
It is tough for remote workers to maintain a higher productivity level, as they have to create an office-like environment with creative and interesting desk setup ideas at their home. Nevertheless, you can achieve this by adopting certain simple alterations in your workspace and eliminating clutter in general. All the suitable alterations that we discussed above will help you do that.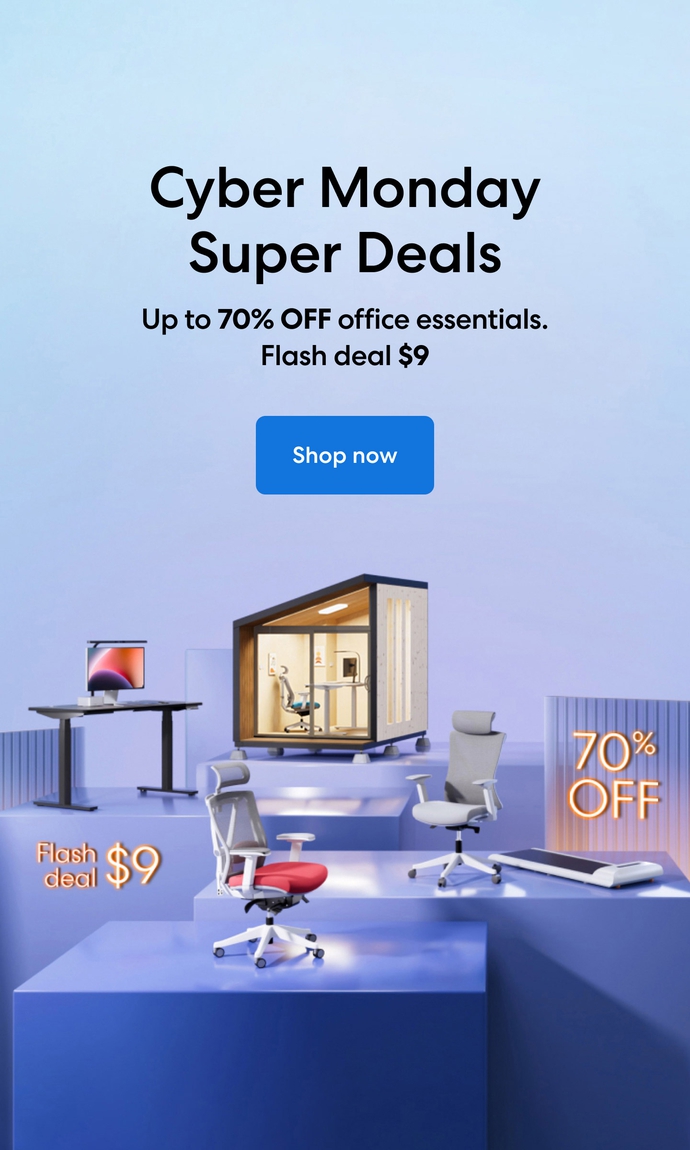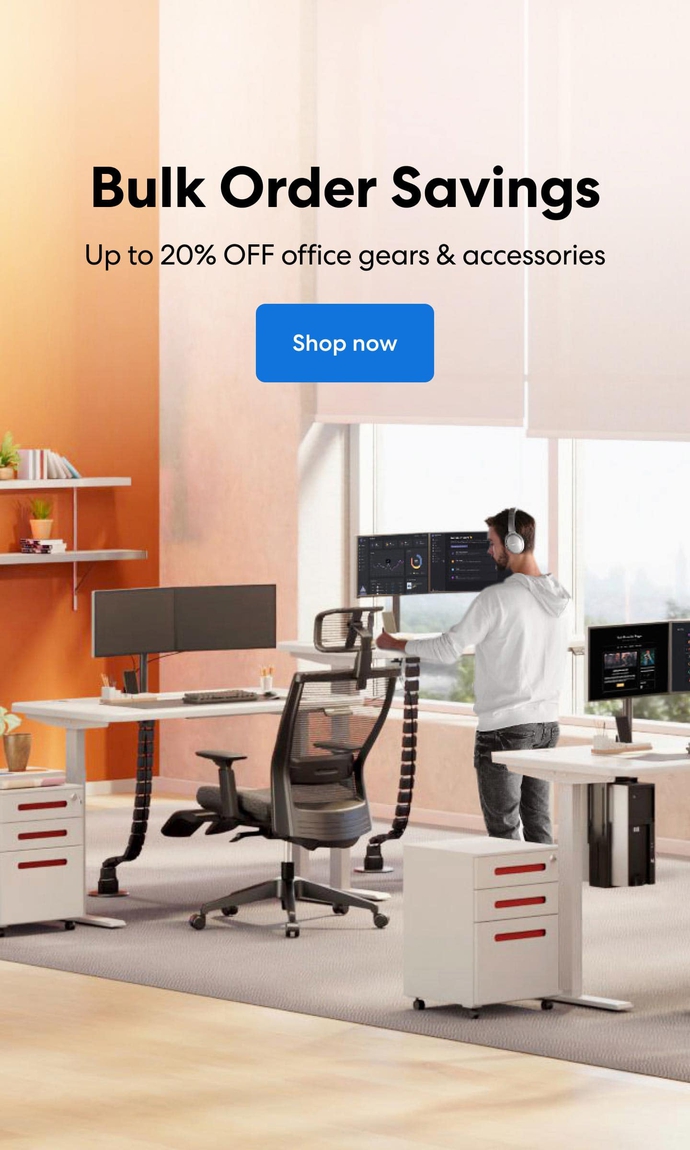 Subcribe newsletter and get $100 OFF.
Receive product updates, special offers, ergo tips, and inspiration form our team.