Workplace Inspiration
Full Guide for an Ideal Standing Desk Setup in 2023
8,994 Views
Upgrading your office desk setup is one of the best ways to set your increased productivity in 2022. There are lots of significant advantages of switching out your old desk for a standing desk. You must also ensure that you have the best standing desk setup. In this article, you can get some tips on achieving the ideal standing desk setup this year.
The Importance of Office Ergonomics
Whether you are currently working in a home or work office, you are sure to have noticed how the office setup affects your focus and output on any given day. Keeping your office neater or rearranging some cabinets and furniture are just some of the ways you can use the office setup to your advantage.
Office ergonomics is all about setting up the office workspace to make the end-user the most comfortable. In your case, your choice of office furniture, office desk setup, the arrangement of files and stationery, and the general layout of the office are all important. If you opt for a standing desk, you need to know how to achieve an ergonomic standing desk setup.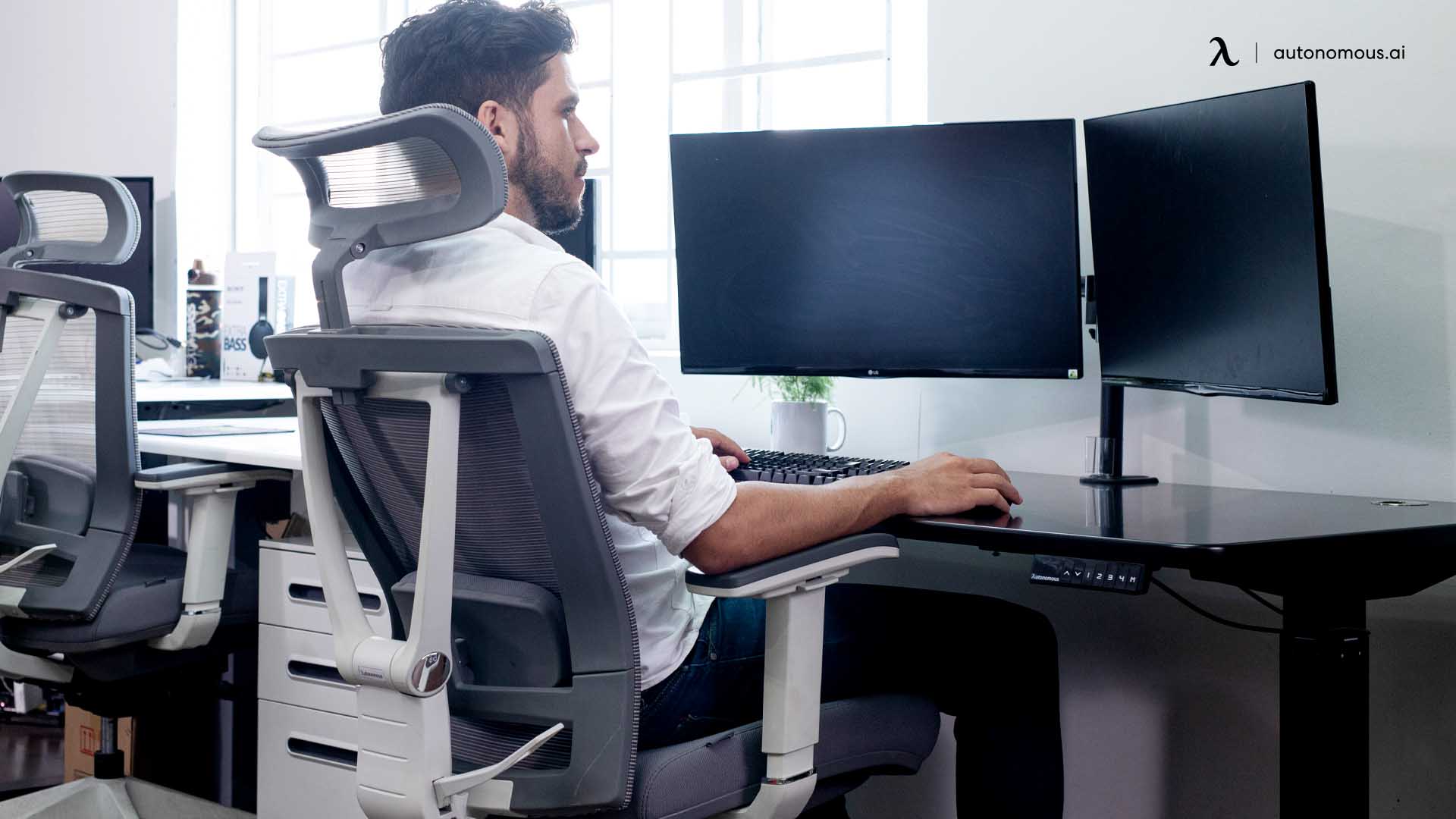 The impact of good office ergonomics is broad and far-reaching. It makes you more comfortable and reduces your chances of developing poor posture, bank and neck pains, and even carpel tunnel syndrome. Good ergonomics are also linked with increased focus and productivity, which is ideal.
The furniture you choose for your office has a significant impact on your work experience. When you sit at your desk for the greater part of the workday, it matters where you sit and how comfortable you are. A standing desk is an excellent choice of desk for any office worker.
What Are the Benefits of a Standing Desk?
Standing desks are becoming more and more popular, and there are some good reasons for this. These desks come in many shapes and sizes, and with a range of impressive features you can't find in a traditional office desk. Once you find an adjustable standing desk you like and start enjoying its benefits, you're never going to look at a desk the same way. Before you get to explore some standing desk setup ideas, here are some of the benefits you can expect when you make the switch to a standing desk setup.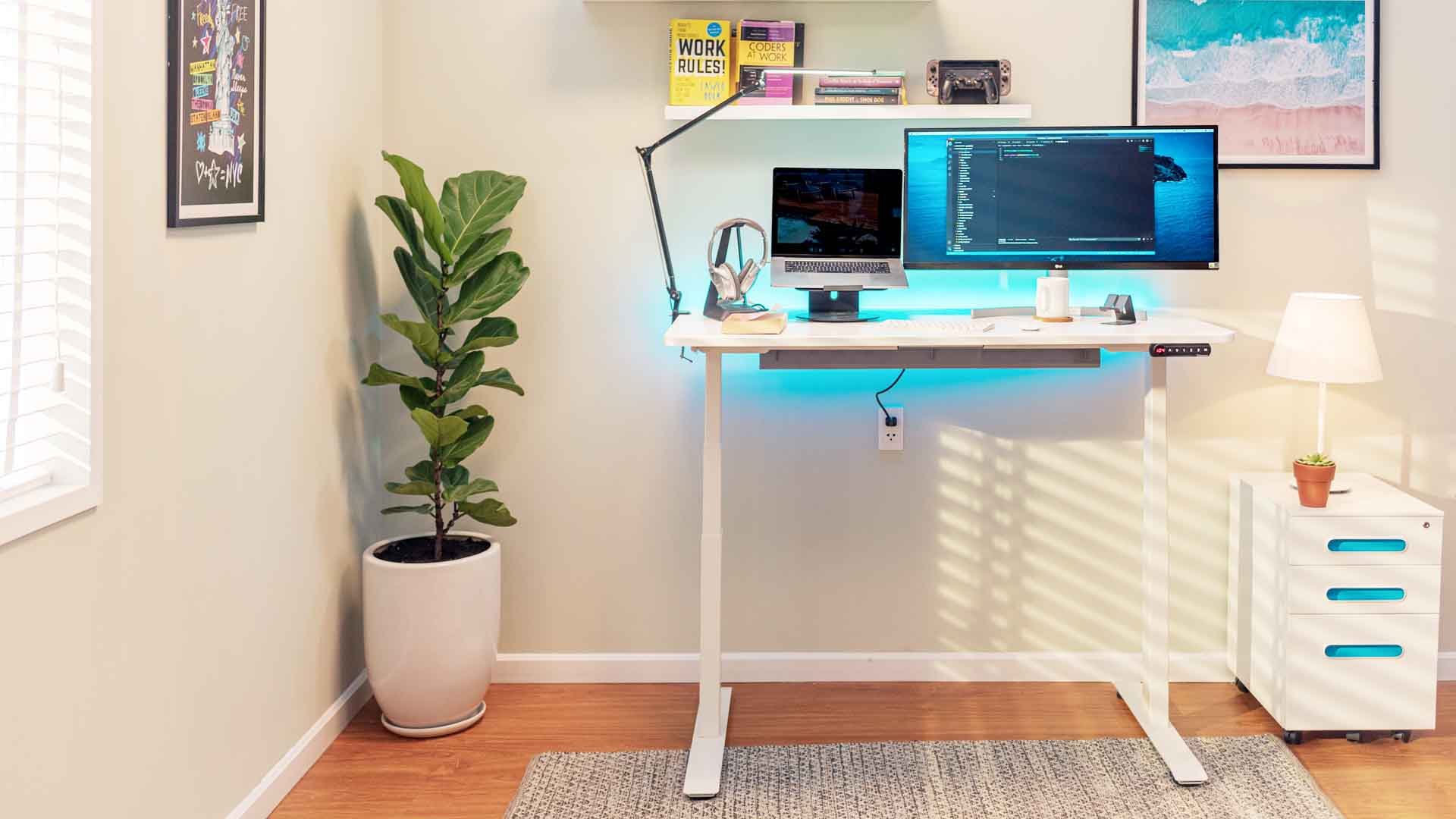 Physical health
When you have a standing desk, you break out of the monotony of a sedentary lifestyle. This has been linked with many health conditions in the long-term. Many studies have found an increased risk of heart disease, diabetes, and obesity. As more and more people spend long hours on the computer, activities such as stretching and exercise are often neglected.
With a standing desk, you have no choice but to move around. Some people even like to do some leg stretches and exercises at their standing desks. A standing desk is also excellent for your posture. The design is ergonomic, and once you know the right standing position, you can say goodbye to a lot of back and neck pain. You can gradually improve your posture.
Mental health
In many ways, improved health is great for your mental health. When your body feels good and is no longer achy from sitting all day, you feel better about yourself, and your state of mind is better. Using a standing desk may seem like a novel idea at first, but the testimonials from people who have made the switch from a traditional, fixed desk speak for themselves. Buying a standing desk for your office in 2022 can help you feel more confident, focused, happy and lead to significant improvements in your wellbeing.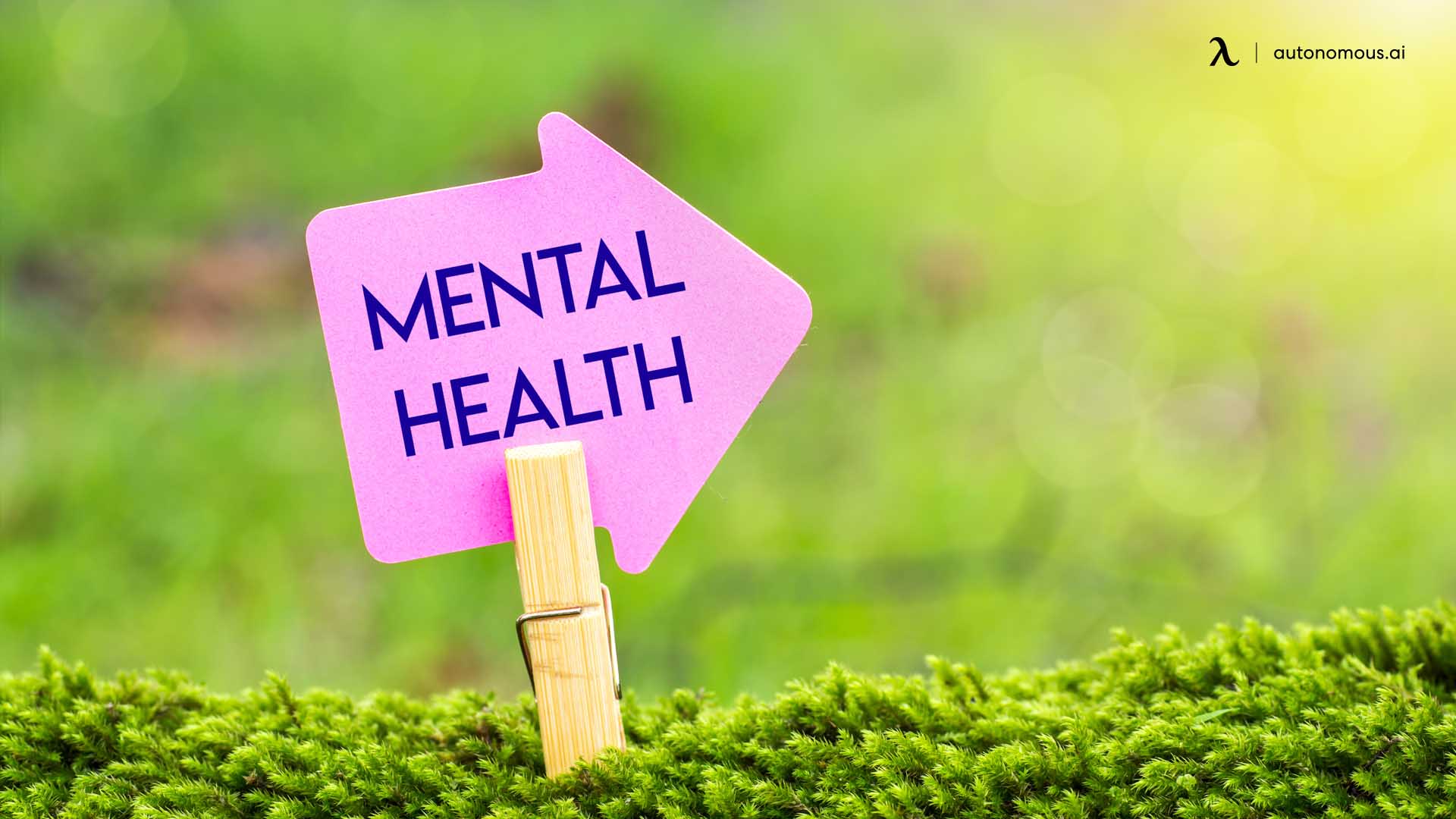 Energy levels
It follows that if your health and wellbeing are better, you enjoy greater energy levels. Despite what you may think, working at your computer while you are standing doesn't deplete your energy, but rather it boosts your energy.
Productivity
The result of using an ergonomic standing desk setup in your office and enjoying better posture, health, and energy levels is increased motivation, focus, and boost productivity. Once you make the change, you might be surprised how much more work you can get done.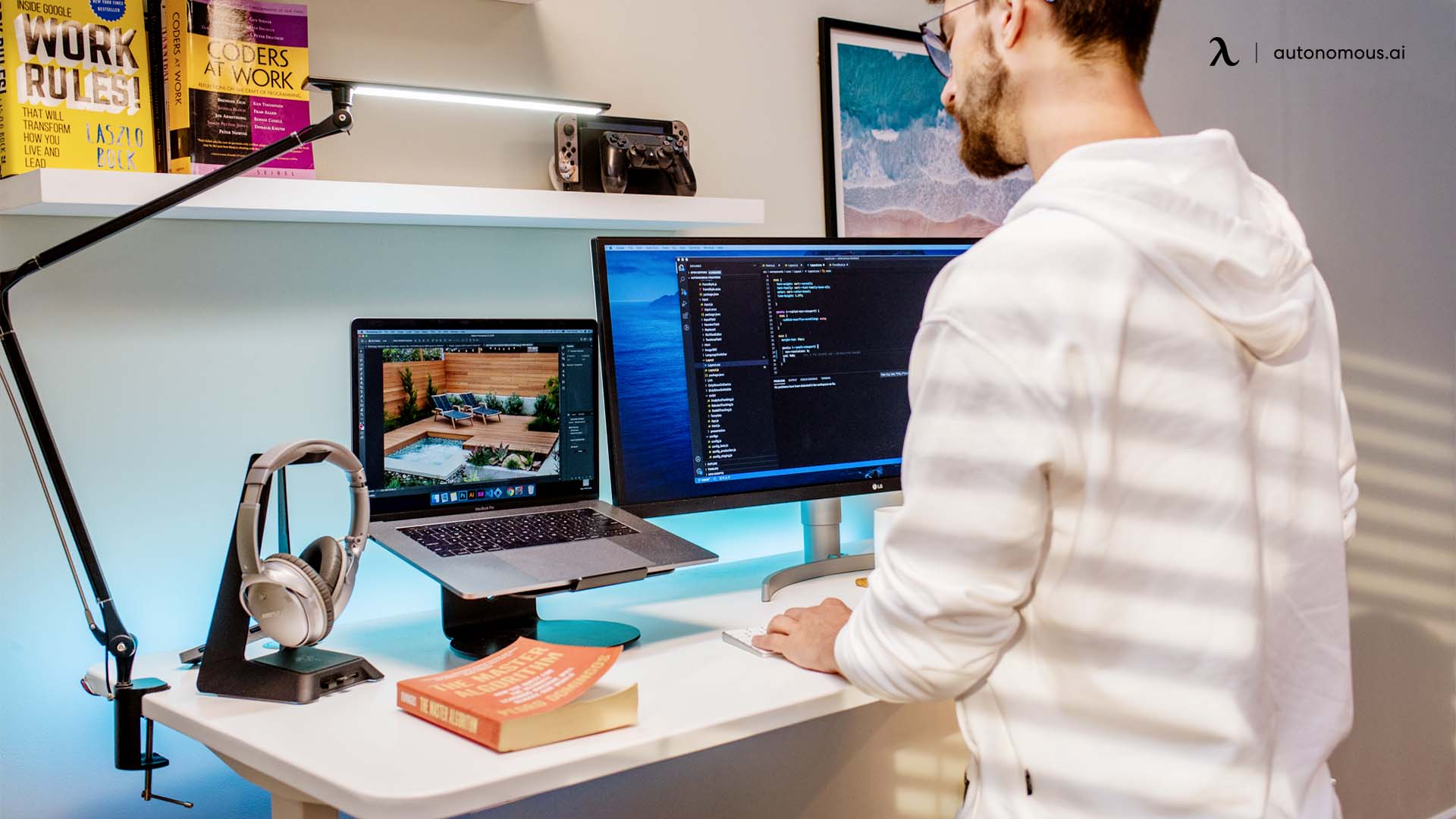 What Are the Cons of a Standing Desk?
Now, you might be wondering if there are any downsides to a standing desk. In turn, there are some and we decided it would only be fair to list them below.
Cost
For the average person, these can seem a tad costly when it comes to price. However, there are many payment plans when it comes to purchasing a standing desk from places like Ikea.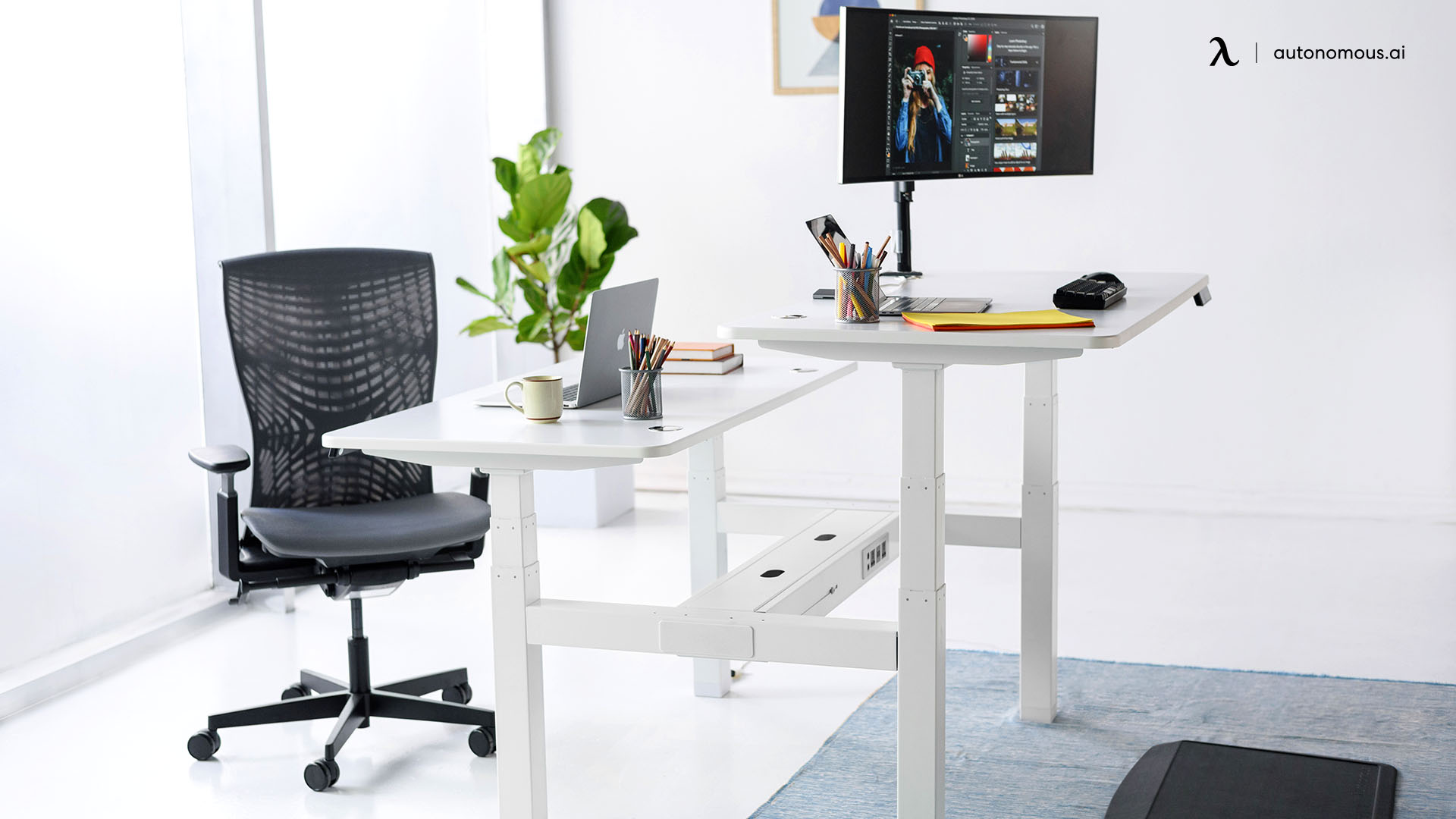 How to Set Up a Standing Desk at Home and Office
Now that the benefits of a standing desk are clear, it's time to look at your standing workstation setup at home or the office, depending on where you work. The first thing you have to do is find the right position for the desk. If it is a new desk, you might need to remove the old one and clear some space to fit the desk. It's also essential to find the most ergonomic position, considering factors such as distance from the door, the windows' orientation, and any other office furniture position.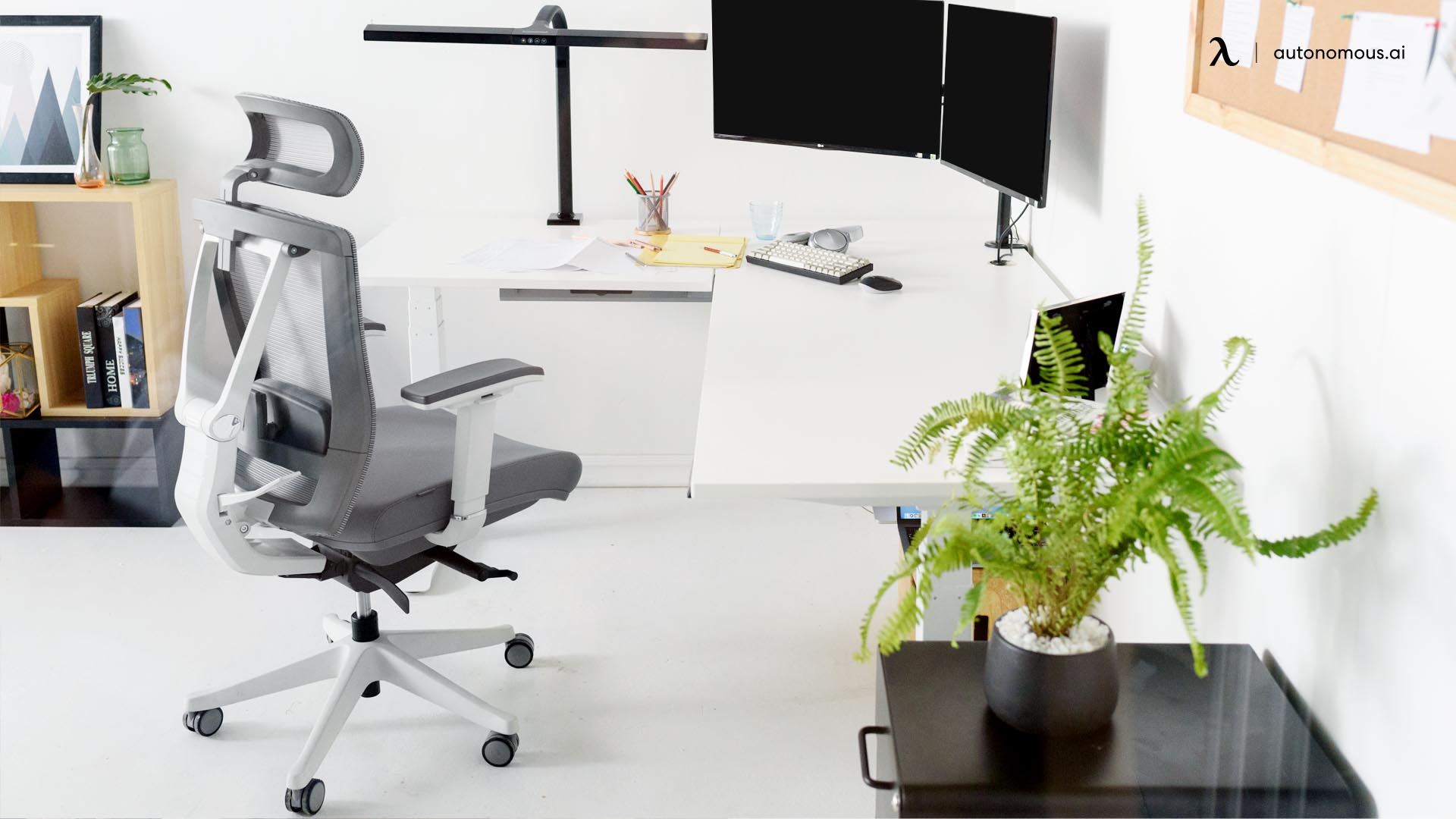 Another critical step in your standing desk setup is to declutter the space and keep it clean. You might also want to consider practicing minimalism. When creating an ergonomic standing desk setup, less is more. Avoid too much clutter and too many accessories in and around your desk because this can impact your mental clarity.
Minimalism has many applications, and when used in an office, you can enjoy a cleaner and neater space. It also looks more put-together and attractive and can create a workspace you enjoy being in and are proud of. The result is that you can save money and time and improve your focus and motivation. You might want to consider a black standing desk or a white standing desk for a minimalist office and standing workstation setup, don't forget to find yourself a black and white office chair too. White and black are easy to clean colors, and they both blend well with a wide variety of styles, arrangements, and other color combinations.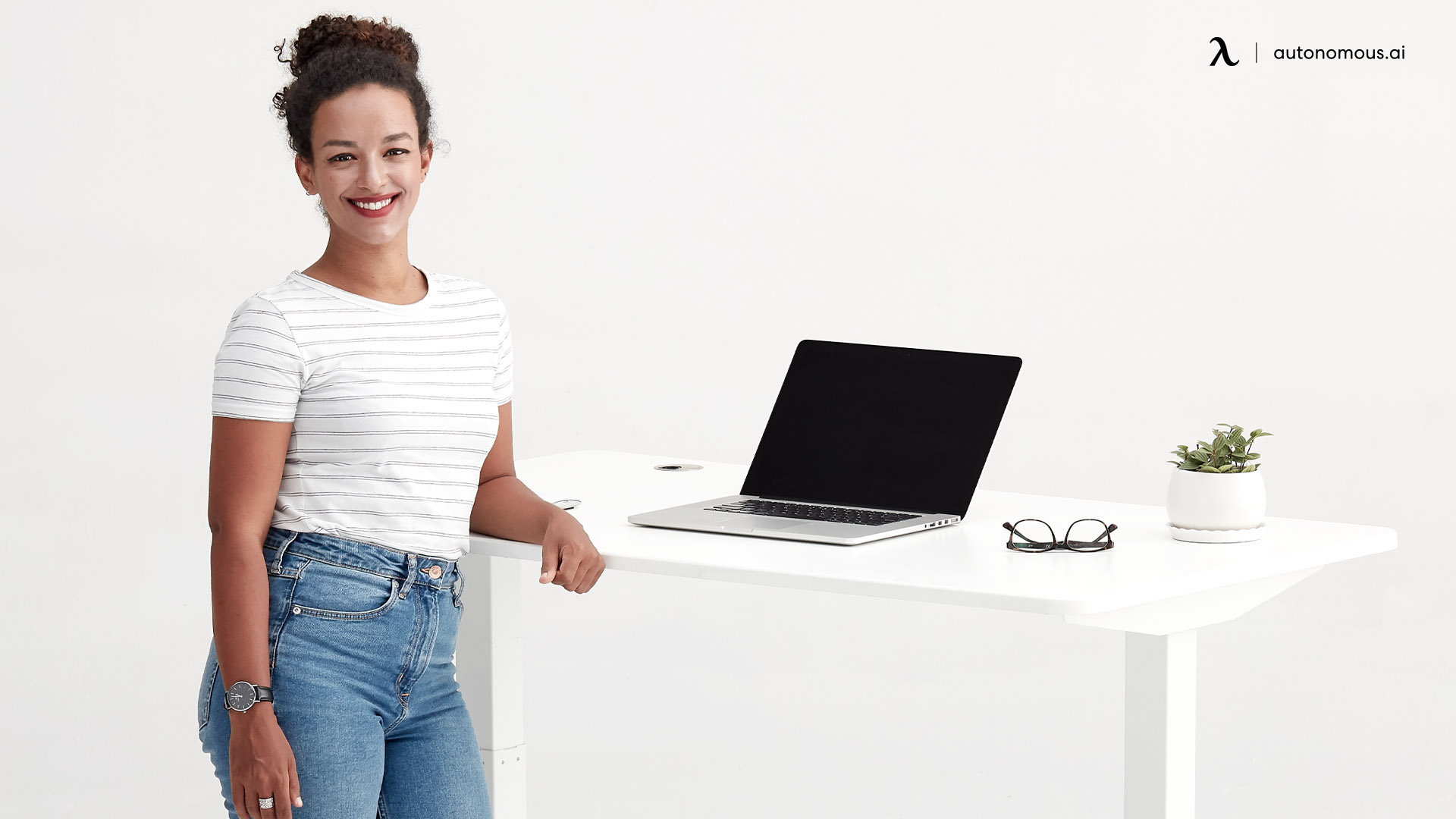 More people are working from home today than ever. If you are setting up a home office for the first time, then there are many standing desk setup ideas that can help you along the way. One of the simple tips you might want to use is replicating your office space in your home office.
There's a lot of merit to this suggestion. After all, your work office is a place you get things done and is likely to be associated with clarity and focus. One of the challenges that people who start working from home encounter is how to differentiate their home mode from their work mode. With family, belongings, and chores around, it can be challenging to really focus on the work at hand. When you mimic the office environment in your home office or corner workspace, you can get into work mode much faster, even if you only have a limited or temporary workspace at home.
To replicate your office at home, you might have to create some rules and boundaries. Perhaps for you, taking out all the non-work related items for the room might be the best move to avoid distractions. You might need to talk to your family about work hours to limit how often you get interrupted. If you don't have the option of having a dedicated office at home, you can set up your home office anywhere during the day and close it up at night when you are no longer in work mode. Making the most of your rest times and having a clear delineation can also help to help you get more time when it is time to work.
One last tip about creating the best standing desk setup is that it must be personalized. Everyone is unique, and different standing desk setup ideas appeal to different people. There no need for a bland or rigid standing workstation setup. Instead, you can make it your own and add décor and accessories that motivate you and keep you inspired.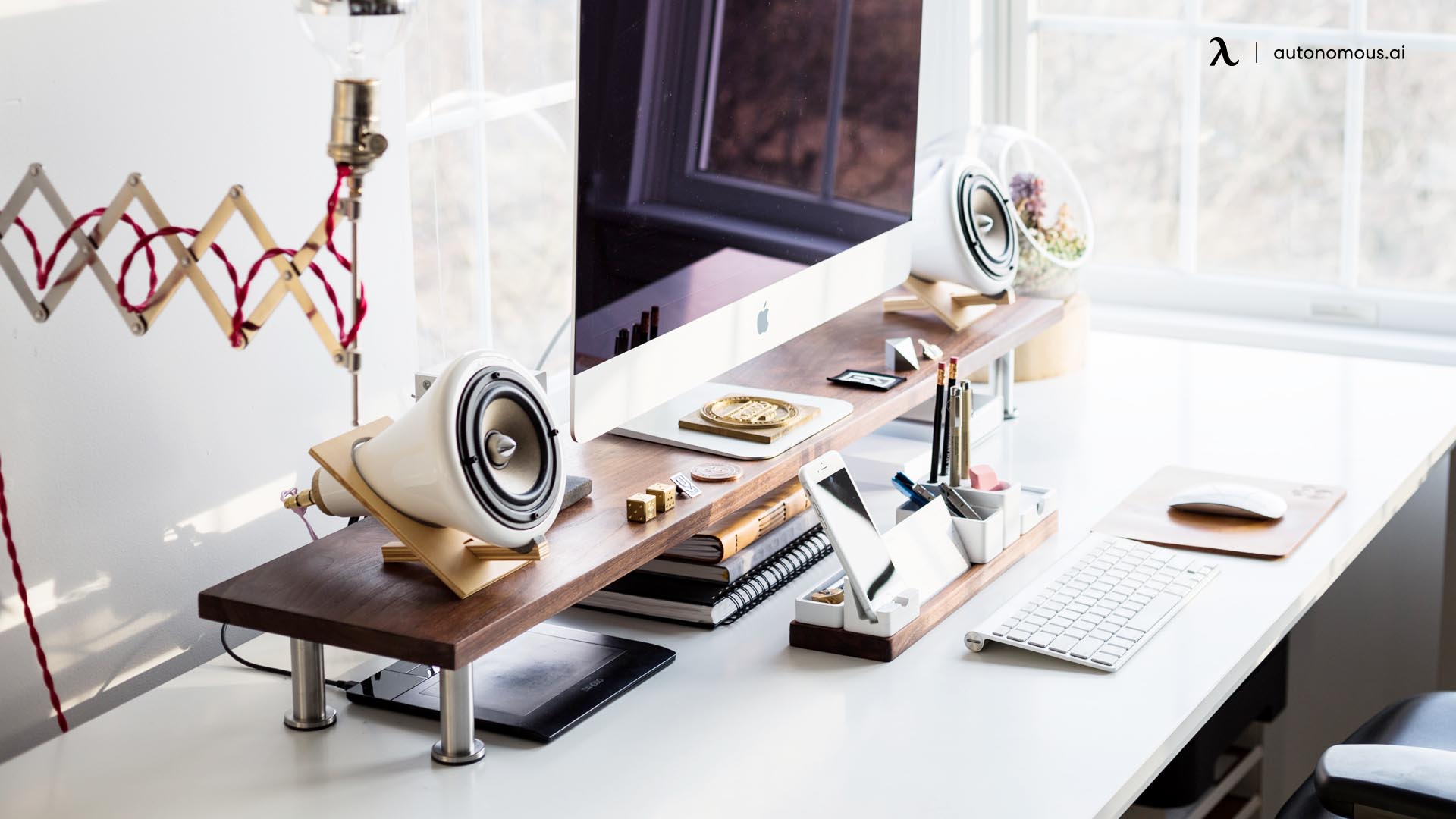 To personalize your office space, you can add a bit of color or some unique decorative items. It could be a few framed photos that are meaningful to you or a favorite stuffed animal. If you have the time and freedom to make more permanent changes in your home office, you could even consider renovations such as changing the wall paint or redoing the floor paneling.
The more personalized your office is, the more you are going to feel at home in it. You want your work environment to be comfortable and welcoming. Regardless of what field of work you are in, your office should allow you to be your most creative and productive self. As a word of caution, you don't want to make it too cozy such that you might want to snuggle up on a couch for a snap or read a good book in it. There's a time for rest and recreation, but you want your workspace to get you in the work mindset.
There are a lot of other great tips on how to achieve a productive desk setup. In the next section, you can learn about how to position your monitor and the right standing position. Other things you can do include finding the right adjustable ergonomic chair, choosing the best light, and practicing some simple, healthy habits. For example, staying hydrated is an important way to maintain your focus and mental clarity, but so many Americans are slightly dehydrated.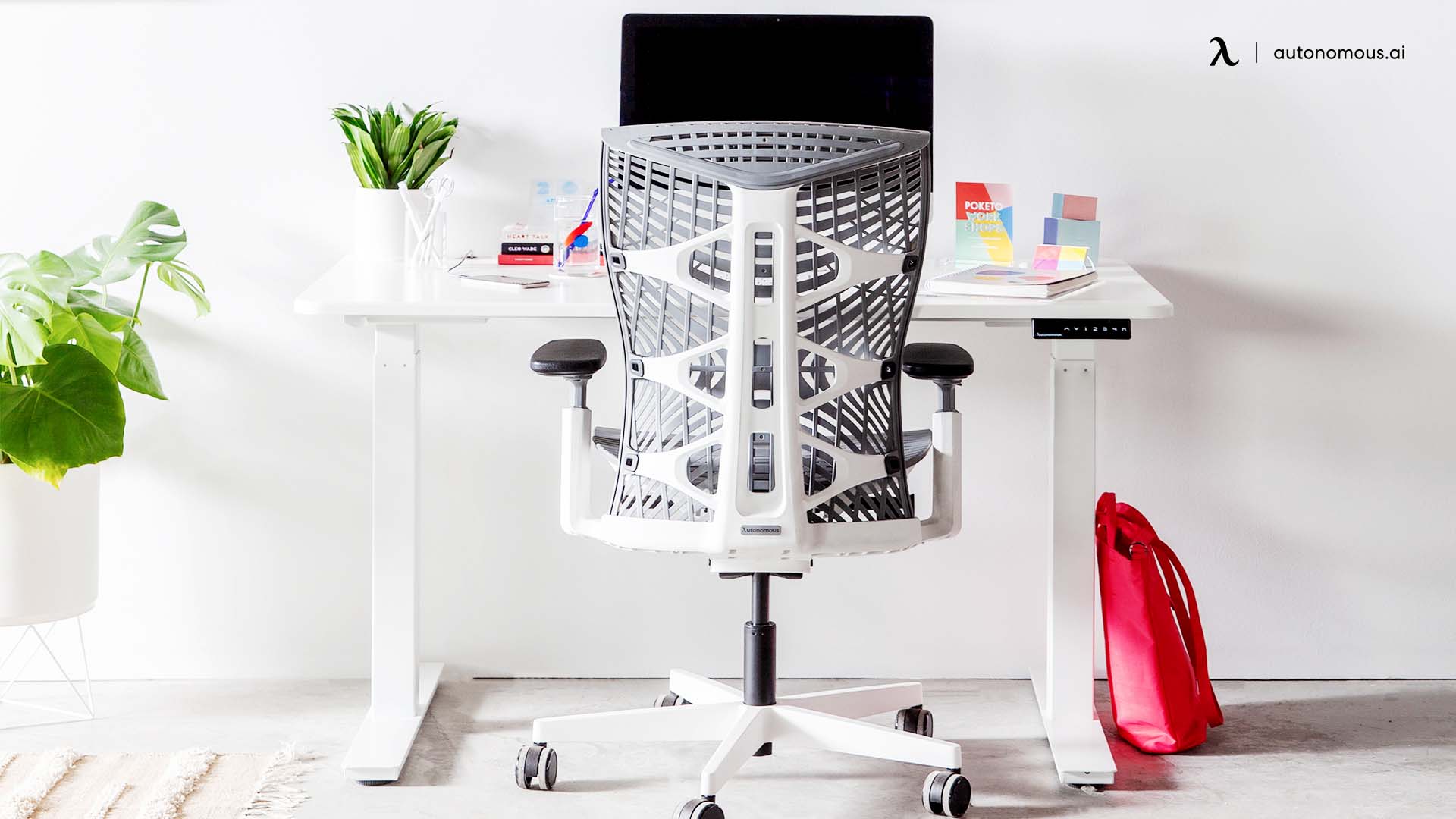 Another good tip for making the most of your standing workstation setup is to stay active and take a break every now and then. The great thing about a standing desk is that you can switch between the standing position and the sitting position seamlessly, so be sure to use both features to break up the monotony of the day and give your body some movement.
Working continuously for long periods of time can be good for entering the flow state, but it is also important to take short breaks here and there. During your break, you can take a walk, stretch your body, grab a snack or your favorite beverage, or get some fresh air. When you are done with your break, whether it lasts for 5 minutes or 20 minutes, you can expect to feel refreshed and with a new burst of energy and motivation.
How Do You Achieve the Best Standing Desk Setup?
It's time to look at some of the specifics of achieving the best standing desk setup. The SmartDesk Core is one of the top-rated home standing desk options. This features four programmable height settings, a silent dual-motor system activated by the push of a button, and a weight capacity of 300 lbs. With this standing desk setup, self-assembly is required, but it is easy to do in about 15-30 minutes. When selecting which desk you want, you have some choices regarding the frame color, desktop material, and desktop size.
Once your standing desk is assembled, it's time to set up the other elements of your workstation. If you want to achieve the most ergonomic standing desk setup, you have to think about where to place your computer, what chair to use and how to position it, and other accessories you may need.
Here are a few tips about creating an ergonomic workstation, particularly when you are in the standing position:
What is the correct monitor position? You want to position the monitor away from your arms, at a distance of about 50-70cm. The top of the monitor should be at or below eye level.
What is the correct shoulder position? Be sure to relax your shoulders and avoid slouching.
Should the monitor be straight or tilted? Ideally, you should tilt the monitor slightly upward.
How should you stand in front of a standing desk? Stand in front of the monitor, exerting equal pressure on your feet. You can use an anti-fatigue mat if you are going to be standing for prolonged periods.
What is the right elbow position? Position your elbows at a 90-degree angle.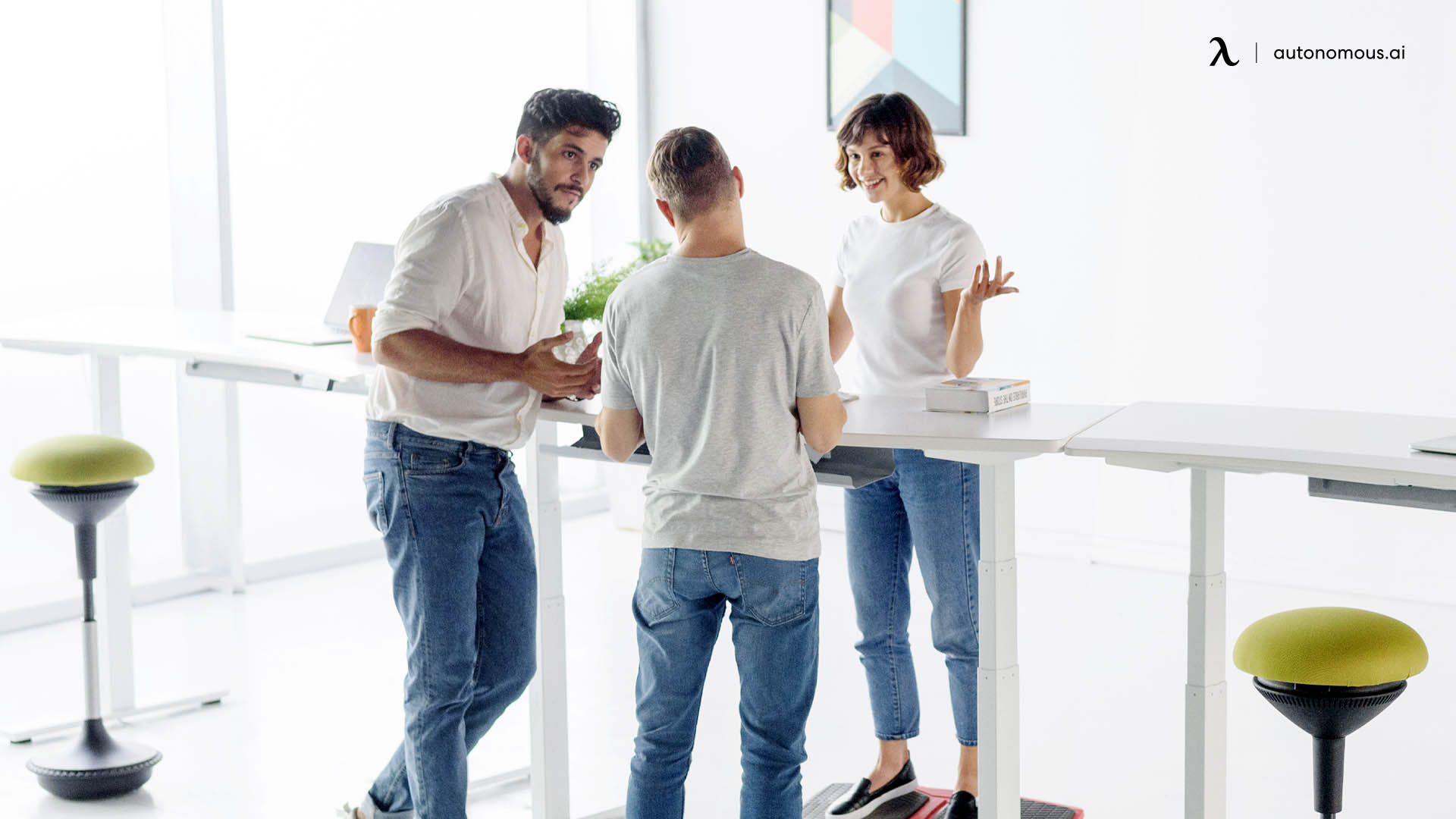 Figuring out your ideal office desk setup can improve your workday tremendously. The benefits are numerous, including improved posture, health, and wellbeing. Even if you only have a small home office, using the best standing desk setup possible can set you up for increased productivity in 2022.
Subcribe newsletter and get $100 OFF.
Receive product updates, special offers, ergo tips, and inspiration form our team.
WRITTEN BYAutonomous
We build office products to help you work smarter.