Many who work in an office environment will agree that their cubicle is much like a second home. Since the average worker spends around eight hours at the workplace, this hardly comes as a surprise. If you are one of them, why not get creative with your office desk setup?
The same mundane environment can not only become boring, but it can also affect your productivity. Even if you are up to your elbows working from home, the monotony can still affect you.
A great way to break through this is to add a personal touch to your office desk. Here is a list of the ten best office desk decor ideas to make 2021 your most productive year yet!
1. Go Green With Desk Plants
A bit of greenery around the workspace can add so much vibrancy to a dull white or grey environment. Not to mention, these little pots of nature come with a myriad of benefits. From purifying office air to uplifting your mood to improving your health, plants do it all!
Suffice to say that a plant pot is a perfect addition to your desk setup for productivity. So, add the magic touch of aesthetics to your workspace with cacti, philodendrons, Devil's Ivy, or something else. When it comes to desk plants, your options are pretty much endless!
2. Stylize Your Desk With Washi Tape
Most creative souls will swear by washi tape, and for good reasons! These stationary items come in tons of colors and patterns and have oh so many uses. However, their end purpose is to enhance the look of an item and give it more personality.
Well, who is to say that the item can only be a journal or a photo frame? Washi tape is an excellent way to try out some office desk DIY ideas. You can place the tape along the edges of your desk or even create a cool design with it on the tabletop.
Expect the bright colors and trims to give you that visual and mental push for a productive workday!
3. Let There Be Light
When you think of ambiance lighting, your typical office overhead light will likely not come to mind. Lamps are the go-to for most people when they are in search of more tasteful lights.
Let's face it, fluorescent lights may get the job done, but they are not the most appealing. So consider illuminating your workspace with a more ornate lamp instead of a traditional business-style one. There you have it, another splendid yet simple work desk decor idea!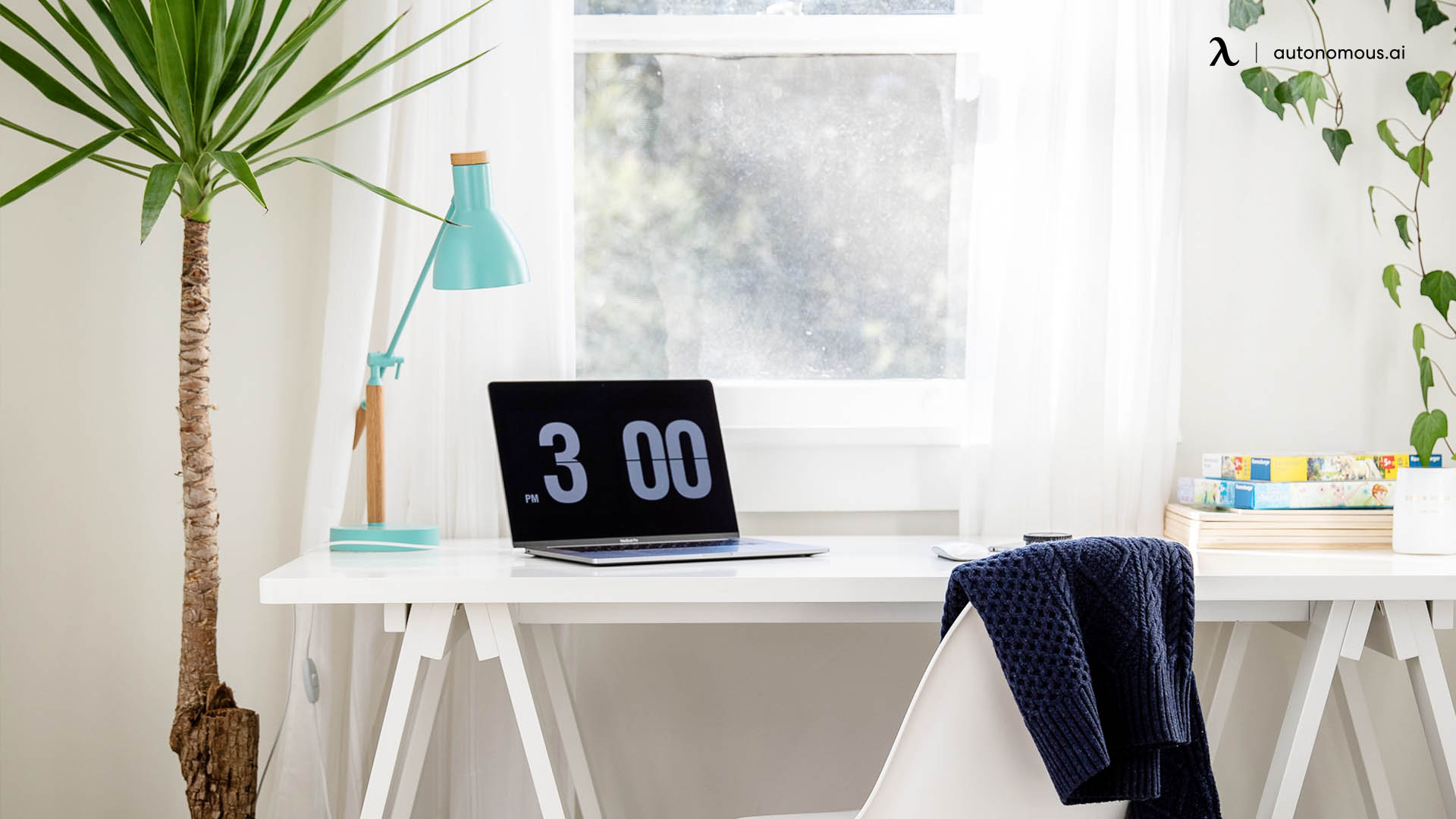 4. Take Tech To The Next Level
In theory, sprucing up a work environment may seem pretty simple. However, when it comes to it, how to decorate an office desk is a question on several minds. Well, one easy trick to doing that is jazzing up some items you use regularly.
Tech-related items, like mousepads and keyboard mats, often look plain and bland. Switch these out for custom mats to bring some life to your office desk. Whether you opt for images of your favorite TV shows, musicians, cartoons, or anything else is entirely up to you!
You can also opt to embellish your technology itself. For instance, you can make keyboards more attractive by adding stickers for a colorful and unique touch.
5. Bring Out Your Inner Bookworm
Books can do more than serve up entertaining stories; they can also act as decor! If you store them the right way, of course. Instead of stacking books on your desk, why not buy a pair of chic bookends? You will find plenty of humourous and attractive options in stores.
You can also choose to let out your creative flair if you DIY them or use unusual items in their place, like painted rocks or toys. If you are searching for some stand-up desk DIY decor ideas, look no further! These bookends are way more appealing than traditional ones that may be practical but lack any personality.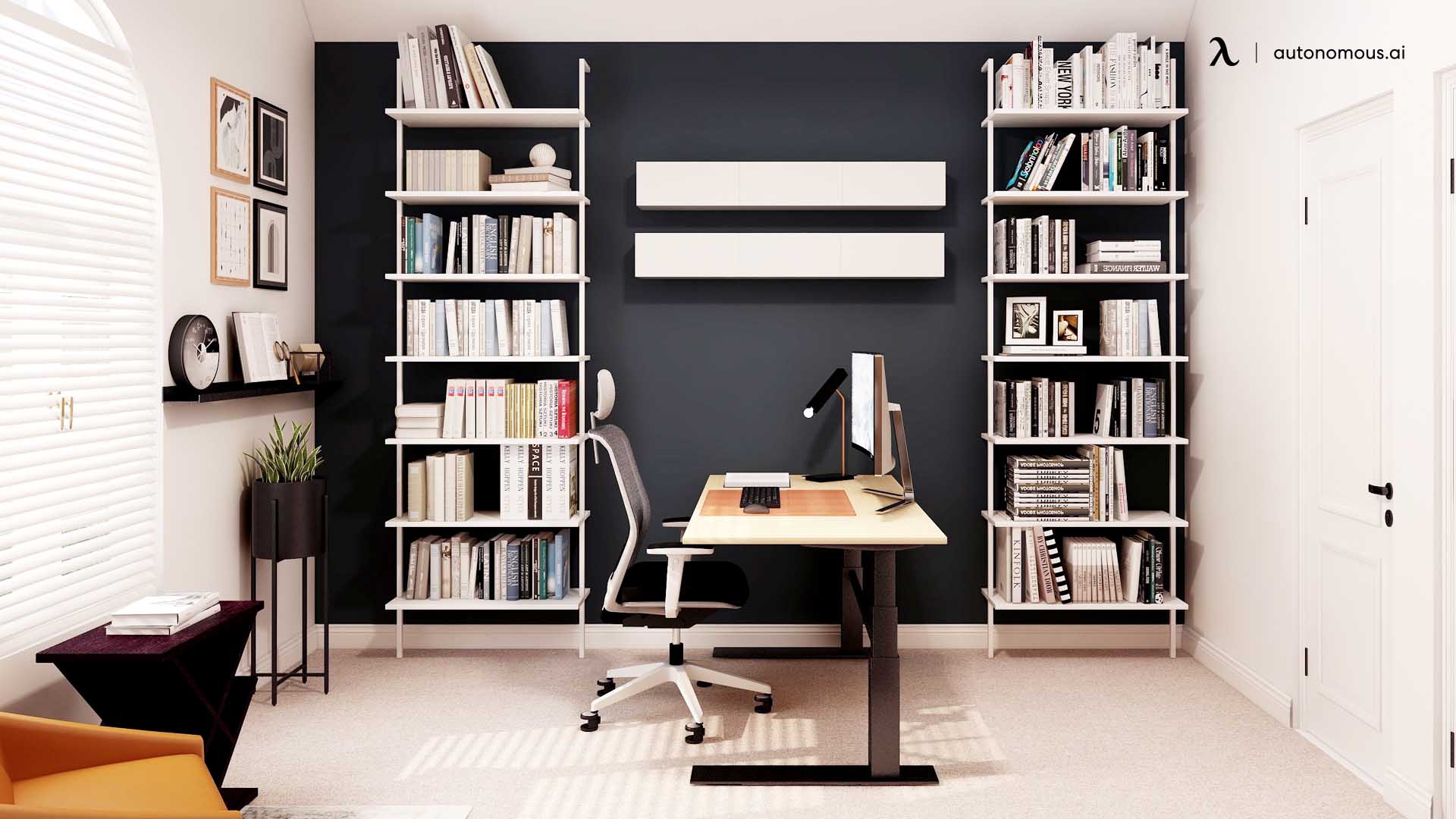 6. Choose Colorful Desk Accessories
From your laptop to notes to stationery, your office desk likely holds a lot of items. Well, using some of these items as accent pieces for office desk decor ideas can instantly brighten up your workspace.
Say you have a white desk, add a few bright items, like a red lamp or a green pen stand, for a bit of color pop. While this might seem like too simple an idea, it can elevate your decor quite a bit. Desk decorations for work do not get easier than this!
7. Spruce Up Storage Items
Storage items on a work desk like SmartDesk Core can differ in size, from little pen holders to large organizers. However, they have one thing in common: they are all equally customizable.
While you can always purchase decorative storage items and switch them out for old ones, DIY is also an option. All you need to do is get a few design print outs and stick them onto your holders with tape. It is as simple as that!
8. Wrap Those Wires Up
An office environment is pretty incomplete without at least a few chargers and extension cords lying around. That said, having wires running across your desk can be quite an eyesore and ruin your office aesthetic.
Well, there are always work desk decor ideas to make even the ugliest wires look appealing. Try wrapping your cords or in some brightly-colored tape or jute to give them a more stylish touch.
9. Make Your Coffee Craving Chic
Office desk decor ideas do not have to stop at work-related items. Most people prefer to get through work while sipping on a beverage of their choice, say coffee or tea. Well, since these cups spend so much time on your desk, why not dress them up so they can serve as decor?
Once again, when it comes to cups, you will find plenty in the market that might appeal to you. Or, if you prefer to be artistic, you can get a plain white cup and decorate it as you please!
10. DIY Calendar To Keep Those Dates
With the world transitioning into the digital era, physical calendars may seem like a thing of the past. After all, most people rely on their phones to know the date, day, and even time. However, that does not mean you cannot use them as attractive decor pieces!
A DIY calendar is not only simple to make but also a super fun project. Not to mention, you end up with beautiful decor item that is also pretty practical, helping you keep appointments.
Wrap Up
You may not have much control over your workload, but you do have complete control over your workspace. Office desk decor ideas are the simplest ways of taking control of your space and letting your character shine! You may also form better connections with your colleagues as they get to know a bit more about you.
Adopt some of these decor ideas today to infuse this year with both productivity and personality!
Get exclusive rewards
for your first Autonomous blog subscription.

WRITTEN BYAutonomous
We build office products to help you work smarter.
Coming at You Live from Autonomous' Social Media!
Please fill the information below.
Thank you!