Smart Products
Top 15 Standing Desk Stools for Productive Workspace

Autonomous
|
Apr 9, 2023
25,581 Views
According to a solid study by Better Health, poor posture, and improper sitting techniques can lead to chronic back pain and spinal dysfunction. A standing desk stool works great, offering you a comfortable sitting experience for hours.
An ergonomic stool is a type of chair for standing desk that lets you move around safely while you're leaning or sitting on it. The seat needs to be comfortable enough to let you efficiently work, and it should typically have a tilted edge. Its base should have some weight to it, and it needs a material that gives it sufficient traction so that you can lean around while you're sitting on your stool. If the seat is unstable, you can experience back pains due to the pent-up tension.
These kinds of standing stools or ergonomic saddle chairs are valuable to people who work on standing desks, as most of them have adjustable heights that let you lean or sit comfortably on the stool when your feet get tired. In a way, when you have both a standing desk and an ergonomic stool, you're getting the best parts of working while standing and sitting. It allows you to stay active while giving you a chance to take breaks by resting on the stool without adjusting your standing desk's height.
Elevate your posture and enhance your productivity with these top 15 best options. Say goodbye to discomfort and hello to a more enjoyable and efficient work experience. Let's dive in!
What is a Standing Desk Stool?
The standing desk stool is a charming and innovative addition to the world of ergonomic office furniture. It is a stool that allows you to perch comfortably while working at your standing desk. It's the perfect blend of sitting and standing, providing you with the flexibility to find your ideal balance.
So many of us spend our entire days sitting at a desk, working in front of a computer screen. The standing stool is a great way to take things to the healthier and more comfortable side.
These stools typically feature adjustable height settings, supportive cushioning, and a sturdy base. They are designed to alleviate the strain on your legs and back, promoting better posture and reducing the risk of discomfort or fatigue during long work sessions.
Whether you're a freelancer, a creative genius, or a dedicated professional, a standing desk stool can be a game-changer for your workspace. Later in this article, we will explore 15 of the best standing desk stools that elevate your performance in the workspace while offering the comfort you never had before.
What Are the Best Ergonomic Stool Options You Can Get for Your Standing Desk?
There are many kinds of ergonomic stool chairs available on the market. They mostly vary on design choices, the number of features they have, and the range of adjustability of their height and tilt mechanism. These things tend to reflect on the price of the product. A couple of essential aspects to consider when buying an ergonomic stool for your standing desk are the height of the seat and the range it can be adjusted to adapt it to your desk without issue.
Here are some of our picks for the best ergonomic stool for a standing desk that you can get this year:
1. Autonomous ErgoStool
This Autonomous ErgoStool is an excellent product that keeps you active by promoting better circulation and strengthening your back and core during work. The standing desk stool has excellent traction on many surfaces because of its weighted base composed of rubber, and you can adjust the seat's height up to a 10-inch range.
The range of motion while seated is up to 30°, which lets you frequently change your posture while leaning on the stool, increasing your activity and energy levels. If you want to improve your posture and better your well-being, the ErgoStool is one of the best ergonomic standing desk stools you can get for your office.
2. Uncaged Ergonomics Wobble Stool Air Balance Chair
The Wobble Stool Air Balance Chair is typically height-adjustable, allowing users to find their desired sitting height. It often comes with a cushioned seat for added comfort. The wobbling motion of the stool encourages movement and helps to alleviate back pain and stiffness associated with prolonged sitting.
This balance stool effortlessly rolls into place or tucks out-of-the-way when not needed. Wobble Stool Air's balance seat swivels 360. Sit still comfortably or engage your core for active sitting.
This type of stool is commonly used in offices, classrooms, and other work environments where sitting for extended periods is required. The idea behind the Wobble Stool is to promote better posture, engage core muscles, and provide an active sitting experience, which can contribute to increased focus and productivity.
3. Uncaged Ergonomics Wobble Stool Standing Desk Balance
This unique design lets you sit still and focus or quickly engage your core as you rock, tip, twist, and balance the day away. Adjust up to 33" tall, giving you a rest from standing without having to go all the way back down to a normal chair!
Stay active & productive at your desk using Wobble Stool as an Active Sitting Stool to burn nervous energy, fidget, focus and sit comfortably. Plus motion helps keep people engaged in meetings & conferences. Perch near standing height with Wobble Stool - it's quick to sit on, easy to get up from and adjusts tall enough to give your legs a rest from standing.
It's a unique standing desk stool made with high-quality materials with a swaying base that lets you move around. The Wobble Stool keeps you active and immediately turns upright after use and has a base that grips floor surfaces securely. With a seat height that can be adjusted with a push button, it can accommodate people of all sizes from sitting to standing, and it has a comfortable plush-padded fabric seat that can swivel in a complete circle. It's a chair made to keep you active, alert, and energized throughout the day, letting you stay engaged in your workplace.
4. Twixt Active Seating Chair
The Twixt Chair improves the user's posture and balance with the end goal of giving you an active and healthy workday. You can easily adjust the angle while you're sitting thanks to the flexible ring under the base of the stool, and the 360° swivel lets it move around with no problem.
Its height is adjustable within a range of 10 inches, allowing its use on many surfaces, and with a handle underneath the seat, you can conveniently move it around the place to wherever you may need it.
5. Trio Supply House Office Chair: Black Leather-look / Stand-Up Desk
Modern style, with supportive curved backrest and seat cushion upholstered in a brown leather-look fabric. It may function just as well as a barstool at the height of a bar, adding flair to any kitchen island or home bar. The seat, which is covered in a black fabric that looks like leather, is comfortably padded.
6. HON HVLPerch Stool
The HON HVLPerch Stool has an elegant and ergonomic design that, while being lightweight it can still support weights up to 250 pounds. It's made as an active seating product that works in both sitting and standing positions, keeping you productive all day.
With a pivoting base that lets you lean in all directions; you can get closer to your work while maintaining a natural posture that helps your core muscles. The trust in this standing desk stool is such that it comes with a five-year warranty in the rare case something breaks or malfunctions. 
7. Focal Upright Locus Seat
Probably the most expensive ergonomic stand-up desk stool that you can get, it's maybe a testament to the quality and innovation that the product has. The most notable difference between this product and the others is the presence of a built-in footrest to improve your comfort further while sitting.
This footrest is an anti-fatigue mat that lets you relieve some stress on your lower body while you're leaning on the stool. The only downside to this standing desk stool is that the added feature makes it harder to move around, but to make it slightly more comfortable, they added wheels on the mat. If you want to spare no expense, this is one of the best stools for a standing desk you can get.
8. Saloniture Professional Ergonomic Saddle Stool
The Saloniture Professional Ergonomic Saddle Stool is the economical option here from this brand. Compared to most products on this list, the ergonomic saddle stool is a very affordable chair with a firm and sturdy support that can hold up to 350 pounds. You can use it as a stepping stone to another ergonomic stool for standing desk while you save up and get accustomed to the feeling. It sacrifices the posture support that many other stools have, meaning that it doesn't lean when you put your weight on it, but that doesn't mean that it's an uncomfortable chair.
9. UPLIFT Desk Starling Stool
The UPLIFT Starling Stool is designed for perching, letting you rest your legs and feet when switching between sitting and standing positions. It uses the tilting angle to take the pressure off your lower body, putting your spine in a neutral position that lets you shove off the fatigue that may come from using a chair all day. This stool can rotate 360 degrees and can lean up to 10 degrees, which overall improves your workflow and complements your standing desk.
10. Vari Active Seat
As the name implies, it's an ergonomic standing desk stool focusing on active seating. With a range of motion of over 20 degrees, it wants to keep your core engaged and focused on the job while letting you move in every direction. It reaches up to 35" in height with its airlifted piston mechanism, which makes it highly adjustable at the same time. The seats are cushioned with a considerably small polypropylene backrest that doubles as a handle to make it portable. Unlike other stand-up desk stools, the Vari Active Seat comes fully assembled from the box, ready to use.
11. Muvman Sit-to-stand Stool
The Muvman stool is made to fit all kinds of people, regardless of their height or body size. It reaches over 33" in height at its maximum, so you can easily use the stool for a standing desk. The stool seat is made from a microfiber breathable fabric composed of polyester and polyurethane, making it resistant to both sweat and tear and making it easy to clean. It comes with a rubber base, so it doesn't slip when you sit or lean on it. Being lightweight and possessing an easy to grip handle, this stand-up desk stool is another that's highly portable.
12. LeanRite Elite Ergonomic Standing Desk Chair
Like the previously mentioned Focus Locus Seat, the LeanRite Elite Ergonomic Standing Desk Chair is considerably expensive and has an anti-fatigue mat. The stool is designed to alleviate back pains, with an incredible range of adjustment for the seat's heights and angles. Its height range goes from 22.5" to 46.2", and the chair can tilt to 15, 45, and 90 degrees. The design has won international awards, and it's made from easy to clean materials, making it one of the best standing desk stools available.
13. SONGMICS Adjustable Ergonomic Standing Stool
Designed to make the experience of sitting a fun one, the SONGMICS Adjustable Ergonomic Standing Stool is an ideal working model. It has an attractive modern design with easy three-step assemble and an anti-slip pad on the chair's base that avoids scratching the floor and locks the stool in place. Compared to other ergonomic stool stools for standing desk, this one has a slightly inferior tilt range of only 8 degrees, but it can swivel like the others.
14. Varier Move Tilting Saddle Stool
Made by the Norwegian name Per Oie in 1985, this has been a famous stool for standing desks with a simplistic design that only has three pieces to assemble. The stool is made from polyurethane foam and has soft edges to make the sitting experience as comfortable as possible. Compared to most stools, this one does not wholly support your spine. It seeks to increase your activity level during work by always moving with its range of motion. This way, you train your muscles and burn more calories than you usually would by working.
15. Gaiam High Rise Balance Ball Stool
The Gaiam Balance Ball Stool design stands out from the other ergonomic stools for standing desk with its unique design. Although it is peculiar, it doesn't fall short of the other stools. The half-dome seat has a 360° stable swivel base that allows easy movement while benefiting from the micro-movements that reflect an improved posture and better circulation. The High Rise model is a standing desk stool made by increasing the height of it.
Are Ergonomic Stools Comfortable to Use with a Standing Desk?
Most ergonomic standing desk stools are comfortable as they tend to be manufactured with a standing desk in mind. They build them in a way that you can use them during extended periods without straining either your legs or your back. 
These ergonomic stools for standing desk emulate the frequent changes in a person's position in a way that gives you a beneficial effect on your health by keeping you continuously active while you work. 
Here we take into account factors like the ones mentioned below.
1. Padding
A stand-up desk stool should provide you with comfortable, breathable padding that allows you to feel at ease as you continue with your obligations while also keeping your body fresh. Nowadays, one of the most popular options is mesh. It is a synthetic material characterized by the numerous holes it has throughout the surface. This allows the airflow to be constant, so the person's body remains comfortable and fresh even during the hottest summer days.
There are tons of padding options for standing stool, from foam to premium choices like leather. Please note that the padding is a defining factor when you're first starting to
2. Height Adjustability
Adjusting the height of your stool for a standing desk is one of the most crucial factors to take into account. Otherwise, you won't be able to feel comfortable while you're working, and that may lead to concentration and mindset issues in the long term. Most people overlook the desk chair height, but it probably is the most crucial factor regarding ergonomics.
You should be able to adjust the height of your chair, so your body can remain in a neutral position. Your knees should be at a 90-degree angle, and it also should be possible for you to place your arms perpendicular to the floor on the desk. Having a good posture while you're sitting is crucial for concentration and may also help you avoid feeling pain in the articulations or body in general while you're working.
Here you should also consider adjusting the armrest height - it should go in accordance with the desktop's height.
3. Seat Depth and Width
The next factor is the seat and width of the ergonomic chair for standing desks. Both factors should be in harmony so that you can find the best posture while you're sitting and can actually remain like that for a while. If you're a tall person, a seat with more depth will help. Contrary to this, shorter people need shallower seats to feel comfortable.
Also, your seat's depth and width should allow you to hold your back against the backrest. Moreover, the anterior area of your knees should have a space between two and four inches from the seat.
Here we would also like to include the seat tilt. You should be capable of tilting it in either direction. This way, it will be easier for you to variate your position a bit as you continue working.
4. Casters and Swivel
Most people overlook these factors and consider them irrelevant. However, you will need to move through the office to reach different items in a regular office environment. The chair's casters and swivel should help you move and rotate easily and smoothly so you can reach items far from your regular area.
If ergonomic chairs didn't include these factors, you would be forced to stand up and look for the items, wasting your time.
Why Should You Get a Stool for Your Standing Desk?
There are many benefits of using an ergonomic standing stool while working on a standing desk. First, it lets you improve your posture, avoiding the most common cause of back pain. While you use and get accustomed to the stool, you're also building up the core muscles that keep your back stable, and exercising those muscles is a way to prevent future discomfort while sitting and working. 
Pros of Purchasing a Standing Desk Stool
It keeps you comfortable while you work on your standing desk.
Improves your posture and your core muscles as you use them.
They are both cheaper and easier to assemble compared to regular office chairs.
It's effortless to handle and move the stools around the place because they are very lightweight.
Cons of Purchasing a Standing Desk Stool
Getting used to the new style of working may take some time, as you're not many people can get accustomed to the activity with ease.
They may prove uncomfortable for a big person because many stools have a small sitting surface area.
Traits in Buying a Comfortable Standing Desk Stool
When you're first purchasing a stool for a standing desk, it can be quite tricky to know the factors you should take into account. There are tons of options in the market, and although some of them can be good, not all of them are equally comfortable or ergonomic. Acquiring a standing desk chair can be different than purchasing a regular office chair for multiple reasons.
Ergonomic stools for standing desks are extremely different from regular stools for factors like adjustability, seat depth, and width. Although some models have a small backrest integrated, not all of them are suitable for office use. Thus, taking into account the following factors can help you get to know what the best companion during those long work periods is.
1. Chair size
For starters, you should know that an ergonomic chair for a standing desk should be big enough to support your weight and shape to its fullest. Employers should take this factor more seriously as they're not dealing with a single person. They're taking into account a whole workforce with different needs and shapes. Thus, the size differences between each person should be definitive factors while you're purchasing a stool for a standing desk.
2. Ergonomics
We've already mentioned it, but a comfortable computer chair should be 100% ergonomic for long hours. That means it should have adjustable features and should also be accustomed to office use. Ergonomics takes into account multiple factors, as it is a whole discipline that defines the relationship a person has with their environment.
How to Have a Proper Sitting Posture with a Standing Desk Stool
The best stool for a standing desk should reunite the factors mentioned above. Once you've selected a product that works well for you, it is time to learn how to sit on it properly.
Adjust the seat height, so your legs form a 90-degree angle regarding the seat.

Make sure you're holding your back against the backrest. Also, your spine should be completely erect.

The armrest should have the same height as your desktop. This way, your arms should form a 90-degree angle regarding the floor.

Make sure you're about 17-18 inches away from the computer screen.
It may look easy, but acquiring a good seating position can be quite tricky for most people. It will take you a while to get used to this new posture while you're working, but the results will be worth it in the end.
FAQs
1. Is it better to sit on a stool or chair?
Stools aren't properly equipped for you to sit comfortably throughout a whole workday. Chairs have everything you need, and they often come in more variety than stools.
2. Are standing desk stools comfortable?
Standing desk stools can be comfortable, but that depends on the material and what you consider as "comfortable." Some people don't enjoy mesh but find leather to be the best material for padding.
3. How long should I sit on a stool?
Although we cannot give you an exact number, you should never sit for prolonged periods in any seat. It is recommended to stand up and walk for a little while before you continue with what you're doing.
4. Is a standing desk stool good for sciatica?
A stool for a standing desk may not provide you with the utmost comfort if you're suffering from sciatica pain. Still, an ergonomic chair can help you reduce discomfort and feel comfortable throughout the workday while maintaining a neutral posture.
5. Are standing desk stools ergonomic?
The best standing desk chair can have ergonomic features but are not 100% ergonomic. Contrary to this, ergonomic chairs are the seating solution designed for this purpose.
Conclusion
And there you have it, our top picks of the top 15 standing desk stools for a productive workspace in 2023! We hope this delightful journey has inspired you to elevate your work experience and embrace the wonders of ergonomic seating.
Finding the right standing desk stool is a challenge, so take your time to assess your needs and preferences. Whether you prioritize adjustable height, plush cushioning, or sleek design, there's a stool out there waiting to become your trusty companion.
Say goodbye to discomfort and embrace the joy of a balanced workday. Let your posture soar, your productivity thrive, and your smile widen as you discover the wonders of the perfect standing desk stool. Thanks for reading!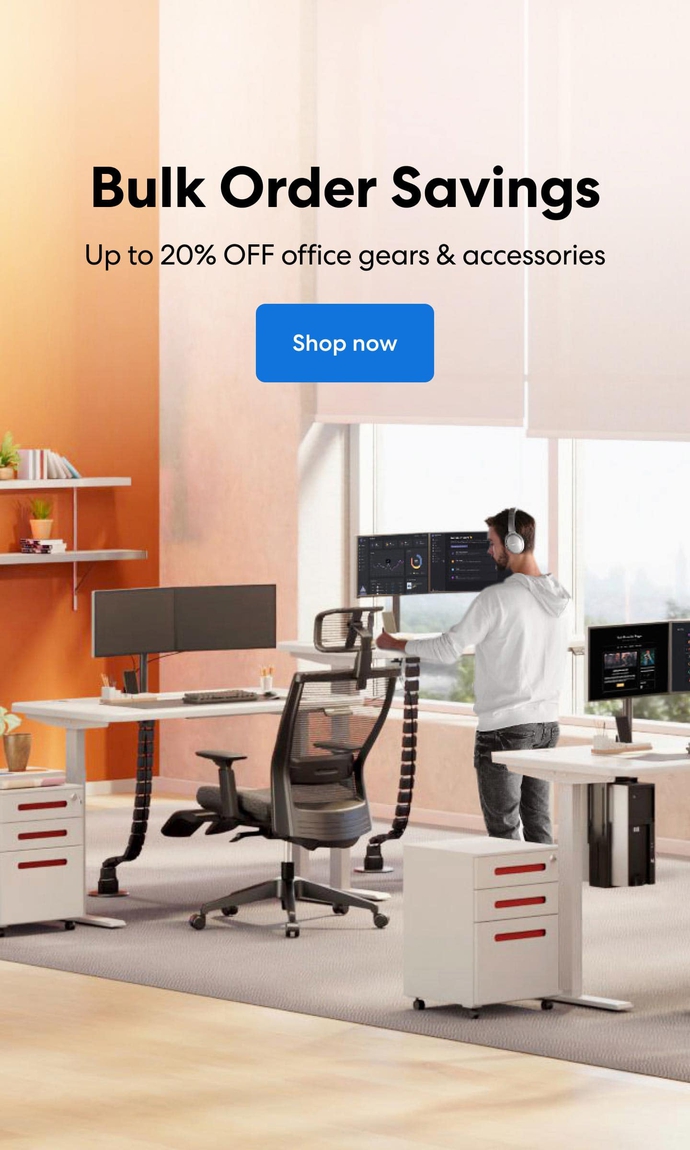 Subcribe newsletter and get $100 OFF.
Receive product updates, special offers, ergo tips, and inspiration form our team.