Smart Products
The Market's 10 Best Ergonomic Saddle Chair Options
2,405 Views
The decision to purchase an ergonomic saddle chair should be made carefully, whether you are a medical professional, an artist, or an office worker. Stools and an ergonomic saddle chair need to be comfortable, highly adjustable, structurally sound, and ergonomically designed for working. If you want to purchase an ergonomic office saddle chair, the following qualities are what you should look for:
Your unique "bootie" shape is taken into account in the

ergonomic saddle chair contour.

You have the correct saddle height for your leg length.
Saddle Seat for Better Posture
Saddle chairs are shaped like equestrian saddles, as you might have guessed from their name. Unlike a regular and best ergonomic chair, this chair allows the user to lean forward with their hips and knees bent at approximately 135° rather than 90° as in a regular seat.
Top 10 Ergonomic Saddle Chairs
Saddle seats are compact stools that take the shape of traditional saddles and can provide a range of benefits to the users. Having an office saddle chair can keep your posture straight and help you avoid unnecessary joint pains. Several saddle computer chair options are available in the range of cute desk chairs, which help enhance your office space and offer a comfortable seating position.
But before buying, It is important to consider a few factors, such as the design, comfort level, height, features, etc. So for your ease, we have shortlisted some of the best saddle ergonomic chairs to help you purchase. Let's read on to find out more about them!
1. Autonomous ErgoStool
It is an ergonomic stool designed by Autonomous to promote active sitting and improve posture. The stool features an adjustable height and a curved base that allows the user to rock and shift their weight, engaging their core and leg muscles while sitting. The goal of the Autonomous ErgoStool is to reduce the negative effects of prolonged sitting and promote a more active and healthy lifestyle.
2. Uncaged Ergonomics Wobble Stool Standing Desk Balance
It is a stool designed to promote active sitting and improve posture while standing at a desk. The stool features an adjustable height and a rounded base that allows the user to wobble and shift their weight, engaging their core and leg muscles while standing.
The goal of this saddle chair is to reduce the negative effects of prolonged standing and promote a more active and healthy lifestyle. It is also designed to provide relief to those who experience back pain, as the constant movement can help to alleviate discomfort.
3. Skyline Decor Chrome Swivel Task Office Chair
It is a saddle chair designed for use in an office or work setting. The chair features a swivel base and adjustable height, allowing the user to customize their seating position for maximum comfort and productivity. The chair also has a modern design, with a chrome finish and sleek lines.
The Skyline Decor Chrome Swivel Task Office Chair is designed to provide support and comfort during long hours of sitting, and its stylish appearance can add a touch of elegance to any office space.
4. Uncaged Ergonomics Wobble Stool Air Balance Chair
The stool features an adjustable height and a rounded base that allows the user to wobble and shift their weight, engaging their core and leg muscles while sitting. The Wobble Stool Air is designed with a mesh seat and backrest to promote airflow and comfort during extended periods of sitting. It is also lightweight and easy to move, making it a versatile seating option for use in various settings such as home or office.
5. Corechair Classic : Ergonomic Active Sitting Chair
The office saddle chair is designed to promote active sitting and improve posture while sitting for long periods of time. The chair's unique design features a movable seat and backrest, which allows the user to engage their core and back muscles while sitting. The chair also has adjustable height and tilt, allowing the user to customize their seating position for maximum comfort and productivity.
This saddle chair with back support is also designed to alleviate back pain and promote a healthier lifestyle for office workers who spend a significant amount of time sitting at a desk. Its modern design and functionality make it a popular choice for those who prioritize both comfort and style in their office environment.
6. Master Massage Berkeley Ergonomic Split Style Saddle Stool
This saddle chair is known for its sturdy build and comfortable chair. It has a pneumatic-lift mechanism, adjustable height, and a wooden seat. The chair is available in different colors, e.g., black, blue, coffee, etc.
Some pros associated with this chair include its compact frame, high-quality material, and easy mobility. However, it can have certain cons, like a small seat diameter and no back support.
7. Gaiam Balance Ball Chair Stool
This is a somewhat different kind of chair as it is specifically designed in the shape of a dome to keep your core strengthened and your posture straight. It has a solid base, adjustable lift, and a 360-degree swivel feature. You can use it for various purposes as it is multifunctional.
8. Massage Pro ForPro Saddle Stool
If you seek a chair that can keep your posture upright and offers maximum comfort, this is the right option. Some features include high-quality PVC leather, a swivel feature, height adjustment, and a weight capacity of 350 lbs.
9. Master Massage Ergonomic Swivel Saddle Rolling Hydraulic Stool
Another great saddle chair option that can contribute significantly to your space. This chair ensures that your posture is not impacted, and you can remain healthy and upright as you do your work. The chair is made of durable material and has polyurethane wheels, which keep your floors undamaged.
10. SoHome Multifunctional Dental Luxury Stool
The primary pros of this chair include its comfortable shape, effective back support, and armrest. The chair can hold a weight of up to 750 pounds. It has a height adjustment, smooth mobility, and a swivel feature. However, the cons may be its overall size and fairly high price.
How to Buy a Saddle Seat?
As you sit in an ergonomic office saddle chair, your spine strengthens, and your posture improves. With this stance, you will strengthen the muscles of your lower back, abdominals, and buttocks. Once your muscles have adjusted to the new posture, your posture will gradually correct itself. Sitting in ergonomic saddle stools increases hand strength and acuity. With a more stable torso and shoulder girdle, hand activity is facilitated.
A solid saddle ergonomic stool and divided saddle stools are both available. Split saddle stools are divided down the middle, with some even having an adjustable gap in the middle. Men can benefit from this design in more ways than women (more on that later). Based on online saddle ergonomic chair reviews, it would help if you also considered the following things when purchasing a saddle stool.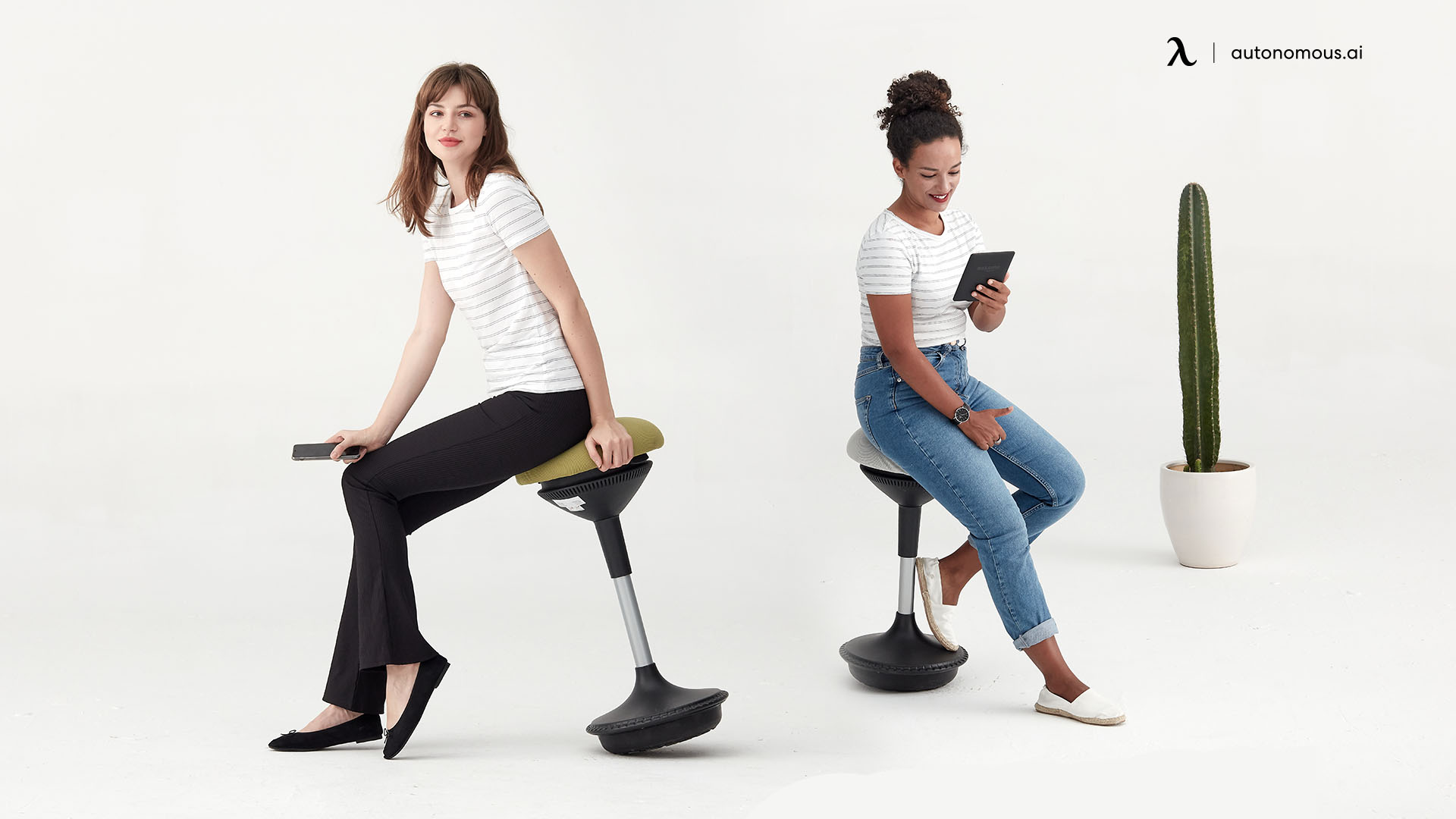 Single or dual seat pads
With two different models of the saddle chair for office, you can choose between an open-gap center seat and a split-seat option. There is a preference for this saddle design among many men and women. With the split seat, the ambient temperature on the lower half of the seat reduces, contributing to increased comfort and hygiene. As a result of the split-seat, the pudendal nerve and prostate may be relieved from pressure.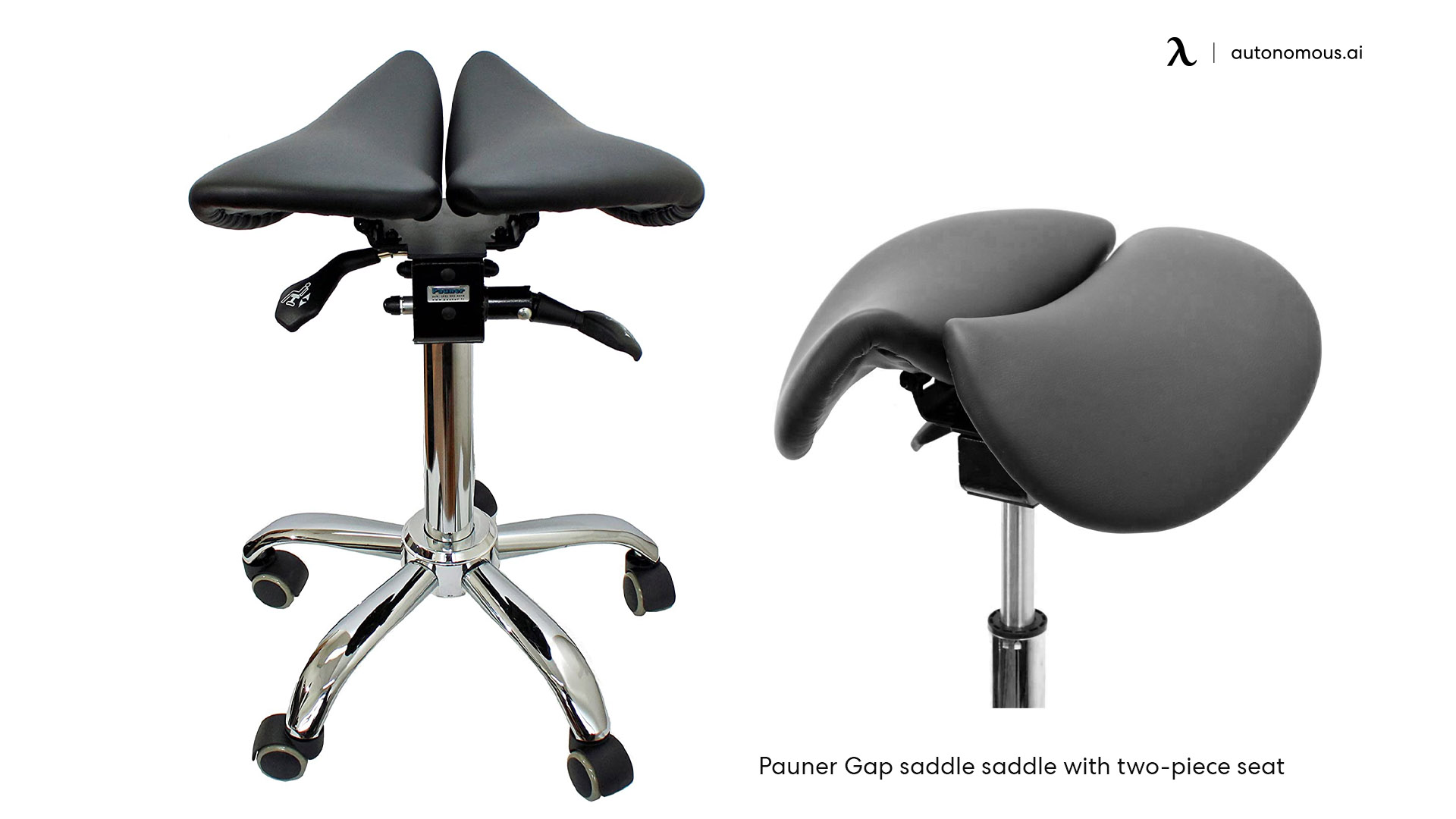 Firmness
Beginners may take a while to become accustomed to saddle computer chairs. It would be easier for the transition if you began with a softer cushioned option before going onto the firmer option.Others complain bitterly that the saddle seats are too hard, even though they sense that they are softly cushioned. There are two reasons why someone complains of hardness: either their seat doesn't fit, or their tissue is too rigid or flexible for even the best ergonomic saddle stool to work correctly.
Seat height
An adjustable desk is a must for saddle computer chairs because they are higher than regular office chairs. It is also possible to skip buying a new desk and buy a desk riser or stand instead. Instead of thinking of a saddle seat like a chair, think of it as a "supported standing device."
Compared to conventional chairs, saddles have much higher seat heights. The angle between the legs and torso should be about 135° in saddle-sitting (as opposed to 90° in chairs). The optimal posture of the back depends on the height of the seat.
Even if the seat height is slightly lower than optimal, you can still use the saddle seat because the cantle shape helps keep the pelvis upright. An individual can adjust the height several inches in a saddle seat and still be supported, seen, and comfortable in a high perch posture.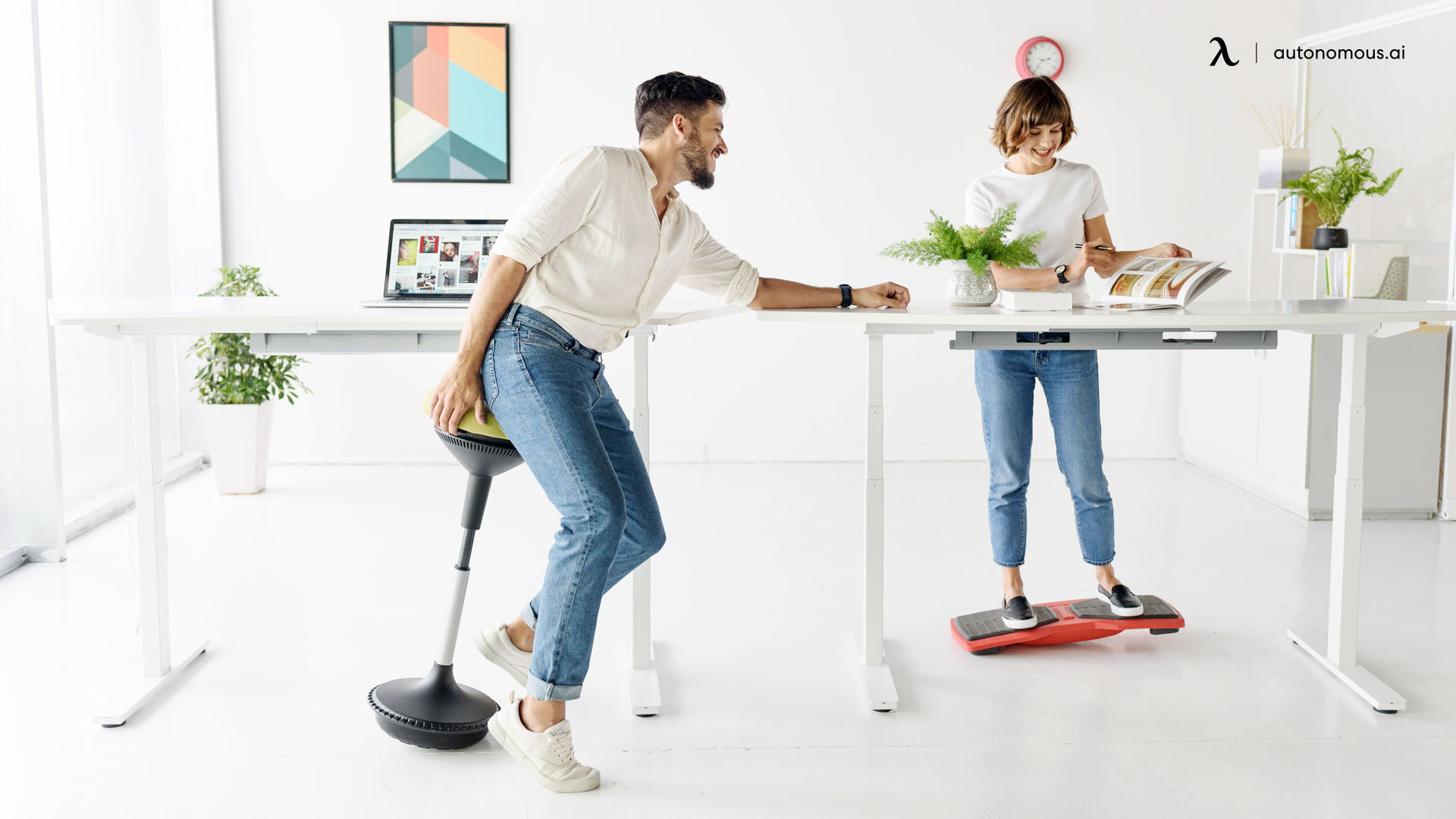 Tilt
When buying saddle standing desk stools, look for those that allow you to tilt them. Changing this setting will allow you to adjust the seat to fit your anatomy comfortably.There is usually an option to tilt the seat on most saddle seats. For some individuals, adjusting the seat so that it is comfortable is necessary based on their anatomy.
You prefer to drive your saddle backwards when you have a pear-shaped body (more visible buttocks or thighs). The saddles are usually used forward by people with apple-shaped bodies (fine buttocks and thighs). Adjust the tilt of the seat for a comfortable, balanced feeling.
Leg position
Your feet are involved in providing body support in all ergonomic saddle chairs. You can work with your hands more stably when you straddle in a wide position. As the chair is used, your legs do not assist your posture in the same way they do when sitting passively in a desk chair.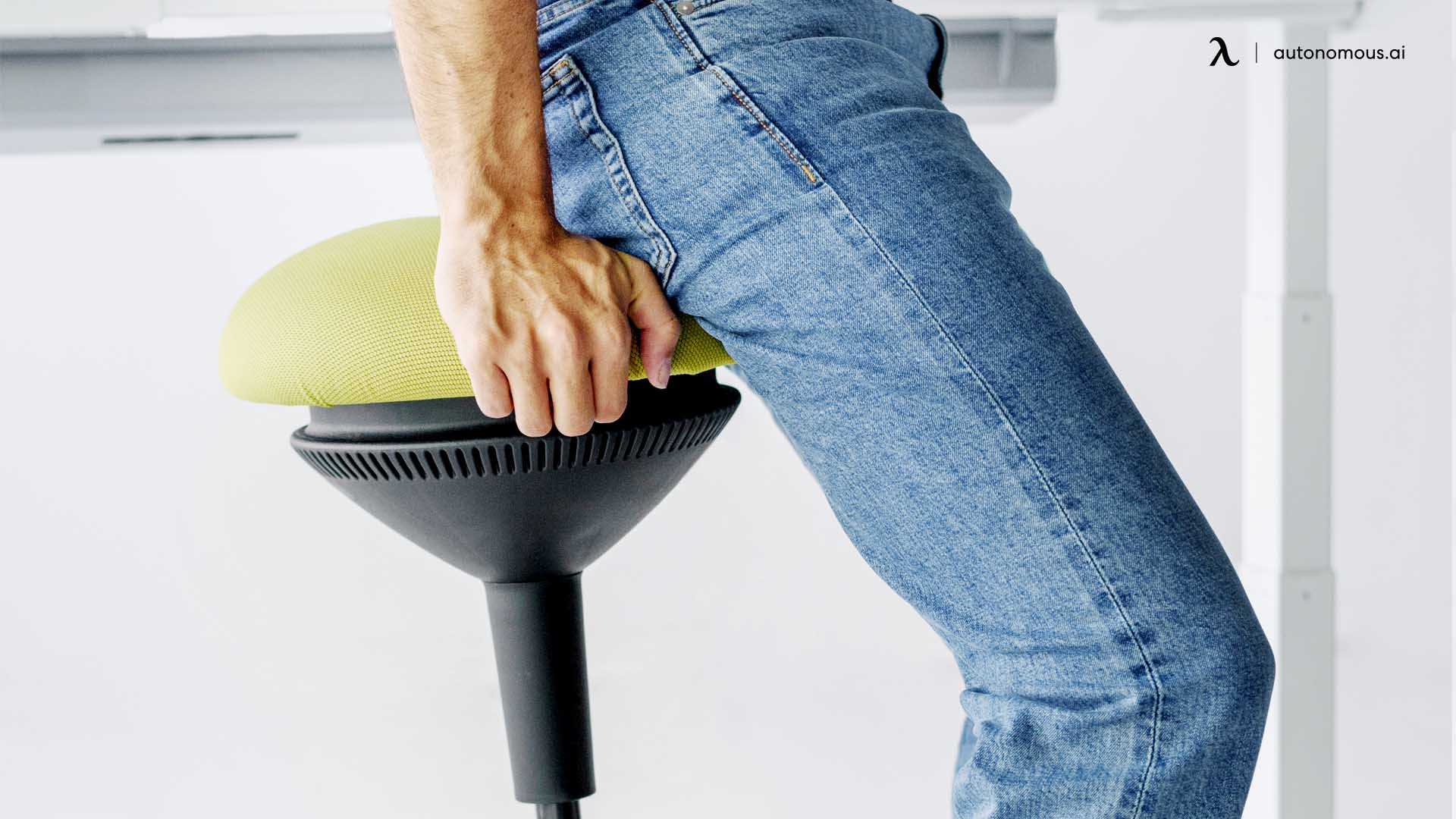 Seat contour
An upholstered seat offers more support if it's contoured. Additionally, you are also putting yourself at risk of not fitting the item. Try out a saddle chair before you purchase it if you want to buy a highly contoured one.It is generally observed that the more anatomical shapes in a seat, the better the fit.
A seat's contour means fewer people can fit in it, resulting in fewer people being able to sit comfortably. Less anatomically contoured seats provide more flexibility for the population's anatomical variances. Average saddle seats rise above the bottom of the seat towards the rear. "Cantle" means a rise behind the pelvis that helps support the pelvis in an upright position.
Backrest
Getting one with a backrest will be more useful if you intend to use the saddle stool for extended periods (for example, at the office). In all other situations, alternate the ergonomic chair with a regular office chair.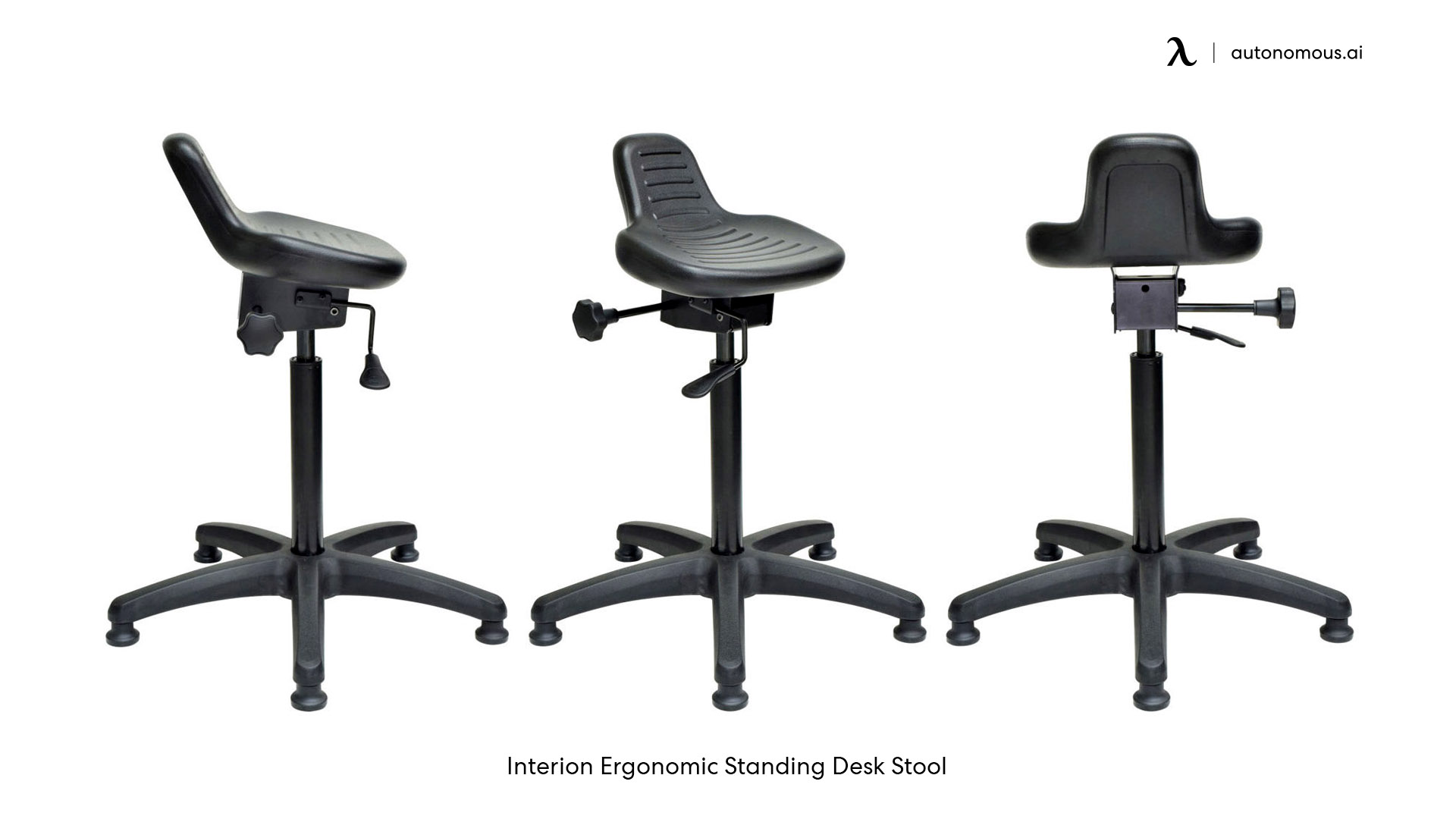 Seat Width
When beginning saddle-sitting, beginners often feel that their seats are too wide. It is designed with a wide saddle seat, making it comfortable to ride. Maintaining a more upright posture and increasing stability will be easier with a wider seat. Additionally, leaning to the side and reaching out with a broader stance improves stability and safety.
Subcribe newsletter and get $100 OFF.
Receive product updates, special offers, ergo tips, and inspiration form our team.
WRITTEN BYAutonomous
We build office products to help you work smarter.