A desk is a lot more than a plank of wood and four legs. If, like many people, you work in an office (at home or otherwise), you probably spend a significant portion of your life sitting in one. It is essential to pick a good desk- but that is not enough. Desk height is every bit as important as the quality. 
Knowing how high a desk should be can save you a lot of trouble and potential pain further down the line. Our guide to ergonomic desk height helps you know how to set up your desk, why desk height matters, and gives you some tips for your workspace. Let's find out the best desk height with us!
Why Does Ergonomic Desk Height Matter?
First things first- why is ergonomic desk height important? And how high should a desk be? You may never have put any thought into how your desk affects your daily work life, but it might be time to do so. Most people have heard all about the benefits of a properly adjusted chair. Well, the same goes for your desk. 
If your desk is an incompatible height for your body, there is no miracle chair on the market that can make it work. Too low and you are likely to hunch over and strain your back; too high and your feet can't reach the ground, throwing off your entire body support system. Here are just some of the issues you could face if the height of your desk is wrong:
Spine
The spine carries and connects your entire upper body. If anything happens to it, you are likely to suffer a great deal of pain and difficulty. When you have the wrong desk height, your spine may be forced into a posture that is not natural. It could be a curve, and hunch, or an overextension.
After a while, fatigue sets in, and your spine can no longer properly support you. This can lead to severe back problems, including spilled discs. It can also tear the surrounding muscles and lead to chronic back pain.
Neck
Your neck is an incredibly strong part of the body, but it is also sensitive. If you have ever pulled a muscle in your neck, then you know exactly what we are talking about. Spending too long holding your neck in an unnatural position is guaranteed to cause you pain, which could become long-term if you don't do something about it quickly.
Having to look up or down at the screen all day rather than straight ahead is a tell-tale sign that your office desk height is incorrect.
Eyes
The third body part that suffers because of incorrect desk height is the eye. Your eyes already go through a lot during a day at the office, with the average screen time increasing exponentially. Unsuitable lighting may also contribute to tired, sore eyes.
What does all that have to do with ergonomic desk height? If you are looking down at a screen, the reflection and glare are likely to be higher than normal, making it harder to see clearly without straining. At the same time, looking up at a screen can pull the muscles behind your eyes and cause workplace fatigue. 
In a nutshell, your office desk height determines everything about the way you sit, how you strain, and how efficient your workspace is as a whole. Pretty important, right? 
What Is the Average Office Desk Height?
The standard desk height is anything between 70 cm to 80 cm high (27-30 inches). Most manufacturers aim for a height within this range. Unfortunately, not everybody is standard height and therefore may not find a 70-something desk height comfortable. 
Short or tall people are likely to struggle to find the right sitting position with the average and normal desk height. In fact, anyone who is below 175 cm tall may struggle. Fixed-height desks are supposedly designed to accommodate 90% of the population, but the vast population of female office workers may not agree with that statement. 
Using a rough guide standing desk calculator gives an idea of what height your desk should be, but it is far more effective to use the following guidelines to see for yourself. 
Finding the Perfect and Ergonomic Desk Height for You
What is the average desk height? There are three primary indicators that tell you whether or not your desk is the right height: your feet, your arms and elbows, and your knees. Of course, there are a lot of factors that influence the perfect or standard desk height, but let's start with the basics. 
Feet
Your feet should always be flat on the floor when sitting at your desk- no exceptions! Your chair height should be adjusted to ensure this is the case. When you are sitting with your feet flat on the floor, you should be able to comfortably fit your legs underneath the desk and still have your arms and elbows at the correct angle. 
Arms and Elbows
What is the correct angle, then? Your arms should sit comfortably by your side, coming out at a right angle to rest on the desk. Elbows should sit at a 90-degree angle. If, when your arms are by your side, you need to bring your hands up and reduce the angle of your elbows, the desk is too high. Alternatively, dropping elbows signifies the desk is too low. 
Knees
If your knees can touch the desk, it is too low. They should sit at a 90-degree angle when your feet are on the floor, but not if they are squashed below the surface. Ideally, you want at least a couple of inches between the tops of your knees and the bottom of the desk. 
Other Considerations
Your eyes should be level with the top of your computer or laptop screen.

If you cannot relax your shoulder muscles and still have your arms at a 90-degree angle, the height is not correct.

Hunching forward in any way is a big no-no- your back should be flat against your chair. 
Smart Solutions
If, like so many American workers, you do not fall into the exclusive "average height" bubble, you may have trouble just picking up any old desk. That does not mean you can't find an excellent solution. With so many developments in office furniture designed to make your life easier and more comfortable, there is nothing you can't find. 
The Autonomous employee purchase program offers great discount deals on smart desk and ergonomic chair combinations for anyone looking to upgrade their working life and look after their body. Here are a few tips on how you can make desk height work for you and how to get the most out of a new desk setup. 
Sit/Stand Desks
The sit-stand desk is one of the must-have items in any workspace for 2022 onwards. The simple wood standing desk has been around for centuries, but things just got a whole lot more exciting. 
You may be thinking- I don't want to stand all day! Don't worry, that is not the idea. Modern standing desks automatically glide between heights, giving you the option to sit or stand whenever you please. 
Pros of Automatic Standing Desks
They come with varying height settings, meaning you can adjust them to fit you perfectly, even if you don't plan on standing up.

Most sit/stand desks start at a very low height, which is perfect for shorter office workers.

Standing for part of the day has so many documented health benefits for both your mind and body. The extra boost may be a welcome addition to your daily work life.

Modern designs are sleek, stylish, and fit in perfectly with any office surroundings.

They are lightweight enough to assemble easily but strong enough to hold all your equipment and electronics.

Home offices with limited space can benefit from an adjustable desk, as they take up less space and act as two things in one.

Standing desks are better for productivity and help busy workers maintain a flow throughout the day.

Sitting for too long is unhealthy and bad for your posture. This is an effective way to avoid strain.

 
Cons of Automatic Standing Desks
Some people prefer the style of a traditional desk.
They are a bit more expensive than basic wooden desks.

Not everyone can adjust to the idea of a sit/stand desk and end up never using the feature.

Assembly is a bit more complicated sometimes than normal desks. 
Overall, if you are concerned about finding the right desk height for you, an adjustable sit/stand desk is perfect. Our top two recommendations are:
The SmartDesk Core: A perfect 

standing desk for home office spaces or in a modern, trendy workplace, this sophisticated piece of machinery has it all. Smooth height transitions ranging more than 19 inches, sturdy frame, and a choice of stylish finishes, this is really a great buy.

The

SmartDesk Pro: This desk means business. Professional, sleek, and multi-functional, the SmartDesk Pro looks brilliant in any space. Because the height settings start as low as 26 inches, this is a good choice for shorter workers. 
Adjustable Height Ergonomic Chairs
Your comfort at the desk depends largely on the chair you use. A fully adjustable chair makes it easier to adapt to varying desk heights. Make sure you choose an ergonomic chair with customizable height, seat depth, back support angles, and armrests. If your desk is not the standard desk height, but you have all these features at hand, you can make it work. 
The benefits of an ergonomic chair are endless, especially for anyone prone to back pain or who works for long stretches. A few of the top ones are:
After a long time sitting at the desk, fatigue sets in. The ergonomic back support moves with your spine to keep it in the right position.

Ergonomic chairs encourage good posture by holding your body where it should be.

Because they use the best material choices, they usually last for many years.

Maneuverability is a problem for a lot of people when stuck behind a desk. These chairs make it much easier to move around without feeling restrained or claustrophobic. 
Our top pick is the ErgoChair Pro. Every inch of this professional-grade ergonomic chair was designed with acute attention to detail and the very best in modern furniture engineering. Breathable materials, comfortable linings, and a durable steel frame are built to last- and to give you the best support you can find. 
It comes in several color options to suit any office aesthetic. Additionally, it works compatible with the SmartDesk line from Autonomous. It is also available as part of the employee purchase program. 
Simple but Effective Desk Setup
Once you master the desk height and find the perfect chair to match, all that remains is to find the correct setup. How you decide to arrange your workspace has a huge impact on your productivity, focus, and comfort. 
A minimalist desk setup is the most popular choice in modern offices. It looks professional and reduces distractions. If your desk is full of clutter, you may end up straining to find what you need, which is not only bad for your body but also interferes with your workflow. When your desk is the right height, your chair effectively adjusted, and your desk tidy and organized, nothing else can hold you back!
It is also worth considering some standing desk accessories if you decide to go for the automatic sit/stand setup. As we mentioned, there are many physical and mental health benefits to using a standing desk, and they are also proven to have a positive influence on productivity. Adding some handy accessories makes this setup even better.
Top Ergonomic Desks with Adjustable Height
Most people are unaware of it, but using the appropriate ergonomic desk height can help you feel relief if you often deal with back pain. However, pain relief is one of the many benefits of standing desks, as they are also associated with lower blood sugar levels and an improved mood.
Furthermore, using a good desk height at your workstation will help you be more comfortable and productive. You will be able to focus on what you're doing instead of dealing with constant discomfort and pain.
"What is the average desk height?" is a common question among people, but the answer varies from person to person. So, the normal desk height is usually between 28 and 30 inches tall, which is usually appropriate for people between 5'8" and 5'10". This norm isn't suitable for people above or below the average. Knowing this is also useful for DIY desk ideas.
It would help if you chose an adjustable standing desk with the best desk height, usually between 22 and 45 inches. Here we have a few options you can consider adding to your workstation for further comfort. You will find medium size desks and large corner desks, too.
1. SmartDesk Core
The SmartDesk Core by Autonomous is one of the best options you can choose if you'd like to work with a good desk height. It can be adjusted from 29.4 to 48 inches. Therefore, it is suitable for people with heights above the average. The silent motor will allow you to switch between heights in little time.
2. SmartDesk Pro
If you'd like something with a wider range for the ergonomic desk height, then the SmartDesk Pro is the best option for you. You can choose between the regular and XL options based on how much space you'd like to have. However, please note the frame will be the same, and you will be able to adjust its height between 26.2 and 52 inches.
3. SmartDesk Connect
This advanced adjustable desk will allow you to modify its height by connecting it to your smartphone. Furthermore, the anti-collision feature makes it highly convenient.
You can program the desk to switch from sitting and standing easily. This way, you will follow a more organized schedule while maintaining yourself in optimal condition throughout the day.
You can adjust SmartDesk Connect from 26.2 to 52 inches.
4. SmartDesk Corner
The SmartDesk Corner is an excellent choice with proper ergonomic desk height if you want to have enough desk size for two monitors. It's a good desk for people that would like to have twice the space available in their workstation. You can alternate between 29.4 and 48 inches for height as an adjustable standing desk. Furthermore, the four programmable settings will make your life easier.
5. SmartDesk Commercial
The ultimate standing desk - Autonomous SmartDesk Commercial designed for a healthier workplace is offered at bulk deals now. Experience the perfect blend of functionality and convenience with this exceptional standing desk. Enjoy its whisper-quiet operation, making it ideal for any office environment.
With its effortless usability and straightforward assembly process, you can set up your workspace in no time. Stay worry-free with the built-in anti-collision technology, ensuring a safe and smooth transition between sitting and standing. Plus, you'll have peace of mind with the impressive 10-year warranty.
6. VariDesk ProDesk 60 Electric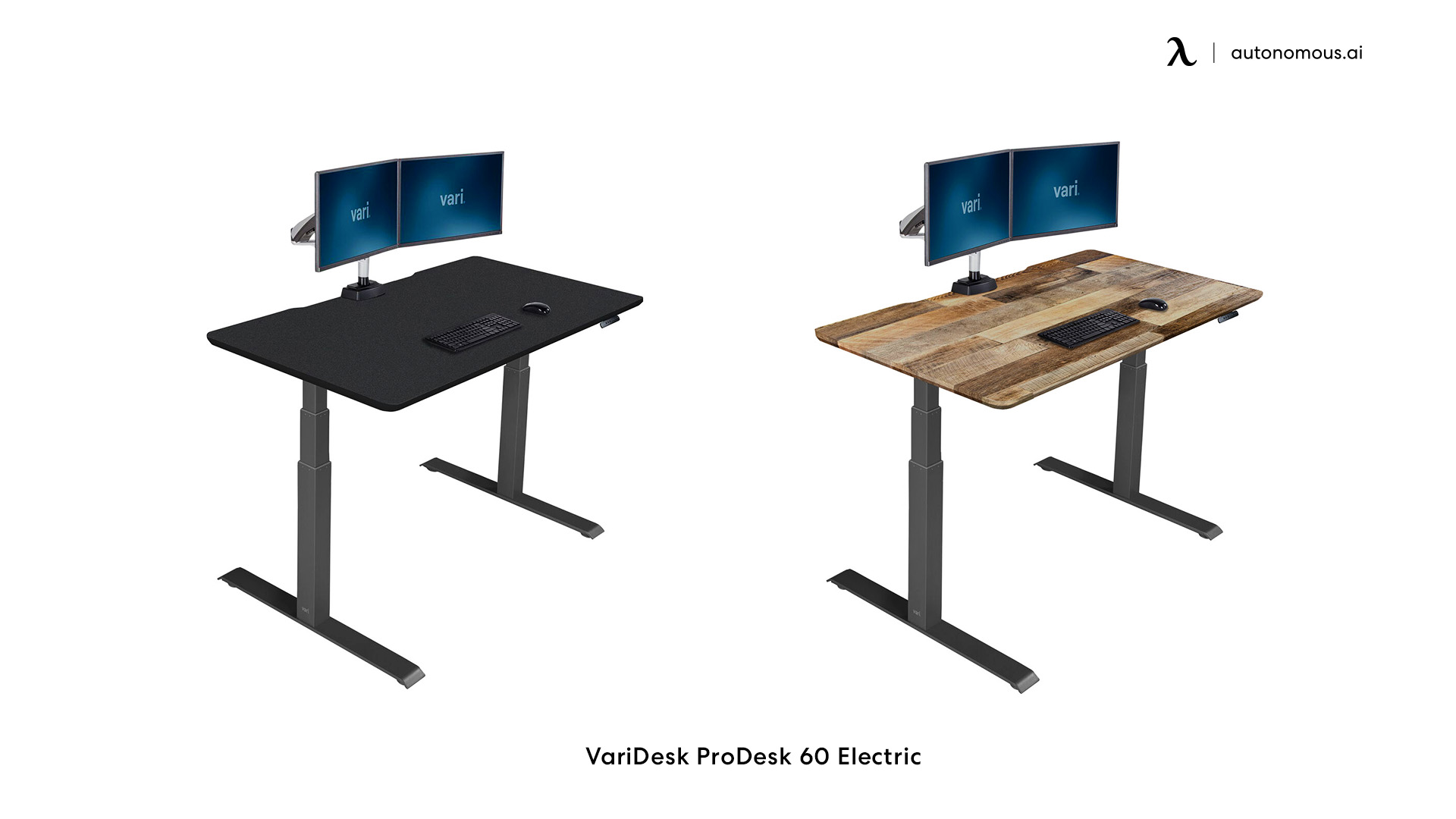 VariDesk has been providing desks with ergonomic desk height for quite a while, and this option is part of their standing desk family. Although it is relatively easy to assemble and has good stability, certain aspects of it could be better, such as the connections and the exposed gear on the motor. Furthermore, it is quite expensive compared to all it has to offer.
7. VertDesk V3 Sit-Stand Desk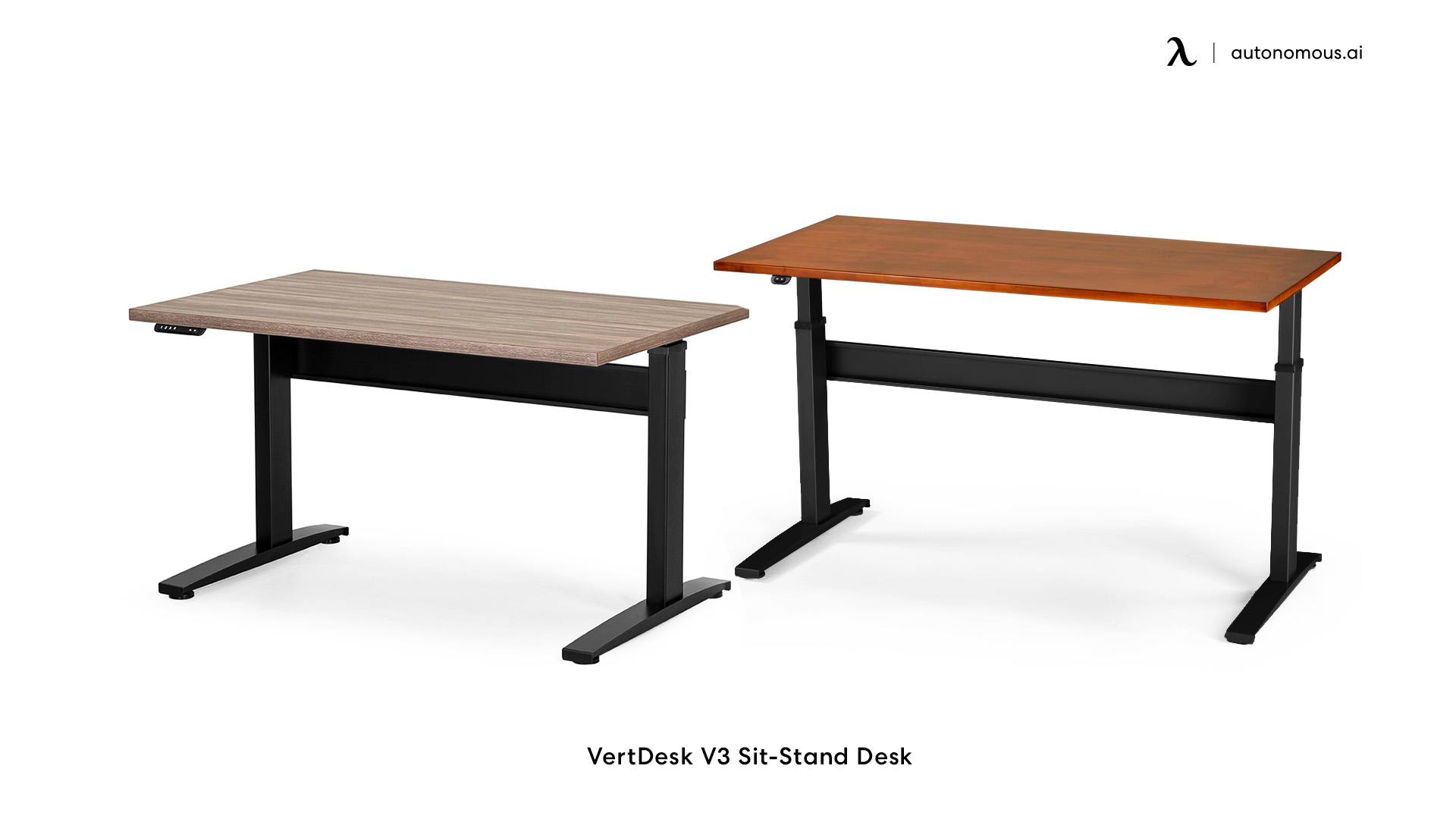 Next up, the VertDesk V3 is one of the best height adjustable desks available in today's market. Although the normal desk height for this option is between 27 and 47.5 inches, it can go even lower, but only if you choose to add a keyboard tray – which will end up costing you a few extra bucks. Still, it is quite sturdy and can support up to 275lbs.
8. Jarvis by Fully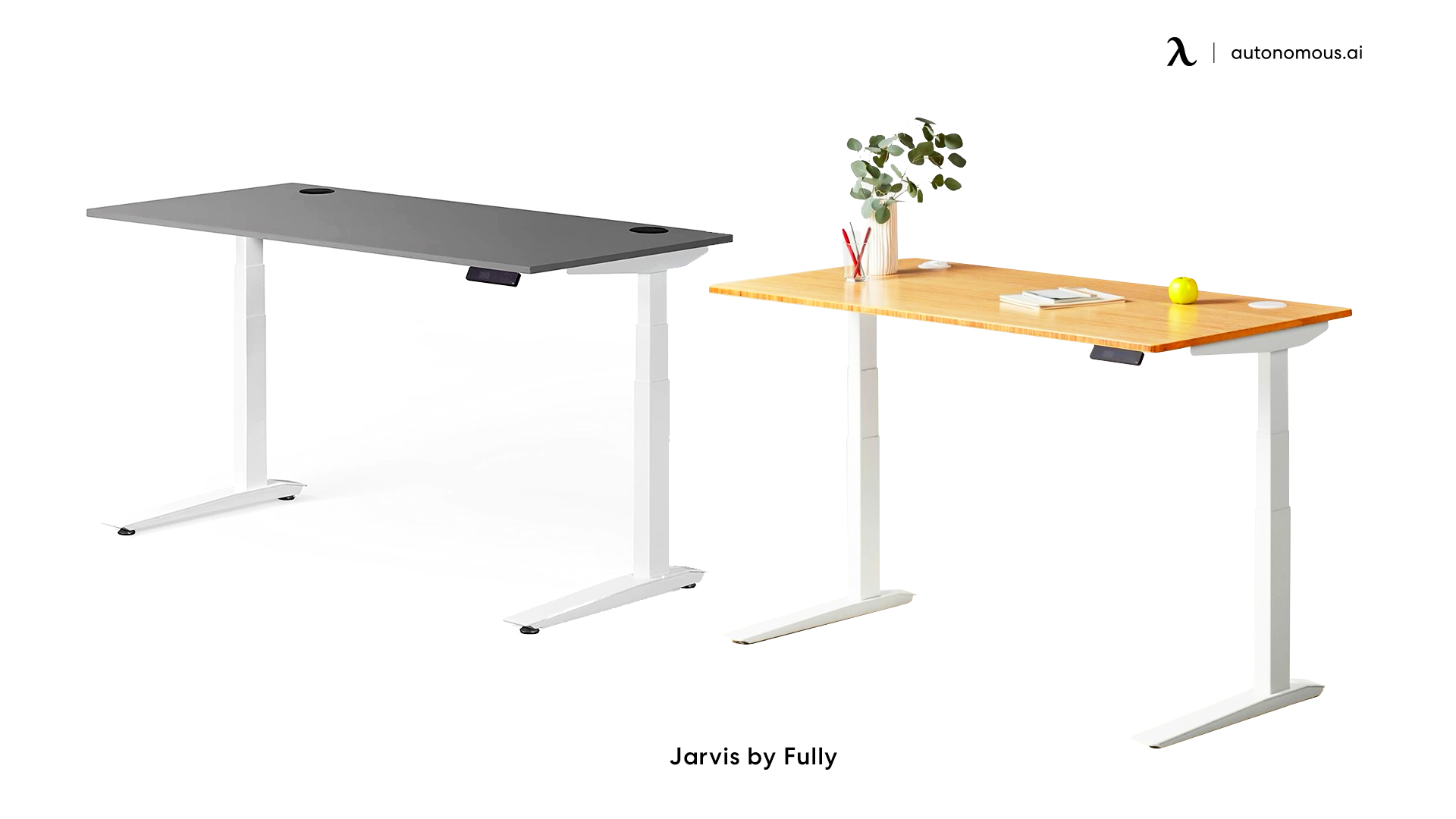 This desk is an excellent deal, as the company offers 15 years in warranty and offers an excellent ergonomic desk height range. It also allows you to choose between different top options while having a total weight capacity of 350lbs.
9. Flexispot EC1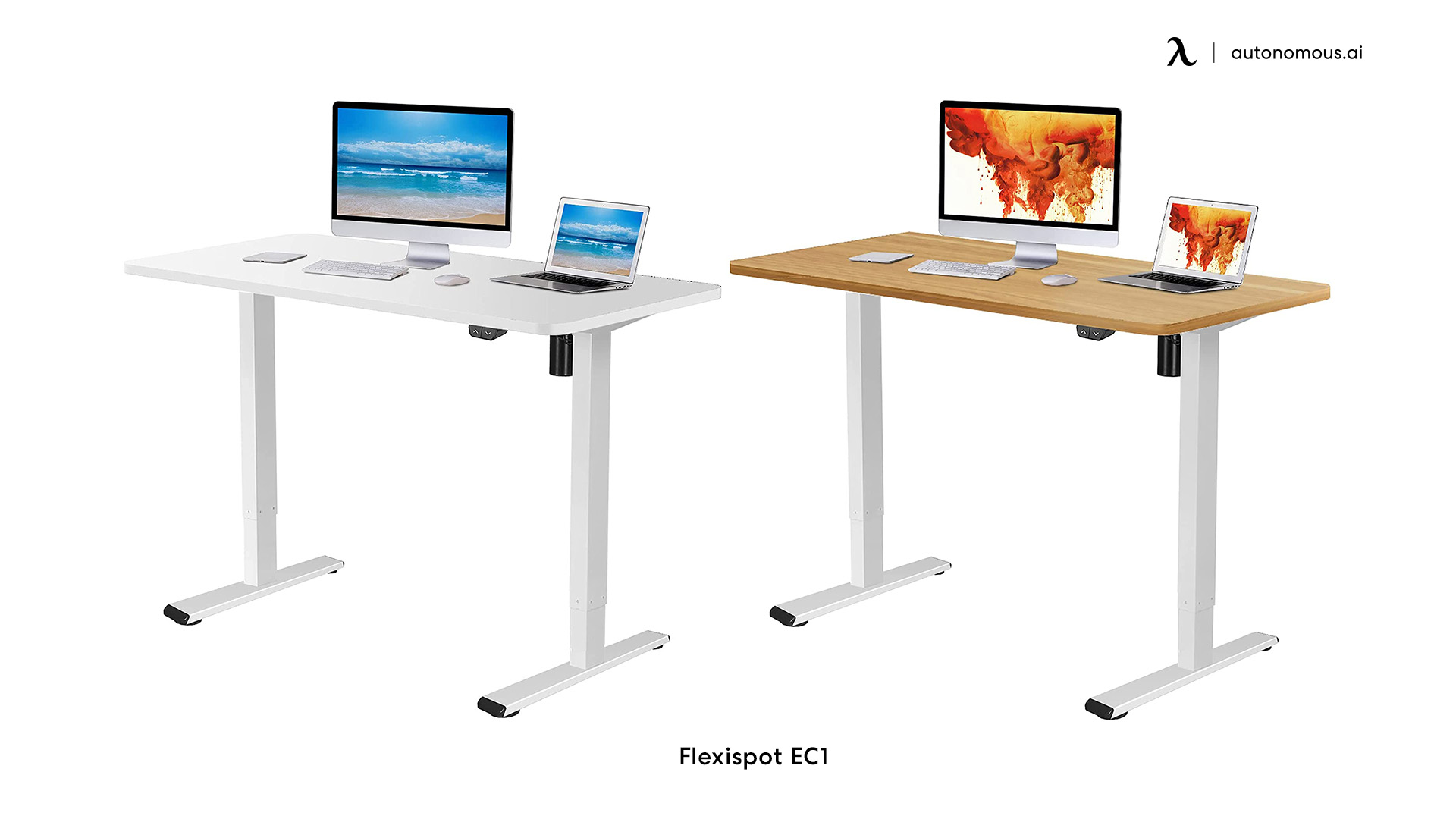 This motorized standing desk can be adjusted from 28 to 47.6 inches. Furthermore, the T-shaped legs make it more stable than other options listed here.
Like the Uplift v2, you can also choose among a wide range of options and colors for further customization. The main drawback of this desk is the lack of height presets, but everything else is quite remarkable.
Final Thoughts
Correct and comfortable desk height is essential for every worker, either in an office or at home. If the standard desk height does not feel right for you - say something! You only get one body, so you must care for it. Hours on end in a contorted, uncomfortable position is quite the opposite. 
Know how high a desk should be and how to check it for yourself. The next time you want to revamp your workspace with some new furniture, let the desk be your central priority!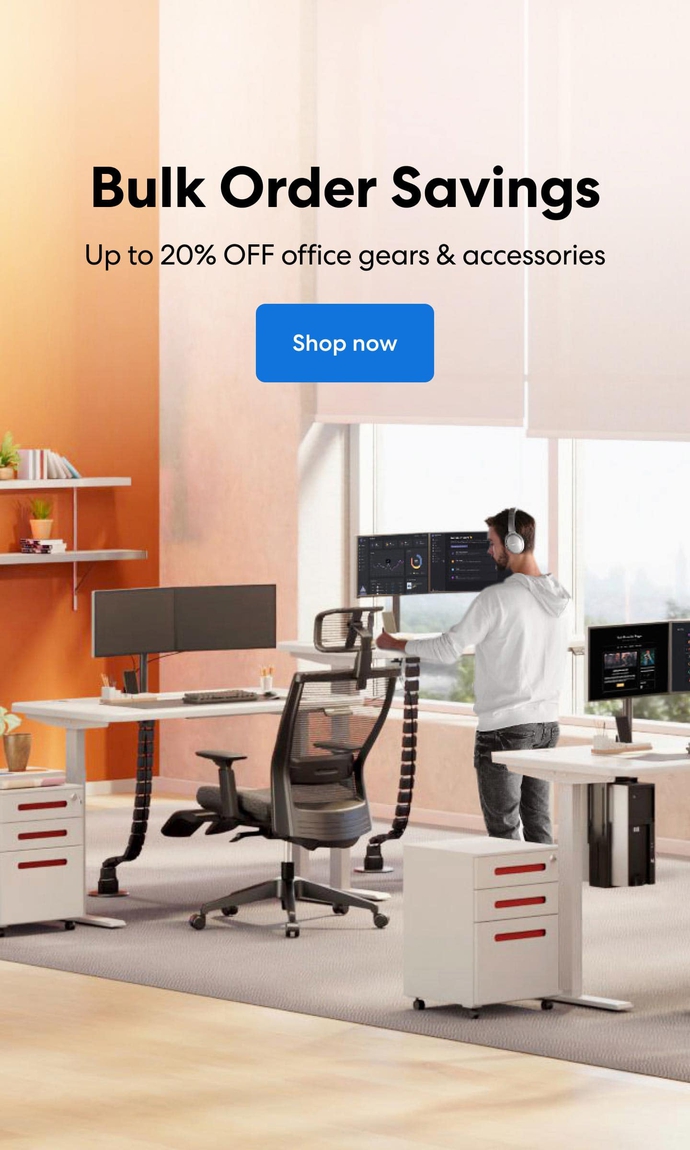 Subcribe newsletter and get $100 OFF.
Receive product updates, special offers, ergo tips, and inspiration form our team.