Could a Minimalist Office Desk Setup Radically Change The Way You Work?
For many of us, work can be a never ending series of tasks, often requiring us to multitask and keep track of several projects at once. As a result, our minds and workspaces can become easily cluttered and in some cases spiral out of control. Pens, papers, computer equipment, standing desk accessories, and other devices can build up overtime, and a lack of organization can create clutter and chaos.
Clutter can be bad for productivity, according to numerous recent studies of the effects of our surroundings on our mental state. Clutter creates distraction, reducing our ability to focus. It can bring down your mood, especially if you're someone who values cleanliness, which brings down your motivation and productivity as well. It can even make you feel guilty! Feelings of guilt and other negative emotions that arise as a result of clutter have a direct impact on your ability to work effectively.
In the same way that listening to music can boost your productivity because of its mood-lifting effects, a cluttered environment can bring down the quality and effectiveness of your work. It's time to take control of your workspace and bring order and cleanliness to your life so you can do the absolute best work that you can do.
This isn't just about you being able to do your best work. It's about your health and your happiness. Think of reducing clutter as a way to not only make your surroundings look nicer, but to give yourself the care and happiness you deserve!
Minimalist desk setups, unsurprisingly, have become all the rage in modern working environments as a way to reduce clutter and increase productivity at work. It's also a popular solution for gamers and creative types as well!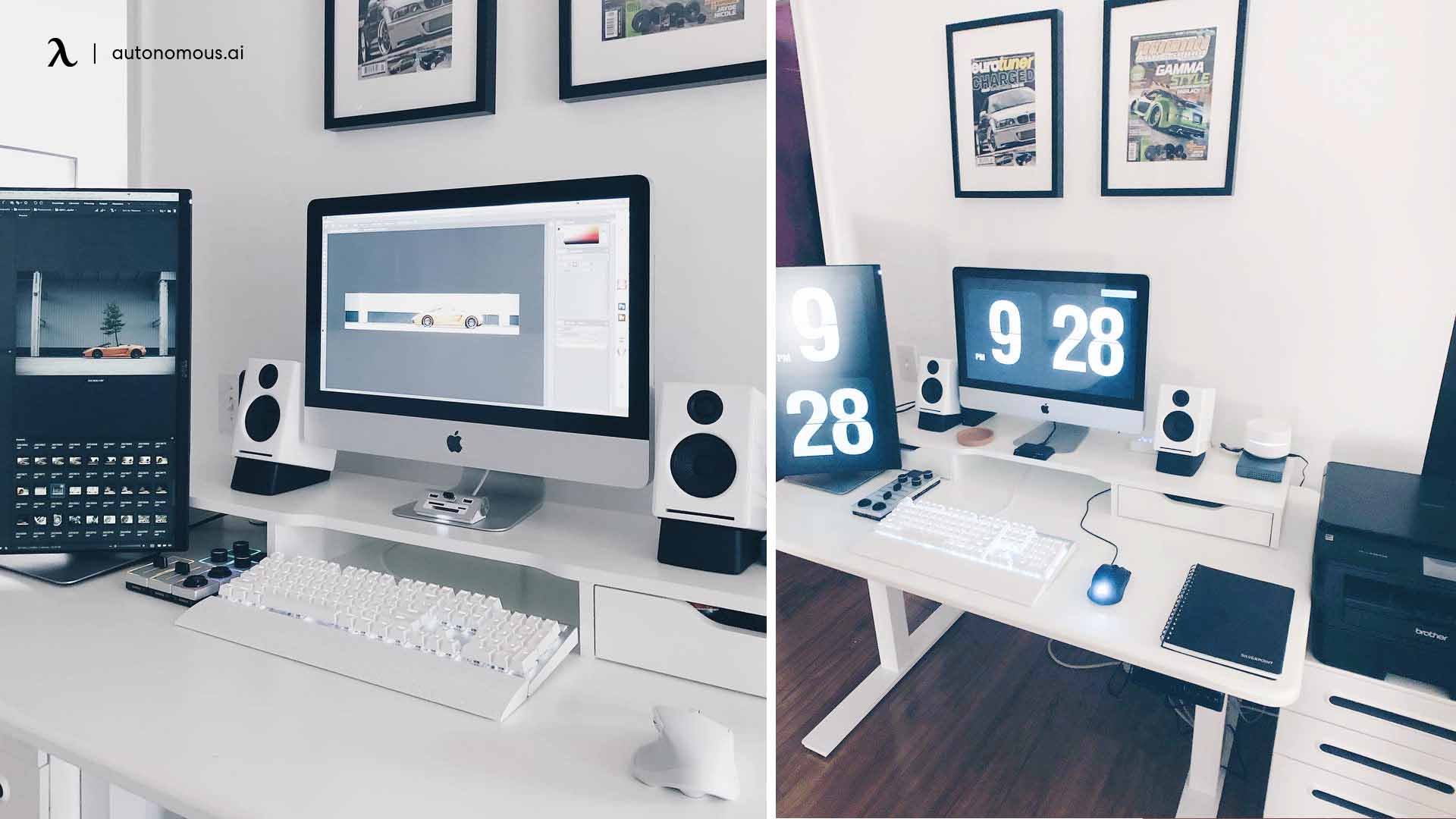 What is a minimalist desk setup, you might ask? In its most basic sense, a minimalist office desk setup should have as little as possible on the actual desk. In the most stripped-down iterations, it may involve only having a monitor, a desktop computer or laptop, an ergonomic keyboard and mouse on the desk, with everything else stowed away out of sight.
Clean lines and lots of white space are hallmark characteristics of minimalism. That space may be taken up on occasion by other tools and documents needed throughout the day, but it is meant for temporary use only. Ideally, those items have their own permanent storage out of view.
For the absolute bare minimum, you might even simply have an empty desk except for your laptop hooked up to a power supply. The only downside to this is that it may not be the most ergonomic solution as you might find yourself hunched over.
Whether you're trying to make a zen space in your home to focus on your work or creative projects, or simply looking to tidy up your workspace in the office, here are some ideas and inspirations for how to create an optimal minimalist office desk setup.
Minimalist Desk Setup For Home Office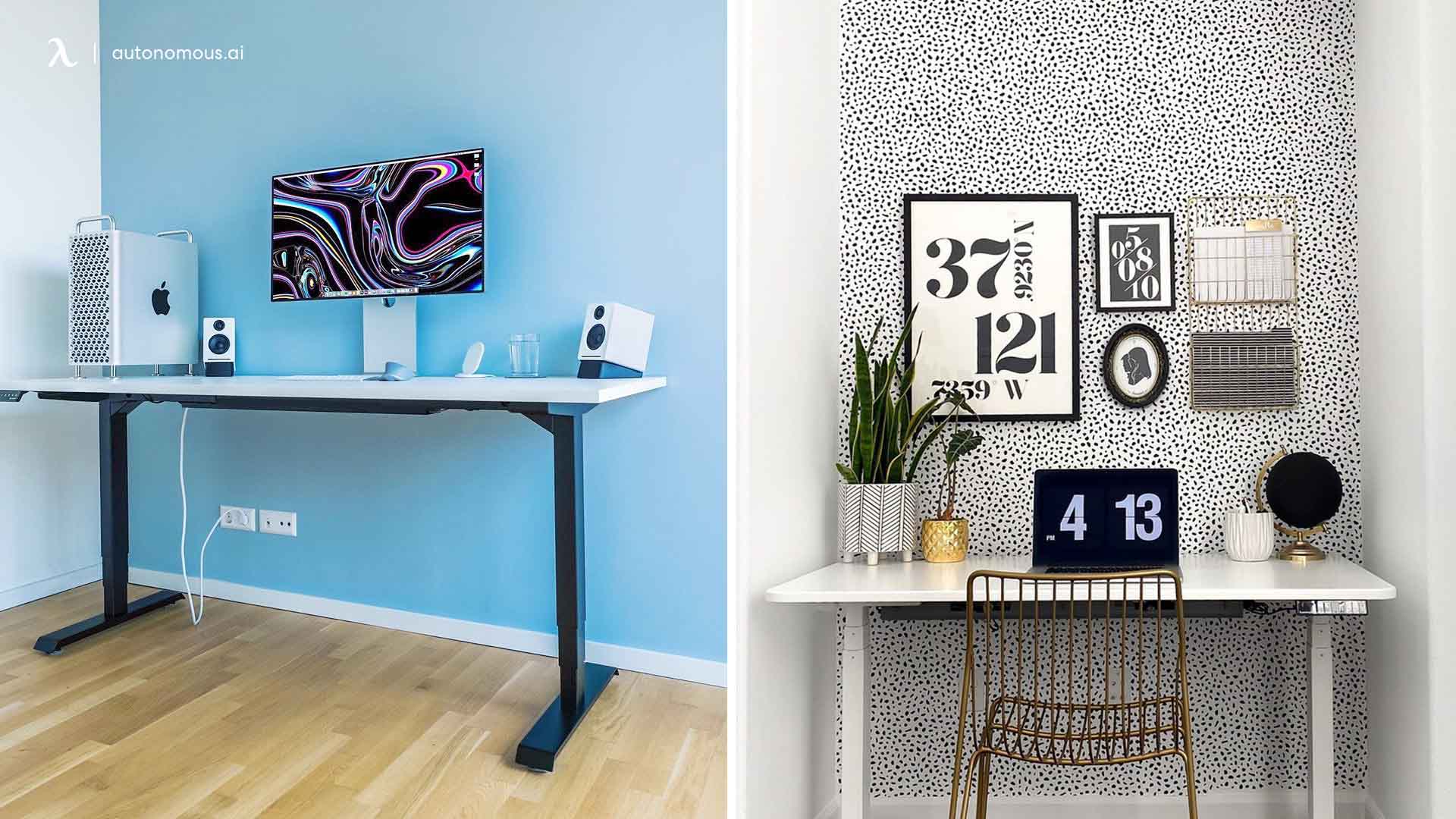 A lot of the choices you make about your home office setup will ultimately depend on your personal decorative style. What are some characteristics of your home decor that you can tie into your workspace while still making it as minimal as possible?
If your desk is up against a wall, you might consider hanging photos and decorations on the wall behind it, rather than having them in stand-up frames on your desk as is often traditionally done in corporate offices. This takes more of the clutter off your desk, and gives you something nice to look at on the wall in front of you!
One simple way to reduce the clutter on your desk: go wireless with a bluetooth keyboard and mouse! Eliminating the presence of wires and cables will give your desk a more modern, updated feel, and reduce the need for cable management. Tangled cables are ugly and often a source of frustration, especially for people with lots of computer peripherals.
Finally, when setting up your minimalist home office, you'll want to make sure to keep it in its own designated area for optimal concentration and focus. A separate room is ideal as this will help ensure you maintain a quiet and minimal aesthetic away from everything else in your home.
You can, however, simply set aside a corner or a part of any room as your designated work space, as long as you use that space for work only. Make this area as minimal and clean as possible, to ensure your mindset is in focused working mode as soon as you sit down.
For people with limited space, you can even repurpose a part of your home to become a work station by day, and an ordinary part of your home on evenings and weekends. Check out our guide to setting up a home office with limited space for more inspiration on how to make the most of just about any space.
Regardless of your space, the actual office furniture you choose can also make a huge difference. The clean, sleek lines of the SmartDesk Core (Home Office) make it a perfect desk for any minimalist desktop setup, without breaking the bank. The option to sit and stand throughout the day will give you a whole new outlook on working, and the quiet but powerful electric motor keeps your aesthetic as clean and minimal as possible.
A modern, functional, ergonomic office chair is also a must for any minimalist workspace. The ErgoChair Pro+ (Kinn Chair) is a great choice for anyone who wants the latest in cutting-edge ergonomic furniture while choosing from a variety of modern, minimalist-friendly designs.
Minimalist Gaming Desk Setup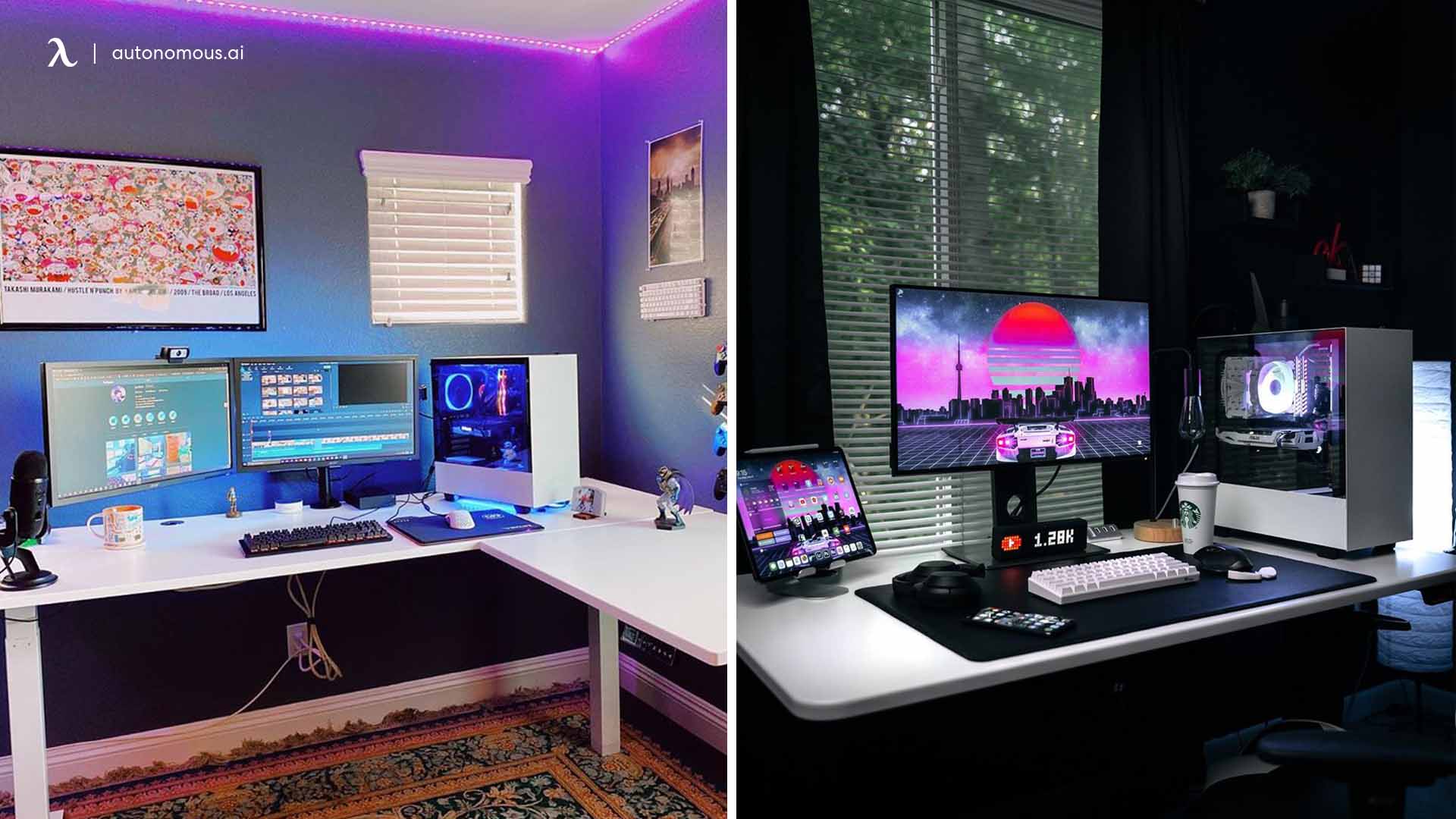 There may be some clear benefits for working with a minimalist desktop setup...but play is important too! Do you like to spend your free time with thousands of online players in PUBG? Or perhaps building and exploring fantastic new worlds in Minecraft is more your speed? Maybe you've joined the latest Animal Crossing craze? Whatever your preference, a minimalist setup can help take your gaming to the next level.
How, You Might Ask, Could a Minimalist Desk Benefit a Gamer?
For starters, any serious gamer knows that one of course one of the most important factors to have a competitive edge is to reduce the noise and distractions around you as much as possible. Different gamers may have different styles, and many may not even consider how the aesthetics of their space impact their ability to play. This is all the more reason for you to consider how to give yourself a gaming boost in a way that most gamers might not think of!
Many of the same design principles for a home office space apply for gaming. Use of white space, and even white colors, can bring a sense of simplicity and cleanliness to any space.
For hardcore PC gamers, most gaming accessories come in a variety of colors and shapes, ostensibly to help with using all the tools you need ergonomically, and to help you find things (like specific action keys on your keyboard) quickly. But sometimes all the colors and gaudy flashing lights can be a bit too "noisy" and distracting.
Most PC gaming keyboards come with dazzling RGB rainbow light displays that can be customized and as bold and bright as you like. Minimalist desk will quickly see this as an unnecessary distraction. Consider changing your backlight to a simple, clean white light (or any other solid color that matches the scheme of your gaming space).
You can eliminate the need for a flashing backlight altogether by using a sleek, small desk LED lamp that illuminates everything on your desk. This can be especially handy for gamers whose strategy involves note taking with a pen or pencil and paper to keep track of game stats and map out their strategies as they play.
Best of all, a specialized LED desk light can give your space a cleaner look without the need for backlit accessories, and a clear view of everything in front of you (not just accessories that happen to have a built-in backlight).
For minimalism enthusiasts who are just starting out and considering which components to buy for their custom-built gaming PCs, be wary of loudly, flashy PC parts with built-in lighting. Some of them are controllable with driver software and may be disabled to customized to maintain a minimalist desk light (preferably a solid color), however keeping your computer as quiet and simple-looking as possible is the way to go.
With graphics cards in particular, go for enclosures that focus on cooling and simple looks without flashing lights. If the ideal parts for you can't be found without those flashing lights, you can eliminate this problem by going for a solid, opaque PC case that blocks any distracting lights emitted by your internal components. The Corsair Carbide series has many solid options for reliable, industry-standard minimalist cases.
If you're a purist who wants to reduce not only flashing lights but the loud whirring sound of cooling fans, consider a liquid cooling system. It's typically more expensive and will require a bit of extra setup, but the result is a marvelously quiet machine that keeps cool with incredible efficiency, so you can really push your processor and graphics card to their maximum potential (and even overclock them if you know what you're doing!)
Finally, you'll want to consider your desk and chair. There are lots of options for ergonomic gaming chairs out there, but many of them are similarly gaudy and bulky, and may stick out like a sore thumb in your minimalist office setup. Consider something sleek, stylish, and modern like the Autonomous ErgoChair Pro (ErgoChair 2), which comes in a variety of color schemes and gives you all the comfort and durability you'd expect from a much more expensive gaming chair offered by other brands.
Getting a height-adjustable standing desk is a good option for gamers who log in extensive hours of playtime. This will ensure you get better circulation and stay alert and energized throughout the day for optimal performance and concentration.
Minimalist Desk Setup For Developers
How Can a Minimalist Desk Setup Aid Developers?
Coding and programming requires intense focus and concentration. Many developers get into a coding "zone" when they need to do more intensive work for hours at a time. It's therefore essential to have optimal comfort and a distraction-free environment to do your very best work.
A minimalist desk setup is a great way to reduce distractions and clutter and get you right into "the zone" with as little effort as possible. Having that comfy chair, the right music, the right mood and lighting can quickly get you into focus mode and help you cruise right through the workday.
Some hyper-minimalists prefer having an extremely simplified programming desk setup, down to simply having a laptop and a pair of earbuds. While this is a great concept for those who want to move around in a variety of different environments, having a more fully-featured workstation has its own benefits that might be best for most working professionals from home.
Most of the principles that apply to a minimalist desk setup also apply for developers, however some extra or more flexible tools might be ideal.
For a display, consider a monitor that can be rotated to "portrait mode." This is a great way to maximize your display to show as many lines of code at once as possible. Most high-quality monitors have this option built-in, however you can also get an adjustable monitor arm to adjust your screen quickly on-the-fly throughout the day for whatever immediate needs you have. It's also a great way to keep the screen at a more ergonomic eye-level.
There are lots of other ways to achieve minimalism for developers. Instead of a second display, you might just use your tablet propped up on a stand for added functionality. People with a more recent MacBook Pro and iPad can use their tablets as a second display with full touch functionality.
A mechanical keyboard is ideal for developers and anyone who types for long hours throughout the day. With many different levels of pressure and actuation points to choose from, you can easily find a buttery smooth typing experience that makes typing countless lines of code breezy and comfortable.
To keep things minimal, consider getting a compact mechanical keyboard, such as the Keychron K2, which features wireless connectivity and interchangeable keycaps so you can match them to whatever color scheme you prefer (though the included keys themselves are minimal and aesthetically subdued compared to many other modern keyboards—particularly the gaudy, flashy effects you get on mechanical gaming keyboards). This minimalist desk tool is a great way to reduce the amount of desk space taken up by your keyboard with a compact and neat modern design.
Other Minimalist Desk Setup Ideas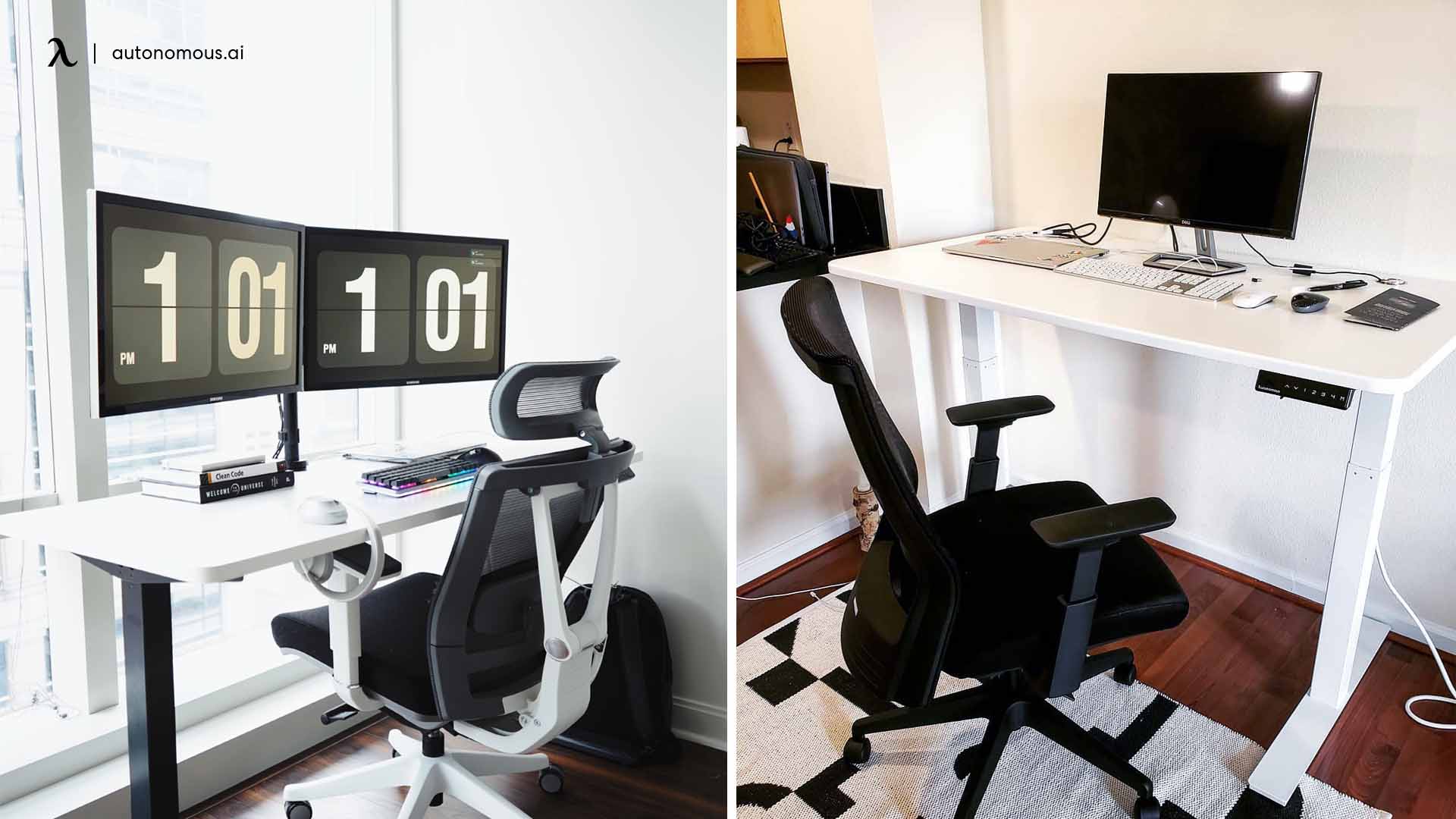 Regardless of what you do for work or play, there are plenty of ways to keep your minimalist desk setup neat and organized.
Consider a compact filing cabinet to keep all your documents accessible and within arm's reach, without taking up too much space or clashing with your decor.
Are you a plant lover? If not, you should be! Plants can liven up and energize any work space, even (convincing-looking) fake plants that require zero maintenance. Consider using neutral-colored or white planters for small and large office plants. Keep it to just a couple of small plants if you want to keep things super minimal while still giving your work space a just a hint of vibrant greenery.
Don't underestimate the power of lighting, too! Having a backlit desk can give your setup a brighter, more modern look. You can use something as simple as an LED rope attached to the back of your desk with tape to upgrade your desk. Plus, having a backlit wall can actually make your monitor easier on the eyes and give it a bigger, more spacious feel.
An LED desk lamp is a home office essential for just about anyway, as it'll illuminate everything on your desk. Specialized lamps can be attached to the top of your monitor for optimal illumination without creating any glare on your computer screen.
In general, try to keep food, drinks, and other non-work-related items away from your desk at all times. This is a great way to not only discipline yourself to sticking with work in your designated work space, but also gives you the opportunity to stand up and walk to a different area for anything else you need (and perhaps take a short break if you need it). Keeping work and play separated is not only good for your productivity and mental health, but promotes a minimalist desk environment too!
Finally, get some small bluetooth speakers, or if you're in an office, consider getting some wireless bluetooth headphones. Airpods are probably the most popular choice, however tons of cheaper alternatives can be found on Amazon and other online retailers. Bluetooth speakers and headphones tend to take up less space and reduce your reliance on wires, which add to the clutter and disorganization of a workspace.
Some criterias you should know about Minimal desktop setup:
| | | |
| --- | --- | --- |
| Criteria | Minimal desk setup | Complex desk setup |
| Color | White, black, or other matching neutral tones that complement each other | Lots of loud, catchy colors, like an explosion of confetti, often clashing |
| Lighting | Minimal, single-tone LED, preferably a neutral white color | RGB rainbow colors flashing from a variety of different office accessories |
| Plants | A couple of small or medium sized office plants in simple white or neutral tone ceramic pots to give your space a touch of fresh green | Mismatched pots, lots and lots of plants that may be difficult to maintain and make your space look more unruly and chaotic |
| Sound | Bluetooth speakers or headphones | Large, clunky wired speakers or headphones |
| Number of accessories | As few as you can get away with—just the things you use the most, constantly | Anything and everything you might possibly need, even if rarely used |
What are some of your favorite ways to keep your home, work, or gaming setup as minimalist and neat as possible? Share some of your tips or images of your favorite minimalist office setup in the comments below!

---
Read more...
10 Reasons Why Minimalism is Trending Worldwide
Get exclusive rewards
for your first Autonomous blog subscription.

WRITTEN BYAutonomous
We build office products to help you work smarter.
Coming at You Live from Autonomous' Social Media!
Please fill the information below.
Thank you!