We understand the importance of your workplace environment for your productivity as well as overall pleasure greater than anybody else. A workstation where everyone would devote a portion of their day, if not more, should not only be practical, but also warm and inviting, as well as attractive. Therefore, in this post, we will be emphasizing upon white desk décor ideas.
Since the total white desk accessories décor has been on the increase for years now, it's a style that pops up in clear sight. In reality, many individuals are using white desk decor as a design trend for workplace decorating. Follow together and we'll fill you in on all the specifics; you might even like it. Let's find some attractive white accessories decor and desk design with us!
List of The Best White Desk Décor Ideas
Your office can have a lot of style, but it does not always have to be too busy. For an efficient, trendy, and entirely renovated white office decor, get inspired by all of our following mentioned white desk decor ideas and concepts, which range from contemporary accents to natural vistas.
Bookcases in an Industrial Style
If you have a space where the industrialized style belongs, it's the office. The relaxing yet concentrated environment created with no insubordinate materials, pragmatic designs, along with an open office is exceptional for any sort of job, from solo research to cooperative presentations. Don't know where to begin? Consider an industrial-style tarnished metal bookshelf; the clean lines will help you stay organized, whereas the tarnished finish will provide a rustic, carefree feel. a While colored bookcase will look exceptionally beautiful above a white desktop. 
Outlines that don't take up too much space
You don't have to sacrifice style all because your workspace is restricted. Look for contemporary style ergonomic desks like the SmartDesk Core which accentuate practicality however keeping smooth shapes, including compartments, shelves, as well as surface area.
Add inspirational omages/artwork
Allowing your own style to come through in your commercial space isn't just for looks; it can also contribute to feeding your advanced abilities, and that there's no best approach to do that than with creative office fundamentals that represent your individuality such as a monochrome artwork mounted above a white standing desk. You can also make the colors vivid and the patterns clean and simple to keep the creative energy continuing without diverting you from the task at hand.
Add a white desk lamp
Have you considered using a desk light to provide warmth to your work and room? Consider the Stella Go portable LED bulb, which can last up to 11 hours of battery life. Because it runs on battery, you can take it into whatever area you desire. You can easily choose among four distinct light hues, including cold, warm, and natural. To enhance or reduce the intensity, you have 10 distinct options. The best thing is that no ultraviolet light is emitted. The amount of heat generated is little and has no effect on you. Using a Type-C charger cord, you can conveniently power the desk lamp.
Lexon's Oblio-Charger for Smartphones
This UV sterilizer and cordless charger is one of the work from home must haves. It is composed of durable materials and comes in 5 different colors. This flower pot form, designed and finished in a silicone finish, provides an intriguing object that is sure to draw attention. Sometimes you can connect your smartphone and charge it without having to deal with wires or cables dangling from your desk. With a Bluetooth headset, you can finish your call while moving anywhere freely. The 10w power usage isn't going to burn a hole in your wallet. The light produced by this 10w energy capacity is approximately 1,000 lumens. Note that Qi-compatible smartphones can benefit from inductive charging.
Elegance with a purpose
Who claims a home office needs to look like one, and even be located in one? Colors, styles, and dimensions of home workstations and chairs such as the Autonomous ErgoChair Pro are now practically limitless, as are your decorating possibilities. A refined wooden desk and black and white office chair, for instance, would not only mix in with a conventional bedroom's corner, but also will keep it alive. Working has never been so luxurious!
White Topographic desk pad
This is another idea for your white desk decor. Using a desk mat to safeguard your white desktop appears to be a reasonable reaction from a recent and pleased owner. You could very well be apprehensive about the cleanliness of rolling an additional mouse when you choose a desk mat. What will the workspace look like after the table mat protectors are in place? There are no more worries when you relax and admire your excellent pick of a white topographic desk mat. This desktop pad is held in place on the bottom by silicone. Often on the cleanest of platforms, this maintains the desk mat in one position. As you operate on your new desktop mat, navigate your peripheral mouse with comfort.
Decorate with flowers
Consider adding a few flower arrangements or even blossoms to your office desk as you consider white desk decor ideas. Some people like artificial or dried roses that have a lovely scent. In a bowl, or any tiny sized container or glass vessel, put a dab of it. Plants are a natural element that are always welcome. Check to see whether you or anybody else in your vicinity has an allergy to particular kinds of plants.
Boost your mood
You may now keep your loved ones close to you at all times. Use a chrome or timber grid or photos of family and friends to decorate your desk. If you work remotely, surround your desk with photos of your coworkers to help you recall the good moments you had together. Showcase your image wall to your workplace coworkers during an impromptu video conference to let them know that however much you like working with this group. It will immediately improve their attitude.
Conclusion
Your decision to use a white desk is excellent. Considering white has become such a fair and balanced hue, it goes with practically any décor. This provides you with a plethora of home office essentials in the white desk decoration options. Take a few ideas and modify them to fit your tastes and taste. Personalize your desk to lift your spirits and make you cheerful while you work.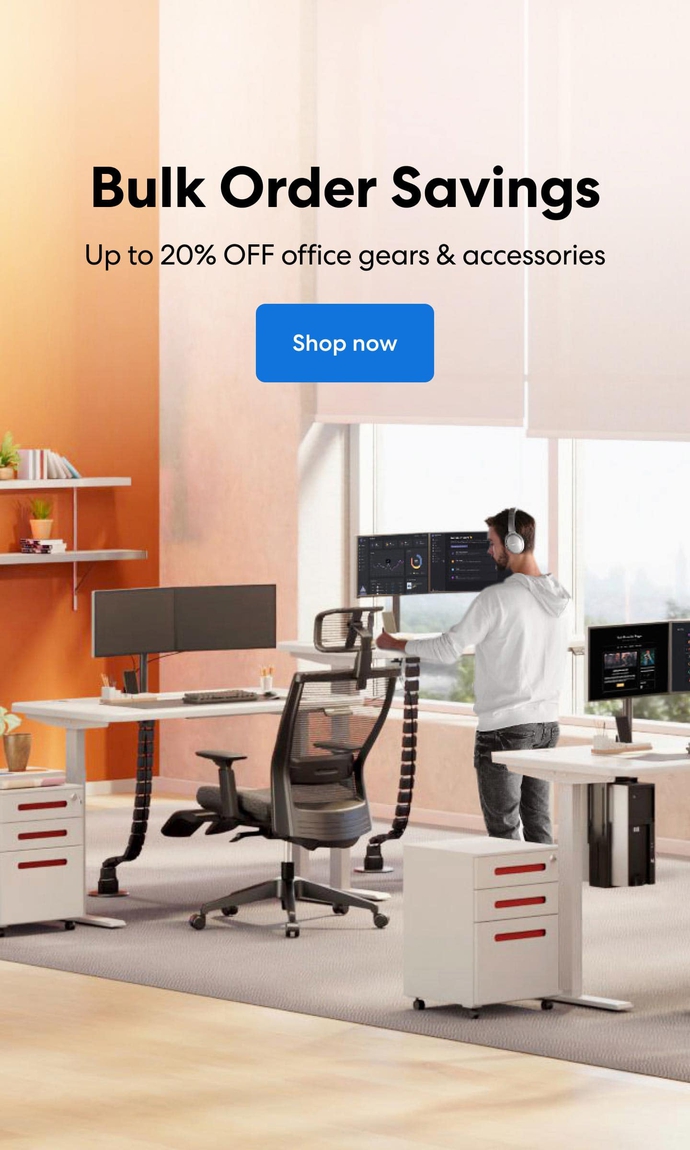 Subcribe newsletter and get $100 OFF.
Receive product updates, special offers, ergo tips, and inspiration form our team.