Productivity
Some Of The Ways Of Achieving A Productive Work Environment

Autonomous
|
Apr 7, 2021
3,515 Views
We know that sometimes an office can be quite monotonous. It takes a toll on our physical as well as mental health. However, if you can create a productive work environment, your employees will not feel bored anymore. Besides, it will be a positive aspect when it comes to the growth of your company. 
Well, there are various ways to improve the workplace environment and build productive culture. Here, we will conduct an in-depth discussion regarding this. Therefore, we would request you to go through the points meticulously that we are about to discuss. It will be beneficial for your office or your organization.
Reasons for Creating a Productive work environment
Your organization will undergo various positive progressions if you can create a conducive work environment. To be precise, you will come across numerous benefits if you can do that. So, here are the reasons for creating a dynamic and productive work environment. 
It will bring efficiency as well as productivity to your office. Your employees will adopt a positive attitude and become more

productive person. For that reason, they will always be open to learning as well as challenges. They will do everything to bring the best results. It will be beneficial for your company in the long run.

Happiness will bring creativity. You should know that innovation is one of the pillars of growth and development. You can consider it to be the driving force of a business. Your workers will deliver you various creative business solutions. You should know that happy employees are always motivated to do good work.

Positivity is a contagious thing. If you can infuse positivity in one of your employees, it will spread like a forest fire. In that case, there will be no issues regarding Monday blues. Also, you will not feel stressed before going to your office and your

productive desk. 

Your employees will feel comfortable in taking risks. If you want to witness growth in your business, you have to take risks. There is no other way out. However, it would help if you always took a calculated risk. Sometimes, your employees will feel hesitant to take risks, but a good

office work environment will provide them with the courage to take risks.
Some Tips for Creating a Productive Work Environment
By now, you comprehended the importance of a good and productive work environment. So, it is time to perceive the ways of achieving our desired productive work environment. There are plenty of ways of doing that, which we are about to discuss. 
An adequate workforce is important
The first thing that you have to do for your productive work environment is to hire an adequate workforce. Make sure that you have enough people in your team who can take care of the workload precisely. Or else, there is a possibility that your employees will become overworked. It will suffer their performance and will bring low-morale to them. Therefore, hiring employees is important to share the workload uniformly. It will save your employees from getting burnt out. Moreover you should invest in office ergonomic chairs and office standing desks to improve their health while working and boost energy.
Your expectations should be realistic
We can understand that you want to extract the best work out of your employees. For that, you have to set realistic expectations. If your goals are too unrealistic or hard-to-achieve, you can never establish the best office environment. When the employees know their exact goal, it will be easier and convenient for them to meet your expectations. Also, they will get the chance to take pride in their work, which will bring a positive attitude to them. The positive attitude of the employees will make your organization successful.
Hire expert employees
We know that hiring a fresher or someone with less experience will save you money. But, it will not be the appropriate step that you will be taking for your company. It may hamper the productivity of the company. There will be situations when your employees will not be able to take the workloads. So, the best option for you is to hire experts or experienced people. They will be able to make the right decisions. It will also make productivity hacks and play a significant role in retaining a productive work environment. 
Take suggestions from your employees
We know that being the company owner, you are out of touch from the daily operations. It would help if you always tried to get in touch with your employees and ask for their suggestions. They are the best people who are capable of improving the efficiency of your company. They will also provide you with valuable suggestions on cutting waste. You should know that they are working from the ground and they know better about the operations. Hence, their effective employee feedback will always be valuable.
Reduce the distractions
Before reducing the distractions to improve the workplace environment, you have to identify the distractions. If you take a look at different offices, you will find out that there are numerous distractions. For instance, chatty co-workers to smartphone notifications can distract the working environment. Thus, you should invest some time and try to figure out the inception of those distractions. Once you do that, look for the solutions to stop that distraction. Ergonomic workspace is also a good solution. 
Take care of the health of your employees
You should know that your employees are your greatest assets to create the best office environment. So, you have to take care of them. One thing that you can do is to launch a health awareness program. With the help of that program, you can make your employees healthy. You can also fill your office with healthy snacks. Besides, deter yourself from sending their mail 24/7. Include exercise types of equipment in your office so that your team can take care of their health during the effective breaktime.
Conclusion
So, these are ways of ensuring a convenient and comfortable working environment in your office. If you want to achieve that, you have to give considerable effort. Once you do that, you will come across numerous benefits. Your company will become successful as well as efficient.
Video ads for product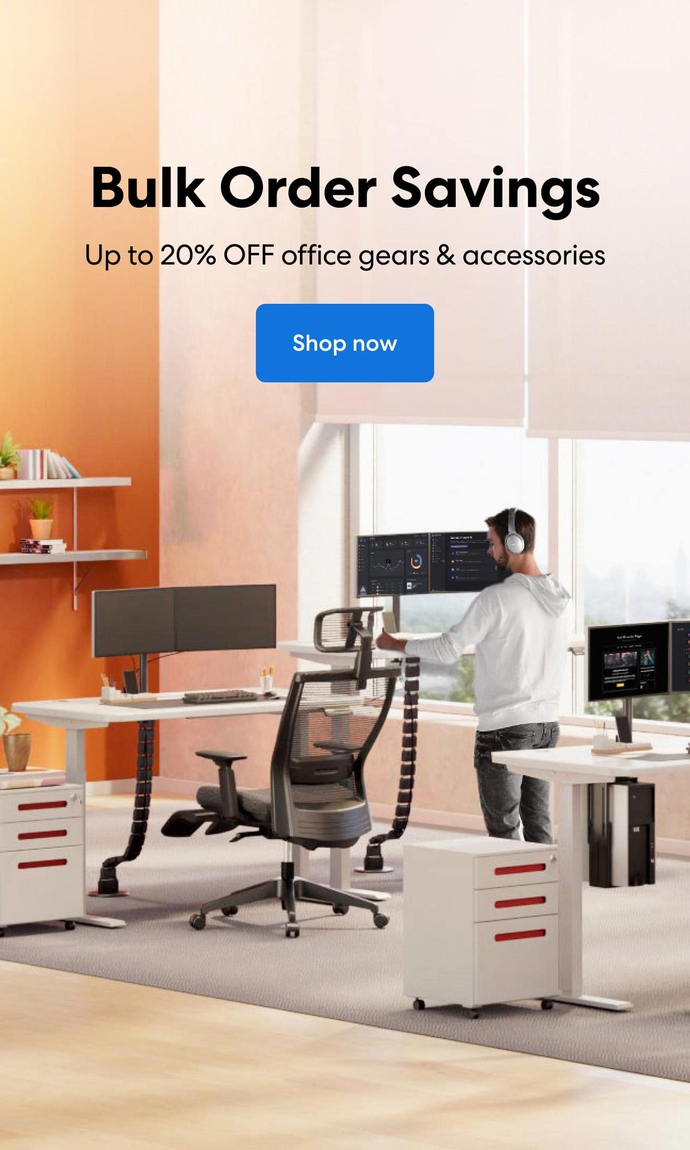 Subcribe newsletter and get $100 OFF.
Receive product updates, special offers, ergo tips, and inspiration form our team.