Often office workers, who are mainly involved in analyzing big data and programming, feel the need to have a dual monitor setup to perform tasks more efficiently. You can always think of getting an L-shaped desk for dual monitor setup, as it takes less space and provides you more room for organizing your files and desk accessories.
Ever since studies proved the benefits of dividing your working time between sitting and standing, standing desks became the latest fad at workplaces. As for dual monitors, this idea is pretty common with programmers and often used at workplaces like stock markets.
Nevertheless, dual monitors can be beneficial for several tasks. We know that you have several queries as to why are the dual monitors beneficial and why we are focusing on using an L-shaped standing desk for that. We have discussed all that you need to know about L-shaped desk for dual monitor in this article. So, let's first have a look at the ways in which the dual monitors can be useful.
Why Should You Use Dual Monitors?
We are always looking for ways that can boost our productivity, and dual monitors are just another way of doing that. Having dual monitors give you a wider look at what you are working on and improve your workplace ergonomics. This not only saves time but makes the execution of tasks pretty convenient for you. This setup becomes even more convincing when coupled with an L-shaped desk.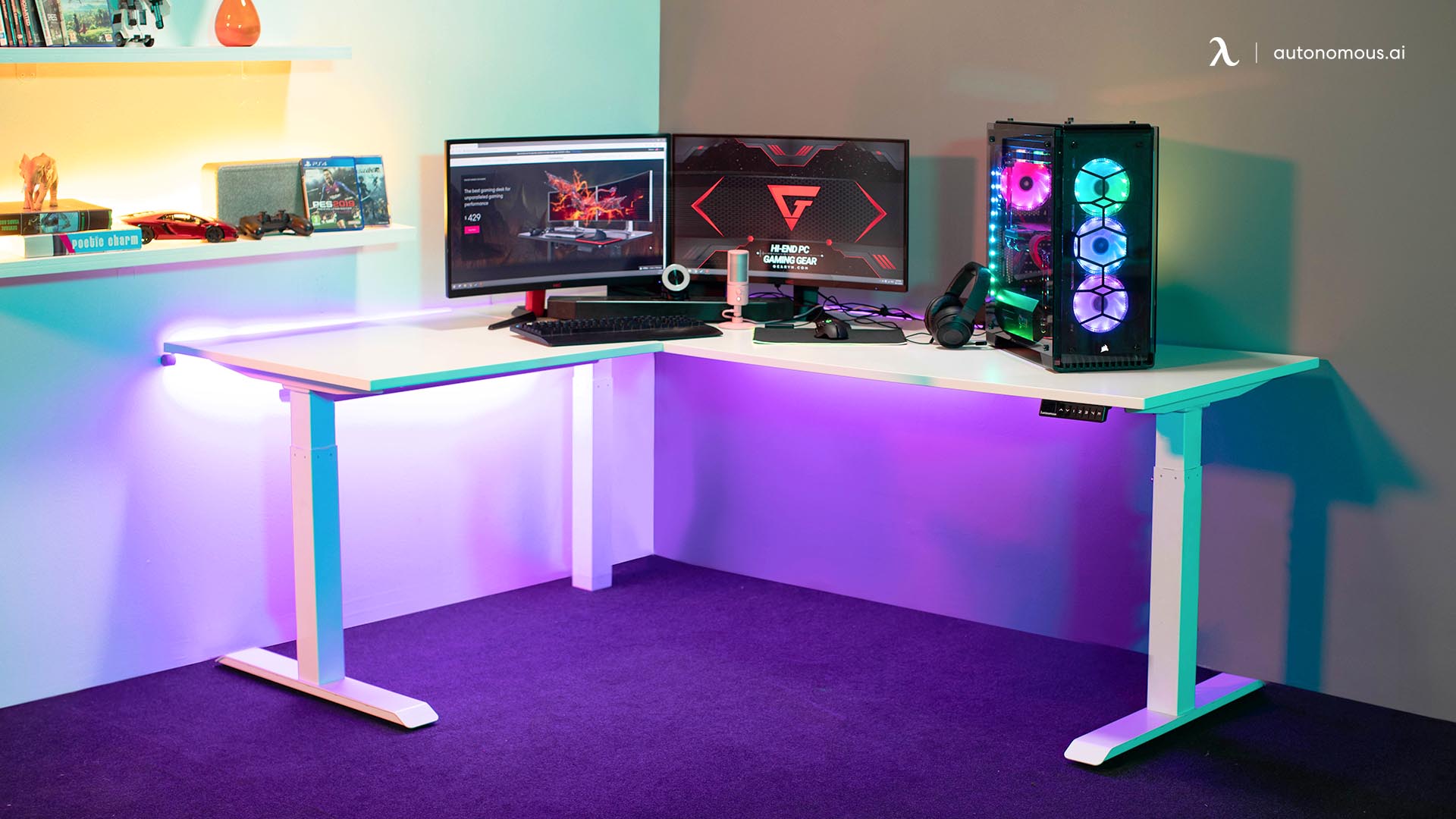 So, are you interested in knowing some innovative ideas on setups involving a L-shaped desk for two monitors? Well, you are at the right place then. So, let's go through some dual monitor desk setup ideas that we have shared below.
10 Ideas and Tips Involving L-Shaped Desk for Dual Monitor Setup
1. Buy a Suitable Desk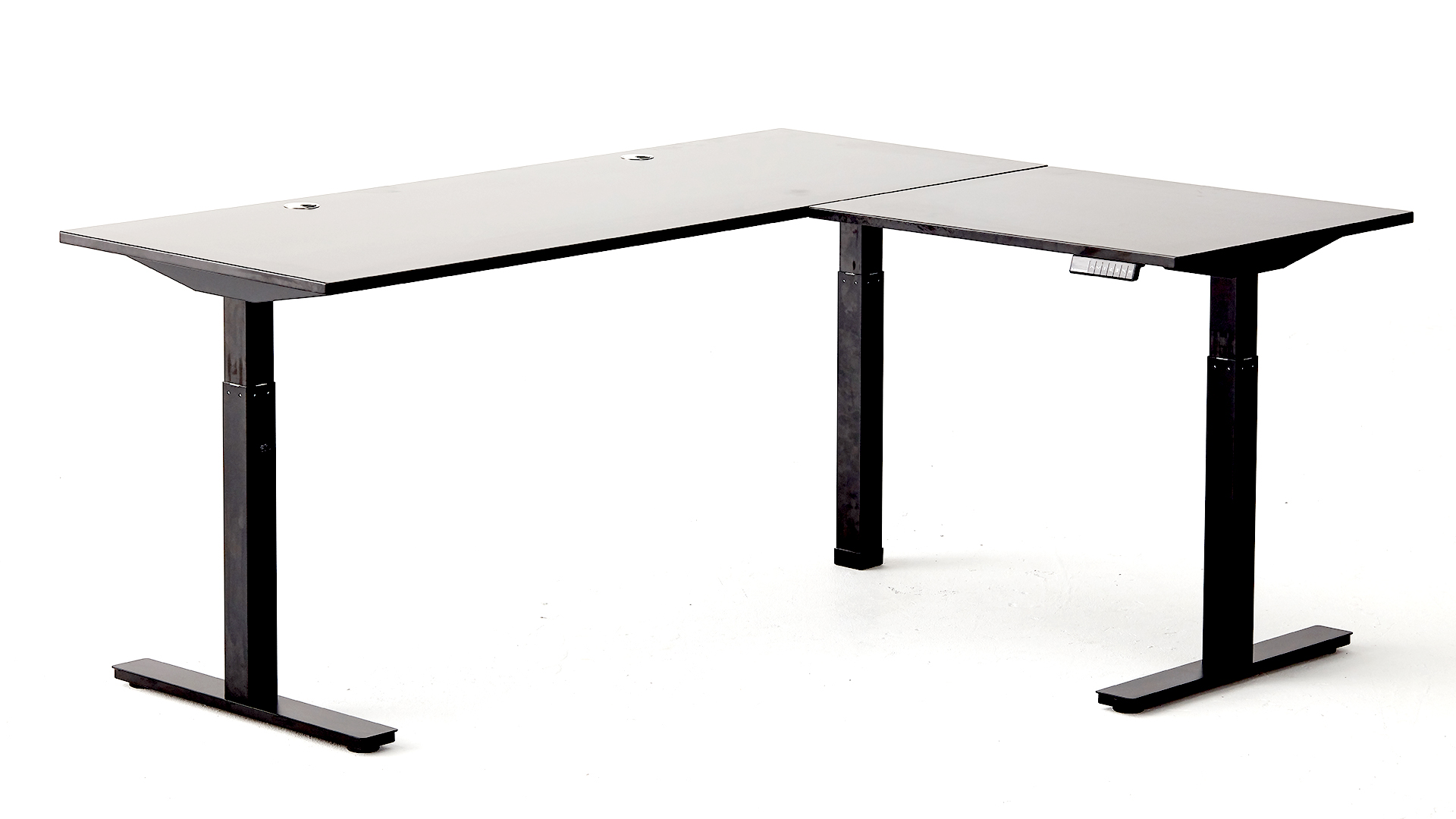 As you know, an L-shaped desk setup is ideal for placing dual monitors; when you scour the web, you find a wide array of such desks available. Although the overall structure of each L-shaped desk is roughly the same, the material used for designing the surface and the maximum height of each desk differs.
All electric standing desks come with a particular motor system, a specific weight holding capacity, and unique sizes and height. Therefore, your choice for the L-shaped desk for dual monitor setup should be centered on your technical requirements.
If you have heavier monitors and have to organize more accessories on your standing desk, we would suggest that you go for heavy-duty options such as those that can carry up to 500 pounds or more.
2. Use Ergonomic Chair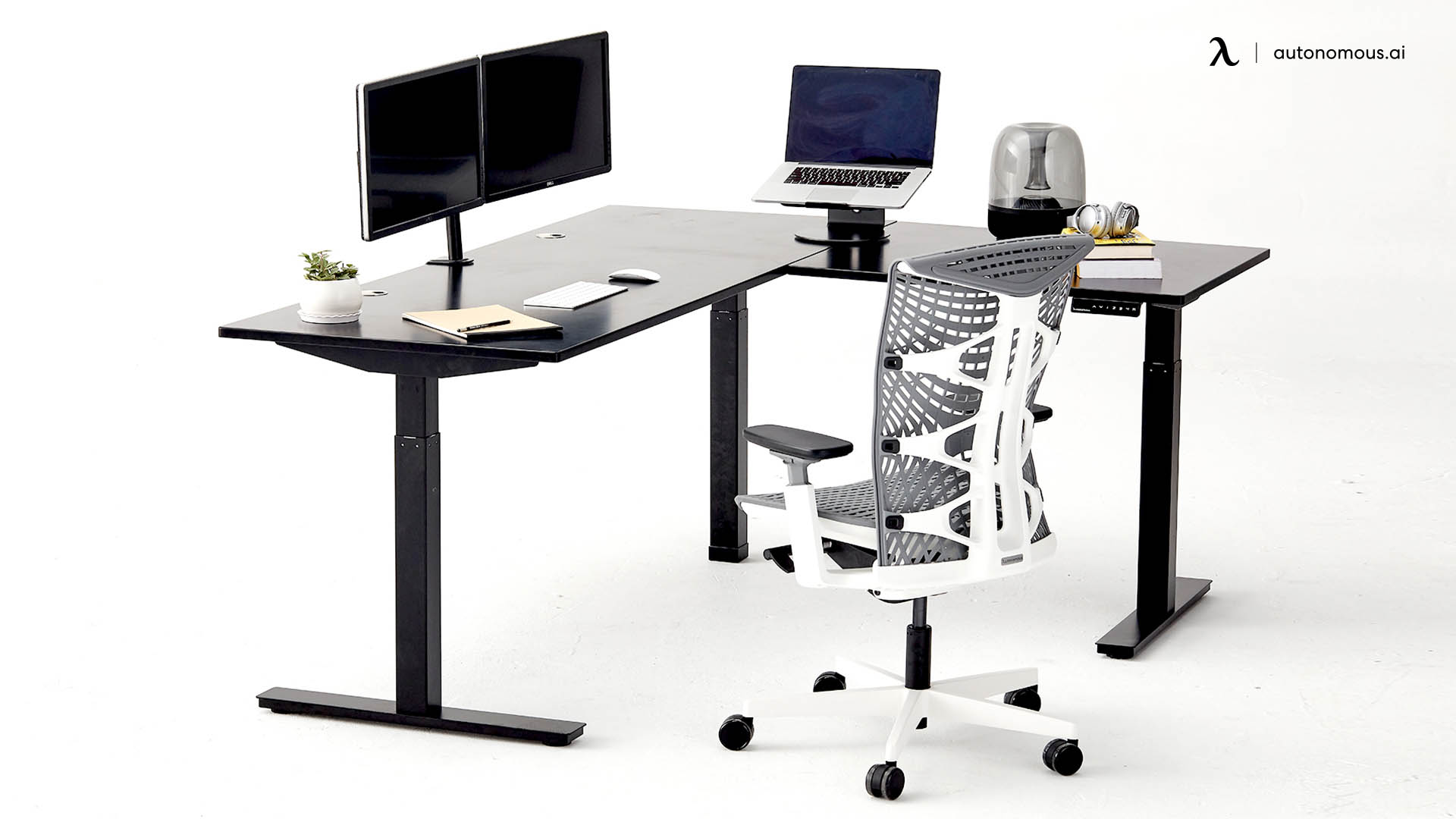 Getting the right chair is as important as getting the right L-shaped desk for two monitors. As you know that your time needs to be equally divided between sitting and standing while you work, getting an ergonomically designed chair will help you fix this.
Such equipment not only enhances a worker's productivity but also ensures his health. Since you are working with two monitors, and you will be spending more time staring at the screen, your posture matters the most. So, an ergonomic chair will help you maintain it while you work.
3. Invest in Monitor Stands
Often it is noticed that people who are using computers extensively are more prone to encounter a chronic muscle injury. The addition of a monitor stand in your L-shaped desk for dual monitors is a life savior in this regard as it helps you prevent neck injury by placing your PC at the right angle.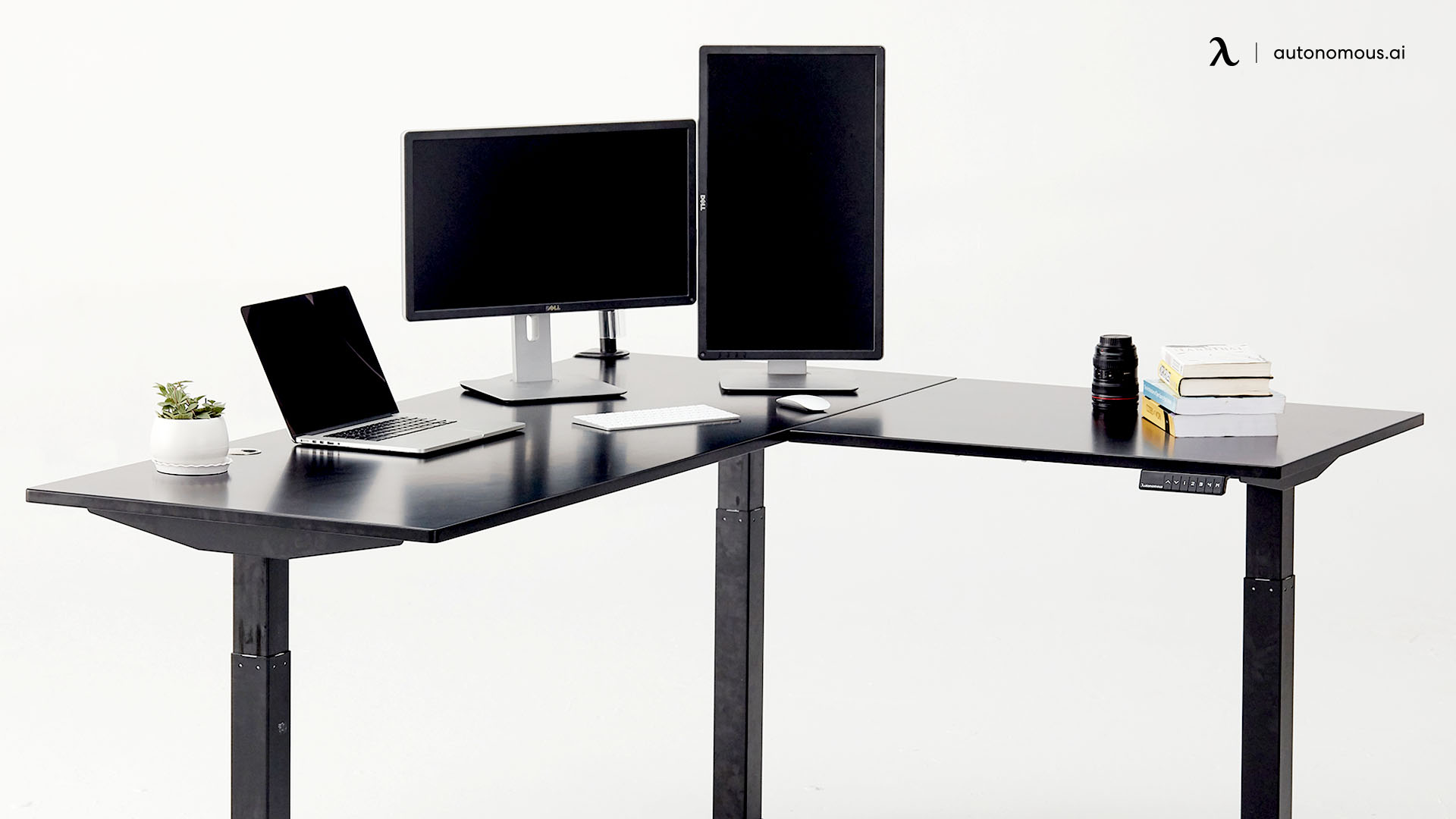 4. Add High-quality Lighting
Multiple researches support the idea of adding natural lights to your workspace. This not just keeps the designing simple but also makes it more productive, as workers stay fresh. You can add some natural ceiling lights or have larger glass windows in your office to make this setup more effective.
If your L-shaped desk for dual monitor setup is placed at a corner, it will be better to add some more high-quality lights like LED desk lamp and table lamps to ensure you have plenty of it while working.
5. Use Anti-Fatigue Mats
Anti-fatigue mats are designed to eliminate the strain that your legs and back might feel while you use a standing desk. This means you will not feel any muscle pain even after working for hours, so that makes it easier for you to work longer hours.
6. Get a High-Quality Keyboard and Mouse
There are several high-quality ergonomic keyboards and mice available online. If you are a coder, programmer, or belong to any such relevant field, a high-quality accessory like a keyboard and mouse will make your life easier.
7. Add More Plants
Making your workspace biophilic is a great idea whenever you design your workspace, and so is the case with the L-shaped desk for dual monitor setup. Plants give a clean and tidy look to your working environment. It is pretty relaxing to work in such an environment, so overall, your productivity increases.
8. Follow the Minimalist Setup Approach
Minimalist L-shaped desk setups are quite praised these days, as they give a clean and tidy look to your workspace. So, ensure that your L-shaped desk for dual monitors is not too crowded with unnecessary accessories. Your desk should have only those accessories that are crucial for your task. You can add little decorative items, but overall, the work environment should be tidy to maintain focus and avoid any visual distractions.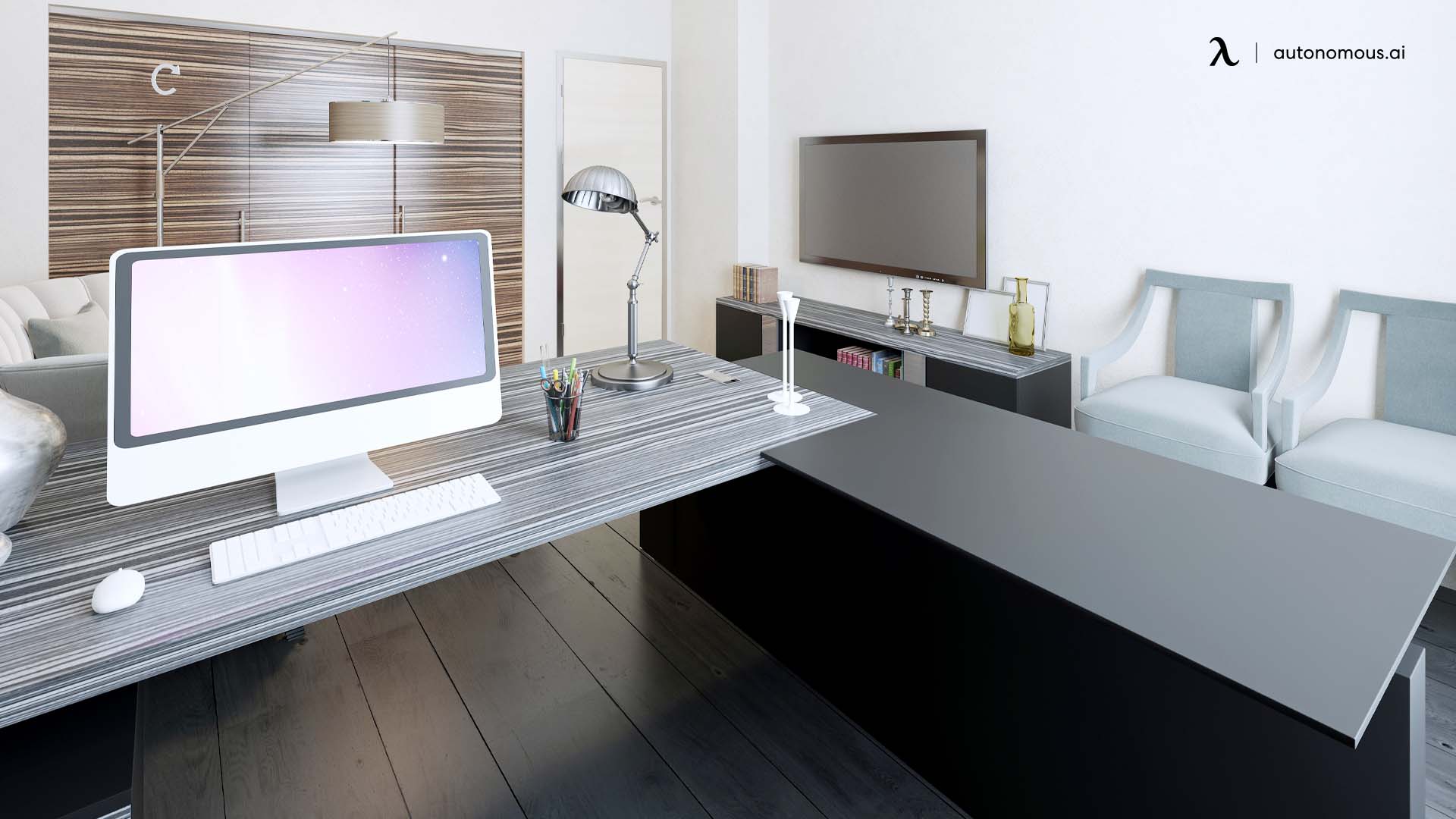 9. Keep Your Monitors Symmetrical
When you are using dual monitors, it might be a little confusing for you to do programming if you have unsymmetrical monitors. Having symmetrical monitors makes your job easier. So, if you have an L-shaped desk for dual monitor setup, and you add symmetrical monitors there, shifting between computers becomes smoother.
10. Personalize Your Workspace
As an office worker, you know what are the core requirements to make your L-shaped desk for the dual-monitor as well-equipped as possible. You can always personalize your space as per your taste and necessities. You can choose a specific-colored corner standing desk that makes you more focused and happier. So, this can improve your productivity as well.
Endnote
All these tips and ideas are aligned to help you become more productive while ensuring better health. So overall, this setup will improve your performance at the office along with ensuring better health and physique.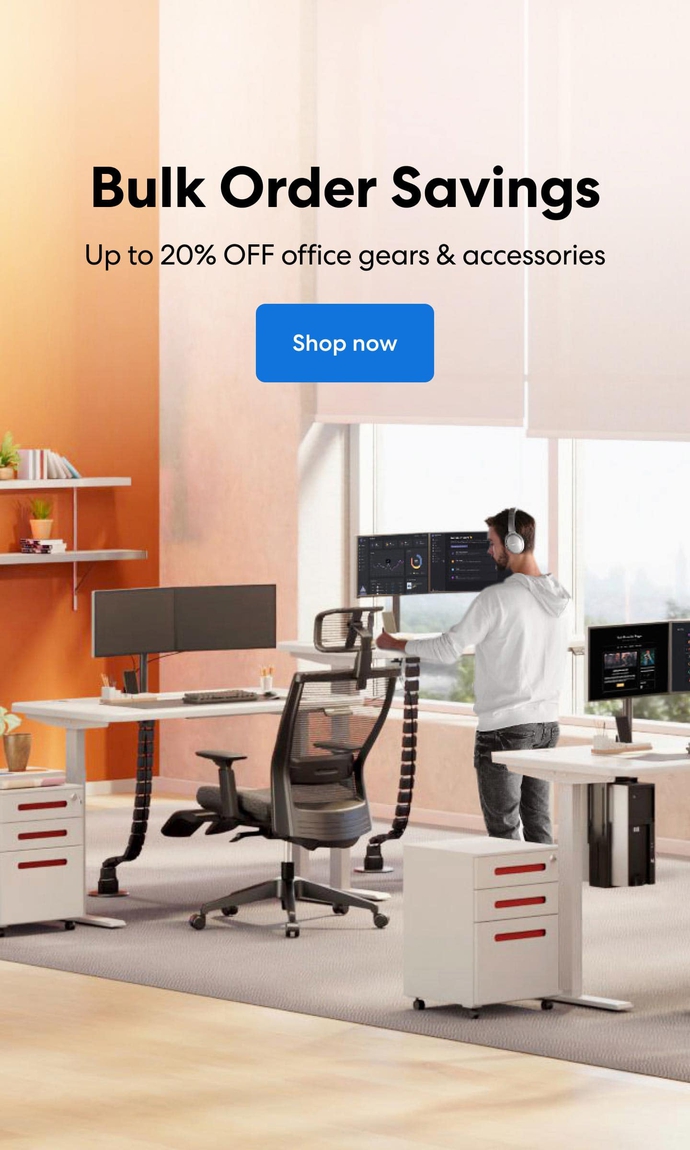 Subcribe newsletter and get $100 OFF.
Receive product updates, special offers, ergo tips, and inspiration form our team.