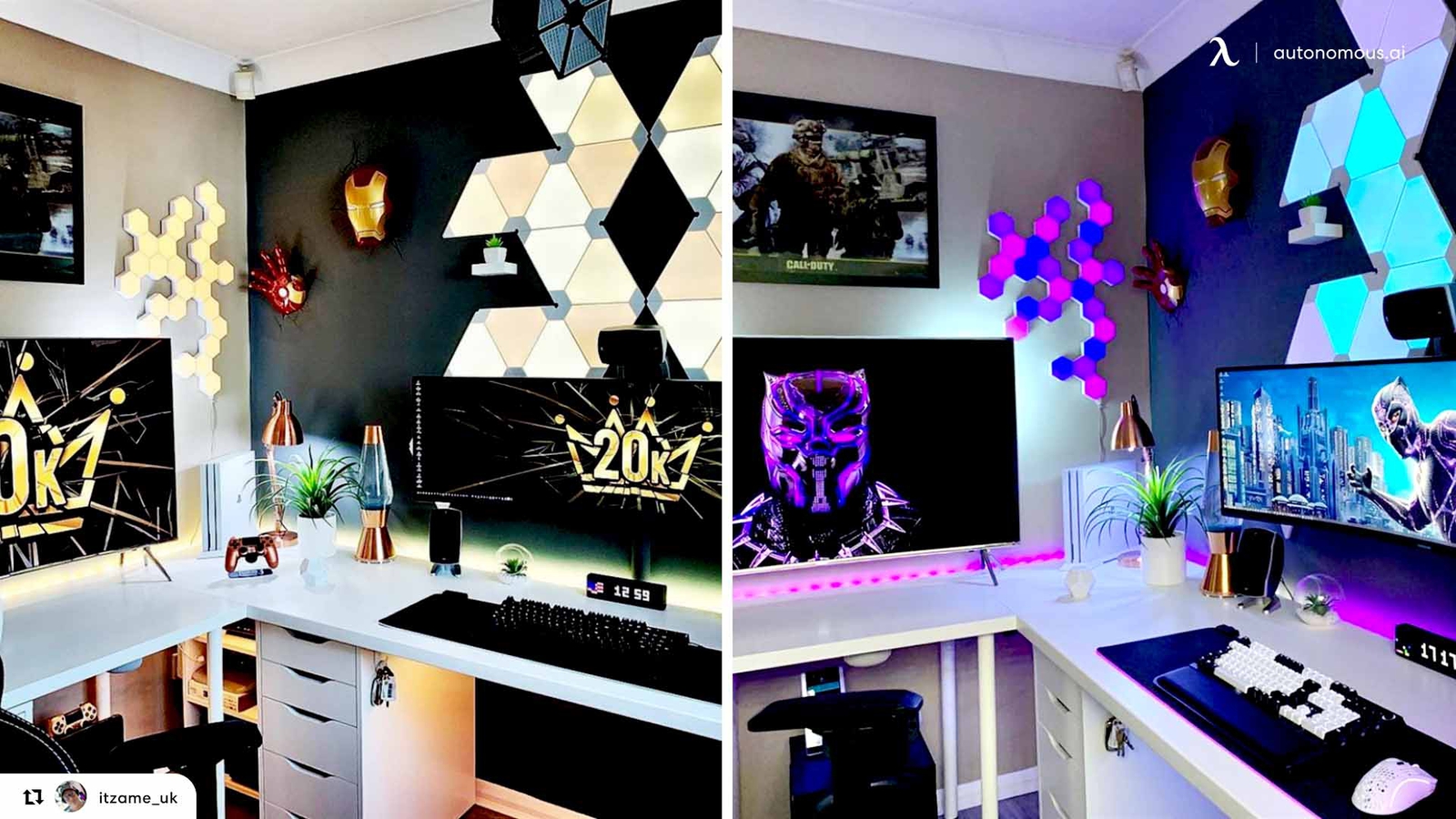 Workplace Inspiration
15 Best L-Shaped Desk Gaming Setup Ideas for Gamers

Autonomous
|
Mar 13, 2022
21,012 Views
Are you a hardcore gamer who is looking for a reliable gaming setup to have the best gaming experience? We know that gamers like you are usually looking for a setup that could maximize their satisfaction with their gaming experience. Most of you are aware that the L desk gaming setup is the latest fad.
However, there is always some room for innovation, and you can enhance your gaming experience by having some unique alterations in your L -shaped desk setup. If you are looking for some ingenious gaming desk setup ideas of how you can revolutionize your gaming setup to make your experience better, you are at the right place. We have shared a gaming setup guide here that discusses the best L desk gaming setup ideas to ensure you have the most comforting and enjoyable gaming experience.
Some Benefits of L-shaped Desks for Gaming
Due to its roomy twin parts, L-shaped pc desks give plenty of areas to arrange several monitors and various desk peripherals. These corner gaming desk setups also ensure that all peripherals are within arm's length so that you might work without first being overrun by clutter. Nevertheless, an L-shaped desk also has several other advantages for an aesthetic gaming setup that can help you be more efficient.
Great Desk for Multiple Tasks: The capacity to multitask is a significant advantage of choosing an L-shaped tabletop for a bedroom gaming setup. You may share each piece of an L-shaped desk's twin workstation sections to establish a specialized configuration for multitasking.
Great for Performance: Productivity comes from doing things more efficiently, and effectiveness comes from working in a pleasant atmosphere. An L-shaped table has enough room for you to work properly without even being swamped by clutter.
A Space-Efficient Edge Desk: The spatial area of an L-shaped laptop gaming setup is one of the key reasons for its popularity and worth spending. Because of its vast size, a normal rectangle worktop accounts for the vast majority of the room area when arranged.
A Better Ergonomic Design Solution: An L-shaped workstation is excellent not only for pleasant work and increased efficiency but also for well-being from an anatomical standpoint. Apart from a rectangular workstation, extending the arms to grasp workplace objects accessible on the big work surface would create shoulder or back pain.
A Fantastic Gaming Desk: An L-shaped table is the best option for PlayStation players looking for a gameplay desk. Due to the big upper surface, an L-shaped desktop is the ideal desk option for a gaming arrangement with more gameplay machines than a standard desk. You may put up your game display or even many displays by making a V-shape. As you won't have to raise your head as much, you'll avoid neck discomfort.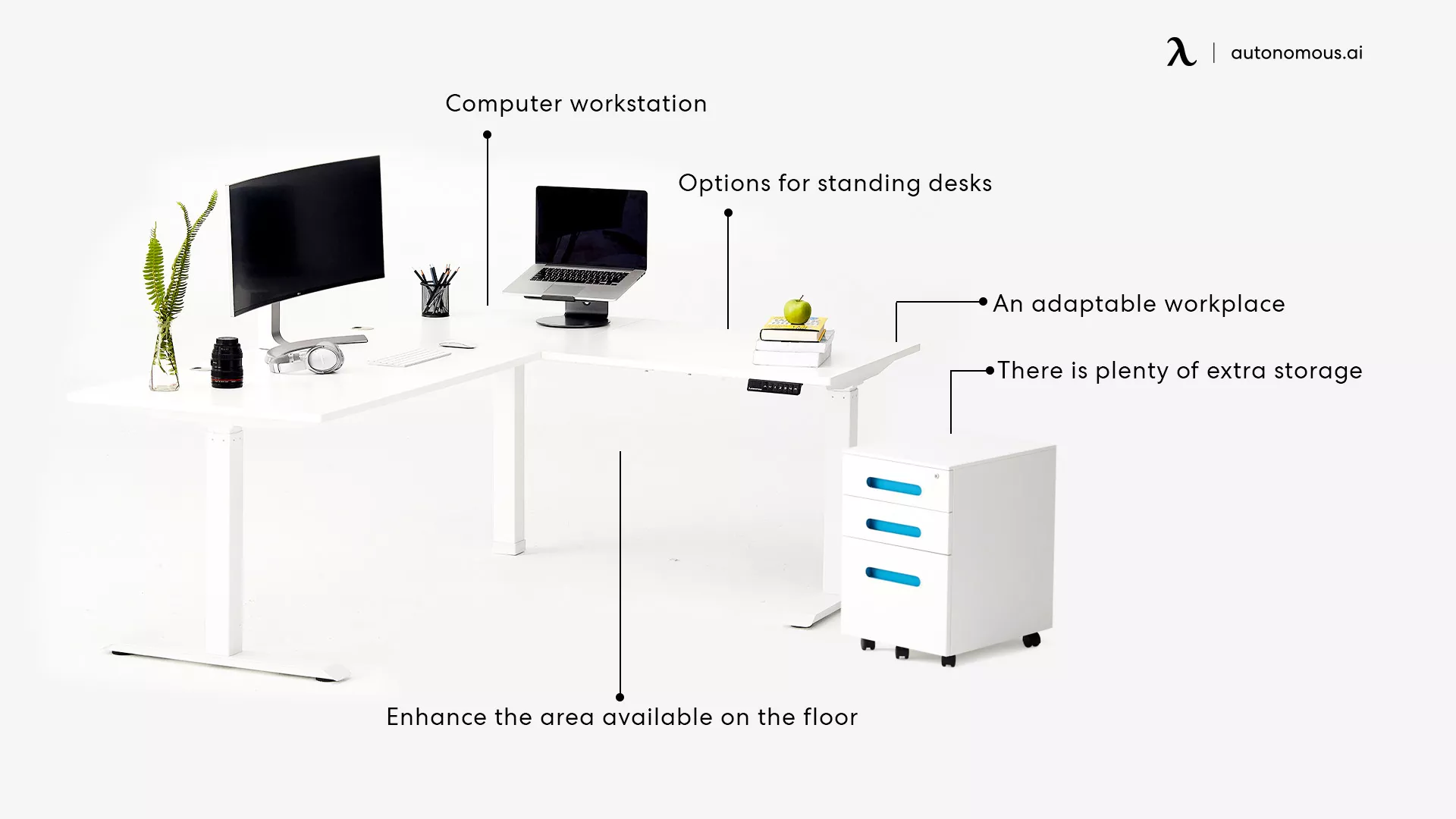 15 Best L Desk Gaming Setup Ideas
Gaming settings are still evolving. A growing number of gamers utilize two, three, or perhaps even four displays. Those with weak mouse sensitivities will want more space for those stunning flick shooting, whereas others will require a raised place to accommodate the PC's large tower. L-shaped workstations are becoming more prominent among players as the need for space grows.
L desk gaming setups seem to be two desks fastened together to create one large home co-working space. They are indeed a terrific space-saving solution for anyone who spends much time at a computer and is commonly used by work-at-home kinds. Different forms and patterns are available. Many people add storage and shelving on one end of the table, reducing the monitor area.
A raised monitor shelf is a typical design that saves workspaces while encouraging great posture just at the computer. This attribute is present in several of the designs we discovered. The size of the L-shaped desk setup is the only disadvantage for gaming furniture. They occupy too much room and are difficult to build or transport.
For a genuinely realistic gameplay experience, you'll need several monitors, video game consoles, and an acoustic set up, depending on your playing interest. Are you a dedicated player in search of the greatest gaming configuration? We know that enthusiasts like you are constantly seeking the ideal gaming arrangement to maximize their experience, so we've put together a list of some fantastic gaming desk setup ideas for you to choose from. Let's take a look at the greatest L-shaped gaming workstations available.
1. Get a Suitable Desk
Even if you have decided that you will be going for an L-shaped desk, you will have to choose the one that best suits your gaming requirements. To ensure that you have an ergonomic gaming experience, we suggest that you buy an adjustable standing desk.
Since you play for longer hours, you might feel like playing while sitting and later standing for some time. In this way, you avoid the common back pain and muscle strain that gamers often encounter upon spending longer hours on screen. An adjustable standing desk makes this possible and also helps reduce any strain on your eyes.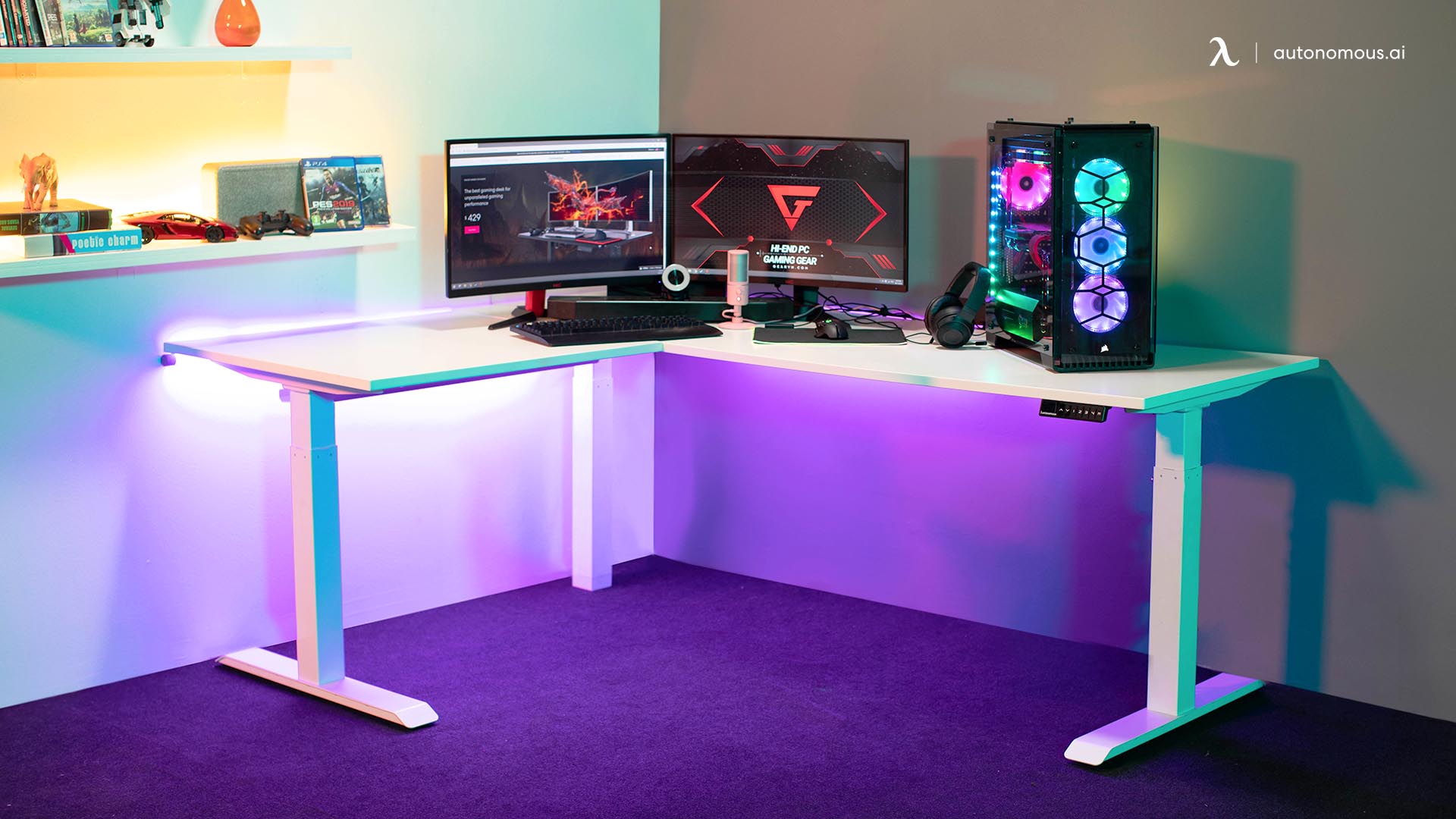 As far as selecting the right corner gaming desk setup is concerned, you need to evaluate that on the basis of the time you will be spending while playing and the size of your gaming setup. The L-shaped desk is an ergonomically designed corner standing desk that itself is available in a wide variety.
You can find XL and executive-sized desks available that can easily carry three monitors and two CPUs gaming setup. It is always better to go for those standing desks that have the capacity to carry and lift a larger weight.
2. Invest in an Ergonomic Gaming Chair
If you are a hardcore gamer, you will be spending a lot of time with your PCs. It is ideal to get an ergonomic chair as that will make your life easier. Such chairs help reduce any strain on your back and elevate your gaming experience. Providing you with ideal lumbar support, such a gaming chair makes your gaming hours smoother and helps you have an extended gaming session that any gamer would love.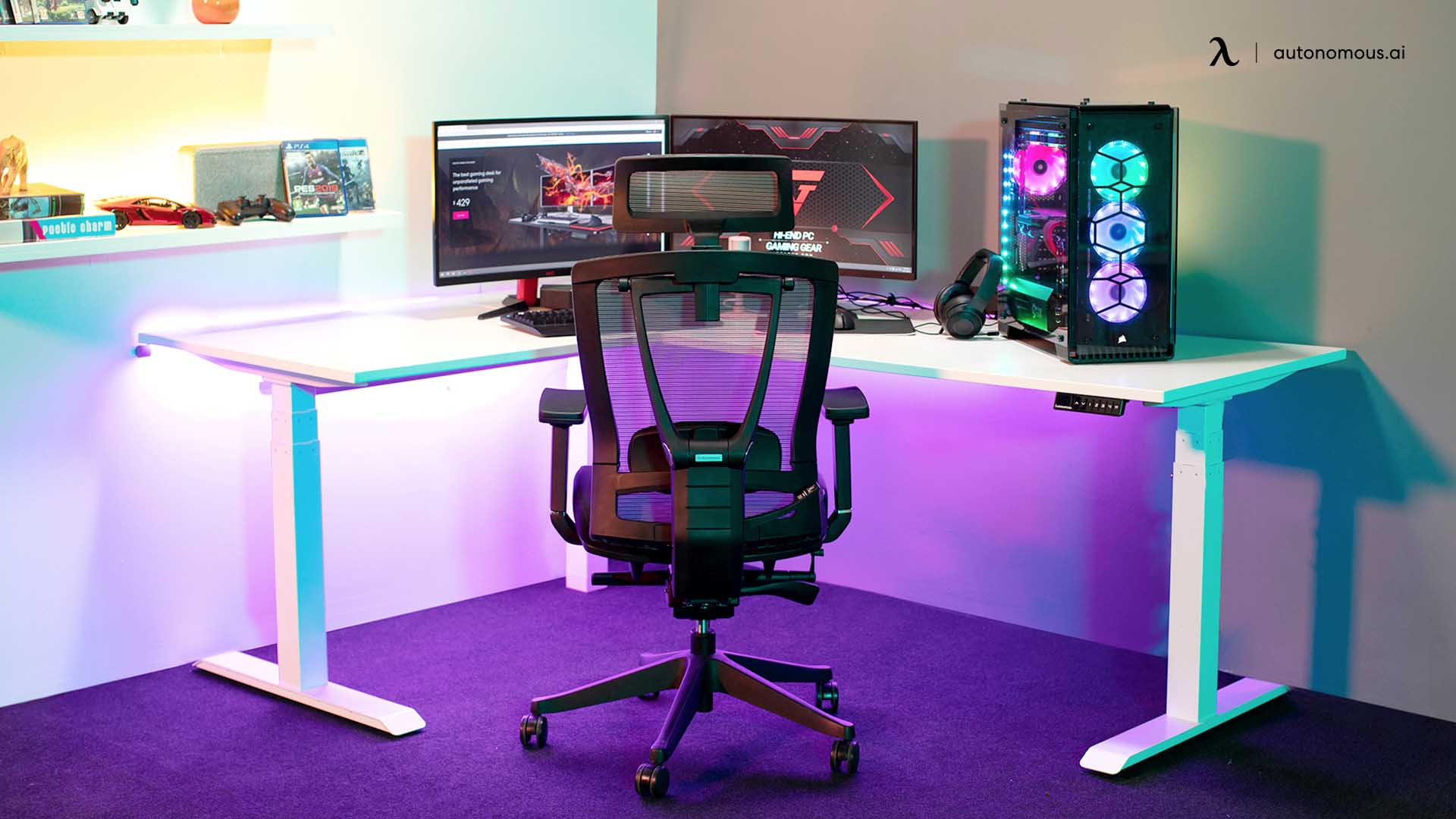 3. Add Some Vibrant Lights
Although the combination of an L desk gaming setup with an ergonomic chair is an ideal combination, you can add more fun to your gaming experience by putting some LED desk lamp and neon lights around your L-shaped desk setup.
If you are usually gaming during the day, you can even choose to set up your computer desk near to a window or some natural light source, as that also helps reduce strain on your eyes. Using your PC in a dim-lit area can be really harmful to your eyesight and affect your eyesight in the longer run. So, having a durable, high-quality light source helps you have a healthier gaming experience.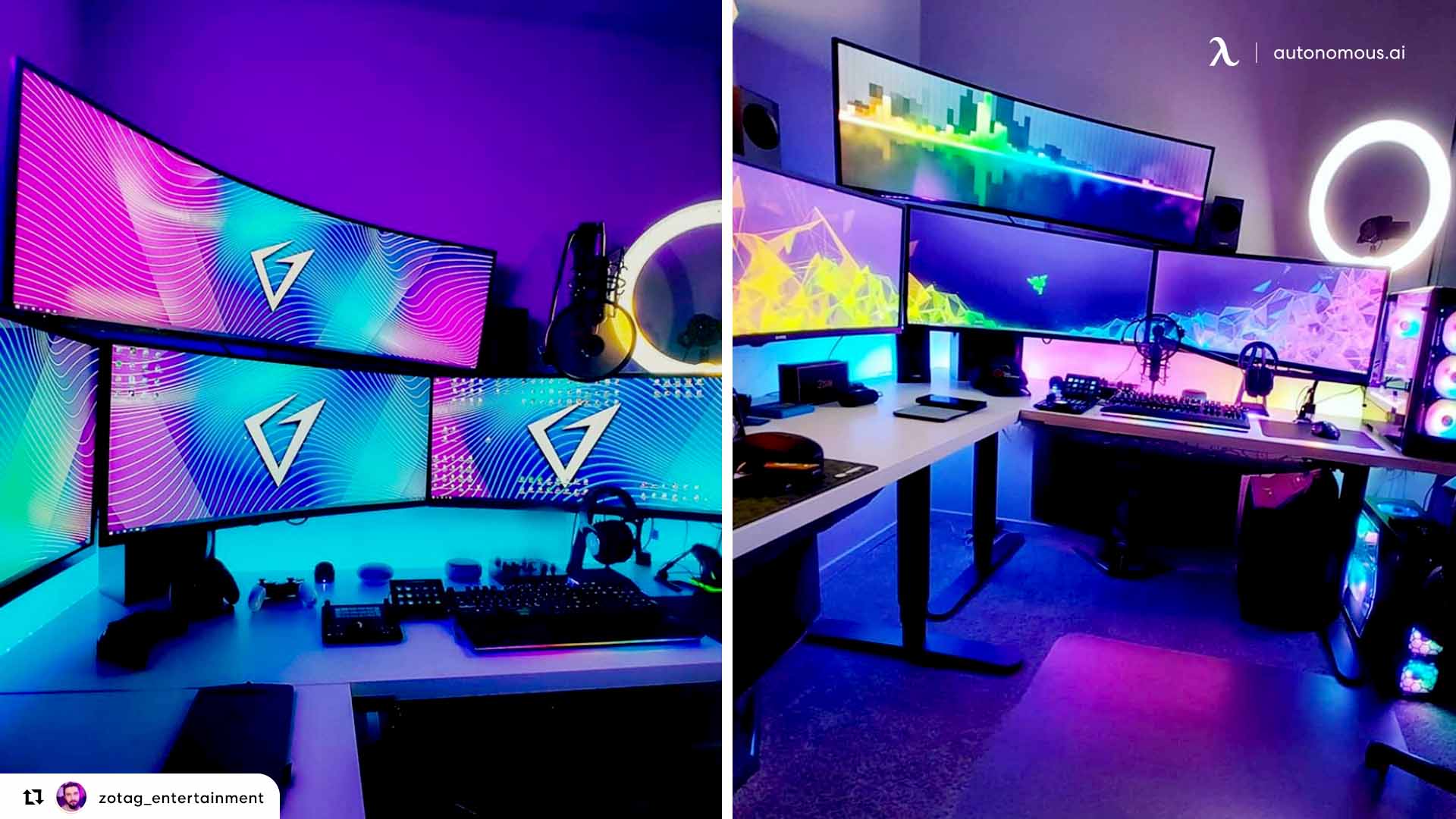 4. Choose a Monochromatic Color Scheme
Here is another L desk setup idea. A monochromatic color scheme like having your entire corner gaming desk setup of white or black color can give a tidier look to your gaming setup. This not just makes you less frustrated during the gaming sessions but also helps maintain your calm and improve your performance as a gamer.
Your selection of color for your adjustable gaming desk is dependent upon your taste, so it is ideal to choose a single-color scheme that is satisfying for you.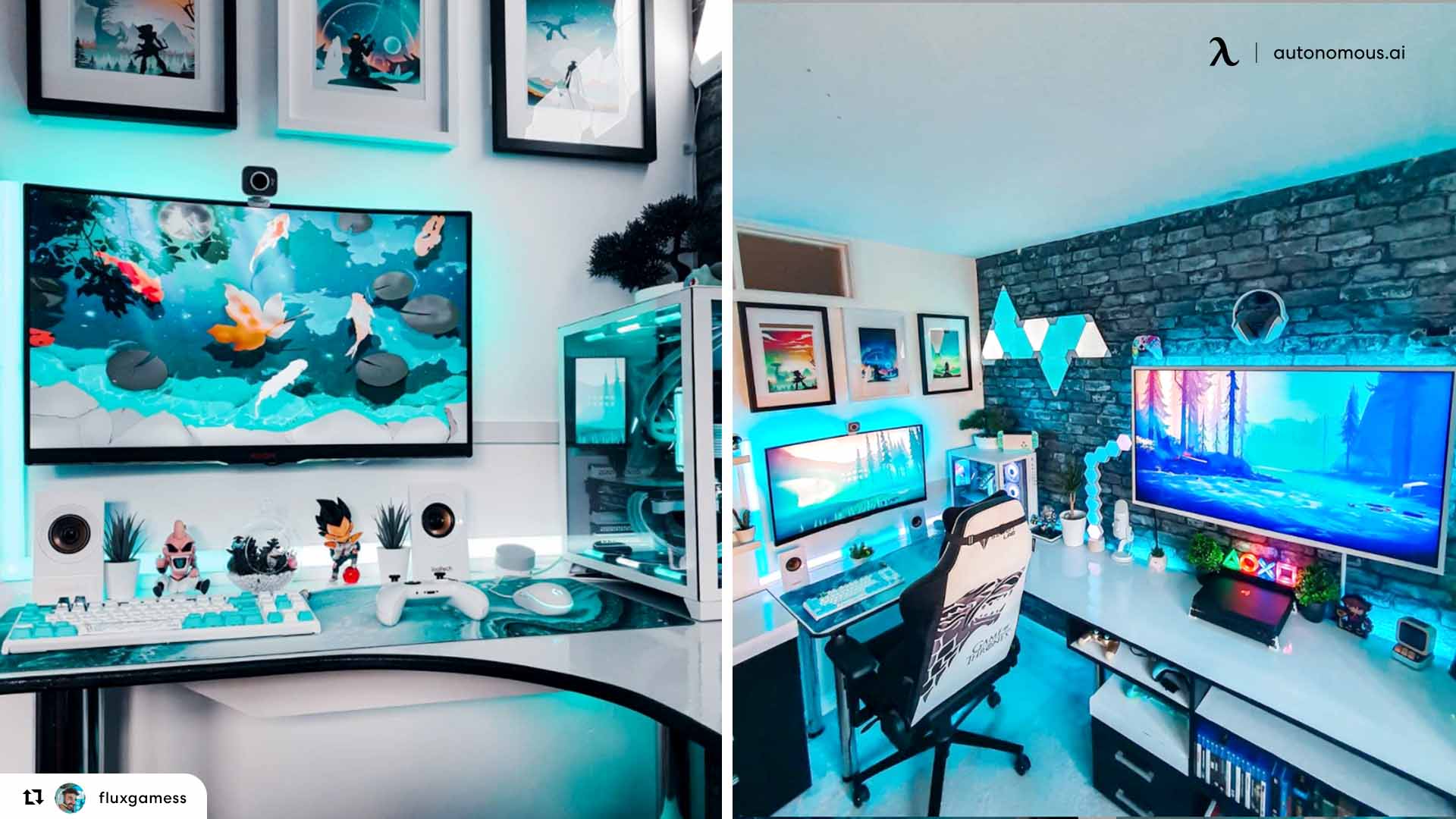 5. Go Cordless
It is always too distracting and frustrating to have multiple cables lingering around your ultimate gaming desk setup. This can impact your gaming experience negatively. When your gaming workstation is not much tidy, you don't feel like playing for longer hours. In addition to this, your gaming performance is also impacted negatively.
We suggest you invest in a wireless monitor and a Bluetooth keyboard and mouse to have a hassle-free gaming experience. The clearer the appearance of your gaming workstation, the better the gaming experience you will have.
6. Invest in a High-Quality Mouse and Keyboard
As a gamer, having desk accessories like a high-quality mouse and keyboard makes your life easier, so it is always better to invest in them. You can think of buying an ergonomic mouse and keyboards that help you have a smooth gaming experience.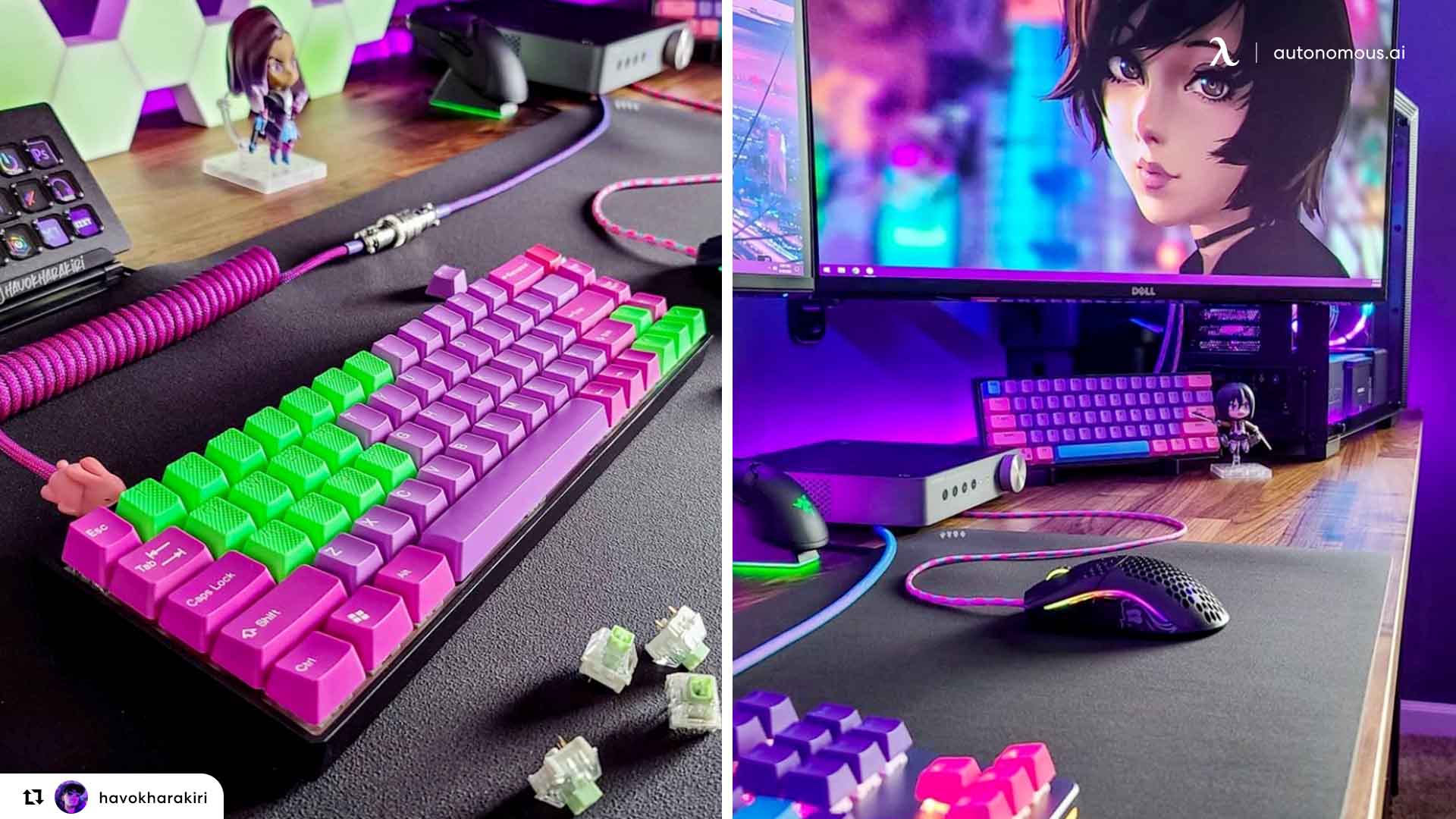 7. Use Anti-Fatigue Mats
Since you will be playing both while standing and sitting, having a suitable ergonomic chair gets you a suitable surface to sit. Nevertheless, an anti-fatigue mat togethering with L-shaped desk computer setup can come in handy if you want a comfortable surface to stand. These mats help reduce any muscle strain and help you have extended gaming sessions with ease.
8. Get a Monitor Stand
Spending more time with your monitor playing games can cause a severe strain on your neck. A monitor stand helps keep your laptop or PC at the right angle on your L-shaped standing desk to avoid any muscle strain; therefore, getting a monitor stand can reduce the likeability of any such injuries, hence make your gaming experience better.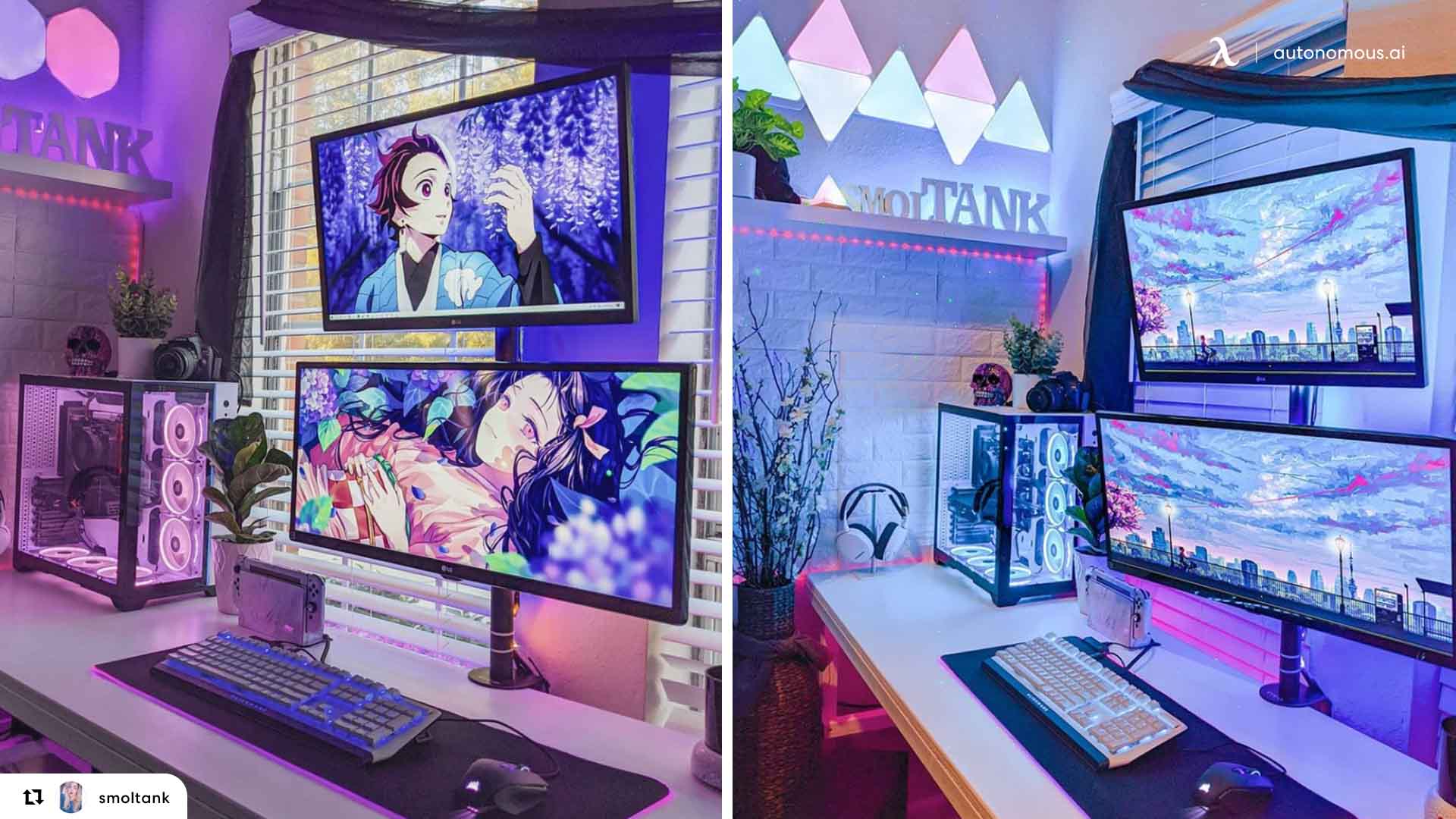 9. Use Multiple Monitors
As a gamer, you can elevate your gaming experience by buying a larger monitor or investing in multiple monitors computer desk setup while planning your L desk gaming setup. This not only gives you a wider and clearer vision but also allows you to give a better performance. So overall, you get an immersive gaming experience when you couple multiple monitors with your l-shaped desk.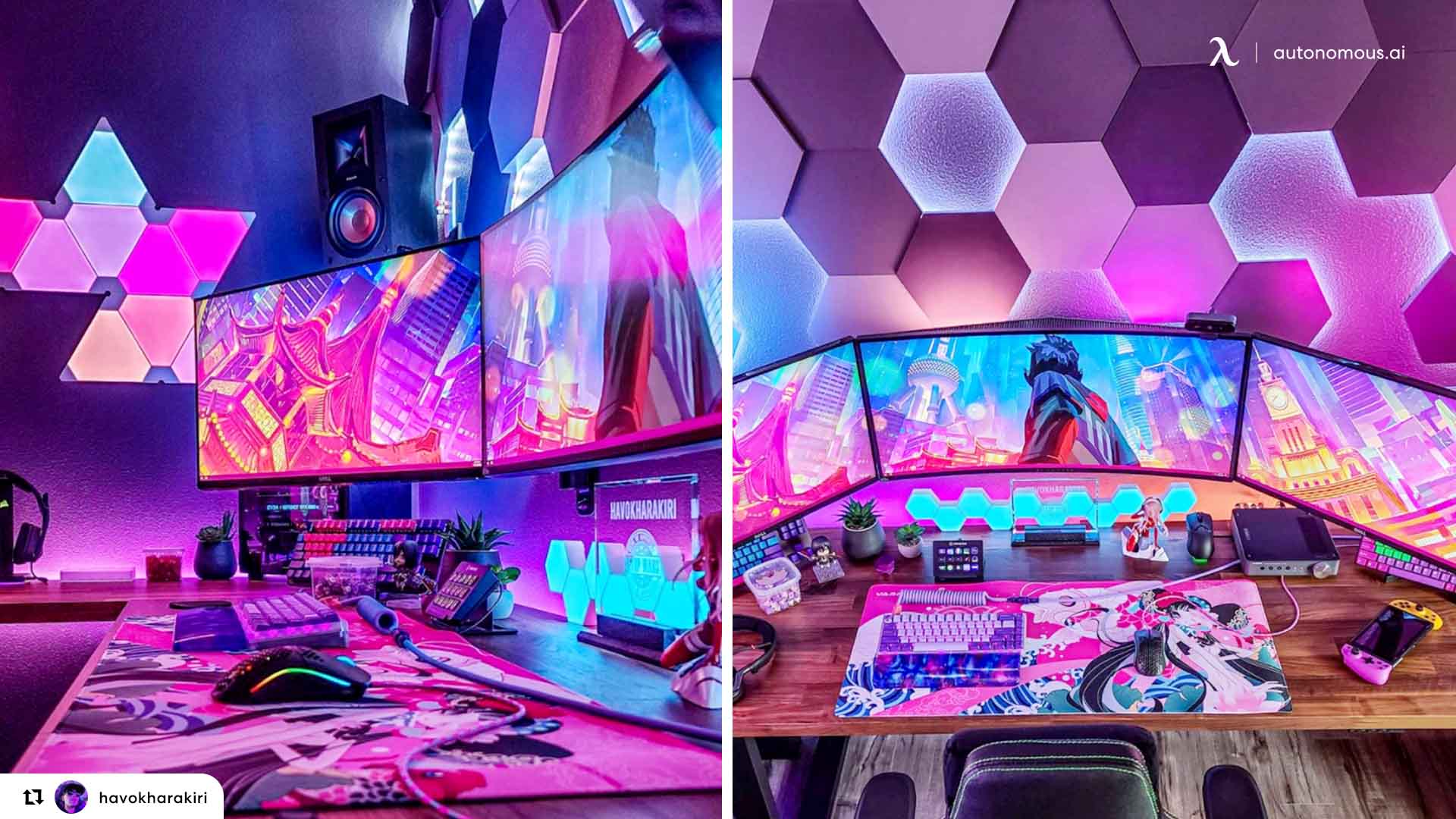 10. Use Symmetrical Monitors
It can be quite confusing when you play using monitors that are unsymmetrical. Installing symmetrical monitors for your L-shaped desk setup will ensure you have a smoother gaming experience and with better and enhanced visuals.
11. Maintain a consistent color palette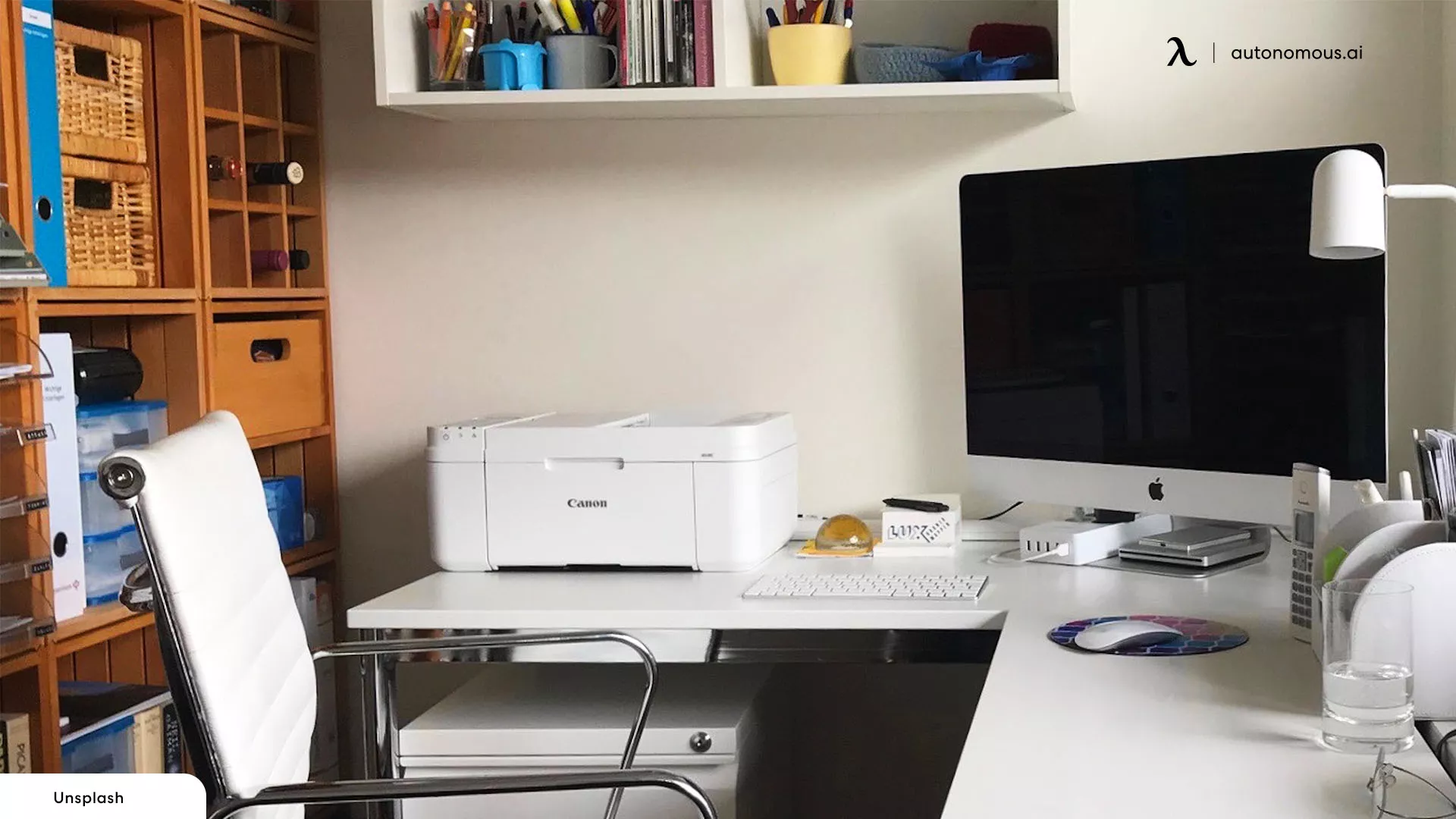 This is another L desk gaming setups idea for you. The simplest method to make your video game room stand out is to choose a color scheme and stay with it. Go by one major hue and one or even more accent colors for added aesthetic appeal.
12. Get rid of the cord clutter
Cable control is imperative for a professional L desk gaming setup—wrap wires around your table or the wall for a clean aesthetic. To transform a jungle of cables at your office into a single compact bundle, utilize desk cable boxes or bungee cords.
13. Create a theme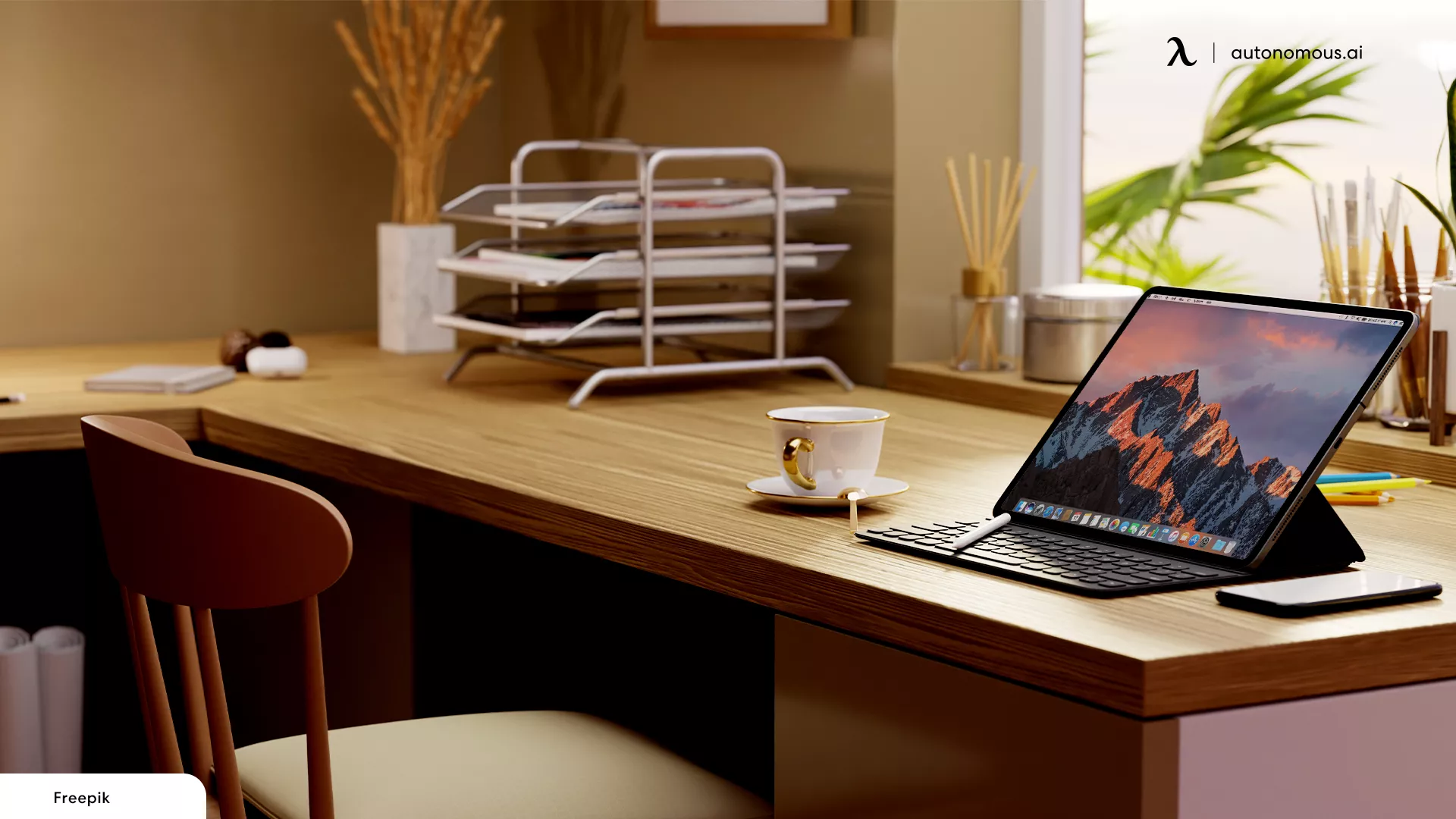 Do you desire an ultra-modern area that looks like the cabin of a spacecraft? Perhaps you'd rather go back in time with other gaming setup accessories such as arcade cabinets, classic video games, and pinball machines? We propose that you start thinking about all of your fantasy gaming area ideas before deciding on a theme. Once you've decided on a route, you may start planning your setup.
14. Set up ambiance lights
Is your arrangement a little lifeless? If that's the case, stylish gaming room lighting may be the solution! Lights, including RGB lights, play a significant role in establishing a kawaii gaming setup and ambiance in your room, as you can see in practically every gaming arrangement. Cozy sconces or bright rectangular tiles synchronize with movies and games on your PC according to the appearance you want to achieve.
15. Maintain a clean environment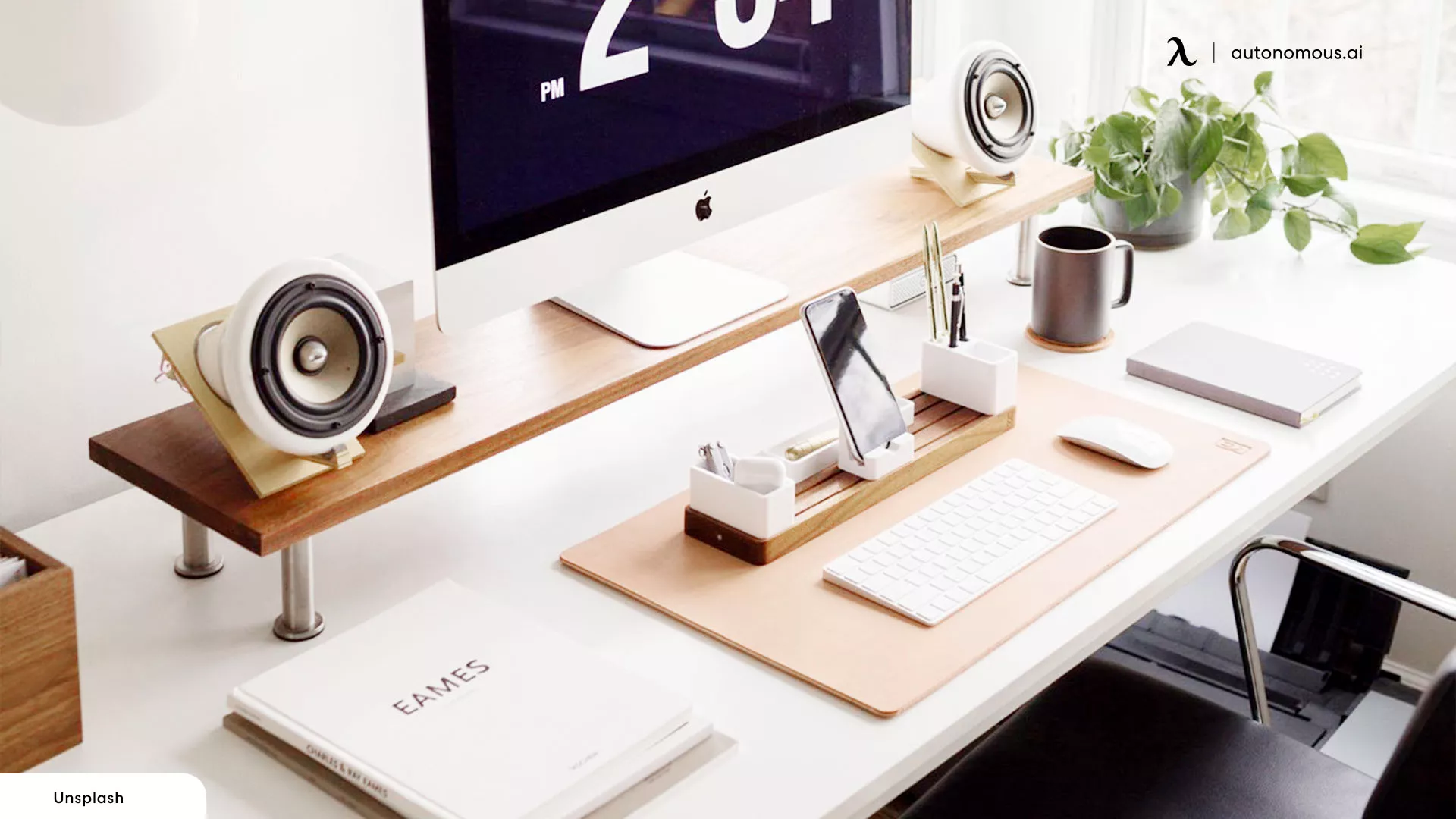 A tidy workstation helps focus on the essential thing at hand, broadcasting, gaming, or watching YouTube. Utilize a headphone holder, gamepad stand, and concealed storage locations such as drawers, cupboards, upholstered stools, and so forth to keep waste at bay. Upper cabinets are a terrific way to save up space while keeping your game desk neat.
It's easy to get carried away by the intricacies while planning your L desk gaming setups, especially with an L desk setup. If you're stuck for suggestions or can't figure out how to make an excellent gaming configuration, here are a few of the best setup concepts for PC and platform gaming to get you started.
Wrapping It Up
Furthermore, whenever you purchase an L-shaped gaming desk, do not forget to check out autonomous offers, especially for the Autonomous Employee Purchase Program (EPP), a great discount initiative for employees who have started to work from home. Moreover, they also offer EPP for Developers/Programmers, which is a discount, especially for their programmers.
Similarly, the Autonomous also offers EPP for government officials, teachers, and students. These discounts help you purchase your favorite products without worrying about your budget. The prices of all products become reasonable.
To conclude, you can enhance your gaming experience by adopting the above mentioned L desk gaming setup ideas. These ideas ensure you get less fatigued during the sessions. Therefore, you will be able to have extended gaming sessions if you adopt these gaming desk setup ideas while installing your gaming workstation.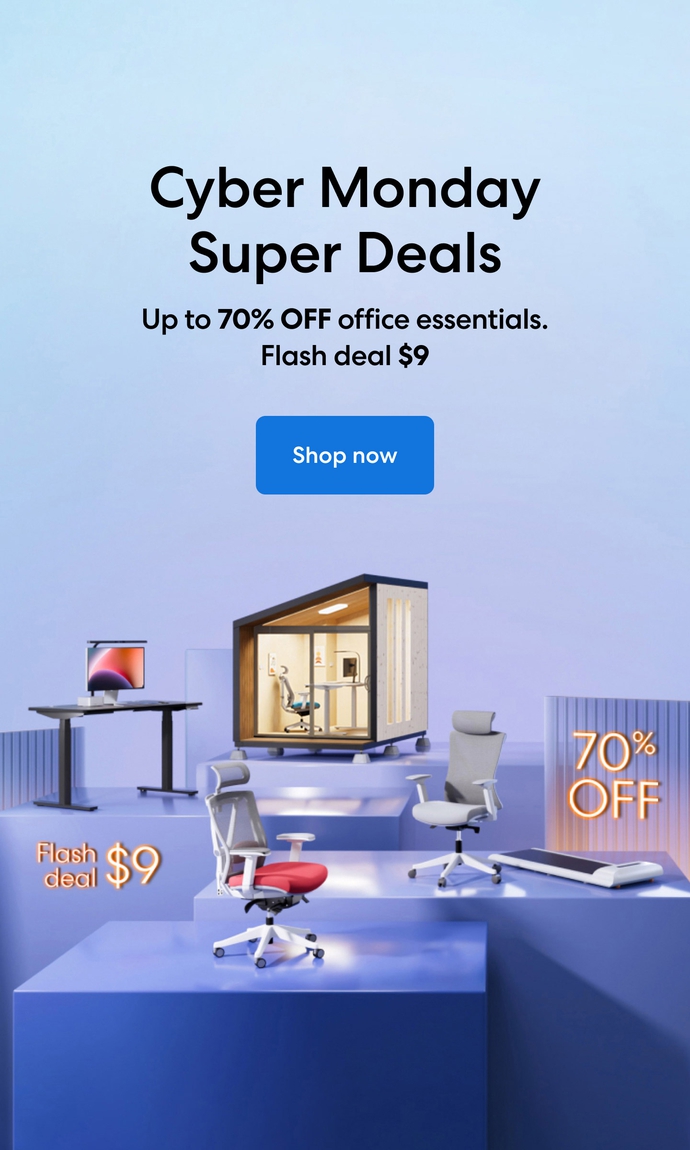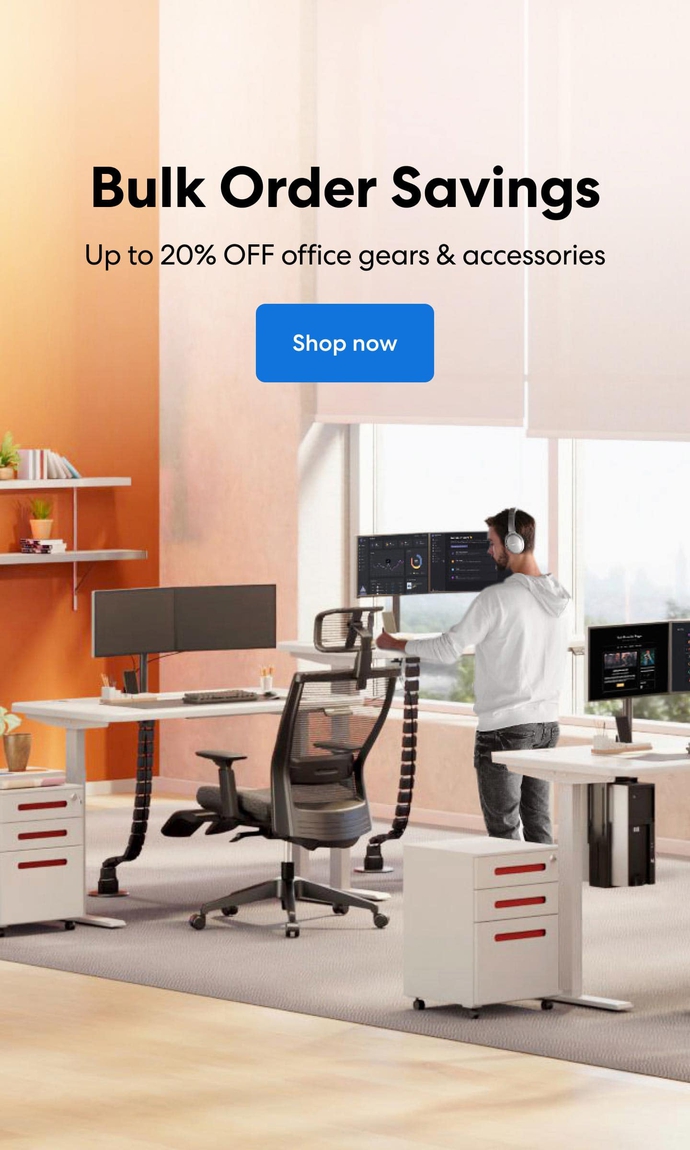 Subcribe newsletter and get $100 OFF.
Receive product updates, special offers, ergo tips, and inspiration form our team.