Workplace Inspiration
14 Kawaii Gaming Setup Ideas for Girl Gamers 2023
4,206 Views
Girl gamers are in! YouTubers like SSSniperWolf and Fangs have millions of followers who patiently anticipate their next gaming videos. These women have become role models to a whole new generation of gamers. In today's gaming community, girl gamers are becoming more prevalent and are at the forefront. From streams of sports games like FIFA to warfare games like Call of Duty, girl gamers are finally receiving the attention and respect they deserve. Having a personalized kawaii gaming setup can make gaming even more fun!
Setups are crucial to the ultimate gaming experience. Professional gamers would be the first to argue the significance of a setup. With an aesthetic gaming setup, gamers can feel at home in their space and be more comfortable when focusing on what matters most. Just because a girl is a gamer, does not mean she would not enjoy a kawaii or a cute gaming setup. 
Customization is key. It is important to design a setup that brings out one's passions and personality. Designing a setup can be a fun and enjoyable process from start to finish. Below are 14 kawaii gaming setup ideas for girl gamers.
14 Kawaii Gaming Setup Ideas for Girl Gamers
1. Colors Can Make a Difference
Go all out, why not!! Room coloring can be a huge factor in designing a kawaii gaming room setup. Girls can paint their walls their favorite color and even get matching carpeting. Brighten the setup room with vibrant pinks, purples, and yellows. The goal here is to make the setup stand out and be completely true to the gamer's personality and tastes. 
Purple pastel gaming setups have become very popular among girl gamers. Vibrant colors are a décor trend once again. These colors can brighten and increase the overall mood in a kawaii gaming room.
2. Stuffed Animals and Similar Accessories
If a girl so desires, her kawaii gaming room can be decorated with an assortment of cute stuffed animals or plushies. There are plenty of kawaii animals available for purchase including kitty cats, piggies, bunnies, dinosaurs, pandas, and penguins.  
There is nothing cozier or comforting than a cute plush animal to keep girl gamers company as they game. Kawaiies is one online company that sells a variety of plushies. Some of its most popular plushies are Jeju the Piggy, Flipper the Penguin, Tato & Tate, The Dino Lover pair, and The Great Gentle Panada. These are just a few of the Kawaii stuffed animal options it offers. 
3. Posters and Art Decorations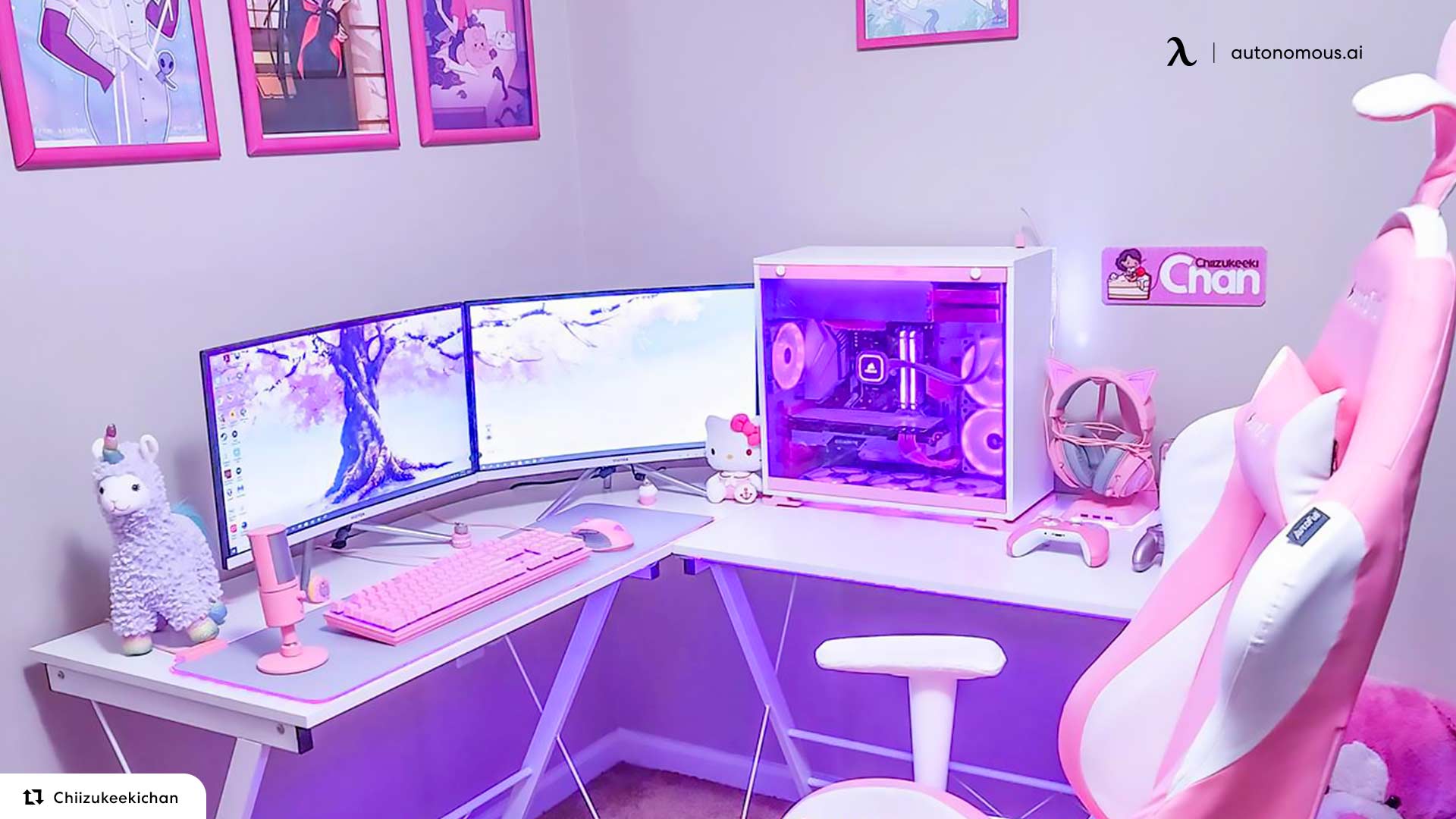 A girl gamer's setup should exuberate her interests and personality. As an example, if she is a huge fan of certain entertainment characters, incorporating a poster of these characters would be a nice touch to her cute gaming setup.
Popular anime franchises among girls include Sailor Moon, Cardcaptor Sakura, Mermaid Melody Pichi Pichi Pitch, Pretty Cure, and Puella Magi Madoka Magica. 
In the Kawaii space, anime and cartoons have increased in popularity. Girls can select from a wide range of poster art to hang in their setup room. Personally selected art decoration can make a girl's gaming setup become her special space. 
4. Gaming Chairs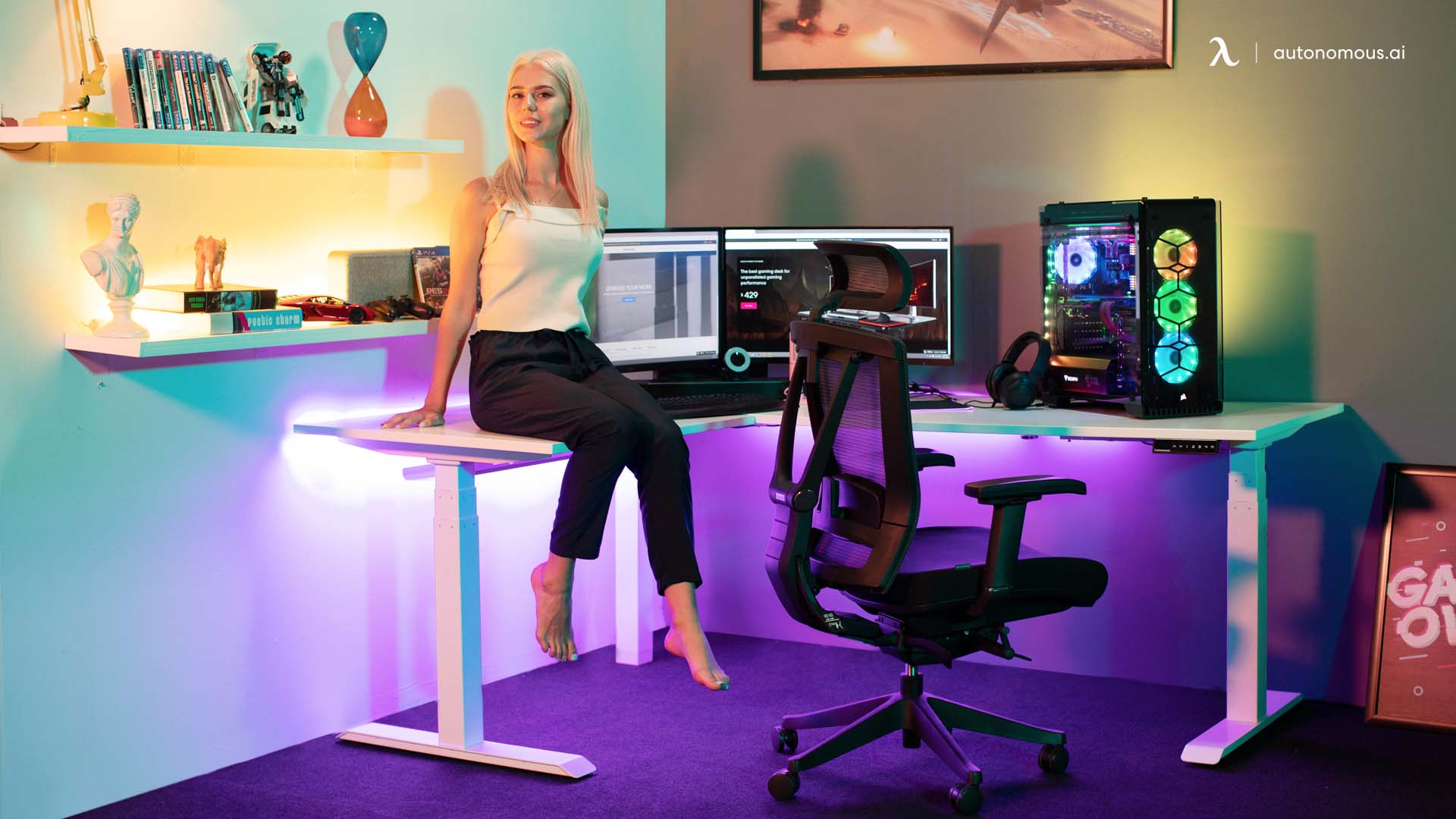 When gaming, one wants to be as comfortable as possible. With ergonomic chairs, girl gamers can have a very pleasant gaming experience without back or neck pain caused by consistent sitting. 
What does ergonomics mean? According to Oxford Languages, ergonomic products are "designed for efficiency and comfort in the working environment." In other words, ergonomic products are designed from the ground up with one's comfortability and wellbeing in mind. 
There are specifically designed kawaii gaming chairs with bright color variations including purples and pinks. A kawaii ergonomic support chair can not only fit in as a decoration in a girl cute gaming setup but provide reliable body support. 
5. Gaming Desks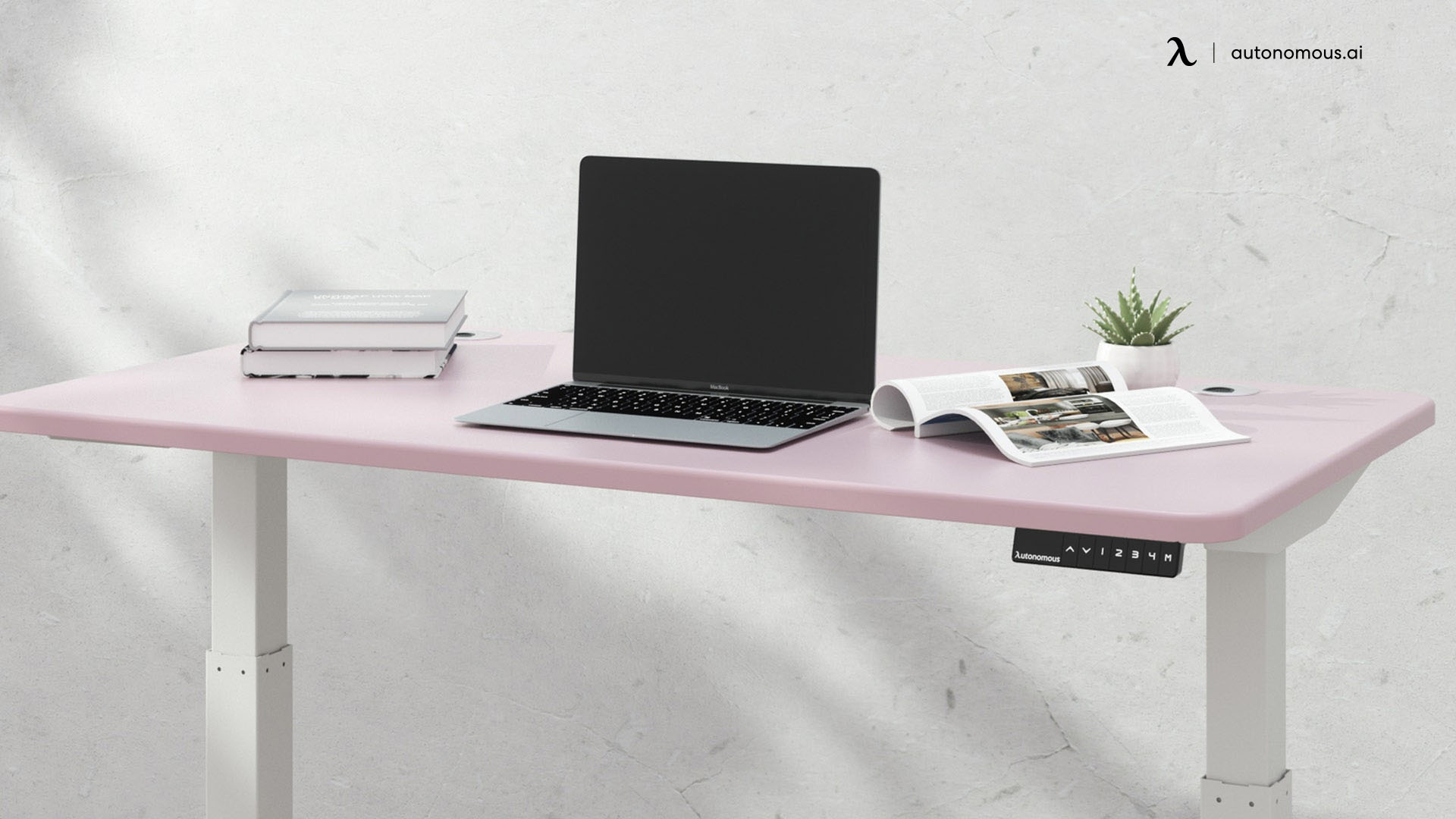 Just as important as the chair a girl gamer sits in is the gaming desk that serves as the centerpiece of her aesthetic gaming setup. A more efficient gaming desk is ergonomically designed. Often these are standing desks that are adjustable in height. 
SmartDesk Core pink top is a fantastic option for a Kawaii game setup. It is height adjustable from 25" to 45" inches and is perfect for standing or sitting. Girl gamers can adjust it based on their position and can be super comfortable as they play. Yes, it does come in a beautiful shade of pink! 
Another excellent standing desk is Autonomous's white standing desk. Like the SmartDesk Core, it is height adjustable from 25" inches to 45" inches. A white desk can be aesthetically complimentary in a vibrant colored room. 
Depending on the size and location of a girl gamer's setup, a small gaming desk might be more appealing. Not to worry, there are a variety of more compact desk options to explore. Some of the best available include the Benzara Compact Desk, Promotion Compact Desk, and Compact Desk by Happen. Even the SmartDesk Core can be compact enough for most spaces! 
Besides a standing desk and ergonomic chairs, additional helpful gaming desk accessories include a monitor stand, phone charging station, desk lamp, and noise-canceling headphones. 
6. Minimalist Gaming Setup
Some girl gamers prefer a minimalist gaming setup. There is nothing wrong with this! What would a minimalist gaming setup entail? Some might say just the necessities. A monitor, gaming console or PC, desk, chair, keyboard, and mouse would all be products found in a minimalist setup. Limited effort on setup decorations and design would be placed. 
As an example, a girl gamer who decides on a minimalist setup might not hang up posters or redecorate the space in vibrant colors. Just her desk and gaming products would be of importance. She might choose a purple or pink monitor or keyboard to make the setup more aesthetically pleasing.  
7. Bedroom Setup
Some girl gamers will create their aesthetic gaming setup right in their bedroom. Even with limited space, one's bedroom can become the ultimate setup! With an ergonomic chair and compact desk, the setup can be equally as comfortable as it is cute. 
One benefit to a bedroom setup is often a girl's bedroom is already decorated with personal touches. A girl gamer can feel very much at ease and comfortable gaming in her private space. 
Some bedroom setup suggestions include having the gaming chair match the room's coloring, or even having a bright keyboard and monitor. Gaming tools do not need to be dark and dull. Girl gamers may not feel as much of a connection with their setup. If a girl gamer's bedroom is full of vibrant pinks or purples, the cute PC setup can be designed in a complementary fashion. 
8. Bunny Themed Setup
One of the most popular Kawaii characters is the bunny. Many girl gamers will enjoy a Kawaii bunny-themed setup. Having a specific theme to a gaming setup can help the girl gamer's passions and personality come out. 
How does a girl decorate a bunny-themed setup? The purchasing of bunny plushies is a start. The stuffed animals can be placed around the room. There are even cool gaming room accessories like bunny mood lights and bunny headphones that can be incorporated. Etsy has some great options. 
9. Wall of Meaning
Poster art, as highlighted above, is just one example of wall decorations in a girl gamer's customized Kawaii gaming setup. When designing a setup, creating a wall of meaning can be very enjoyable. 
A wall of meaning or a wall of important things simply refers to covering a wall with posters, art, pictures, or stickers that hold personal significance. When a wall of meaning is created, a girl gamer can feel like their gaming space is personalized and comfortable. 
Girls can add as much or little as they want to their wall of meaning. When they game, they can look at the wall occasionally and see many of their interests right in front of them. This allows the setup to be far more aesthetically attractive to the girl gamer.  
10. Cute and Efficient Gaming Furniture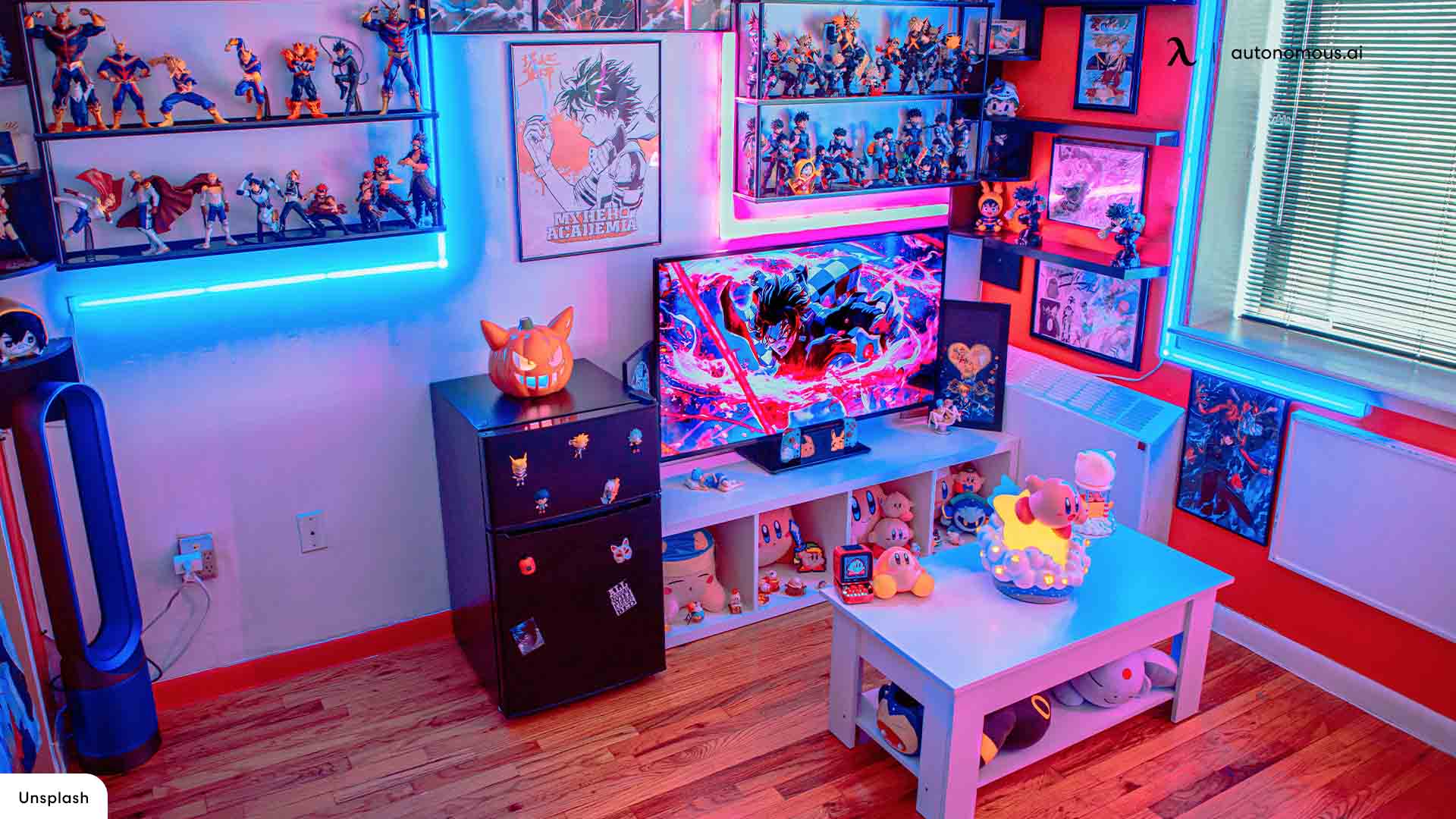 Colored gaming chairs and desks are just two examples of cute gaming furniture for your Kawaii gaming setup. Accessories such as themed Bluetooth speakers, vibrant floor lamps, and specialized gaming monitors are examples of furniture available to girl gamers. 
Yes, there are even Kawaii Bluetooth speakers and headphones! Cute cat-eared headphones can be found easily through Amazon, Etsy, or Wal-Mart. Such accessories are sure to excite any girl gamer who is trying to create a Kawaii setup. 
11. Kawaii Night Lights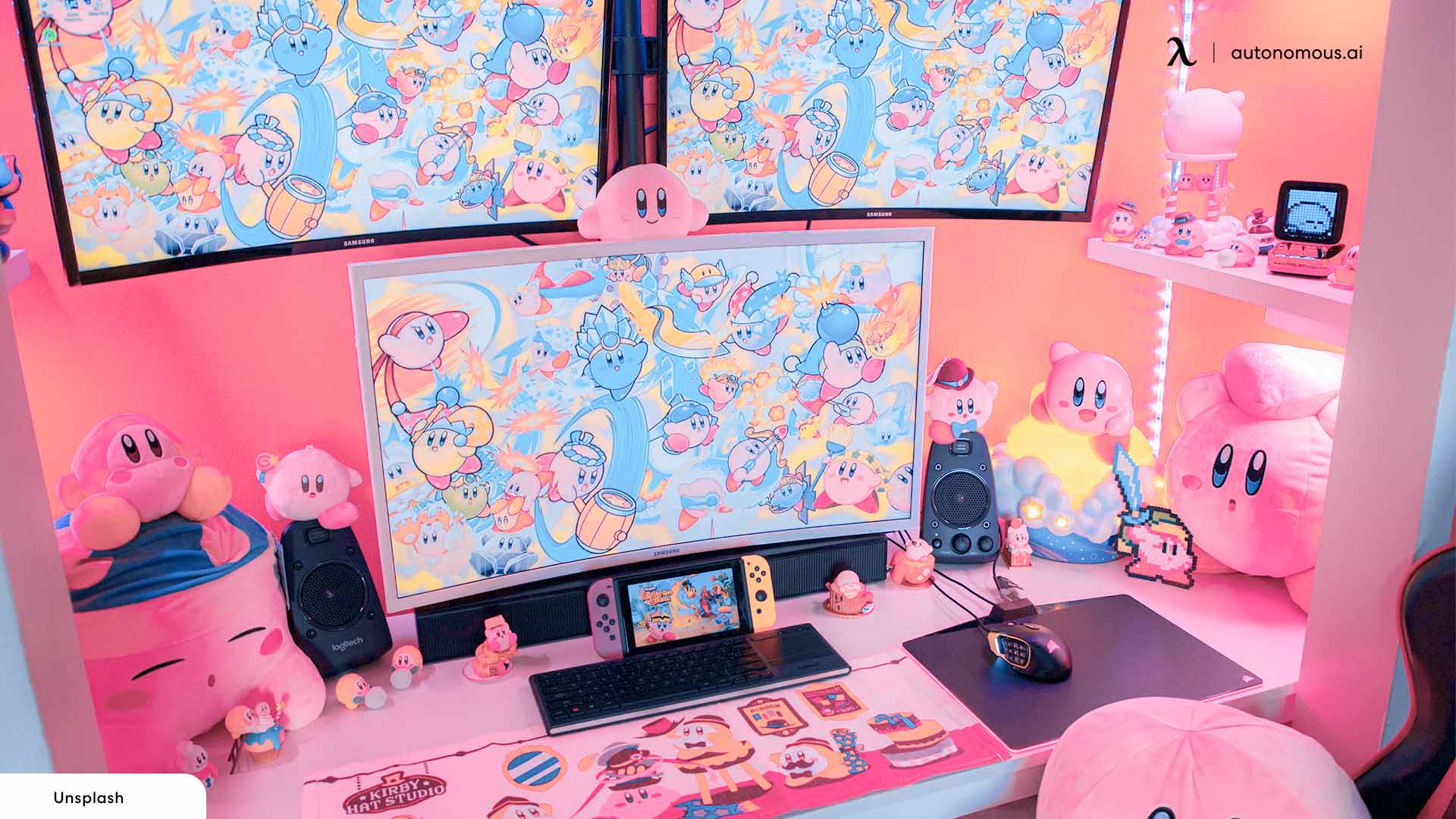 Lighting can be of the essence to a gamer's overall experience. Additionally, it can become an awesome decoration element! There are a variety of Kawaii night lights and hang-up light decorations perfect for a girl gamer's setup or bedroom. 
These lights can bring life into the setup room and make the room far more aesthetically pleasing. Night lights can come in the shape of cute Kawaii animals like bunnies and kitty cats or can be specific designs inspired by favorite anime or shows. 
12. Nintendo Meets PC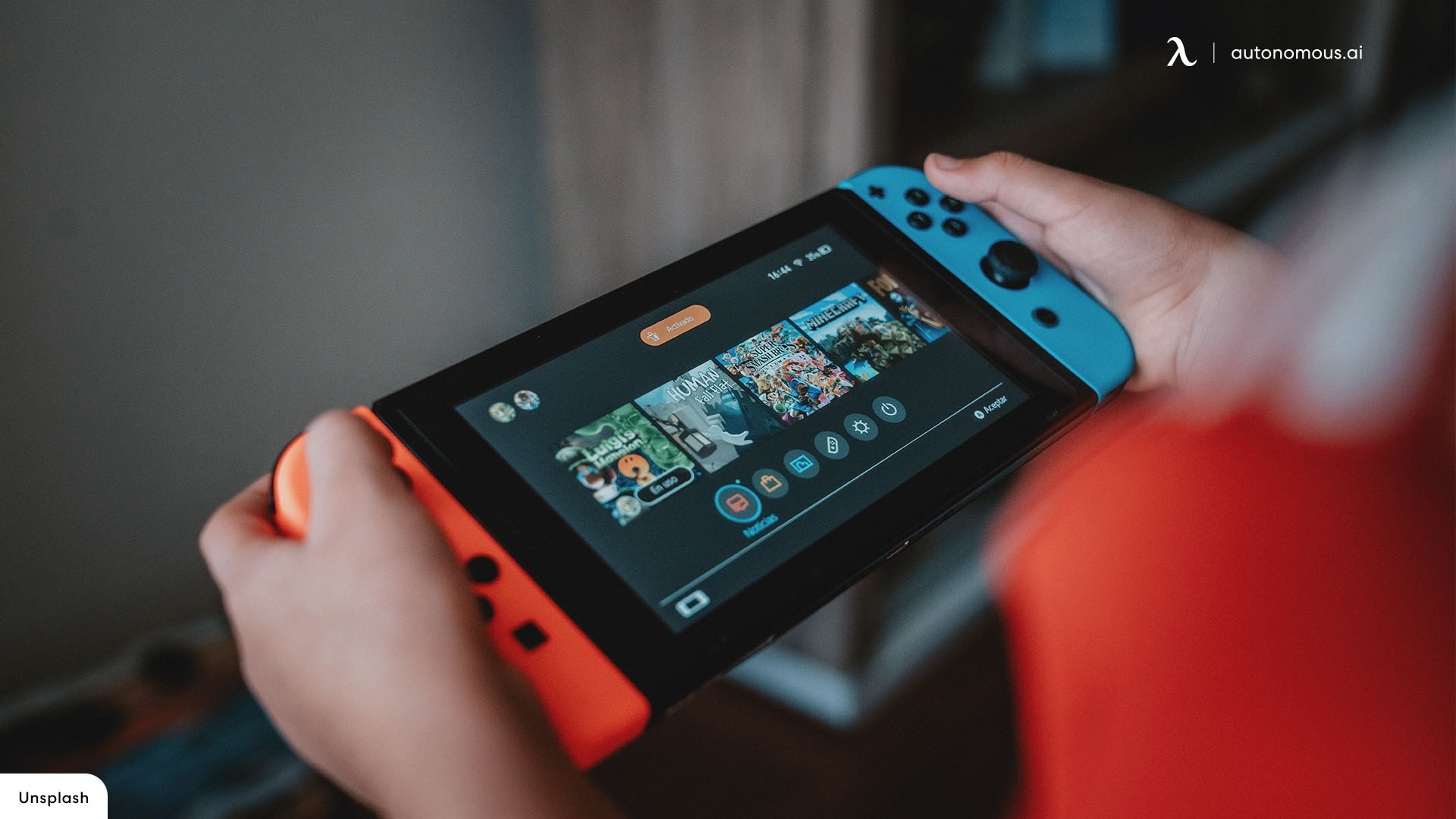 Some girl gamers not only want a cute PC setup but a setup that incorporates Nintendo gaming such as the Switch. A dual setup can be easily designed. 
With a purchase of a stand to hold the Switch, a girl gamer can switch between PC gaming and console gaming. A Switch can also be hooked up to a PC or gaming monitor. 
In turn, a girl gamer's dream setup can be the one central location for all her gaming. Whether she wants to play Mario Kart or a PC-based game, her setup is compatible and ready to go. 
13. Hello Kitty
A Kawaii-based franchise that has become increasingly popular is Hello Kitty. Created by Yuko Shimizu in 1974, Hello Kitty is a globally recognized phenomenon. Not only does it have a huge following in native Japan, but has entertained countless girls in the U.S., among other marketable countries. Hello Kitty even got her own balloon in the Macy's Thanksgiving Day Parade from 2007 to 2017. 
Undoubtedly, there is an audience among girl gamers for the Hello Kitty franchise. Similar to the bunny-themed Kawaii setup, a Hello Kitty setup can be exciting for girl gamer fans. Sanrio, the franchise's parent company, offers an assortment of Hello Kitty merchandise. From plushies to headphones and keyboards, girl gamers can find pretty much any Hello Kitty product they would want. 
14. Rainbow Themed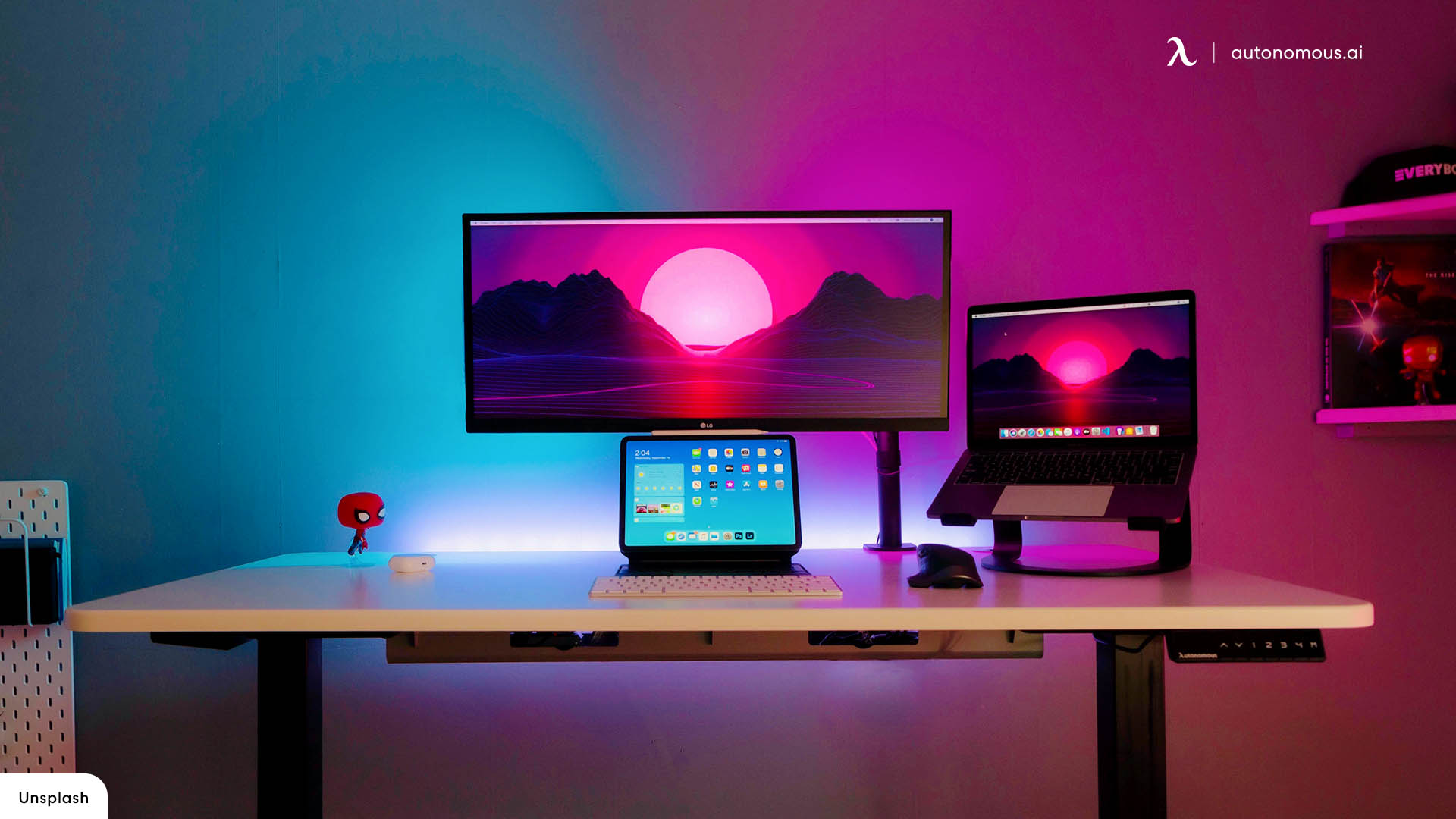 Another cute PC setup idea would be to decorate based on a rainbow theme. The setup room can have a variety of colors emphasized alongside a core color of pink or purple. Corresponding accessories like a keyboard or headphones can be rainbow-themed.
Such a setup would not be difficult to create, and surely its vibrant colors will make the environment very Kawaii-themed. 
The Bottom Line
Kawaii gaming setups are perfect for every girl gamer. They are fun, vibrant, colorful, and even more importantly, personalized. Gamers want to be comfortable and able to focus when gaming. With an aesthetically pleasing setup that also considers body comfort, girl gamers can game for extensive lengths of time feeling happy and content. 
Kawaii products simply brighten up the mood. Their cute and sweet designs are playful, innocent, and comforting. Gaming can be an engaging hobby, but also requires a degree of hard work. With a pleasant atmosphere, girl gamers will want to game even more and enjoy their dream setup. 
Girls are such a big part of the future of gaming. This was touched on at the beginning of this blog. Building amazing setups can result in stronger and more successful gamers. As time progresses, there will be so many more celebrity girl gamers who gain huge followings on YouTube, Twitch, and similar platforms.
Girls should be encouraged to game if it is a passion they want to pursue. Gaming is no longer just a male activity, far from it. With a Kawaii gaming setup, girls can still very much be girls as they enjoy their gaming hobby. 
The best pro gaming setup does not only have all the necessary equipment and accessories, but a personalized touch that captures the interests and passions of its user. With a Kawaii game setup, girl gamers can have exactly this type of setup.
Subcribe newsletter and get $100 OFF.
Receive product updates, special offers, ergo tips, and inspiration form our team.
WRITTEN BYAutonomous
We build office products to help you work smarter.