Workplace Inspiration
Gaming Aesthetic Setup Ideas for Gamers, Streamers
4,105 Views
To professional streamers and gaming fans alike, their aesthetic gaming setup is their sanctuary. Previously, gamers were unconcerned about the appearance of their setup and maintained gloomy cluttered rooms. Since then, teenagers have gained an aesthetic sense and have transformed their poorly lit computer gaming zone into a sleek and sophisticated one. Here are some ideas and suggestions to make your aesthetic game room setup more ergonomic. 
Gaming Aesthetic Setup Ideas for Every Gamers
The home theater enthusiast invests in his or her home theater, the bookworm invests in a home library, and the gardener invests in a flower garden to showcase his or her love for nature. What are the needs of video gamers? The creation of an aesthetic game room in the home dedicated solely to playing video games. 
It is possible to use the gaming room in numerous ways, from the usual to the unusual, depending on the requirements and style outlined by the client. Gaming rooms are not just "crazy corners" but also excellent places to experiment with bold colors, daring furniture, and interesting gaming light fixtures. 
It is better to choose something unusual. Here are some gaming room ideas to upscale your gaming space planning if you are ready to commit or just considering a dedicated aesthetic gaming setup:
Ergonomic Gaming Desk
It is critical to have a suitable and ergonomic gaming aesthetic desk if you are a gamer who spends practically all of their nights and days in their gaming room. You can choose whether or not to use a gaming standing desk, but we recommend that you do so. Standing for a few minutes per hour helps to replenish your energy levels, which are depleted when you sit for too long. Furthermore, there are some video games that you simply cannot enjoy without standing and performing all of those insane movements.  
You want an electric standing desk that can be adjusted to the perfect height. It should be comfortable and support you in maintaining your eye level and body posture while using the computer screen. There are several stylish and professional computing workstations on the market, we recommend taking a look at the SmartDesk by Autonomous. Additionally, you should ensure that you get a monitor stand that is both functional and attractive on your aesthetic gaming desk.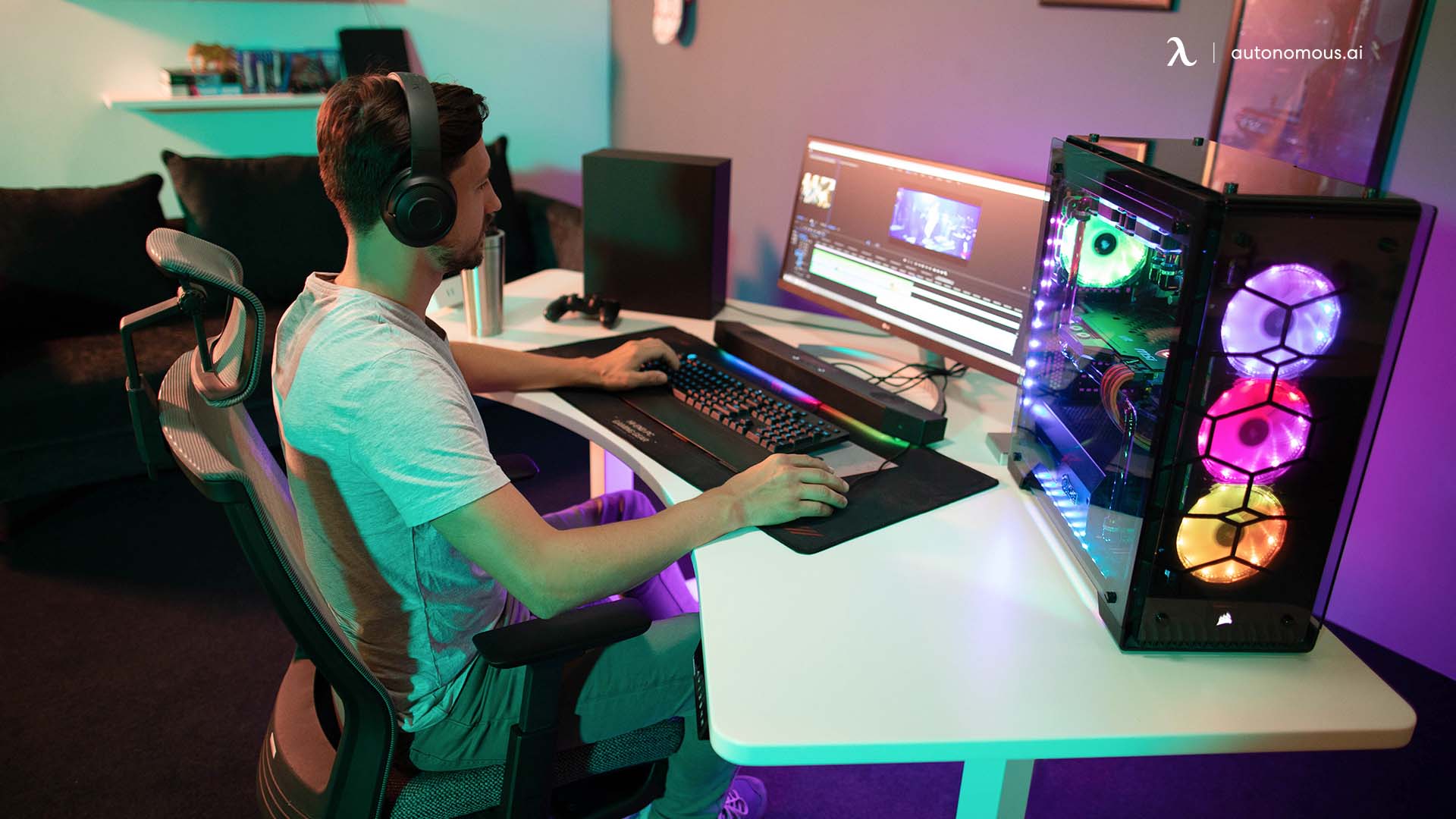 When it comes to décor and gamer aesthetic, few colors are as elegant as white. This color is popular among current interior designers because of its purity, simplicity, and durability. Purchasing a white gaming desk is an excellent idea for these reasons. The neutral tone is a great contrast to the vibrant colors and edgy designs that are common on gaming computers. 
70-Inch Desk
If you've ever considered getting a larger display to improve your gaming aesthetic experience and increase your productivity, a larger gaming workstation is the way to go. A 70-inch gaming desk is one of the most spacious gaming desks available for your ultrawide desk arrangement. 
Because you may need to store devices like keyboards, CPUs, dual monitors, and other accessories, a larger desk can allow you to fit many devices while minimizing clutter and overcrowding your aesthetic game room station. 
L-shaped Gaming Desk
If you plan on gaming for an extended amount of time, you want to be as comfy as possible. An L-shaped gaming desk or a corner gaming desk are excellent options to achieve this. These are useful because they don't take up a lot of room while yet allowing you to store all of your belongings. 
There are many different types to choose from, so you can find an aesthetic gaming desk that matches your personality. Some even include extra amenities like a footrest for added comfort.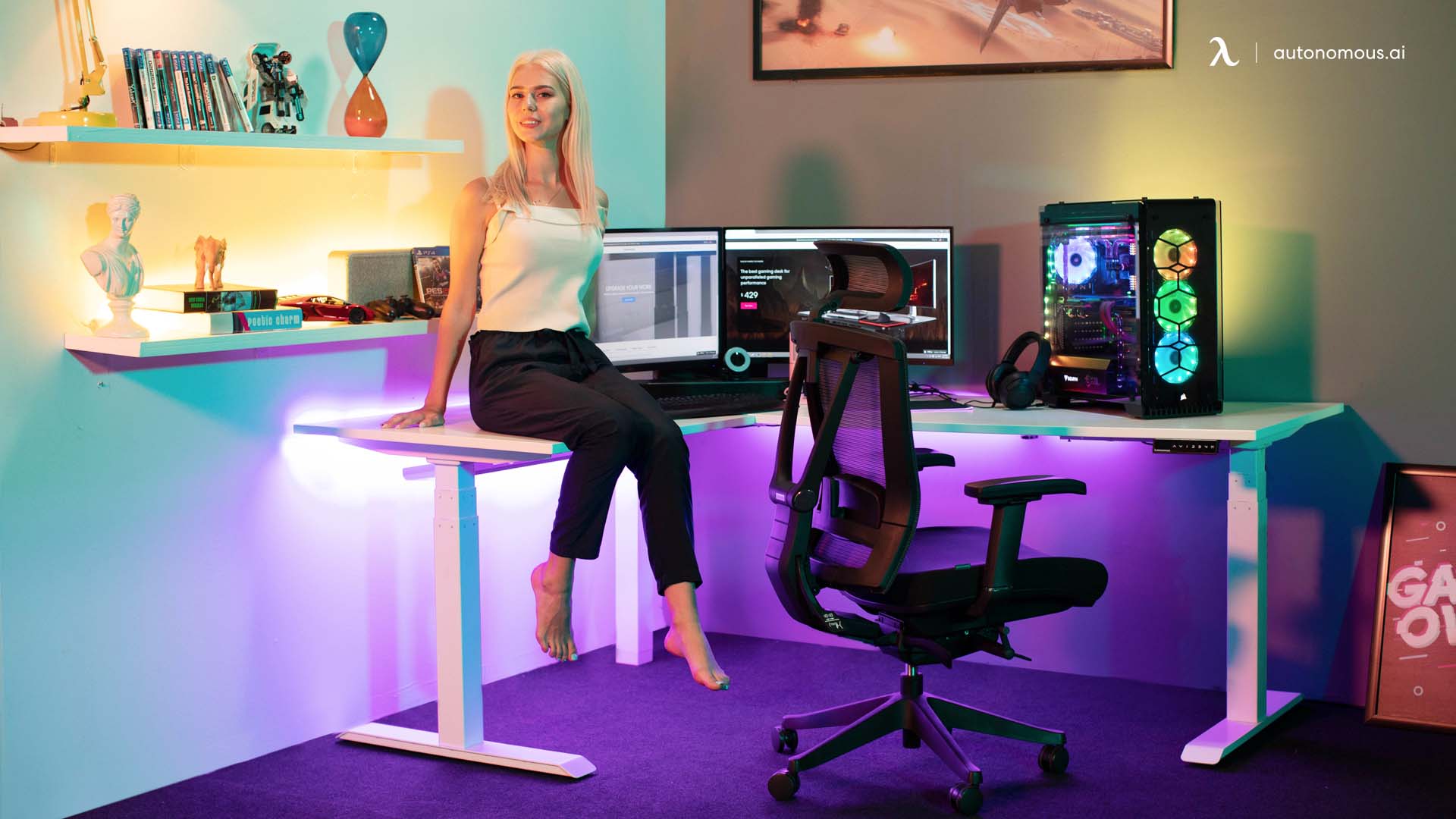 Cable Management
There is sure to be a lot of cabling in a gaming setup with multiple monitors. When left unmanaged, wires can make your aesthetic gaming setup look overcrowded and overwhelming, despite their importance. If your cable management isn't up to par, your gaming setup may look terrible. There are a number of excellent cable management tools available. 
To hide all the connections beneath the aesthetic gaming desk, acquire a pack of affordable cable channels or cable management solutions. The cables are clipped and held in place with clips on the majority of these products.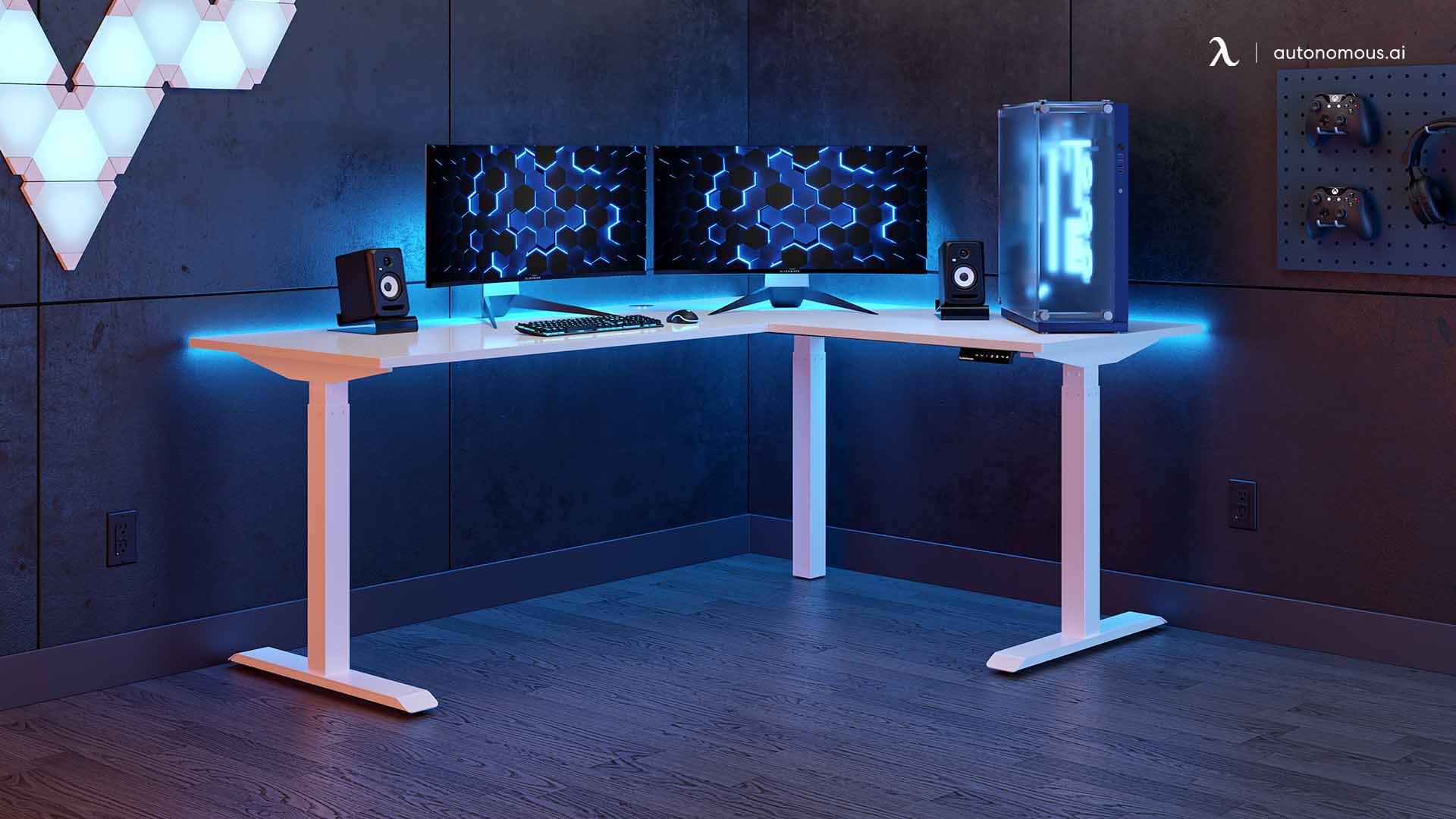 Light up Your Aesthetic Game Room
Lighting is an important factor in making your gaming room stand out. There are several lighting choices to pick from depending on your taste and budget. To give your gaming room a lovely light, add a single-colored LED strip behind your aesthetic gaming desk workstation. You can choose from green, orange, or blue, etc. Install a multi-colored LED strip to give your room a bright, rainbow-like feel if you wish to add more lights. 
There are a variety of additional inventive ways to illuminate your gaming setup. Using Eddison's bulb is a novel concept, and many players have experimented with it to illuminate their rooms. White bulbs can look fantastic in your aesthetic gaming setup if you want to keep things basic. These lamps may easily fit into any setting and give a touch of luxury without diverting attention from the overall gamer aesthetic.
Several smart lights are available for you to experiment with if your budget is a little higher and you aren't scared to go wild with the lighting. If you don't want to use lighting strips or lights, use light bar slits on the sides of your display to light up the aesthetic game room. Make a statement with colored fans and lighting displays that change color in response to your music's tempo and beat. 
Another option can be an LED gaming desk. The finest gamer aesthetic workstations are comfortable to sit at for long periods of time, and many of them have features such as cup holders, headphones, and controller holders. They also include holes for your cables to pass through to cover them up. 
LED lighting is now standard on many new gaming desks. The lighting looks beautiful and creates a relaxing ambiance. Some desks can even communicate with your computer, mice, and other accessories. 
Ergonomic Chair
If you want to get the most out of your gaming experience, you should consider investing in a nice gaming chair that is both comfortable and does not cause back strain. Gaming chairs, as well as ergonomic chairs, can help with problematic seating patterns. It doesn't really matter which one you get, as long as you're comfortable. 
Did you know that sitting in the appropriate posture improves your playing skills and makes the game more fun? It's possible that you can forget you're sitting. 
By its very nature, the Autonomous ErgoChair is a flexible seat. Several elements of the chair must shift to match your body in order to create optimal ergonomics. To that aim, the ErgoChair includes a seat with inclination, depth, and height adjustments. The backrest can recline and be adjusted at various angles. Height, front-to-back, side-to-side, and angle adjustments are also available on the armrests (4D adjustment). Lastly, there's back support and an adjustable headrest, both of which may move vertically and accommodate different angles.
Headphone Stand
Get a headphone stand to keep your gamer aesthetic desk from looking cluttered with large headphones thrown around. They are really useful and make your desk seem stylish. A wireless smartphone charger can also be placed on your desk to ensure that your phone does not run out of battery. 
Gaming Desk Accessories
Accessorize an outstanding gaming zone setup to make it cooler and more useful for you. Start with a high-quality keyboard and mouse pad for your gaming desk accessories. You can use separate pads for each or one huge pad to hold both. Luminescent keyboard keys are essential if you need to work or play video games in the dark. You may even get keyboards with built-in LED lights, which are becoming increasingly common. 
USB Hub
Install a USB hub under your workstation, especially if your monitor is out of range. If you don't have a wireless charger, you can connect your smartphone with a USB hub. You can also travel with it easily because it's lightweight, slim, and compact. 
Alternatively, you may put it to the bottom of your desk, where it can appear tidy and where you can run connections that are already cable managed. 
If you have too many USBs or don't want to plug them into the rear of your computer, this handy little device can help. It's unquestionably a useful tool to have! 
Elegato Stream Desk
The Elegato stream deck is an essential if you're a streamer. It isn't just limited to streamers, though. IT experts, marketers, gamers, and others can benefit from this. 
Because it is simplified and quick to set up, it is one of those things that could increase your productivity if you put it up correctly. Every icon on the stream deck's user interface may be customized, and it even provides real-time feedback. 
The timer, for instance, can show you how many viewers you have on a real-time basis, and the indicator can change from off to on to indicate that you are live. It features direct integrations with a variety of streaming apps, so you can trust the connections.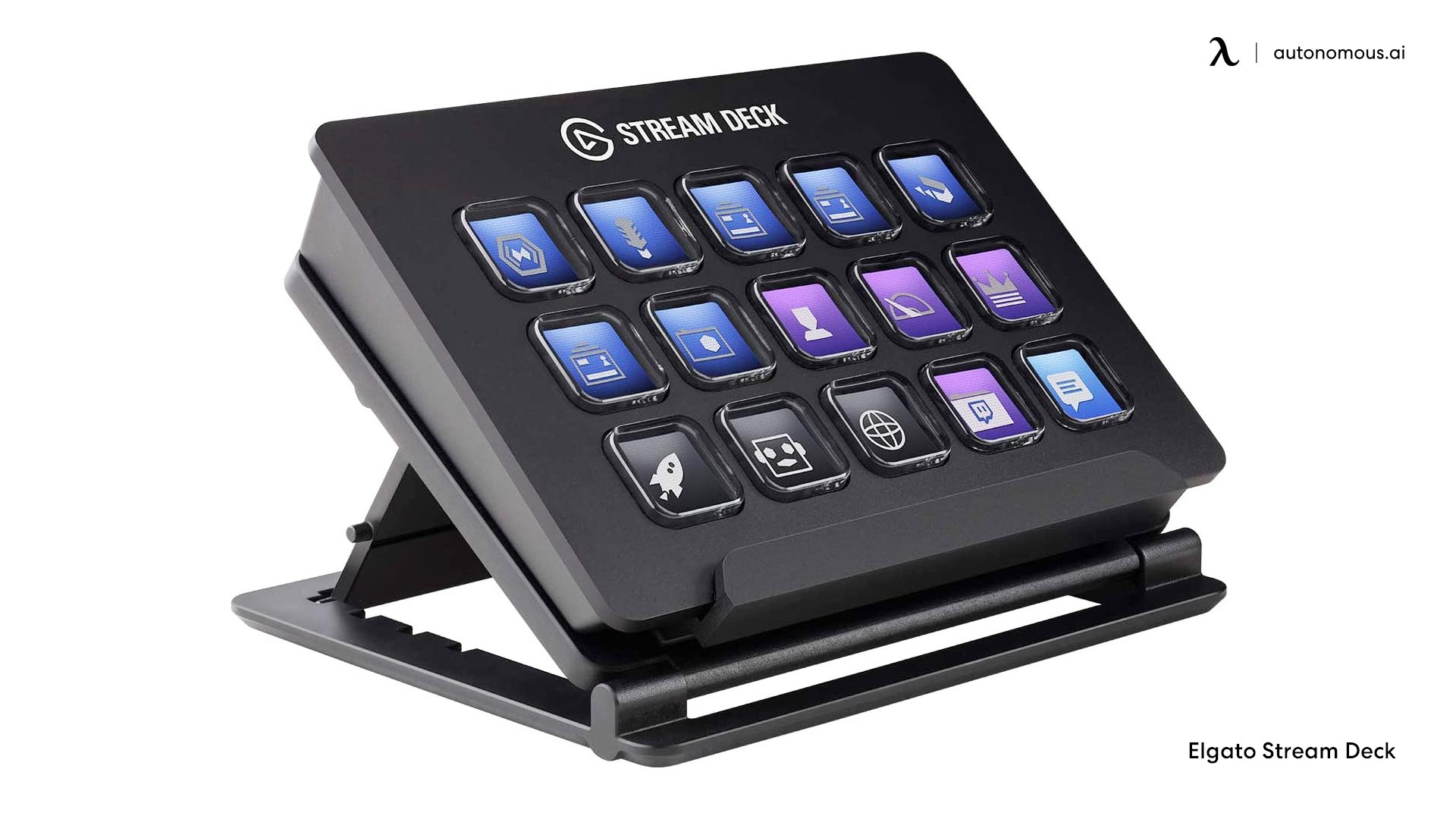 Add Your Favorite Figure
You don't have to settle for a plain aesthetic gaming setup. It's perfectly acceptable to have some fun with your gaming desk. Add a figure of your favorite anime character, superhero, or supervillain to your desk to show your appreciation for movies and games. If you're a Star Wars enthusiast, for example, keeping a Darth Vader pop-up figurine near your screen is a fantastic idea. 
Plants
Another idea that seems out of character is to embellish your aesthetic game room with some plants. Small potted plants can be used to embellish any area and would not look out of place in a gaming room. Fake plants can suffice if you don't think you're conscientious enough to have a plant in your gaming room.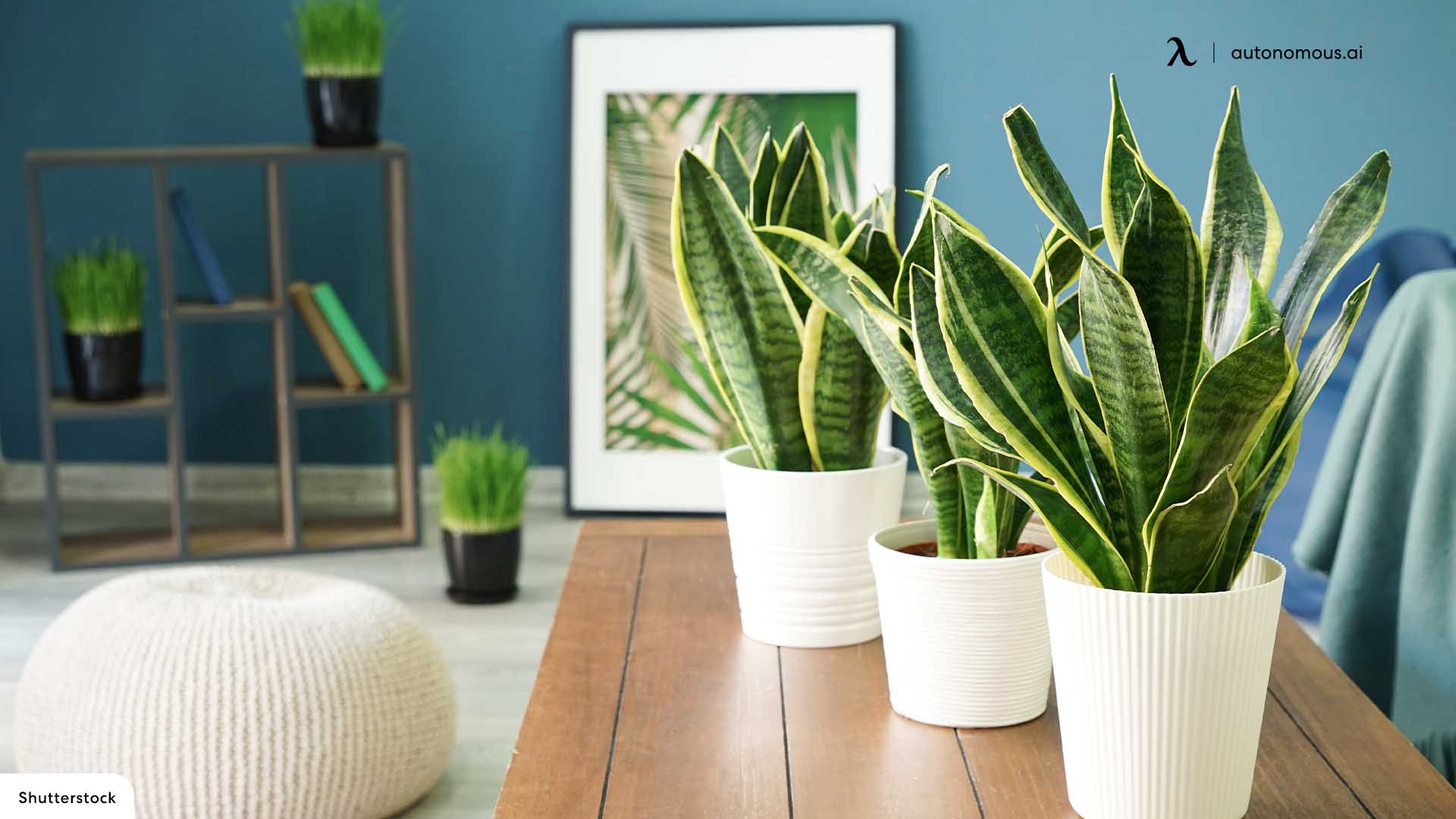 Controller Stand
I'm sure you're noticing a pattern here. The more items on your aesthetic gaming setup that aren't flat, the better. Controller holders are attractive since they display your controller as well, so if you have a distinctive design that complements your setup, all the better. 
These controller stands have the advantage of being able to be attached to any flat surface. Many of the top gaming setups have used it to give some flair to their setup by sticking it to their rear wall. Others took a different approach and placed it somewhere discreet in order to avoid interfering with their design and to maintain its clean and simple look. 
Keep Your Desk Clutter-Free
Keep in mind that dust and clutter are your rivals. If you want a superb gaming area, you must take care of these things. Make sure your desk is well-organized. Some of the items on this list can help you maintain your desk clutter-free. 
Dust gets into everything. You don't want your new workstation, fantastic lighting, and lovely luminous keyboard top to become dirty and dreary. As a result, make it a habit to clean up your gaming equipment once a week.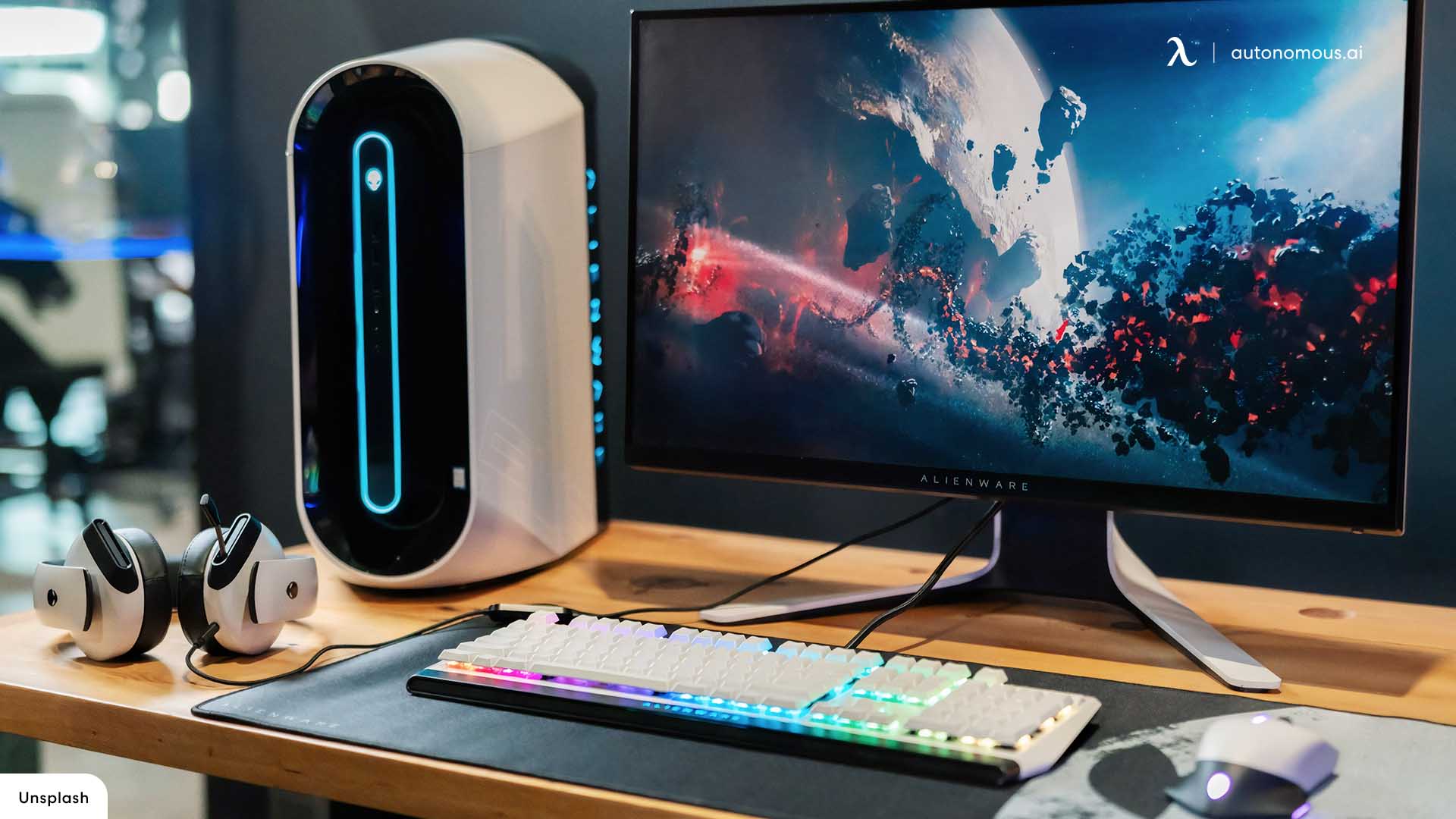 Locating The Right Place
You must consider an appropriate location for your gaming setup before deciding on a design idea that is perfect for your home and family. Lighting and sound are the most important factors in the gaming room. 
Given these factors, you will need a space where you can maintain as much control as possible. This is why gaming rooms tend to be found in basements, living rooms, or even upstairs bedrooms. 
Having an aesthetic game room in the basement is a great idea since it is isolated and dark. Lighting and sound performance will be enhanced. You can also go against your home's theme by implementing basement cool gaming setup ideas since you have all the freedom.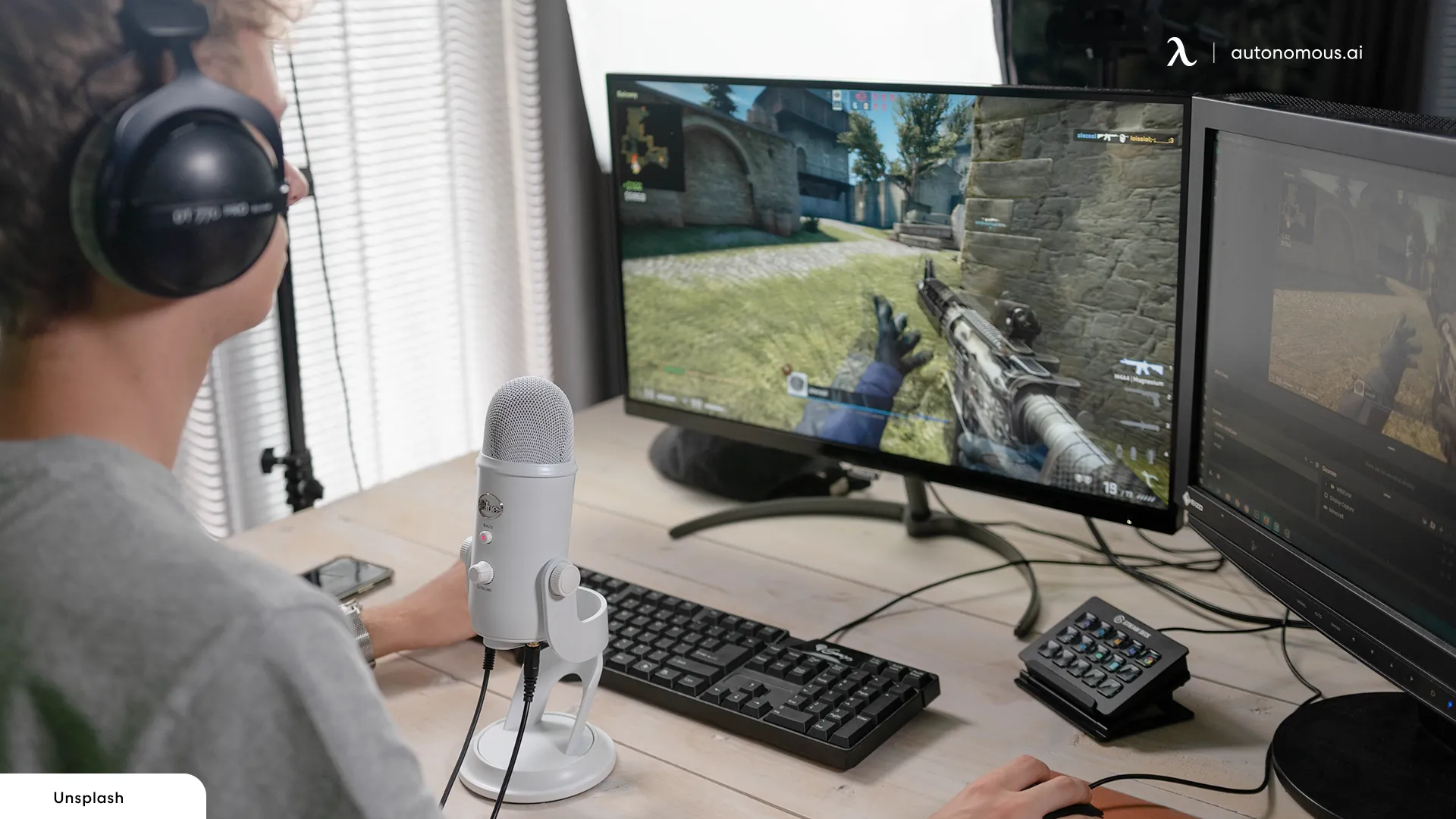 Choose a Theme
It is an opportunity to display your design aesthetic when choosing a theme for that room. The colors greatly influence the color scheme and general atmosphere of the space. Bring color and metallic shine to your futuristic space.  
The right furniture, including a comfortable chair, gaming console, monitor, sound system, and other accessories, can make a gaming room idea come to life with gaming accessories like a gaming keyboard. 
Another important consideration when choosing the design and theme of the gaming room is the floor. It is best to install carpeting in dark colors because reflective surfaces such as tile flooring can disrupt your incredible experience.
Make Yourself at Home
With the advancement of technology and a decrease in the cost of gaming equipment, you can now set up a gaming center at home according to your interests. In order for a gaming room idea to be successful, the furniture setup must be appropriate. You should consider several fundamental furnishings to make your space a prime gaming space. 
A PC gamer's gear requires the ultimate battle station. You will need a desk with a large flat surface to accommodate your extensive equipment. There are some gaming desks with built-in equipment like cup holders to reduce spills. A comfortable gaming chair is even more important than a top-notch desk for marathon gaming sessions. Some innovative features to look for include built-in Bluetooth speakers and massage functions.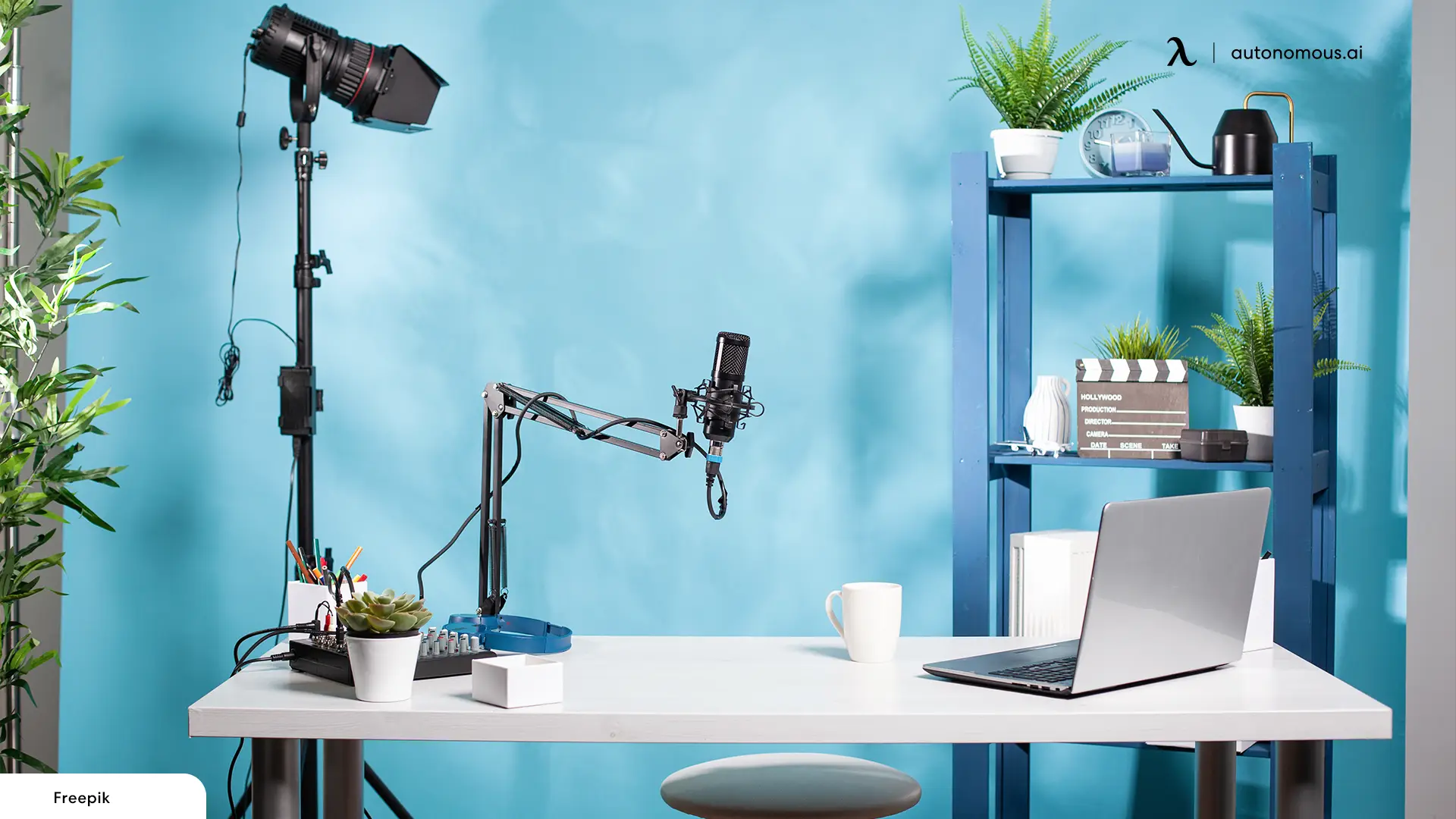 Electrical Hookups
Electric outlets are another factor to consider when choosing a room for your aesthetic game room. In order to maximize outlet use, you will want to place your gaming storage at the center of the wall. To determine whether there is sufficient room left for adding your gaming consoles, TV, sound system, and other accessories, you may want to analyze the number of devices on the circuit you intend to use initially.
Equipment Cooling
The room you choose should be able to accommodate the heat generated by your gaming equipment. Air conditioning should be delivered to the room by ductwork, and ample space should be behind the shelving to allow air to flow freely. Open a window if you don't have air conditioning to let fresh air in if you don't have air conditioning.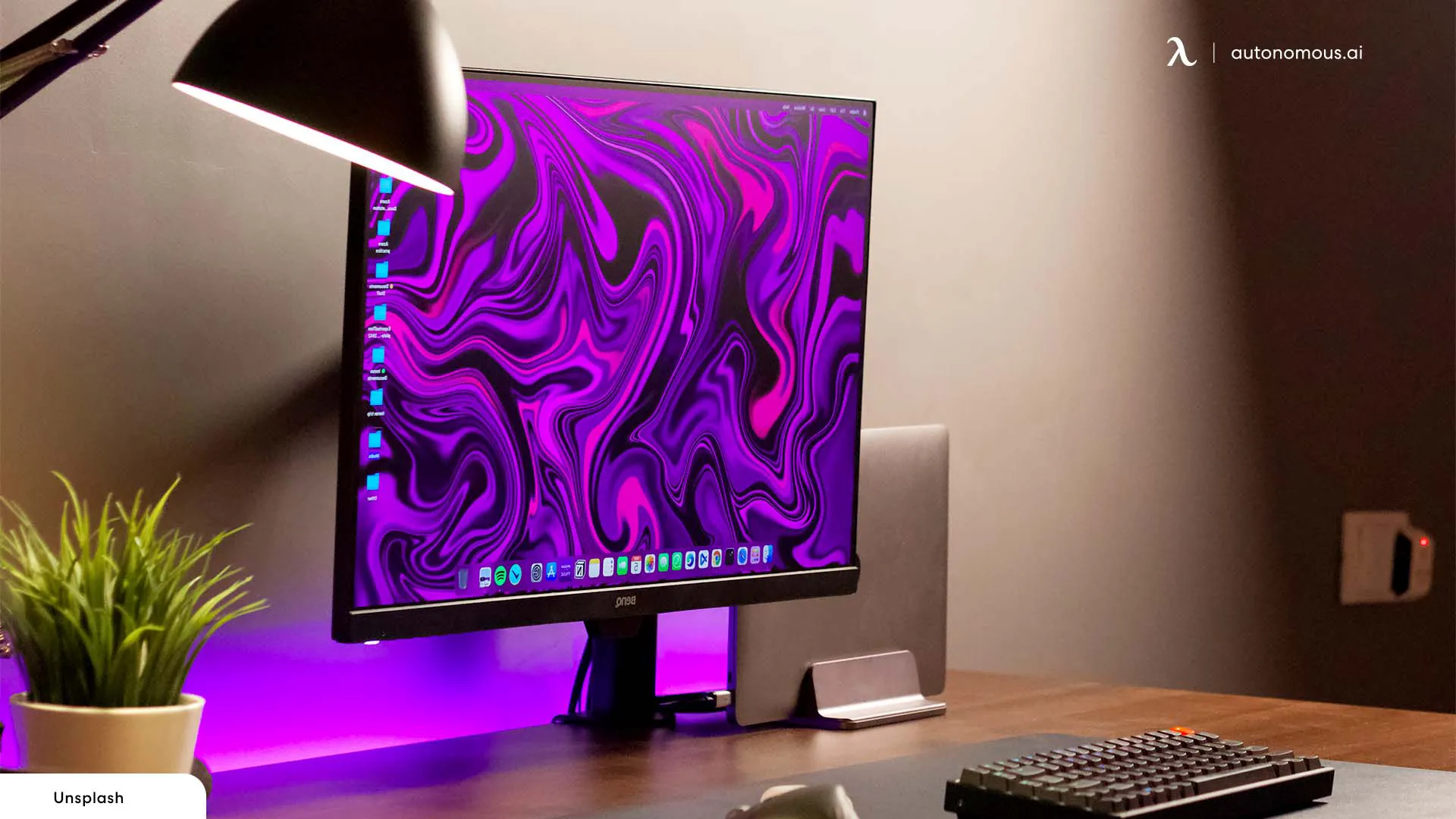 Gaming Console Storage
A gaming room idea would not be complete without an entertainment center, gaming keyboard, and plenty of storage. You can now analyze the type of storage system you will need now that you have decided where you would like your gaming pleasure dome to be placed.
The Setup Should Include a Gaming Chair
It is well known that putting all your efforts into building a single aesthetic game room will go to waste if you can't enjoy all of those games comfortably. Remember, this is where you will spend most of your time. Therefore, one very essential item is a comfortable gaming chair; it isn't always necessary to have the most premium gaming chair, and sometimes even an ergonomic chair will suffice.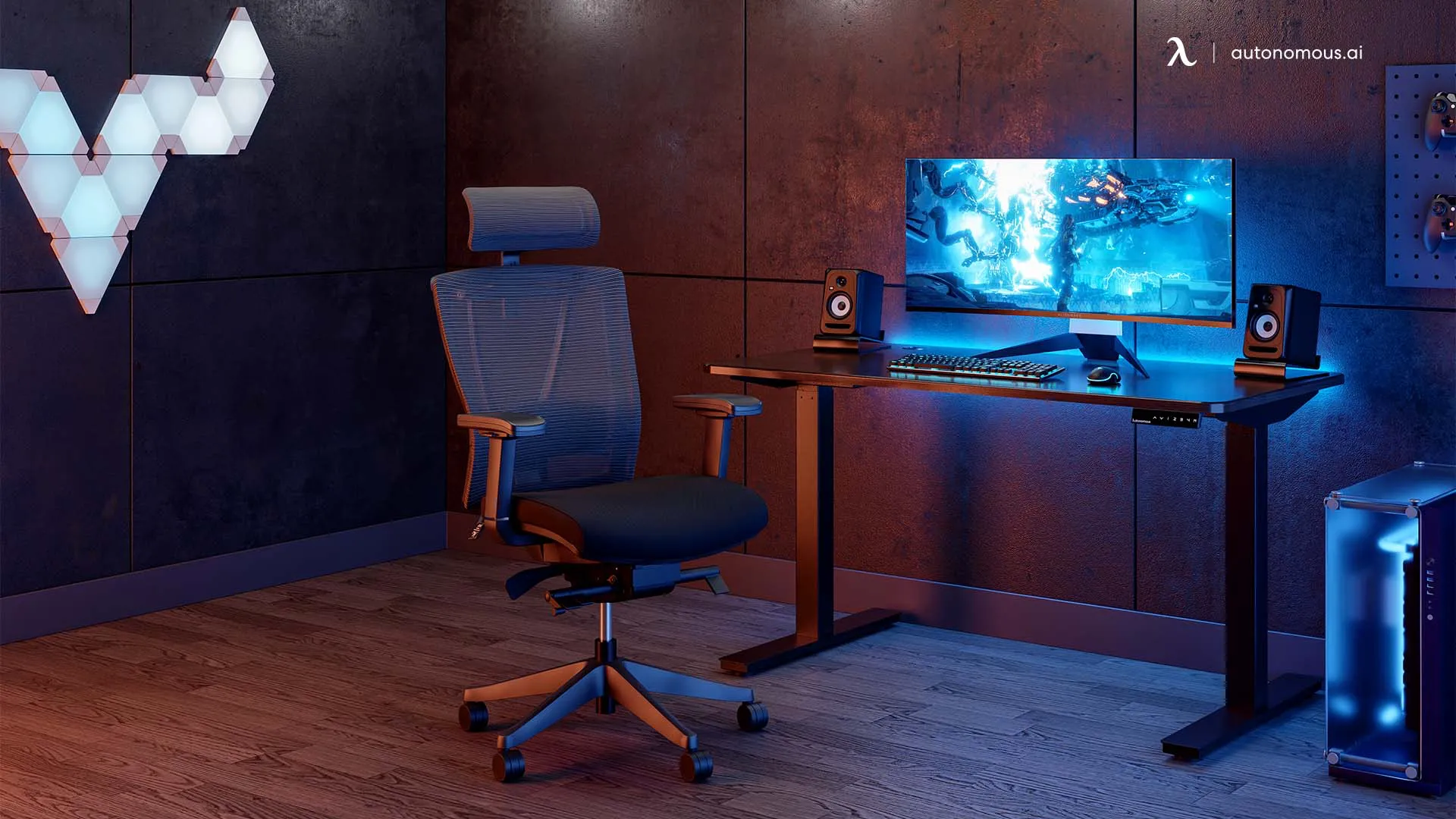 The Soundproofing of The Room
We gradually lose ourselves in our world whenever we begin playing games that we enjoy. Since headsets are usually used in games to speak with other players, we often forget that we ourselves could be making a lot of noise that could disturb others around us. 
A noisy gaming room can cause disturbances for other members of your home if the sound effects are too loud and are easily transmitted into the adjoining rooms. One of the easiest soundproofing solutions is to use drywall or insulating foam on the actual walls. Such materials help in dampening sound effects and are particularly effective when coupled with thicker carpets or curtains.
Images for Wall Mounting
No matter what game you play on your PC or gaming console, one piece of equipment you cannot do without is a screen or projector. This screen in an aesthetic gaming setup provides better visuals, but sometimes you need a much bigger surrounding environment in order to create those cool visual effects. 
As much as possible, one should consider some wall-mounted designs that can improve gameplay and free up some valuable shelf space alongside your PC or console. The result is improved room aesthetics. When a user watches a screen within the gaming room, ensure that it is placed at eye level on your table so that the neck does not become stiff when you view it.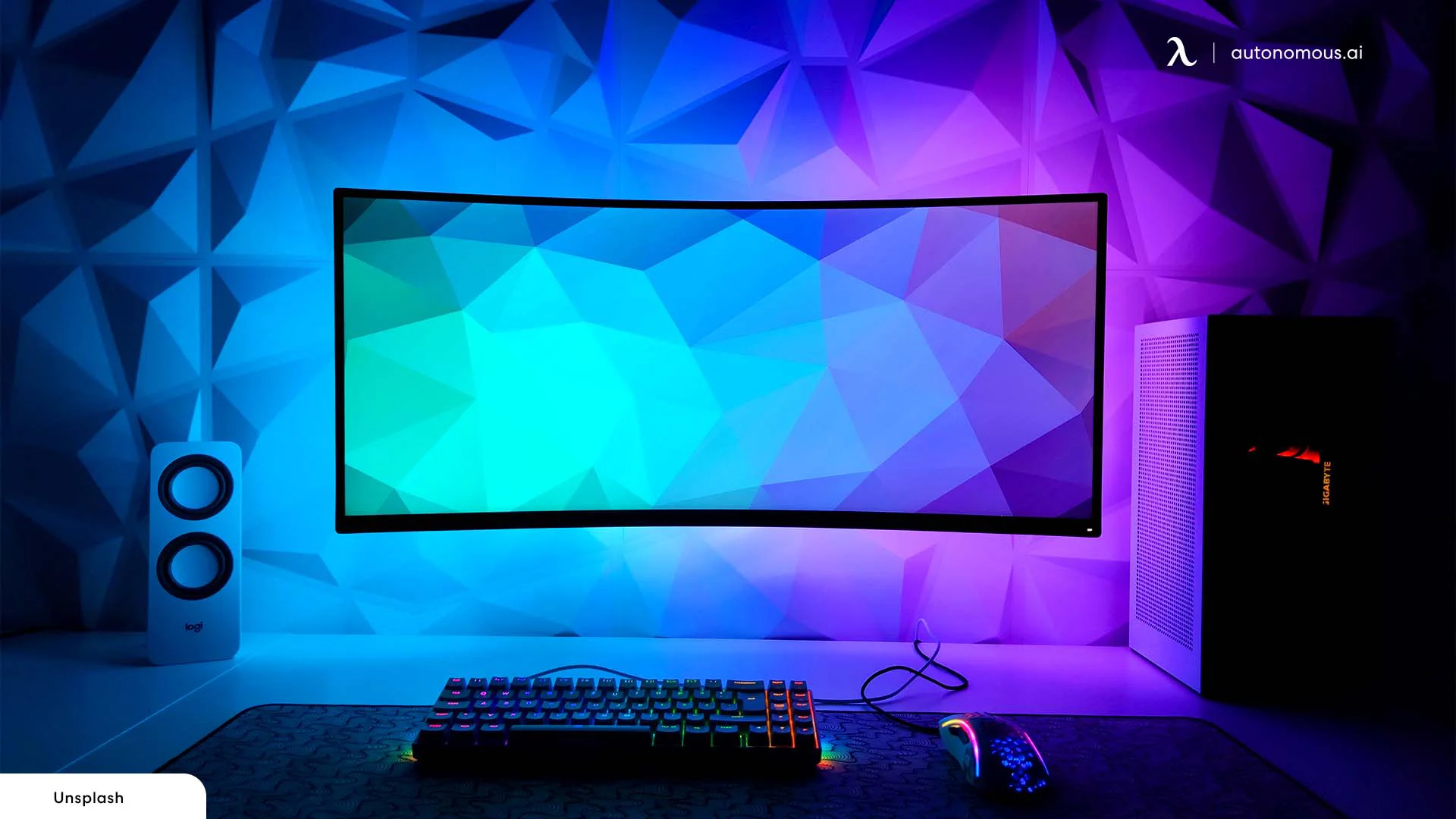 Reasons Why Using an L-shaped Desk Is a Good Idea?
It may be tucked into any room's corner. This is great because it frees up space in the aesthetic game room for other items. It also makes the room appear larger because there is no longer a giant rectangular desk occupying space. 
May be possible that you use your desk primarily for gaming. Other activities, on the other hand, would have plenty of room. If you're a student, you won't have to shift your aesthetic game room setup because the other half of the desk may be used for studying. 
You may work from home and have your work and gaming computers next to each other. This is fantastic because it eliminates the need for multiple desks for different tasks. 
L-shaped desks are more user-friendly than traditional rectangular desks. It is not necessary to move objects out of the way as frequently. On each side, everything can be kept in place. 
There's also a lot more room to set up wires for each monitor, PC, and other pieces of equipment for your aesthetic game room. The corner layout allows you to stretch out more. Most of them also include a footrest, making this sort of desk far more comfortable. 
An L-shaped desk allows you to save space while accommodating all of your devices. Everything, including anything you need for office work or school, can be distributed across two sides. 
If you're a streamer, you can set up your kit on the opposite side. Working on your videos and creating content for your fans is made simple. 
Final Words
Get a desk with cable management and smart lights to create an aesthetic gaming room. If your budget allows, you can get creative with lighting to create a spectacular effect. Accessorize while keeping your gaming space clean and clutter-free.
Keep up with Autonomous news
Stay informed, stay inspired with our new blogs.
WRITTEN BYAutonomous
We build office products to help you work smarter.