Smart Products
Best L-Shaped Gaming Desks for Standing & Sitting 2023

Jake Wilson
|
Oct 23, 2023
52,189 Views
Utilizing space in small rooms is very strenuous, especially when you don't know how. In this case, a corner desk is a game-changer for any serious gamer or worker, providing ample space for your setup. L-shaped gaming desks give you far more room than a traditional one, which is critically important for gaming.
You're going to end up with two or three screens, a console, a PC, and more, so you need room for all that tech. This post will review top-rated gaming desks, exploring their features, durability, and functionality. Whether you're a casual gamer or a hardcore enthusiast, we've got you covered. Let's dive in and find your perfect gaming companion!
Top 6 L-Shaped Gaming Standing Desks
The best gaming desk will enhance your gaming experience. You'll be able to play better if your desk is designed to support gaming, not just because it has plenty of space and weight capacity to support your L-shaped gaming desk - no matter how lavish. However, it also provides the ideal ergonomics to help you avoid chronic back and shoulder pain caused by prolonged gaming sessions.
A corner gaming desk of the highest quality will go a long way to enhancing your gaming experience, especially when paired with an ergonomic gaming chair. Even if a humdrum L-shaped gaming computer desk with LED lights options out there might do the job, you're better off investing in a gaming desk that will benefit not only your gaming setup but also your well-being. In addition, most L-shaped desk gaming setups include features such as adjustable height, customizable RGB lighting, monitor mounts, and charging ports.
With all of that out of the way, let's talk about our top five L-shaped desks for gaming setup that you can buy right now.
1. Autonomous SmartDesk Corner
Let's, but not least, we have to talk about this L-shaped standing desk. Autonomous has really outdone itself with this gaming L-shaped desk model. It's not strictly a standing desk. Instead, it features a motor that allows you to adjust the height at will. 
Unlike the Howzone, though, it has enough space for two or three monitors.
It's arguably the best made motorized standing desk on the market right now. The price may reflect that, but purchasing it comes with the option of opting into a monthly installment easy payment plan that allows you to break that lump sum down into easy to manage chunks. 
If you've been looking for a corner standing desk, then your search is over. This desk is phenomenal for gaming setups and even comes with native cable management support. 
It's spacious, it's ergonomic, and it has all the extra functionality you're ever going to need out of your gaming desk. 
2. Eureka L60 L-shaped Gaming Desk
L-shaped gaming desks are a popular category in gaming furniture due to many reasons. While this L-60 is more of an R-shaped gaming desk, as one edge is not much longer than the other, the L-shaped frame makes it an ideal fit for corners. The Eureka Ergonomic L-shaped gaming desk is 60 inches wide, on the higher end for gaming setups. This means you cannot only build a single but a triple monitor setup with some other accessories and space to spare.
Besides being spacious, the desk has powerful electric motors for easy and smooth height adjustment. The desk works with 4 memory presets, and the dual motors provide even lifting and lowering action. Despite being powerful enough, the motors are whisper operation; hence the L-shaped gaming computer desk is the best fit for busy workplaces.
The Eureka ergonomic desk is constructed from reliable, safe, and environmentally friendly materials and is also EPA-certified for safety concerns. It has a large built-in mouse pad for quick response time and easy gaming. Despite being top quality, the desk offers 5 years of warranty to provide peace of mind.
3. Eureka L-shaped TechDesk
We love this corner gaming desk firstly because of its design. As a gamer, one knows how captivating and crucial aesthetics in the workplace can be. Hence the Eureka L-shaped desk with monitor stand is worth all the praise. It has a smooth, shiny black surface, giving a modern yet minimalist look to your work or gaming setup. The powerful dual-motor lift system ensures the desk moves easily despite three monitor loads.
It has a weight capacity of around 275 pounds, and thanks to the steel frame construction, one can rely on the strength of the structure. Specially designed for gamers, the desk has a rotatable dual headphone hook to safely mount your headphones and other accessories. The Eureka tech desk on our list deserves a special place because it is designed to match the call of duty gaming series. Like other Eureka gaming desks, this one also has a 5-year warranty.
4. EUREKA 60" L-shaped Standing Desk
The Eureka 60-inch L-shaped desk from Autonomous is a modern corner gaming desk. It has curved edges for a smooth finish and a safety feature to prevent oneself from poking into corners. We love several features in this large L-shaped gaming desk, but one of our favorites is the mouse pad surface. This prevents gaming lags and gives quick mouse action to the users.
The gaming desk is 60 inches wide and can hold up to three screens at once and a couple of other desk accessories. Dual motors power the height adjustment electrically, and the desk has 4 preset memory settings. It is reliable, has a safe construction, and is made 100% from earth-friendly materials. The desk also offers a 5 years warranty, although the claims are least likely to happen. Before we wind up the list of praises for the Eureka 60 inches desk, it is important to mention that the desk is left-handed in design and has a programmable keypad system. The programmable keypad provides complete touch control and several preset height settings.
5. EUREKA ERGONOMIC L60 L-shaped Standing Desk: Key board tray, Rustic
The Eureka Ergonomic L60 L-Shaped Standing Desk is a true gem for those seeking a versatile and stylish workstation. Solid construction and thoughtful design offer this desk a delightful balance between functionality and aesthetics.
The desk provides ample space for all your work essentials, measuring 61 inches in length and 43 inches in width. The knee space of 50 inches by 24 inches ensures comfortable legroom, allowing you to work for extended periods without feeling cramped. The height range from 29.5 inches to 48 inches accommodates both sitting and standing positions, promoting healthier work habits.
Crafted with steel and particle board, this desk gives you premium durability and stability. The rustic brown tabletop adds a touch of elegance, while the sleek black base enhances its modern appeal.
Moreover, the keyboard tray, headphone hook, cup holder, and RGB light create a gaming configuration that caters to avid gamers' needs. What sets the Eureka Ergonomic L60 apart is its remarkable warranty. With a generous 5-year warranty, you can have peace of mind knowing that your investment is protected.
6. Howzone Motorized Corner Desk
This is the first corner gaming desk with LED lights on our list to feature a built-in motor. This motor allows you to adjust the height of the desk or turn it from a sitting desk into a standing one. 
You might be thinking, "why would I ever want to stand while playing games?" That's a fair point, but you need to think of the ergonomic implications. Even if it's just for 10 minutes every hour or so, getting up and stretching yourself out is going to do wonders for your back.
Being able to adjust your desk to move with you helps make that process easier, letting you keep on playing even while you stand. 
Having said all that, this Howzone model is remarkably small, especially for the price. You're paying for that motorized function, sure, but there's no reason why the rest of the desk should suffer as a result. We have a standing corner gaming desk in first place on this list that costs a bit more but comes with a payment plan and more space than this model. 
There is one situation that the Howzone can come in handy, though, and that's if you're working with limited space. It's a small desk, meaning it can fit into small rooms if that's what your gaming setup for a standing desk is working with. 
12 Best L-Shaped Gaming Desks for Sitting
1. EUREKA ERGONOMIC L60 Computer Desk
Who says girls cannot be fans of battles and challenges online while maintaining a gentle-looking pretty desk? This L60 computer desk from Eureka is a perfect example of that. The computer desk is a pink-colored, pretty and cute-looking desk for anyone who loves a pretty little touch in their gaming setups. Unlike the conventional black and white colors, the Eureka desk has been highly popular among users.
The L-shaped gaming desk is 60 inches wide with a carbon-textured fiber top. The carbon texture provides smoothness and a nice finish to the desk, which will last for years. Even though the desk does not have a mousepad surface, it comes with a large mousepad for gamers. You will also find cable management and a tray box to eliminate all that cable clutter common for gamers.
2. EUREKA ERGONOMIC EUREKA L-shaped Desk: Carbon Fiber Surface
The Eureka Ergonomic 60W L-Shape Carbon Fiber Texture Top Desk is a game-changer regarding workspace efficiency and style. This sleek and spacious desk is designed to optimize productivity while adding a touch of sophistication to any office setup.
The combination of P2 MDF, steel, and ABS materials ensures durability and stability, capable of effortlessly supporting up to 500 lbs of weight.
The black carbon fiber texture top adds a modern and luxurious feel, elevating the aesthetics of your workspace. The included mouse pad enhances comfort and convenience during intense work sessions.
Overall, the Eureka Ergonomic 60W L-Shape Carbon Fiber Texture Top Desk flawlessly combines functionality, durability, and style. It's a perfect choice for those seeking a well-designed and reliable workspace solution that inspires productivity and delivers a touch of elegance.
3. Techni Mobili Warrior L-Shaped Gaming Desk
This product has received rave customer reviews for its impressive features and functionality. Measuring 63''L x 59''W x 35.25''H, this desk offers a spacious gaming surface that easily accommodates all gaming essentials.
Crafted with a combination of MDF panel and a textured fabric, the desk resonates with sophistication. The black top and matte silver legs add a touch of modernity to any gaming setup, making it visually appealing.
One of the standout features of this gaming desk is its sturdy construction. The powder-coated steel base ensures stability and can support up to 130 lbs of gaming equipment without compromising its durability.
Overall, this gaming desk is highly recommended for gamers and multitaskers alike. Its spacious design, sturdy build, and stylish aesthetics make it a valuable addition to any gaming setup.
4. Mr. Ironstone L-Shaped Gaming Desk
We're starting off towards the lower end of our budget with this corner gaming desk. Coming in at just under $100, this minimalist L-shaped gaming desk is going to provide you with all the space you need for a moderate or large gaming setup with an open and airy design. 
It's going to struggle to keep up with all of your cables, though. The open design means that there's nothing to hide your cables on or behind, so the responsibility of managing all of that falls on your shoulders. 
Aside from that, though, this corner gaming table is phenomenal. It's got plenty of room, comes with a built-in monitor stand, cup holder, headphone hook, and has space for well over three monitors. 
If you're on a tight budget, it doesn't get any better than this. 
5. Bestier LED L-Shaped Gaming Desk
This is a prime example of a L-shaped gaming desk that comes with some LED lights built-in, so if that's something you're interested in, this might just be the desk for you. 
This Bestier desk is both spacious, although not as much as the M. Ironstone, and comes with a little bit of cable management support in the form of lower shelves across the legs. 
It can fit up to two or three monitors and comes with its own built-in monitor stand. Like the Mr. Ironstone, it also comes with a cup holder and headphone hook. 
This corner gaming table is best suited to professionals that also work out of their home. It gives you the room and versatility to build both a gaming and work setup off of the same desk, all for a moderate price tag, too. 
6. YOLENY L-Shaped Desk
This is the only L-shaped gaming desk that we're featuring that comes with a shelf. You might not be a fan of that, in which case you can read on. For those of you that like the extra space, this corner gaming desk with LED lights costs a pretty penny, but you've got more room than you need. 
The desk itself can comfortably support a two monitor setup, and the shelf has enough room for consoles, collectibles, or even a printer. 
This is another desk that is designed for professionals. It has enough versatility to seamlessly connect your entire setup together, making it valuable for anyone interested in something like streaming. 
It might not be a standing gaming desk, but it still manages to get the job done.
7. MOTPK Gaming Desk
It is designed to provide a comfortable and functional space for gamers to set up their gaming equipment and accessories. The MOTPK Gaming Desk typically features a large surface area to accommodate multiple monitors, gaming keyboards, mice, and other peripherals.
It often includes cable management features to help keep the gaming setup organized and free of tangled wires. Some models may also come with built-in storage compartments or shelves for storing games, controllers, and other gaming accessories.
8. L-shaped Corner Desk from GreenForest
Some of the best L-shaped desk ideas include setting up your gaming on one end and a workstation (or whatever you want to fill the space with) on the other end. The large L-shaped gaming desk from Greenforest comes in three pieces with adjustable feet so you can adjust the height manually. This desk only consists of a horizontal bar at one end, which is less than ideal for combatting monitor shake.
9. SUPERJARE L-Shaped Computer Desk
If you have room to spare and plan to use one large or two small monitors, the SUPERJARE desk is a great option for your L-shaped desk plan. This chair has an ergonomic design that allows you to sit closer to the action.
10. L-shaped Gaming Desk from Designa
Featuring a 60-inch-wide surface and engineered wood construction, this DESIGNA gaming desk comes in an L shape. A mouse pad will allow you to move your cursor more smoothly while gaming. In addition to its left and right-side corner options, the desktop has a height of 29.5", which allows for comfortable stretching and resting.  
11. Bestier's L-shaped Gaming Desk
Carbon fiber is used to construct Bester's 95.2-inch, reversible gaming desk. The extra-long desktop can be configured to fit 2 people or 2 gaming setups; it is spacious enough to accommodate smaller or larger gaming equipment. This L-shaped gaming desk has ladder shelves that can be adjusted to the left, right, or center, while the desk can be converted from straight to L-shaped. Despite its shelves, it offers plenty of legroom so that you can sit comfortably with increased storage space.
12. L-Desk from Earthsign
A medium 56.96-inch wood desktop and four shelves provide additional space for the Earth sign large L-shaped gaming desk. The desk features several monitors, docking stations, mouse pads, keyboards, and multiple monitors. On the sides of the desk are two-tier shelves that can be removed, so you can adjust them as needed.
What to Look for in an L-Shaped Gaming Desk?
Before we give you our recommendations about corner gaming desks, let's talk a little bit about what you should be looking for in one of these corner gaming computer desks. This way, you can go looking for one yourself even if you don't like our picks. 
Do You Want an RGB Setup?
The answer is probably yes, but it's something that you still have to answer, regardless. An RGB gaming desk setup is one of, if not the single most common type of gaming desk setup in the world. 
It involves the excessive use of red, blue, and green lights to add a techy vibe to all of your equipment. Done right, it looks incredible, but done wrong, and it looks really tacky. 
If you don't want an RGB setup, then don't worry about a thing. If you do, though, you should make sure that the L-shaped gaming desk you're getting can support the lights. 
Some gaming desks come with RBG built-in, but most of the time, you're going to have to buy strip lights yourself. Take a look at the design of the corner gaming table and judge whether or not you would be able to comfortably hook these strips up before you buy.
Size Matters
Why should you choose an L-shaped gaming computer desk? The whole reason we're looking at L-shaped desks for gaming setup rather than traditional ones is because of all the extra room we're getting. There's no point in going after a corner desk if you're getting a tiny one with no surface area. 
How much room you actually need on your desk depends on your current circumstances, but you should always plan ahead. 
If you only have a switch, then you can tone down the desk size a little bit. If you're planning on getting a PlayStation or PC in the future, though, then you need to account for that. 
If you have a fully-fledged gaming setup already, then you know exactly what I'm talking about. You have to deal with multiple monitors with standing desks, a bulky PC, a handful of consoles, a handful of handhelds, headsets, controllers, a laptop, speakers, and more. 
No matter how good you are at organizing, all of this is going to take up some space, so make sure you have that space, to begin with.
Cable Management
If you're new to gaming and those two words didn't just make you shudder inside, then count your blessings because you're not going to stay that way for long. 
Cable management is the most dreaded part of every single gaming setup to the point where there are professionals who specialize in it for streaming setups. 
If you don't know what we're talking about, let us explain. Cable management refers to how you organize and deal with all the cables you have in your setup. That might not sound so bad, but consider this: for every single device you have, that's two or three cables. 
So, if you have a PC, PlayStation, two monitors, and a Switch, that's eight wires. And that's just for HDMIs, power leads, and a wire for your Switch controller. You also have charging cables, headset wires, extension leads, and all sorts of other small and messy cables. 
So, to put it simply, a good gaming desk needs to come with some sort of native cable management. Most gaming desks do, L-shaped or not, and typically in the form of a platform under the desk that can be used to run your wires along to keep them off the floor. 
If you're looking to make a gaming setup of any significance, this is a massively important aspect for you to keep in mind while you shop.
Ergonomics
Ergonomics is going to play quite a large role in our list, and for a good reason. 
If you're a gamer, especially during 2020 and 2022, then you're spending a serious amount of time sitting at your desk. It's not uncommon for people made unemployed by the pandemic to spend 16+ hours gaming every day. Everyone that's a gamer has been there at some point. 
The unseen side effect of this, though, is the fact that it can completely destroy your back. When you're gaming, you're going to be putting your body at an unnatural arch regardless of how you sit. 
It doesn't matter if you recline with a controller or are hunched over an ergonomic keyboard; the effect is the same. 
Your spine isn't built to support the weight of you sitting down, especially excessively, so you should be looking for a desk that minimizes that damage.
Price
Last but not least, we need to talk about price. Everybody hates this subject, but it's something that we still have to cover. 
L-shaped gaming computer deskks can get expensive; let's just put that out in the open right now. These desks are a niche and specialist product, meaning you have to pay a price that reflects that. 
There's an easy way around these prices if they're too high for you, though, and that's to drop the "gaming."
There are plenty of non-gaming L-shaped desks out there that are incredibly cheap and still get the job done. 
These electric standing desks aren't going to be as good as those designed for gamers, but it is a cheaper alternative if you're shopping on a budget.
Wrap Up
Hopefully, you've found a standing gaming desk that you like. If not, try to reference our buyer's guide when you go shopping for yourself. Don't just buy the first L-shaped desk for gaming setup that catches your eye. You're going to be spending a lot of time with it, so you need to make sure it's built to suit your needs. 
With the perfect gaming desk, you'll have an organized and comfortable setup that maximizes your performance and enjoyment. Level up your gaming experience and conquer the virtual world with confidence.
If you're looking to read more, we have all sorts of information on gaming related office setups over on our blog. If you have a question about a setup, then the chances are that we've answered it; all you have to do is visit the blog and find the topic you're curious about.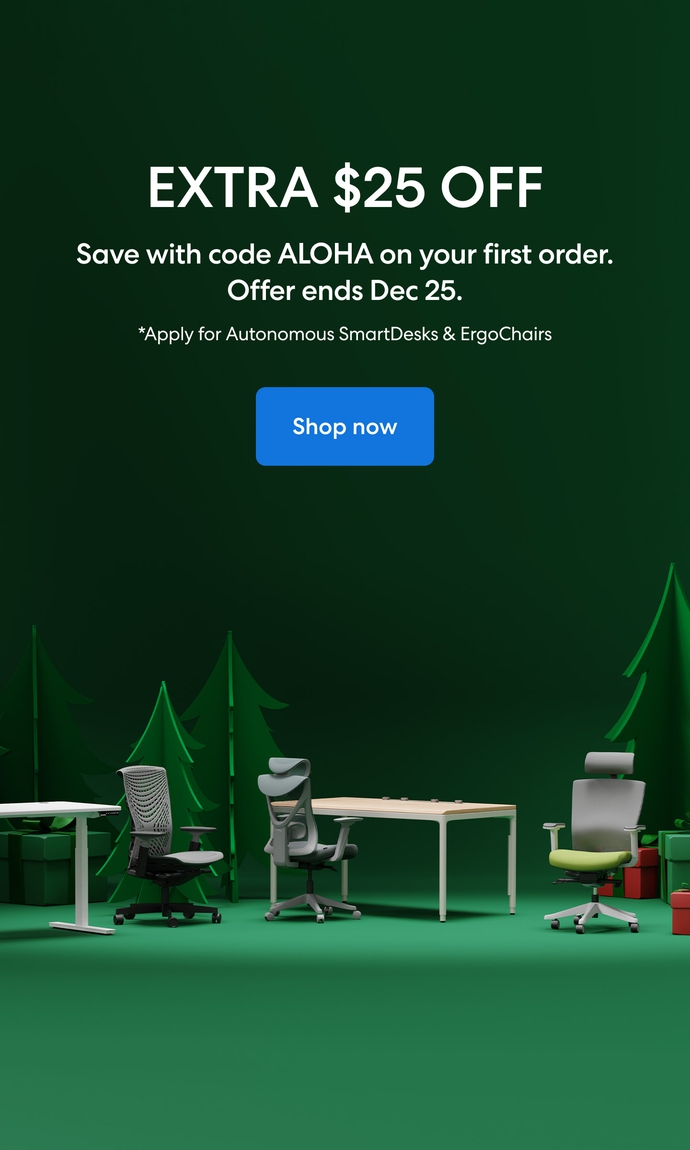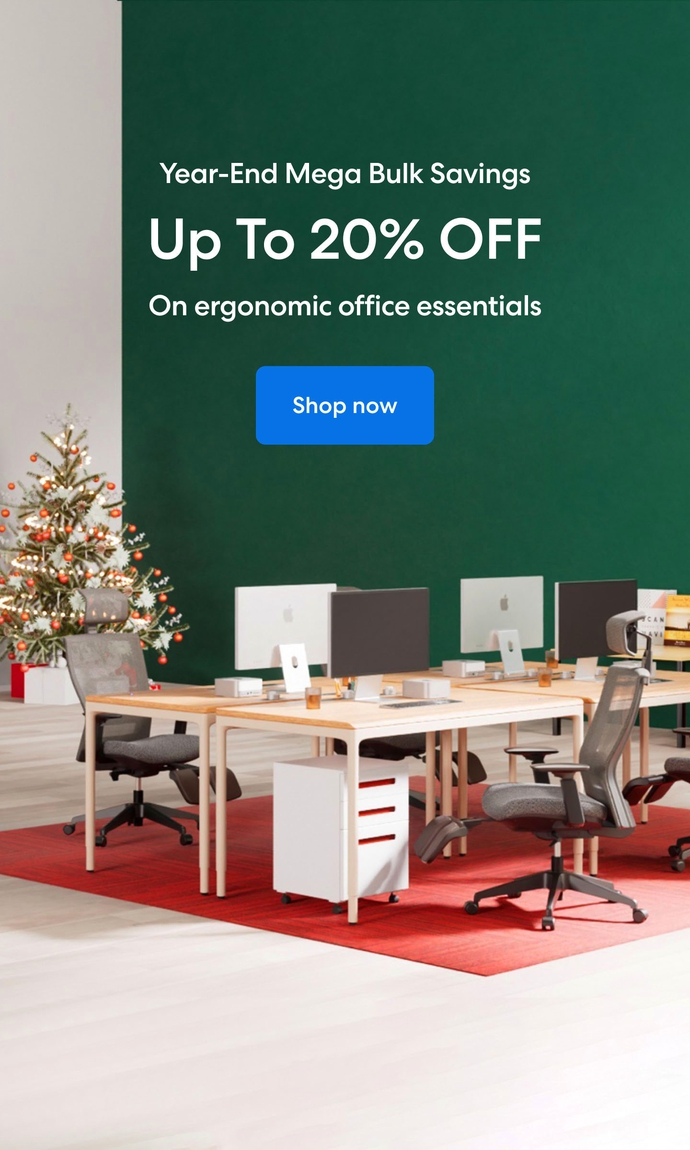 Subcribe newsletter and get $100 OFF.
Receive product updates, special offers, ergo tips, and inspiration form our team.