Smart Products
15 Gaming Desk Setup Ideas in 2023 (with Images)
1,829 Views
Ready to take your gaming experience to the next level? There are a few things to consider first. First, you must consider the space where you're placing your PC gaming desk setup. If you don't have that much space, for example, you may have to go for a small gaming desk instead of a big one.
Still, keep in mind there are hundreds of different gaming desk ideas you can consider today. Whether you have a significant budget or not, you can achieve impressive results if you get a bit creative.
We want to help you with your gaming desk setup process, so we listed some of the best setup ideas you can consider for 2022! Most of these ideas are suited for any kind of gamer out there, so make sure to read through the entire list so that you can choose something that works for you.
15 Gaming Desk Setup Ideas for Your Gaming Experience
1. L-Shaped Desk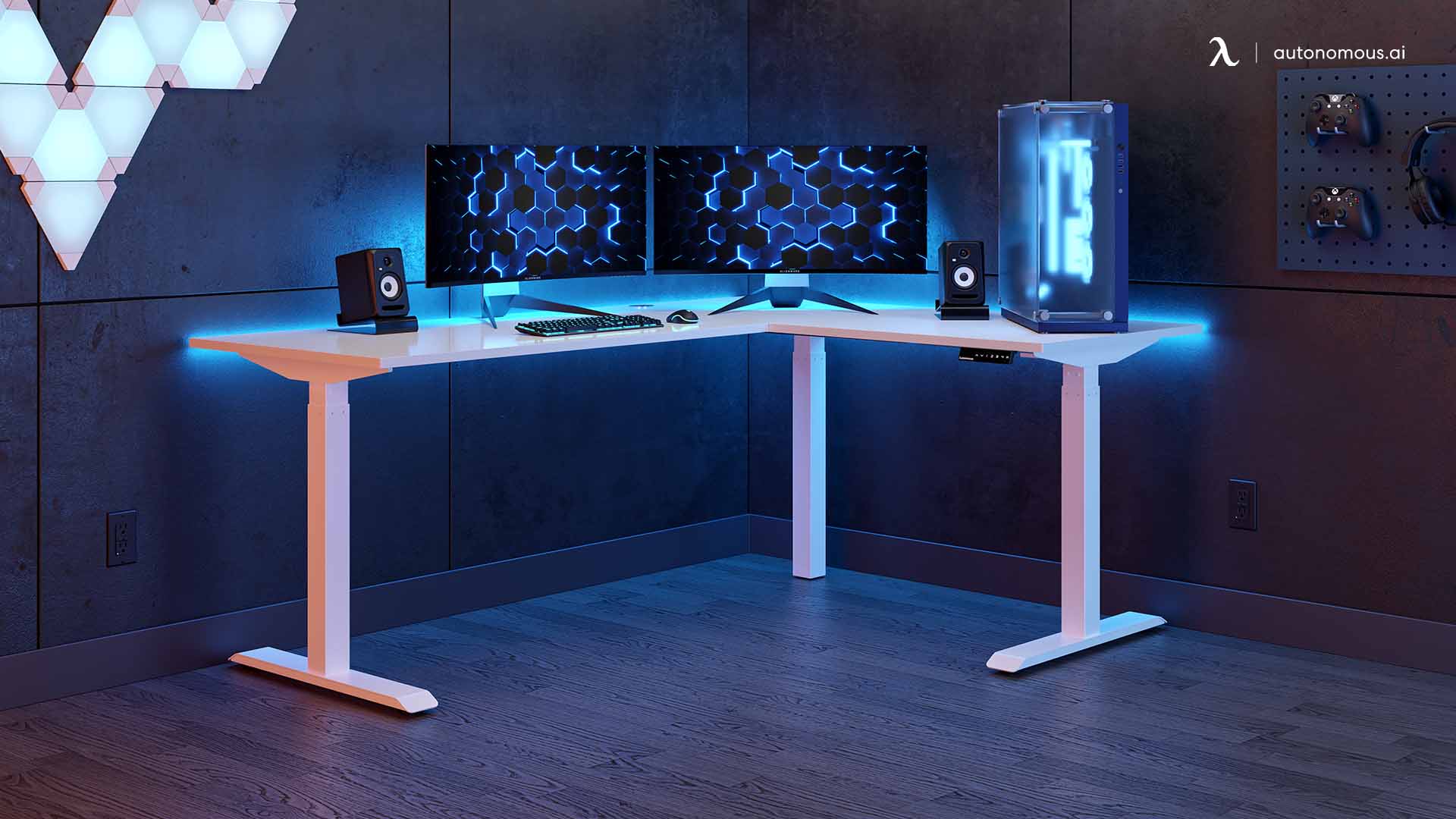 Do you have way too many things to put on your desk? An L-shaped desk may be the best idea to consider for you. As the name implies, an L-shaped desk is shaped like an "L," providing two different desk areas for you to use in any way you like.
Overall, this is the ultimate gaming desk for those who are looking for as much space as possible. If you want to take things to the next level, you could even get two monitors on your desk to get a better view of your games.
2. Double or Triple Monitor Setup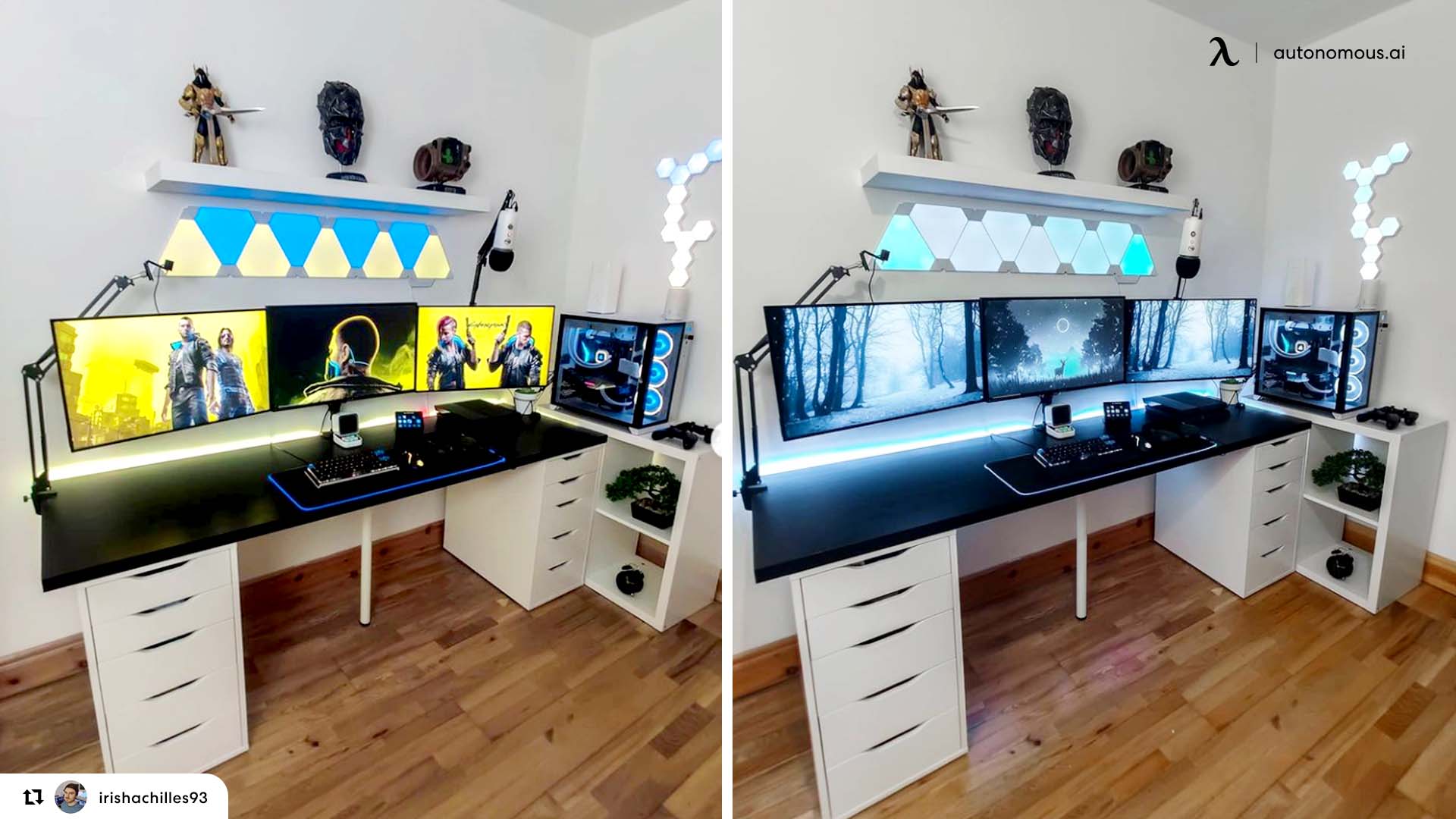 New gaming trends include having two or even three monitors on the desk to enhance your view. Using two monitors may already feel overwhelming for you, so using three may seem absurd. Still, it's only a matter of getting used to it.
In case you want to include a double or triple monitor setup for your room, make sure to get a height-adjustable gaming desk you can use to accommodate all of that. Here, try your best to get two or three exact same monitors so that your viewing experience is consistent.
Using the same monitors isn't mandatory, but it makes every look much better in the end.
3. Standing Desk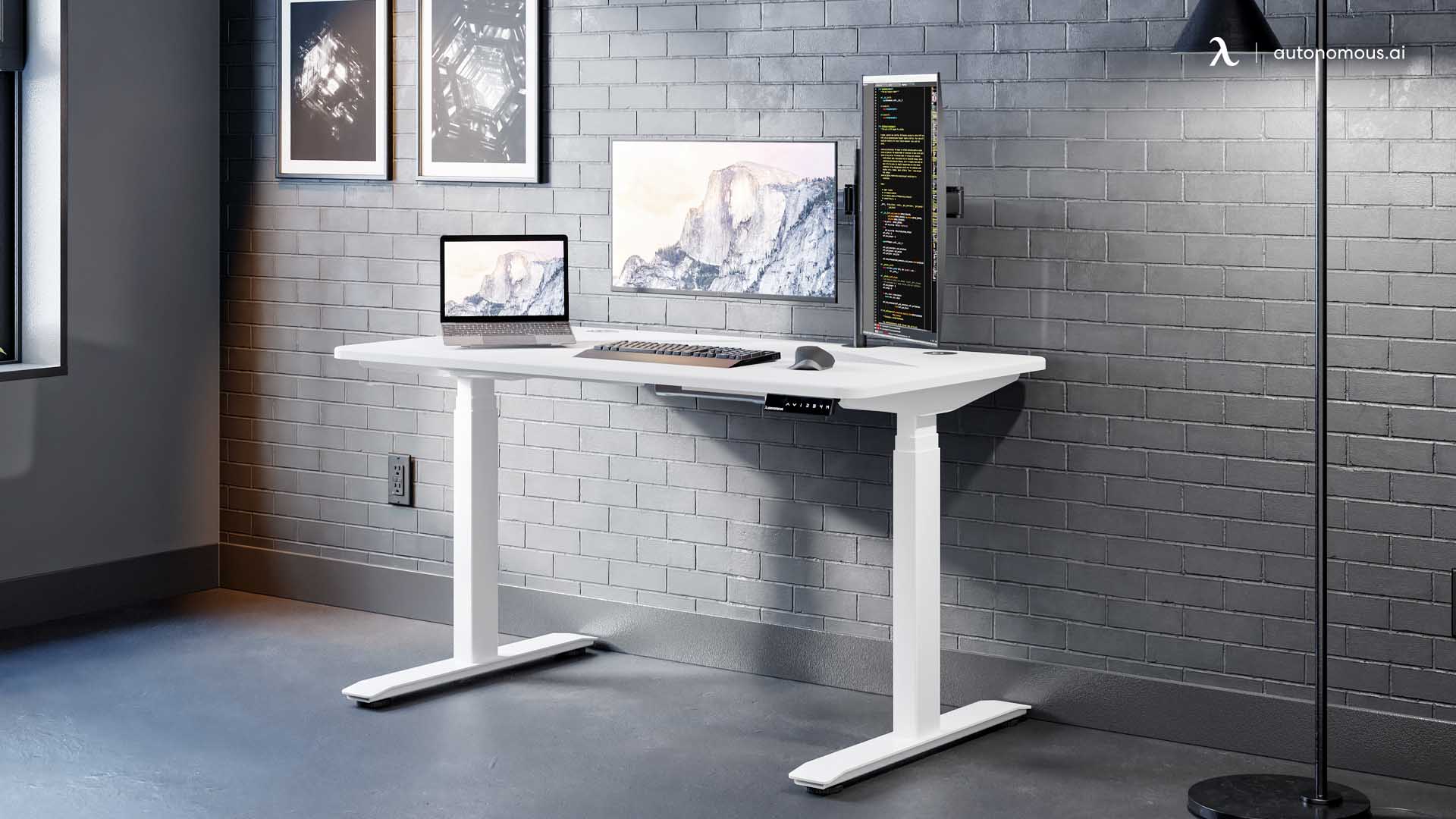 Logically, a standing desk is on the top of our recommendations for your gaming desk setup. Even if you haven't used one before or don't like the idea of gaming while standing too much, we promise it makes a huge difference for your body.
If you're one of those gamers who enjoy playing for several hours a day, you're going to appreciate having a standing desk since changing from sitting to standing can make your body feel less physical strain over the day.
Moreover, if you get a gaming chair and desk combo, you're much more likely to feel comfortable at any point in your gaming sessions. Overall, the best desk setup for gamers is always going to include a great chair and desk.
Even if you're working for a console gaming desk setup instead of a PC one, you still need to work with furniture that allows you to feel as comfortable as possible.
When it comes to standing desks, there are many options available. First, we have the SmartDesk Core by Autonomous. This is one of the most affordable standing desks from this company, and it offers you everything you need to stay comfortable, such as an electric dual motor, a weight capacity of up to 270lbs, and more.
In case you're not too fond of a standing desk, you can get the Benzara Compact Desk, which is perfect for those who are looking for a simpler gaming desk setup. While it's smaller than other desks on the market, it does the job.
Overall, this desk comes with an elevated monitor shelf, an open bottom shelf, and some holders for your headphones and cups. However, if you're planning on getting this desk, we recommend you go for an ergonomic chair so that you don't have any problems while sitting for too long.
4. Ergonomic Chair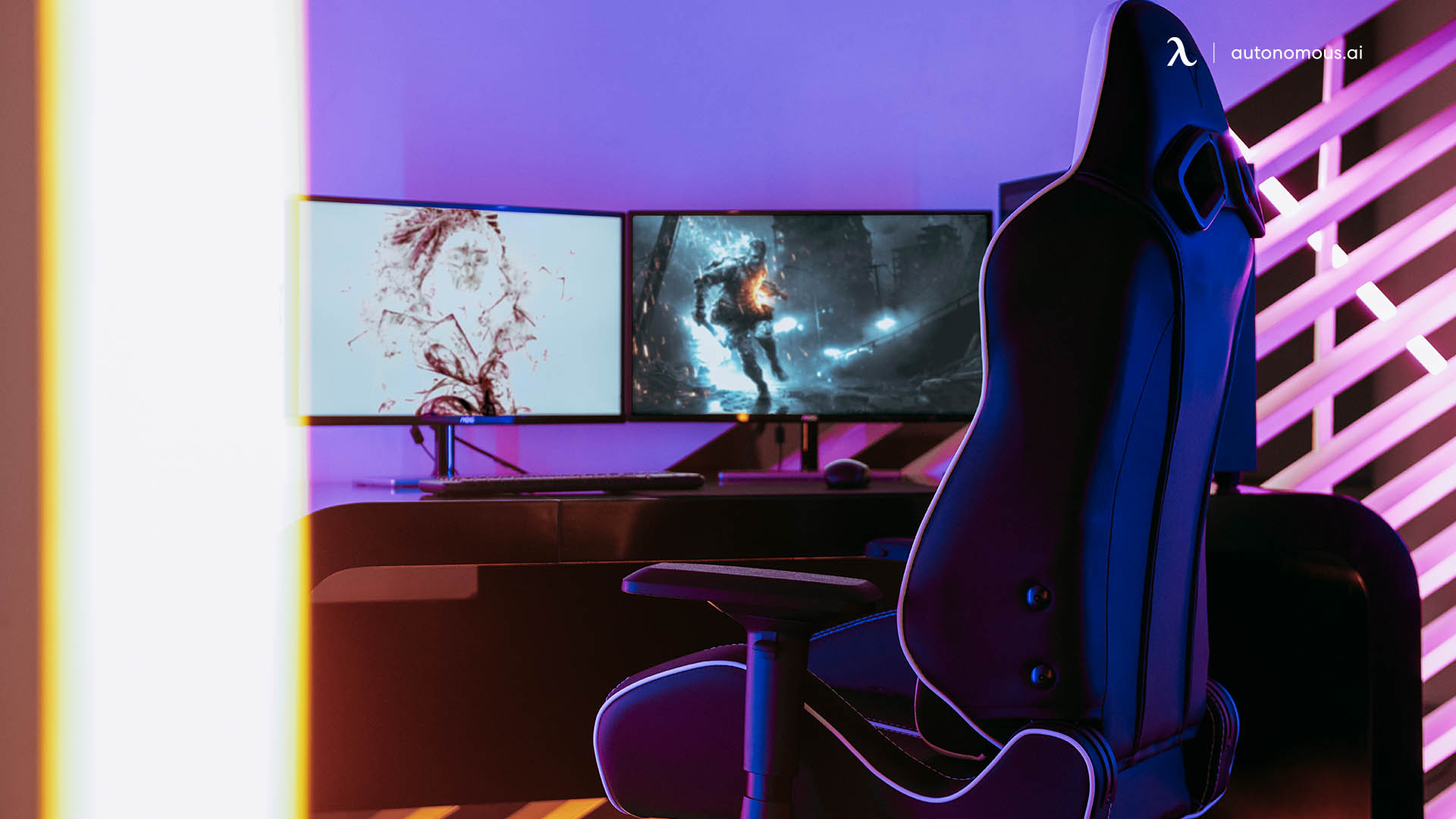 If you haven't heard from them already, ergonomic chairs' job is to provide you with several adjustable features that allow you to sit more naturally without jeopardizing your body. In case you tend to feel from muscle straining, slouching, or other bad sitting habits, an ergonomic chair is going to do wonders for you.
Now, if you decide to get an ergonomic chair, you must ensure you're working with the best options on the market. Here, you can either choose Autonomous' ErgoChair Pro, which is one of the top-rated chairs on the market due to its fully-adjustable capabilities, or you can go for something like the Vertagear SL4000 Chair.
The Vertagear chair is a fully-adjustable motorsports-inspired chair. One of the most remarkable features of this chair is that it was specifically designed for gamers, promoting better neck and back health. If you're planning on getting the ultimate gaming desk setup, getting a chair like this one could make everything much better.
5. Gaming Monitors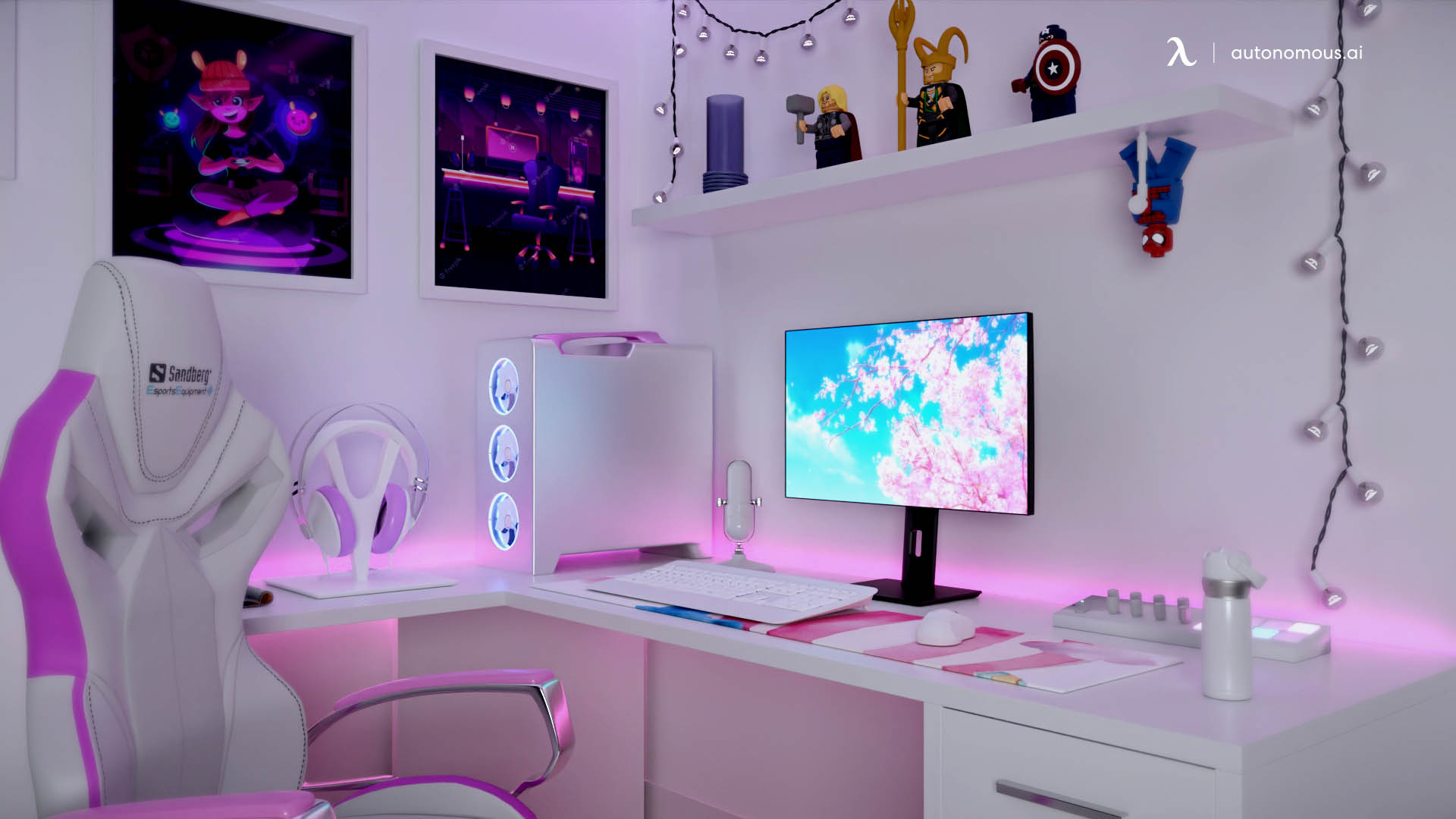 If you're a gamer, you already know gaming monitors are a bit different from regular monitors. While there are excellent, traditional monitors you can use for gaming, gaming-specific monitors provide better response times, colors, and other features.
If you're looking for an excellent monitor choice for your PC gaming desk setup, you can get the Pixio Monitor. This "gaming screen" offers virtually everything you need to ensure a great gaming experience. Some of its best capabilities include:
32" thin bezel display

165Hz refresh rate

1ms MPRT

Compatibility with G-Sync and AMD FreeSync Premium

VESA ready

Compatibility with HDR
In case you're working with a big budget, you could get two or three of these and create the best desk setup for gamers in your room! Still, even if you only get one, you're likely to have a great gaming time.
6. Gaming Setup with LED Lights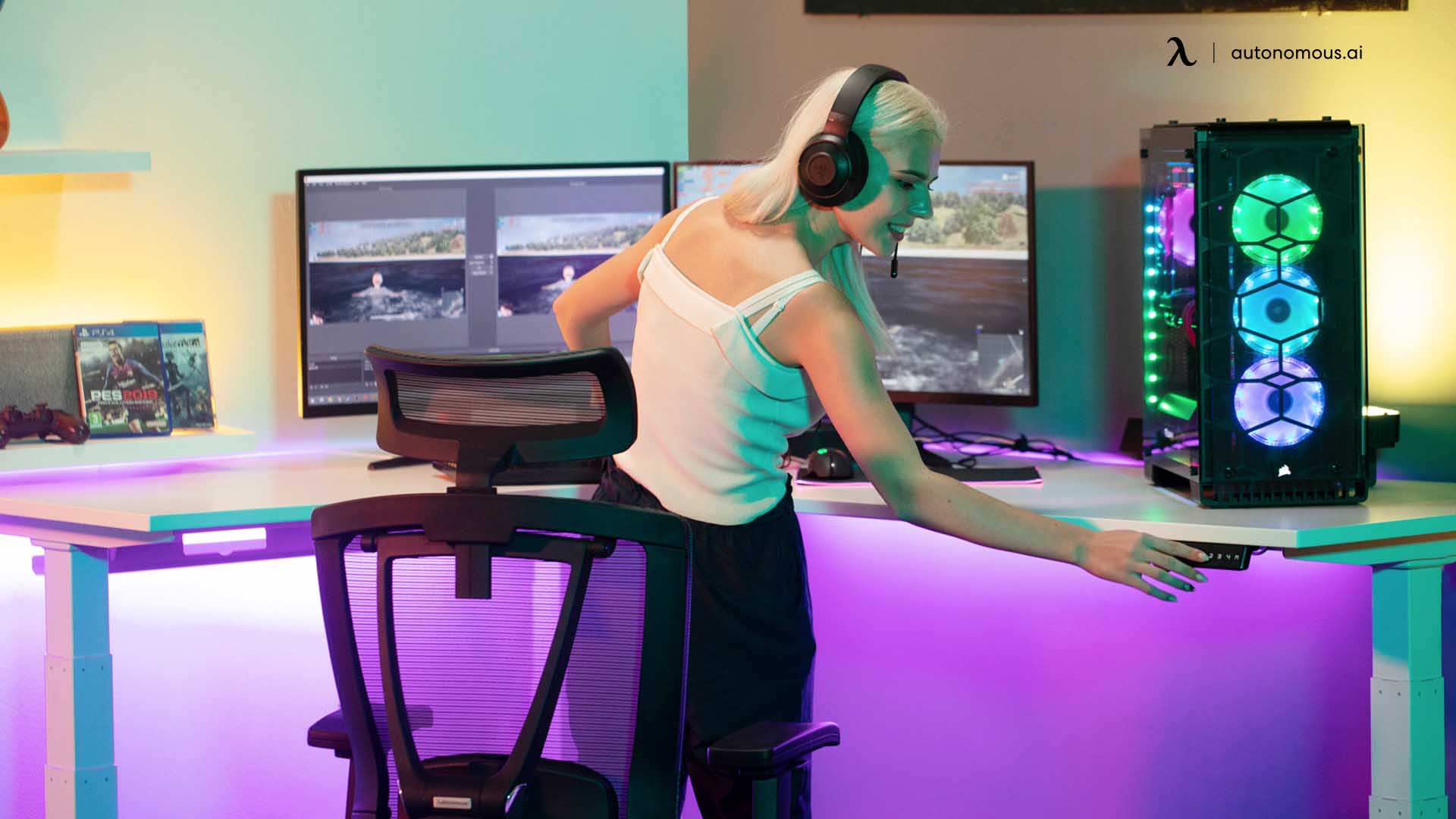 Whether you game at day or night, having a set of LED lights can make your PC or console gaming desk setup pop out like never before! Here, you're going to place LED strips around your monitors, desk, and anywhere else you consider appropriate. Then, you can manage your colors in any way you consider appropriate.
There are some smart LED strips on the market that even change color depending on what's happening on the monitors. If you want to have a more immersive gaming experience, you could consider getting those. Overall, LED stripes are not that expensive, and they're a perfect addition to your gaming desk setup.
7. White/Black Gaming Setup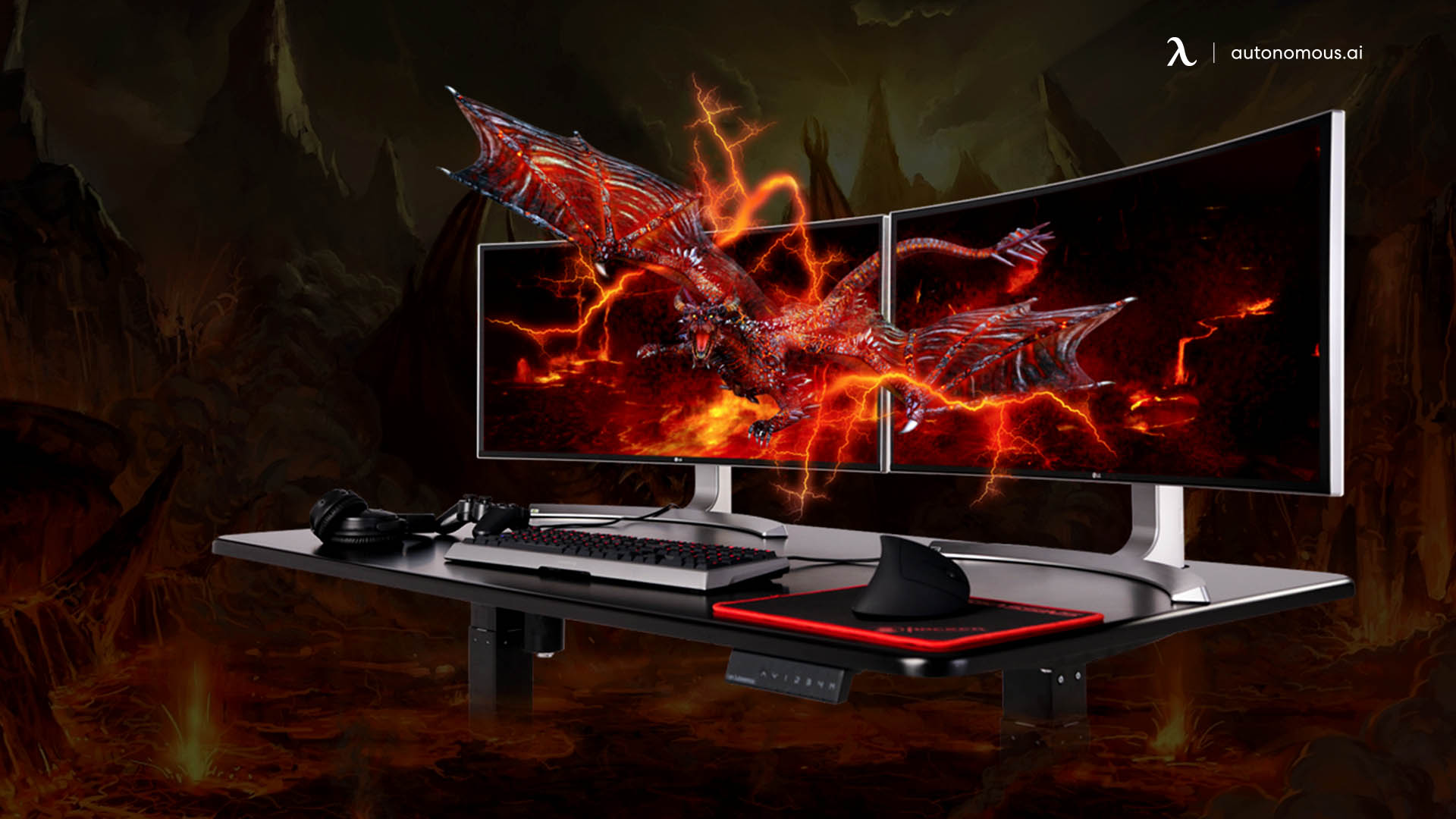 Many experts recommend getting all your office furniture in the same color so that everything feels "cleaner," and gaming setups aren't the exception. Going for a fully white or black desk setup for gamers may be the best option for those who enjoy color balance in their rooms.
Moreover, both black and white combine with any other color you can possibly imagine, so if you want to go for the safest route, going white or black with your setup may be an excellent choice to consider.
8. Floating Desk Gaming Setup
Floating desks are an excellent way to save up some space in your room. If you already have a floating desk, you may get an ergonomic chair to minimize space usage in the desk itself. Moreover, you could get wireless gaming supplies to make the desk look more organized.
Remember you're not going to get that much space with a floating desk, so if you have any additional items you want to store, you may want to get a separate drawer for those.
9. "Natural" Desk Gaming Setup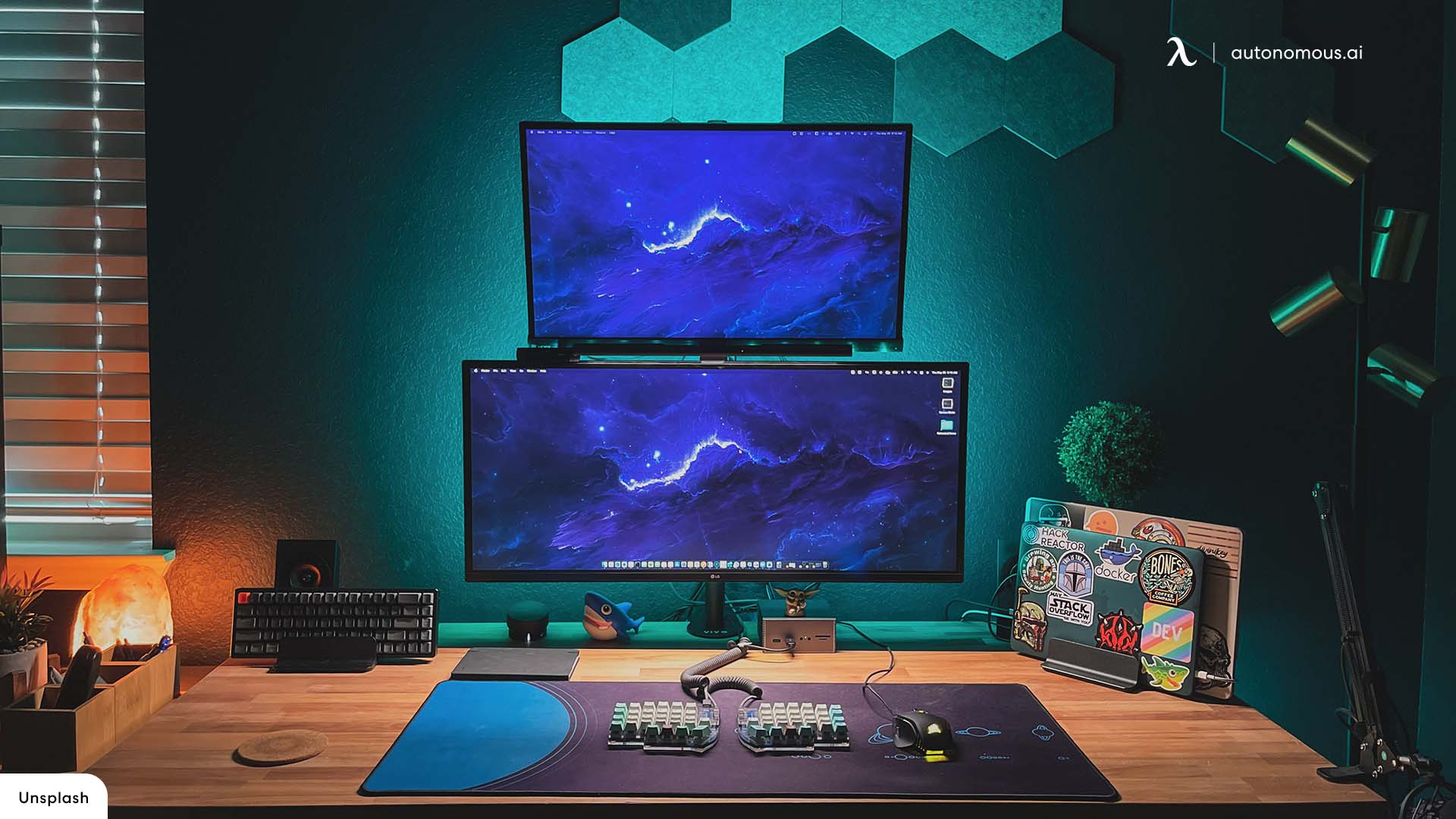 Who doesn't like some greenery in their office? If you want to add a bit more "life" to your ultimate gaming setup, you can consider getting some plants in there. While you don't have to clutter your desk with plants, a couple of small ones should do the trick.
If you combine greenery and bright lighting, you're getting the perfect combination for your gaming desk setup. In case you don't have any access to artificial bright lighting, consider placing your setup near a window.
10. Wall-Mounted Monitors
People who are looking to save some space may enjoy going for wall-mounter monitors. As the name implies, these monitors are placed directly on the wall rather than on the desk; that way, that additional space on the desk can be used for other gaming desk ideas.
Keep in mind that wall-mounted monitors may not work as well with standing desk setups since you're going to have the monitor fixed on one spot. However, if you get a monitor arm, you could be able to make your monitor more adjustable, allowing for dozens of different possibilities for your console gaming desk setup.
11. Corner Desk Setup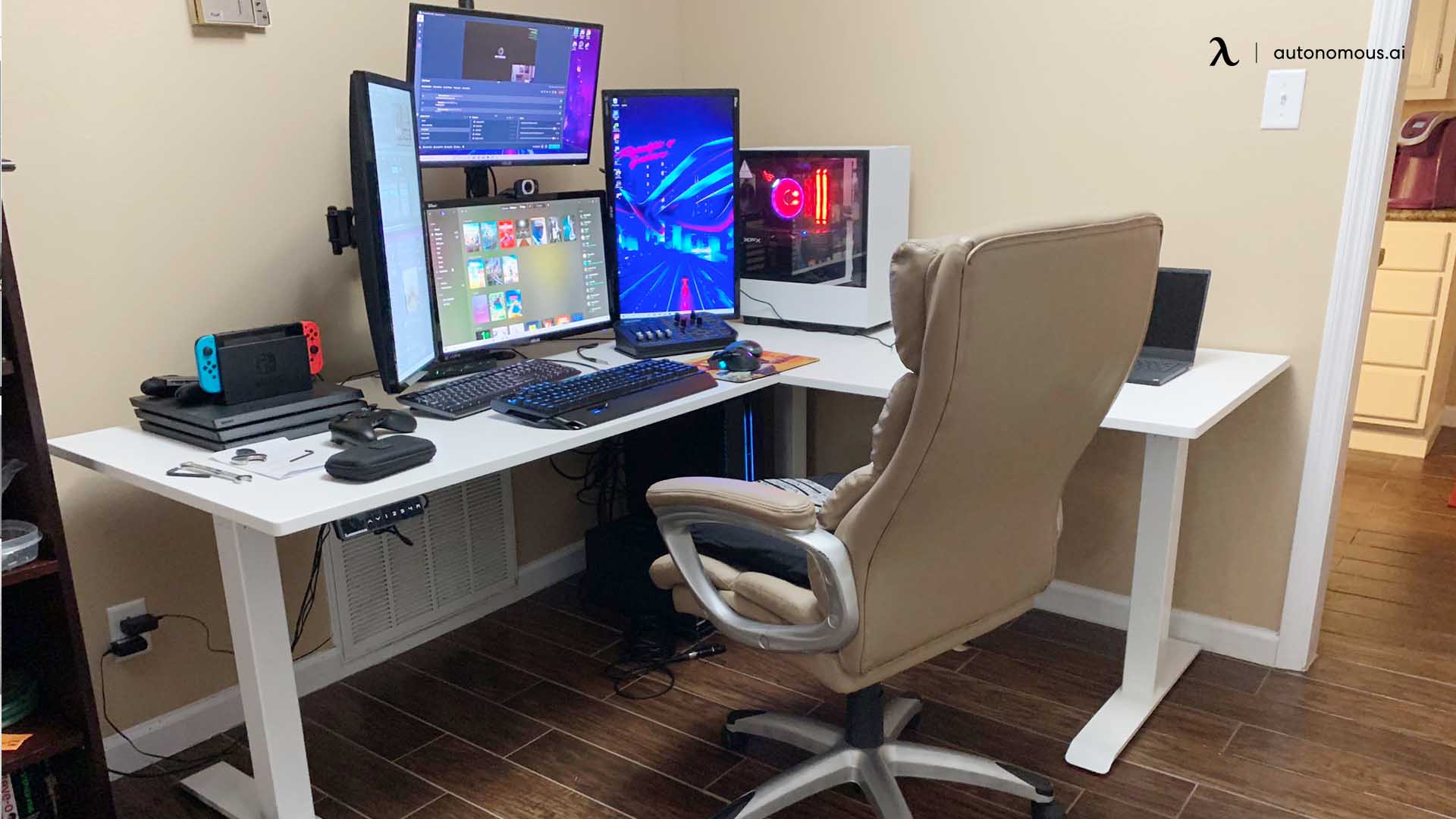 Even if you have a small room, it's entirely possible to get a fully-featured gaming desk setup. Overall, if you get a corner desk (which already saves up some space in your room), make sure to get one with drawers; that way, you can get any unnecessary items away from your gaming area.
On the other hand, you could get a floating shelf on your wall and place any extra accessories or greenery in there. In the end, it's all about personal preference.
12. Ultra-Wide Monitors
Another interesting trend in gaming is ultra-wide monitors. If the idea of getting two or three separate monitors seems overwhelming to you, you could get an ultra-wide monitor, which covers the length the two or three monitors would cover.
However, keep in mind that ultra-wide monitors are a bit challenging to get used to, especially when it comes to gaming since your field of view is going to get much wider. However, you can try this one out if you feel like it.
13. Using Large Mouse Pads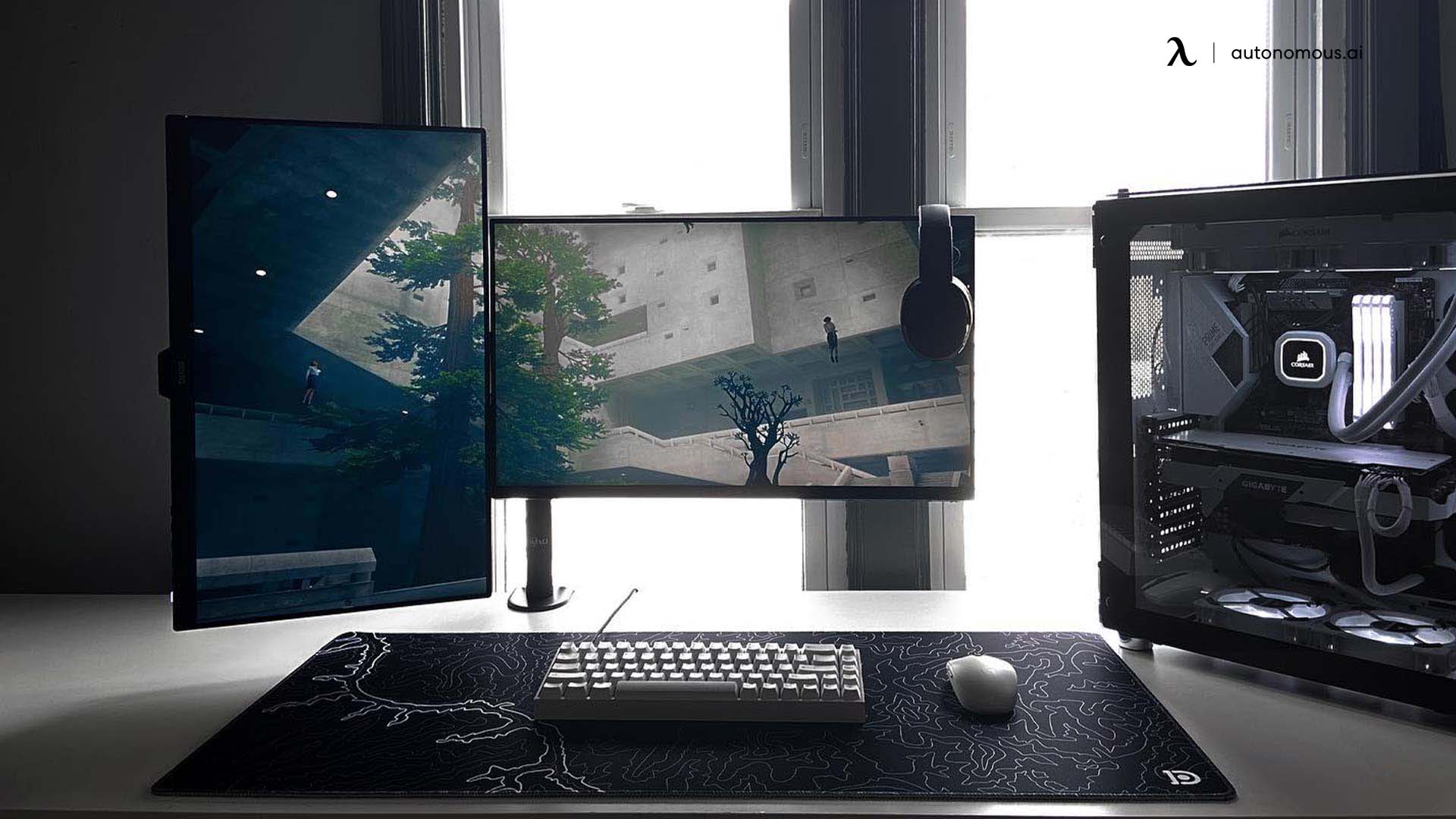 Large mouse pads can add a bit more style to your setup. Depending on the pad's length, you could place your mouse, keyboard, and other accessories. Moreover, these pads make your ultimate desk setup look much cleaner.
Overall, large mouse pads are not expensive, so if you have a few dollars to spare, you could get one of these to enhance the looks of your setup.
14. Wood Desk Setup
Wood is known for being one of the most beautiful materials for furniture. If you like the look of nature, you may consider getting a desk made of wood materials. However, keep in mind those may be a bit more challenging to maintain in good shape.
15. Desk Setup with Drawers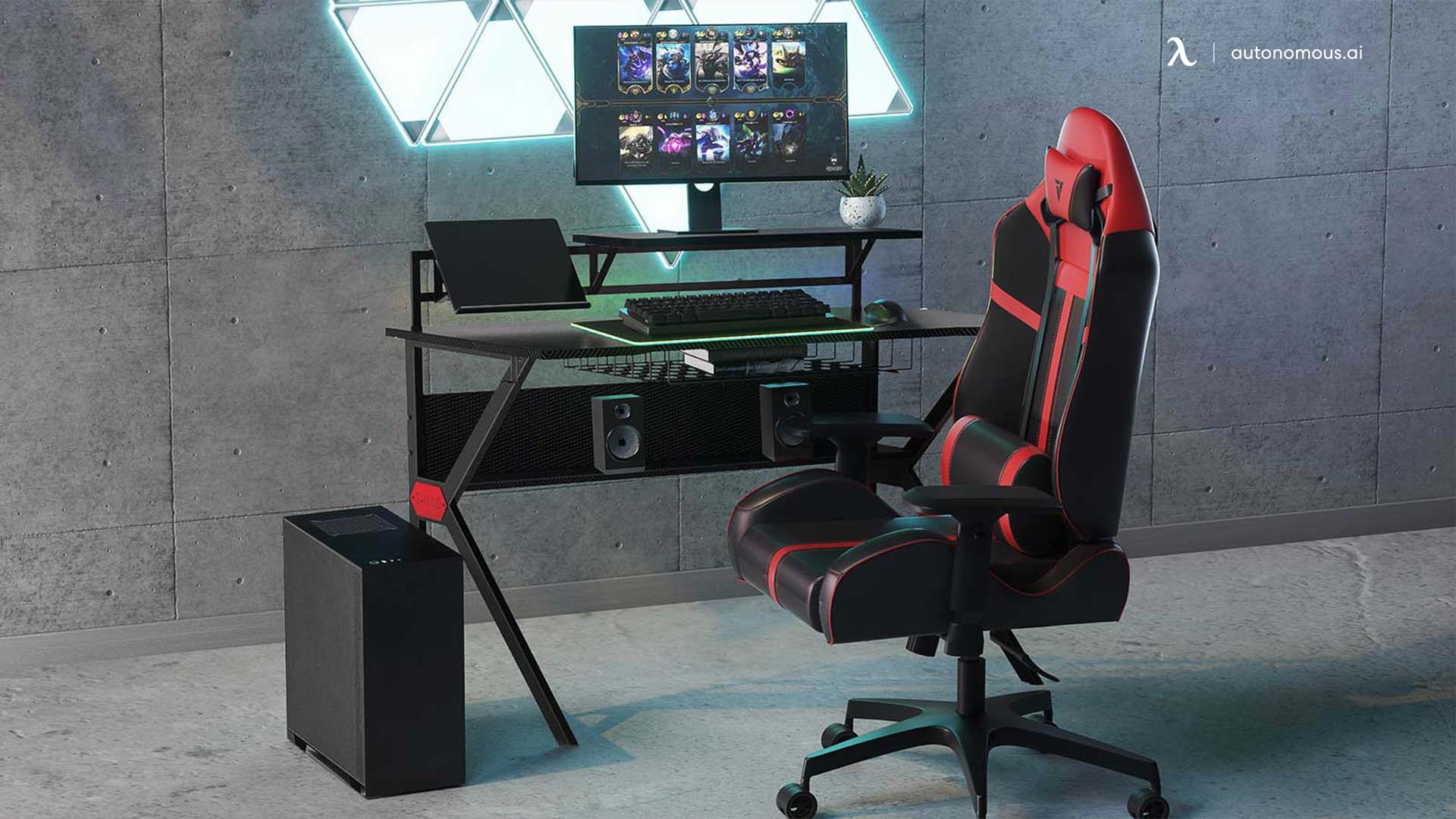 Finally, if you're one of those who has way too many accessories for gaming, consider getting a desk with drawers; that way, you don't have anything that could distract you in your gaming sessions.
How to Choose the Best Desk for Gaming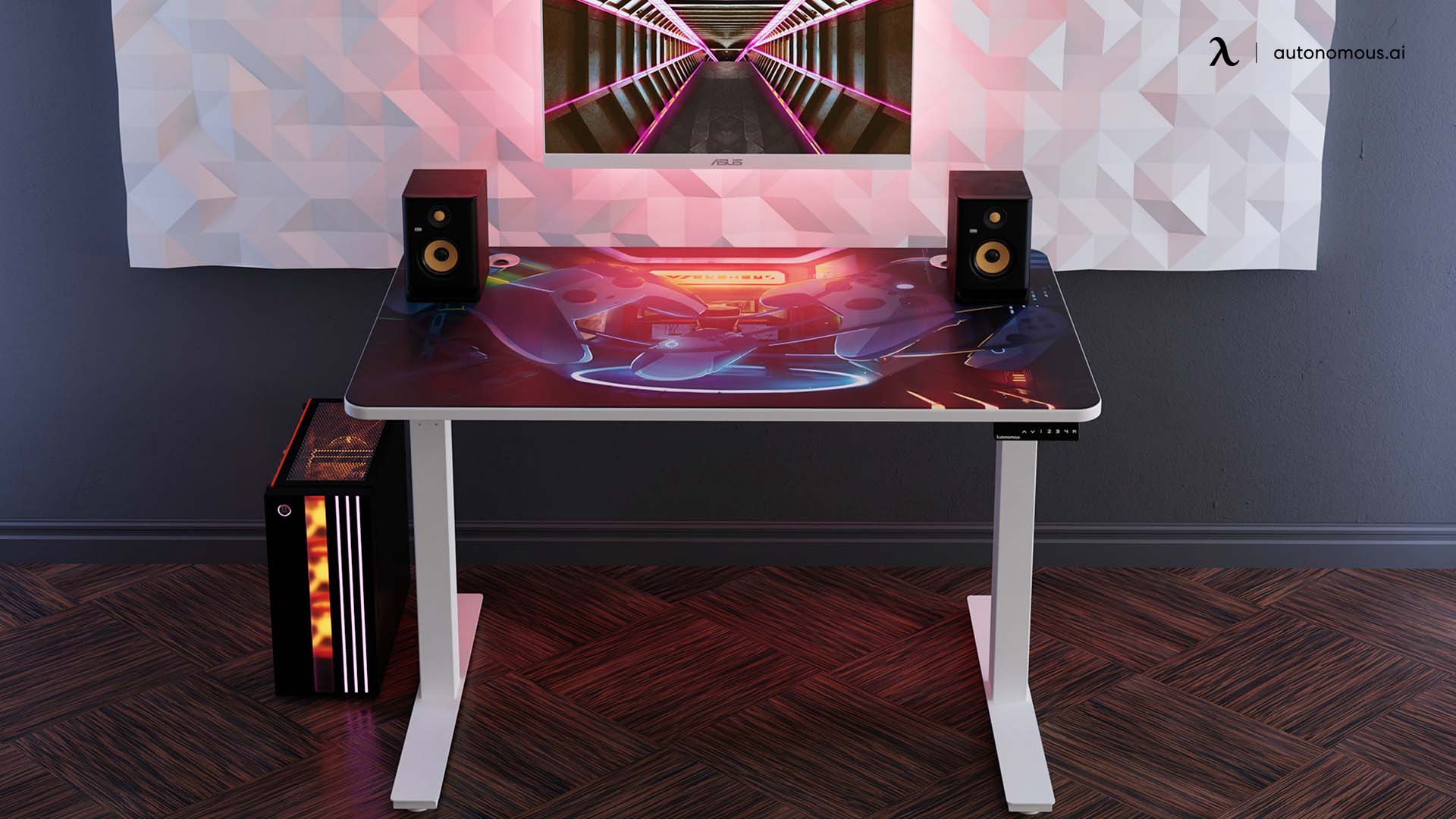 In essence, you must consider what your needs and space are. As mentioned before, if you're in a small room, for example, you probably cannot get something like an L-shaped desk if you don't want your room to feel too small afterward.
On the contrary, if you have a lot of space to spare, you can get more creative with your gaming desk ideas. You must think of things like:
How much space do I need?

How many monitors am I going to place?

Do I want natural light to enter my room?

Do I need extra drawers for my accessories?
Once you answer all of those questions, you're going to have a much better idea of what to expect from your gaming desk setup. Remember there's no rush to purchase anything. Make a list of everything that you need, and start going item by item until you reach your desired gaming office!
Bottom Line
One of the best things about a console or PC gaming desk setup is that there are endless customization possibilities. Even if there are some gaming desk ideas you don't like in the future, you can adjust them so that the room always feels fresh.
In case you have the setup but don't have the CPU to play yet, you may consider going for the Artesian Builds gaming PC. Overall, this PC features an Intel i7 processor, 32 GB of RAM, a 1TB HDD, eight adjustable RGB fans, and many others. If you're interested, you may go to Autonomous' website for more information.
Hey, you have special pricing through your company.
Get exclusive rewards
for your first Autonomous blog subscription.
WRITTEN BYAutonomous
We build office products to help you work smarter.