Smart Products
10+ Gaming Desk Setup Ideas 2023 - Revamp Your Gaming Space
3,496 Views
Ready to take your gaming experience to the next level? There are a few things to consider first. First, you must consider the space where you're placing your PC gaming desk setup. If you don't have that much space, for example, you may have to go for a small gaming desk instead of a big one. 
Still, keep in mind there are hundreds of different gaming desk ideas you can consider today. Whether you have a significant budget or not, you can achieve impressive results if you get a bit creative.
We want to help you with your gaming desk setup process, so we listed some of the best setup ideas you can consider for 2022! Most of these ideas are suited for any kind of gamer out there, so make sure to read through the entire list so that you can choose something that works for you.
15 Gaming Desk Setup Ideas for Your Gaming Experience
1. Double or Triple Monitor Setup
New gaming trends include having two or even three monitors on the desk to enhance your view. Using two monitors may already feel overwhelming for you, so using three may seem absurd. Still, it's only a matter of getting used to it. 
In case you want to include a double or triple monitor setup for your room, make sure to get a height-adjustable gaming desk you can use to accommodate all of that. Here, try your best to get two or three exact same monitors so that your viewing experience is consistent. 
Using the same monitors isn't mandatory, but it makes every look much better in the end.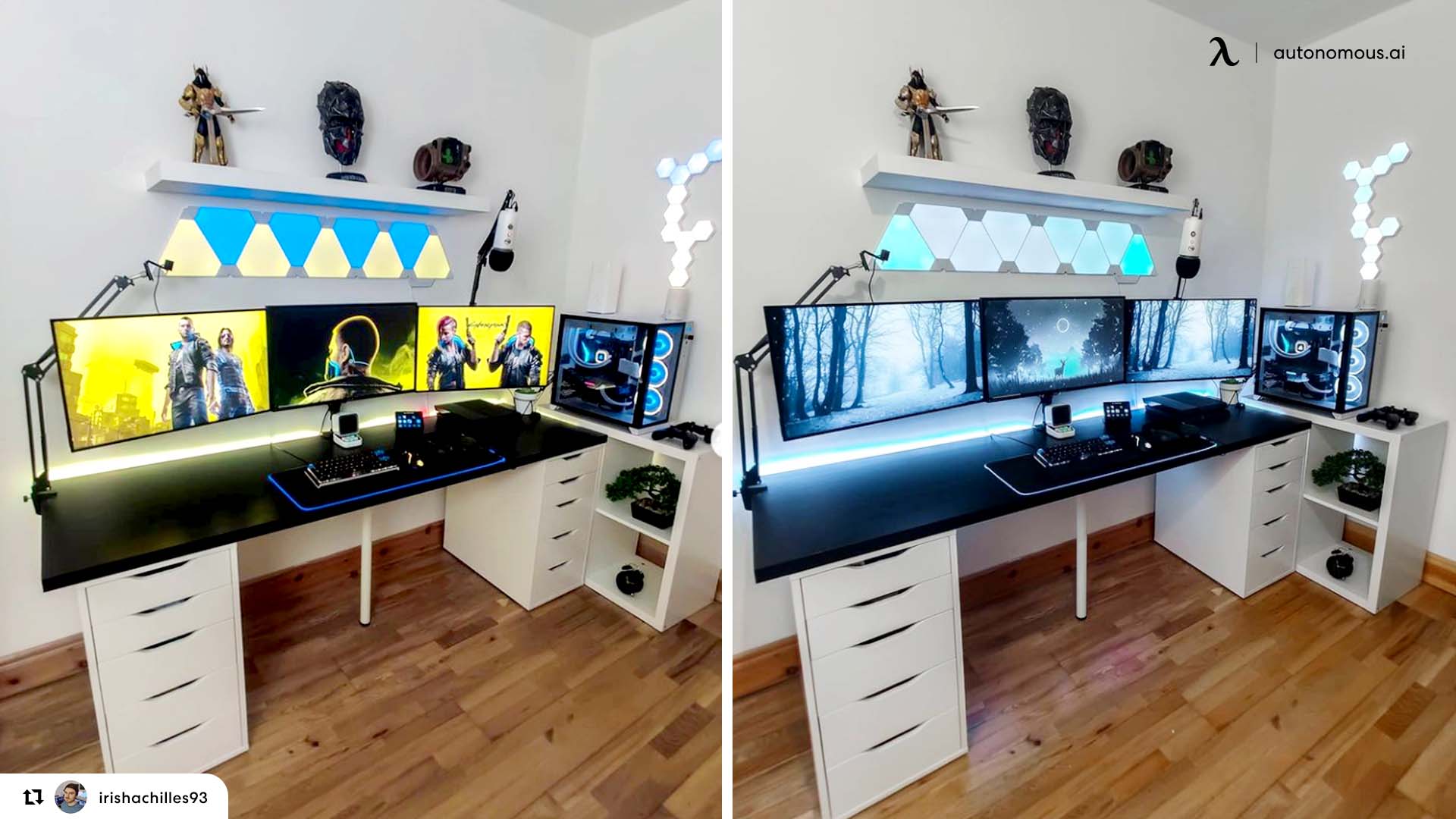 2. Gaming Setup with LED Lights
Whether you game at day or night, having a set of LED lights can make your PC or console gaming desk setup pop out like never before! Here, you're going to place LED strips around your monitors, desk, and anywhere else you consider appropriate. Then, you can manage your colors in any way you consider appropriate. 
There are some smart LED strips on the market that even change color depending on what's happening on the monitors. If you want to have a more immersive gaming experience, you could consider getting those. Overall, LED stripes are not that expensive, and they're a perfect addition to your gaming desk setup.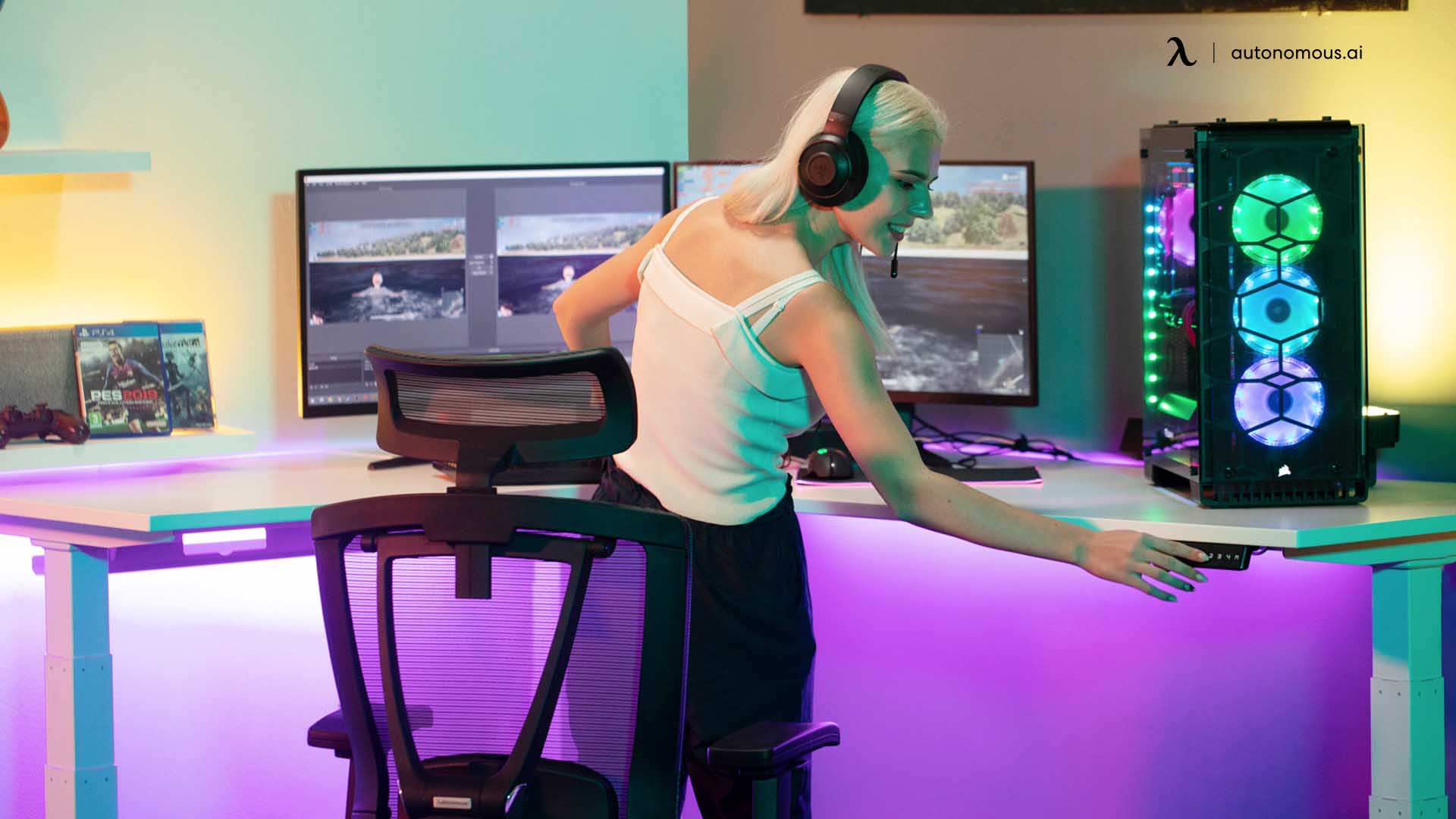 3. White/Pink Gaming Setup
Many experts recommend getting all your office furniture in the same color so that everything feels "cleaner," and gaming setups aren't the exception. Going for a fully white or pink desk setup for gamers may be the best option for those who enjoy color balance in their rooms. 
Moreover, both pink and white combine with any other color you can possibly imagine, so if you want to go for the safest route, going white or pink with your setup may be an excellent choice to consider.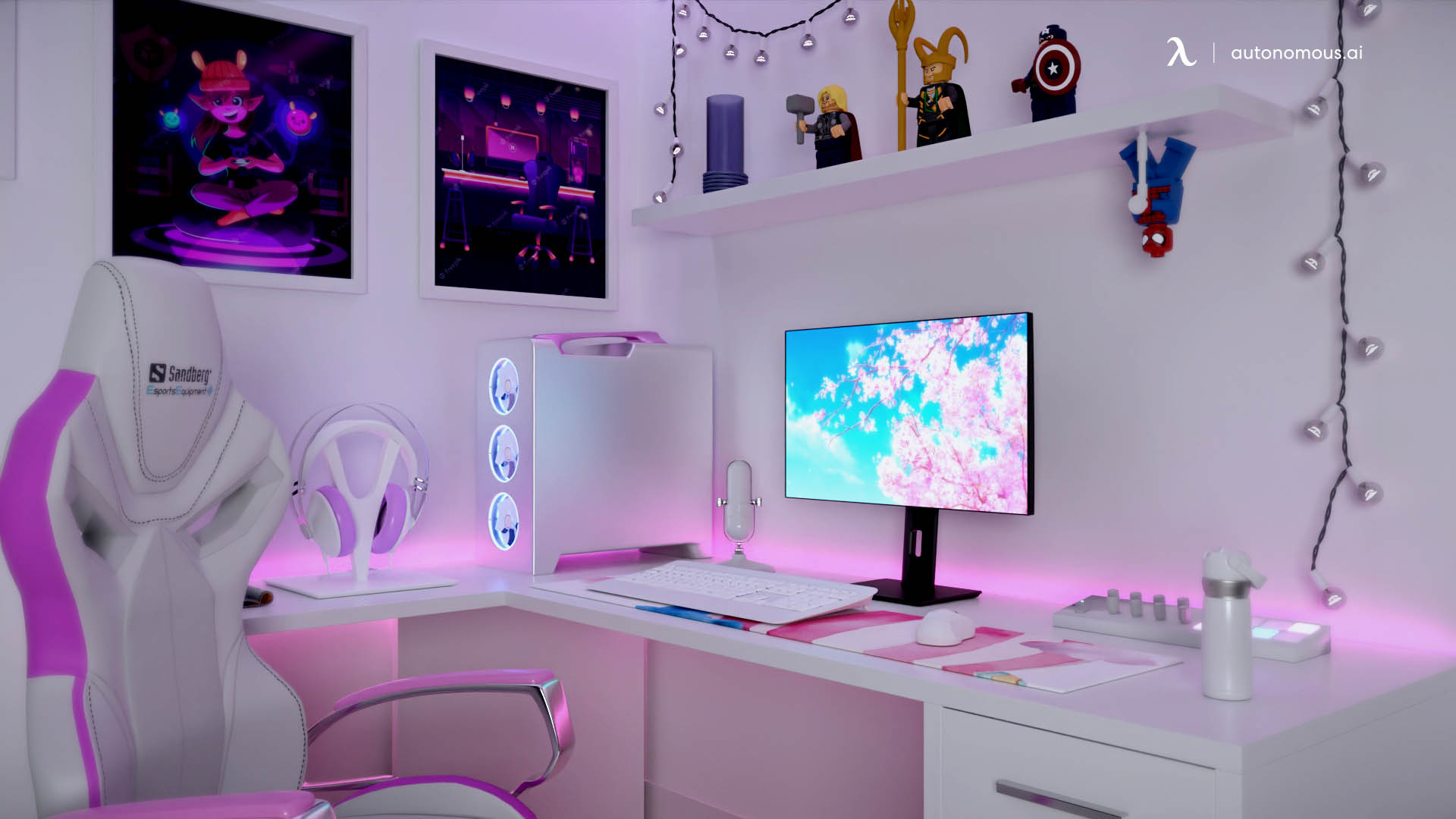 4. Floating Desk Gaming Setup
Floating desks are an excellent way to save up some space in your room. If you already have a floating desk, you may get an ergonomic chair to minimize space usage in the desk itself. Moreover, you could get wireless gaming supplies to make the desk look more organized. 
Remember you're not going to get that much space with a floating desk, so if you have any additional items you want to store, you may want to get a separate drawer for those.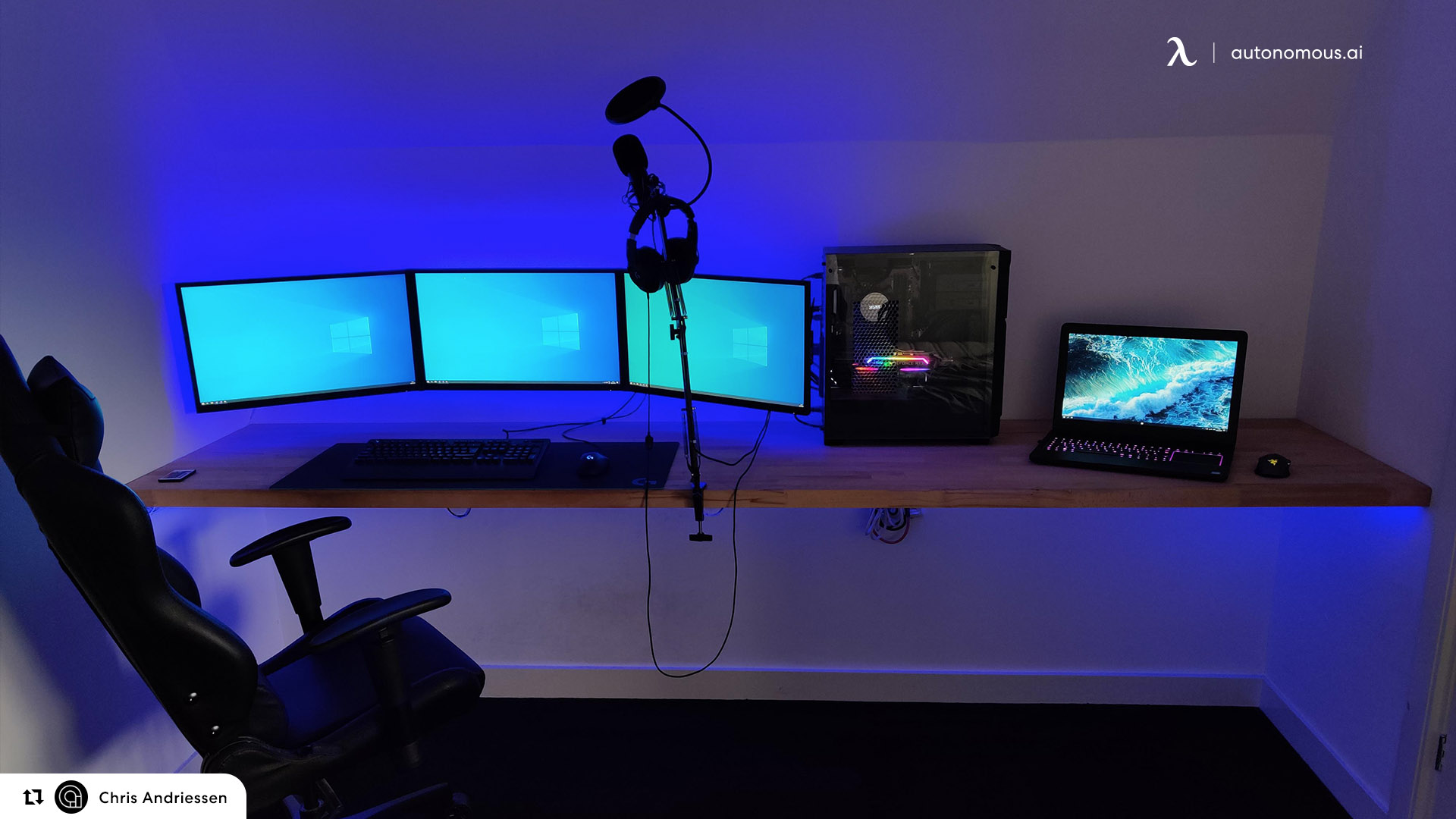 5. "Natural" Desk Gaming Setup
Who doesn't like some greenery in their office? If you want to add a bit more "life" to your ultimate gaming setup, you can consider getting some plants in there. While you don't have to clutter your desk with plants, a couple of small ones should do the trick. 
If you combine greenery and bright lighting, you're getting the perfect combination for your gaming desk setup. In case you don't have any access to artificial bright lighting, consider placing your setup near a window.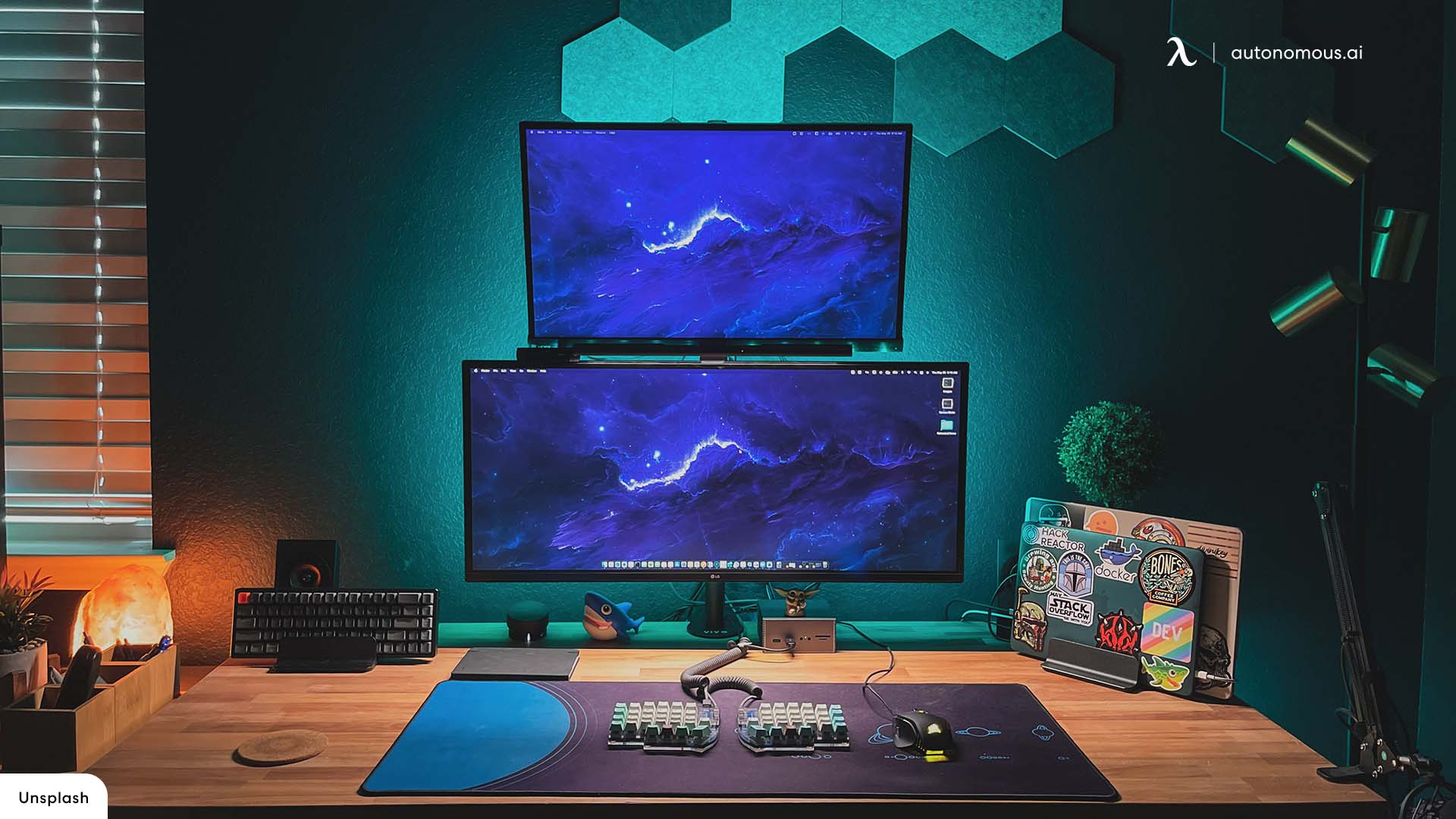 6. Wall-Mounted Monitors
People who are looking to save some space may enjoy going for wall-mounter monitors. As the name implies, these monitors are placed directly on the wall rather than on the desk; that way, that additional space on the desk can be used for other gaming desk ideas. 
Keep in mind that wall-mounted monitors may not work as well with standing desk setups since you're going to have the monitor fixed on one spot. However, if you get a monitor arm, you could be able to make your monitor more adjustable, allowing for dozens of different possibilities for your console gaming desk setup.
7. Corner Desk Setup
Even if you have a small room, it's entirely possible to get a fully-featured gaming desk setup. Overall, if you get a corner desk (which already saves up some space in your room), make sure to get one with drawers; that way, you can get any unnecessary items away from your gaming area. 
On the other hand, you could get a floating shelf on your wall and place any extra accessories or greenery in there. In the end, it's all about personal preference.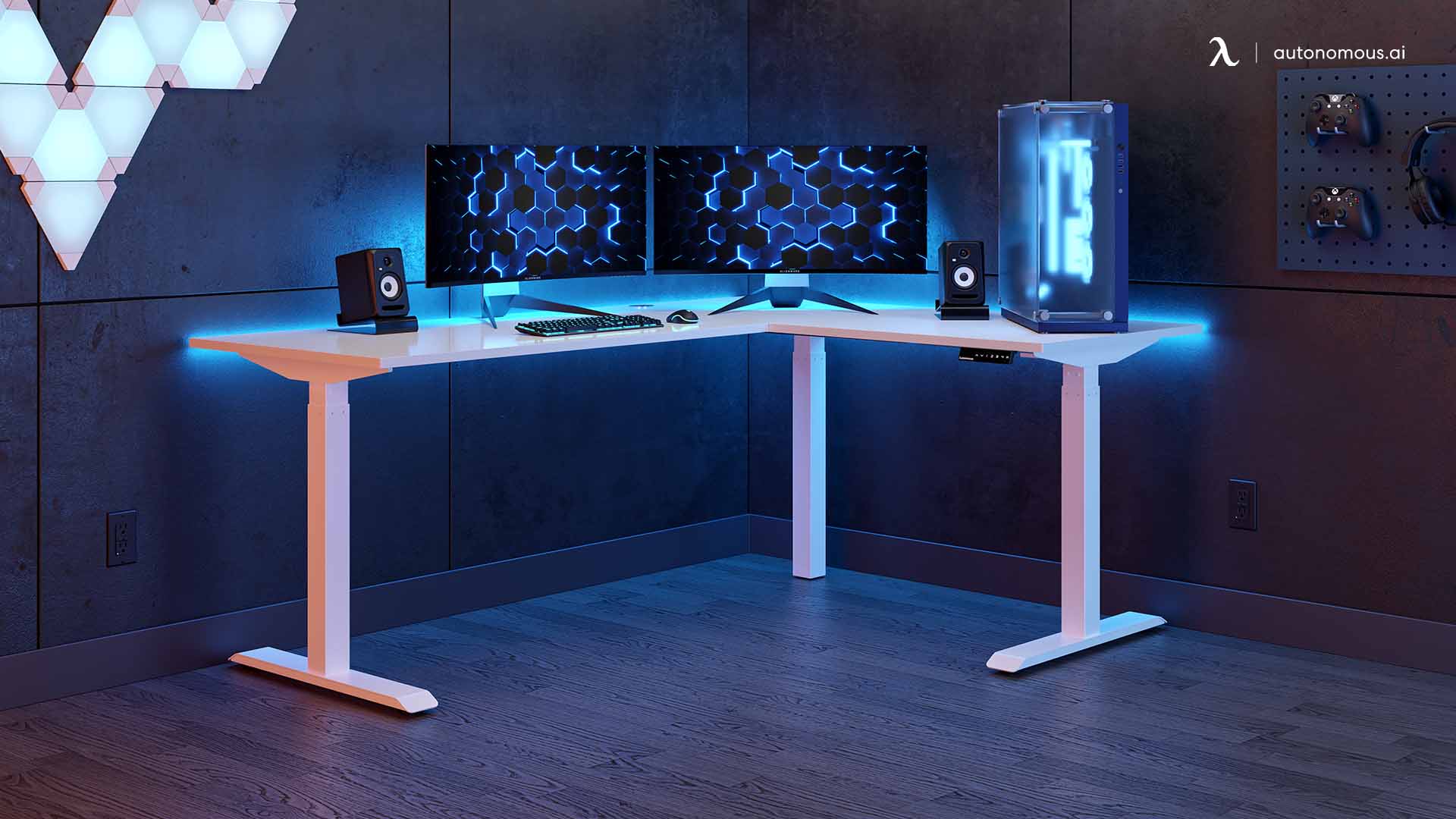 8. Ultra-Wide Monitors
Another interesting trend in gaming is ultra-wide monitors. If the idea of getting two or three separate monitors seems overwhelming to you, you could get an ultra-wide monitor, which covers the length the two or three monitors would cover. 
However, keep in mind that ultra-wide monitors are a bit challenging to get used to, especially when it comes to gaming since your field of view is going to get much wider. However, you can try this one out if you feel like it.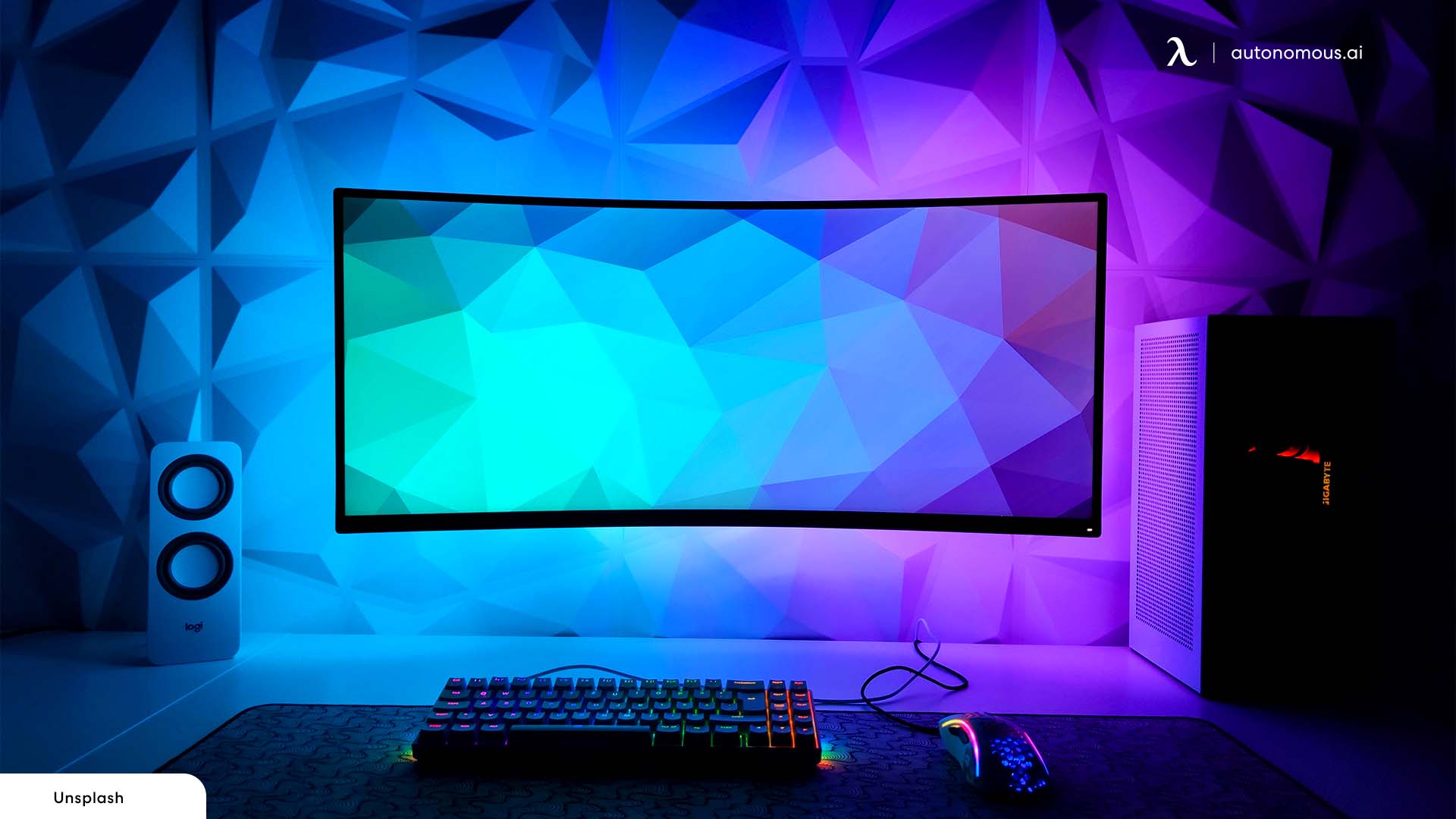 9. Using Large Mouse Pads
Large mouse pads can add a bit more style to your setup. Depending on the pad's length, you could place your mouse, keyboard, and other accessories. Moreover, these pads make your ultimate desk setup look much cleaner. 
Overall, large mouse pads are not expensive, so if you have a few dollars to spare, you could get one of these to enhance the looks of your setup.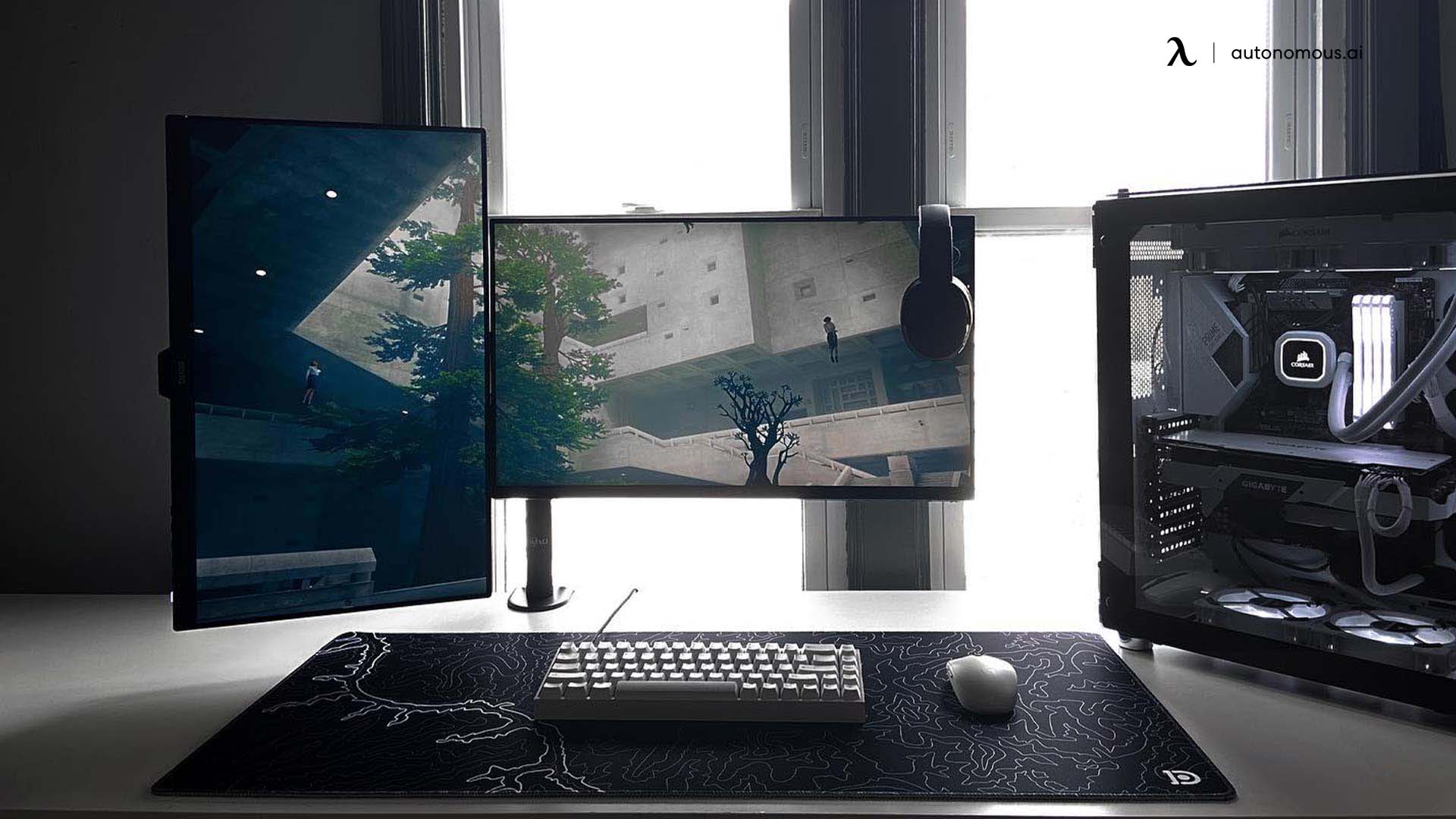 10. Wood Desk Setup
Wood is known for being one of the most beautiful materials for furniture. If you like the look of nature, you may consider getting a desk made of wood materials. However, keep in mind those may be a bit more challenging to maintain in good shape. 
Subcribe newsletter and get $100 OFF.
Receive product updates, special offers, ergo tips, and inspiration form our team.
WRITTEN BYAutonomous
We build office products to help you work smarter.