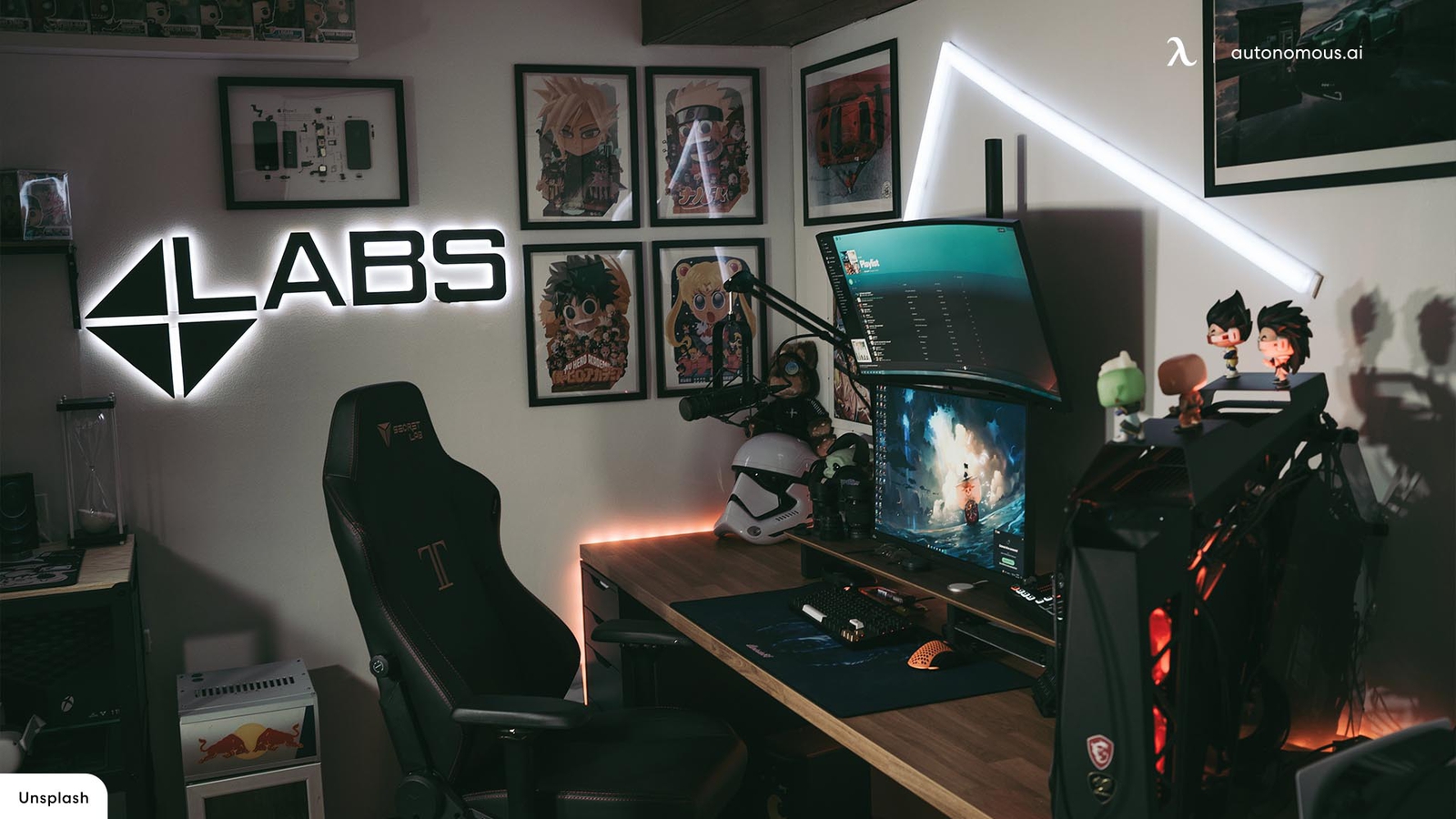 Smart Products
20+ Essential Gaming Room Accessories - Top 7 Décor Ideas

Autonomous
|
Nov 28, 2022
13,711 Views
If you're a serious gamer, then you can agree that a basic setup in the corner of your room is not sufficient enough. As a result, many gamers have a whole room dedicated to the virtual world. For those who wish to achieve this level of commitment in gaming, take a page out of these gamers' and streamers' books by reading this article. Below is a list of all the essential gaming room accessories you need and ideas on how to use them to decorate your cyberspace.  
If you already consider yourself a serious gamer or streamer, you can also enhance your gaming setup with the following furniture and gaming room supplies. Furthermore, many of the products mentioned below will have a variety of colors to pick from to best fit your aesthetic. Your options vary from a black gaming setup to colorful ones.
20+ Essential Gaming Room Accessories For Gamer Room Décor
Tons of gaming gadgets will be released in 2022. If you want to enhance your current setup, it's not a bad idea to replace some of the items you already own with the following list of gaming accessories and gamer room decor. We'll mention a few keyboards, lighting, and other gaming room décor pieces that you can include in your setup for a better feel and atmosphere.
1. Deltahub Carpio Gaming Wrist Rest: Adjustable Silicone Strap
We've already mentioned another model of the Deltahub Carpio, but this one was specifically designed for gamers. It includes an adjustable silicone strap that will make it easier for you to fit it in your hand. Furthermore, the magnetic locking mechanism will make it stay where it is to prevent it from slipping. It can help you keep your wrist comfortable and safe while you're playing your favorite games. It's a small item, so you can carry it in your pockets and take it anywhere you go.
2. Compact Gaming Desk by Benzara
A substitute for the Flexispot EN1B is The Compact Gaming Desk by Benzara. Autonomous has dedicated a section of its website specifically to products for gamers and streamers. Among a range of supplies and accessories for gamer room decor, this is where you will find this ergonomic compact gaming desk. 
This games room stuff goes one step further than the desk above and provides gamers with convenience through built-in holders for their cups and headphones. It is the perfect fit for those looking for smaller setups and incorporates into its design the traditional gaming setup colors, black and red. 
When you picture modern gaming setups, this gaming desk is what you should be visioning. More so, if you are visioning a gaming desk with shelves rather than the typical motorized adjustable desk like the one above, then this is the perfect option for your gamer room decor. 
3. Leather Gaming Chair by Karnox
An ergonomic gaming chair should be your next investment to double down on your commitment to comfort. With greater reason, it pairs perfectly with the ergonomic gaming desk mentioned above. To achieve the best comfort when gaming or streaming for long periods, the Leather Gaming Chair by Karnox is a must to provide gamers with the ultimate gaming seat experience. 
This all-black gaming chair possesses some of the best features one can find in an ergonomic gaming chair, in addition to all the likable qualities of regular gaming chairs. These attributes, as well as its reasonable price, make this a perfect chair for gamers and streamers looking to invest money into a next-level gamer room decor. 
4. Slate Grey Gaming Chair by Karnox
This list has already praised the Leather Gaming Chair by Karnox, and as such, it should also praise its equivalent, a fabric gaming chair offered by the same brand. If you are certain that leather is not your thing, an alternative may be the Slate Gray Gaming Chair by Karnox. It is a gaming chair that matches looks to peak performance, just like its counterpart mentioned above. 
If you plan on inviting fellow gamers over for gaming sessions in your new setup, you should invest in more than one gaming chair. 
5. Mars Pro Bluetooth Speaker by GravaStar
You cannot call your gaming room a gaming room if you do not have this gaming room accessory from Autonomous on your list. Having a speaker with a premium sound system is one of the many gaming accessories that will surely upgrade your gaming experience. The GravaStar Mars Pro Speakers are a dual speaker system and passive bass radiator that aims to achieve a "bass you can feel." In addition, it is a speaker that offers the most strength and stability through its zinc alloy shell that is hardwearing and a triangular support structure that is shock-absorbing. Not only does this speaker excel in functionality, but also appearance.  
The speaker's gender-neutral, sci-fi, and futuristic design fits the technological theme perfectly and will embellish any gaming room with 15 hours of wireless playtime. A bonus, you ask? No tangled or messy cords. Cords are the very thing that can devalue any room within seconds if they are left to get jumbled up.
6. Mount-It! Dual Monitor Arm
Mount-It! specializes in gaming furniture and gaming room accessories that are ergonomic. It is a company that identifies that gamers and streamers can spend hours upon hours sitting and staring at a screen. A solution to the negative repercussions from this is through the supply of a tech gadget that achieves a gaming room ambiance with ergonomic bliss. 
The Mount-It! Dual Monitor Arm is one of the many forward-thinking gaming room supplies this company offers. Its appearance on this list, and in your gaming room, is because of its double monitor arms, giving a gamer dual screens to achieve twice the efficiency. In addition, it features built-in cable organization to keep a clutter-free and clean look. Above all else, it is effortlessly easy to install and can get you back to your video games in no time.
7. Pixio PX277 Prime
There are overwhelming amounts of gaming monitors on the market today; it can, therefore, be a burdensome task to choose one that best suits your needs as a gamer or streamer. 
Thus, this list aims to give you as a reader the complete breakdown of a popular monitor among the gaming community, called the Pixio PX277 Prime, to help ease your task of finding a decent monitor. 
The dominant defining factor gamers look at when choosing a monitor for their game room decor is image quality. A vertical alignment display panel for the Pixio monitor delivers superior performance; the static contrast ratio is 3,000:1 as opposed to the lower 1,000:1 contrast ratio of other panel types offered by different monitors. Apart from this, it is a very affordable monitor, and you will not have to break your bank to add this to your collection of gaming room stuff. 
While some might complain about sacrificing certain features, such as the 10-bit color and HDR, this should not be a "be-all and end-all" decision;  unless you are willing to pay a far more substantial amount for a monitor that has these features. 
8. Deltahub Carpio: Ergonomic Wrist Rest
A sixth Autonomous product to earn a place on this list is the DeltaHub Caprio. This wrist rest can be considered a collectible that is not only beneficial but will serve as a small statement piece among your gaming room stuff. More so, it alleviates wrist pain. 
Gamers are an affected demographic for wrist pain from the continuous pressing of buttons on a game controller or PC. A condition that can result from continually using your hands is called Carpal Tunnel Syndrome. Autonomous helps gamers prevent this condition at all costs by supplying this ergonomic wrist rest. It attacks the symptoms of Carpal Tunnel Syndrome at the source with comfortable padding and correct positioning of the wrist and overall achieves maximum comfortability for its users. 
The wrist rest combines easily with other gaming desk accessories, and its compact size makes it both portable and unnoticeable. Overall, this product is essential for any gamer currently experiencing wrist soreness or fatigue.
9. Royal Kludge Redragon K617 Fizz 60% Wired RGB Gaming Keyboard
This gaming keyboard is a visual spectacle and a cost-effective choice for gamers that want a new keyboard. It includes hot-swappable red switches and can be connected to your computer or laptop via a USB-C cable. As a 60% keyboard, it only includes 61 keys. You can customize the RGB lighting, allowing you to get the right color scheme for your tastes. Plus, it is available in two colors, gray, and pink. Both of them look equally beautiful!
10. Lamp Depot Honeycomb Lights: Touch Sensitivity
These honeycomb light in game room decors are included in the same lamp, but each of them is independently controlled. You'll be able to change each hexagon to one of the thirteen colors available. Alternatively, you can also use the dynamic modes: slow-change, fast-change, and monochrome flash. Almost everything about this lamp is customizable, and it includes a touch sensor that you can use to customize it as much as you want whenever you feel like it. It's a nice piece of gaming bedroom décor.
11. Pixminds Lexip - Pu94: Wired and RGB USB Mouse
The Pu94 by Pixminds Lexip is one of the best mice for game room decor that have been launched in recent years. It has been created with 3D creation and editing software in mind, but it can also be especially useful for people who like simulation games.  It reaches 12,000 DPI and has a 360º internal pivot that allows you fluid movements in any possible direction. It includes six buttons and 12 programmable directions!
12. Lamp Depot RGBW Modern Curve Lamp, Mood Lighting
If you want a floor lamp that truly stands out among the rest of your aesthetic game room, then this is the right choice for you. This modern curve lamp is the perfect gaming lamp for any person. It provides warm and cool light and includes static and dynamic effects. It is eco-friendly and uses 90% less power than conventional lamps. You can control the speed of the multicolor effects and dim the lights to whatever you feel comfortable with. It's a beautiful lamp that will turn your gaming room into whatever you want it to be, depending on your mood.
13. Techni Mobili Stryker Gaming Desk
This desk is the right choice for those with a dual-monitor setup or those who are considering some gaming setup ideas with the same layout. It includes enough space for two monitors, peripherals, and accessories you may want to include. It has two cup holders and one headphone holder. The monitor shelves are detachable, allowing you to personalize the desk depending on what you want at the moment. The frame is heavily resistant to scratches and rust, making it more durable than your average gaming desk. It's one of the essential game room things you shouldn't miss!
14. Lamp Depot Polygon Lamp Music Rhythm
Do you find yourself listening to music during most of your day? Then, this lamp can be the perfect addition to your gaming room. It has more than sixteen million colors included and hundreds of multicolor effects that you can set up. Plus, it's sound reactive, which means that the lights will move to the rhythm of the music. You can choose to modify the lighting speed in your gamer room decor, too. It includes a remote, but you can also install the app on your phone and control it easily. It is a good choice for people with a VR gaming room.
15. Karnox Suede Gaming Chair
The Karnox Suede Gaming Chair has become part of many cool gaming rooms around the world. It looks good and is quite comfortable, thanks to the combination between PU leather and suede fabric. Plus, you'll be able to modify the height and seat tilt while also taking advantage of the 4D armrests for further comfort. The head and lumbar pillows will also make you feel like you're sitting on a cloud. The best part is that it is available for a nice price.
16. Royal Kludge Redragon K618 Horus Wireless RGB Mechanical Keyboard
If you prefer wireless to wired keyboard models, then the k618 Horus keyboard by Redragon might be the right option for you. It is compatible with Bluetooth 3.0, 3.5, and 2.4 GHz. It includes low-profile red switches with a special ultra-thin design, which can be helpful for those who type fast or prefer having full control of their keyboard. Talking about control, this keyboard includes the best personalization ever. You can define the exact colors you want in each of the keys! You can set up up to three profiles whenever you want.
17. Lamp Depot RGB Corner Lamp: Remote Control
If you prefer minimalistic gamer room decor, then this RGB Corner Lamp can be the right option for you. You will find more than one million colors and over 300 multicolor effects for further personalization. It includes a remote control that will aid you in personalizing the whole thing in a little time. It can look nice in any of the PC gaming setup ideas you may have in mind at the moment. It's definitely one of the best pieces of gaming light you can choose!
18. Smart Lightstrip by Philips Hue
This is one of the necessary gaming room supplies for game room decor. While nothing beats natural light, it is still important to invest in interior lighting as part of your game room décor. Light fixtures are one of the most vital fixtures needed when decorating your gaming room. 
There are many lighting solutions available. The best option available, however, is the Philips Hue Smart Lightstrip. It is a more expensive option when compared with other LED strip lights. These lights differ in terms of the fact that they can be controlled over Bluetooth via voice control or the Philips Hue App. 
This light strip by Philips Hue amplifies any gaming room with its multiple color options, including color temperature and dimming options. It is a product that serves as a high-tech decoration to fit the futuristic gamer theme.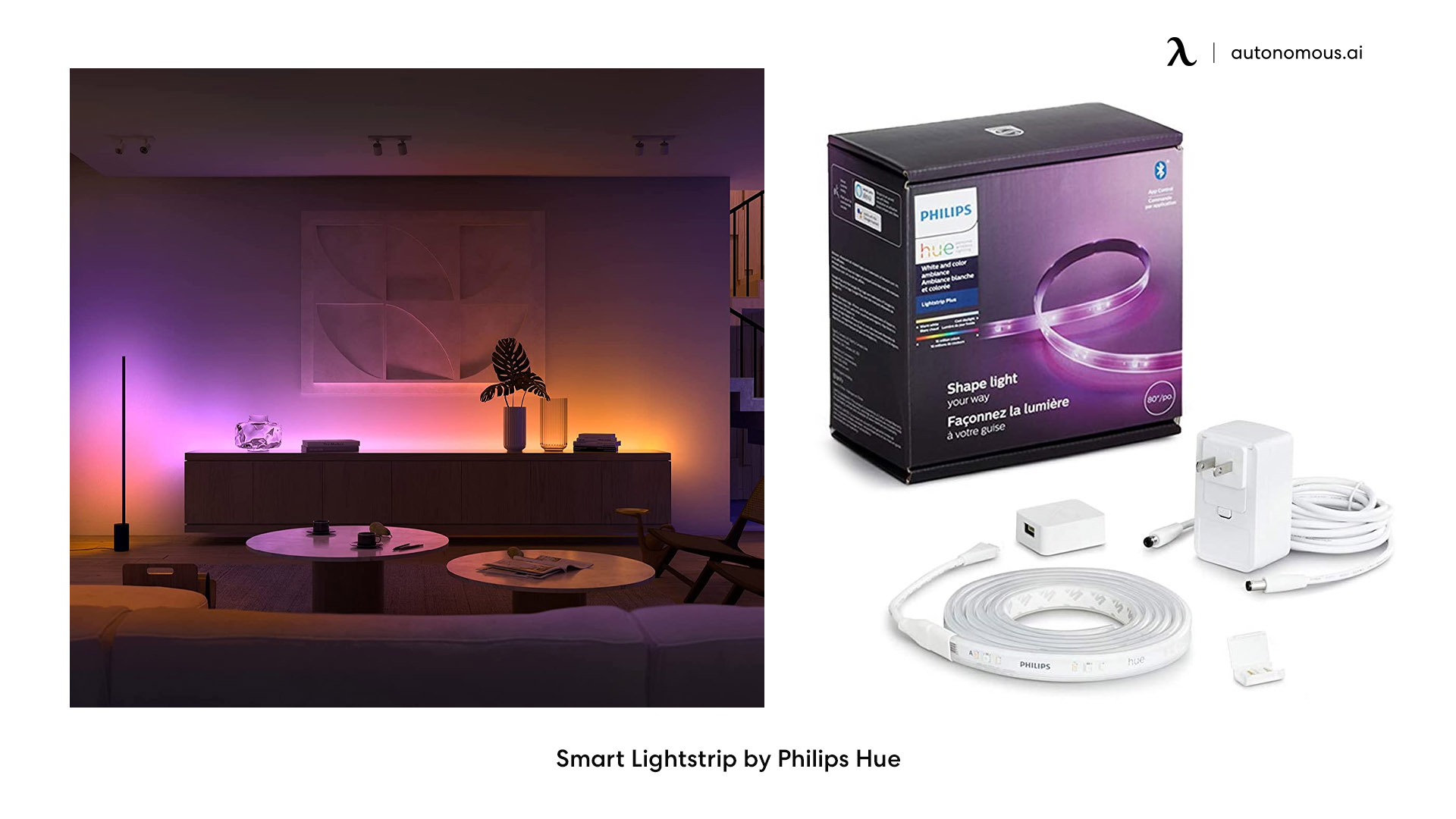 19. LG Ultragear
At core, this list has gone through a staggering amount of gaming monitors to ensure you are spending your money on the best one for you. If you as a gamer possess a top-tier graphics card, then your 4K gaming dream can, at last,  be turned into reality.  
Since a gamer would need an immense amount of rendering power to hit decent frame rates at a high resolution, 4K gaming is considered a premium endeavor. The fastest, most responsive 4K gaming monitor on the market today is the LG Ultragear. It really can be deemed as the whole package, bagging you a terrific panel with top-of-the-range IPS image quality. In addition, it nets beautiful contrast and colors for your game too. 
20. Brio Webcam by Logitech
The Brio Webcam by Logitech is your best option for those gamers looking to stream their gameplay to Facebook, Twitch, or Youtube Live. This games room stuff enables ease when streaming 4K videos. 
The webcam's design enables streamers to achieve the perfect angle, featuring a range of up and down movement when placed on top of your monitor or laptop lid. Thus, it is an essential gaming accessory used among streamers streaming from almost all major streaming apps and is both PC and Mac compatible.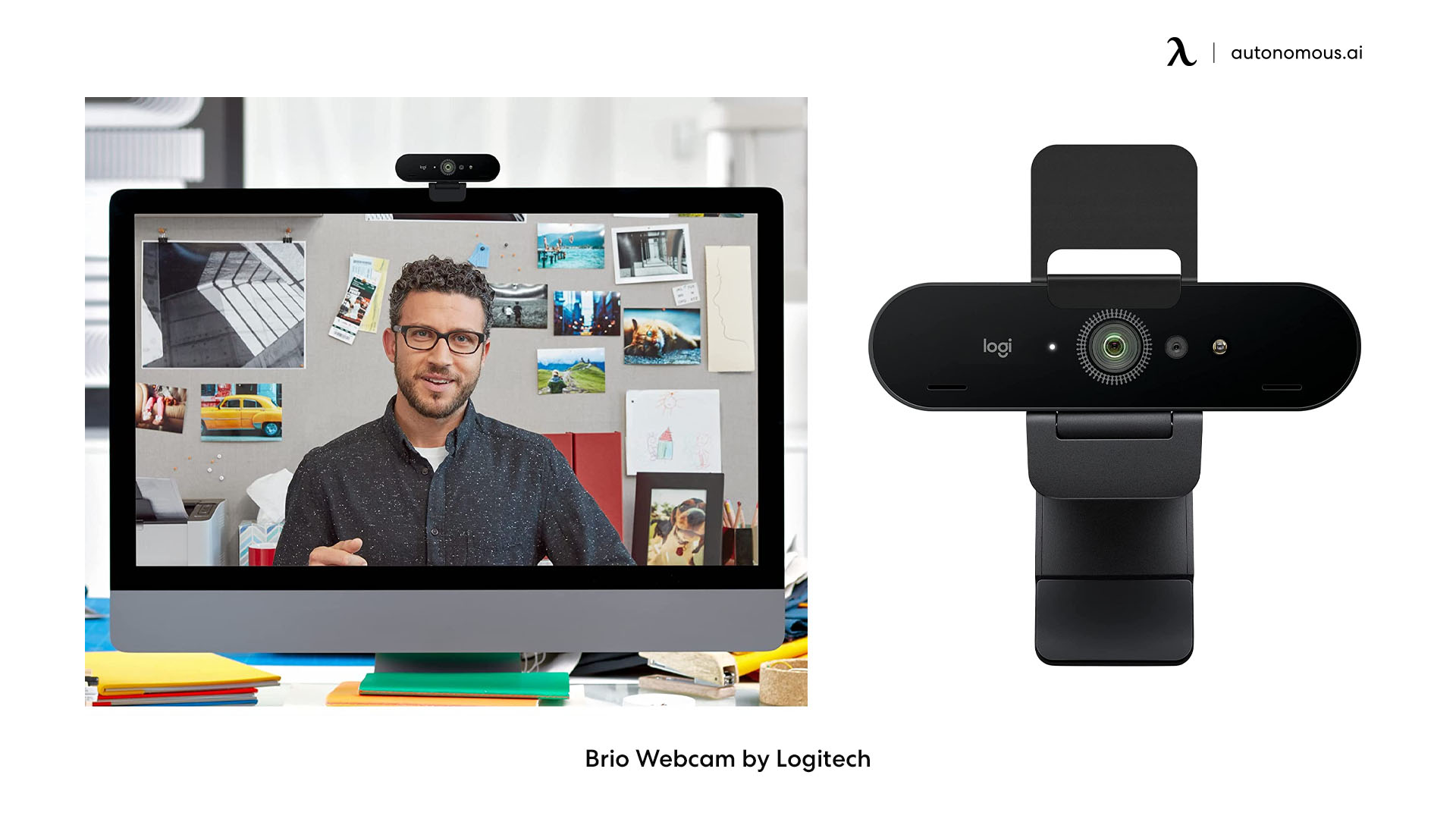 21. Shure MV7
Every gamer or streamer should look at investing in a good microphone, regardless of whether you're using it to communicate with others in multiplayer games or streaming solo to a live audience. A USB microphone called the Shure MV7 is essential. 
With a single touch on the microphone itself, you can control how loud you sound. More so, you can tweak the audio coming from the headphone jack of the microphone. The Shure's Motive App, available for both PC and Mac, also allows access to these settings and offers a solution to near or far mic placement that will optimize how you sound. 
22. Elgato HD60 S+
If you're looking into a streaming setup, you should ideally be looking into the Elgato HD60 S+. A principal function of this plug-and-play solution involves transferring gaming footage from your console onto streaming platforms. Elgato's HD60 S+ is a piece of gaming equipment that enables this process to work seamlessly with all streaming software. It is as simple as using an HDMI (High-Definition Multimedia Interface) cable to connect your console to the HD60+ and then plugging it into your computer using an already included USB cable.   
As the name suggests, this gaming room accessory is useful for capturing and streaming full HD footage at up to 60 frames per second. Overall, it is considered a must-have among the streaming community.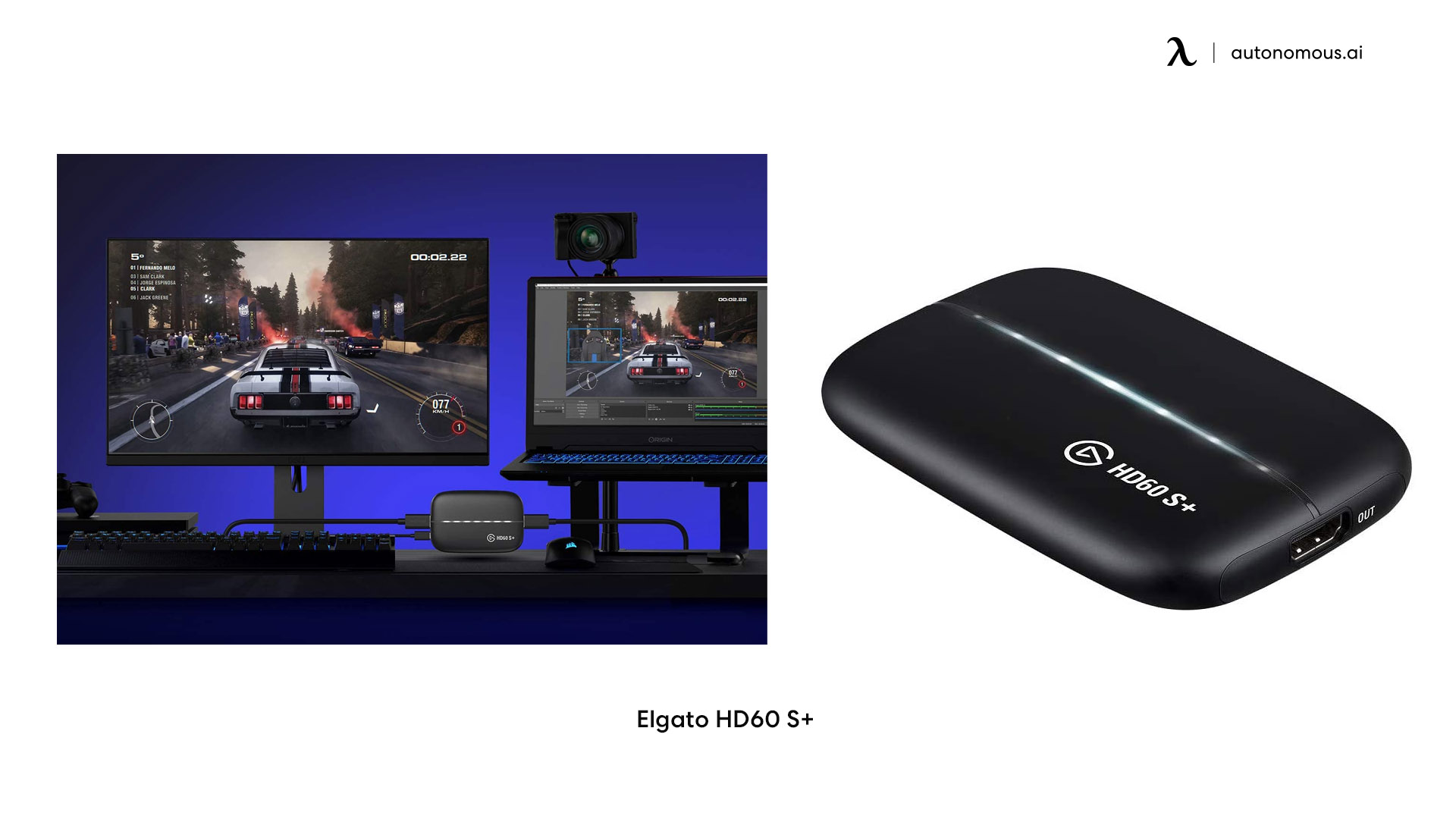 Level Up Your Gaming Experience: Incredible Gaming Room Ideas
As the popularity of gaming continues to soar, having a dedicated gaming room has become a dream for many gaming enthusiasts. A well-designed gaming room not only enhances the overall gaming experience but also creates a space that reflects your personal style and passion for gaming. In this blog, we will explore a range of creative gaming room ideas to help you level up your gaming setup and create an immersive environment that truly stands out.
1. Theme-based Gaming Room
One way to make your gaming room visually captivating is by choosing a theme that resonates with your favorite games or genres. Whether you're into retro gaming, futuristic sci-fi worlds, or fantasy realms, incorporating a theme into your gaming room can add a unique and personalized touch. From wall decals and artwork to furniture and lighting, let your creativity run wild and transform your gaming room into a realm that transports you directly into the gaming universe.
2. Comfortable Seating
Gaming sessions can be long and intense, so investing in comfortable seating is crucial. Opt for ergonomic gaming chairs that provide proper lumbar support, adjustable armrests, and cushioned seats. Alternatively, consider setting up a cozy gaming lounge area with plush sofas or bean bags for a relaxed and casual vibe. Remember, comfort is key to ensuring an enjoyable gaming experience without discomfort or fatigue.
3. High-Quality Audio-Visual Setup
A stellar audio-visual setup is essential for a truly immersive gaming experience. Invest in a large high-definition monitor or even a curved gaming monitor to enhance your field of view. Pair it with a high-quality surround sound system or gaming headphones to fully immerse yourself in the game's audio. Don't forget to position the speakers strategically to optimize sound distribution and create a captivating audio atmosphere.
4. Ambient Lighting
Lighting plays a crucial role in setting the mood in your gaming room. Consider installing LED strips or smart lighting systems that allow you to adjust the color and intensity of the lights to match the game's atmosphere. For example, cool blue lighting for a futuristic game or warm orange tones for a medieval fantasy adventure. Additionally, a combination of overhead lighting, floor lamps, and task lighting can provide a well-lit gaming environment while adding a touch of style to the room.
5. Storage Solutions
A clutter-free gaming room not only looks organized but also enhances your gaming experience. Invest in storage solutions that can accommodate your gaming consoles, controllers, games, and accessories. Wall-mounted shelves, dedicated storage cabinets, or gaming-specific storage units can help keep everything in order and within easy reach. Labeling or categorizing your collection can also make it easier to find specific games or equipment when you need them.
6. Multiplayer and Socializing Space
If you enjoy gaming with friends or hosting gaming sessions, create a dedicated multiplayer area within your gaming room. Set up multiple gaming stations or consoles with comfortable seating arrangements to accommodate your gaming buddies. This space can also be equipped with a mini-fridge for drinks and snacks, a gaming-themed bar, or a small refreshment area to keep everyone energized during gaming marathons.
7. Streaming and Content Creation Corner
With the rise of streaming and content creation, you may want to incorporate a dedicated corner in your gaming room for streaming or recording your gameplay. Set up a green screen backdrop, professional lighting, and a quality microphone to elevate the production value of your streams or recordings. Additionally, consider a desk setup that allows for multiple monitors or a dual PC setup for efficient multitasking.
Creating the Ultimate Gaming Room: Tips and Tricks for Exceptional Decor
Building the best gaming room decor involves a combination of creativity, functionality, and personalization. Here are some tips and tricks to help you create an exceptional gaming room that caters to your gaming needs and showcases your unique style:
Begin by assessing the available space and determining how you want to allocate it for different gaming zones or activities.
Consider the room's layout, lighting, and acoustics to optimize the gaming experience.
Create a floor plan or use online room design tools to visualize the arrangement of furniture, equipment, and decor elements.
Select a theme that resonates with your gaming preferences, whether it's a particular game, genre, or gaming era.
Incorporate theme-based elements such as posters, artwork, collectibles, or even props to bring the gaming universe to life.
Invest in a comfortable gaming chair that provides proper support for long gaming sessions.
Consider additional seating options such as bean bags, floor cushions, or a cozy gaming lounge area for a more relaxed gaming experience.
Use a combination of ambient lighting and accent lighting to create a captivating atmosphere.
Install adjustable LED strips or smart lighting systems to customize the colors and intensity according to your gaming mood.
Add decorative lighting elements like neon signs or backlit shelves to enhance the overall aesthetics.
Invest in high-quality audio equipment, such as surround sound speakers or gaming headphones, to enhance the gaming audio experience.
Choose a large high-definition monitor or a curved gaming monitor for immersive visuals.
Position the speakers strategically and consider soundproofing the room to minimize outside noise interference.
Utilize storage solutions to keep your gaming equipment, consoles, games, and accessories organized and easily accessible.
Install wall-mounted shelves, dedicated storage cabinets, or gaming-specific storage units to optimize space and reduce clutter.
Label or categorize your collection to facilitate quick and easy retrieval of games or equipment.
Personalization and Decor
Showcase your gaming personality and interests through artwork, posters, or framed game covers.
Display your gaming memorabilia, figurines, or collectibles on shelves or in glass display cases.
Consider adding custom decals, wallpapers, or murals that align with your chosen theme or favorite games.
Ergonomic and Functional Setup
Set up your gaming desk and chair ergonomically to promote proper posture and reduce strain.
Ensure that your gaming setup allows for efficient cable management to avoid tangling and create a neat appearance.
Incorporate a multi-monitor setup or dual PC setup if you require more screen real estate for streaming or content creation.
Multiplayer and Socializing Space
If you enjoy gaming with friends, create a dedicated multiplayer area with multiple gaming stations and comfortable seating arrangements.
Install a mini-fridge or refreshment area for drinks and snacks to keep everyone fueled during gaming sessions.
Flexibility and Future-Proofing
Design your gaming room with flexibility in mind to accommodate future upgrades or changes in gaming technology.
Opt for furniture and decor elements that can easily adapt to different gaming setups or be repurposed for other uses if needed.
Remember, the key is to create a gaming room that reflects your personality and provides an immersive and enjoyable gaming experience. Experiment, be creative, and tailor the decor to your preferences to build the ultimate gaming sanctuary.
Conclusion
Having a gaming room or planning to set up one means you have to decide which gaming room accessories are the best investments. This list has given you the perfect balance of gaming consoles in your game room decor and items that make a game room functional.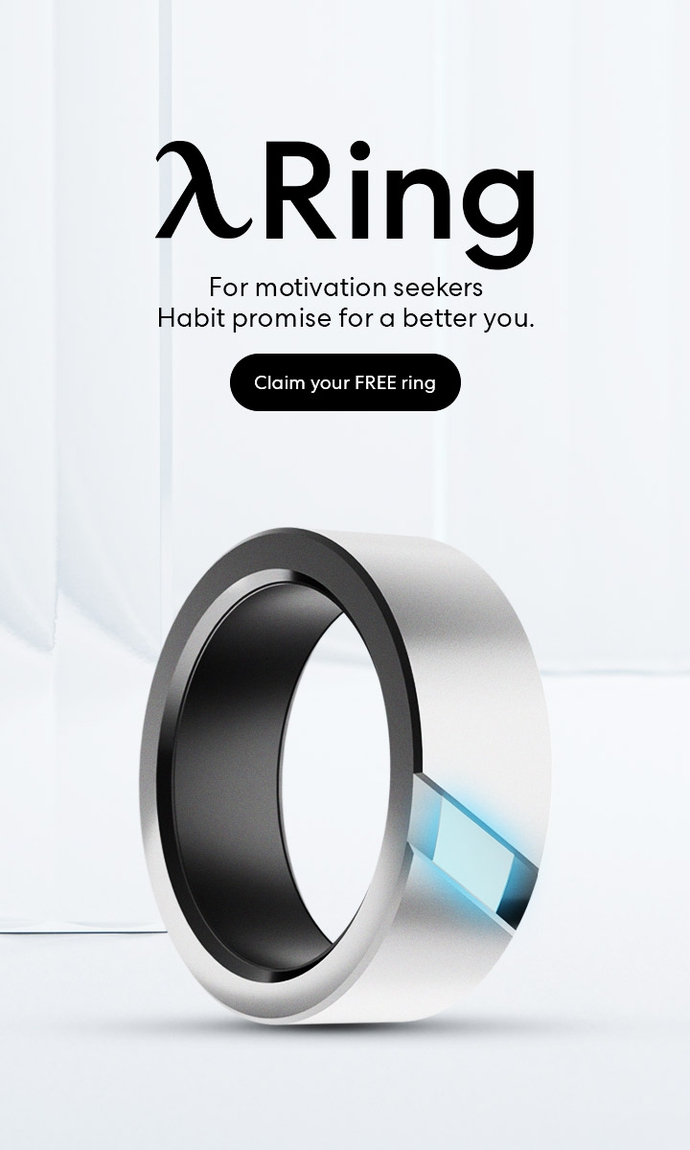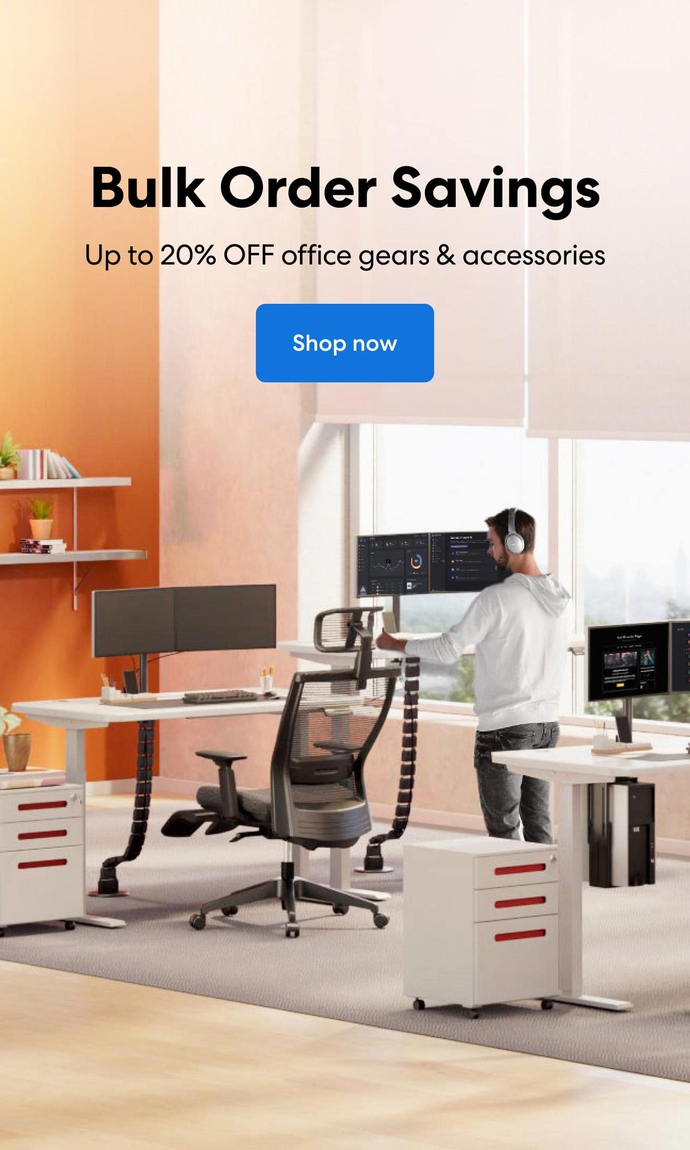 Subcribe newsletter and get $100 OFF.
Receive product updates, special offers, ergo tips, and inspiration form our team.