Workplace Inspiration
Gaming PC Setup: Inspiration and Tips for Your Ultimate Desk!
John Mark Harrell
|
Sep 30, 2020
55,977 Views
Are you looking to get inspired for your desk gaming PC setup? Look no further, we've put together some advice and some examples of our favorite gaming setups to help you do your best gaming, in full comfort. Ergonomics and aesthetics are both important to consider when creating your ultimate desk setup for gaming.
For hardcore gamers, spending a lot of time at your desk is just part of your daily routine. Having the optimal desk gaming PC setup isn't just good for the aesthetics of your space—it can make all the difference in your performance and stamina. Anyone who spends a lot of time gaming at their desk knows how important their desk setup is.
That's why we've put together some key areas to look out for with some inspirations and ideas for your gaming setup that can help you supercharge your gaming and take it to the next level! From your desk and chair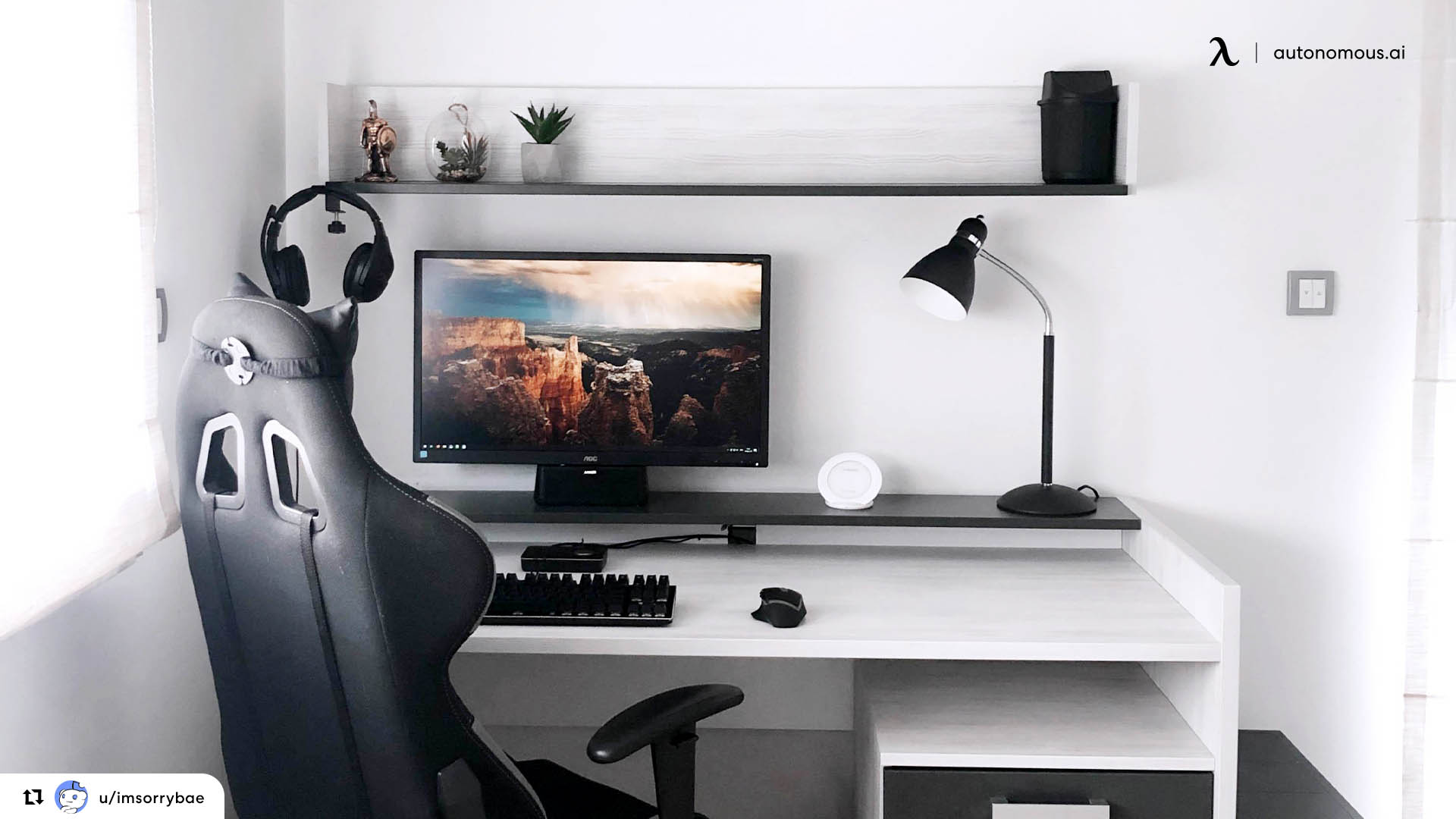 to lighting, to your gaming keyboard and mouse, everything in your environment should be considered when putting together the ultimate gaming desk setup.
Most importantly, it's essential to look out for ergonomics and comfort. Since gaming often calls for long hours, it's easy to get stuck in one non-ergonomic position for prolonged periods of time without even noticing until the aches and pains set in. Fortunately, you can combat that and take care of your physical health while still gaming to the very best of your ability.
Your Gaming Desk is Your Foundation
Choosing the right gaming desk is one of the most important things as this will support all of your gaming gear and make your entire desk setup possible. Most importantly, you should look for something comfortable, spacious, durable, and attractive. Something with a minimalist design, like the SmartDesk Core - Home Office from Autonomous, is a great option to give you the minimalist gaming desk setup of your dreams. For your wooden desk gaming setup, Autonomous has several wood finishes to choose from.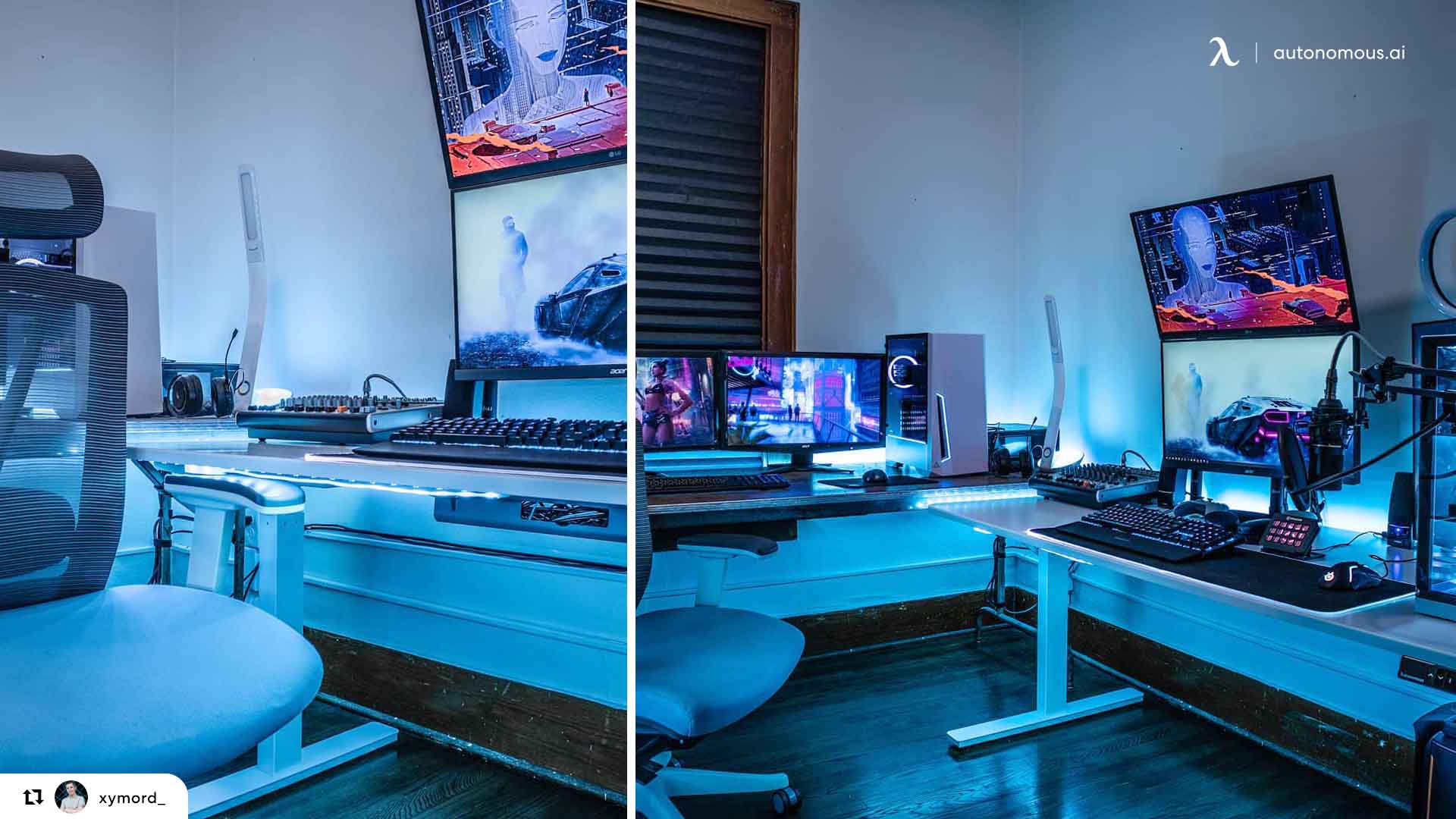 Having an electric standing desk is a great way to break up the monotony of gaming in one position for long periods of time, giving you the flexibility of sitting and standing throughout the day. This can give you an energy boost and help keep your mind sharp and focused on the mission at hand, without having to leave your gaming setup. This is a great way to safeguard your health from the detrimental effects of a sedentary lifestyle.
Finally, as you more than likely use many wired peripherals and accessories, you'll want to invest in a good cable management system to ensure all your cables are kept neatly organized and out of the way. Nothing makes a setup look more chaotic than a bird's nest of tangled cables. For an ultra-cheap solution, you can use zip ties to bundle your cables together and keep them from getting out of hand.
The Ultimate Gaming Chair
There are lots of "race car" aesthetic gaming chairs on the market these days for cool gaming desk setups, and that may be the kind of throne you're after. However, it's also important to bear in mind the comfort and longevity of your gaming chair, which is why ergonomic office chairs are actually a fine choice for any gamer.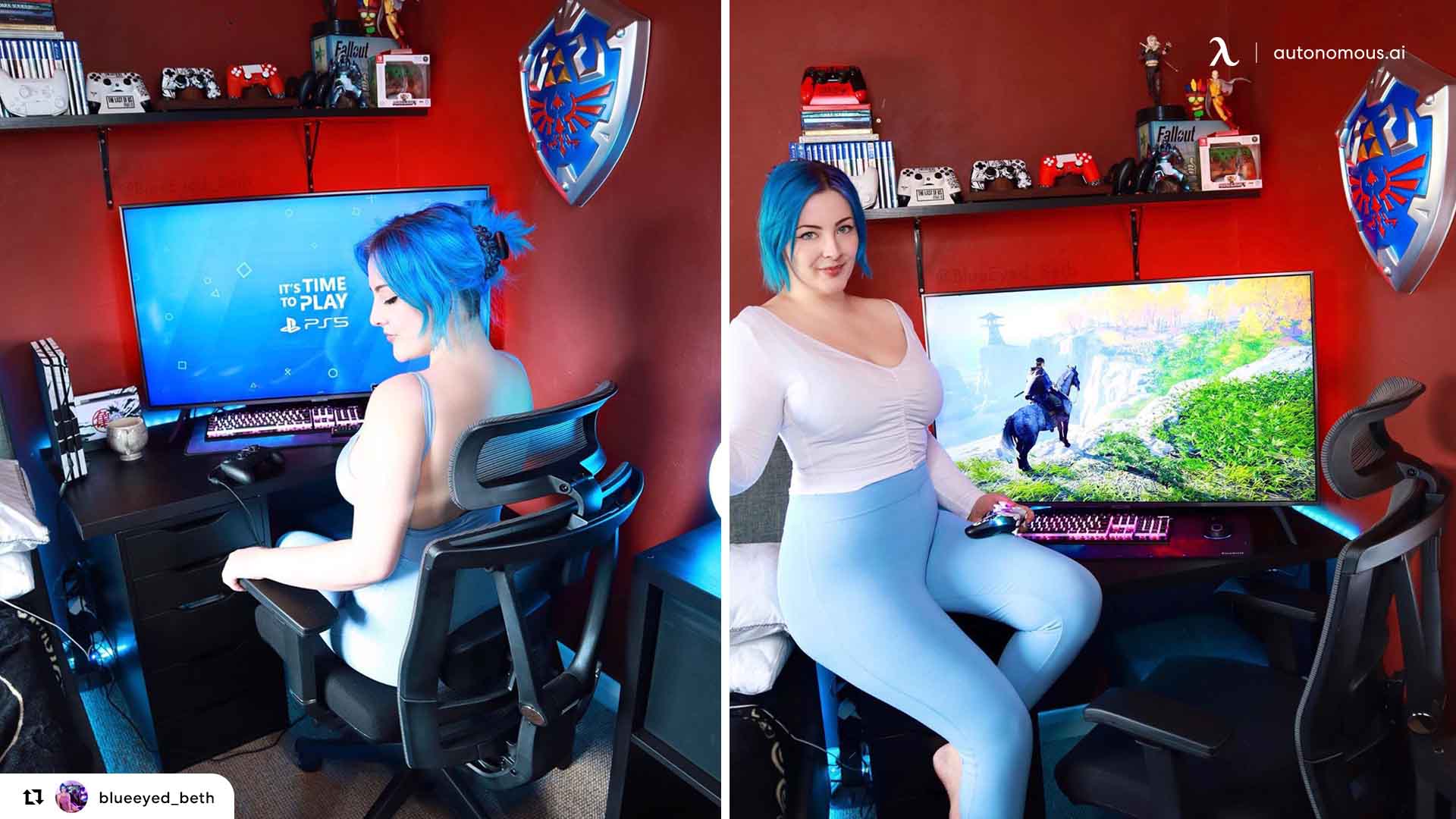 You'll want to be sure to invest in a gaming chair that has the highest-quality materials, and with the most points of adjustability. Adjustability is key as it lets you conform the chair to your unique needs for maximum comfort throughout the day.
Your gaming computer desk setup is incomplete without the right gaming chair. We know that you look for style and glamor when picking your desk chair. However, you shouldn't forget that it is your chair's ergonomics and the offered comfort that make it a durable, long-term partner. After all, you will be spending most of your time with your gaming PC desk setup, so it must be worth your time.
We understand that those fancy racing chairs might inspire you, but the ones that can prove to be your right-hand man are the ErgoChair Pro and ErgoChair Plus. Autonomous has always kept its user's comfort as a priority, so these chairs would be worth your investment. We know that you wish to know more about them, so here you go!
ErgoChair Pro
ErgoChair Pro is one of its kind. Autonomous has carefully designed this chair to offer you all those vital features in correcting your ergonomics. Since you get a wide range of flexible adjustments here, you can revolutionize your gaming experience by customizing it entirely.
Dimensions
29"L x 29"W x 46" - 50"H
Seat height

18" - 20"

Materials
Polyester fabric with molded foam interior and durable nylon plastic frame; PU handrest pads
Colors
Cool Gray, Evergreen, All Black
Red Apple, Black & White, Baby Blue
Weight capacity
300 lbs
Warranty
2 years
Feature
Adjustable height, armrest, headrest, backrest, and seat tilt
Pros of ErgoChair Pro
Durable construction.
Available in various colors.
Provides an ideal lower back support.
Affordable.
Cons of ErgoChair Pro
Gaining control of all the customization options might take some time.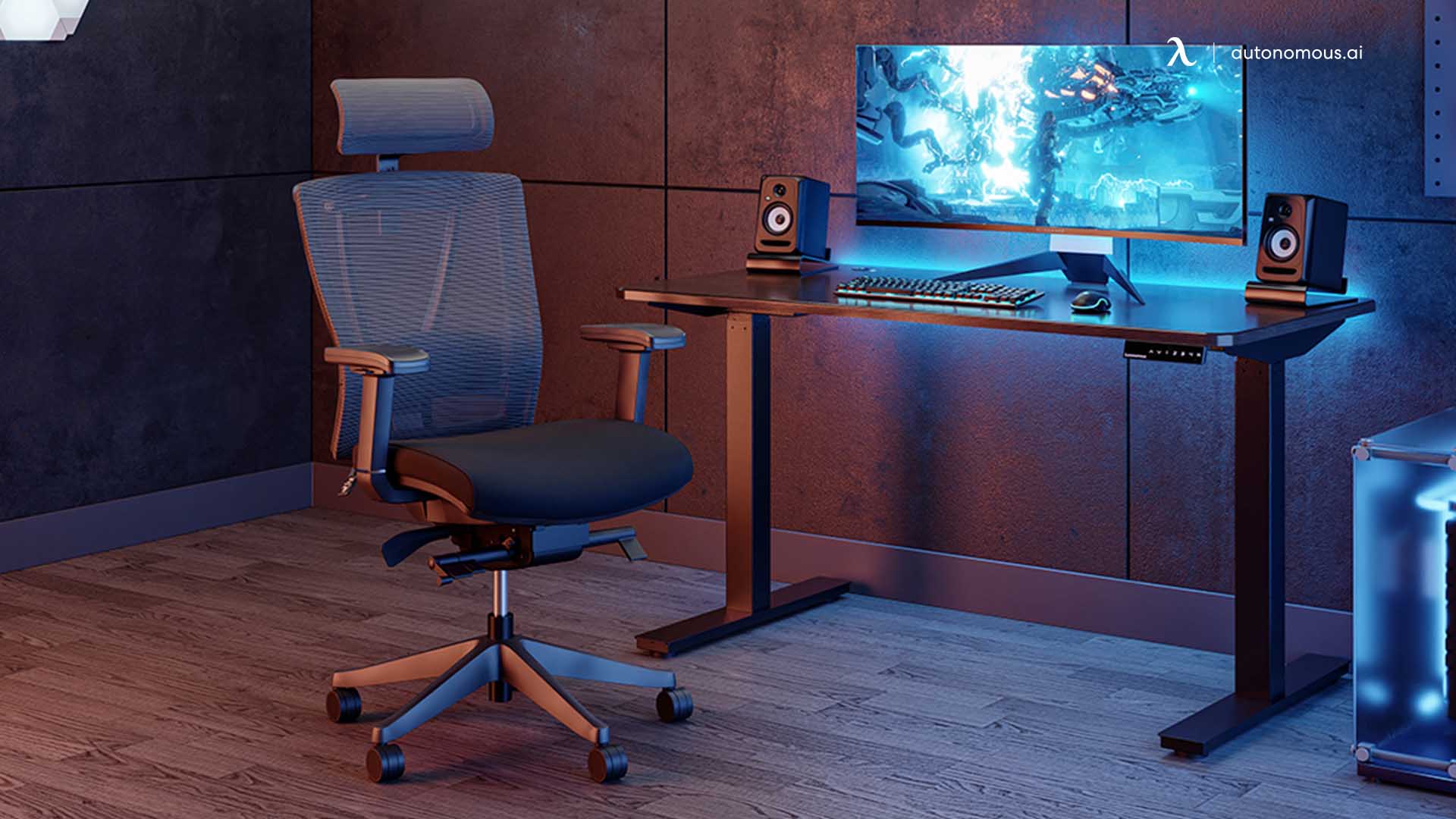 ErgoChair Plus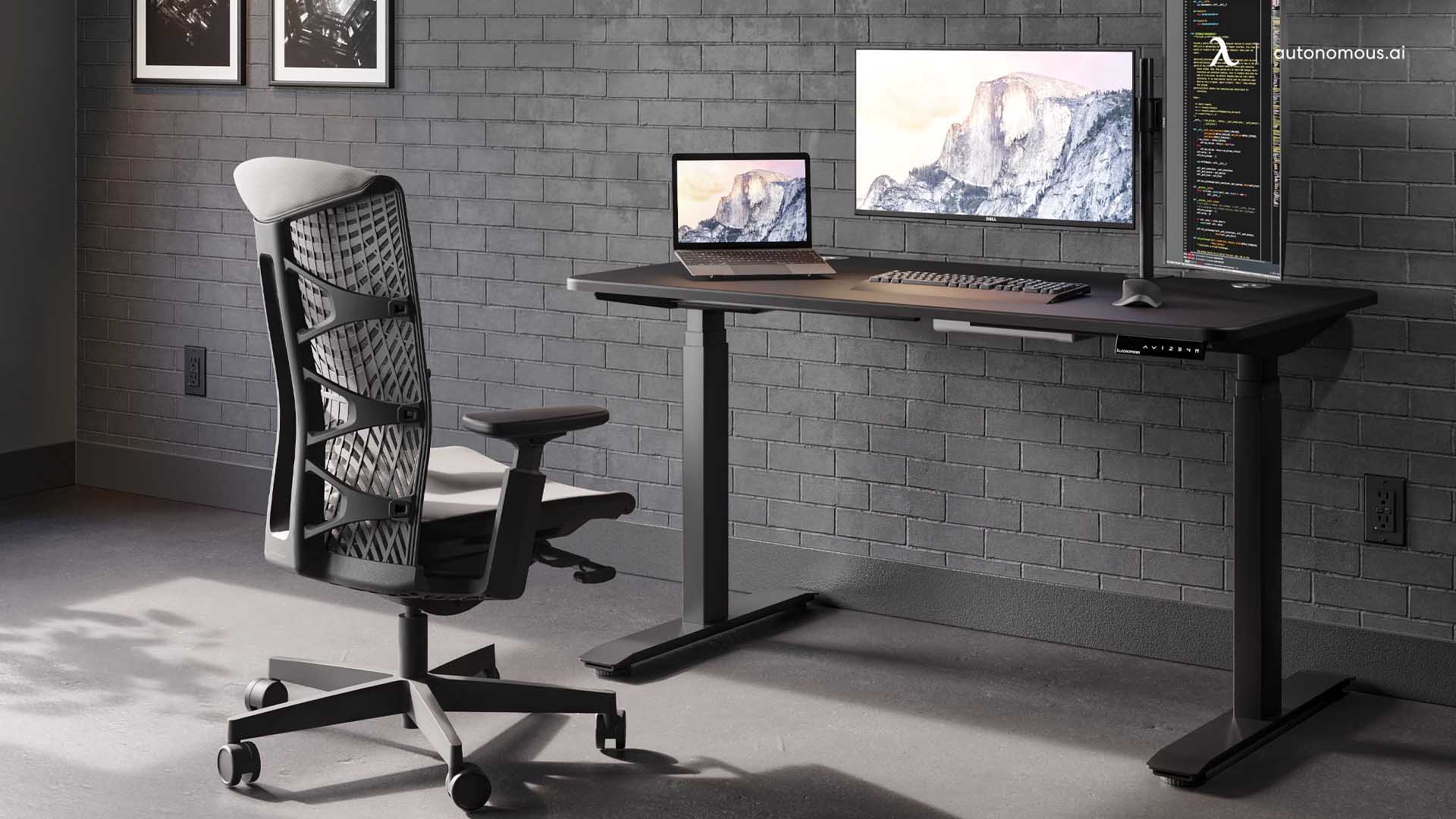 ErgoChair Plus is a slightly more advanced version of what ErgoChair Pro offers. Here you get a more durable and more comforting experience at a slightly bigger price tag. But the good part is we have the option of paying overtime, so payments are never an issue. You can avail all the perks of this high-end chair at the most affordable rates.
Pros of ErgoChair Plus
Pay $65/month over time.
Can lift up to 300lbs.
Comfortable and breathable back for an airy experience.
Cons of ErgoChair Plus
There are multiple functions that might take some time to understand.
Dimensions
28"L x 28"W x 40" - 44"H
Seat height
17" - 21"
Materials
Naked TPE version: 100% TPE upholstery with ABS plastic frame.
Mesh version: 100% TPE and polyester fabric upholstery with ABS plastic frame.
Colors
Black Frame, Naked Black TPE
Black Frame, Naked Grey TPE
White Frame, Naked Grey TPE
Grey TPE with Blue Mesh
Grey TPE with Grey Mesh
Black TPE with Black Mesh
Weight capacity
300 lbs
Warranty
5 years
Feature
Adjustable armrest, back tilt angle and tension, seat height
Displays for Your Desk Gaming PC Setup
There are lots of ways you could set up your gaming display or displays, and depending on your budget, the sky is truly the limit to how insane your gaming display setup can be. For most people, either dual screens or an ultra-wide monitor will be the best options.
Dual Screen: The traditional route
The classic landscape mode of two screens side-to-side is a solid go-to choice for anyone who wants to maximize their screen real estate in a budget-conscious way. You can easily pick up two used displays or pick two displays within your price range and pair them up together. For the neatest and most aesthetically uniform look, try acquiring two of the same display.
This setup from /u/Steffis/ is one of our favorite examples, combining a clean, minimal aesthetic with plenty of natural light and two identical screens uniformly arranged side-by-side.
Dual Screen: Vertical + Horizontal
An increasingly popular take on the dual-screen setup, having a screen that has the ability to rotate vertically can give your gaming setup a whole new vibe and functionality. While your game will be limited to one screen, your second display can be arranged vertically to display chats or other important information that can aid you throughout your gaming session.
This setup by /u/willostyllos/ is a super-cool implementation of this display arrangement, with synchronized lighting to boot!
Ultra-wide display
For minimalists and aesthetic perfectionists, ultrawide gaming monitors are a great way to seamlessly expand your view and workspace without having a break in the middle caused by the separation of two screens. Ultrawide displays are typically curved and give you an uninterrupted wide view of your gaming world.
This setup by /u/Itsmehruby/ is a gorgeous example of how an ultra-wide display really lends itself to a clean and minimal aesthetic, reducing the amount of space taken up on your desk and the added clutter of cables a second monitor would create.
Lighten Up and Accessorize Your Ultimate Gaming Setup
Lighting is something every gamer should take into consideration. You can go with an insane color scheme that takes you down an ever-changing RGB light tunnel, or you can go with a simple color scheme that minimizes flashing lights and instead accentuates one or two elements of your setup. There's no wrong way to do it; just depends on your taste!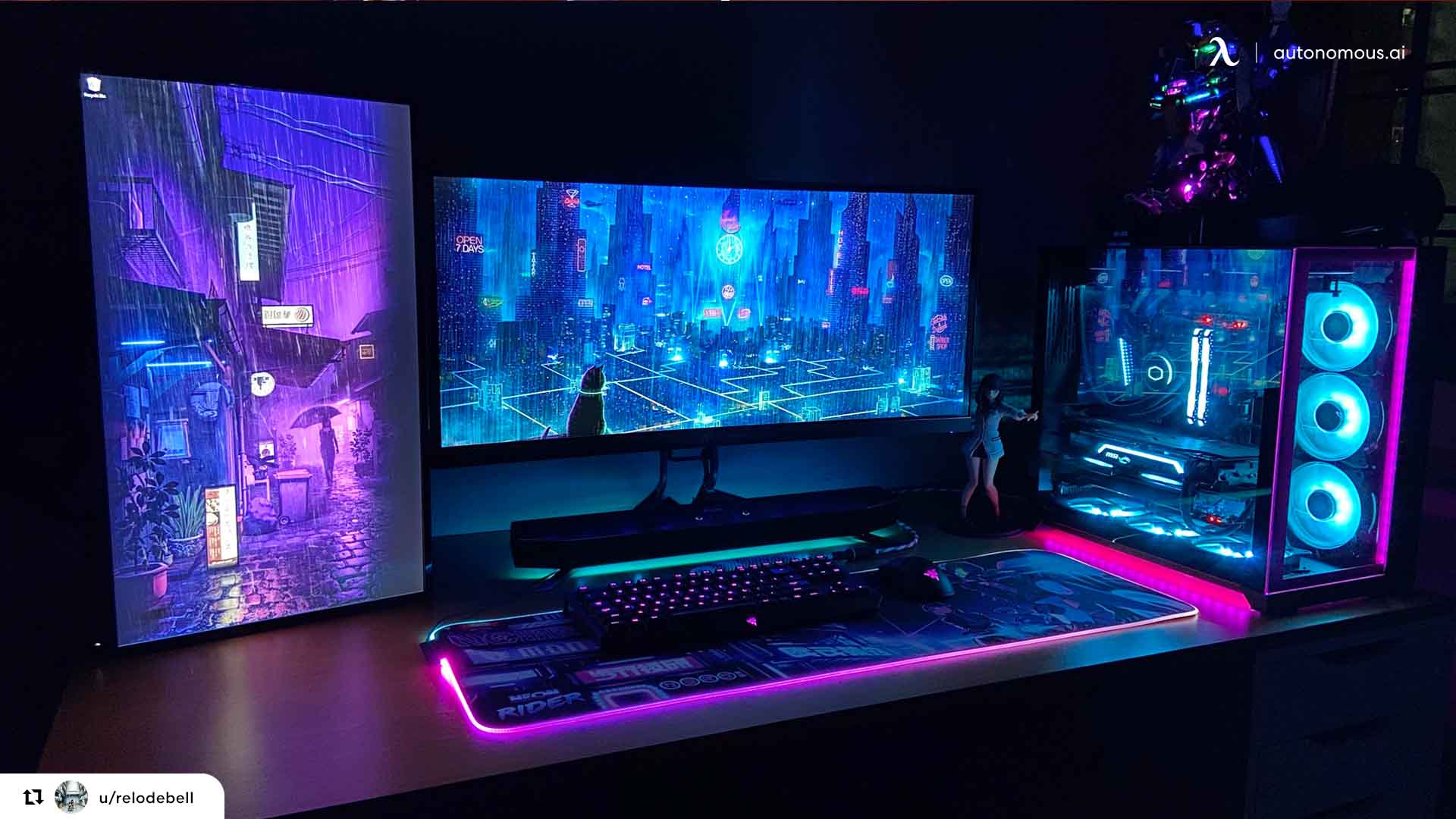 For some inspiration, this is one of the more daring color schemes by /u/relodebell/, featuring a super-cool blue and purple neon inspired lighting color scheme. It looks like a gaming setup from TRON!
Of course, lighting doesn't have to be artificial. If you want to take a more minimalist approach, choosing bright white accessories and positioning your gaming set up by a window or other natural light source can give your gaming set up a vibrant, airy feel. This example from /u/imsorrybae/ is a great example of how to incorporate minimalist aesthetics and lighting into your gaming setup.
Dimensions
55" L x 16" W x 16" H x 3.3 lbs
Color
Black
Materials
Aluminum, Acrylic
Bulb
LED/50,000 hours
1+ million colors
300+ multi-color effects
Lumens
1512-1680LM
Voltage/Wattage
12V/20W
Warranty
1 year
Your furniture is the skeleton of your PC setup gaming station. However, it will not be all about perks and pleasures unless you add those little yet interesting gaming desk accessories to your ultimate gaming setup. Here, we have mentioned the most impactful ones to help you best.
Wireless RGB Mouse and Keyboard
You may think of beginning by adding an RGB Mouse and keyboard. Since it is always better to avoid clutter, you should go for the wireless options. The wireless RGB mouse and keyboard won't only look sleek but will elevate your gaming experience.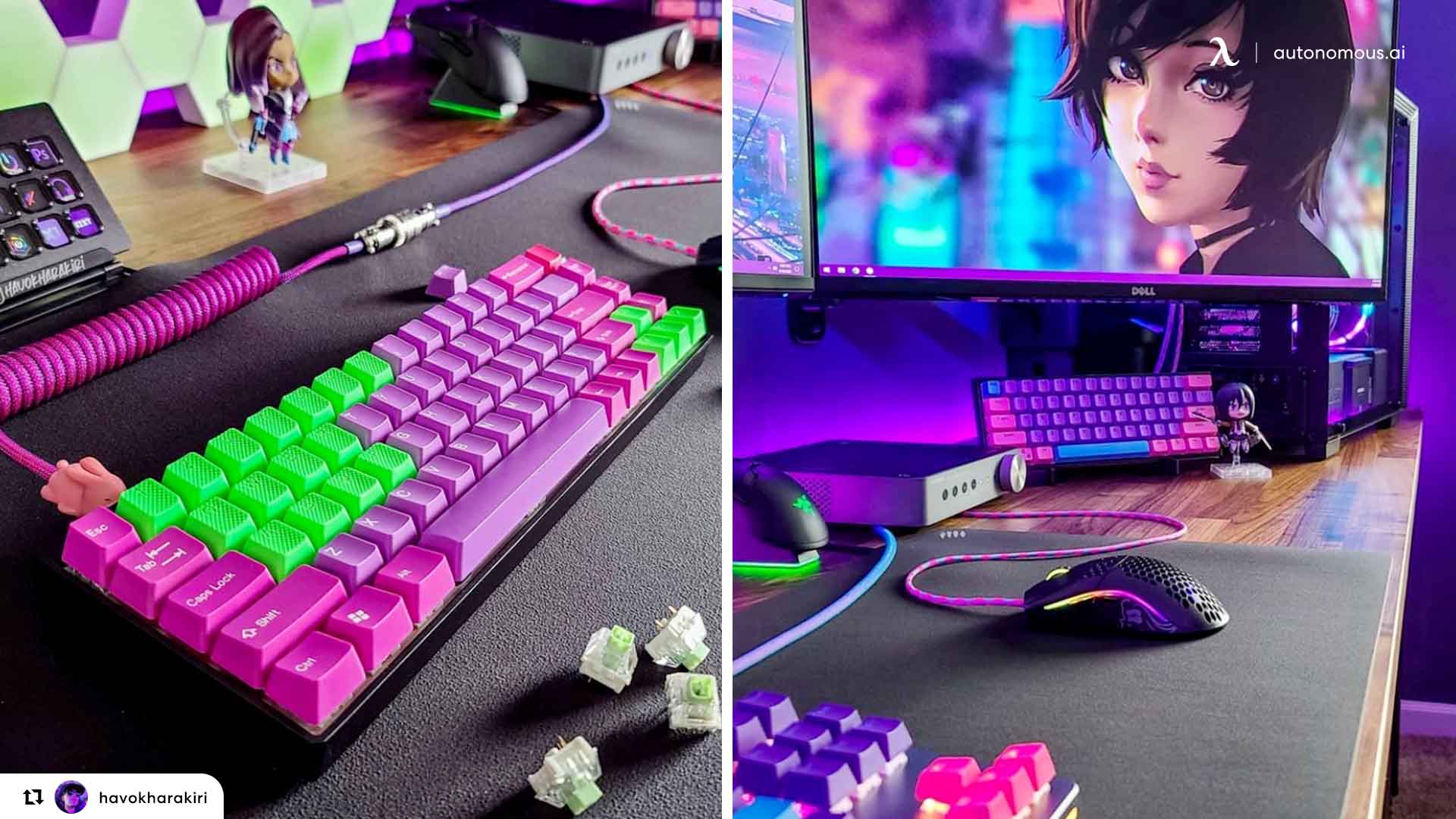 | | |
| --- | --- |
| Connection | USB-C wired, BT 3.0/5.0 & 2.4Ghz wireless modes |
| Color | Black |
| Warranty | 1 year |
Monitor Arm
You know that you often get tired while playing games in a particular position. Therefore, changing your monitor's angle and height can be a great way to mold your monitor's position with your posture and design a diverse gaming computer desk setup. This is where a monitor arm comes into the picture. The monitor arm ensures that you do not experience any sort of muscle strain and enjoy an unhindered high-end gaming experience.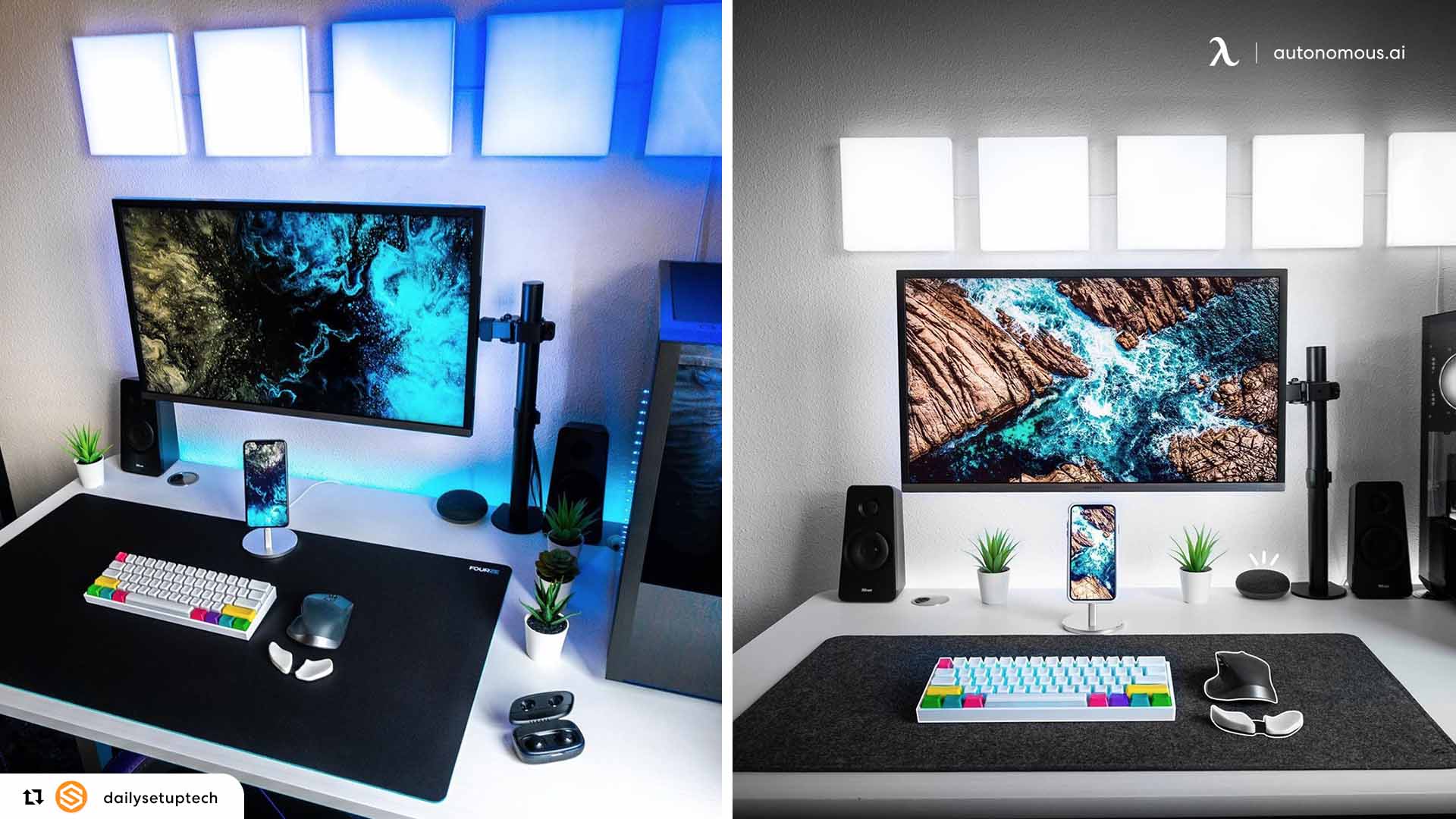 | | |
| --- | --- |
| Dimensions | 18"L x 19"H |
| Colors | Black |
| Materials | Aluminium |
| Weight capacity | 26 lbs |
| Item weight | 6 lbs |
| Warranty | 2 years |
Desk Pad
Are you experiencing issues while moving your cursor while playing games? Well, a desk pad would be more than enough to bail you out of such a situation. There are myriads of desk pads available in the market, so you may think of going for anyone that seems reliable.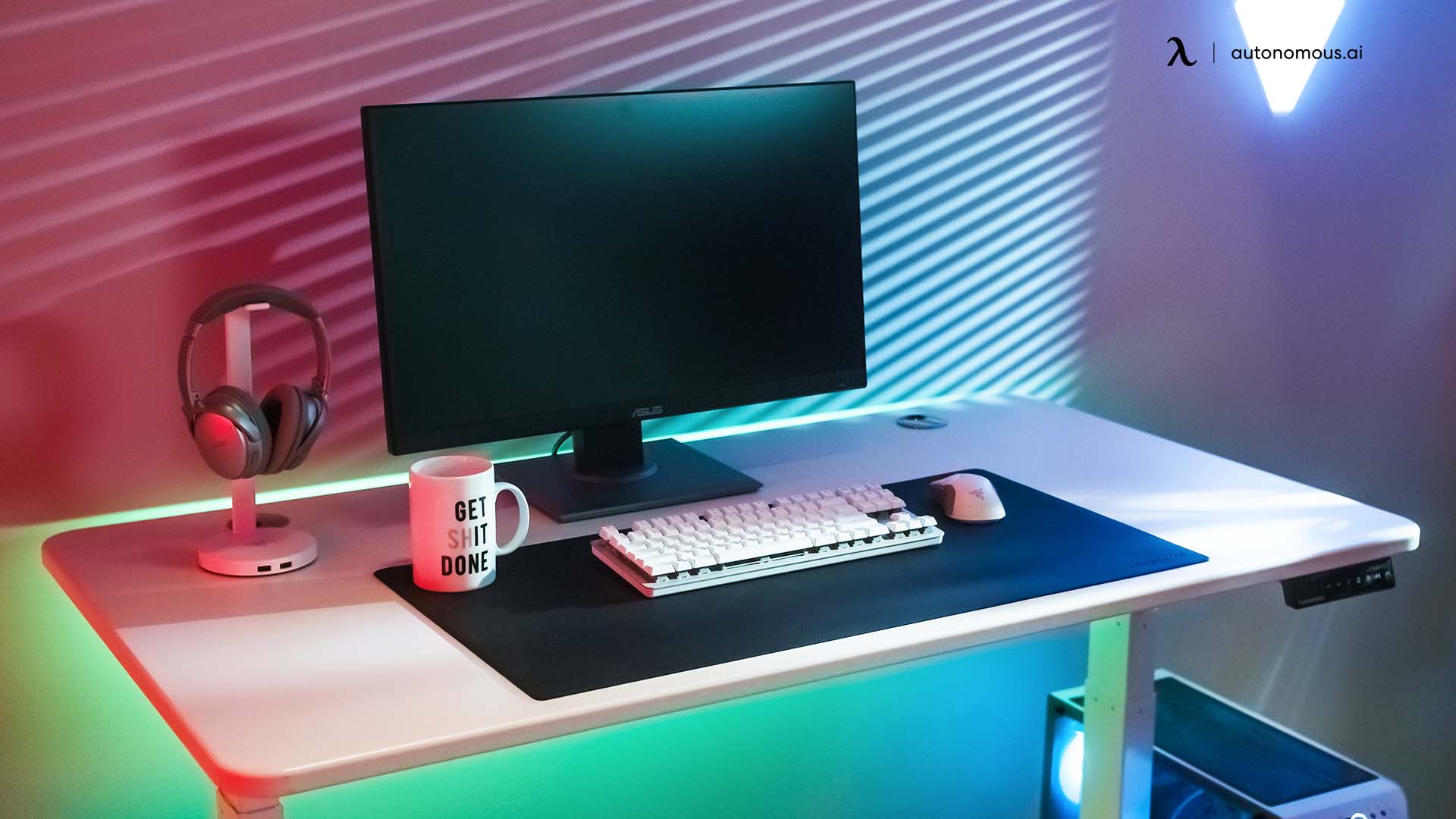 Dimensions
Large: 31.5" L x 17.7" W
Medium: 35.4" L x 11.8" W
Small: 24.8" L x 11" W
Materials
Anti-slip, anti-fray edges
Colors
Black
High-end Speaker and Headset
High-end speakers and headsets lift your gaming experience from a dull and monotonous one to a vibrant and magical one. Imagine having a gaming PC desk setup where you are surrounded by your games' music and all other sound effects. Sounds interesting, no? Well, this will levitate your gaming experience by boosting your focus and immersing you all in your game.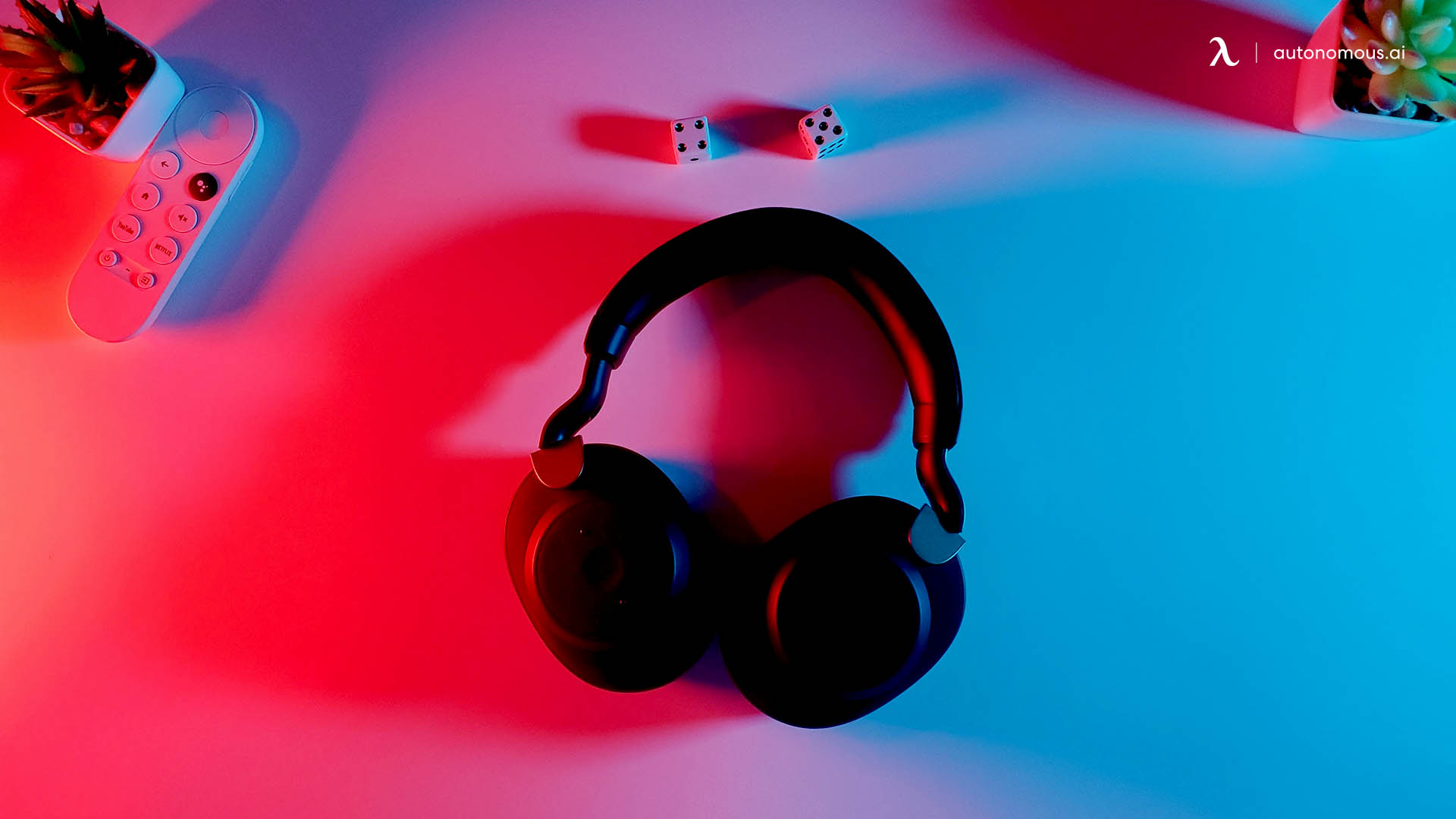 Desk Cup Holder
You might be a caffeinated gamer who likes having a caffeine booster to give his best shot. Would you like your ultimate gaming setup to get spoiled due to your coffee spillage? No, not at all. Well, you should think of getting a desk cup holder then.
Comfortable Footrest
Playing longer hours means more chances of having muscle strain and soreness. So, what to do now? One great way of fighting this can be an investment in a comfortable footrest. You may think of getting a nice desk mat that would be enough for curbing most of the muscle strain and soreness.
| | |
| --- | --- |
| Dimensions | 17.3"L x 11.8"W x 5.9"H |
| Materials | Pet-friendly breathable mesh |
| Colors | Black |
| Warranty | Lifetime |
FAQs for an Ultimate Gaming Setup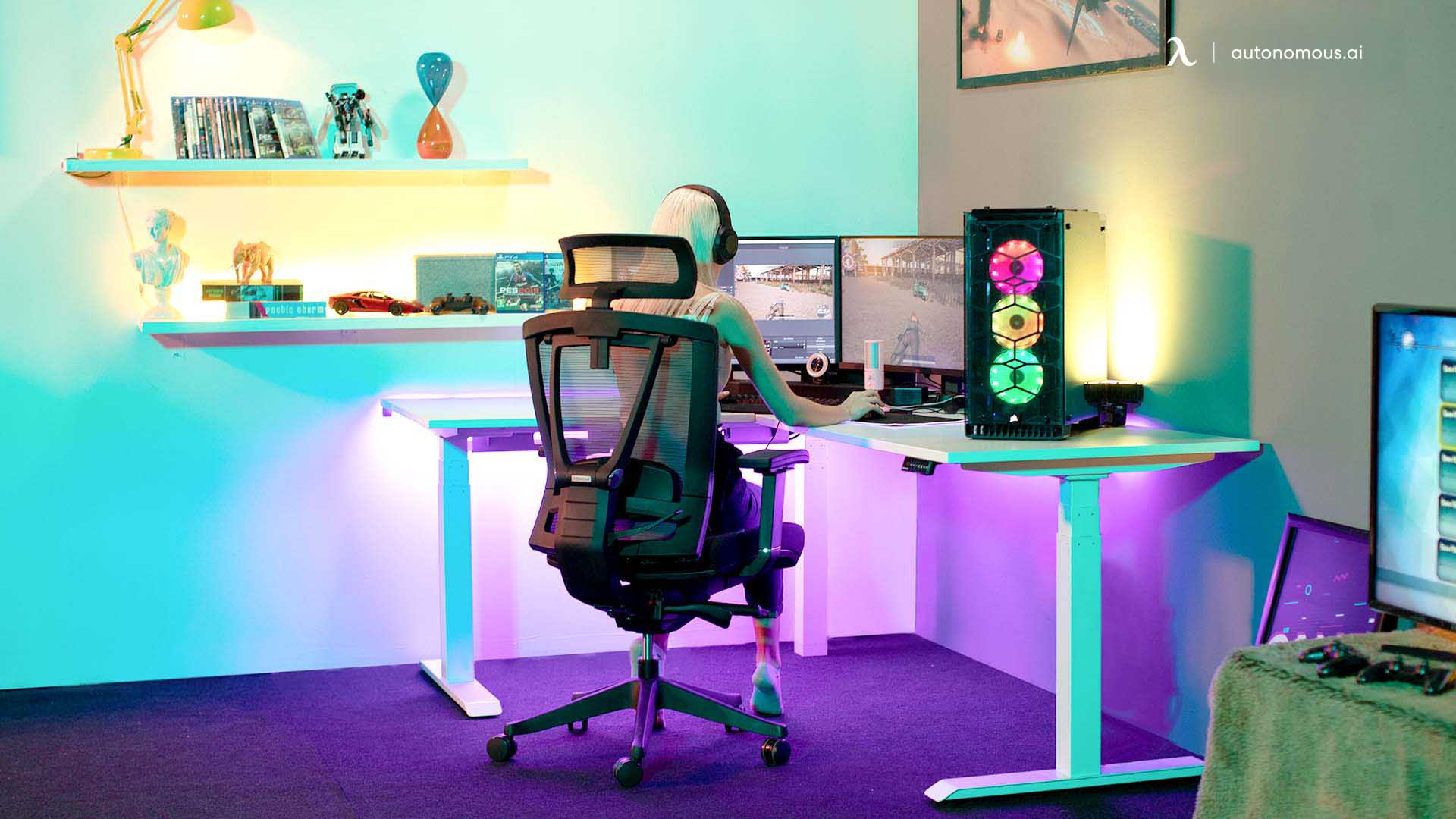 Why Shouldn't You Use a Simple Table for Your Gaming Setup?
Apart from sleekness, spaciousness, and an eye-catching design, it is the lack of monotony in your gaming position that attracts you towards a gaming desk. You wouldn't wish to sit in one fixed position and play games. That would make you quite dull instead. This is exactly what a simple table does; it makes you dull and takes away your focus with time, making you feel bored and lethargic. But, of course, no one wants that, so that's why you should avoid using them.
Which Type of Gaming Desk is The Best One?
Considering the fact that you usually go for dual monitors to plan a more immersive gaming computer setup, you should go for an L-shaped standing desk. The L-shaped gaming desk is comparatively more spacious and is ideal for placing your monitor and CPU. In short, it can have all your gaming accessories yet have room for more.
How Much Does the Cheapest Gaming Chair Cost for Beginner Players?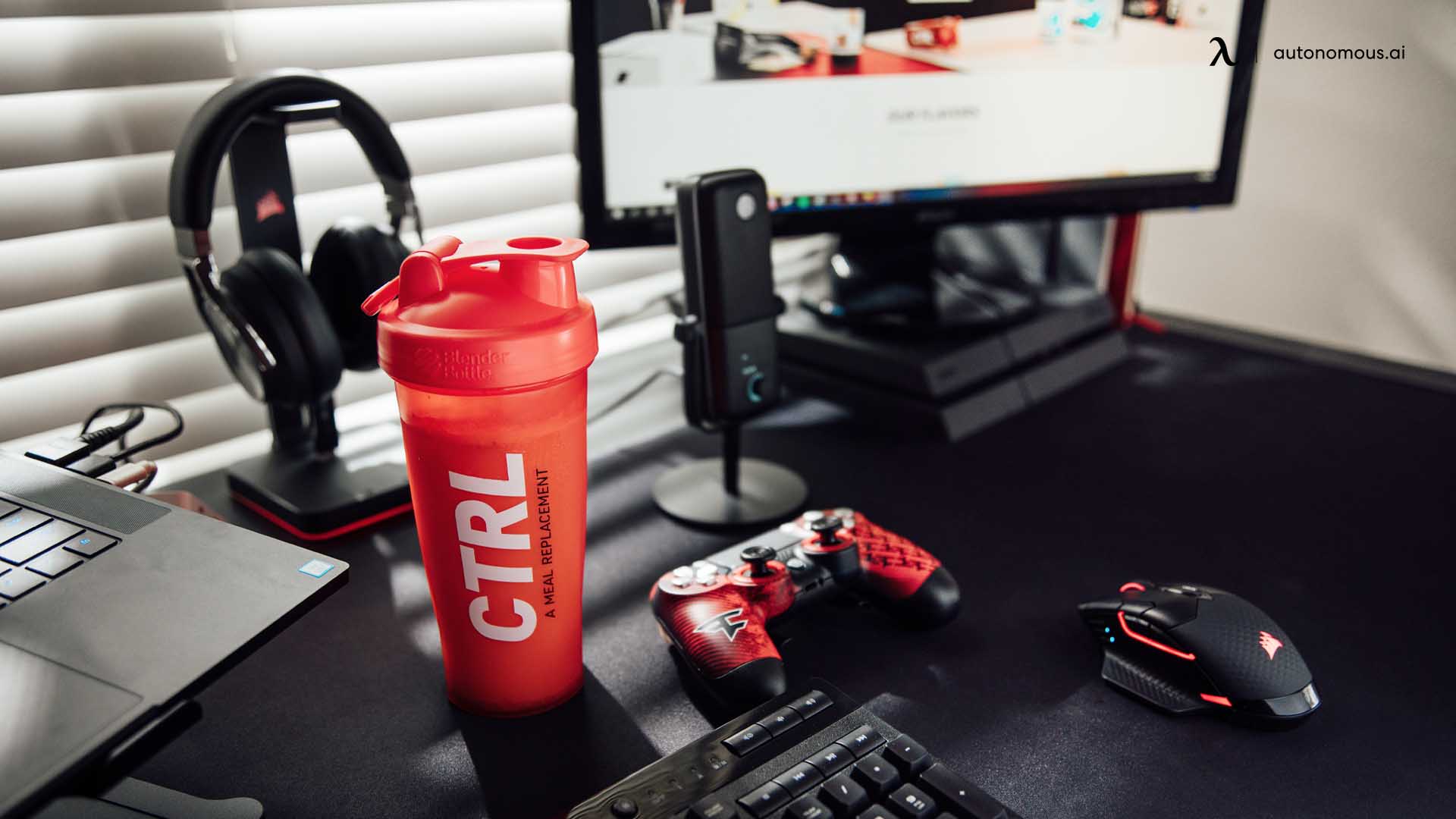 If you are a beginner player, you may think of going for a simple standing desk like the Autonomous SmartDesk Core to design your ultimate gaming setup. Such a durable yet easy to assemble desk could cost you around $500, which is quite reasonable for the features that it comes with.
Conclusion
Whether you opt for the most extra of the extra or go for a more scaled back and clean look. The aesthetics that make up your gaming setup are a reflection of you and your taste. Make it match and fit you uniquely. Choose smart tools that ergonomically conform to your needs. And most importantly when you're gaming, remember to have fun!!
What are some of your must-have gaming accessories for desk setups? Let us know in the comments below!
Keep up with Autonomous news
Stay informed, stay inspired with our new blogs.
WRITTEN BYJohn Mark Harrell