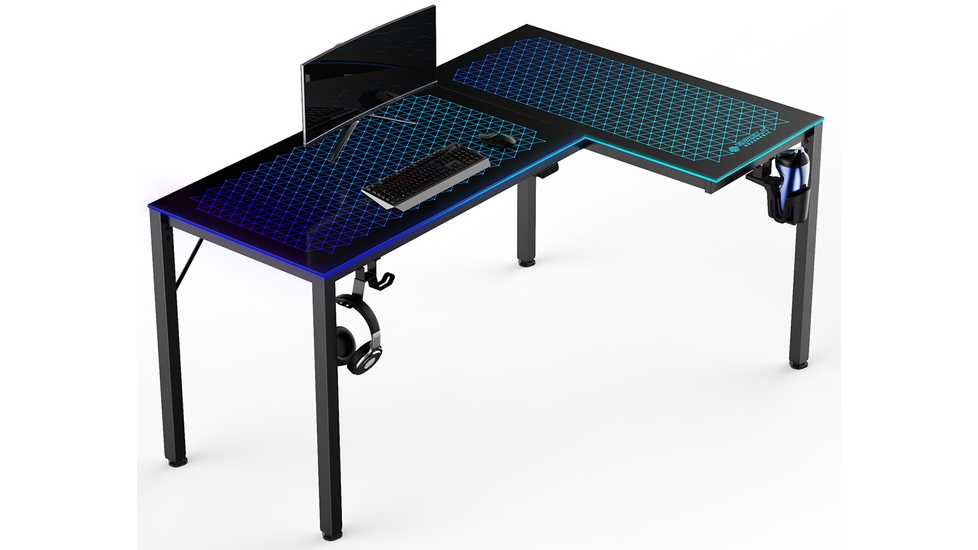 EUREKA ERGONOMIC 60" L Shape Glass Gaming Desk: Music Sync RGB
13 reviews
Visit our store
Buy now
Add to cart
FREE shipping Oct 05 - Oct 09. FREE 30-day returns.
Sold and shipped by EUREKA ERGONOMIC

Price Match Guarantee
• Reversible L shape design (60"Wx40"D) to fit into corners and accommodate large setups. • Sleek tempered glass desktop (impact-, heat-, and scratch-resistant) for long-lasting durability. • Patented RGB hardware w/ Bluetooth app control (full-spectrum color, audio-reactive, music-syncing capability, pattern selection, dimmability, static mode) sets the room aglow. • Solid carbon steel frame w/ 4-pillar design for spacious leg- and storage-room (30" high) can support up to 330lbs. • Accessories: dual headset hook, rotatable cupholder, power strip holder, and adhesive cable ties for optimal organization.
• 5-year warranty
Innovative, passionate, dynamic, cool, and energetic are the best adjectives to describe the GTG-L60 L-Shaped Gaming Desk, which can bring a big RGB lighting music show every day. It will definitely bring rich colors and infinite joy to your workspace and gaming space. Take one for you and your beloved at once!
Deep dive into specs
Features
Specs
FAQs
reviews
5.0
About EUREKA ERGONOMIC 60" L Shape Glass Gaming Desk: Music Sync RGB
Glass is elegant in its way, and what if we told you that you could get a fantastic glass gaming desk for your gaming setup, which would add a touch of elegance and provide several other advantages? Players often prefer glass gaming workstations because of their contemporary style. The tempered glass top of these small gaming desks makes for a strong and long-lasting gaming setup. A glass top is a great choice when it comes to keeping your gaming space looking its best. We recommend you go for the Eureka Ergonomic RGB gaming desk.
Why Use a Glass Gaming Desk?
Design & Durability
Since the desk's top is made of transparent glass, it can be easily integrated into any decor, making it a fantastic choice for discerning gamers who value aesthetics. In addition to providing a great view of the gaming setup, the glass top makes it easy to monitor and alter the various settings. Tempered glass is a beautiful material for gaming tables because of its durability and resistance to scratches and impacts. This also makes the desk a good choice for gamers with dogs or children since the toughness will protect it from accidental scratches and bumps. Long life is a significant advantage for any gaming furniture.
Simple to Clean
The glass top is so smooth that it can be cleaned with a moist cloth and returned to its like-new condition. This is excellent news if you're a gamer who spends a lot of time at your workstation since your desk will stay looking clean and polished for longer.
About Eureka Ergonomic
When it comes to office chairs and other ergonomic necessities, look no further than Eureka Ergonomic. Office chairs, standing desks, monitor mounts, and keyboard trays are just some of the things they provide that are designed to make office life more tolerable and conducive to health. The firm's primary focus is on delivering superior goods tailored to individual buyers' requirements. Ergonomic standing desks are their main products. Standing workstations by Eureka Ergonomic let you change the height of your desk, encouraging a more physically active and healthy way of working. Their EUREKA RGB gaming desk is a work of beauty. Back and neck discomfort are two of the most prevalent complaints from gamers, and this Eureka Ergonomic RGB gaming desk can help prevent them. The desks may be adjusted to accommodate a variety of user heights and body types, making them a versatile addition to any setup.
Eureka Ergonomic 60" L Shape Glass Gaming Desk
The GTG-L60 EUREKA RGB gaming desk is a state-of-the-art piece of furniture to improve your gaming setup's aesthetics and practicality. This L-shaped gaming desk measures 60 inches wide by 40 inches deep, so this L-shaped music desk can fit neatly into corners while providing ample space for even the largest gaming setups. This 60 gaming desk has a solid carbon steel frame with a 4-pillar design, providing ample leg and storage space at 30 inches high and supporting up to 330 pounds. This 60 gaming desk also features patented RGB hardware with Bluetooth app control, allowing full-spectrum color, good lighting, tunes capability, template selection, and static mode.
FAQs
How much weight can glass desks hold?
The maximum weight that may be safely placed on a glass desk is between 150 and 200 pounds, while some of the more expensive models can support as much as 300 pounds.
What should you not put on a glass table?
Avoid placing anything on the table that might scratch or leave a mark on the glass, such as knives, keys, or jewelry without protective backing, and keep hot meals and drinks on coasters to avoid damage to the tabletop.
Will a glass table break in hot weather?
In hot weather, a glass table can shatter if the temperature difference between the table and the surrounding area is too much. For example, the glass will quickly heat up if the table is placed in direct sunlight. Then, if the table is suddenly moved to a cooler area, the glass can break or crack.
Can you put hot food on a glass table?
Putting hot dishes straight on a glass table might cause the glass to bend or break. Therefore it's best to avoid doing so.
Do glass desks scratch?
Although desk glasses are of high quality and seldom get scratched, glass desks can only scratch if not properly cared for and put sharp objects on them.