Smart Products
20+ Compact Gaming Desks for Small Spaces: Reviews & Ratings

Autonomous
|
Apr 20, 2022
4,492 Views
Gamers need more than just a desktop connected to a CPU, keyboard and mouse. They need a proper setup or, to say, a tiny gaming world where they can enjoy the embrace of the virtual world fully. There are many benefits of creating a proper compact gaming setup with a compact gaming desk, and without proper gaming furniture, not only your gaming experience will be compromised, but you can also get susceptible to unhealthy gaming practices.
Although it is also true that even a gaming desk for small space and a small gaming setup do cost you a hefty amount, in this article, we will enlist some small gaming computer desk ideas that you will love to try. Our ideas for the best small desk for gaming not only will save you space but will also be light on your pocket.
Best Small PC Desks for Gamers
Below are some of the best compact gaming desks.
1. SmartDesk Core
Although many people count SmartDesk Core as a home standing desk for work purposes, this one also suffices as a gaming station. If you think this is simple and too boring, you can play with the tabletop choices available in more than 10 different colors. The sturdy frame provides the due strength needed, and the quiet motor operation makes quiet gaming possible and more fun.
2. Benzara Compact Gaming Desk
Benzara is a popular manufacturer of essential home items that are affordable and space-efficient. This mini gaming desk for bedroom from benzara is no exception. The Benzara desk is available in plain black, and even a pretty combination of red and black will make your gaming setup much prettier.
When it comes to efficiency, the desk offers a cup holder and a headphone holder. The monitor shelf and bottom shelf allow you to keep your gaming accessories as well as the PVC coat makes everything shiny yet durable. And when it comes to gaming desks with shelves, no one does compactness better than this piece.
3. Timotion Compact Desk: Basic Keypad
For lovers of minimalism, the Timotion Compact Desk: Basic Keypad has a basic design that fits well into tiny spaces. This standing desk will help you create an ergonomic gaming setup thanks to the height adjustability. The sturdy frame keeps your gaming desktops in place, and the 2 stage frame provides extra durability. Moreover, the dual electric motor makes the height adjustment easier.
4. EUREKA Multi-function Ladder Desk: Dual Pegboard
The EUREKA Multi-function Ladder Desk with Dual Pegboard is a versatile and innovative addition to any gaming setup. This compact gaming desk is designed with immersive gradient RGB lights that create a captivating gaming atmosphere. The eco-friendly smooth carbon fiber texture desktop not only looks sleek but also provides a comfortable and durable surface for gaming and working.
The compact gaming desk comes with an exclusively tailored mouse pad, ensuring smooth and precise mouse movements. With powerful storage capability, you can conveniently store and organize your gaming accessories and essentials. This well-equipped gaming desk is a must-have for gamers who value both functionality and style in their gaming setup.
5. Wistopht CompactDesk: Anti-collision Detection & USB Ports
With this glass table top, you'll get wireless charging, touchscreen controls, and a digital display. You can get this desk in either black or white. It features a minimal design that will fit into any gaming setup small room layout as well as supporting tablets, laptops, and smartphones and can accommodate dual monitor setups when needed. This small PC desk eliminates the clutter that can build up on desks in a minimalistic gaming setup, featuring four ports, a wireless charge pad, and convenient cable management. 
The charging and height adjustment controls are located on the bottom right corner of the desktop. Under the small lightning bolt identifying wireless, charging points are touchscreen controls for height adjustment. With height settings ranging from 27.9 to 45.6 inches, you can find one that suits your needs.  
6. Wistopht CompactDesk Starter: Anti-collision & USB Ports
With this small gaming desk in a compact space, you can work on office projects, school projects, and even play video games. In addition to the height-adjustable mechanism, the design is versatile. It can accommodate people of different heights and weights. 2 USB ports are located on the control box of the 2-stage frame, which is easily capable of lifting 256 pounds. A 6-key control pad allows you to program up to three height presets conveniently. It has two USB ports (type C and type A) for charging your mobile devices.
7. Northread Glass Top Standing Desk: Drawer & USB Charger
ApexDesk CompactDesks are slightly larger, so they are recommended for people who want more desk space. There are four memory settings, a glossy finish on this Glass Top Standing Desk with Drawer & USB Charger, and tempered glass desktops. On the front of the small gaming computer desk are two USB and Type-C ports in addition to the LED display console, which lacks a touchscreen. With the easy lifting system, the desk's height can be adjusted between 27.2 inches and 44.9 inches. Its smooth, rounded edges, durability, comfort, and strength all make it a great desktop.
8. Northread Standing Desk with Drawers: USB & Type-C Charging Port
Featuring touchscreen charging stations and a desk drawer that can be used as a keyboard stand, Northread's smart small gaming desk is the larger version. As well as being extremely versatile, this mini gaming desk is also extremely wire-free, which is one of its greatest advantages. The height adjustment console, an LED touchscreen, is located in the right corner of the desktop.
Simply tap the height range to customize it, and there are four height settings to choose from. The desktop has a USB port for charging smartphones and smartwatches and a wireless charging point. A power strip is located on the right side of the Smart CompactDesk with Touch Screen & Chargers for plugging in any other devices that do not have wireless charging capabilities. There are also two plug points and a charging point here. There is also a drawer that holds your accessories and a keyboard that measures 18.9 inches.
9. Wistopht CompactDesk Starter
The PC gaming desk is made of solid wood with a minimalist design on the desktop. The scratch-resistant coating can be customized in black or white and comes with a custom finish. In addition to gray, white and black, the frame is available in three different sizes. Depending on your preference, the desk can be adjusted between 27 and 45 inches in height.
10. Wistopht CompactDesk: Programmable Keypad
An ergonomic desk designed for smaller spaces, with a tabletop measuring 47" x 28" x 1"H, moves from 25 to 51 inches in height. With dual motors moving at 1.6" per second, the frame lifts 256 lbs.
11. Wistopht CompactDesk: Touchscreen Control & Wireless Charge Pad
The small gaming desk solution that you've been looking for is the one you need if you're tired of clutter on your desk with too many wires, chargers, and devices. With touchscreen keys, a wireless charger (built-in), and a digital display, the Wistopht CompactDesk has many features. There is a drawer where you can store extra attachments or even a keyboard to save even more space. The desktop is made of tempered glass, and the desk height control console and wireless charging zone are on the right. In addition to the LED display that shows your height adjustment level, there is a console with a charging point for your wireless station.
12. EUREKA Ultra Long CompactDesk: Programmable Keypad
With its dual motor-driven electric legs, the Eureka table offers a smoother start and stop when you adjust the height. The Intelligent Hand Controller has four memory settings and even has an anti-collision sensor for added safety. 
13. Northread CompactDesk: Programmable Keypad
From 26" to 46.7", this adjustable small gaming desk is height-adjustable. Dual electric motors power the Frame, which is much quieter than its predecessor at 50 dB. The preset buttons can be customized to memorize your desired heights, so you can sit or stand as you wish.
14. EUREKA Z43 Z-Shaped Gaming Desk: Socket Holder and Additional Mousepad
The EUREKA Z43 Z-Shaped Gaming Desk is a standout choice for gamers looking for a sturdy and feature-packed gaming workstation. The compact gaming desk is equipped with a convenient socket holder and an additional large mouse pad, offering both practicality and comfort. With cable management on both sides, you can neatly route your cables while adding a touch of style to your setup.
The included extra-large mouse pad is made with premium materials, ensuring smooth mouse movement and accurate tracking. The under-desk cable management socket holder helps keep your cords organized and eliminates the tangled mess. The small gaming desk features a high-quality Z support frame that is corrosion-resistant and offers excellent load-bearing capacity.
The metallic coating finishing on the frame creates a delicate texture, adding to its aesthetics. The super strong metal frame and F1 designed balancing levers ensure stability, preventing wobbling even during intense gaming sessions. The EUREKA Z43 Z-Shaped Gaming Desk is the perfect choice for gamers who prioritize durability, functionality, and style in their gaming setup.
15. EUREKA X1S X-Shaped Gaming Desk: Additional Storage & RGB LED Lighting
The Eureka ergonomic X1S small gaming desk features a fiber textured surface, plastic and metal construction, LED illumination, accessory holders, and a Z-shaped frame. The classic sleek design makes this desk one of a kind for a gaming setup, and the fiber texture on the top ensures your entire gaming setup has a good grip.
16. Techni Mobili TS-200 X-shaped Gaming Desk: Additional Storage
The Techni Mobili TS-200 X-shaped Gaming Desk is a versatile and functional workstation that caters to both gamers and professionals. The compact gaming desk features a high-tech carbon fiber laminated MDF top, providing a sleek and durable surface for your gaming setup.
The steel leg construction ensures stability and durability for long-term use. With ample room for your monitor, PC, laptop, and gaming gear, this desk offers plenty of space to organize and display your equipment. The small gaming table is easy to assemble with the included hardware and comes with adjustable racks and additional storage options, allowing you to customize the layout to your preferences. It also includes a cup holder for added convenience.
Beyond gaming, this small gaming desk can also be used as a student desk or in a home office, making it a versatile choice for various purposes. The Techni Mobili TS-200 X-shaped Gaming Desk comes with a 5-year limited warranty and is shipped in one box, ensuring a hassle-free experience.
17. Aiterminal Standing Desk: Electric Adjustable Height
Its spacious eco-friendly whole-piece desktop measures 47.25" x 23.6", offering ample space for two monitors and a laptop, allowing you to work efficiently and tackle the challenges of the day with ease. The small gaming desk features an electric height adjustable lift system with a smooth motor mechanism. You can effortlessly adjust the height from 27.1" to 46.3", including the 0.6" thickness of the tabletop, at a speed of 1" per second.
The motor operates quietly with noise levels below 50 dB. The desk's solid construction includes an industrial-grade steel frame combined with a sturdy desktop, providing a weight capacity of 165 lbs. This ensures stability and durability for your ideal workspace setup. Specifically designed for remote and independent workers, the Aiterminal Standing Desk enables you to stay active, healthy, and productive while working from home.
You can precisely adjust the desk to your desired height, promoting healthy movement throughout your day. Whether it's for work or leisure, this electric adjustable height standing desk offers convenience, functionality, and a comfortable workspace for enhanced productivity.
18. FinerCrafts Standing Desk: Curved Top
With its solid steel frame and electric dual motor, this desk can effortlessly lift up to 350 lbs, accommodating your equipment and supplies with ease. The 2-stage frame ensures stability and smooth height adjustments, allowing you to set the desk at any height between 28" to 49". The compact gaming desk also features a convenient 4 programmable keypad settings, allowing you to easily switch between your preferred heights.
Additionally, the desk offers three desktop options, each with pre-drilled holes for easy installation and customization. Whether you need a spacious work area, a stylish design, or a specific material, the FinerCrafts Standing Desk provides options to suit your preferences. Experience the benefits of a standing desk with this durable and versatile solution for your workspace.
19. Uncaged Ergonomics Rise Up Electric Standing Desk: Desktop colors
Equipped with dual-motor electric legs, this desk provides smooth and reliable height adjustments. You can save up to 4 preferred heights for quick and convenient 1-touch adjustments. The compact gaming desk comes with different color desktop options, allowing you to choose the style that suits your workspace. The adjustable width frame ensures flexibility to accommodate various desktop sizes.
Depending on your needs, you can select either a 2-stage or 3-stage lifting column, offering height ranges of 27.2-46.7" or 23.6-49.2" respectively. Whether you prefer a lower or higher height range, this compact gaming desk can be adjusted to your desired ergonomic position. The Uncaged Ergonomics Rise Up Electric Standing Desk is designed to enhance your comfort and productivity while adding a touch of style to your workspace.
20. Uncaged Ergonomics Glass SmartDesk: Drawer and USB ports
The glass desktop not only looks stunning but also adds a high-end touch to any office setting. The smooth and sleek surface provides a premium feel to enhance your work experience. The small gaming computer desk is equipped with built-in USB, USB-C, and AC ports, allowing you to conveniently charge your devices without the need for extra adapters or power strips. This feature ensures a clutter-free and organized workspace.
The compact gaming desk is designed for hassle-free setup, as it ships 90% assembled. With minimal effort and time, you can free yourself from sitting and start enjoying the benefits of a standing desk within 10-15 minutes. The Uncaged Ergonomics Glass SmartDesk offers a perfect blend of luxury, efficiency, and value, making it an excellent choice for those seeking a stylish and functional standing desk solution.
Other options
Coleshome Gaming/Study Desk
If your kid is reluctant to get a proper study table that supports their posture, then luring them in this two-in-one package is a great parental hack. The attractive yet simple design makes everyone drool over the design, and the solid build is a guarantee of strength.
Another great thing about this small gaming desk is that it goes with various themes, so you don't have to worry about not being able to create a complementing gaming station. The wide surface allows even the large ergonomic chairs to slide in, and you can also keep the various gaming accessories. Even though the dark brown and black color does well, you can also get a variety of colors to choose from.
Vit T-Shaped Gaming Small Desk
The VIT T-Shaped Gaming Table Pro is one of the finest small gaming desks on this list to recognize what distinguishes legitimate gamer desks from ordinary home office furniture: it's all about features.
Features such as a four-port charging tower to power your devices while also holding a few of your current games; a handy little hook on the underside to hang your crystal-lush gaming headphones; a sturdy cup holder on the side to hold your coffee or even energy drink. Back end grommets to contain stray wires; and a waterproof full-cover mousepad for no interruption in your tracking.
Atlantic Original Small Gaming Desk
The Atlantic Original Gaming Desk includes a variety of accessory stands and a cup holder, headphone holder, carbon fiber laminated top, wire management inserts, and a unique monitor stand. If you like unusual and bare-bones gaming desktops, this is the one for you.
Its metal wiring construction may make you assume it won't be able to support a lot of weight, but it's rather strong. In terms of sturdiness, it outperforms most of its more expensive competitors, and for that, this desk deserves a lot of praise. You also get a monitor stand to mount a 32-inch monitor easily.
Ironstone Gaming Desk
This gaming desk is built on an R-frame and features a high-quality MDF PVC laminated top and robust steel legs. The R-framed construction provides ample support and guarantees that the desk remains sturdy at all times. It can withstand up to 110 pounds, which is impressive considering how small it is. This gaming desk is rather wide, making it quite spacious for a small gaming desk, and it can also be adjusted in height.
Vitesse Gaming Desk
The premium density fiberboard and coated steel used in the building of this PC gaming desk make it fairly durable. It can support up to 250 pounds, ideal for a gaming desk of this size. Despite its large size, the elongated shape makes it quite compact, allowing it to fit into any corner of your space. This is one of the greatest gaming workstations we've seen.
Sum Up
From looking for the best standing desks to an L-shaped desk, finding the proper size of a gaming desk is always a challenge. After all, each gamer's preference differs, and many gamers are willing to find something unique as per their style.
No matter your style or preference, we always prefer a gaming setup that can fit in the tiniest of spaces and, most preferably, our bedroom? Now, finding the best one for your playing station is no longer difficult with our list!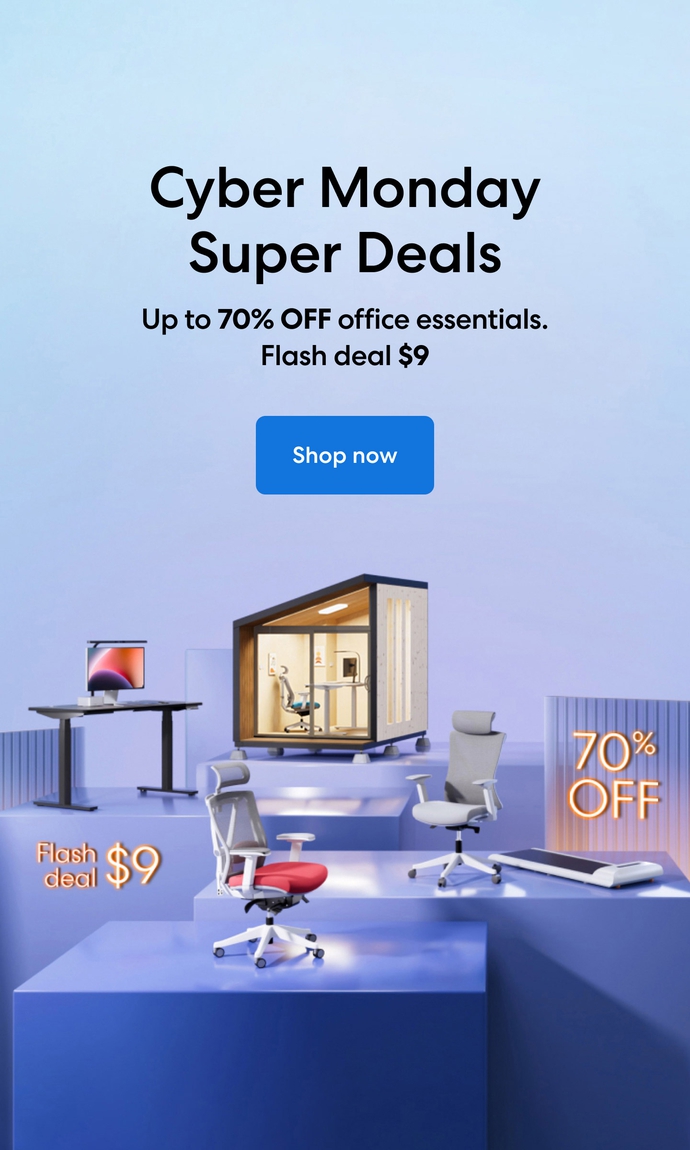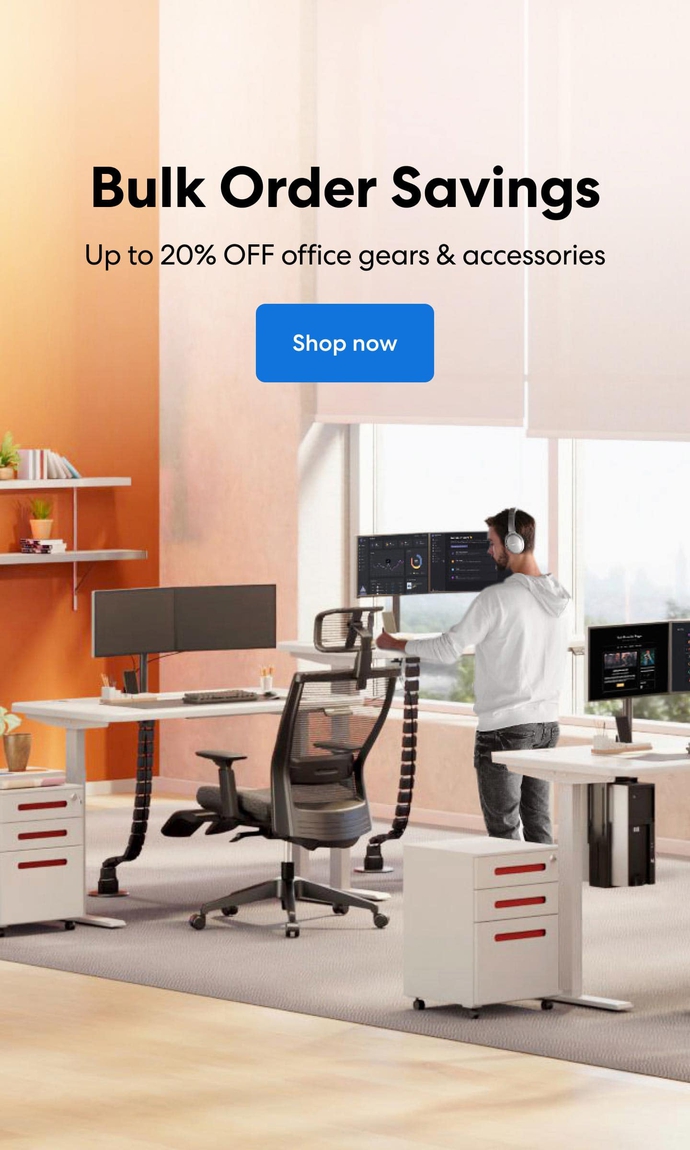 Subcribe newsletter and get $100 OFF.
Receive product updates, special offers, ergo tips, and inspiration form our team.