Smart Products
6 Best L-Shaped Adjustable Desks - Reviews & Ratings

Ethan Johnson
|
Mar 6, 2023
26,246 Views
In recent times, when it comes to office furniture, the spotlight has been focused on how to improve the health of employees while maintaining high levels of productivity. This is why many businesses have found it worthwhile to invest in an L-shaped standing desk for each of their team members.
With a high-quality, modern standing L desk in your office, you can switch from sitting to standing in just a few seconds. This flexibility is great when you are stuck in the office for many hours each day, and you need to maintain your health and posture, while also getting some work done.
If you want to go the extra mile, you can pair your adjustable L-shaped desk with an ErgoChair Core from Autonomous, ensuring that even during the times you are sitting down, your back is well supported, helping you maintain great posture.
However, choosing the right adjustable height L-shaped desk for your needs is not easy. One of the things we have realized is that there are so many options to choose from. If you are not careful in your research, you could easily end up with the wrong desk.
This is why we compiled this review of five awesome L-shaped adjustable desks that we think are the best options to consider in 2023. If you are in the market for an L-shaped sit stand desk, take a look at our in-depth review right now.
Why Would You Need an L-shaped Standing Desk?
How many hours a day do you spend working in your office, home office, or WorkPod? If you spend the greater part of each day sitting behind a desk, you may need to consider buying an ergonomic standing desk.
However, considering that you also need other features besides the sit/stand mechanism, you should look for a reliable desk that will cater to all your needs. This is why an adjustable height L-shaped desk may be something you have to start seriously considering for your 2023 shopping list.
The right L-shaped electric standing desk has many benefits, such as:
Double the space of a regular desk
Easy lift mechanism
Great design for fitting in the corner of a small office
Ability to accommodate two employees
How We Picked and Tested Our Best L-shaped Desks
When picking the right L-shaped sit stand desk, we all have some special features that we may be looking for. However, there are a few things that every desk must have for it to be considered a reliable option.
This is why we looked at the following features when ranking our five best adjustable L-shaped desks for 2023:
The defining feature of any L-shaped adjustable desk is its height range. If you can set it to a lot more heights, it can do a lot more for you in terms of helping you maintain your good health and posture.
One thing you do not want to do is end up having to replace your desk in just a few months because it is made of poor-quality material. This is why we looked very carefully at the build quality of each standing L desk on this list.
Although we all have different requirements in terms of the maximum weight capacity we expect an adjustable height L-shaped desk to hold, it still has to be sturdy enough to handle normal office accessories. If you are standing while working, you want a desk that will take your weight if you lean on it without crashing to the ground.
Most adjustable L-shaped desks are advertised as being able to provide a lot more space than regular desks. This is something we analyzed carefully to ensure that the desk was able to accommodate all our needs, and, in some cases, handle the requirements of two employees at the same time.
When you are adjusting the height of your L-shaped sit stand desk, it should not cause a massive disturbance throughout the office. This is why we looked at the noise and speed of the electric motors of each desk.
Who This Review Is For
One of the biggest issues that ordinary office workers have to face is that of developing back problems due to spending so many hours seated behind a desk. If this sounds like something you are concerned about this review is for you.
Having an adjustable height L-shaped desk can be the ergonomic solution to all your problems. However, we understand how difficult it can be to choose the best L-shaped electric standing desk when faced with so many different options.
This is why we compiled this short but detailed review of 5 standing L desks that have impressed us a lot this year. After going through each review, we firmly believe that you will be able to make an informed decision when you go shopping for your adjustable-height L-shaped desk.
Our Top 5 Picks for 2023
Are you struggling to pick the best adjustable height L-shaped desk for your office? Take a look at our reviews of these 5 great options to consider in 2023:
1. The Autonomous L-shaped Smart Desk
If there is one thing that an L-shaped adjustable desk needs to have, it is abundant space to work on. After all, this is one of the primary reasons for switching to an L-shaped desk in the first place. The Autonomous SmartDesk Corner delivers on its promise of providing extra space by having enough room for two employees to work comfortably.
This desk is made of the highest-quality materials that you will find in the industry, which is why its manufacturer will not hesitate to offer you an awesome five-year warranty on your desk. Adjusting the height of your desk is easily done with just a touch of a button, after which the whisper-quiet triple motor will raise or lower the desk to your preferred height.
A large desk is likely to end up holding a lot of accessories, such as monitors, printers, scanners, and desk organizers. This is why it comes with a sturdy frame that can easily carry up to 400 pounds of weight.
As a technologically advanced L-shaped standing desk, it also comes with a programmable keypad that has enough memory to store four different height settings. If you are not sure how you are going to arrange your desk in your office, do not worry. The desk comes with modular segments that fit perfectly together, meaning you can decide how to arrange it later on.
With the Autonomous SmartDesk Corner, you are guaranteed to have a great-looking, high-quality, and ergonomic standing desk that will be the crown jewel of your office. If you buy it online from Autonomous right now, you will also get a free cable tray with your desk.
This L-shaped standing desk is the height (literally!) of L-shaped smart desk technology. It is a desk that is customizable and versatile, while also designed to help you reap the benefits of an ergonomic workplace. Along with the steel frame, it also has a three-motor system which allows you to easily switch from a standing desk to a sitting desk. It has a massive amount of space, and the L-shaped standing desk is perfectly adjustable, so you can go from seated to standing to back again.
Top dimension
Full: 77"L x 64"W x 1"H
Large Top: 77"L x 29"W x 1"H
Small Top: 29"L x 35"W x 1"H
Frame dimension
27.5"W x 42" - 71"L
Height range
With top: 29.4" - 48"
Without top: 28.4" - 47"
Materials
Top: Warp-proof MDF wood
Frame: SPCC steel
Colors
Top: White, Black
Frame: White, Black
Weight capacity
400 lbs
Warranty
5 years for frame
1 year for top
2. Uplift Curved L-shaped Stand-up Desk
One feature that you do not see often in an adjustable L-shaped desk is a curved top. Usually, the L-shaped top is shaped at a right angle, which is why the Curved Corner UPLIFT Standing Desk is so unique. Its curved design adds both good looks and extra comfort to the desk.
When buying an adjustable desk of this size, one thing most customers worry about is the lift capacity. However, you will be happy to know that this particular desk comes with a set of three lifting mechanisms, instead of the regular two. This means it is sturdy enough to handle any regular office activities you can throw at it.
The Curved Corner UPLIFT Standing Desk has an impressive seven-year warranty on the base, but none on the top. This might be a cause of concern regarding the quality of material used to manufacture the top, and how long the desk is likely to last before needing replacement.
In terms of controlling the lift mechanism, we found the standard two-button up/down controller very easy to use. However, we would recommend that you upgrade to the programable keypad if you can. It will provide you with a lot more flexibility when it comes to adjusting the height.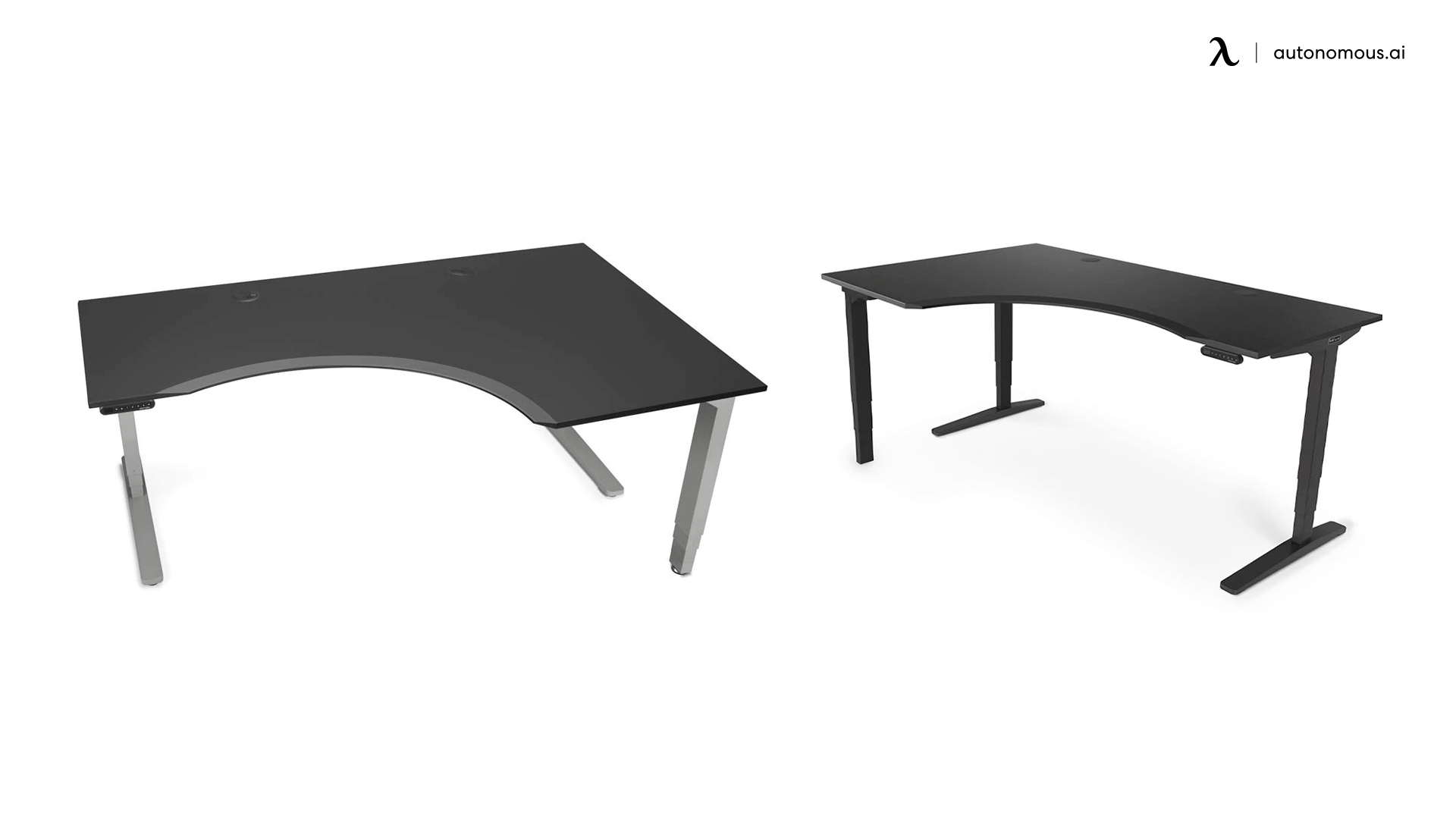 Curved Corner UPLIFT Standing Desk
| | |
| --- | --- |
| Top Dimension | 72"W x 28"D |
| V2 Frame Dimension | 41" - 72"W x 24.3" - 50.9"H |
| Color | White and Black |
| V2 Frame Capacity | 535 lbs |
3. FlexiSpot E1L L-shaped Standing Desk
When we completed the rather easy assembly of the FlexiSpot E1L L-Shaped Standing Desk, one of the things that we were immediately worried about was its stability. Given that it only had two legs, we were not so sure what to expect. However, even though this standing L desk is not as stable as other three-legged options, it still has enough stability to get the job done in a normal office environment.
The colors are somewhat limited, but we still found the black option to be a great choice for any modern office. One of the best features of this desk is that it offers a more affordable option for those who want to buy a standing L-shaped desk on a tight budget.
Its lift mechanism, though just a single-stage dual motor, is still good enough to meet all your needs if all you want is a desk that can be easily adjusted from time to time. The weight capacity is only 177 pounds though, which is a lot less than other available options.
4. Lander L-shaped Workstation by iMovr
When we first reviewed the iMovR Lander L-Shaped Standing Desk, we did not know what to expect from this uniquely designed desk. However, we were pleasantly surprised to find that this is one of the most technologically advanced desks on this list. Its electric three-leg lift mechanism was designed to perfection, ensuring smooth height adjustment at the touch of a button.
However, the designers decided to go one step further, by making it possible to link to the disk using Bluetooth or the desk app. We found it quite fascinating to be able to adjust the height of the desk using our mobile devices, which is a feature we are sure you will also love.
With 24 colors of 3D laminate and 38 species of solid wood combinations available, you can choose countless unique looks for your desk. This is a great option to give to your employees so that they can have fun picking out some unique colors that reflect their tastes.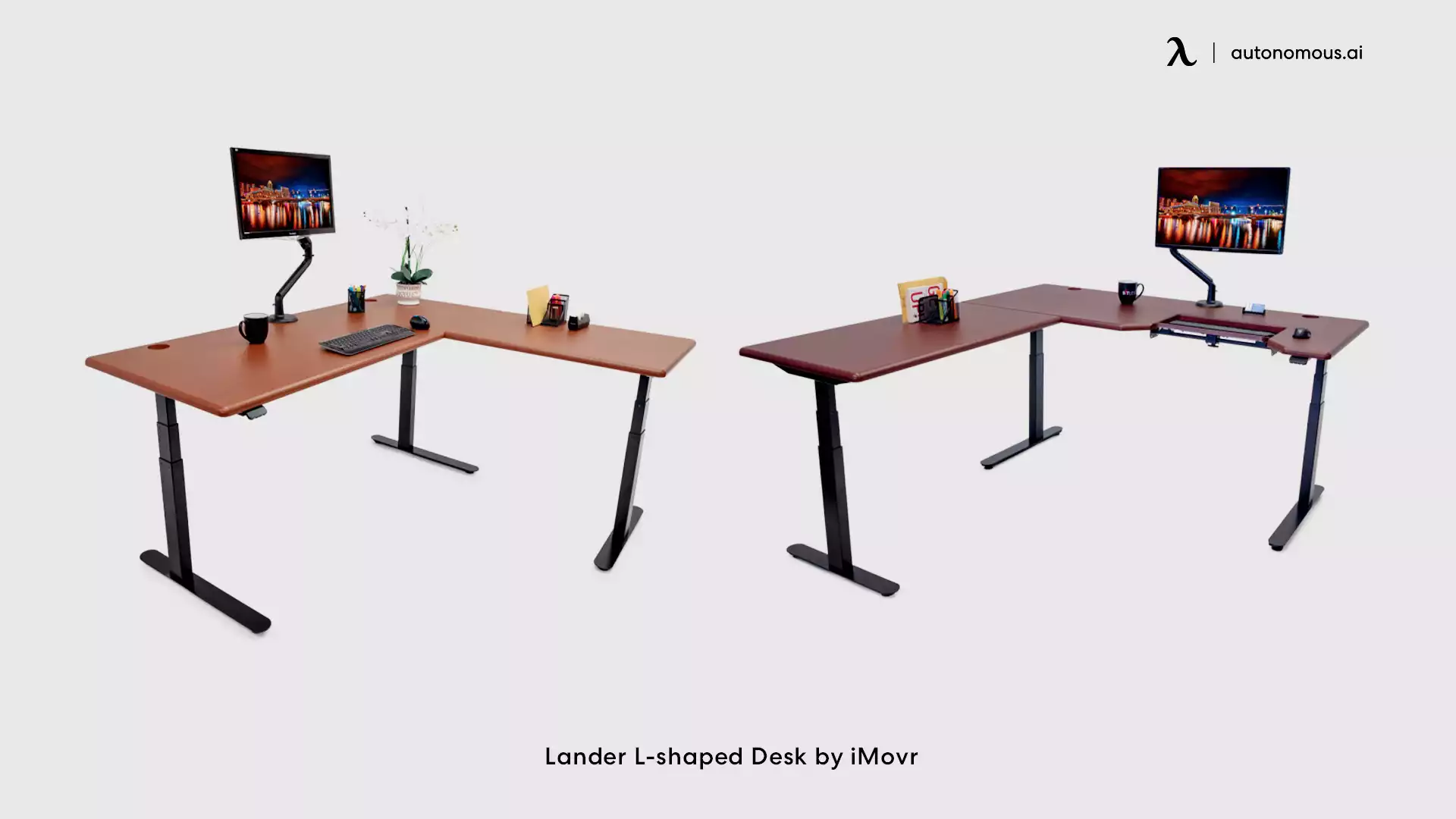 | | |
| --- | --- |
| Top Dimension | 65" - 95"W x 30"D |
| Height Adjustability | 24.5" - 50.5" |
| Average Travel Speed | 1.6" per second |
| Lifting capacity | 540 lbs |
5. Custom Solid Wood L-Shaped Desk by Uplift
This L-shaped adjustable desk offers three different styles of L-shaped sit-stand desks. And among the three, this one is the most expensive. It has a thick hardwood worktop, which is one of its features. The table is also 1.75" thick. It appears to be well-made and has a strong feeling about it.
The UPLIFT Custom Solid Wood L-Shaped Standing Desk features the renowned and patented UPLIFT Standing Desk Frame, which has received accolades such as being named the "Best Standing Desk" by Wirecutter for four consecutive years. This desk frame is celebrated for its unmatched stability, versatility, and functionality, ensuring that you'll enjoy its benefits for years to come.
You can choose from a variety of wood species, each showcasing exquisite natural grain patterns. Every custom desktop is meticulously crafted to match your precise dimensions, ensuring a perfect fit for your workspace. With ample room to spread out and work comfortably, the Custom Solid Wood L-Shaped Standing Desk offers a luxurious and productive environment.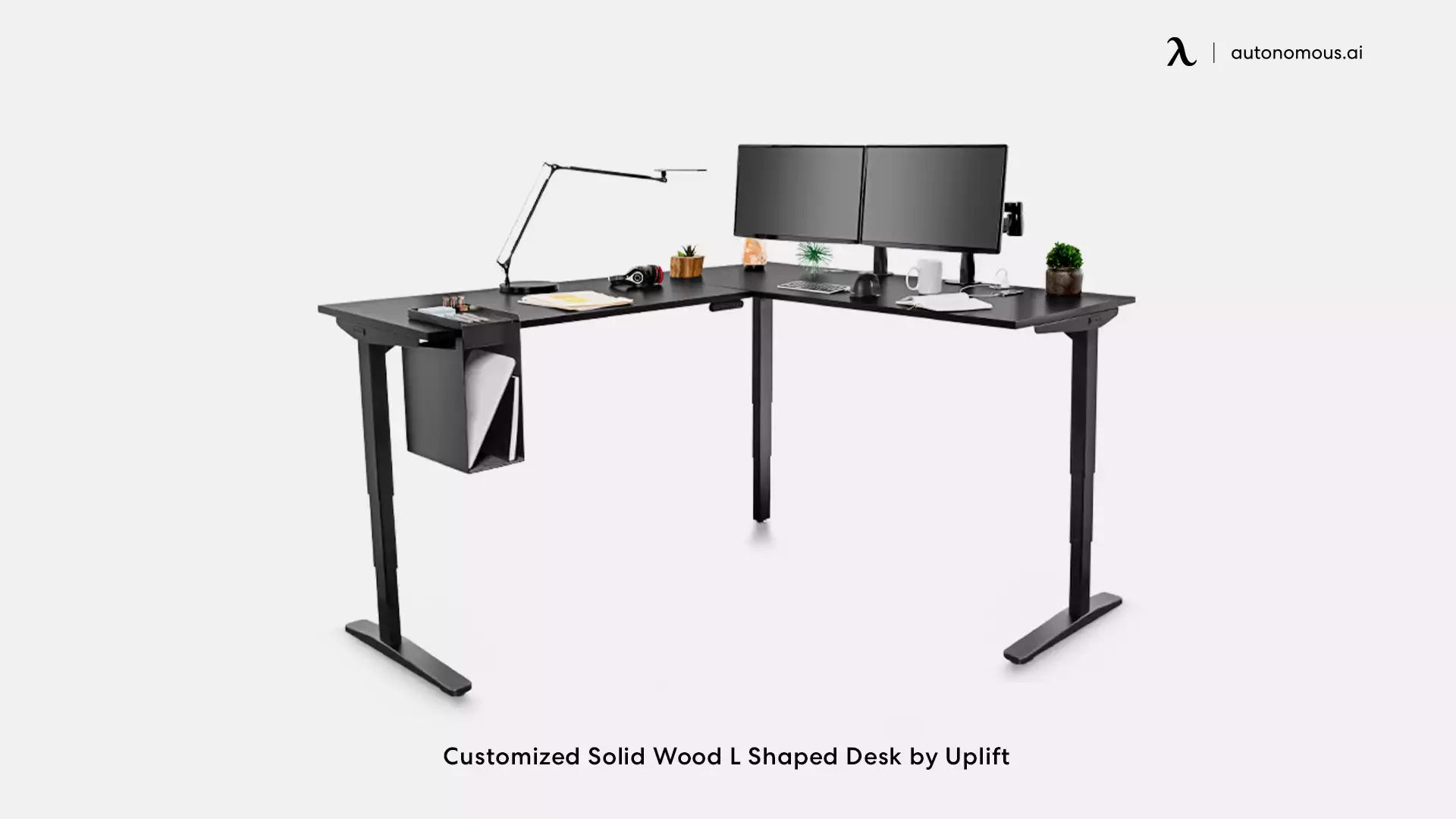 UPLIFT Custom Solid Wood L-Shaped Standing Desk
| | |
| --- | --- |
| Top Dimension | 42" - 80"W x 30"D |
| V2 Frame Height Adjustability | 25.3" - 50.9" |
| Average Travel Speed | 1.6" per second |
| Lifting capacity | 535 lbs |
Best Overall L-shaped Standing Desk
Choosing the best adjustable height L-shaped desk from this list of 5 awesome products was not easy. Each desk has its own merits, which means it may appeal to some customers more than others.
However, the best overall pick is the Autonomous SmartDesk Corner. It manages to tick all the right boxes when it comes to what a regular office worker would want from their standing desk. Also, we were very impressed by the high-quality feel of the desk, a feature that is further highlighted by the great warranty the manufacturer is willing to offer.
If you are looking for a great-looking, long-lasting desk that is packed full of impressive features, our number one recommendation is the Autonomous SmartDesk Corner.
Benefits of L-shaped Adjustable Standing Desks
One of the biggest benefits of having an L-shaped standing desk is the space that they can take up. Due to their odd shape, they can easily slide into an office corner and still be snug and comfortable. This makes them perfect for small spaces that might need a little extra space management, and it allows you to take full advantage of the corners in your office.
L-shaped sit-stand desks are almost like having two desks in one, and they provide a lot of storage space both in front of you and to your side. Instead of having stacks of paper sitting around and piling up on the front of your desk, you can put everything to your right side, allowing your mind to stare straight ahead and focus on what is the most important. The right side of an L-shaped adjustable desk tends to be longer than the front side, giving you another perfect space for storage of your items.
Having two separate surfaces on which to store items gives you a space for your computer and a space for your paper. Instead of storing both of them on the same desk and dealing with clutter, you can divide both parts of your desk into sections. If you are managing multiple projects or need to set something aside until later in the day, this can be a massive lifesaver to reduce clutter and stress in your workplace.
Finally, if you happen to be working closely with another officemate, or working in an open office floor plan, corner standing desks are very easy to slide against one another. You can have two L-shaped sit-stand desks be put together without causing any friction between you and your co-worker, or each of you can take one of the sides.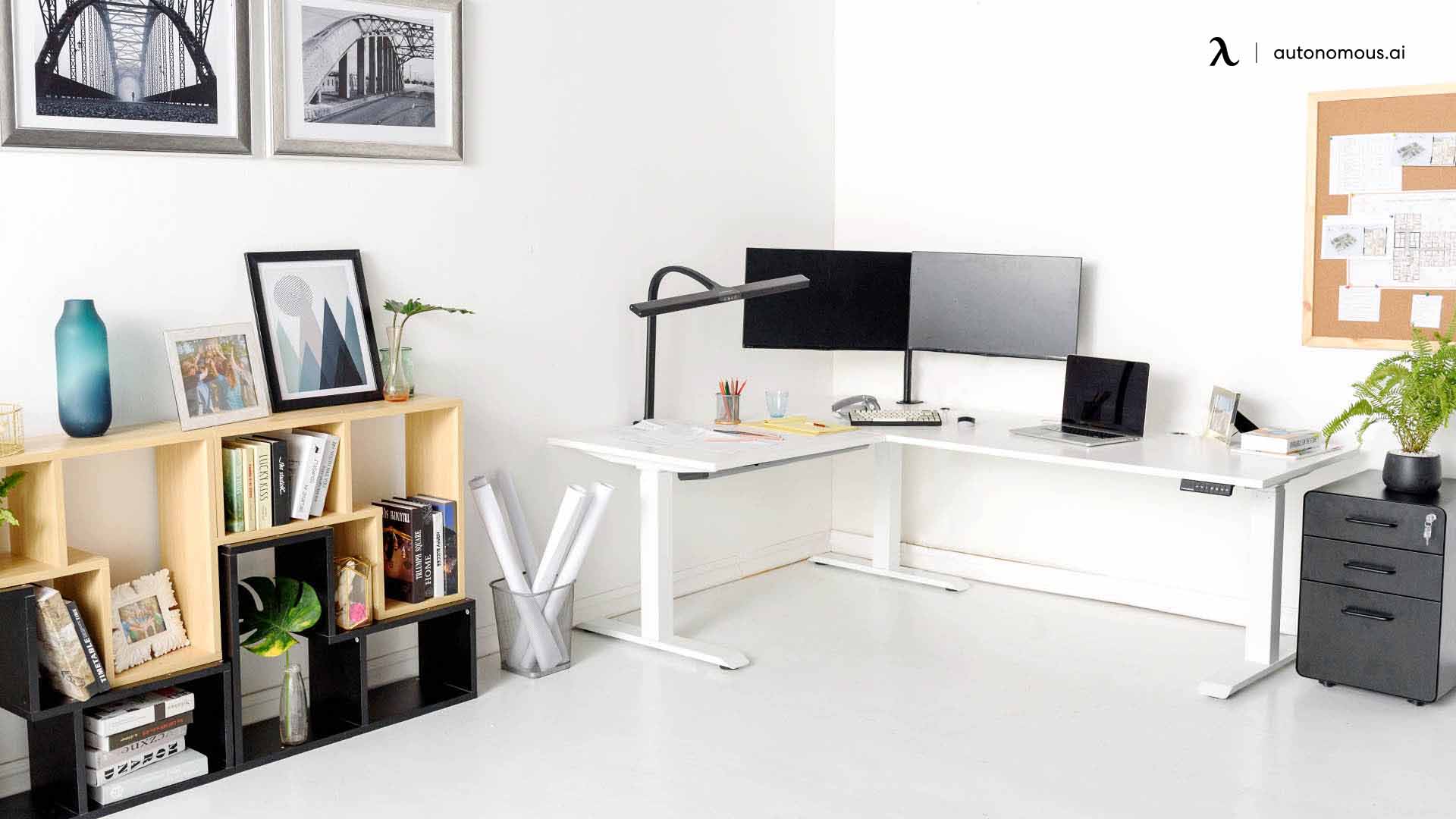 As you can probably tell, having an L-shaped standing desk can be a massive improvement over regular desks, and you can get them to be adjustable as well. This means you can raise and lower the desk height to meet your own ergonomic needs, and not only boost your productivity, but your comfort level as well.
Buying the Perfect L-shaped Desk
As you can see, there are several options available if you are looking for an amazing L-shaped adjustable desk. Like buying DIY standing desk kits, to narrow it down, measure your office space, figure out what you are using the desk for and what you might need it to carry on a day-to-day basis, and look at your personal style.
Getting a good L-shaped adjustable desk can not only increase your productivity and comfort but can also make sure that you enjoy coming to work every day. Instead of shuffling your papers around, feeling cramped, and constantly having to stand up to walk away from an uncomfortable desk, you can sit down and feel good. You can also stand up and let the adjustable and ergonomic design do its thing to help you stretch and stave off the afternoon drowsiness.
Instead of fighting your desk, make it work for your needs and inside of your space. That's the best benefit of an L-shaped sit-stand desk to help you know why you should use an L-shaped standing desk, and that's why you should choose to invest in one. Pick the one that works for you and watch how your workday starts to improve.
What to Consider When Buying an L-Shaped Adjustable Desk (2023)
Before purchasing an L-shaped adjustable desk, there are a few key factors to keep in mind:
Size and Configuration
Consider the available space in your office or home and choose a suitable desk size. Determine whether you need a left-handed or right-handed configuration based on your preferences and workflow.
Height Adjustment
Look for desks with smooth and easy height adjustment mechanisms. This feature allows you to switch between sitting and standing positions effortlessly, promoting better posture and reducing the risk of prolonged sitting.
Sturdiness and Stability
Ensure that the desk is built with high-quality materials and stable construction. It should support your equipment and withstand daily use without wobbling or shaking.
Workspace and Storage
Evaluate the desk's surface area and check if it provides enough room for your work essentials, such as monitors, laptops, and documents. Additionally, consider if the desk offers storage options like drawers or shelves for better organization.
Aesthetics
Choose a standing L desk that complements the overall style of your office or home. Look for designs, colors, and finishes that align with your taste and the existing decor.
Price and Warranty
Set a budget for your desk purchase and compare prices from different manufacturers. Additionally, check if the desk has a warranty to ensure protection against manufacturing defects.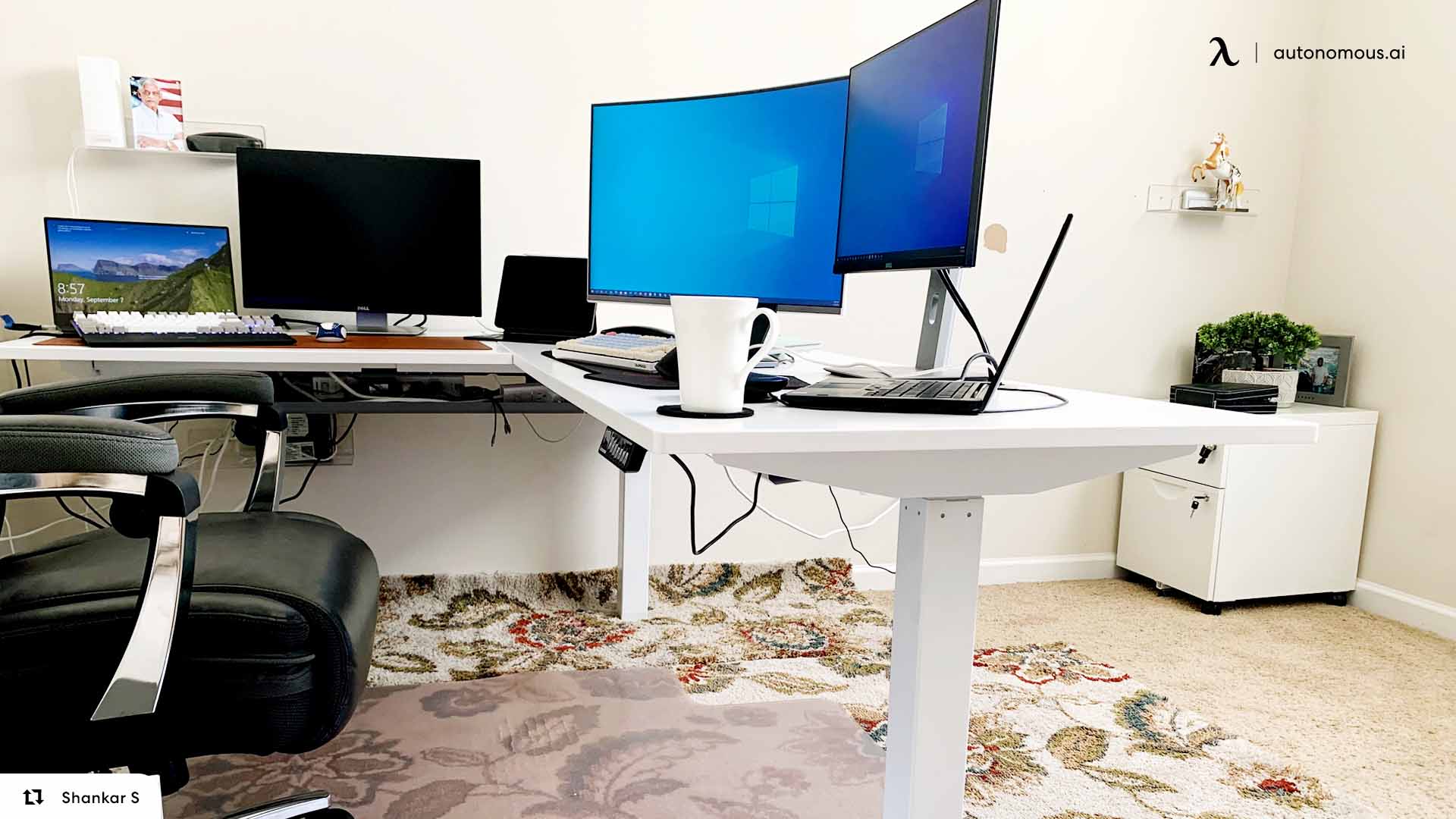 FAQs
1. What is a Sit-Stand L-Shaped Desk?
A sit-stand L-shaped desk is a type of desk that combines the benefits of an L-shaped configuration with the flexibility of adjustable height settings. It allows users to alternate between sitting and standing positions while providing ample workspace for various tasks. These desks can be installed in room corners, providing a dedicated workspace for you to sit and work with ample storage space for office supplies and necessary items.
2. Is an L-shaped desk worth it?
An L-shaped desk can be worth it depending on your specific needs and preferences. They offer several advantages, such as providing ample workspace, allowing for better organization and multitasking, and accommodating multiple monitors or devices. L-shaped desks are particularly beneficial for individuals who require a larger working area or need to separate different tasks or projects. Additionally, they can fit well in corners or against walls, optimizing space utilization. Consider your workspace requirements, work habits, and available room layout to determine if an L-shaped desk is a worthwhile investment for you
3. Can you switch sides with L-shaped desk?
In most cases, it is possible to switch sides with an L-shaped desk. The design of L-shaped desks allows for flexibility, enabling users to configure the desk to their desired orientation. However, the ease of switching sides may vary depending on the specific desk model and construction. Some L-shaped desks feature symmetrical designs, allowing you to easily switch between left-hand and right-hand setups by moving your belongings to the opposite side of the desk. However, certain L-shaped desks may have fixed components or pre-determined orientations, limiting the ability to switch sides. When purchasing an L-shaped desk, it is advisable to check the product specifications or consult the manufacturer to confirm if it supports switching sides.
4. Are L shaped desks more ergonomic?
L-shaped desks can offer enhanced ergonomic benefits compared to traditional rectangular desks. The spacious layout of an L-shaped desk provides ample room to arrange your computer, paperwork, and other essentials within easy reach. This can help promote proper posture and reduce strain on your neck, back, and shoulders by allowing you to position your equipment and supplies ergonomically. L-shaped desks also offer the advantage of having separate areas for different tasks, such as a dedicated workspace and a designated area for peripherals or reference materials. By utilizing the available space effectively, L-shaped desks can contribute to a more organized and comfortable working environment.
5. How much weight can an L-shaped desk hold?
The weight capacity of an L-shaped desk can vary depending on its design, materials, and construction. Generally, L-shaped desks are designed to accommodate the weight of typical office equipment, such as a computer, monitors, keyboard, and other accessories. Most quality L-shaped desks can support a range of weights, typically ranging from 100 to 300 pounds (45 to 136 kilograms) or more. However, it is essential to review the product specifications or consult the manufacturer to determine the specific weight capacity of the desk you are interested in. It is advisable to consider not only the weight of your current equipment but also any potential future additions or modifications you may make to ensure the desk can adequately support your needs.
Conclusion
If you're looking for a new desk offering functionality and style, then L-shaped adjustable desks are the best options. These versatile pieces of furniture are designed to provide ample workspace while allowing you to customize the height and configuration to suit your needs. The best part about them is that they utilize your room's mostly unused corner space and transform it into a productivity hub.In this article, above is the top 25 picks for the best L-shaped adjustable desks in 2023 and important factors to consider before purchasing.
Investing in a high-quality L-shaped adjustable desk can significantly enhance your productivity and overall well-being. The top picks mentioned in this article offer a range of features to suit various preferences and requirements. Moreover, consider important factors before choosing furniture from industry experts like Autonomous to elevate your workspace needs.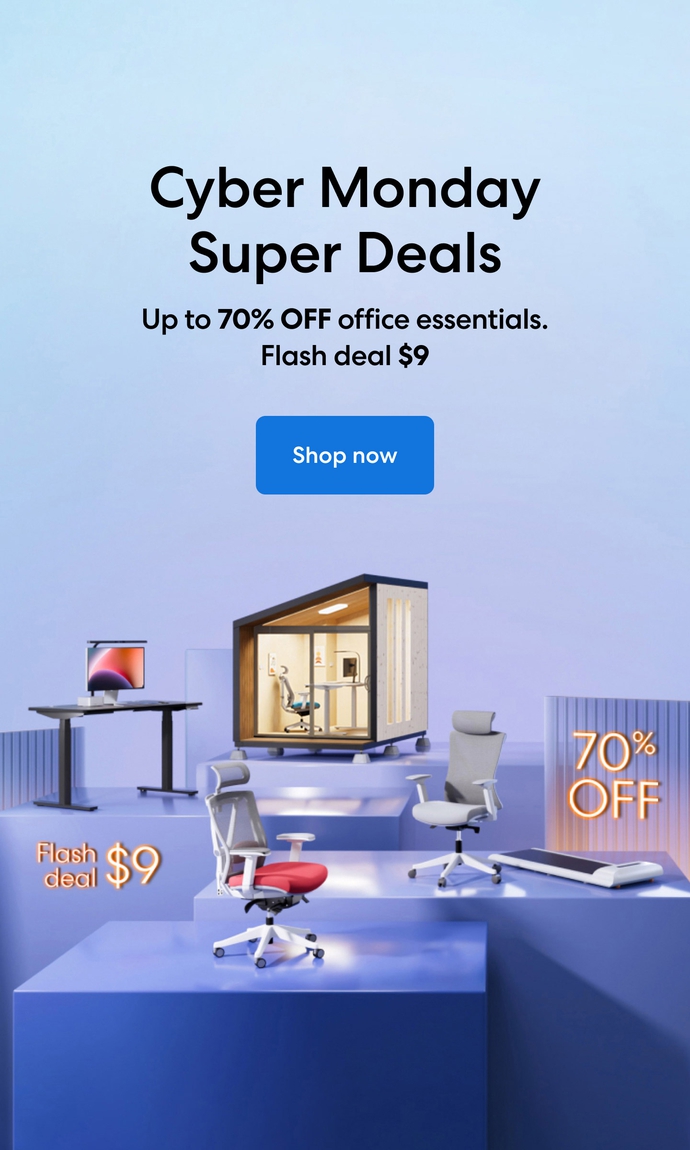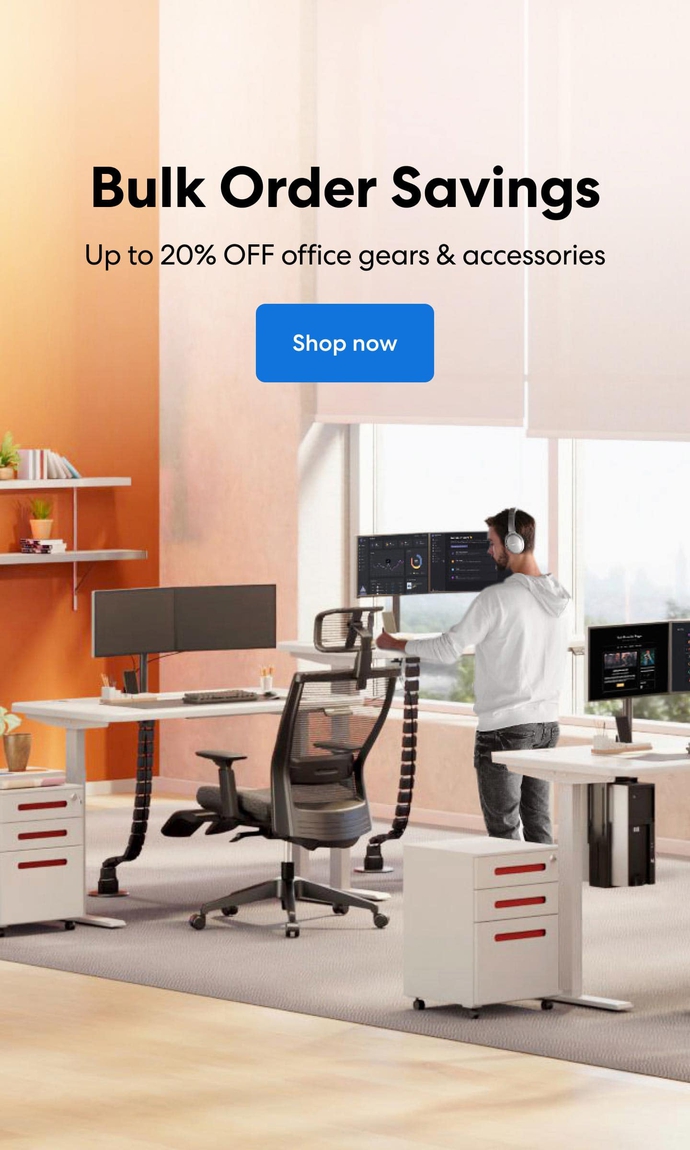 Subcribe newsletter and get $100 OFF.
Receive product updates, special offers, ergo tips, and inspiration form our team.