If you work in an office, you generally spend a vast amount of time seated at your desk. There are many ways to improve your productivity by making changes to your work desk organization. Making even the smallest changes, such as decluttering your space or adding some personal items, can increase your overall sense of focus and help you get more work done. Learn about 10 great office desk organization tips to boost your productivity below.
1. Change Your Desk
Could it be that your current work desk isn't ideal for your line of work, your office environment, or for great ergonomics? If you are due for a desk change or ready for something more suitable, you might want to look into a high-quality option built with ergonomics in mind. An office desk offers increased flexibility, better ergonomics, and an overall positive impact on your health and work efficiency. There are options for people in specific professions such as artists and office workers with various other style preferences.
2. Reposition Your Monitor
If you could do with a little more flexibility in how your monitor is positioned, consider buying a monitor arm. This gadget makes it easy to adjust and rotate the position of your screen. If your work requires you to use multiple screens, a monitor arm allows you to be flexible and more productive at your desk. Organizing office desk space is most successful when you, as the user of the area and the monitor, decide what is best for you.
3. Keep Your Cables Neat and Tidy
An important part of work desk organization is keeping the space as neat and uncluttered as possible. A messy desk and office is a sure way to weaken your mental clarity and reduce your overall productivity at work. The average office desk has many cords and cables hanging down and forming a tangled mess. Consider adding an easy-to-install cable tray to your SmartDesk to keep your cords in one place and out of your way.
4. Reevaluate What Items You Keep on and in Your Desk
Deciding how to organize work desk space is something you should take your time with. With a finite space available, every item you give a home on your desk surface must serve a purpose and must enhance and not hinder your ability to get work done. If you've never looked much into minimalism and the benefits, this could be the perfect opportunity to try it. There are many ways for you to adopt a minimalist desk setup. With this comes many benefits such as clarity, improved intentionality, and ultimately increased productivity.
5. Invest in Desk Organizers
The last tip was about cutting what you keep on and inside your desk. For everything that did not make the cut, you are going to have to find a new home for it. You may need additional drawer or shelf space if what you currently have isn't enough. For everything staying on your desk, you should consider desk organizers and desk trays for your paperwork, stationery, and other loose items.
6. Position Your Desk Just Right
Where you place your desk in your home or work office matters. For the right office ergonomics, consider the whole office layout and where you are going to be most comfortable working. When you are organizing, office desk positioning can seem a little radical, but it's amazing how much more productive you can become by just reorienting your desk. You should also consider what desk position you are likely to get the best lighting. 
7. Pick the Right Chair
Once you know which desk you are going to use in your office, you need a complementary chair. For maximum effectiveness at work, an ergonomic chair with adjustable height features is the best. The desk and chair combination should allow you to sit at your desk in the ideal sitting position for good posture. Without this, you can experience discomfort as well as neck and back pain.
8. Consider the Overall Ergonomics of Your Office
It's not just your desk and chair's position that matters when it comes to an ergonomic office layout. You have to think about how everything interacts and relates to each other. As the end-user of the office, it's time to think about what works, what doesn't work, and what could work better in your office layout. There are many great tips available on how to organize work desk space and design an ergonomic office.
9. Learn How to Optimize a Small Space and Create an Inspiring Work Corner
From this list of office desk organization tips, you can pick up ideas about what could work in your office given the unique limitations and constraints you might face. When a spacious office is not an option, you have to find the best way to make do with the space available. Many workers have moved to remote work and work-from-home opportunities. With this transition, people have found themselves having to create home offices in existing rooms and confined spaces. These often-makeshift office designs must allow users to work well with optimal productivity levels. There are lots of ways you can get creative with your corner desk setup for a home office.
10. Personalize Your Desk Space
There is nothing like a personal touch to get you in the right mood for working steadily through your to-do list. If your office desk is basic and impersonal, you could be missing out on a major source of inspiration. Having some personal items that bring out your smile somewhere on your desk improves your mood and productivity.
There are so many creative ways to generate motivation and positive feelings right at your desk. Adding personal items to your desk might mean bringing in some framed photos, a potted plant, or simply some sticky notes with your goals or some inspiring quotes. While you're having fun with this idea, be careful not to add too much to your desk and risk having a cluttered space problem. 
Wrap up 
For more tips on how to organize work desk space, consider the ideas presented here. The office desk organization tips in this article give you plenty of options to consider if you are ready to make some changes to improve your productivity.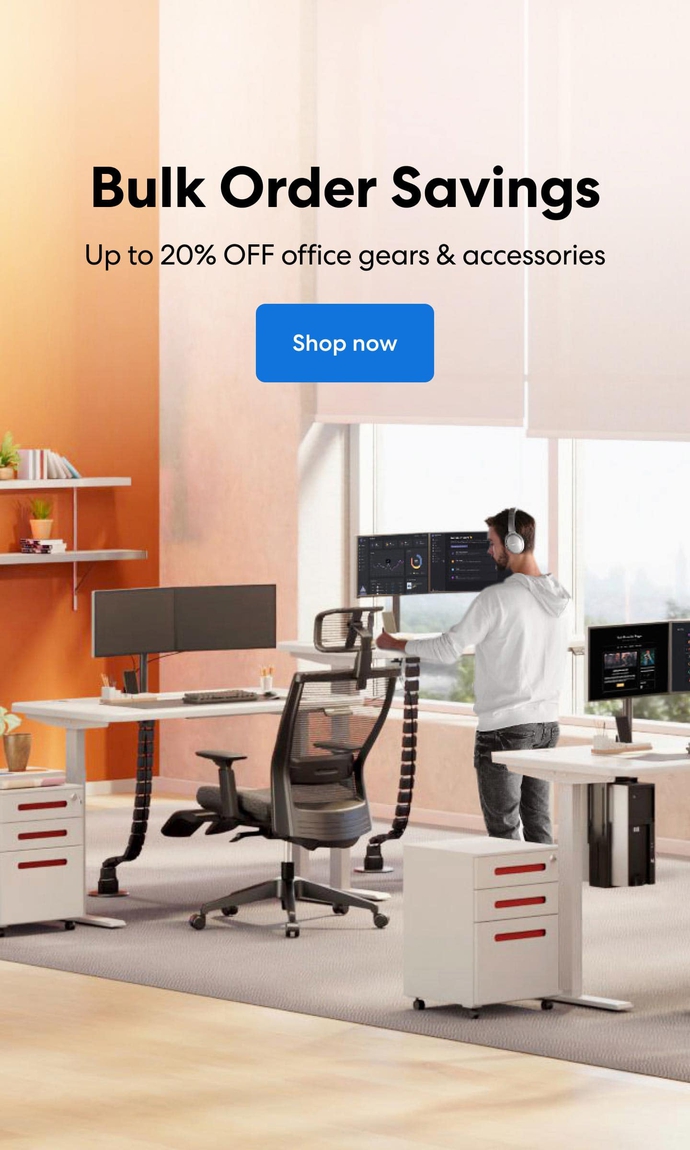 Subcribe newsletter and get $100 OFF.
Receive product updates, special offers, ergo tips, and inspiration form our team.