There's no argument that standing desks have become all the rave. There are so many standing desk shapes available on the market. However, sit and stand corner desk options have been few and far between until recently. L-shaped standing desks are growing in popularity, and we couldn't be happier. Nonetheless, this growth has posed a new challenge – finding the best corner standing desk for your corner office. That's where we come in. We have designed this article with ten of the best corner adjustable desk options to help you choose the best one for your corner office.
Using electronics, standing desks that can adjust height are typically powered by linear motors that can increase or decrease height with a button push. These desks offer substantially better performance, convenience, and speed than most manuaL desks. Standing corner desks have one more plus point on top of all that - they can easily be fitted into a room.
If you're after a table that seamlessly combines functionality and style, the modern marvel of a corner-standing desk is your go-to choice. With a focus on ergonomics and productivity, a corner sit-stand desk is more than just a fancy worktable. 
New models on the market have many versatile features to improve your lifestyle. If this is your first time shopping for such a product, give this detailed post a read. We scoured online and offline shops to pick the five best corner-standing desks for you.
Who Is This Detailed Review for?
If you're health-conscious and prioritize ergonomic designs, a corner stand-up desk can be a game-changer. People with limited space can also benefit from it. Gamers who need more desk area to house a PC and keyboard will appreciate such furniture pieces.
Remote employees working from home will also like corner standing desks for their functionality.
Our Top Five Corner Standing Desk Models  
Without further ado, let's get right into the product reviews. By the end of this section, you'll have a good understanding of what a corner sit-stand desk should look like.
1. The Autonomous SmartDesk Corner
The Autonomous SmartDesk Corner (L-Shaped Desk) is a fantastic option if you're looking for a corner desk for your workspace. This L-Shaped standing desk is built to be entirely customizable and versatile. It's also equipped to easily fit into any corner of an office or workspace.
If you're in the market for a workspace solution that offers more space and versatility, the Autonomous SmartDesk Corner might be just what you need.
The heart of the table lies in its triple motor system. This means you get an efficient, quiet, and robust system that can handle a substantial 400lbs weight capacity. No more worries about overloading your desk – this powerhouse has got you covered.
Its automatic and responsive keypad ensures you can easily transition from a sitting to a standing position within the length range of 42" to 71". This makes it four times more convenient than traditional setups.
Also, the frame of the adjustable height corner desk will last for years. Made from solid steel, it provides a stable foundation for your workspace. It's not just about durability. This desk gives you peace of mind by handling whatever you throw at it.
With its modular segments, it seamlessly fits into the corner of your room, using space efficiently.
The tabletop, made of high-quality materials, guarantees durability. It's not anti-collision, but the solid steel frame ensures that your workspace remains rock-solid and unyielding to any minor bumps or nudges. This makes it a practical choice for a bustling workspace.
Adjustable Height, Your Way
The adjustable height feature is where the product truly shines. It can effortlessly transition from 29.4" to 48" in seconds, thanks to its triple motor system. This means you can customize your desk's height to achieve the perfect ergonomic setup for your needs.
Four Programmable Settings
With four programmable settings, you can save your preferred heights. These settings allow for quick, one-touch adjustments that make your workspace truly yours.
Noise can be a distraction in any workspace, but this corner-standing desk keeps it down to a minimum. With a noise level of only 50dB, you won't have to worry about disruptive sounds when adjusting your desk. It's as quiet as a whisper.
One more reason to trust the desk is its generous five-year warranty period. This warranty highlights the manufacturer's confidence in the product's quality and durability, offering peace of mind to its users.
We give the Autonomous SmartDesk Corner a solid 4/5, reflecting its impressive features and the value it brings to your workspace.
2. Uplift Curved Corner Desk
Our next pick is the UPLIFT curved corner desk. This corner standing desk boasts not two, but a whopping four desktop colors to choose from, allowing you to infuse your personal style into your workspace. You can also choose between bamboo or natural rubberwood finishes. 
The Power Behind the Desk
The UPLIFT curved corner desk has a three-motor design, giving you the power and precision to adjust the desk's height effortlessly. This cutting-edge technology ensures a smooth and efficient transition, making it a breeze to find the perfect height for your workspace. With a basic keypad, you can effortlessly transform your desk.
Solid Frame for Stability
On top of that, this adjustable height corner desk is stable and durable. You don't want a wobbly table when you're in the zone. It features braces that keep the piece steady, even at the highest settings. The solid steel frame construction is the foundation for a workspace you can rely on.
One of the standout features of this desk is its quiet operation. Noise can be the bane of productivity. At only 50dB, this adjustable corner desk won't disturb you now and then. It ensures a peaceful and focused work environment.
The UPLIFT curved corner desk offers an impressive height range from 25.3" to 50.9". Whether you prefer sitting or standing while you work, this corner standing desk can accommodate your preference.
Plus, with a remarkable weight capacity of 535lbs, you won't have to worry about overloading your workspace.
With features like one-touch adjustments, a keypad lock, and the choice between flush, angled, comfort, and paddle keypads, this desk truly caters to your needs. You can even opt for a wireless foot switch for hands-free adjustments, making it even more convenient.
Also, as a cherry on top, you get some free accessories, including two frame anchor plates, a wire management tray, and cable tie mounts. These additional items make sure you have everything you need to set up your ideal workspace effortlessly.
Under-desk Wire Management
Say goodbye to cable clutter with the under-desk wire management system. Keep your wires organized and out of sight for a clean and tidy workspace. Our team rates the UPLIFT model 4/5.
This desk brings together functionality, style, and innovation, making it a top-notch choice for those seeking a versatile and reliable workspace solution.
3. VersaDesk PowerLift Desk
If you're looking for a model that combines innovation with style, the VersaDesk PowerLift desk is your ticket to a more efficient workspace.
Let's kick things off with the motor. This L-shaped adjustable corner desk is like a magician when it comes to height adjustments.
It's got an electric lift system that makes transitioning from sitting to standing or vice versa a breeze. No more manual cranking or wrestling with levers – just one-touch button magic. The electric lift system will make you bid adieu to the days of manually cranking or wrestling with levers.
The frame of this desk is not just sturdy; it's a style statement. You get to choose from four colors to match your vibe. Whether you're looking for industrial black or gloss white, your desk's frame will be a head-turner.
On top of that, the VersaDesk PowerLift desk isn't just about looking good; it's about quality, too. The desk's surface is made from high-pressure WilsonArt laminate, which looks fancy and is also dirt-resistant. You can work and snack without constantly worrying about those inevitable coffee spills or crumbs.
One of the coolest features of this desk is its adjustable height range. You can go from a sitting position at 31" to a standing position at 47". 
With five mounting positions, you're in control of how you set up your workspace. Whether you're a righty or a lefty, you can configure the desk to your liking.
Nobody likes a cluttered workspace, and the manufacturer understands that. It comes with a cable management system, making sure your wires stay neat and organized.
This corner stand-up desk is available in three surface colors, making sure you can pick the one that best suits your style.
The ultra-gloss white surface is not only sleek but also incredibly easy to clean. Just grab a dry-erase marker, jot down your thoughts, and wipe it clean. Also, the patented electromagnetic linear actuator system runs on only 12 volts of electricity, ensuring its energy efficiency.
Let's not forget the American manufacturing quality. The manufacturer uses CNC machinery to custom-make the surfaces, guaranteeing precision and durability. This corner standing desk is not only a workspace enhancer but also a lifetime investment, backed by a generous lifetime warranty.
We rate it a solid 4/5, and for good reasons. It's a well-rounded choice that truly caters to the modern office needs.
4. FEZIBO Electric Standing Desk
Further down the list, we have the FEZIBO electric standing desk. This model is spacious enough to hold two monitors, giving you enough room to spread out and work comfortably. No more juggling screens or feeling cramped – it provides the space you need.
The motor behind the FEZIBO desk is like your personal height-adjustment genie. It can take the table from a comfy 27.6" to a tall 47.3" in mere seconds. All you have to do is hit the button, and the magic happens. No more straining to adjust your desk; it's as easy as can be.
Durable Frame and Surface
The desk's frame is a solid steel marvel that ensures stability and durability. Also, the metal base is not just sturdy; it's also stylish, adding a modern touch to your workspace. Customize the wooden desktop with any of the four colors available, including rustic brown. 
Convenient Memory Presets 
One of the standout features is the three memory settings. You can save your preferred desk heights, making it a breeze to switch between sitting and standing with a simple touch. 
This corner standing desk operates with a noise level of just 50dB, which is about as loud as a hushed conversation. You can work all night without waking up your loved ones. 
The only thing we didn't like about the FEZIBO desk is its mere 176lbs weight capacity. It is large enough to handle two monitors and a laptop. Still, we wouldn't recommend putting too much pressure on it.
With its sleek motor, rock-solid frame, and low-noise operation, the FEZIBO Electric Standing Desk is undoubtedly a great addition to your workspace. However, the 176-pound weight limit could be a drawback if you have a lot of gear to support. Therefore, we rate this corner stand-up desk at a solid 3/5.
5. VIVO Height Adjustable L-shaped Desk
Ready to shake up your workspace routine? The VIVO height-adjustable L-shaped desk might do the trick.
The single electric motor provides a smooth and efficient transition from a comfortable 29.2" to a lofty 48.4" in seconds. Just a simple push of a button, and your workspace transforms effortlessly.
Say goodbye to tedious manual adjustments, and welcome the smooth, efficient movement provided by this quiet electric motor. Whether you're standing or sitting, this adjustable corner desk adapts to your needs with ease.
On top of that, the desk's frame is engineered for strength and style. With over 10 frame shades to choose from, you can personalize the table to match your vibe. Go with light wood if you like minimalistic décor. On the other hand, choose vintage brown if you love contemporary aesthetics.
The alloy steel base ensures stability and sturdiness, supporting your workspace needs. Also, the laminated finish and engineered wood add a touch of elegance to your home office, giving it a sleek and modern look. 
Memory at Your Fingertips 
Use the four memory presets to save your preferred height range. You can instantly transition to your desired height with the push button. You don't have to work hard to find the perfect range in the office. 
Add VIVO's global reputation for quality and customer service, and you've got a winning combination that truly elevates your work environment. This adjustable height corner desk is also lightweight, weighing only 55lbs.
Similar to the previously reviewed model, the VIVO height adjustable L-shaped desk features 176lbs weight capacity. A desk of such a price range should be able to hold more than that. Due to this reason, we rate this product a mere 3/5.
Choosing the best corner standing desk is not just about functionality. You need to find a product that makes your workspace a place where you can thrive and be your best self. We selected the five corner sit-stand desks mentioned above with budget, practicality, ergonomics, and features in mind. 
Take time to consider your preferences and look for a model that matches your office goals. Desks are hefty investments, so you need to research wisely beforehand.
Corner Standing Desk Dimensions for Office
The right dimensions for a corner stand-up desk can vary depending on the user and available space. Still, regardless of the measurements, the desk will typically have a "meeting point," which will form a 90-degree angle, allowing the desk to fit into any corner.
Some corner standing desks have the same measurements on both sides, while others have one larger side. Still, the price varies depending on the brand, the desk's quality, and the extra features it contains (drawers, sit-stand features, etc.).
L-Shaped Standing Desk Configurations
While buying an L-shaped adjustable desk, it is important to take into account the configuration. Typically, a standing L desk will have three legs that will lift the work surface and will provide it with more stability. Hence, the work surface Is divided into two perpendicular parts. One of the sides is commonly larger than the other.
However, please note that there are other options that go outside the traditional three-leg corner computer desk that can vary in price and size and can also be a better option for specific users.
Two-leg corner desk
If you are a bit tight on budget and would still like to have a comfortable workstation, perhaps you can use a two-legged corner standing desk. These desks typically have dimensions of 65" per side.
These desks are equipped with everything you need, from sturdy standing desk legs to an appropriate desk depth. It's very usual for these desks to have measurements of 65 inches on each side. You will be able to acquire them for a lower price. Plus, the assembly process is easier and more convenient.
This option is recommendable for people that are looking for L-shape desk ideas on a budget or perhaps those that have limited space at home.
Three-leg standing L desk
Three-leg L-shaped sit-stand desks are some of the most common types available. They are commonly referred to as "pork chop" standing desks, but they are also found in a two-leg presentation. A great example of these desks is the Autonomous SmartDesk Corner.
These desks provide you with more surface space. One of the sides usually is larger than the other, allowing you to build two different workstations on the same desk or perhaps a multi-monitor desk setup. You will be able to place all your peripherals and accessories comfortably on your desk.
Four-leg sit-stand desk
These desks are also known as "U-shaped standing desks." These desks are already outside the L-shape but provide the user with plenty of surface space. They're typically used in large corporations, but they can easily fit any workstation if you have enough space to fit one.
At the moment, U-shaped desks are a bit complicated to find and are typically more expensive. Many manufacturers have started to see the potential these desks have and are slowly adding this "new" option to their catalogs.
Which one to choose?
With so many options available, it can be a bit complicated to choose the right option for your case. However, it all comes down to evaluating your surroundings and the tasks you complete every day so you can find the best option for you.
If you have limited space and would like to place your desk in the corner of your living room, the kitchen, or perhaps in your bedroom, perhaps a regular two-leg corner desk can be the best option for you.
On the other hand, if you have a bit more space available and need more surface space to be able to complete your work, perhaps a three-leg standing L-desk can be a better option for you. These desks can also work in enclosed spaces if you thoroughly plan the layout.
Last but not least, if you have a dedicated room for your home office and need a ton of space to complete your daily responsibilities, perhaps a U-shaped desk can be good for you. Still, please note that there's not that much variety at the moment, which can make it a bit challenging to find a desk that actually resonates with you.
Guide on Assembling Autonomous SmartDesk Corner
While most people would tell you that installing one of these desks is a bit complicated, the truth is that Autonomous has simplified the process for you to get your desk working as soon as possible.
The Autonomous SmartDesk Corner is one of the most popular options by Autonomous due to the diverse features and plenty of surface space it has available. If you think this L-shaped standing desk is the right option for you, here we have some tips you can take into account during the installation.
The L-base is perhaps the largest item. Hence, it is necessary for you to find a room where you can fit all the parts for the assembly. When you're done setting up the legs, you may need the help of two other people to be able to place the base on the desk frame. Once done, you'll need to screw the top into the base to make sure it doesn't fall while you're using it. This is everything you need to do to start using your desk as soon as possible.
Once you've finished setting up the screw, the next step would be to power up your desk and start to use it. It is as easy as that!
Why Does Your Office Need the Best Standing Corner Desk? - 5 Benefits
There are a variety of reasons why having the best corner standing desk is an advantageous addition to your workspace. Some of the benefits of having an adjustable corner desk include: 
Corner desk maximizes the workspace
You're going to uncover extra workspace on each side of your workstation when you incorporate a corner desk setup into your office.
Corner executive desk provides easy adjustment
Improving the ergonomics of a workspace is more than just a keyboard and screen placement. When looking to make your office space more ergonomically beneficial, corner workstations should be top of the list. This is because corner stand-up desk placements provide easy adjustability between standing and sitting to negate the negative effects of sitting for too long.
It offers a significant working surface
When choosing the right corner stand-up desk, you're provided with enough space to support single, dual and multiple monitors setup without hitting the cabinets and walls when being adjusted.
Corner executive desk saves overall space
A corner stand-up desk that works perfectly in the best L-shaped adjustable desk configuration is going to fit neatly into an office corner or cube.
It makes the most of unused space
Deep corner desks are generally known to only house the occasionally lost pen, cords, and tons of dust. However, L-shaped standing desks are able to fill these previously unoccupied spaces.
Why Should You Purchase a Standing Desk?
Standing desks are becoming more and more popular. However, not many people understand the amazing benefits gained from using a standing desk. There are endless amounts of advantages that you can gain. However, one of the most well-thought-after benefits is that it eases back pain.
People that are sat at a desk all day mainly complain about back pain. This is incredibly common as sitting for long periods increases your chances of suffering from pain in your back, especially the lower back regions. However, using a standing desk helps alleviate this pain. After all, you don't sit for as long during the day because you're constantly transitioning from a sitting to a standing position.
In addition to negating the negative effects of sitting for too long, you're also able to increase productivity. Standing for longer periods each day positively affects your blood flow to your brain and other parts of your body. As a result of this, you're able to receive more energy that is sustained for longer periods. Thus, increasing your productivity.
Not to mention, your mood levels are also enhanced by this increased blood flow. In addition to this increased blood flow, many believe that these enhanced mood levels are also the result of being in less pain, as back pain is alleviated from the use of a standing desk.
However, with all that being said, it's vital that you choose a standing desk that's going to give you optimal adjustments, as standing at the incorrect height can also cause back, neck, and shoulder pain.
FAQs
1. What is an L-shaped standing desk?
L-shaped standing desks will always have three lifting legs, and always be constructed with two desktops mounted perpendicular to each other. L-desks are generally larger than corner desks, and allow for much more flexibility in terms of having the exact length you need against one wall versus the other.
2. Can I use a standing corner desk with two monitors?
Standing corner desks can significantly support two monitors, depending on the maximum load capacity of the converter. You can use two monitors providing that the weight of the two monitors is under the limit.
3. Is a corner desk and an L-shaped desk the same thing?
The size and shape of L-desks, corner desks, and triangular desks differ drastically. In general, corner desks are less expensive than streamer desk types. The reason is that most electric lifts include only two lift columns instead of three and only one desktop.
In an open workspace, corner desks can be arranged in creative ways. Chamfered corners are also available on some corner desks. However, their lifting capacity and maximum size are limited. The lift capacity of a three-legged L-desk is 50% higher, and it can be made to a larger size. Large cubicles are much more likely to use L-desks instead of fixed-height counters.
4. Is it reasonable to use standing desks all day?
As an alternative to sitting in a chair, you can work at these desks while standing. Custom-built standing desks can be expensive, but you can elevate your computer and convert a regular desk into a standing desk for free.
Standing desks have many possible benefits, the study suggests, other than weight loss. Researchers have shown that their blood sugar levels return to normal faster when people spend longer standing after eating. As for back and shoulder pain, standing instead of sitting may reduce the risk.
5. What is the recommended time for using a standing desk each day?
If you suddenly switch from sitting to standing all day, you might develop back, leg, or foot pain. Tackle it one minute at a time over 30 to 60 minutes, then consider gradually increasing your time.
6. Will I save space using a corner desk?
The desk aesthetics can be strategically positioned in the corner of a room, increasing the available space. By doing this, more furniture can be positioned in the room without feeling cramped. Additionally, an empty corner will no longer exist. Creating a homier environment in a dwelling can be done by filling up a corner.
7. What is the best way to sit at a corner desk?
It is recommended that under the desk, there are knee spaces, foot spaces, and thighs. If the desk is too low, you can raise it by placing strong boards or blocks under its legs. You ought to raise your chair if you cannot adjust the desk. Make sure your feet are supported as necessary by a footrest.
Conclusion
Using an L-shaped standing desk can be a good option if you'd like to have more surface space available for your accessories and peripherals. It can also help you be more comfortable while you're working as it won't make you feel like your desk is bloated.
Additionally, you can also take into account some DIY corner desks or DIY L-shaped desks and make your own project. You can purchase the frame separately or build it yourself, too. These L-shape desk ideas can help you find the best desk for your case and preferences if you need some inspiration.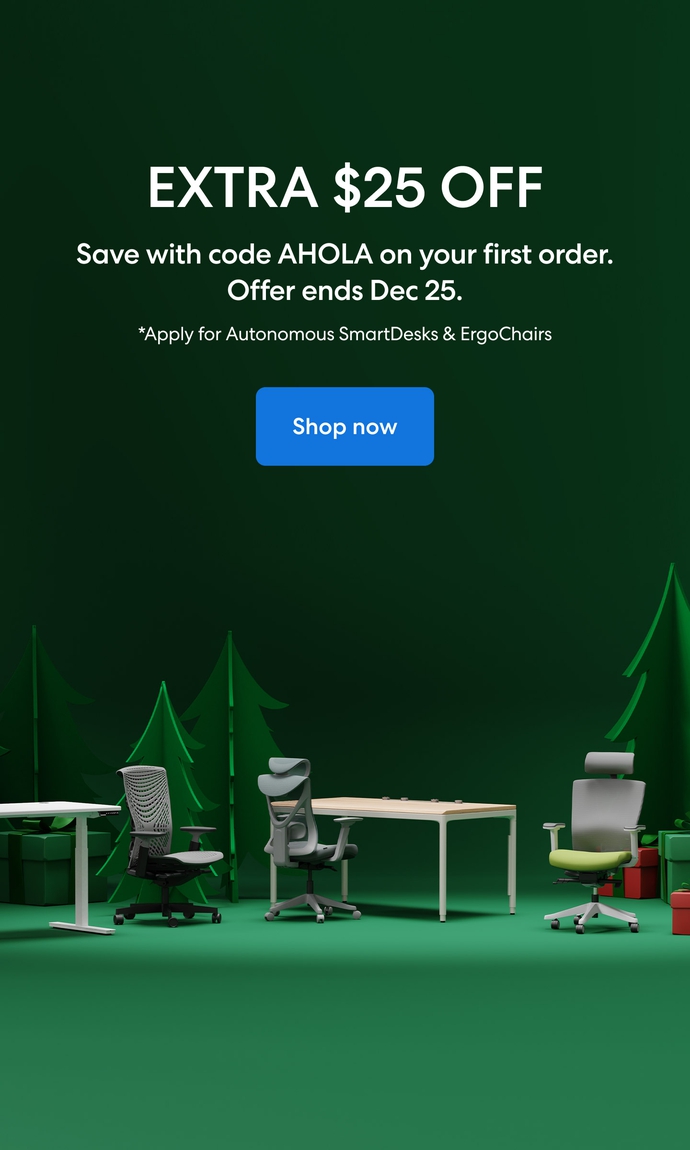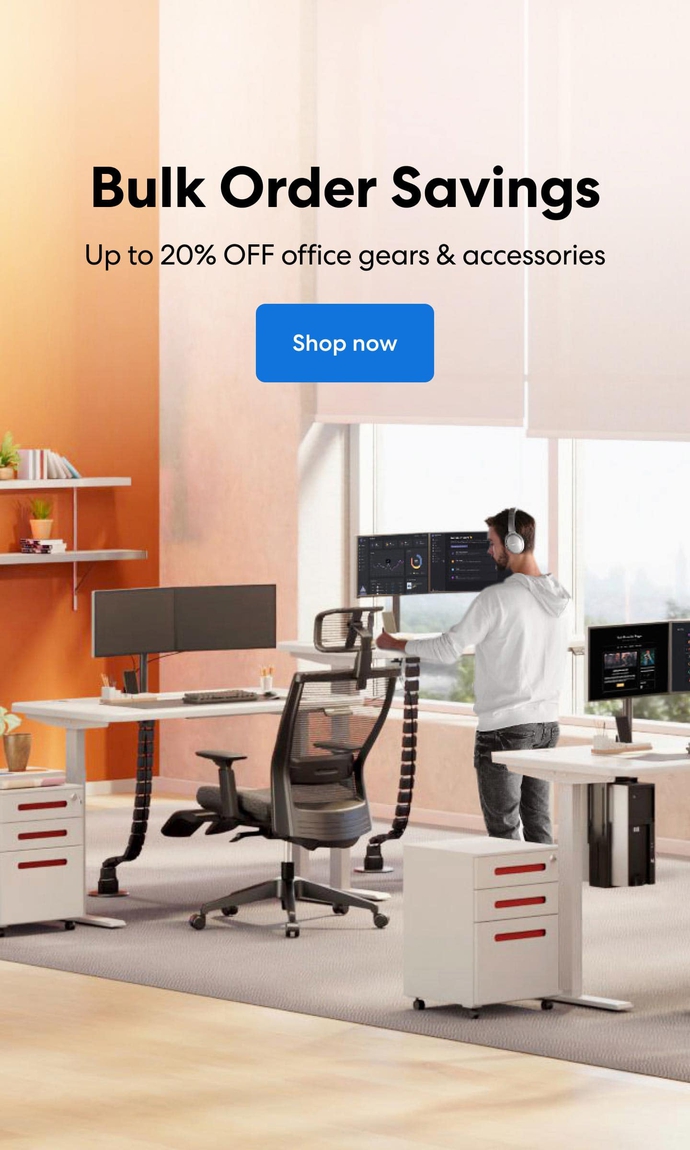 Subcribe newsletter and get $100 OFF.
Receive product updates, special offers, ergo tips, and inspiration form our team.