Workplace Inspiration
21 DIY Corner Desk Ideas for Small Spaces: Think Bigger
12,816 Views
Whether you're conducting work, scanning emails, paying bills, studying, internet surfing, or anything in-between, it's important to have a designated space to perform these activities effectively. However, a lack of space may be the one variable setting you back from establishing a workspace with small home office ideas. Nonetheless, we have got a perfect solution: corner desks that can fit into a small space.
We understand that one idea can't satisfy multiple people's ideas of what they would like this small workspace to look like. That's why we have taken the liberty of providing you with 21 different ideas, so you're sure to find one that you'd like to implement into your workspace. Moreover, we have all the benefits that you can gain from using an effective workspace.
Why Should You Have A Dedicated Workspace?
There are a variety of reasons as to why you should have a dedicated workspace. One reason is that it helps provide a comfortable working environment. This allows you to distance yourself from distractions like doing house chores and watching television.
Another reason for having a dedicated workspace is that you can increase your productivity by doing work in your working area. Dedicating a certain amount of time to being in a workspace allows you to make time to complete certain activities.
Workspaces also give you an area where you keep your necessary work-related items, rather than all over the house. This helps you stay more organized, which aids in you working more efficiently.
21 Small Corner Desk Ideas for Small Spaces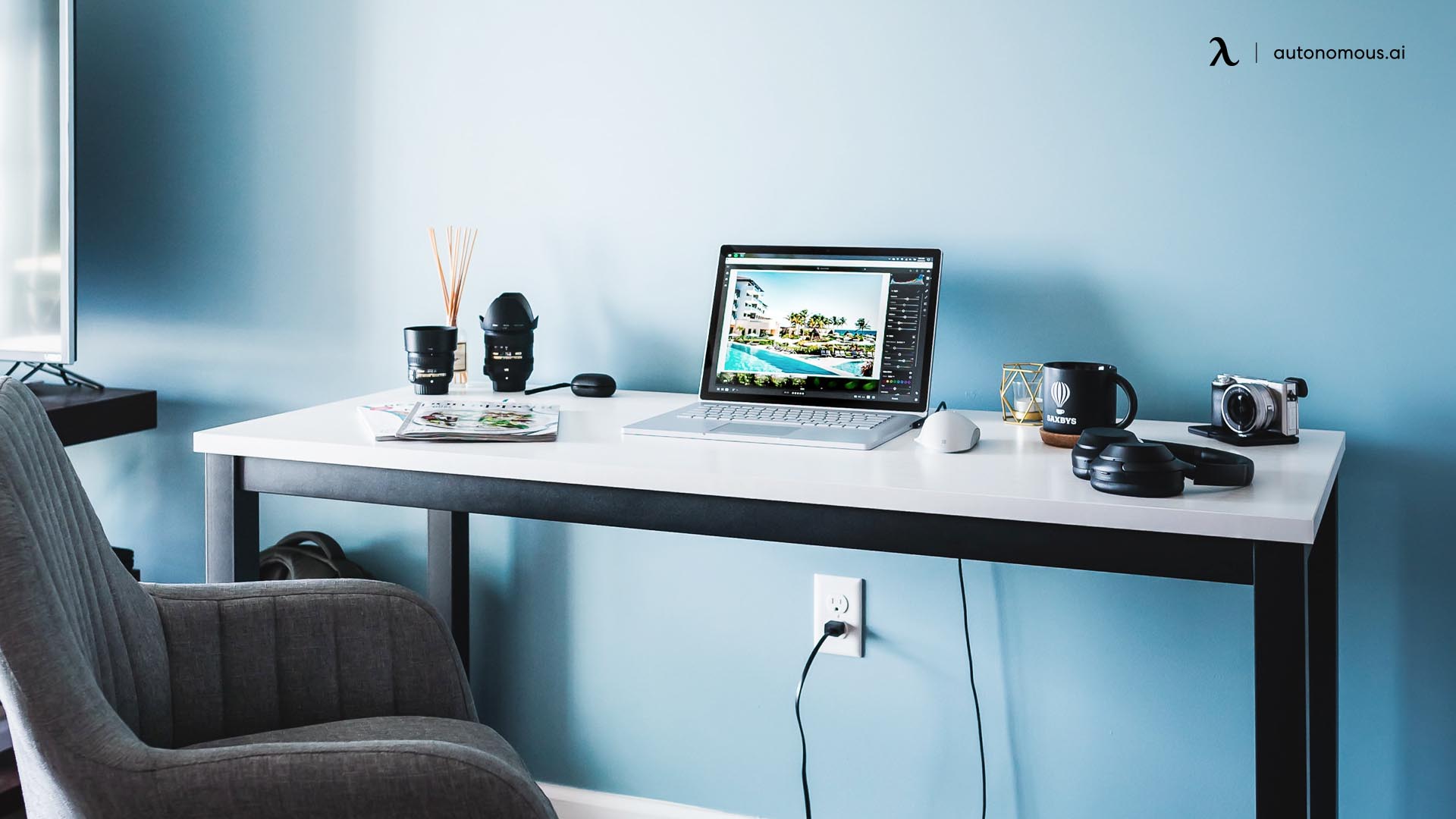 Here are some excellent small desk DIY ideas to hopefully inspire you to make use of this small unused space and turn it into a stylish workspace:
1. SmartDesk Core – Home Office
Using the SmartDesk Core – Home Office as a small corner desk DIY idea is a brilliant way to create a workspace in an area with minimal space. What is a standing desk? This is a standing desk, which can provide a vast amount of health benefits to the user. The desk is expertly built and has a compact size to fit into a small area without making the area look too cluttered. However, you may wish to DIY your desk. Autonomous offers a separate standing desk foundation so that you can supply your own top. This is called the SmartDesk DIY Kit. You just need to follow the instructions and make your own corner desk for small workspace.
Pros
Provides excellent health benefits as it's a standing desk.
The work surface can be customized.
It's a modern desk that suits most designs.
Doesn't look cluttered when placed in a small space.
2. Mid-Century Modern Style
Modern furniture that's low-slung and has a mid-century style that works really well when occupying a small space. The visuals aren't overpowering, which allows it to fit into a small space and not look cluttered. Here are some of the best modern desks that are chic and versatile to fit in most rooms.
Pros:
Stylist design.
It doesn't make the small space look too crowded.
Cons:
May not fit the style of the room.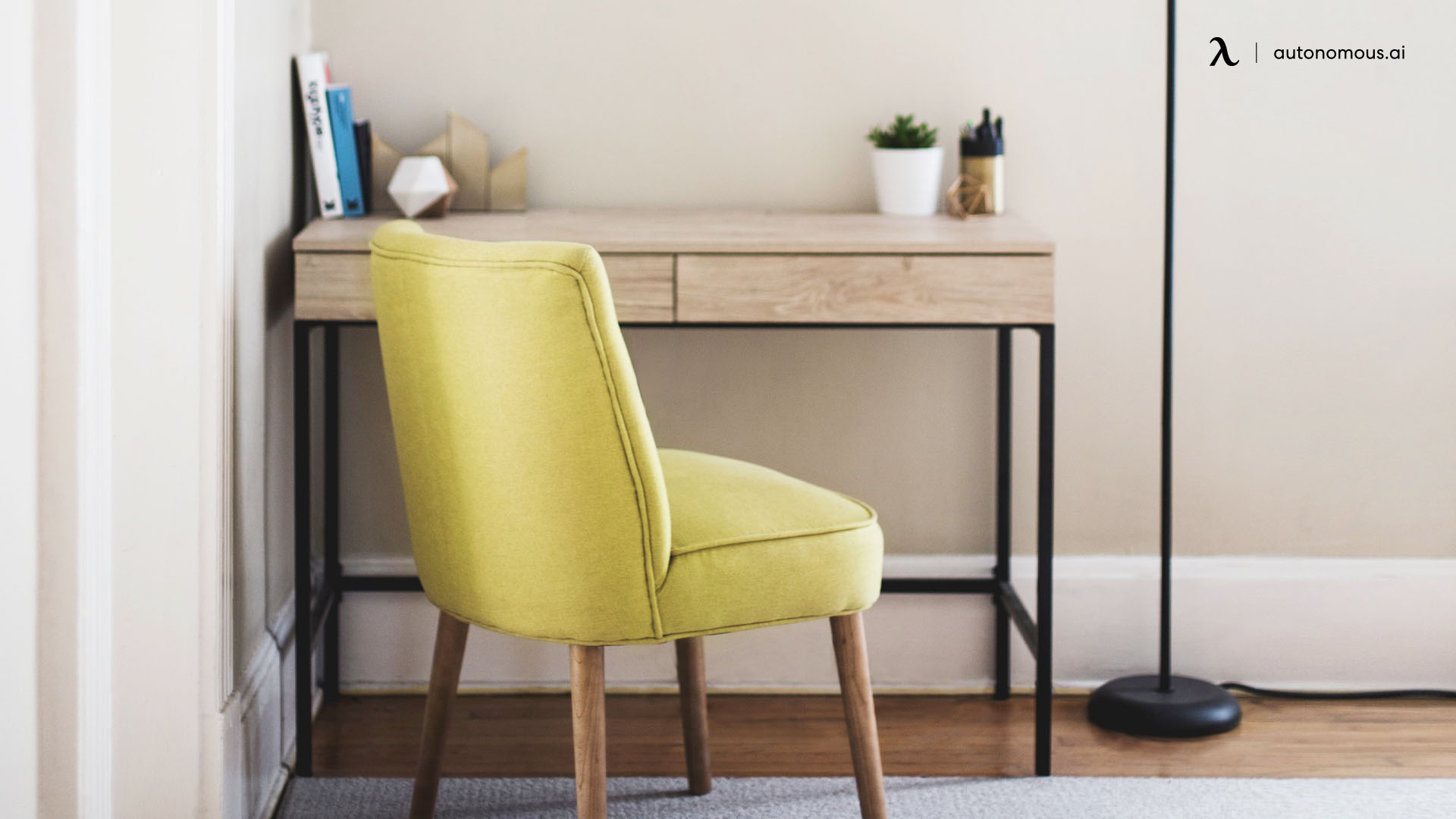 3. An Alcove Workspace
It can be tricky trying to make every inch count in a small dwelling. Nonetheless, you may be able to take advantage of an alcove. If the wall's width can accommodate the size of a desk, you could put up a corner desk into this small space.
Pros:
Simple to install.
Great way to utilize empty space.
Cons:
Space may be too small to conduct certain types of work.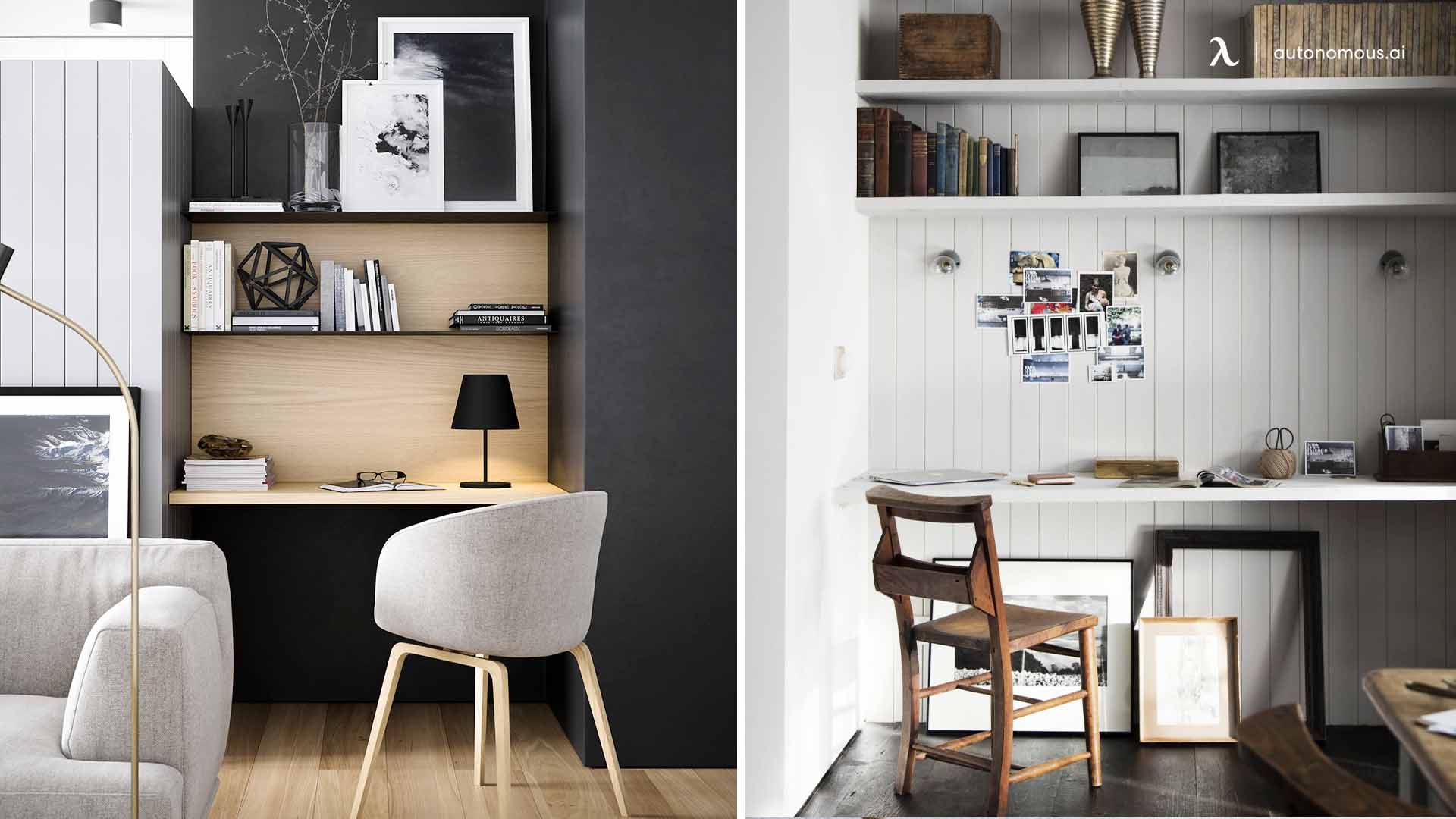 4. Lucite Desk
A Lucite desk is a brilliant way to create a workstation in a limited space. Lucite is a transparent compound. Making a desk out of Lucite provides you with a clear structure. Using this when designing your small workspace offers the illusion that there isn't much taking up that space. Thus, that small space doesn't look cluttered, unlike most scenarios where a big, chunky desk is placed in a small space and overpowers the entire room.
Pros:
Creative DIY can be done to the top of the desk to make it more customized.
Great use of space without looking cluttered.
Cons:
Requires unique products and methods to clean the Lucite effectively.
5. L-Shaped Counter Wrap-Around
Some spaces don't allow for a big desk to fit into one area. Instead, a better way to make use of the space is to install an L-shaped desk. One of the best L-shaped desks that comes highly recommended is one type of the l-shaped standing desk. This design provides the best solution for those who are looking for a corner desk for small space utilization.
Pros:
An excellent way of utilizing narrow spaces.
Creates a stylish design
Cons:
It can be expensive to set-up.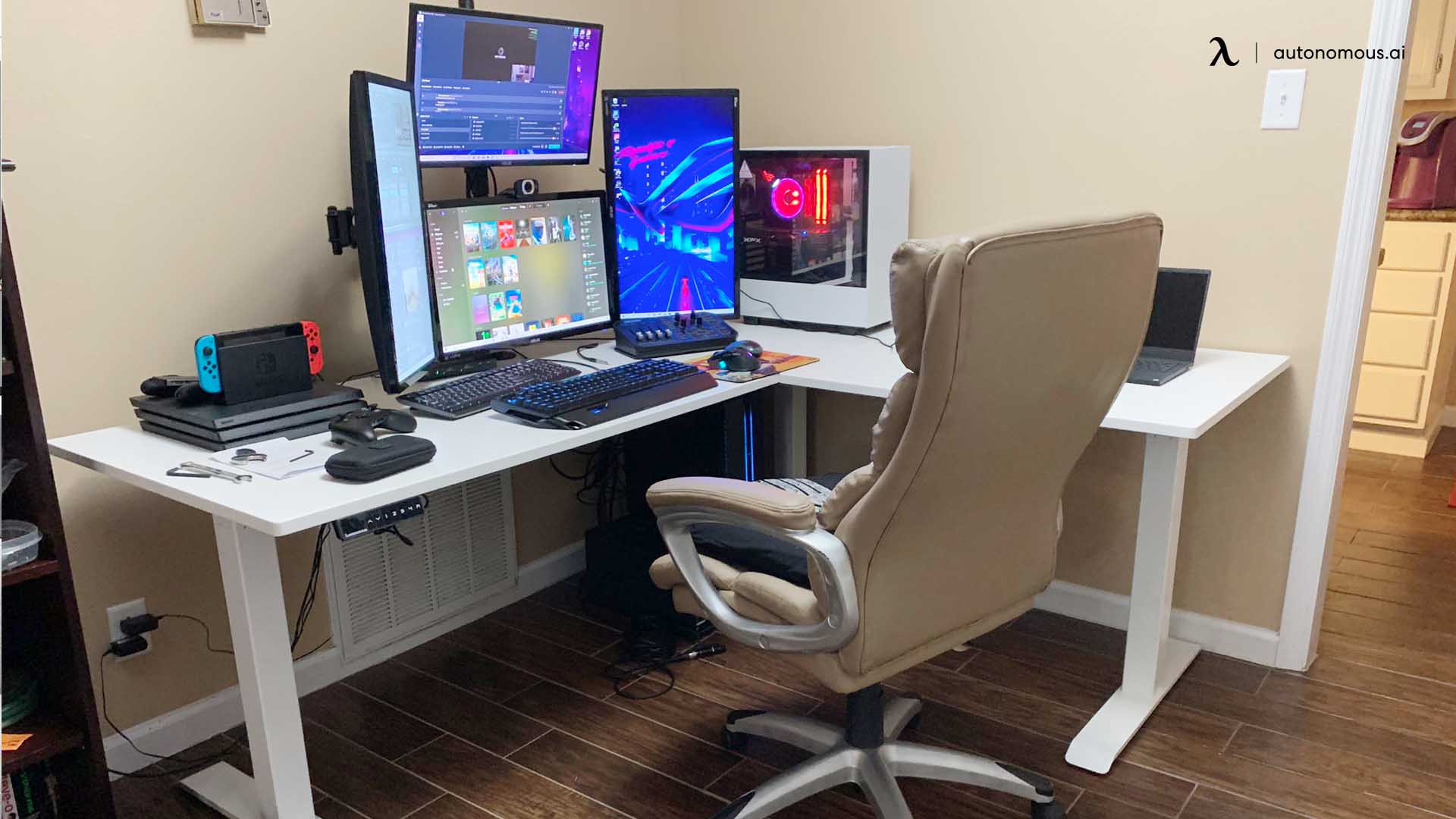 6. Floating Drawer
A floating drawer is an exceptional small corner desk DIY idea. You may have a small, empty space right by a door or near a corner that needs to be filled. A floating desk gives you the ability to work on top of the draw and store all of your equipment inside it. It may be too overpowering sometimes when you have an entire desk and chair. You can pull up a chair and work with a floating desk and remove the chair when you're done, so it doesn't even need to look like a workspace.
Pros:
Great way to occupy wasted space without being too overpowering.
Can easily be installed
Cons:
It isn't equipped to act as a complete office workspace.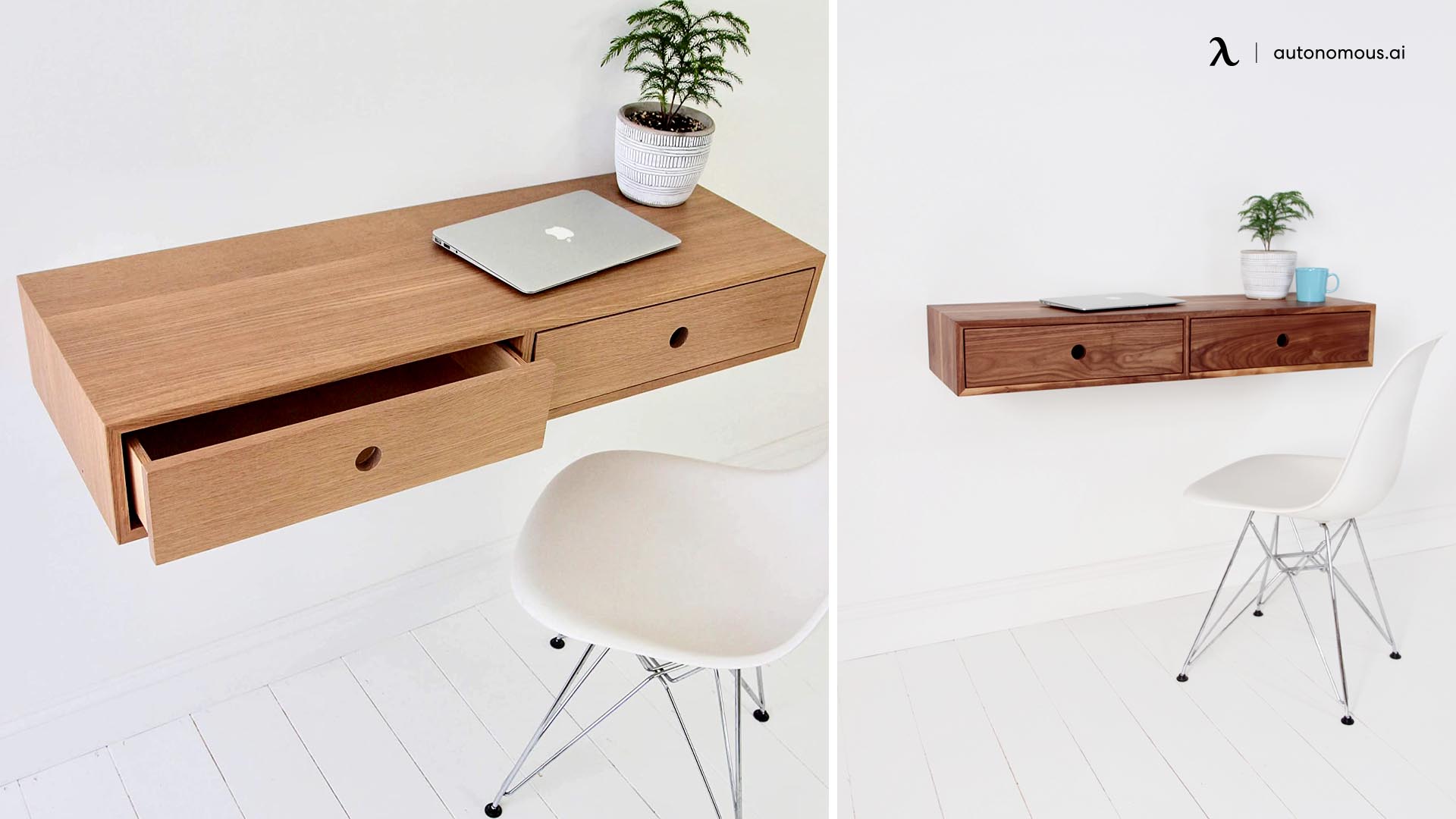 7. DIYing a Murphy Desk
The Murphy bed is the inspiration behind this folding desk. This is made possible by attaching hinges to the work surface and the legs. This design provides the folding-out feature. Moreover, the desk is mounted to the wall and lies flat against the wall when the desk isn't in use.
Pros:
It's a great DIY project to partake in.
Offers a workspace without taking too much of the minimal space available.
Cons:
Doesn't provide any storage space for documents, stationery, a computer, or other items needed in the workspace.
8. Floating Window Desk
There is something so lovely about having a window niche. However, the angles of this type of niche create an awkward area of wasted space. Added a floating corner desk to this frame is the perfect solution to utilize this space. You're given a working space with a great view as you're facing the window.
Pros:
Great way to utilize a small, wasted space.

Doesn't require the purchase of an entire desk.
Cons:
Getting a floating desk that fits the window niche's exact specifications can be challenging, and you may need to get one customized.
9. Wire Frame Desk and Shelving
These are incredibly stylish small corner desk ideas for small spaces. You can customize the design to make it your own but the main elements of the structure require items such as brackets, wire shelving standards, and a work surface. The wire shelving standards are mounted to the corner with a desktop and shelves attached to the shelving standards.
Pros:
Relatively straightforward and inexpensive to set-up.
Stylish design that doesn't take up a lot of space.
Cons:
Reputation for being unstable.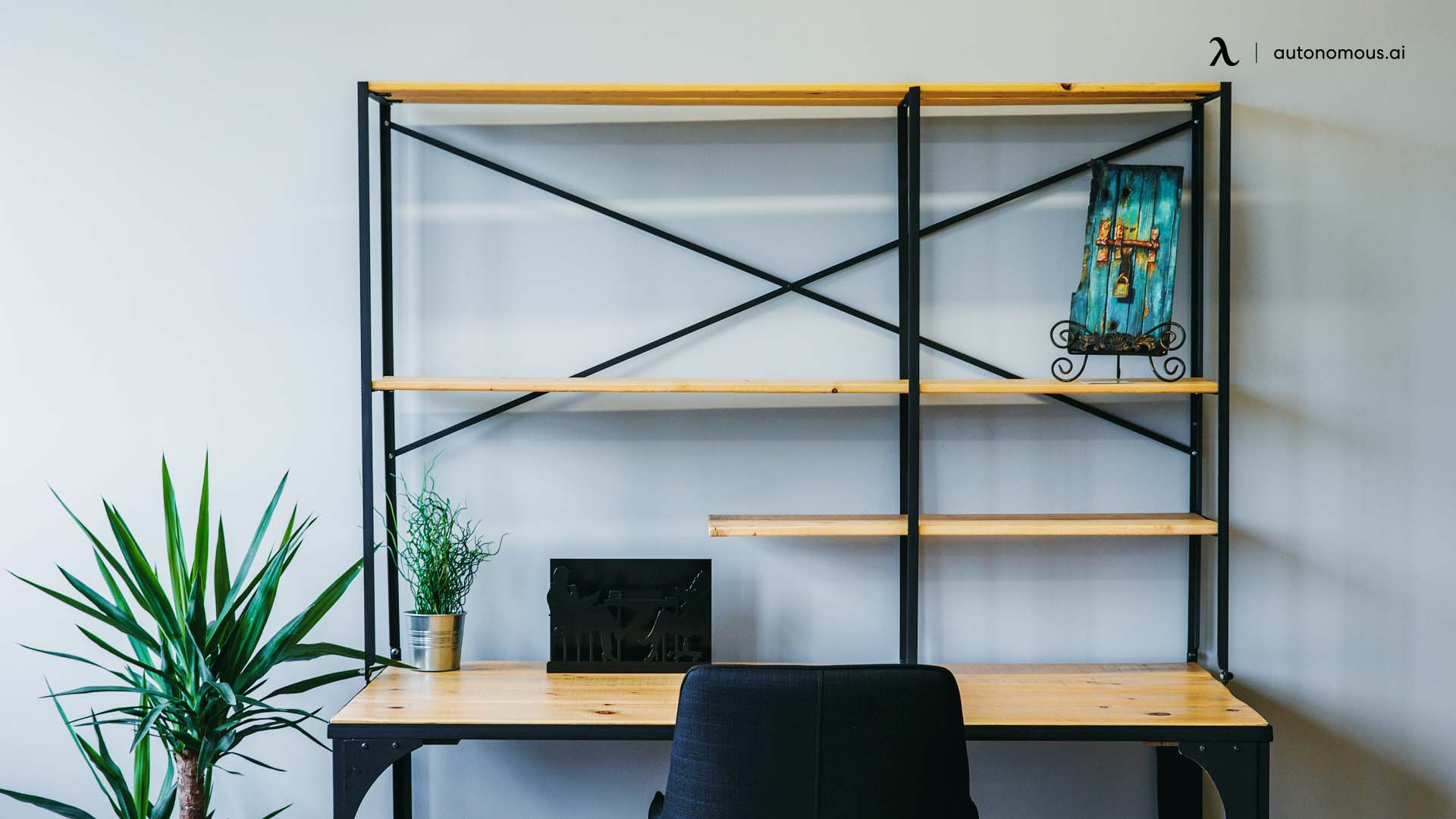 10. Vintage Upcycled Desk
Using a vintage desk is one of many great small corner desk ideas to create a workspace that doesn't take up too much space. These upcycled desks are known for providing a fair amount of character to the room. You can find these desks at antique shops, donation centers, and online platforms such as eBay and Craigslist. You can DIY it to fit your personal style, such as painting the desk a different color to go with the room.
Pros:
Cheaply available.
Can be DIYed to fit the style of the room.
Cons:
Doesn't offer any health benefits (Not a standing desk).
11. Multi-Use Desks
A multi-use desk is a great way to optimize the limited space you have available in your home. You can place this desk in your kitchen corner and it can work as a little bar. You can then transform it into a working area by flipping the desktop over.
Pros:
You can use the desk for more than one purpose.
It offers a large workspace.
Cons:
It can be difficult to set-up.
12. Floating Desk at Bar-Height
This is one of the best small corner desk ideas for small spaces as it can be used to turn an untapped corner of a room into an incredible workspace. All you need to achieve this design is some brackets and plywood. Setting the desk to a bar-height allows you to sit on a barstool or stand while doing work.
Pros:
It allows you to utilize an untapped corner.
Grants you the opportunity to stand comfortably while you work.
Cons:
Using a bar stool instead of an office chair can be frustrating.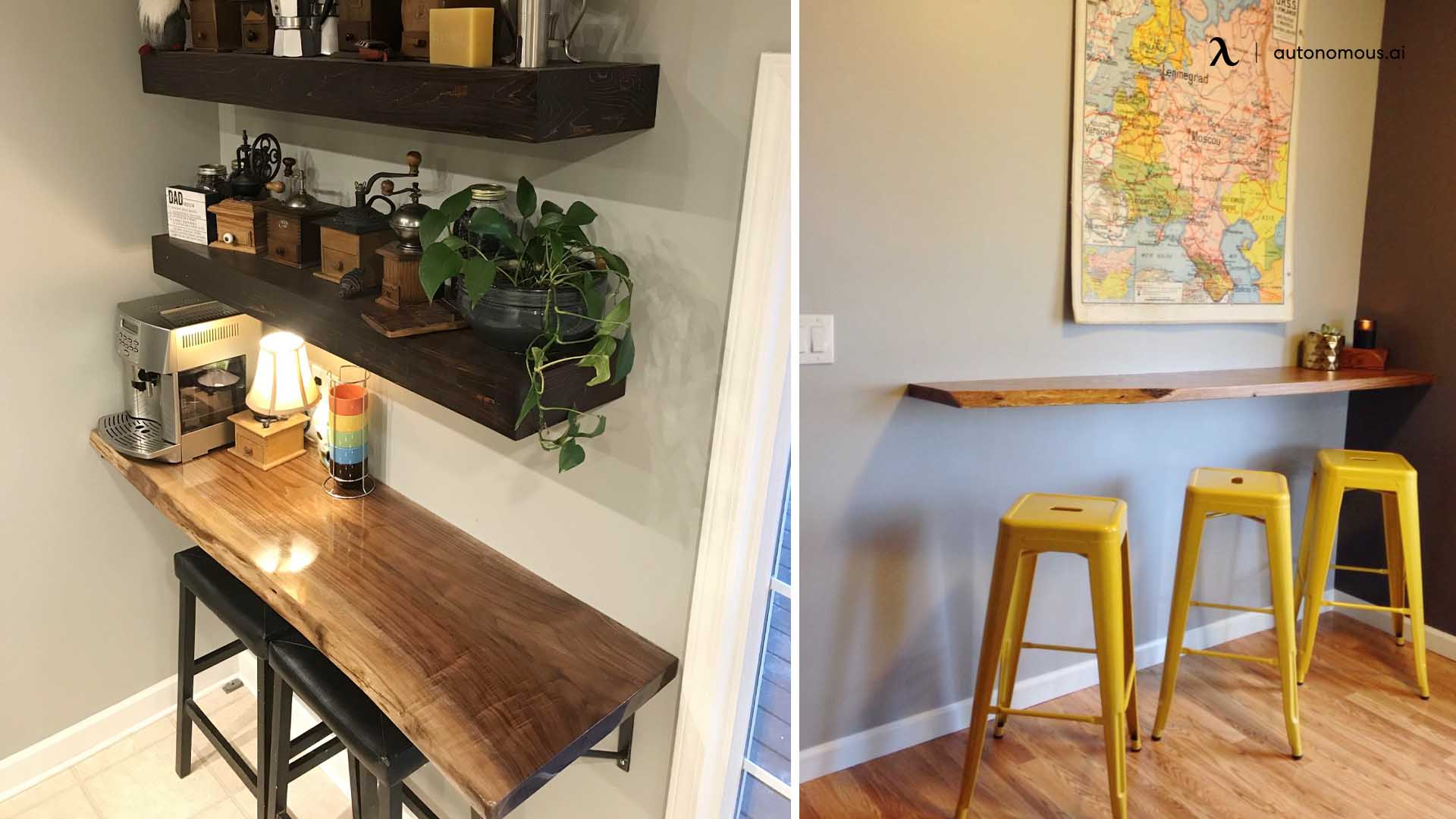 13. Incorporating a Lucite Chair
You may be able to squeeze a desk into your small space. However, adding a chair may be too much. A simple solution would be using a Lucite chair instead. These chairs are very useful as it gives the illusion of being invisible. Thus, it looks like not as much space is being taken up.
Pros:
Goes with most desks.
Helps fit a workspace into a small space.
Cons:
Not an ergonomic office chair.
14. Putting a Desk in a Closet
You may not have a lot of space in your house or apartment, but you may have a spare closet. This is all you need, along with wall-mounting storage shelving. Your workspace vanishes in an instant as soon as you close the door of the closet.
Pros:
Relatively inexpensive and straightforward to set-up.
Your workspace doesn't need to be displayed in common areas of your home.
Cons:
It can be a tight fit (depending on the size of your cupboard).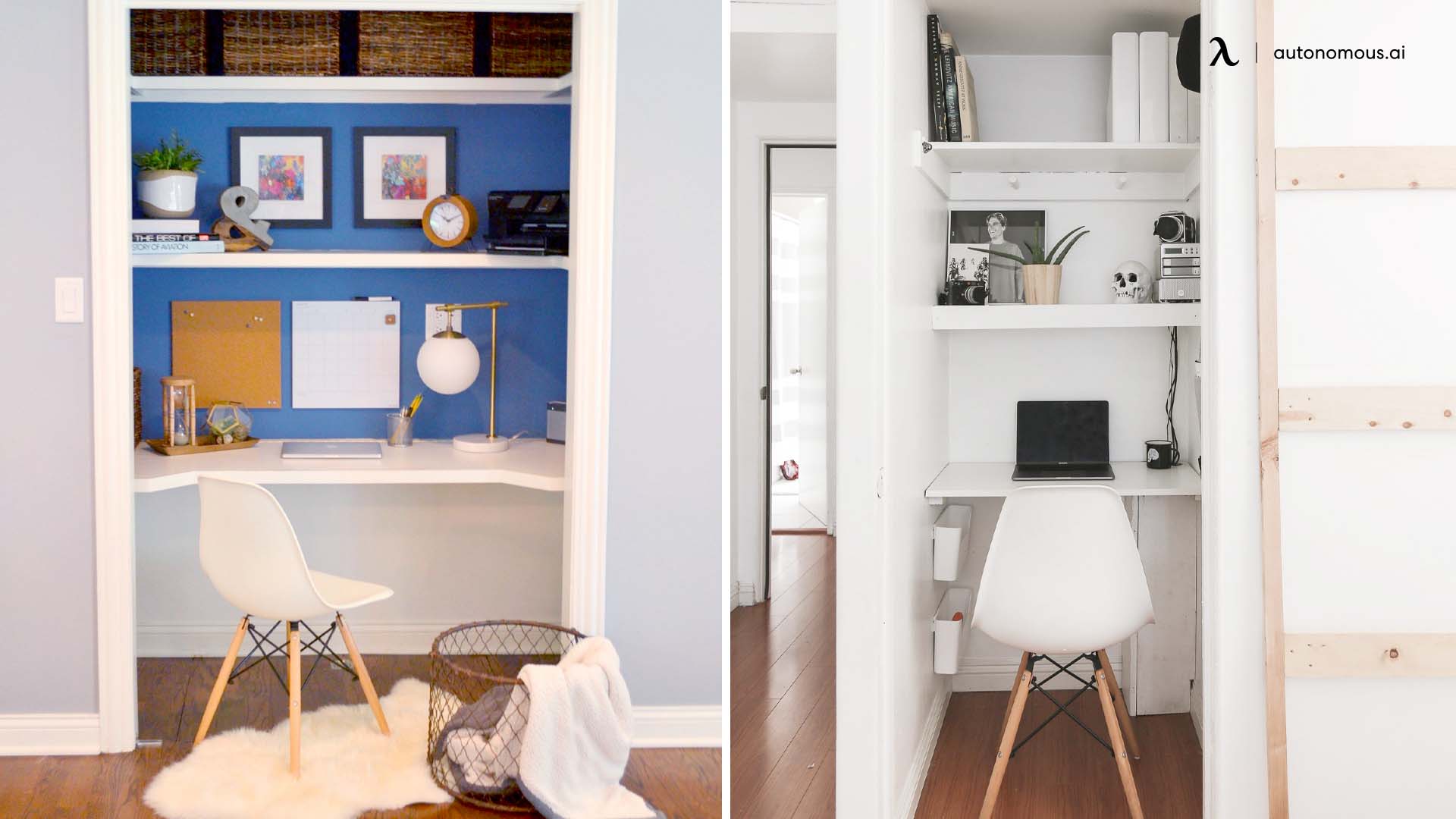 15. Live-Edge Wooden Desktop
A live-edge wooden desktop adds a rustic look to any workspace. You can choose to install the desktop as a floating desk. However, if you wish to incorporate a standing desk into your small desk workspace, you can use the SmartDesk DIY Kit and add the live-edge wooden desktop. The desktop can be cut to any size to accommodate the small space you wish to use.
Pros:
Offers a natural, rustic look to a workspace.
It can be used with a standing desk.
Cons:
Not a very versatile style.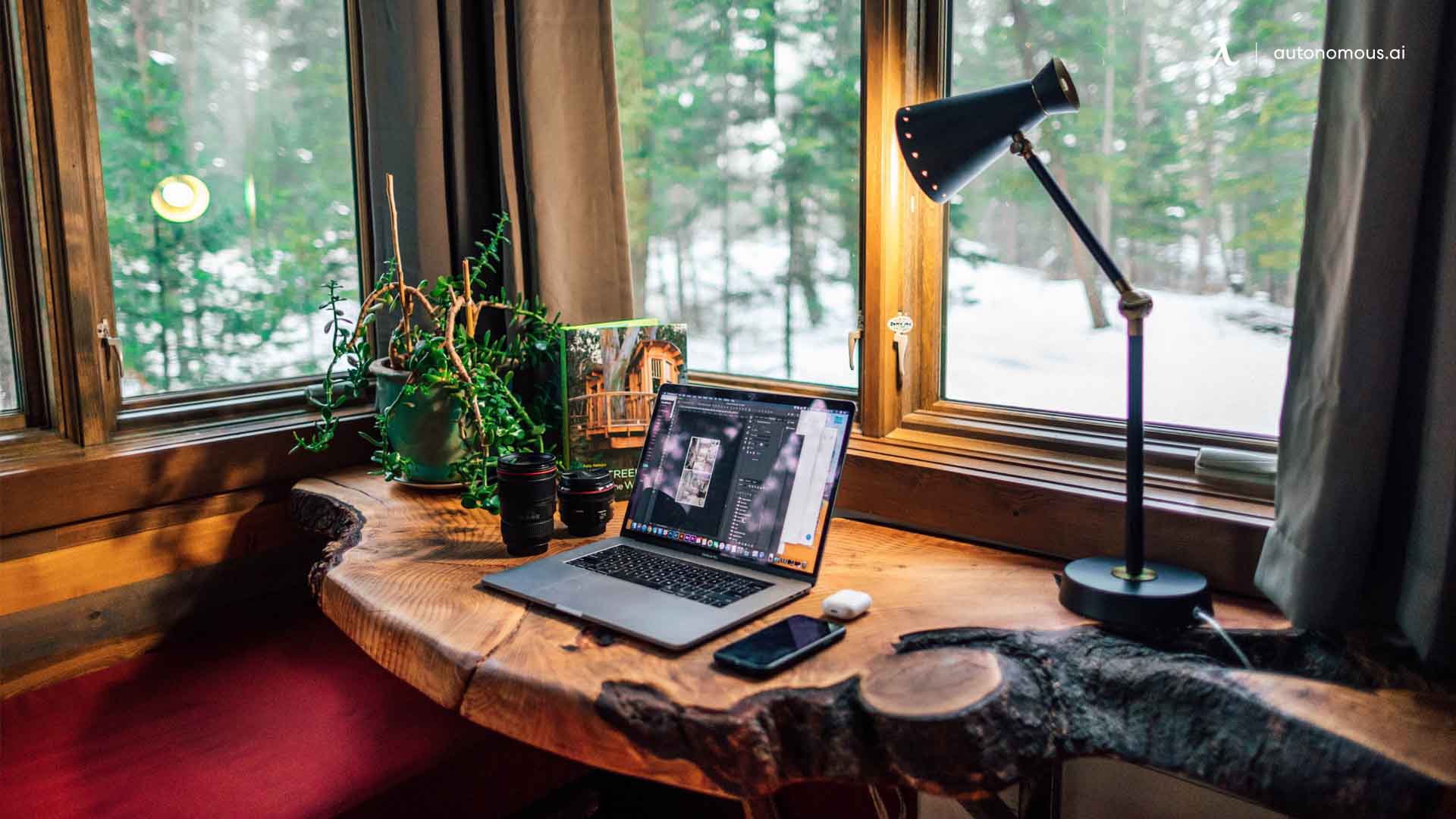 16. Flea Market Desk Finds
Finding a small desk to fit into your limited space can be done by scavenging through flea markets. There are some great deals out there, and most of this furniture adds character to any room, and you can perform some DIY on the desk to suit your style and theme of the area you wish to place it.
Pros:
Cheaply available.
DIY option to best fit your style.
Cons:
Very rare to find a standing desk at flea market sales.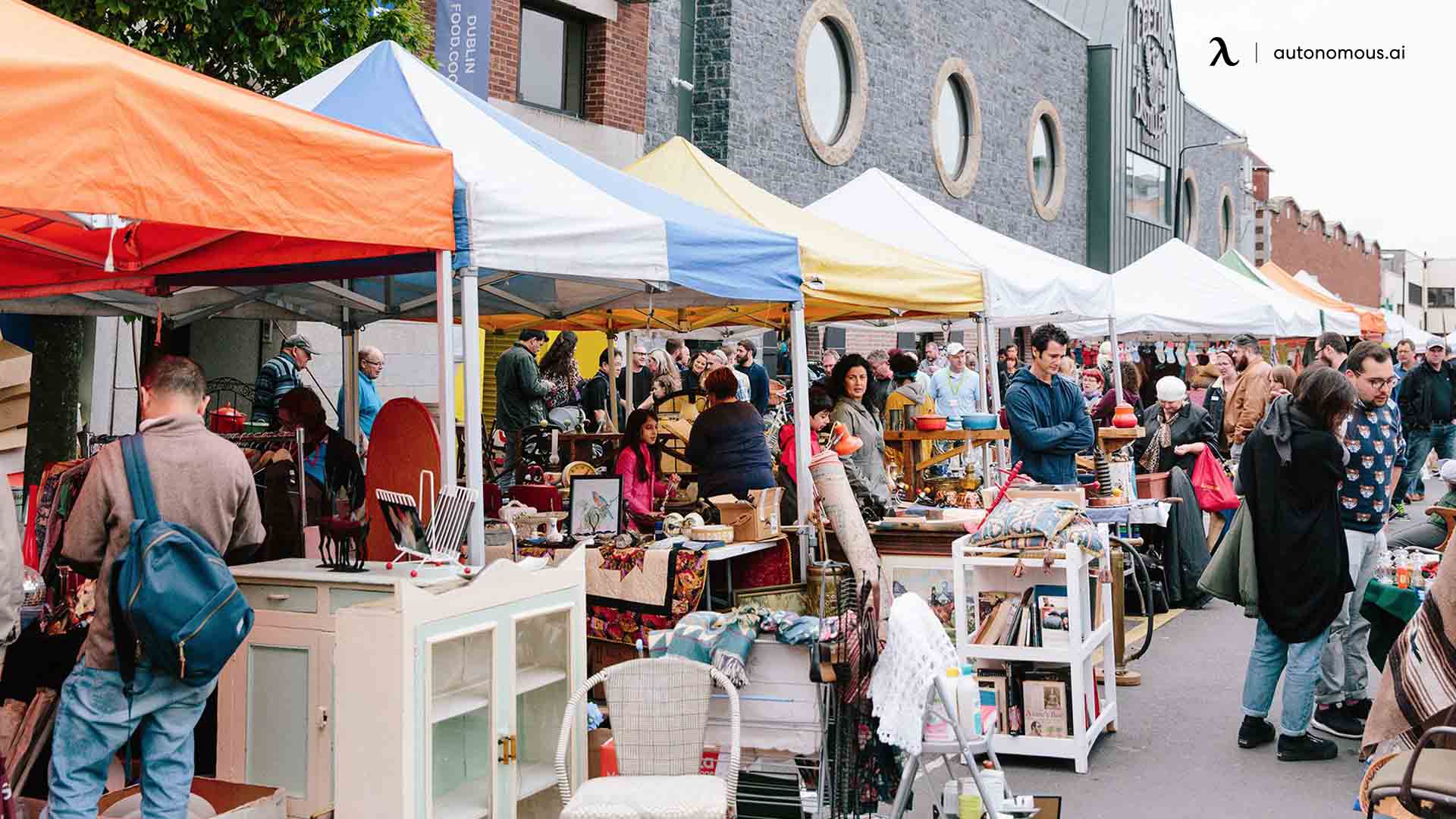 17. Kitchen Office Workspace
Filling a small empty corner in your kitchen with a corner office desk for small space utilization is an excellent way to create a workstation with limited space. The desk can be specially designed to add additional space in the kitchen for people to eat when no one is using the desk as a workstation.
Pros:
Utilizes small, awkward space that's missing furniture.
Provides additional seating space for guests when eating in the kitchen.
Cons:
It can be costly to set-up.
18. Simplified Standing Desk
This standing desk is similar to a murphy bed, as it lies flat against the wall until it's needed. When the user wants to transform it into a workstation, the board is detached from its laying position to create a floating desk that you can work at while standing.
Pros:
It provides you with the ability to stand while you work (Many health benefits).
It's easy to set up and can fit into most places.
Cons:
You need to invest in a bar stool if you wish to sit and work.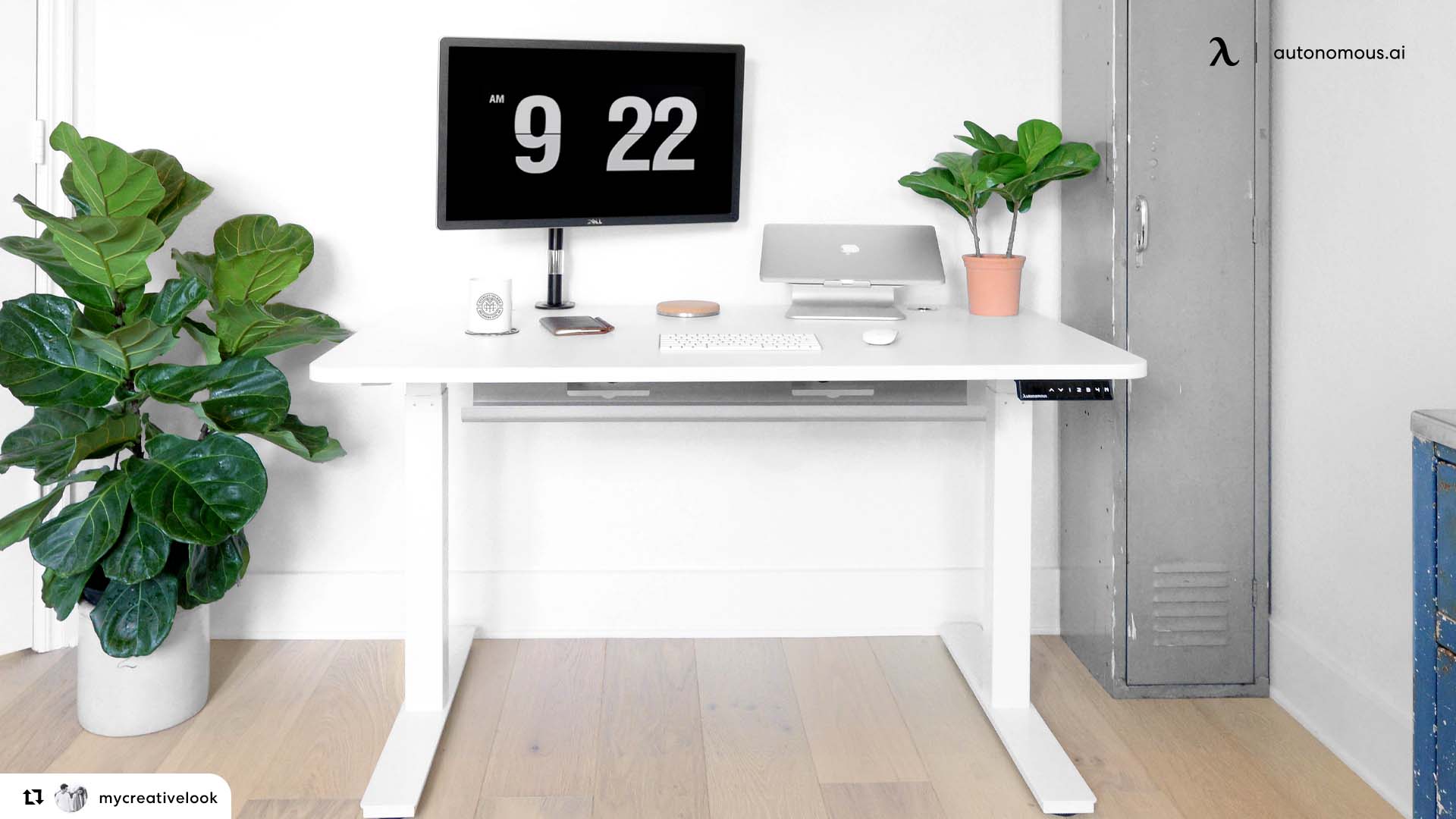 19. Utilizing an Empty Wall
Using a blank wall is an incredible option for a small space desk. You can spread the desk across the whole wall to provide you with more space. Doing this can also offer some decoration to a blank wall. All you need is some wood, wall mounters, and brackets.
Pros:
Easy and cheap to install.
Aids as a workspace while being decorative.
Cons:
It doesn't provide ergonomic benefits unless it's installed at bar-height.
20. Quick Fix Desks
Making a custom desk that fits into a small space can be done easily and quickly when you have the right equipment. An example of a quick DIY table is to place a desktop (a slab of wood or plastic) on top of two small filing cabinets. This gives you access to a workspace that can be taken apart easily when you're not using it and offers tons of storage.
Pros:
Cons:
It doesn't provide you with the ability to stand while you work.
21. Open Structure Furniture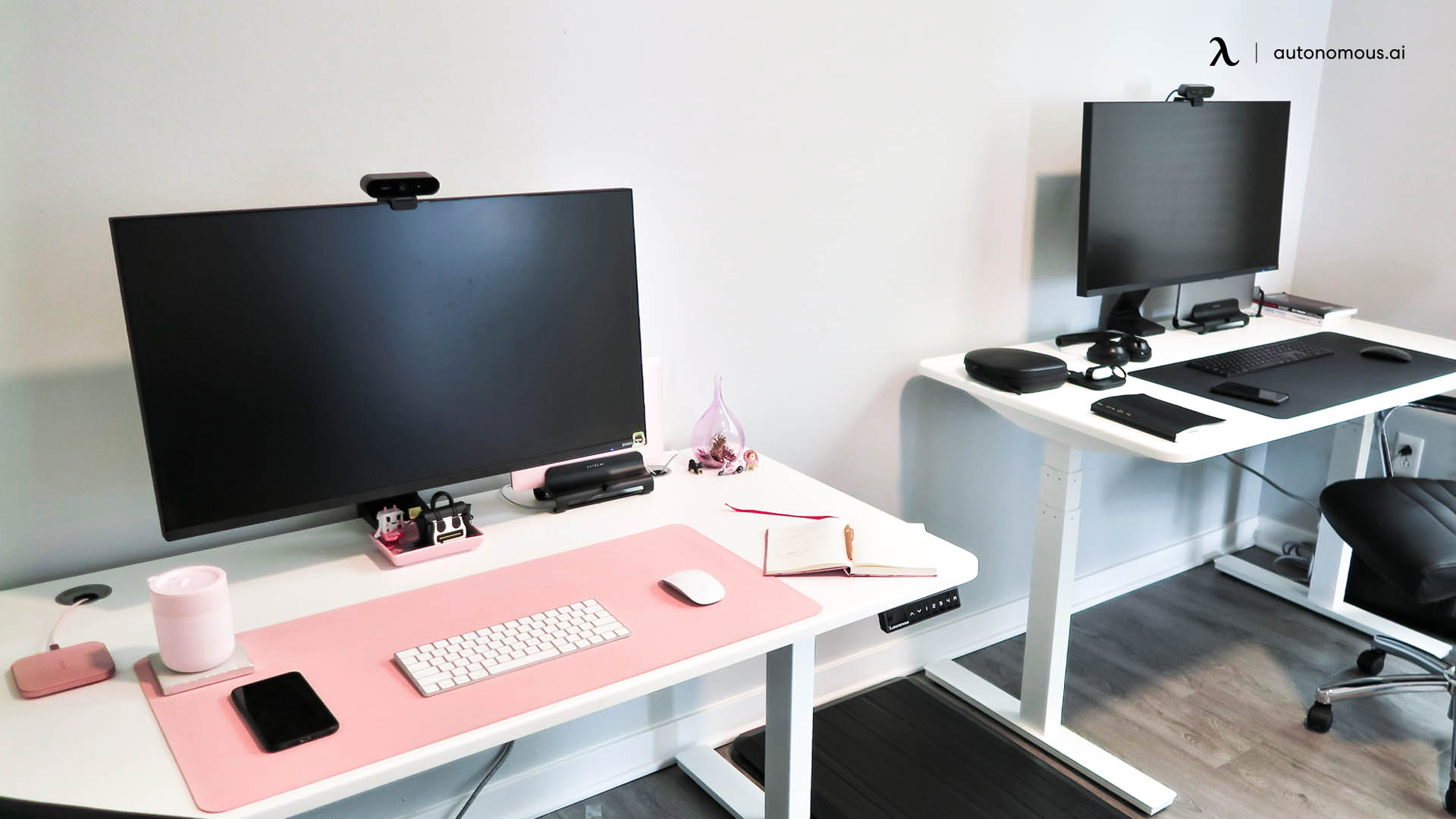 A big desk can take up too much of your limited space and makes it feel crowded. Instead, incorporating furniture that has a thinner structure can provide little visual weight. A good desk that offers this minimal visual weight is the Autonomous SmartDesk Core – Home Office desk.
Pros:
Offers minimal visual weight.
It allows you to stand or sit comfortably while you're working.
Cons:
3. Why Should You Use A Standing Desk?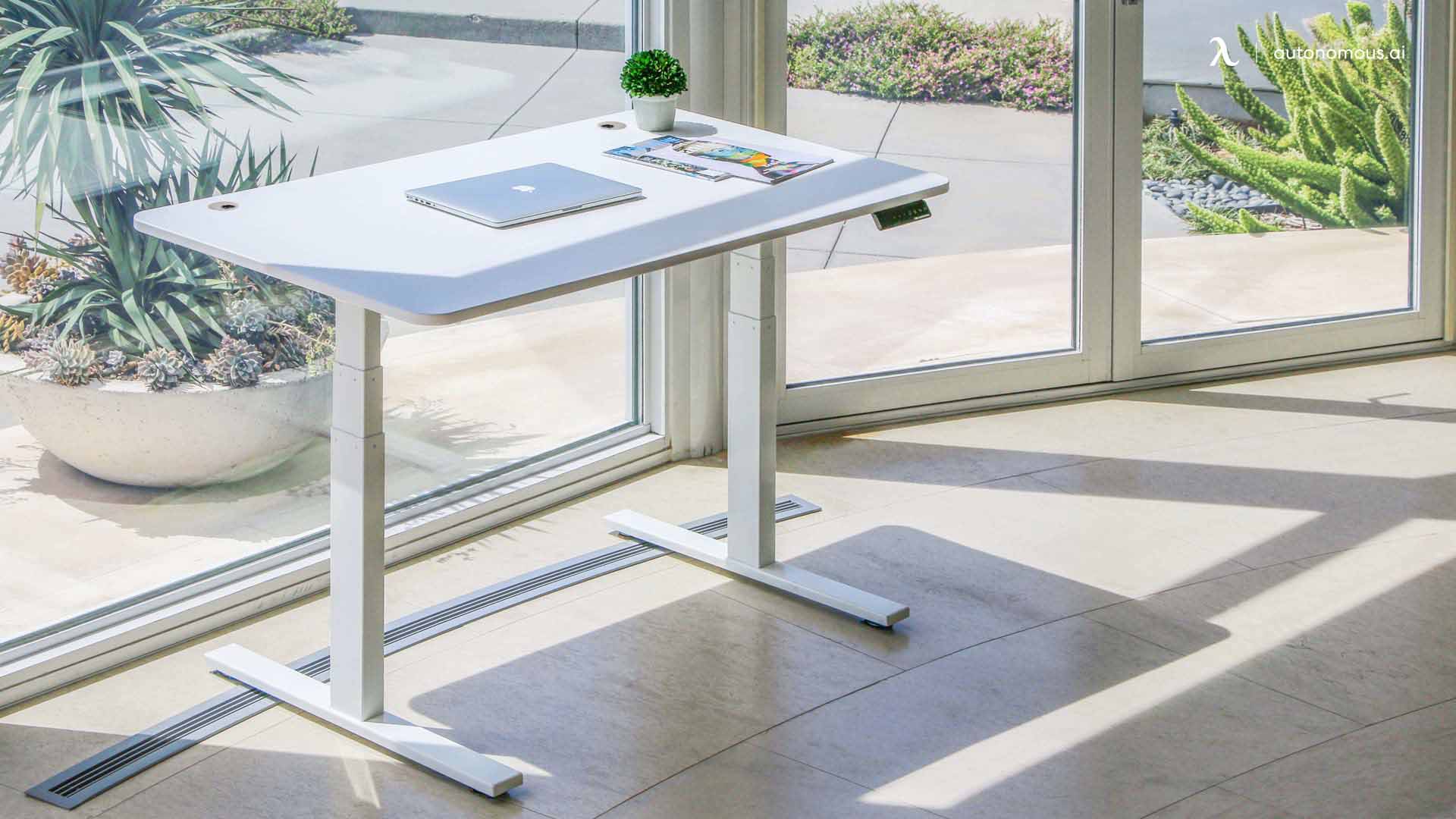 A standing desk gives you the opportunity to increase the amount of standing you do. Standing is brilliant for bettering your health as it has many benefits. Some of these benefits include:
Promotes weight loss.
Regulates blood sugar levels.
Combating back pain.
Subcribe newsletter and get $100 OFF.
Receive product updates, special offers, ergo tips, and inspiration form our team.
WRITTEN BYAutonomous
We build office products to help you work smarter.