Royal Kludge RK61 Wireless 60% Triple Mode Mechanical Keyboard
Style: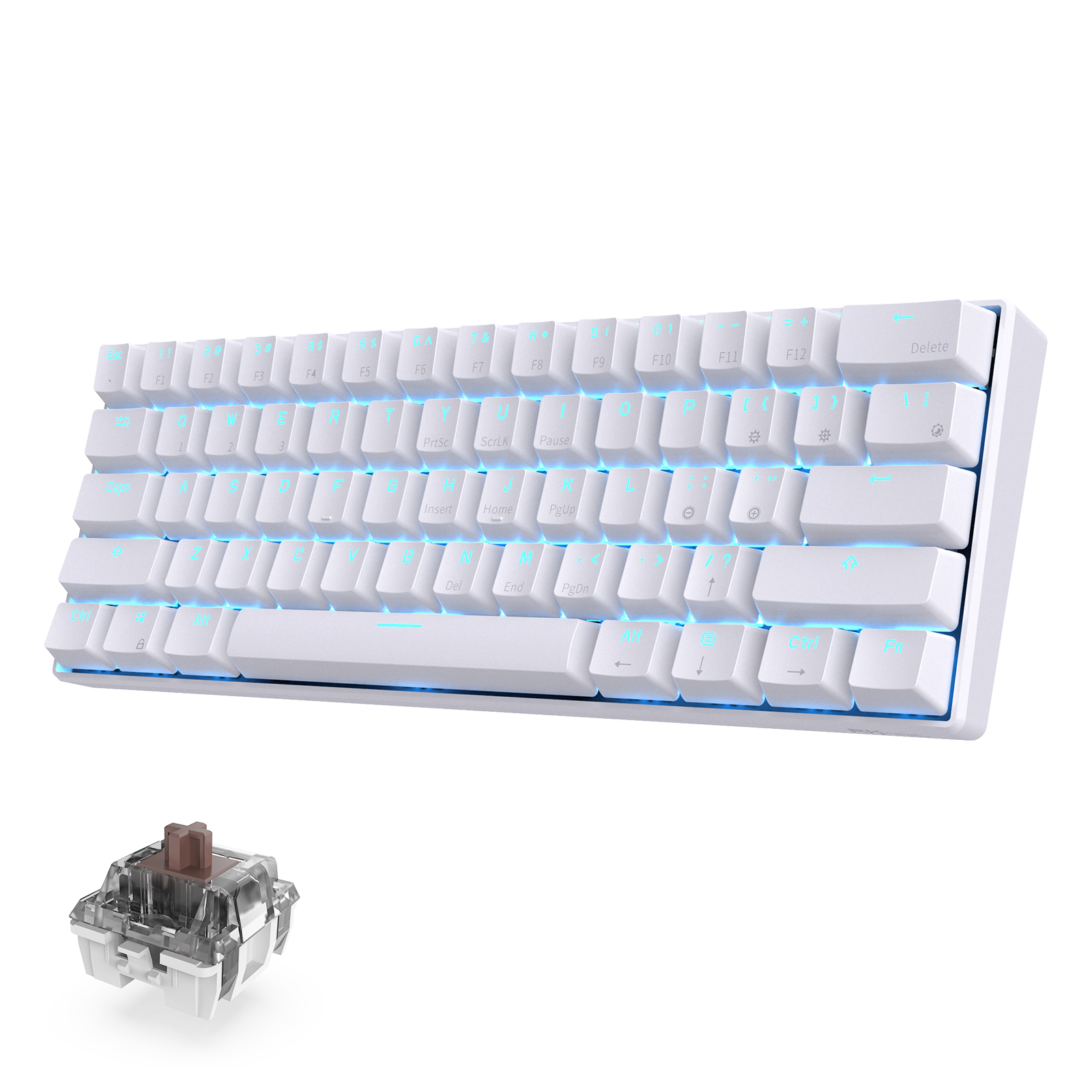 Not available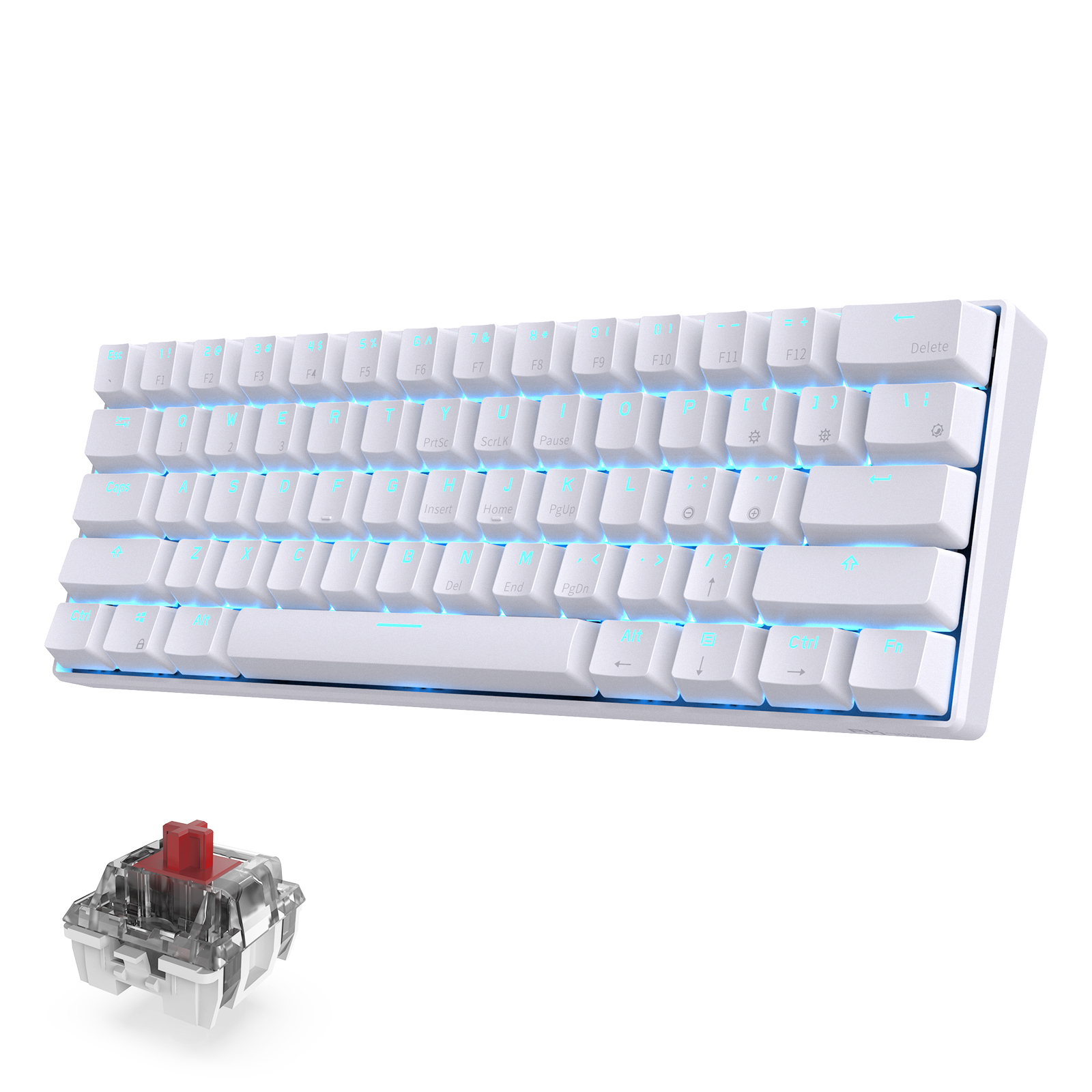 Not available
Notify me when this item is available
Enter your email below. We'll let you know when it's back in stock.
Sold and shipped by Royal Kludge

Price Match Guarantee
• 61 Keys • Blue LED Backlit • Wired/Bluetooth/2.4Ghz dongle Connecting • Hot-swappable Mechanical Switches • High-capacity Battery • Mini Portable Size • Software Supported (Download: https://rkgamingstore.com/pages/software)
• 1-year warranty
First Generation of Triple Mode Keyboards - Wireless mode with stable bluetooth 5.1 chipset, hassle-free 2.4Ghz dongle plus USB-C wired mode set no limits about your keyboard connection. The RK61 is best to fit smartphone, laptop and tablet. 60% Mechanical Gaming Keyboard: The Compact mechanical keyboard with 61 Keys brings you a neat desktop. Tips you might want to know is that 60% bluetooth gaming keyboard without numpad is most FPS gamers' choice, more spaces left for mouse movements. Hot-swappable: Hot-swap PCB allows you to replace 3 pins/5 pins switches freely without soldering issue. Enjoy the fun of making your own unique keyboard. High-capacity Battery: RK61 60 Percent mechanical keyboard Allows you to use continuously about 13 hours with lightest backlit, up to 360 hours standby time. Single Color Backlit But Not Dull: Even if RK61 has no multicolored RGB but only single LED backlit, the 17 dynamic backlit modes keep the plain effect away.
Deep dive into specs
You, the player, understand the value of game-related accessories. You probably already know that the quality of your keyboard greatly affects your gaming experience. However, you should know that you really have more leeway than you think. Mechanical keyboards and other keyboards are the two main categories of keyboard electronics due to their different switch technologies. We recommend Royal Kludge RK61 as the answer to all your mechanical keyboard problems. A good keyboard is one of the must-have desk accessories. It's likely that when you think of a keyboard, the first thing that comes to mind is a mechanical gaming keyboard, like a Royal Kludge RK61. These are the iconic, durable keyboards that have been popular since the 1980s. To be more precise, the RK61 mechanical keyboard has high-quality plastic key switches below the keycaps. A breakdown of the components that make up these keyboard switches might look somewhat like this: Top cover of a keyboard, where the letters and numbers are located; the "stem" of a key is the component that depresses when the key is pushed, the housing is the case in which everything is housed.
What is a Mechanical Keyboard?
Each gamer's accessories in a gaming setup are like an extra player or piece of equipment. Anyone who types frequently knows how much better life is when you have a high-quality, comprehensive gaming keyboard. You likely have more choices available to you than you give yourself credit for. The two most frequent keyboard switch methods, mechanical and membrane, are also the most common. When compared to membrane keyboards, keyboards like the Royal Kludge mechanical keyboard use a different kind of switch.
Reasons to Invest in a Mechanical Board
A keyboard switch, like an RK61 mechanical keyboard, is a very simple piece of hardware and computer accessories. The keycap is attached to a stem, which is then kept in place by a spring. A key's stem moves downward in response to pressure, bringing together two electrical contacts. Mechanical keyboards, like an RK61 gaming keyboard, on the other hand, feel much different from membrane ones since pressing a key activates a spring-loaded switch and results in a distinct click. Because of this, you'll never have to wonder whether a keypress is registered at all; you'll know for sure. When typing on a membrane keyboard, the sensation is less distinct than with a mechanical one since the user is pressing down on a rubber dome instead of a switch. When using a membrane keyboard, speed typing increases the likelihood of making mistakes. Yet, not every mechanical keyboard is created equal. Tactile and linear switches are the two main categories of mechanical keyboard switches. Tactile switches activate around halfway down, allowing for faster activation and less typing effort than their linear counterparts, which require full depressing.
Specifications for the Royal Kludge RK61
70% Mechanical Gaming Keyboard With Three Modes
There are no restrictions on how you may connect to your Royal Kludge RK61 RGB thanks to the USB-C wired mode and three wireless options (reliable Bluetooth 5.1 chipset, easy 2.4Ghz dongle, and wireless mode). Devices including laptops, tablets, and smartphones are ideal for the RK61 gaming keyboard. You can keep your workspace organized with the 61-key compact mechanical keyboard. Most first-person shooter (FPS) enthusiasts prefer a keyboard without a numeric keypad, which frees up more room for the mouse.
Hot-swappable - Powerful Battery - Single Color Backlit
The RK61 hot-swappable PCB eliminates the need for soldering when switching out 3 pins/5 pins switches. Have a good time designing your own keyboard. The RK61 hot-swappable 60% mechanical keyboard has a continuous usage life of roughly 13 hours at the brightest backlight setting and up to 360 hours in standby mode. Royal Kludge RK61 RGB may only have a single LED backlight, but the device's 17 different dynamic backlight settings help to mask the unit's lack of color.