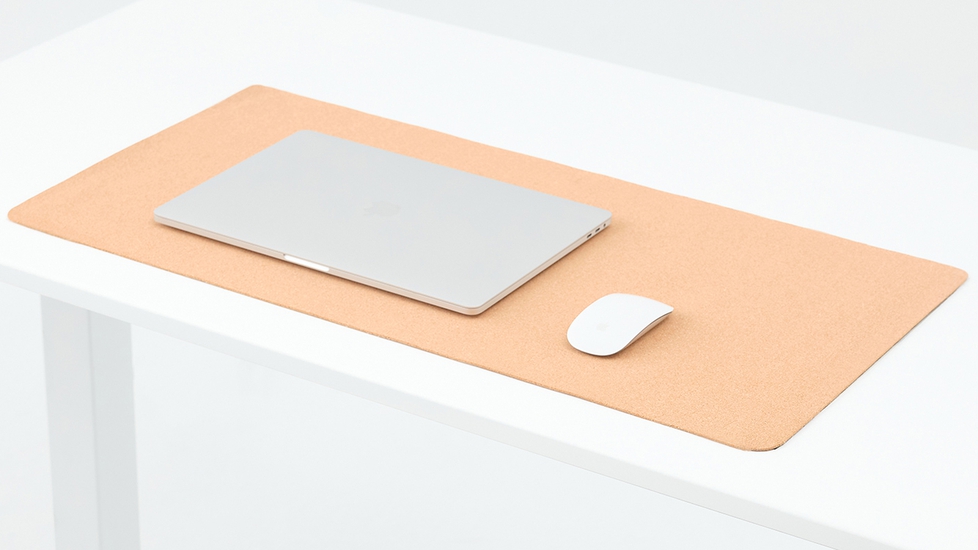 Sustainable Cork Desk Pad
23 reviews
Bulk orderSave up to 

7.5%
Buy now
Add to cart
FREE shipping Nov 28 - Nov 30. FREE 30-day returns.
Sold and shipped by Autonomous
Sustainable Cork Desk Pad at a glance.
Made from responsibly-harvested oak cork tree shavings. Harvesting cork does not harm the tree at all; in fact, the harvest can actually extend the tree's life.
• 100% recycled materials
• Protects desk surface
• Improves mouse performance
• 6-month warranty
Deep dive into specs
Features
Specs
FAQs
reviews
4.6
Autonomous Cork Desk Pad is Your Eco-Friendly Desktop Companion
These days, we're all looking for great and simple ways to accentuate our workspaces to make them more comfortable, stylish, and functional. There are lots of cutting-edge new technologies available for people to use to make their spaces more functional and ergonomic. Yet often, the simplest and most time-trusted tools are still some of the most impactful and useful items that we take for granted every day. Whether it's a simple rest for your wrists to protect you from carpal tunnel, especially in more typing-intensive jobs. Or perhaps you make use of a wireless mouse, a familiar technology that nonetheless makes our work more precise and simple to manage without the added clutter of extra cables. You might even take your desk lamp for granted, since a well-lit space is something we consider a prerequisite for a functional work environment.
Over the years many of these tools have evolved and changed. Mouse grips have become more ergonomic and taken on different shapes for different needs. Keyboards, while primarily membrane-based, have experienced a resurgence in the mechanical keyboard category, which has become very popular particularly with typists and gamers. Even wireless touchpads have become an essential tool for many, often a preferred input method over the traditional point-and-click mouse. But one tool which not many people consider, but which can have a great impact on your workflow, and whose design has withstood the test of time, is a premium and full-coverage cork desk pad. Though a mouse pad may be used more commonly, a large cork desk pad can come in handy for a variety of reasons and provide more full coverage for your entire workspace, giving you more flexibility and unleashing the possibilities. But why, you might ask, is a cork desk mat more useful than a simple mouse pad, and why would either one be necessary at all? Read on to find out more.
What is a Cork Desk Mat Used for?
At the risk of sounding obvious, a cork desk mat is an eco friendly desk mat that can be used to cover the most commonly-used surface area of your desk of choice for working or gaming. This means it most often covers the area under your keyboard and mouse, while giving you extra room around both to use the space with more flexibility. The benefits manifest themselves in many ways. For one, it helps your mouse glide smoothly and comfortably over the surface without bumps or difficulty with tracking that can sometimes hamper productivity, especially if your desk has a rough or uneven surface. For glass desks, a cork desk pad is particularly useful, as not all mice use tracking lasers that are compatible with a glass surface. A large cork desk pad also has the benefit of "grounding" your keyboard in place. Its anti-slip surface prevents your keyboard from sliding around. Most keyboards come with some kind of grip to prevent this from happening, however overtime they can wear down and a cork desk mat is a great way to prevent this from ever becoming an issue. In addition to aiding the use of your peripherals, a cork desk pad also protects the surface of your desk from scratches and common instances of wear and tear that can come about from extended use, dragging a mouse across the surface, and writing things with the sharp point of a pen. Speaking of, a cork desk pad is also a great, comfortable backing for anyone who often writes or signs documents as part of their work.
Top Benefits of a Cork Desk Pad
A cork desk pad has a few key benefits, which are good to know ahead of time before you make a purchase for your own workspace. Once you know how a cork desk pad can benefit you, you'll have a great set of reasons to invest and improve your setup, whether it's in a corporate office or in your own home.
Eco-friendly and sustainable
Cork itself is an eco friendly and sustainable material, because it comes from the exterior shell of cork trees. The cork can be harvested without causing any harm to the tree, which can then be re-harvested every nine years. Cork trees have an astonishing lifespan of up to 300 years, which means each tree can produce about 1.5 tons of cork in its lifetime. Cork is, therefore, a naturally recyclable and biodegradable material, making it not only a sustainable material to harvest, but an environmentally friendly material for an eco friendly desk mat. It's much better for the environment than plastic, synthetic alternatives on the market which tend to look ugly and do not biodegrade over time.
Skin-friendly and Non-Toxic
Oftentimes, synthetic materials cause allergic reactions because the molecular structure can have an adverse interaction with different skin types. With a cork desk pad, this isn't a problem. It's made from a natural material, so it won't cause any harm to your skin over time. On top of that, a cork desk mat has an incredibly smooth and soft finish that is gentle on the skin and extremely comfortable to use for extended periods of time. It doesn't scuff up or get more abrasive after extended use. Cork is your hands' best friend!
Naturally beautiful
Because it's made from a natural material, nothing beats the aesthetic beauty of real, premium cork. A large cork desk pad gives your desk an added touch of aesthetic sophistication and a pleasing look that appeals to nearly any user. It fits into any workplace aesthetic with a natural aura that is sure to elevate your desk design, whether you're a working professional or looking for a great upgrade for your gaming setup. For those who are looking for the perfect accent piece to tie everything together, a cork desk pad could be the perfect addition. Give your space the facelift it deserves with a beautiful cork desk mat as its centerpiece. Enjoy all the benefits of cork, as well as cork when it is used in the shape of a desk mat.
The Autonomous Cork Desk Pad is your Workspace Companion
The Autonomous Cork Desk Pad is the ultimate desk pad solution to improve your workflow, as well as protect your desktop surface from wear and tear. It's designed with a minimal aesthetic and it's affordable, too. Check out this desk pad to see how it can take your workspace to the next level with ultimate, durable comfort that lasts for years to come.