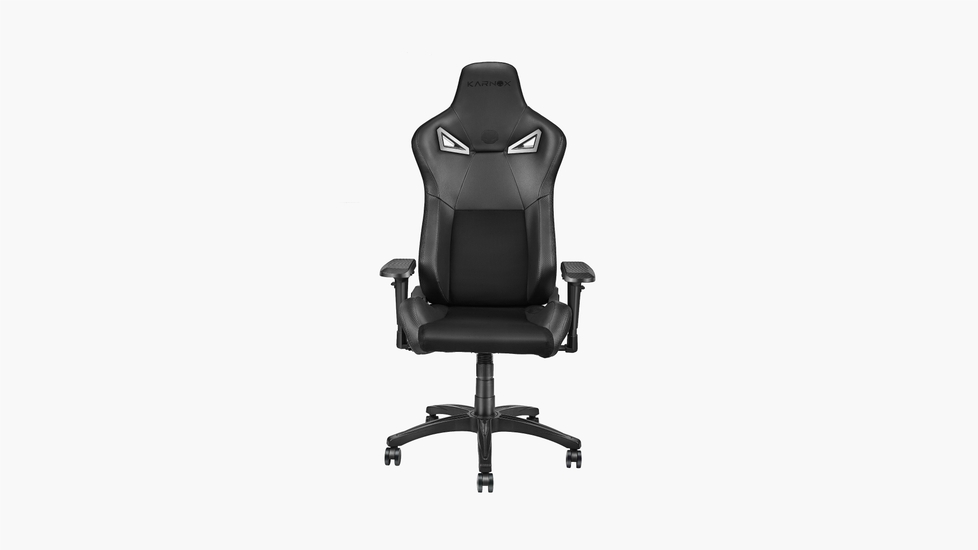 Karnox Suede Gaming Chair
31 reviews
Visit our store
Buy now
Add to cart
FREE shipping Dec 03 - Dec 05. FREE 30-day returns.
Sold and shipped by Karnox
Karnox Suede Gaming Chair at a glance.
Everything is better in black. Karnox PU Leather is spliced with luxe suede-feel fabric to provide a plush gaming experience like no other.
• Karnox Pu Leather + Suede Fabric
• Head and lumbar pillow included
• Adjustable height and seat tilt
• 4D armrest
• 90°-155° reclining backrest
• High density mould shaping foam
• Class 4 gas piston
• 2-year warranty for seat + back
• Lifetime warranty for frame
Deep dive into specs
Features
FAQs
Specs
reviews
5.0
Karnox LEGEND BK - Fabric Suede Gaming Chair
Whether you're a casual gamer or make a living out of it, it is important for you to ensure your comfort. Gaming sessions are usually long, which means that you're more vulnerable to suffering back pain and discomfort. The Karnox LEGEND BK is an excellent choice if you want to avoid that. This fabric suede gaming chair has a beautiful PU leather finish and is equipped with luxe suede-feel fabric, ensuring plush comfort and support at all times. The 4D armrests included in the Karnox LEGEND BK will ensure you get a personalized comfort experience. Combined with everything that's good about an ergonomic chair, this option will allow you to boost your performance by ensuring your comfort during each gaming session. This black leather gaming chair is made of two main components, fabric and PU leather. Each has its own benefits and combined make up a powerful combination.
PU Leather + Fabric upholstery
Polyurethane leather or PU leather is artificial leather. It is 100% synthetic, and therefore, a vegan leather alternative. It is composed of thermoplastic polymer and is prominently used in the furniture and shoe industry. Some of the benefits associated with PU leather gaming chair include the following: It is extremely easy to clean and doesn't absorb liquids. It remains as good as new even after a long time has passed. It's more sustainable as it doesn't require too many resources to be manufactured. It tends to be more affordable than regular leather and many other chair options. Thus, the Kanox LEGEND BK Fabric Suede Gaming Chair offers comfort and good style at an accessible price. As for fabric, this material tends to be quite soft, warm and quite relaxing. Unlike most leather options, it is quite breathable and allows you to feel as fresh as possible during your gaming sessions, even during the hot summer days. Some of the benefits associated with fabric include the following: It is quite comfortable and soft. Despite that, it can be very resistant to wear and tear. Most fabric is made of stain-resistant material, ensuring its durability throughout the time. Similar to PU leather, it is also affordable. You can get excellent all-black gaming chairs for an affordable price. Fabric and PU leather are different, but they both have in common being affordable, resistant and stylish. The Karnox LEGEND BK Fabric Suede Gaming Chair compiles the best of both worlds, allowing you to access a high-quality PU leather gaming chair at an accessible price.
Back support and headrest - Adjustability
Similar to executive chairs, this piece of gaming chair furniture is quite tall. Combined with the extra comfortable padding, you can be sure that your whole back will be fully supported at all times. But that's not all. The all black gaming chair also includes 2 extra pillows, one for your lower back and another for your head. This chair can be what you need in order to prevent neck pain, lower back pain and other physical complaints that may make your gaming experience less enjoyable. Adjust the chair to the optimal position. Choose your favorite reclining option based on the four choices, and modify the seat height to match your body proportions.
Benefits of a 4D armrest gaming chair
Gaming chair armrests are often adjustable. However, not all options in the market include 4D armrest gaming chairs. 4D armrests are adjustable in pretty much every possible aspect. Similar to the regular seat options in your all black gaming chair, you can opt for changing the height, tilt, width and depth. This makes your chair even more customizable, allowing you to be comfortable regardless of your position. This 4D armrest gaming chair will reduce the likeliness of physical complaints in every part of your body. It focuses on all the areas of your body that are most affected by being seated.
About Karnox
Karnox is a company founded in 2010. They're professionals in manufacturing eSports and other accessories within the gaming market. All the chairs under the Karnox brands take inspiration from performance sports cars. Furthermore, award-winning designers conceive each design, making sure to provide stylish and comfortable solutions to gamers worldwide. All the chairs by Karnox are built with high-quality materials, ensuring your comfort and the product's durability. ​​The Karnox LEGEND BK Fabric Suede Gaming Chair is designed with some of the best adjustability features available, ensuring your comfort in each gaming session.