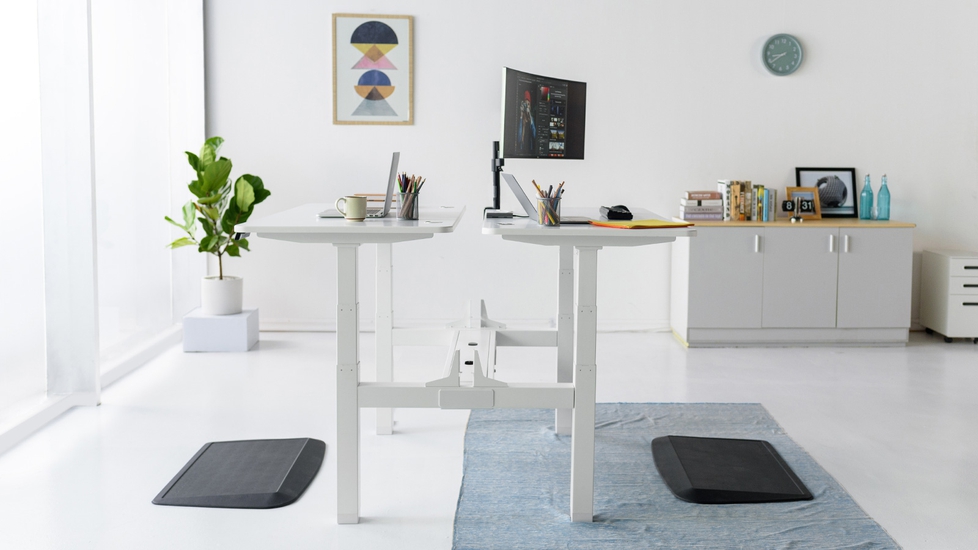 40 reviews
Bulk orderSave up to 

7.5%
Buy now
Add to cart
FREE shipping Dec 11 - Dec 13.
Bought by 411+ Fb employees.
Sold and shipped by Autonomous
Anti Fatigue Mat at a glance.
Encourages the micro-movements necessary to reduce any possible stiffness or strain. No matter how long you stand at your desk.
• Gentle 2" incline
• Tear-resistant, high-tensile PU & vegan leather
• Anti-slip, abrasion-resistant SBR
• Weight capacity of 330 lbs
• The trial and return policy does NOT apply to products on sale.
• 1-year warranty
Deep dive into specs
Features
FAQs
Specs
reviews
4.7
What Is Standing Desk Mat, Exactly?
There are so many reasons to consider a standing desk mat. In fact, you may already have one. If not, you might be thinking of getting one for your office, especially if you already have a standing desk. However, some people don't know what a standing mat for office use is all about, what to consider when buying an anti-fatigue mat, or the benefits of such. Now is your chance to learn that the Autonomous brand has the best standing desk mat! Sometimes called a standing desk pad, the anti-fatigue mat helps you feel more comfortable when standing on hard surfaces for extended periods. Most offices use linoleum or concrete flooring, which has no give to it. In most cases, these mats can be made of various materials, such as wood, vinyl, carpeting, and rubber. However, the best standing desk mat is the one from Autonomous. Let's find out more about it and its benefits:
Standing Desk Mat: General Use & Materials
Your ergonomic mat for standing desk use is there to encourage micro-movements, which are necessary to reduce strain and stiffness in the legs and feet. Even if you don't sway back and forth or pick up your feet, you still have to balance on the mat. Your feet often do that without you even realizing it. While most office workers only stand for 30 minutes at a time, there might be instances where you need to stand for longer periods. Instead of making your feet hurt, you can use a standing desk mat to reduce fatigue. The Autonomous standing mat for office use uses three different materials. The first is polyurethane (PU), which is high-tensile and tear-resistant. There's also some PVC leather (sometimes called vegan leather). It's designed for comfort while protecting the inner materials. On the bottom of the anti-fatigue mat, you have an SBR anti-slip layer. It's abrasion-resistant, and it doesn't mark up your floors, either. This is perfect for office settings where things get moved around a lot.
Standing Desk Mat: Dimensions & Weight Capacity
The dimensions of the Autonomous standing desk pad are 33 inches long by 20 inches wide by 2 inches high at the top. There is a small incline with this ergonomic mat for standing desk use. At the lower end, it's only 1 inch tall, which prevents slipping and tripping. However, the 2 inches at the top mean that you're not on a completely flat surface. This is highly beneficial to your feet and legs. It's also tapered in width, so it starts off at 30 inches wide and moves to 33 inches. It's perfect for one person to stand on! Those who want the best standing desk mat need to consider weight capacity. Most people don't think about how much weight it can support, but you need it to last for many years and bring you comfort. The standing desk mat from Autonomous can handle 331 pounds, making it ideal for everyone.
Special Features of an Anti-fatigue Mat
With so many standing desk accessories out there, you may wonder why it's so important to get a standing desk pad. After all, it sits on the floor, and most people don't even notice it. However, appearance isn't the only thing to consider here. Your ergonomic mat for standing desk use offers many exciting features:
Standing Mat for Office Encourages People to Use Their Standing Desks
Many companies want to promote standing desks and standing while working. You can burn a few more calories and don't have all those negative effects of sitting all day at the computer. With that, you can be more productive. However, some people have sensitive feet and legs. They might get aches and pains, and the best standing desk mat encourages everyone to stand at their desks more often!
Reduce the Stress People Put on Their Bodies & Promote Blood Circulation
You may not realize it, but standing puts so much stress on your lower body. Your hips, thighs, knees, and feet bear your weight for as long as you're standing. A standing desk mat reduces the stress put on those joints and body parts. You can feel comfortable for longer, which means you're getting the benefits of standing while working. As blood circulates through the body, it takes an upward path, requiring more assistance from the leg muscles. That way, you maintain your blood pressure. If you stand flat-footed with your legs locked, the muscles aren't as efficient. With a standing mat for office use, you're not standing with your feet flat on the floor. There's a slight incline, which keeps the muscles working and active without making them tired.
Prevent People from Slipping and Falling & Motivate Them to Stay Active
You don't want an anti-fatigue mat that has a high incline right from the start. The one from Autonomous has a gradual incline, which means there's less risk of someone falling over it. With that, you don't want to slip off of the standing desk pad while using it. The PU and faux leather are sticky enough where that doesn't happen. On top of everything else, the anti-slip layer on the bottom means that it isn't sliding around on the floor while you're on it. People need motivation to be active, especially at work. It's easy to sit down all day and then wonder why your back and neck muscles ached; you didn't do anything! That's just it, though. Your body craves movement, and if you can't go for long walks while working, you can stand.
Building Trust with Autonomous
Autonomous is one of the top-rated companies for offering standing desks, ergonomic chairs, and other essential accessories. The anti-fatigue mat is just one of many, and it has high reviews. Therefore, you can rest easy knowing that this brand is trustworthy. Comfort and Support: The best standing desk mat is comfortable to stand on for long periods. This is important if you want people to use it. However, it's also there to support the lower body and reduce aches and pains! Ease of Repositioning, Safety and Durability: It's easy to reposition the mat whenever you need to. Simply move it out of the way to bring your chair back and slide it back over when you want to stand. Most people get to where it's a habit and don't even realize they do it! Your safety is a huge concern for Autonomous, and its standing desk mat features anti-slip grips all around. Plus, the incline starts gently so that you don't trip over it. With that, the high-tensile PU makes it durable and long-lasting. Lengthy Trial & Warranty: Every product available from Autonomous offers a 30-day trial period. From the time the item is delivered, you have one month to test it out. There's also a 1-year warranty, which replaces the anti-fatigue mat if there are any defects in workmanship or material imperfections. Now is the time to buy your standing desk pad. You're sure to appreciate the comfort it brings. Plus, it's stylish enough for any office setting.