Latest Updates
15 Best Standing Desk Mat Options in 2023 (Experts Choice)

Autonomous
|
Dec 21, 2020
26,217 Views
As people discover the downsides of sitting for long hours, they are opting to switch to a standing desk. If you have already done this in your remote workspace, you may have found that the pressure on your joints can make for an uncomfortable experience. That's where a desk mat comes into the mix, and there are several options to choose from below. 
What Is a Standing Desk Mat?
While these mats aren't an innovation, they've only just begun to catch on, unlike other office accessories. The flat standing desk mat has existed for some time, and other versions showed up after that with various improvements. You would be surprised to know how many different industries people use them in, but they are most well suited for an office environment with a standing desk.
While you don't want to be in your office chair for too long, standing for extended periods can also be a pain without the right equipment. The polyurethane or PVC foam used in designing a standing desk pad makes your environment more conducive to extended standing. Does your floor have a hard surface?
Most floors do, and this fact sits at the center of the kind of undue pressure placed on vital areas, such as your joints. Having a desk mat mitigates this problem, and it creates a more productive and comfortable situation. 
In a bid to make your remote workspace more work-friendly, it would be a good idea for you to check out different standing mats for work. Luckily, the presence of anti fatigue mat choice flows freely with these items, and there are 15 for you to choose from below. 
Best Flat Standing Desk Mat
The flat standing desk mat design is where it all started. There's no surprise that there is a slew of options for you to choose from. Narrowing them all down can be very difficult, but here are five of the best ones. 
1. Autonomous Anti-fatigue Mat
The Autonomous Anti-Fatigue Mat rounds out this listing, and it takes the title for the best standing desk mat available. The composition comprises PVC leather, polyurethane, and an anti-slip SBR layer. The three come together in a surprisingly smooth way to ensure that the body gets all the support it needs, as you get your work done. 
The build also features a ridged, sloped two-inch incline that massages your instep without much work on your part. Note that it's easily rotatable, and if you turn it from time to time, you can work at the active standing requirement from various angles. 
2. Imprint CumulusPRO
As is the case with many flat standing desk pad options, the aesthetic is very simple. Still, the real focus is on the level of function, as opposed to how it looks. The anti-fatigue design prevents you from growing tired, while the body supports your body adequately. 
Mats tend to be tested before they are sold to customers, and this model got tested by The American Chiropractic Association and the National Floor Safety Institute. 
3. Kangaroo Original Standing Mat
Here is yet another fantastic option if you are looking for an anti-fatigue mat that is impressively versatile and offers you the freedom of choice. It comes in over 10 different patterns or colors, and its size makes it a near-optimal fit under just about any standing desk height.
The mat boasts a waterproof design, and its composition makes considerations for those who may be allergic to materials, such as latex. Instead, this Kangaroo model has no phthalates or latex present.
4. Genuine Joe Air Step Anti-fatigue Mat
Though this section is dedicated to standing mats for work that falls on the flatter side of the spectrum, this Genuine Joe model may take the cake with a width of only 3/8 of an inch thick. The composition is based on vinyl foam, and it's suitable for those who work on a lighter basis.
If you are consistently by your computer, you may find that this model begins to progressively breakdown relatively quickly. As far as choice goes, you get four different options, depending on how large you would like the mat.
5. iMovR EcoLast Economy Standing Mat
The warranty on an item is the kind of thing that you usually mention as one of the last items. However, it deserves a special mention here, as iMovR grants buyers a 10-year full-performance warranty, as well as a lifetime one for manufacturing defects.
The confidence behind the product makes sense when you consider the sturdy composition present. Slipping is a non-factor, thanks to the anti-travel system that the item features. 
While the context spoken to here is that of a standing desk in your office space, this mat is very versatile when considering the different applications it can have. The sense of support is also top-notch, as it prevents your body from aching as a response to strain.
6. Varidesk Flat Mat 
After seeing enough anti-fatigue mat for standing desk options, you start expecting them to have a particular look. Varidesk breaks that mold, thanks to the inclusion of a rocker bar. Standing has its benefits, but you can compound them using the bar as a basis for active standing. 
The core design is quite dense, and it's paired with a surprisingly soft external layer. The likelihood of pain and fatigue are also both very low because this mat supports you well. 
Best on a Budget
How can you buy standing mats for work if you can't afford them? While you still need to pay for whatever mat you choose, the price can be much more forgiving when you opt for one of these budget options. 
1. Royal Anti-fatigue Mat
This design is one of the most cost-effective options you could choose that gets the job done. As you can imagine, it doesn't have the top-tier quality that some of the pricier options do, but it does the job that it was designed for respectably. Whether you stand on it in your shoes or barefoot, it stands up to the challenge. 
The build quality consists of slightly below average PVC foam, which means that the kind of durability synonymous with polyurethane doesn't exist here. Be that as it may, you can use this standing desk mat for work purposes, and it can even double for applications in the kitchen. 
2. ComfiLife Anti-fatigue Floor Mat
ComfiLife designed an anti-fatigue floor mat that combines affordable pricing with good quality. The focal point of these standing desk floor mats is to reduce the amount of tension placed on your knees and other joints, which makes standing for long periods much less painful.
It adheres to a few ergonomic principles, and the design features a non-slip bottom, combined with a stain-resistant surface. Are you a fan of color choices? If so, marvel at the five different color alternatives you are offered, as well as the two different sizes you can choose from, to get the best experience. 
3. AmazonBasics Premium Anti-fatigue Standing Comfort Mat
Just as it did in the ergonomic stool market, Amazon decided to throw its hat into the desk mat arena. Though the price tag may seem a little low for a quality build, this mat stands as a notable exception to that rule. Internally, the mat is comprised of a squishy foam that adjusts to the contours of your feet. 
Additionally, it's non-curling edge design allows it to firmly anchor itself on the floor as you work. You can choose from brown or black colors to complement the rest of the furniture in the room. Thanks to a stain-resistant surface, cleaning the mat is a straightforward task. 
4. Sky Mats Anti-fatigue Mat
Here is yet another budget option that you can consider for the standing desk mat benefits without the exorbitant pricing. The design features PVC foam, which means it's more susceptible to faster progressive breakdown than polyurethane alternatives. Be that as it may, the mat boasts a three-layer design, which protects the internal foam structure.
The team stands behind its design, as Sky Solutions offers a lifetime warranty that replaces defective mats for you. 
5. Amcomfy Original Anti-fatigue Comfort Mat
This simple design lends itself to an immense sense of comfort that reduces the amount of stress placed on various points. It has a quick rebound surface, which prevents flattening, even when dealing with sharp objects and high heels.
Additionally, you get the benefit of a non-slip surface, so there is no need for you to worry about your safety, as you would need to with some other standing desk floor mats. Even on a wet floor, the item maintains its excellent grip.
Finally, cleaning is no issue, thanks to an external surface that requires nothing more than wiping with a damp cloth.
Best Standing Desk Pad for Massaging
Using a standing desk mat to provide a greater sense of comfort by preventing knee and joint pressure is the primary goal. However, as stated before, desk mat designs go through consistent improvements. One of these improvements is the inclusion of a vibrating or massaging functionality to compound the positive benefits. 
1. Sky Mats Genius Mat
The first entry under the massage umbrella comes from Sky Solutions. As an ergonomic design, the support provided is off the charts. While it doesn't have any automatic massage functions, the design features a built-in roller massage ball. You can use the said roller ball to reduce tension in your feet as you work significantly.
Unlike other mats with a single consistent terrain, this one has different terrain types too, which loves to reduce your fatigue by adjusting your positioning. 
2. CubeFit Terramat
This mat is another one that provides massage functionality without having any automatic or motorized features built-in. Instead, the mat boasts an acupuncture balance ball, as well as massage mounds.
Feel free to get creative by color coordinating with your space, since you can choose from three different neutral options. The materials use results in an antibacterial and waterproof surface. This means that the cleaning gets done in a breeze.
3. Butterfly Ergonomics Non-flat Anti-fatigue Standing Desk Mat
It doesn't get more unique than a standing desk pad that's shaped like a butterfly. This alternative has more to offer than just its unique aesthetic, as the contoured edges ensure that you have proper spine alignment for as long as you may be working.
Additionally, it features an embedded balance bar, which contributes to the prospect of active standing. As you can imagine, the mat is not the most cost-effective option on the spectrum, but that doesn't mean it's super expensive either.
Even with its intricate design, the standing desk mat remains a compact alternative, which lends itself easy transportation between locations.
4. Amcomfy Vibrating Standing Desk Mat
Amcomfy makes a return here with a unique and efficient design in the form of its standing desk floor mat. Unlike some of the other options that require manual interaction, the mat is designed with an internal vibration monitor, which takes on the task of massaging your feet while you work.
While you may feel like this takes away from the health benefits of the active standing experience, the motor is powerful enough to keep the feet moving in a manner that is still beneficial to you. Of course, since the process requires less manual input, it feels more convenient to implement it as a regular part of your workday. 
This mat was specially designed for those who work at their standing desks for a long time. Doing so typically comes with a respectable amount of pain and fatigue. Thankfully, the Amcomfy mat is particularly effective at getting rid of both things. Durability is also present in spades, and you can expect to see years of operation before the mat stops working. 
There's a non-slip surface, which lends itself to consistent stability, regardless of the surface you use. You should also note that this mat is larger than usual, making it more accommodating to different users. 
Should You Choose a Flat or Non-flat Standing Desk Mat?
While some standing desk floor mats try to offer you the best of both worlds, you are going to need to choose between a flat or a non-flat desk mat to add to your remote workspace. The choice boils down to the factors that are most important to you.
For example, durability typically heavily depends on the materials present. The most durable mats use polyurethane with a combination of other materials, such as high-quality PVC. You are more likely to find this kind of mix in a non-flat desk. 
Price is another consideration, and flat options tend to be on the cheaper side of the spectrum. There is also the matter of any additional features that may be a part of the mix.
The point is that this is a personal decision and not a general one. The non-flat standing desks have more to offer, but what if that's not what matters to you?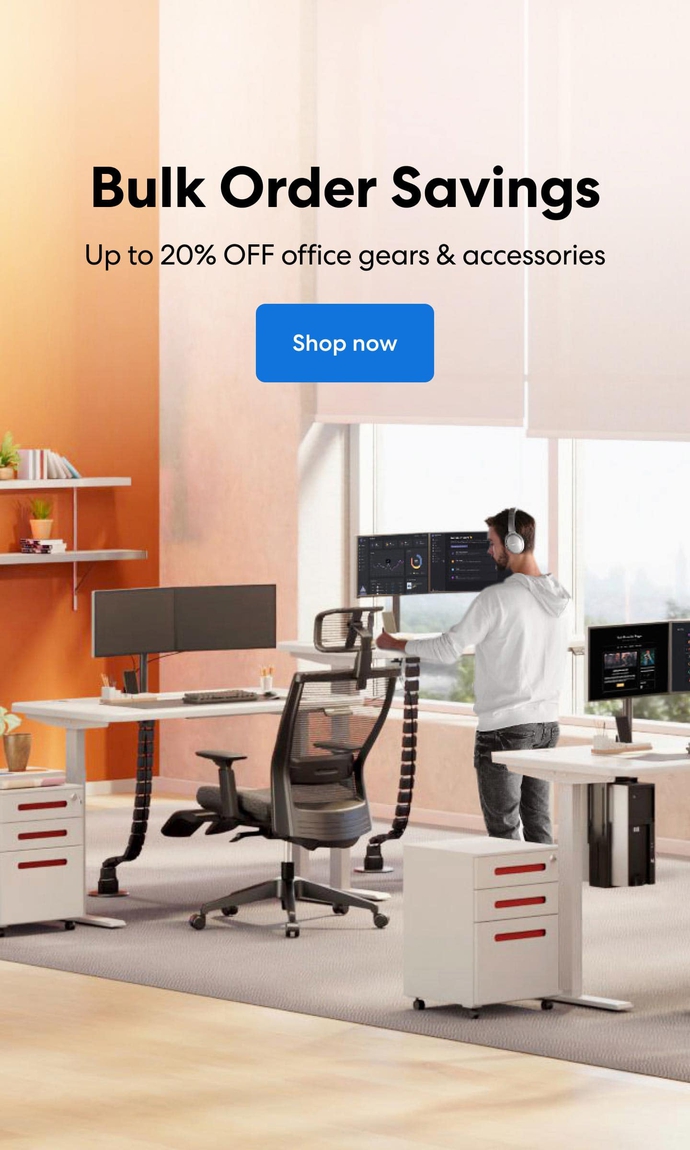 Subcribe newsletter and get $100 OFF.
Receive product updates, special offers, ergo tips, and inspiration form our team.