A standing desk gives you great advantages, and most of these are well known. So why do you need a multi monitor desk setup? Well, there are various reasons. For some businesses, you need to compare two sets of data working on two different systems, both isolated from each other for confidentiality reasons. At times, you may have two different organizations that your employee may be serving. In either case, you have easy provisions that enable a dual monitor standing desk. Now you even have a standing desk for triple monitors. 
22 Best Dual Monitor Standing Desks of 2022
The ten best dual monitor standing desk reviews are here for your convenience. So please go on, read through them, and pick the one that you like the best!
1.  SmartDesk Core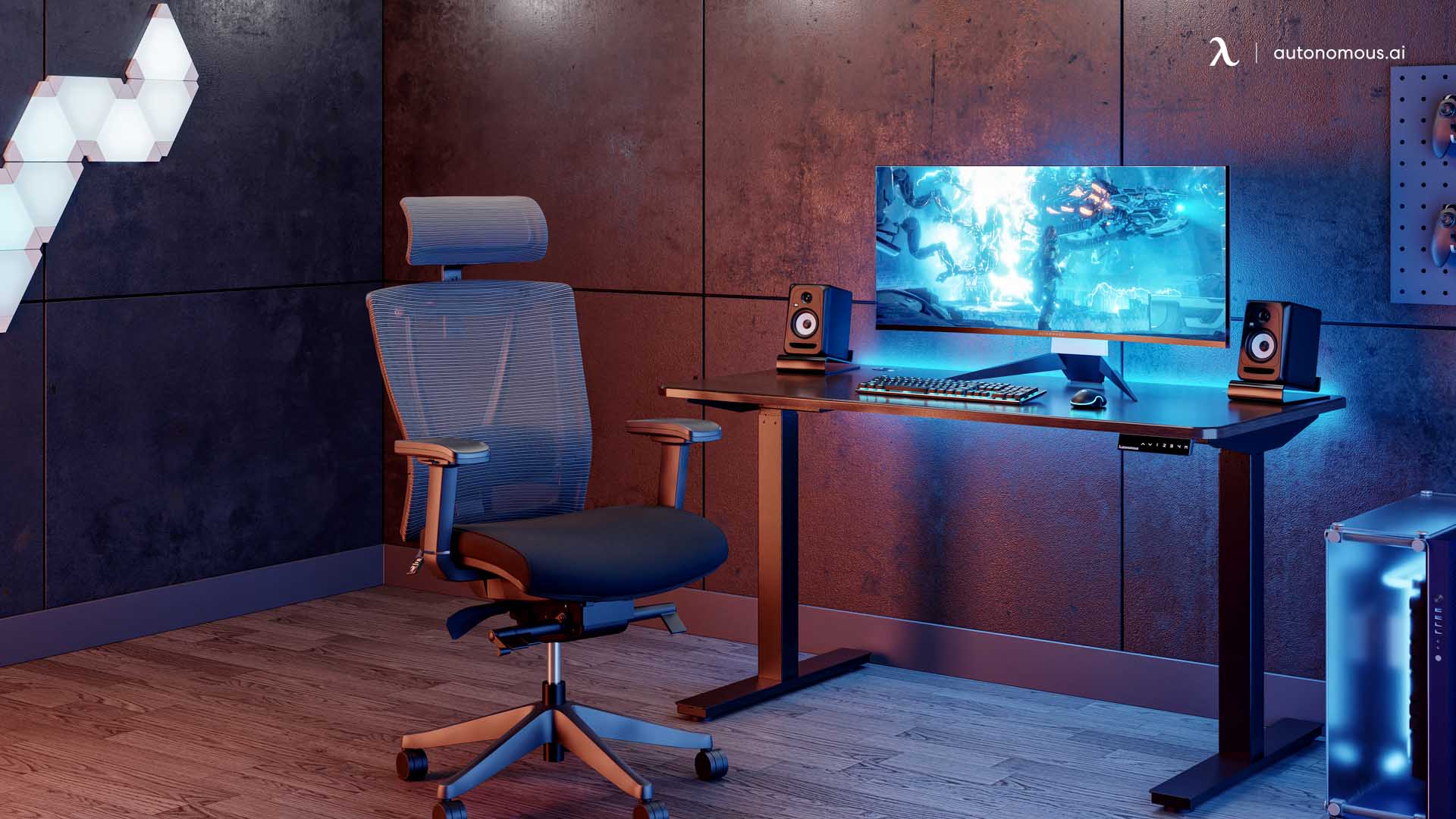 Do you need a heavy-duty intelligent standing desk for the office? The SmartDesk Core is your best solution to install dual monitors with or without monitor arms. With a payload of 290 lbs (approximately 131 kilograms), this desk can easily accommodate your daily office needs of a computer system, paper files, and more. The dual motors manage to lower/raise the desk between 48 inches to 29.4 inches easily. Stay healthy!
2.  SmartDesk Pro
The SmartDesk Pro offers ample space for you to fix a dual-arm for dual monitors. It operates noiselessly between 26.2 inches and 52 inches in height. The motors hum sweetly at 40 dB. No noise, no disturbances. The strong steel framed desk offers you great stability. No shaking, no vibrations! This desk can take up to 350 lbs (or approximately 158 kilograms) of weight. The natural wood top with a classic finish brings you closer to nature as you use your home office standing desk.
3.  SmartDesk Corner
The SmartDesk Corner is an L-shaped desk that can be raised or lowered with dual electric-powered motors. You can lower it from 48 inches to 29.4 inches and vice versa. Stop anywhere as you raise or lower the desk. Add it to one of your four favorite settings for convenience. You can conveniently use both arms of the desk surface to sprawl your work charts and more. Or use a minimalistic design to manage your office. This sturdy sit-stand desk with dual monitors offers you stability with great steel-framed legs. It can take a payload of 440 lbs.
4. EUREKA ERGONOMIC 60-inch W L-shaped carbon fiber texture Top Desk
5. EUREKA ERGONOMIC EUREKA L60 L-shaped Standing Desk: Programmable Keypad
6. EUREKA L-shaped TechDesk: Monitor Stand and Dual Headphone Hook
7. EUREKA ERGONOMIC L60 Computer Desk: Left Side, Pink
8. EUREKA ERGONOMIC 60-inch L-Shaped Glass Gaming Desk: Music Sync RGB
9. EUREKA ERGONOMIC Gaming Desk with Hutch: Keyboard Tray
10. Techni Mobili Warrior L-Shaped Desk
11. Techni Mobili L-Shape Desk with Hutch and Storage
12. Techni Mobili L-Shaped Glass Top Computer Desk
13. Techni Mobili Computer Desk
14. Techni Mobili L-Shaped Glass Computer Desk
15. Techni Mobili Rotating Multi-Positional Modern Desk
16. Varidesk Dual Monitor Converter
A great choice, the Varidesk dual monitor converter can be adapted to any normal desk for a dual monitor. It offers thirty-six inches of height and has a 5-year limited warranty offered by the manufacturers. The desktop surface dimensions are 36" x 12.25", adequate for all your office needs. You can mount extra dual monitor arms for your needs. When the dual monitors are not required, simply remove the monitor arms, and pronto, you have your desk back.  You get eleven different stop points to manage the monitor height settings.  It is lightweight at thirty-five pounds tare weight. A great choice!
17. AmazonBasics Dual Monitor Stand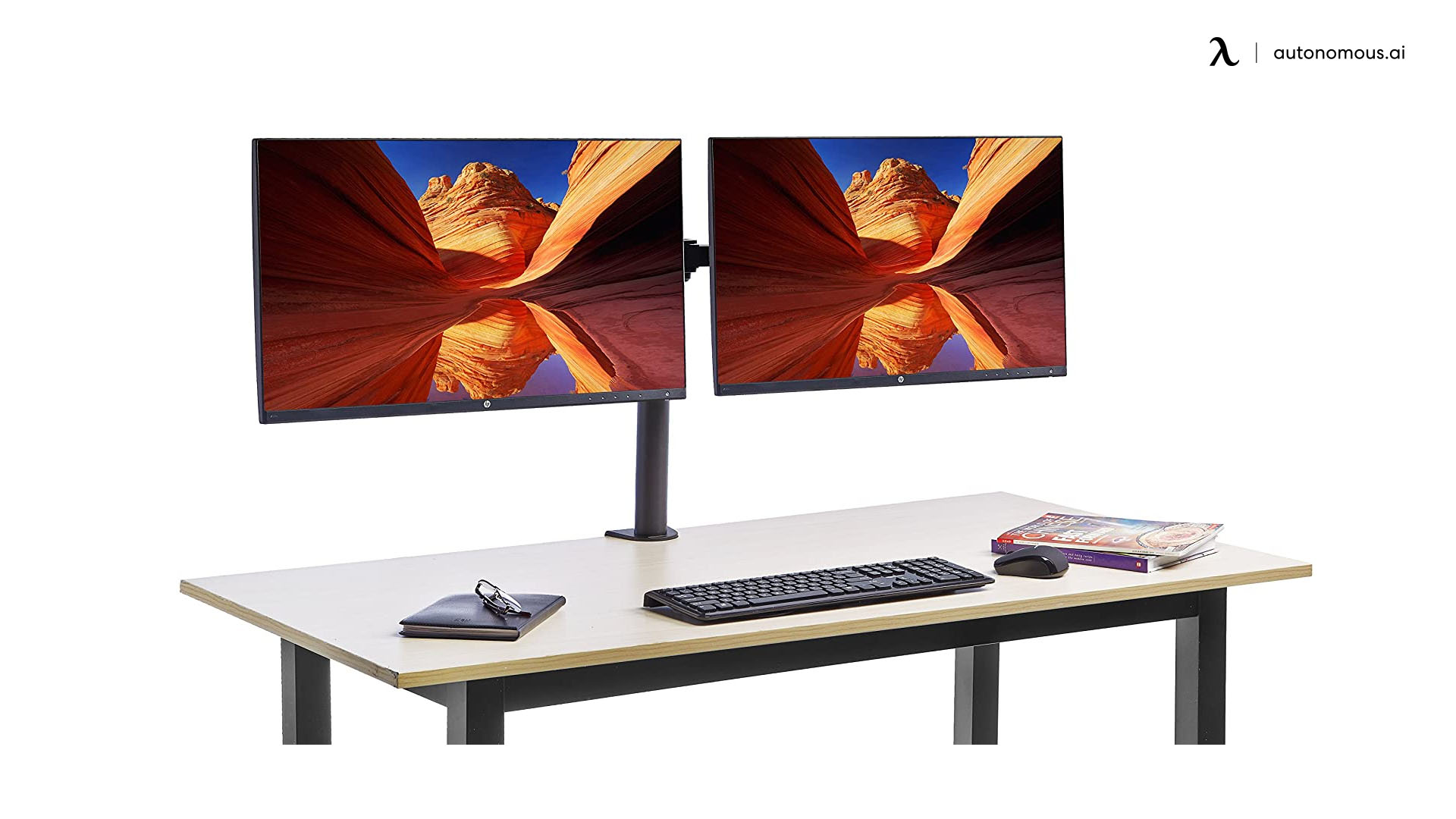 Looking for a sit stand dual monitor desk? The AmazonBasics dual monitor stand offers you the basics, with no frills.  Place your monitors either in a portrait or a landscape mode or adjust their angles for best views. 
18. FlexiSpot Electric Height Adjustable Desk (48")
This dual-monitor stand-up desk by Flexispot is doing the rounds as most folks search for a dual monitor standing desk. Offering you 48 inches of height, this sturdy desk has a smooth surface. Nice and quiet when raising or lowering the desk, the electric motors silently do their work as they handle one hundred and fifty-four pounds of weight. The dimensions of the work desk surface are 48 inches in width x 30 inches in depth. Wow, that's huge, isn't it?  You can add speakers, keypads, and personal mementos on your desk or have your fill with more personal options. It offers you a five-year warranty that applies to the monitor frames and the electric motors. Don't forget the two-year warranty on the switch and the control pad. Amazing. 
19. IKEA SKARSTA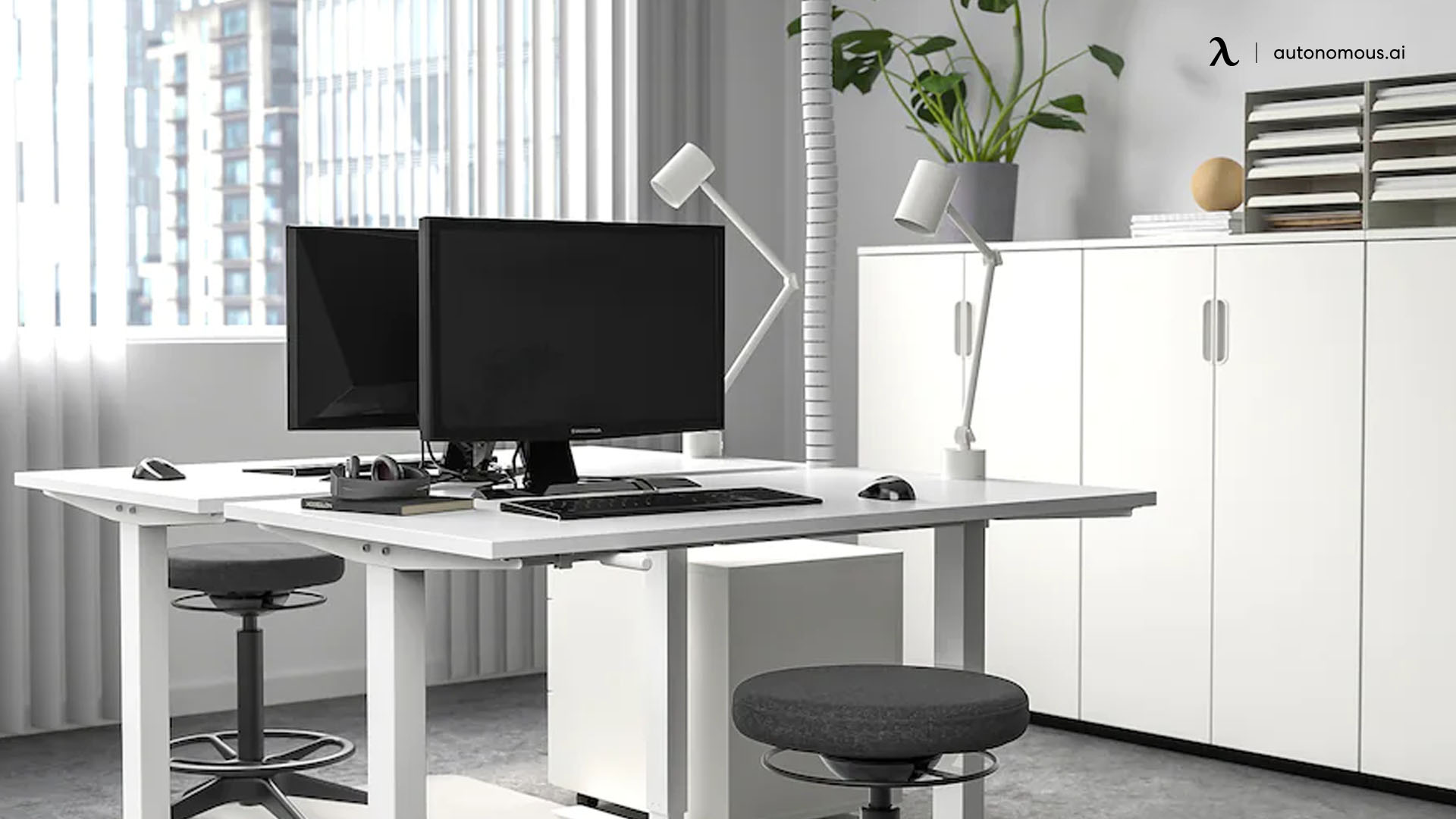 Offering you a choice of height between 27½" (lowest) and 47¼" (highest), this dual monitor standing desk could be your next choice. Offered by IKEA, the table can easily take a payload of hundred and fifty-four pounds. With great price offers, easy-to-use crank handle, high stability, the serene white color, this is a great choice.
20. FEZIBO Electric Height Adjustable Standing Desk
Offering you a normal desk surface of 24 inches depth X 48 inches of width, this standing desk surface is a good choice.  Manage the height of the desk between 28 inches (low) to 46 inches (highest). The sturdy steel legs offer to take-on a weight payload of one hundred seventy-six pounds. Note the three-year warranty on the entire desk. 
21. Black Tabletop Workstation By VIVO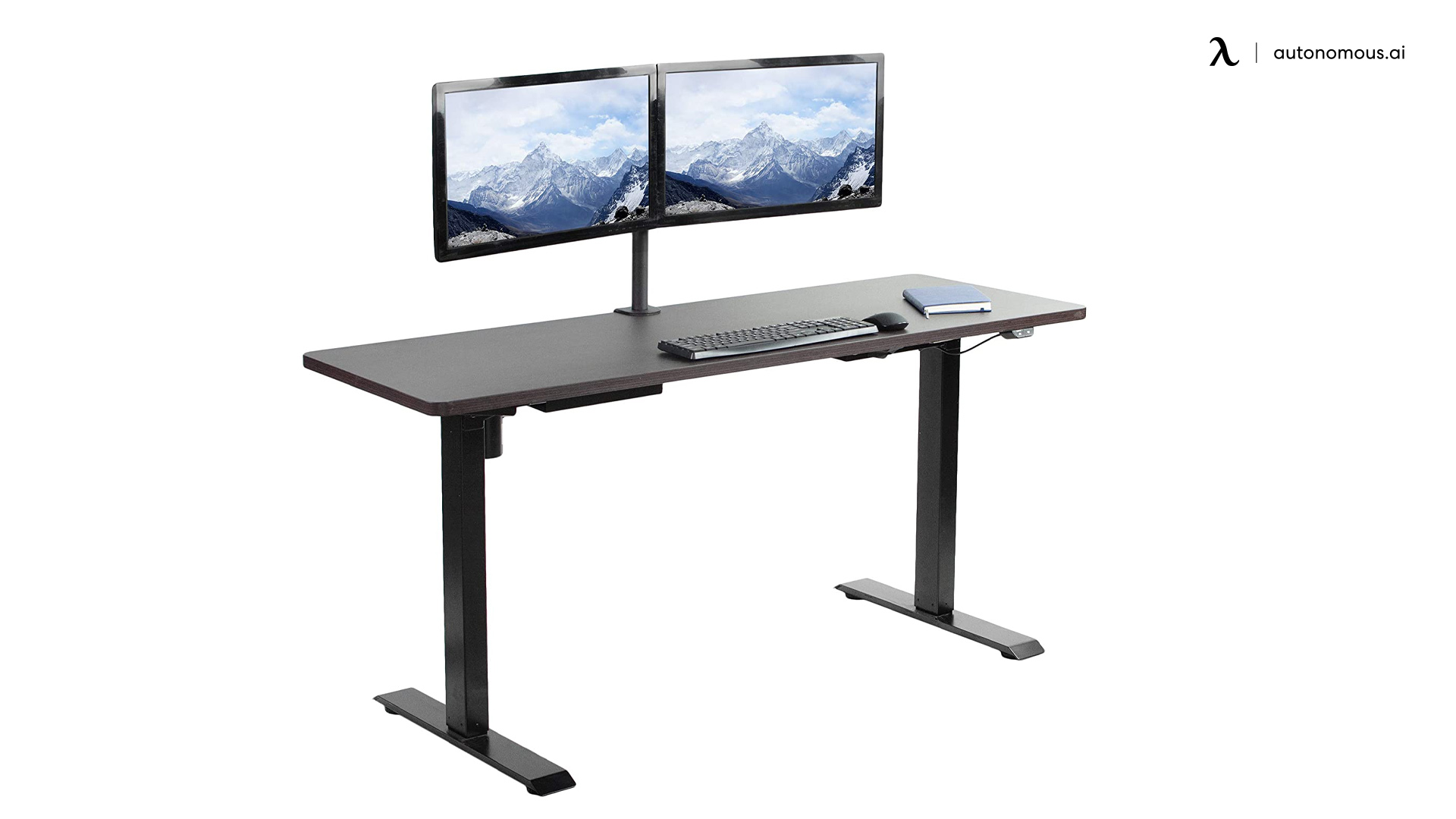 Convert your regular desk into a standing desk. Offering you a height of thirty-two inches, you can sit or stand to work. You'll be relieved to know there's almost no assembly involved, either. Your work surface will measure a cool 31.5" width by 18.4" depth. You can easily maximize the workspace by adding a dual-arm monitor. Don't miss the fact there is a 31" wide and 11" deep keyboard tray attached. It is strong enough to raise to thirty-three pounds of weight.  You can raise the desk between 6" (lowest) to a high of 17". This product has a three-year manufacturer warranty on offer.
22. Stand Steady Tranzendesk 55 Inch Standing Desk
Large enough to accommodate more than a dual monitor, this standing desk for two monitors is your choice for a wide working space with 55 inches width and 23.6 inches depth. You have two tiers offered to manage your work essentials. Remember, the maximum height on offer is forty-six inches and a low of 27.5 inches. You will love the silver frame that offers a sleek and elegant look. However, it can take only seventy pounds of weight when raised or lowered using a crank handle.
Wrap Up
As you consider a dual monitor standing desk, be sure of what your working space needs are. While you have many standing desk options, our recommendation stays with the best quality products, the SmartDesk Core, SmartDesk Pro, and the SmartDesk Corner depending on your need. Why? Surely, the best quality with loaded features!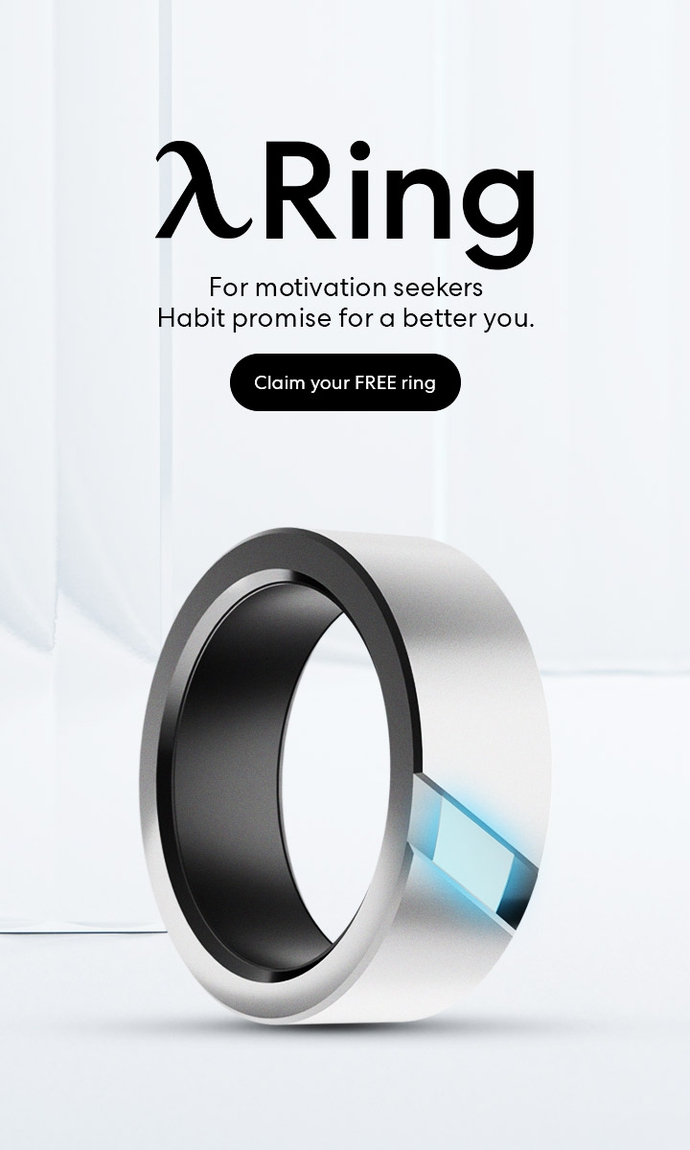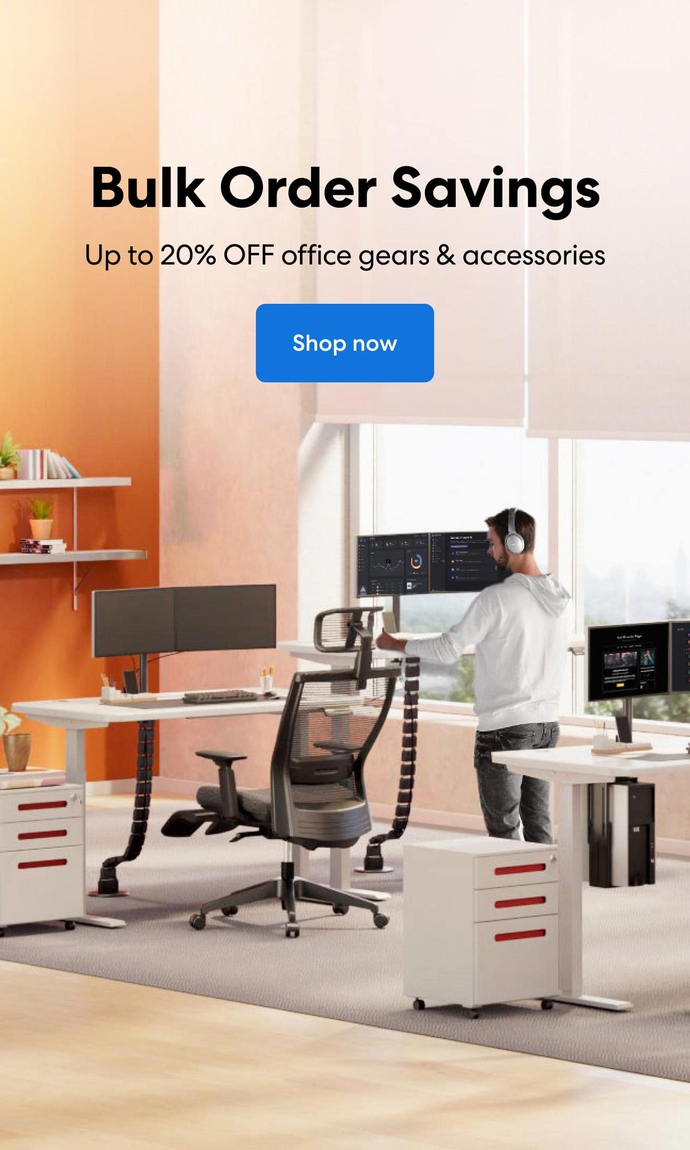 Subcribe newsletter and get $100 OFF.
Receive product updates, special offers, ergo tips, and inspiration form our team.