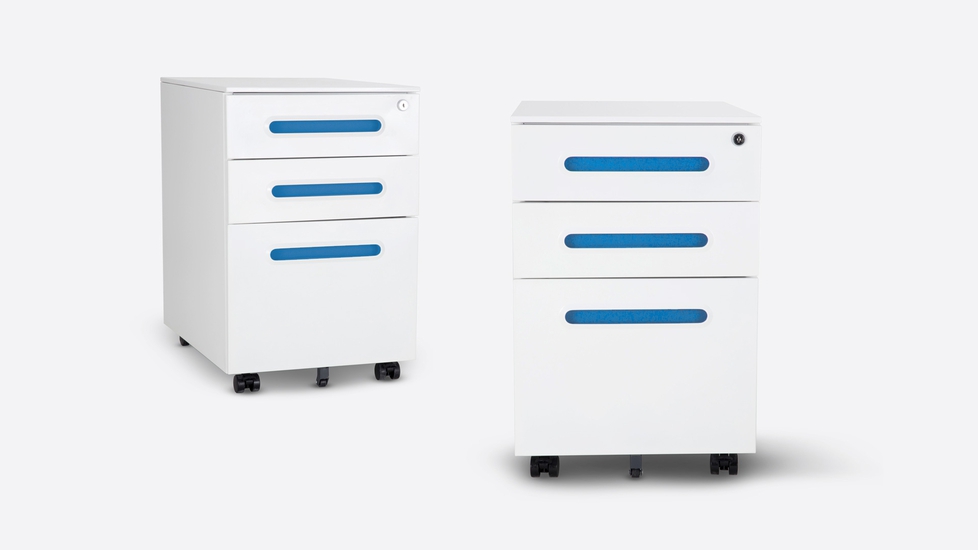 Working from home?
Get special pricing
Fits perfectly under your SmartDesk and into your workflow. Roomy drawers for all your gadgets, files and paperwork, with a lock to keep everything safe.
Ships within 2 business days
|
Free shipping
& 30-day returns
Charge it to your company
We can forward this order to an office contact and request payment on your behalf.
Save up to 10%.
• 3 drawers
• Customizable dividers
• Made from solid steel
• Anti-rust finish
• Lockable drawers and wheels
• Weight capacity of 275 lbs
• 1-year warranty
• Pay over time with Affirm: $24/mo
Deep dive into specs
How You Select a Filing Cabinet
Are you looking for additional storage space for your home office or office? As you explore various options, we are sure you see the benefit of an Autonomous Filing Cabinet. Need storage space for your office files? Well, you have various options that range from a desk drawer, chest of drawers, filing cabinets, and more. Which types of filing cabinets are the best for you? It really depends on the type of work you do. If your work requires maintaining many client files, files by topic, date, projects, or more, you cannot skip an office filing cabinet. True to its name, it offers to store files in a hanging format and a label on the top to help you build an index and search through whenever you are looking for something. While most paper clutter management has been done away with people preferring to store things on their computers or in the cloud format, what is the need for a filing cabinet for sale? You are right. Cloud storage has made it possible to access your files from any part of the world and share these resources too. Given the costs, you may not need cloud storage if you are a small firm or organization. Secondly, as a practice, much legal compliance requires you to maintain the hard copy in a physical format. This filing cabinet desk is an immediate need for you to remain productive. Whatever be your reason for a physical filing cabinet, the fact is that you could also use it as a storage space for other things. With this need for a versatile space, you have lots of choices.
Autonomous 3-Drawer Filing Cabinet for Your Workspace
If you have been exploring one of the best filing cabinets, your stop will surely come and stop here. Given the best wooden material used for the 3-drawer filing cabinets, they are simple and most elegant to look at. You can easily store them under your desks or keep them as a standalone. However, some offices can also be seen keeping one desk filing cabinet on top of another if they are short of floor space or need more filing space. The Autonomous Filing cabinet offers you customizable dividers to manage your storage needs and convenience at work. Office filing cabinets are made from solid steel and are painted with an anti-rust finish. Don't miss the lockable drawers for you to store confidential material. The castors for each unit give you great mobility functions. There is an offer of a one-year warranty for the units. These cabinets come in various colors covering a hue of baby blue, evergreen, yellow apple, and cool gray. For better prices, keep a lookout for filing cabinets for sale. Have you read our blog on file cabinet accessories?
So mix and match and set yourself free from all the clutter around!
In summary, a filing cabinet or storage area becomes a necessity in most offices. Without a space to store your files and other material, you are cluttered, which makes you effective at work. Filing cabinet for sale is in demand for their versatility and yet blend in with any office design.
FAQs
Don't see the answer to your question?