Workplace Inspiration
How to Make a Standing Desk: 10 DIY Ideas for Sit-Stand Workstation
29,468 Views
Building your standing desk allows you as an office worker to take personal needs and budget into account. There are plenty of reasons why you should create a standing desk yourself. Fortunately, there are several different creative methods on how to make a standing desk. You are going to need the tools, the time, the materials, and the mindset to begin your DIY adjustable standing desk project.
Building Your Standing Desk
Why take on the project of building a standing desk? What are the advantages of a DIY adjustable standing desk? Where do you begin with making a DIY workstation? If you are interested in a sit-stand workstation, there are simple, cheap, and creative ways on how to make a standing desk. Building your desk takes effort and dedication; however, the rewards of this DIY project are plentiful. This is the complete guide in helping you make your standing desk.
Why You Should Build a Standing Desk Yourself
Before we get into the 10 DIY ideas for your DIY adjustable desk, it is essential to understand why you should build a standing desk in the first place. There are a few factors to consider about standing desks. Cost, height adjustment, ergonomics, and your personal style and design are a few of these factors.
Without a doubt, most jobs for an office worker require you to sit at a desk for long periods. This can have a negative effect on your physical and mental activeness and carries a risk to specific health issues. In comparison, when you introduce a standing desk that is adjustable in height and shape, it can help boost your energy levels. A sit-stand workstation is known to assist in boosting your metabolism as well as keep your core and body motivated throughout the day.
Cost
If you are attracted to the idea of a standing desk and have done some research, you have probably found that a sit-stand workstation does not come cheap. This might lead you to ask yourself the question, "should I build my standing desk?". The first thing to recognize is that building your sit-stand workstation does take effort and commitment on your part; however, the incentive at the end is well worth it.
Building a standing desk do it yourself is an entertaining task for a DIY'er because you get to craft something with your own hands with the trait of a personalized touch. If you opt to build the workstation yourself, you can fit it in with your style, décor, and needs. Building a DIY adjustable desk allows you to choose your colors, materials, and finishes to further your customization experience.
Taking cost factors into consideration, it is essential to note the option of a standing desk converter. Standing desk converters are available on Amazon and could be considerably less time, effort, and capital than building a standing desk.
Ergonomics features
Considering the ergonomics features of your workstation is also essential. Standing desk companies such as Autonomous have spent a considerable amount of time on the research and development of ergonomics for their products. This is to understand ergonomics better so that their products help maintain worker's postures and are comfortable.
Height adjustment factors
Taking the height adjustment factors into account when making your own standing desk, it is essential to note the importance of transitioning between standing and sitting. Shifting from sitting and standing offers numerous health and productivity benefits.
Lastly, consider what the ideal desk height should be. The general rule of thumb is that your elbows should be just above the typing surface of the desk.
The Advantages and Disadvantages of Building Your Standing Desk
What is next to figure out are the pros and cons of building your own standing desk in comparison to buying a standing desk.
Advantages of Building Your Standing Desk
Standing can have a positive health effect over sitting.

Ergonomic standing desks

are height adjustable.

You can integrate daily exercise with a standing desk.

You can save capital by using a standing desk as you won't have the expense of a chair.

Customization and personalization.

You can build it to your ideal desk height.

The fun and excitement around a passion and DIY project.

A standing desk includes all the benefits that a regular workstation would have.

You have purchased all the materials yourself and therefore get to decide on how sturdy, reliable, and long term your desk is going to be.

There are numerous productivity and

health benefits.

There are several creative ways of approaching and building a DIY standing desk – allowing you to be creative with your workstation.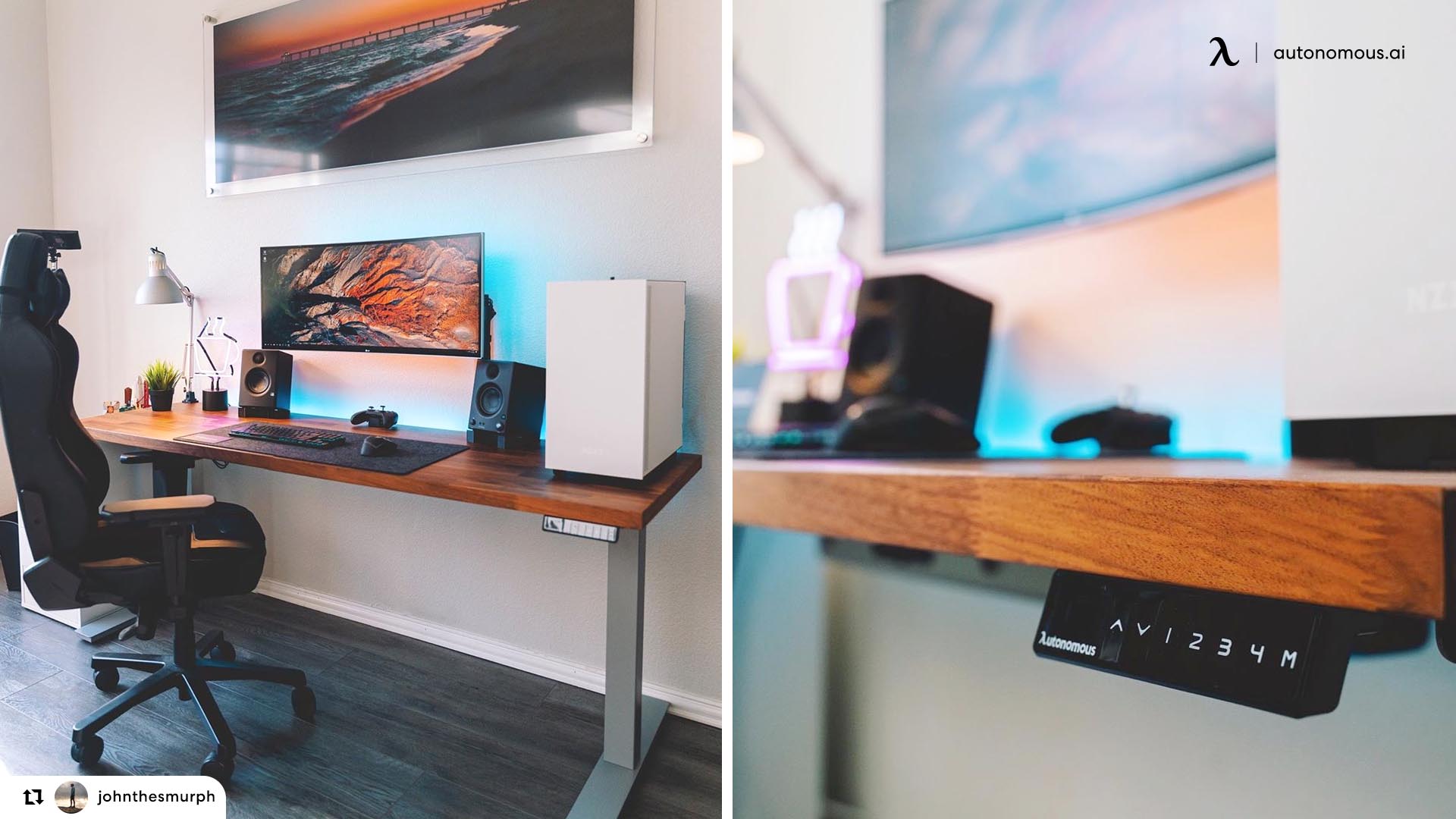 Disadvantages of Building Your Standing Desk
Standing for long periods of time can have unfavorable effects.

Cost factors of purchasing additional tools to build the standing desk.

Takes a considerable amount of time and dedication.

It could become frustrating and challenging for beginner DIYers or woodworkers.
What You Need to Build a Standing Desk
How to make a standing desk, here are tools that you need:
Table Saw
Power Drill
Screwdriver
Hammer
Strap Clamps
Wood Finish
The above tools are the general basis tools you require to get your DIY standing desk project complete. However, these are not the only mandatory tools, and you can use other tools to build your standing desk.
Measurements
How to make a standing desk? Every DIY project begins with measurements. For you to take your DIY project seriously, you need to take the measurements required. If your measurements are incorrect, this could result in a standing desk that is not straight, too short, too long, or wobbly. In short, the measurement step is a critical factor in ensuring your DIY standing desk project is successful.
When taking your first measurement, consider the height that you want your standing desk to be at and where it should reach. Are you planning on using an ergonomic chair with your sit-stand workstation?
Following this, you need to decide on the measurement of your length and width for your standing desk. There are numerous designs, from a standard rectangular shape to a more creative L-shaped desk. The most common sizes of desks are roughly between 30 inches wide and 60 inches long.
Materials
The quantities of materials that you need depend on the measurements you have taken. You need to find something robust and strong for the base, such as wood. Alternatively, the SmartDesk Frame provides you with excellent quality and a sturdy base.
The Autonomous SmartDesk Frame also provides an excellent frame that allows you to skip a couple of steps. Should you choose to use another material as your frame, you need to begin with the choice of the style of frame you want. Common types of frames are an H-frame or an X-frame.
Assembling
How to make a standing desk by assembling the top. If you have chosen wood as your base, you can take measurements and mark the lines and areas for cutting. You can cut the designated cutting lines and areas with a table saw. If you have chosen to use the Smart Desk DIY kit, measurements are typically from 40 to 70 inches in length.
The following part of your assembly is the building of the legs for your homemade standing desk design. If you have opted to use wooden legs, the use of carpenter's glue is going to help craft a simple and reliable unit. It is best to allow the glue to settle overnight for the maximum results. If you have decided to use steel legs, you are going to have to smelt the metal or purchase pre-made legs.
It is important to note that the four legs must look identical. The frame must be on top, and the bottom must connect everything together. Regarding the desk frames kit, the measurements should be alike as the frames are typically parallel. From start to finish, a regular desk is quite simple to build. The challenging part of the DIY project is building a standing desk.
The difference between a regular desk and a standing desk comes down to their height. If you are planning on building a DIY adjustable standing desk with a height elevation feature, you are going to have to invest in a piece of equipment that can elevate and adjust the desk height. If you decide on buying the Smart Desk DIY Kit from Autonomous, you do not have the issue of having to invest or find the equipment to raise or lower your desk.
10 DIY Standing Desk Designs and Ideas
There are plenty of creative ways on how to make a standing desk to construct your own. Your choice of desk depends on how often you spend time in your office and your budget. Let us discuss 10 DIY standing desk ideas and designs that you can have in your home.
1. The Autonomous Smart Desk DIY Kit
The Autonomous Smart Desk DIY Kit serves as the perfect starting point for your DIY sit-stand workstation project. The kit provides all the necessary requirements to build an electric and adjustable standing desk. An industry-leading kit that is going to enable you to take one step closer to your dream workstation.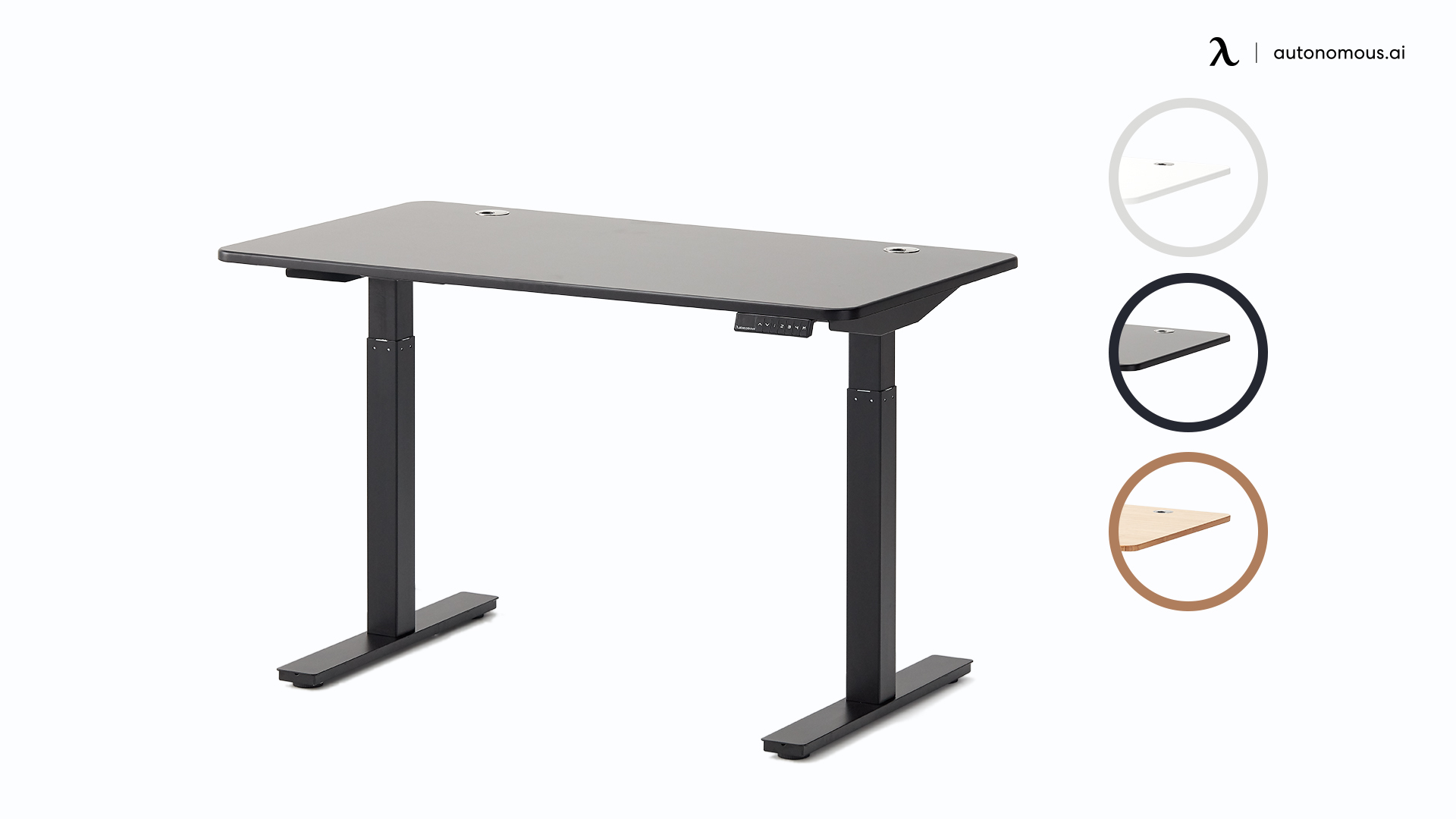 2. Bookcase standing desk
It transforms a humble bookcase into a practical and well-designed workstation. This DIY workstation idea does not need any tools or assembly. All you are going to do is remove some of the bookshelves and designate your workspace.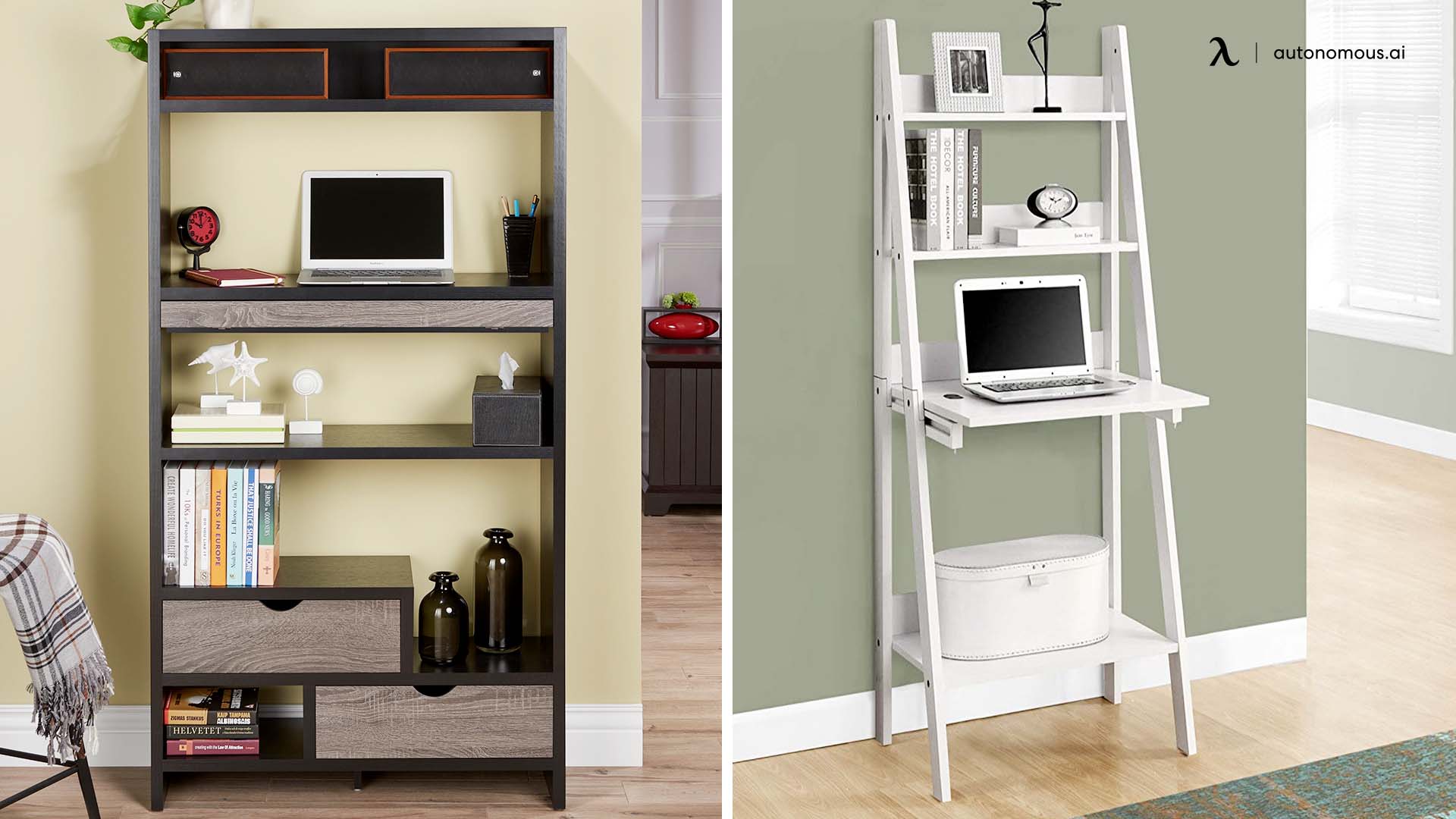 3. Treadmill standing desk
Through building this DIY project, you are going to keep mentally engaged and physically engaged too. This DIY idea means you can incorporate daily desk exercise into your work routine. Attach a platform for your keyboard and desk to the treadmill. When you have a bit of relaxation time from your office work – turn up the treadmill and work off some calories.
4. Wooden pallet wall desk
A wooden pallet can be converted into numerous DIY projects because of the pallet's flexibility and cost-effectiveness. By constructing the tabletop from cardboard and supporting its weight against the wall with a string, as well as making your own standing desk shelf from the wooden pallet, you can create a floating workstation. It is a good idea for your modern office design in 2021.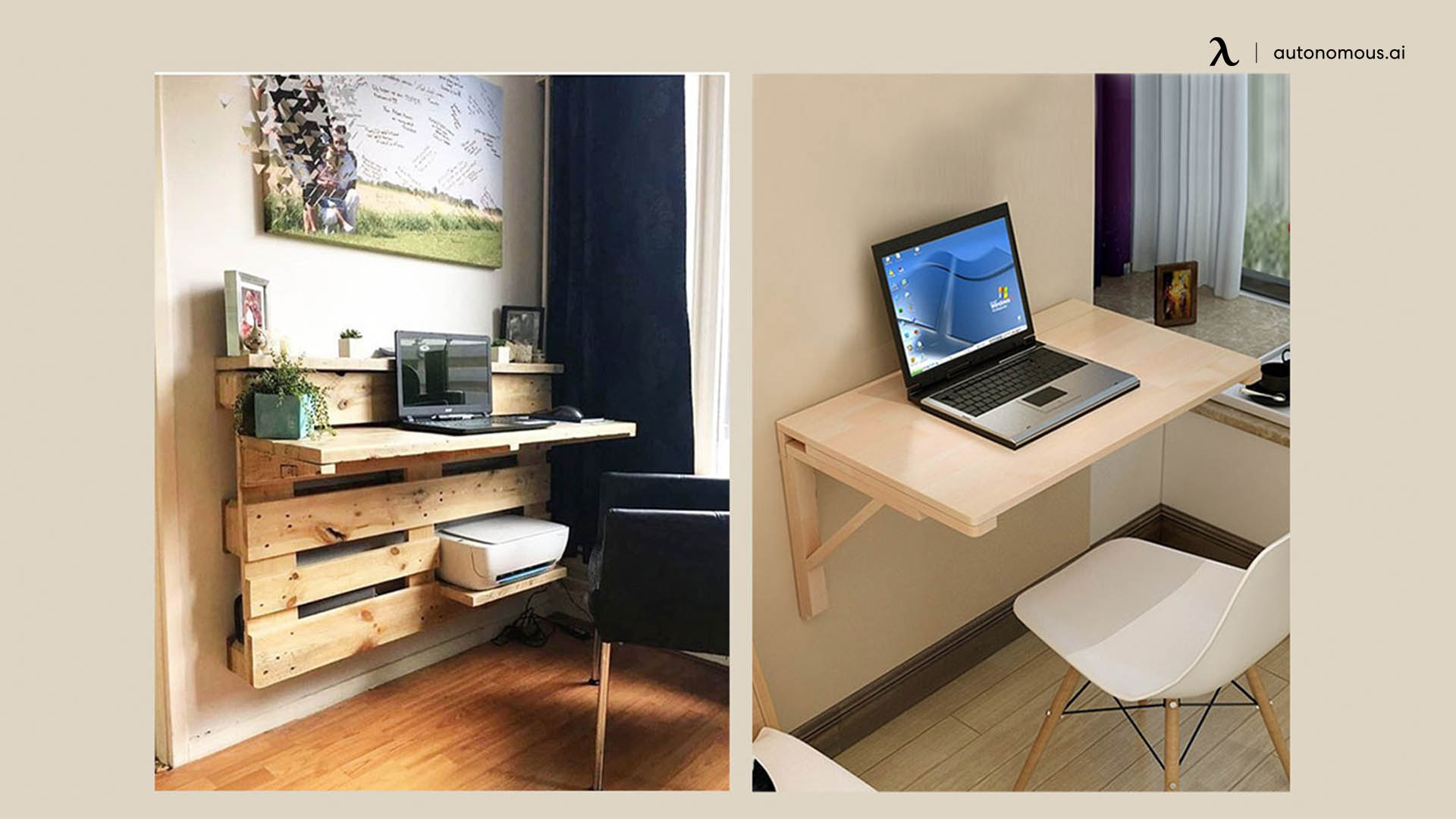 5. A standing dresser
You can convert an old piece of furniture or dresser into a standing desk. This is as simple as placing your monitor on the top of the table and transforming your drawers into bookshelves or bookcases.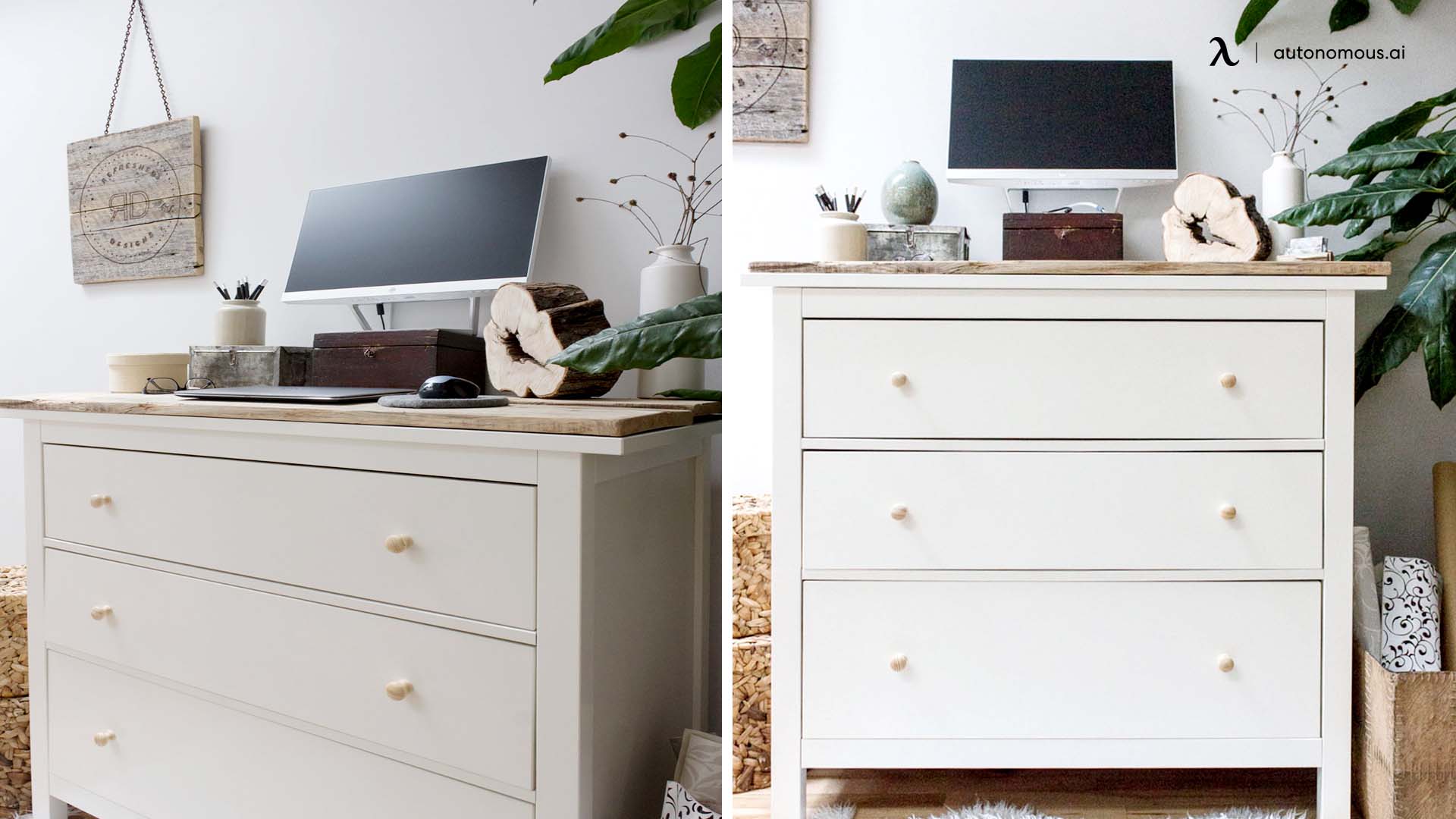 6. A standing sawhorse desk
This DIY standing desk idea is an excellent way to get stability and style in one. By using two sawhorses as the frame and a wooden top as the base, you can use the wooden features to create a vintage and industrial design for you to craft.
7. A portable sit/stand desk
This DIY desk idea is exceptionally affordable. All you are going to need to get this project started is a shelf, two brackets, and a side table. Although it is not adjustable, it is simple to make and an affordable desk option.
8. A bench and table
Using wood for your DIY desk idea is a good option. You can sit on your wooden bench and use the table as a base for your monitor.
9. A two-tier desk
This DIY desk design is a comfortable homemade ergonomic standing desk workstation to build. With this style of a standing desk, you have a frame and a tabletop across it. The second tier is the same thing as the back of the first tier.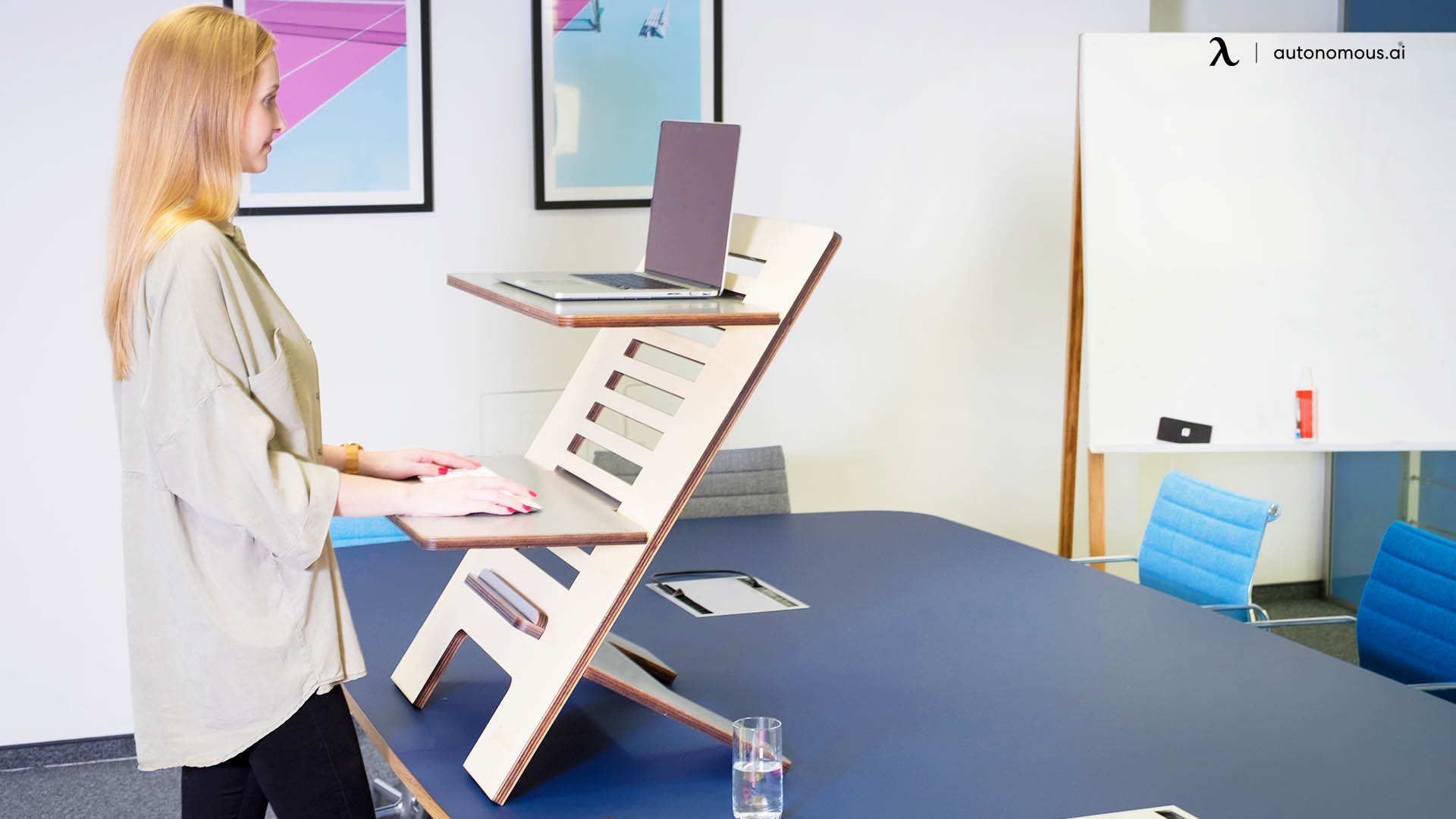 10. An industrial steel pipe DIY standing desk
For vintage and urban sit-stand workstation, try this DIY desk idea. The desk can be adjusted to any height through the shuffling of the piping around.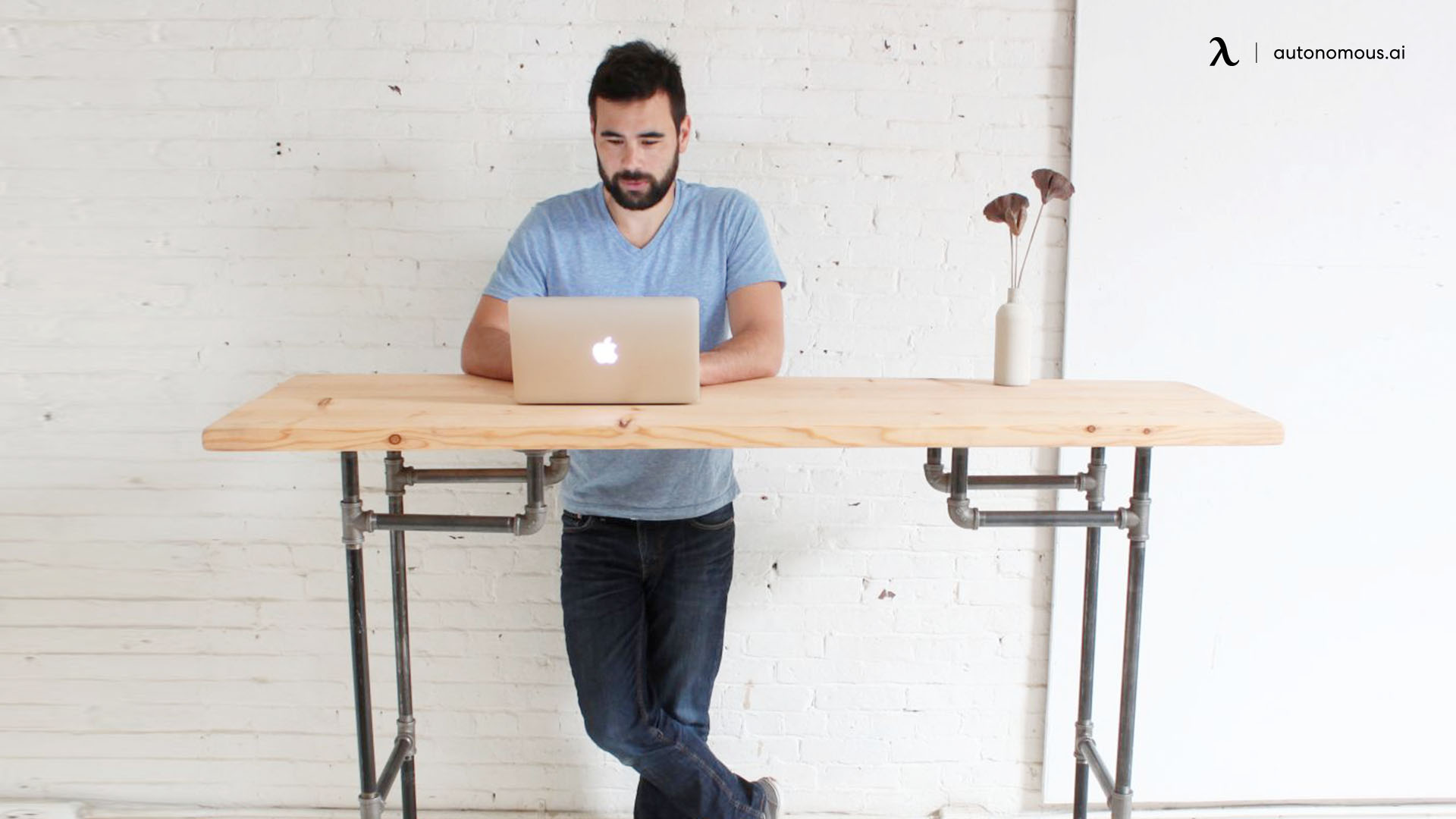 Stand While Working from Home
Why should we stand while working from home? Have you ever wondered that? Why is everyone focusing on active standing and standing while working? This has got a lot to do with your health and wellbeing. You know that when you are working from home, you are bound to your workspace for much longer hours as your work tends to expand with time.
Imagine sitting all day in a corner trying to figure out tasks and completing office work. Do you know what you will end up with? Tons of stress and a bad mood. Changing your position is always a better way of maintaining your focus and staying active throughout those busy hours. Although you know that there are several standing desks available in the market, the idea of building your own standing desk might still attract you.
If you have designed your DIY adjustable standing desk, the next phase is to set up an environment where you can work peacefully and have all your relevant desk accessories in place. In short, you have to design your office around your DIY standing desk. So, let's have a look at how you can go about it.
Designing an Office Around a Standing Desk
We believe that the concept regarding how to make a standing desk is crystal clear by now, so you should move towards equipping yourself with certain accessories or, let's say, certain peripherals that will help you create a productive workspace.
Desk Lamp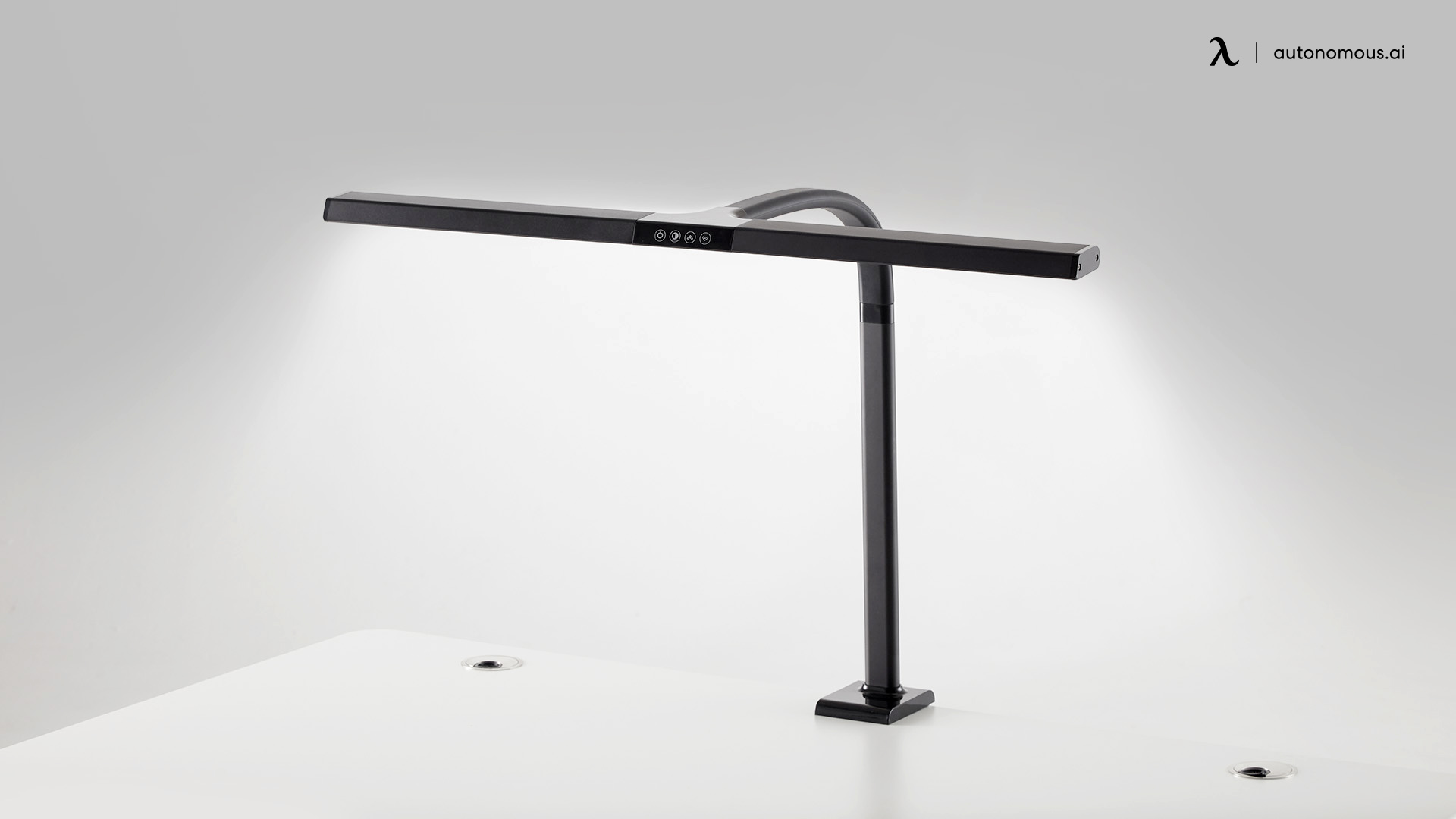 A desk lamp is among those foremost accessories that can help you design a more productive DIY standing desk setup. It is always better to get hands-on an LED desk lamp as they are eco-friendly and do not cause any optical damage over long-term use.
The desk lamp will typically help you get through your late-night work sessions or when you are working in a dim-lit area. However, ensure that the lamp is dimmable so that you can adjust its brightness and avoid any glare.
Desk Pad
A desk pad comes in handy with your DIY adjustable standing desk when you are using a mouse excessively. You often lose grip if you don't have an ergonomic desk pad, so you should think of investing in one of them. A good choice would be to either buy a cork desk pad or a vegan leather desk mat.
Both options are great when it comes to providing a better desk grip. The former is designed using natural cork while the latter has microfiber as the main material, and both materials will do the job.
File Cabinet Accessories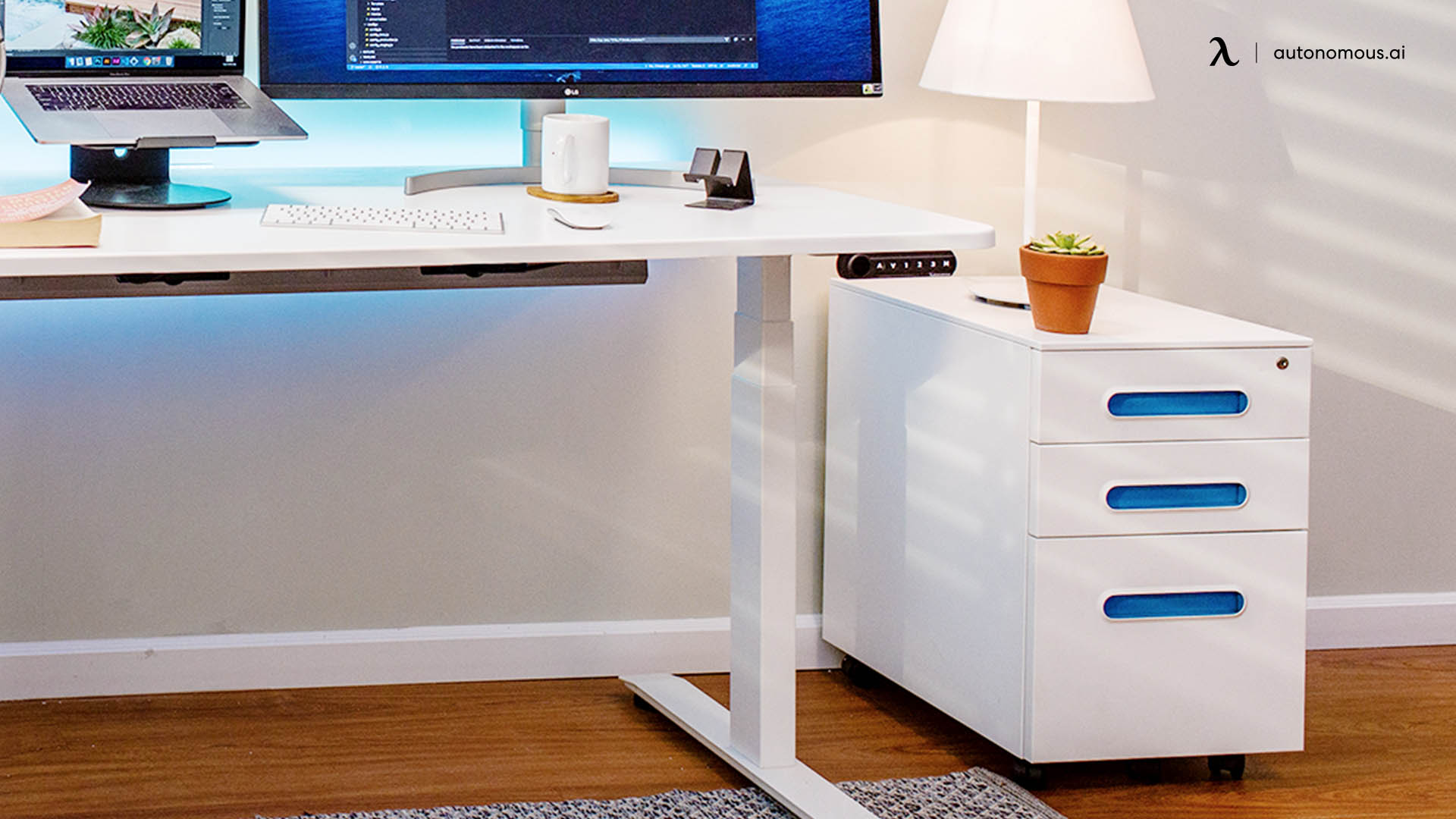 Everyone likes working in an environment that lacks any clutter. Would you like to have files lingering on your desk, creating an unwanted mess? Possibly no, right? So, investing in file cabinet accessories is a viable option. The file cabinet helps you carry all those materials and accessories that might add more beef to your workspace.
Ergonomic Chair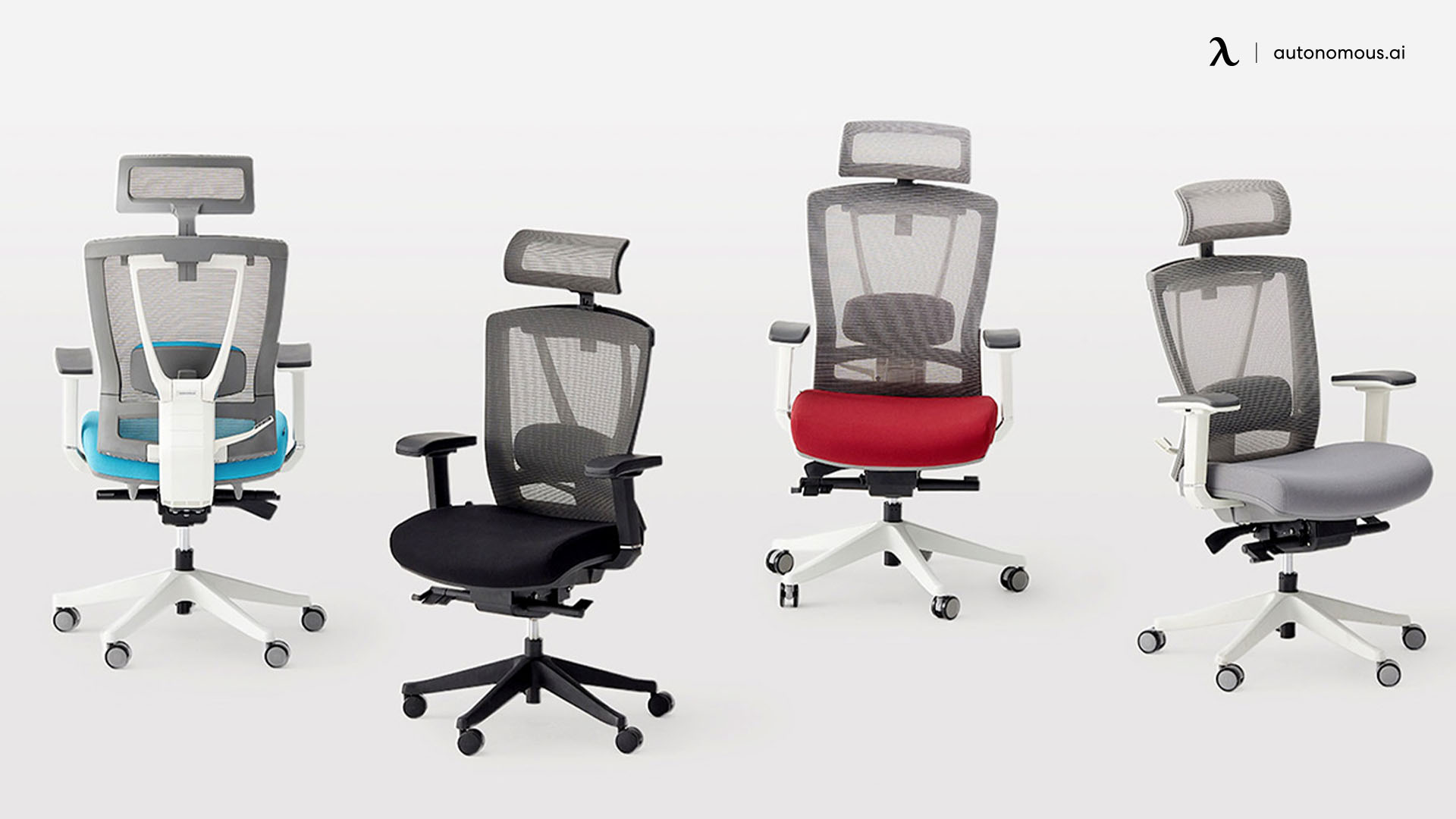 Lastly, it is significant to invest in a well-designed ergonomic chair. Obviously, you will be spending some time sitting as well, so think of buying those office chairs that offer multiple adjustment features. In this way, you can fully customize your work experience and stay more productive throughout the day.
FAQs for a Sit-Stand Workstation
How Can I Turn My Regular Desk into a Standing Desk?
You can add an adjustable lap desk on top of your regular desk and adjust its height as per your requirement. In addition, you can also think of using the coffee table method where you add another short heighted table on top of your regular desk to get more surface to work and an increased height that allows you to change your position. A stack of books would work as well.
Is it Cheaper to Make Your Own Standing Desk?
It is often cheaper to make your own standing desk. This is because you select the equipment on your own upon evaluating your budget and try to keep costs at their minimum. However, building your own standing desk is more time-consuming.
How Tall Should a Standing Desk Be?
The height of your DIY adjustable standing desk should be such that your monitor's screen is within your eye level. It should not be more than 2-3 inches above your eye level. In addition, your elbows should rest at ninety degrees with your desk, ensuring there is no stress on your arms while you work on your PC.
Are DIY Standing Desks Ergonomic?
DIY adjustable standing desks are ergonomic. However, if you wish to judge whether a standing desk do it yourself is ergonomic or not, check for the features that it offers. If the height adjustment is such that you can do it easily and it does not create any strain, it is for sure an ergonomic piece of furniture in your office.
How Long Should You Stand with a Standing Desk?
Although everyone recommends active sitting where you should stand while working as well, ensure that you do not stand for too long, as that can be equally harmful. You are advised to stand for around 15-30 minutes per hour. Standing too long with a DIY standing desk can create muscle stiffness and soreness, so it is vital that you use your time standing as stretching time mainly and avoid standing for hours without alternating it with sitting.
The Final Verdict
Starting your own DIY adjustable standing desk project may seem like a daunting task at first, but with the right tools, measurements, and materials, it proves to be an enjoyable and creative task. Once you have set up and finished building your sit-stand workstation, you are going almost to feel the benefits of transitioning instantly between sitting and standing.
There are numerous creative DIY desk design ideas on how to make a standing desk to choose from. Best of luck with building your DIY standing desk, and let us know if you have any DIY questions or queries, and feel free to comment below.
Keep up with Autonomous news
Stay informed, stay inspired with our new blogs.
WRITTEN BYAutonomous
We build office products to help you work smarter.