Smart Products
15+ Modern Floating Desks For Home & Office - 2023 Reviews

Autonomous
|
Mar 8, 2023
2,632 Views
In today's fast-paced world, having a functional and modern workspace is essential for productivity and creativity. One of the best ways to achieve this is by investing in a floating desk. These desks save space and add a touch of elegance to any room. With so many options in the market, choosing the right one can be overwhelming.
Buying a modern floating desk could boost your productivity and help you feel motivated while studying or working from home. They're becoming more popular, so getting one may be a fantastic idea! In this blog post, we have compiled a comprehensive review of over 15 top-rated modern floating desks for your home and office to help you make an informed decision. Let's dive in!
What is a Floating Desk?
A floating desk is a piece of furniture that can be mounted on a wall. The main purpose of such desks is to save storage space, especially for users with compact and tiny rooms. This innovative furniture lets you have additional storage space in your room without compromising precious floor space.
The storage compartments and shelves allow you to store your office supplies, books, showpieces, and other home stuff. This ultimately declutters your house as you can organize and store items better.
Moreover, storage desks are also a great investment since they can be folded. Many storage desks are multi-purpose and can be configured according to your needs, and you can use them as a storage shelf or a work desk.
Later in this article, we will review some of the best-floating desks from famous Autonomous and other companies that can transform your house and give it a much cleaner look.
Top Floating Desk Alternatives: Full List
Here are our floating desk top picks:
1. FM Furniture Brickell Floating Desk: Foldable Desk
This modern floating desk shelf exists to make your life easier if you don't have much office space. You won't have to worry about limited space anymore because this furniture piece is the ideal addition to your workstation, allowing you to organize all your essentials! 
FM's wall-mounted desk has a beautiful and elegant oak finish. In addition, since it features a bracket system, you can quickly dismount it if you need to. It's the perfect table to add to your home furniture! 
2. Nexera Slim Secretary Desk
Available in two different colors, Nexera's option is functional and affordable. With the slim secretary desk, you can work while sitting down or standing up. 
Nexera's alternative is convenient for many people because it features rectangular lines and a dropdown design, which make it a beautiful contemporary floating desk. 
3. Nexera Secretary Desk
If you want a table that doesn't take up much space but that still allows you to organize all your office essentials, the Nexera Secretary Desk could be the ideal option for you. 
You can close the drop-down door whenever you want and hide away your office work. The table's primary material is MDF, and it has a laminate and melamine finish, so it's water, scratch, and stain-resistant. 
4. FM Furniture Roma Wall Desk
Limited space at home shouldn't bring you down if you want to set up a fantastic workstation. FM Furniture offers top-notch tables to choose from, and the Roma Wall Desk is one of them! 
Workers who stay at home need to make sure they have computer workstations that fit all their needs. With the Roma table, you can organize all your office supplies (notepads, your laptop, etc.) without taking up too much space. 
5. Skyline Décor Dark Brown Folding Desk: Wall-Mounted
The Skyline Décor Dark Brown Folding Desk looks like something out of a space movie. But don't be mistaken by its appearance. The innovative design allows you to space a ton while organizing your items and supplies.
This folding desk has 15 interior shelves and storage compartments made from high-quality MDF hardwood. You can easily mount the desk on a wall without difficulty as it comes with easy instructions. The desk is fully assembled, and you only need to install it.
6. YU YUSING Wall-mounted Laptop Computer Desk
Although this brand is not as famous as Autonomous (which offers top-quality stand-up desk alternatives), Yu Yusing has an affordable computer table option that you should check out. 
Since MDF is its primary material, it's sturdy and long-lasting. Plus, it's resistant to water, scratches, and stains. 
The foldable design of this modern floating desk makes it the ideal option for compact spaces. Forget about spacious tables - instead, get this model, and your surroundings will look sleek and neat! 
Even though it's an affordable alternative, some clients have said that putting together Yu Yusing's table is challenging. Thus, if you're not good with tools, keep this in mind or call a friend to help you! 
7. 9 Plus White Floating Desk
Many workers just want a classic and functional floating desk that gets the job done. You don't have to pick any extravagant alternative - the simplest one will do, especially if you're on a budget. 
9 Plus has the ideal option for these cases. With this table, you can save floor space and build the workstation you need. 
You don't need any tools to put the modern floating desk together. However, some customers have said the package arrived with damaged or missing parts, so keep that in mind before buying.
8. Floating Desk Shelf by BAMEOS
If you want an elegant yet modern floating desk shelf, BAMEOS has a fantastic alternative for you to check out. It's beautiful and functional, and since it doesn't take up much space, it'll be the ideal addition to any compact room. 
Since you can mount it at a height that suits you, it's a perfect study desk option. You can also use it to work from home if you want to - its matte black color fits any surroundings, and it has a minimalist style, so you can combine it with other furniture pieces.
9. Wall-mounted Floating Desk by Yescom
Engineering wood is the primary material that Yescom offers when you buy its floating desk. Due to that alone, it's probably a more long-lasting alternative than the previous two options since those could arrive with missing parts or damage easily. 
Yescom's modern wall-mounted desk has a minimalist design, it's affordable, and quick to assemble. You'll get a set of screws with it, and you'll need some tools to put it together, so make sure you have those once you buy it.
10. For Friend of Family's Floating Desk
Although a contemporary floating desk may be appealing, a classic and rustic look is many people's favorite option. 
The Floating Desk by For Friend of Family is unique because of its almost old-looking, pinewood, rustic surface. 
Heavy cast-iron brackets support the desk, so it's a well-balanced alternative. Although the table only weighs 17.31 pounds, it can withstand heavy loads. 
This modern floating wood desk is quick to assemble, but for some people, the instructions are difficult to follow. Thus, putting it together may take more time.
11. Rustic Folded Wall-mounted Desk by Tianman
If you're looking for a contemporary floating desk that's 100% made of solid wood, Tianman's alternative is one of the options you should look into. 
A straightforward release mechanism is available for you to fold the modern wall-mounted desk when you're not using it. It's an ideal option to save some space! 
With a sturdy build and high-quality construction, Tianman's model could last a long time if you take care of it correctly.
12. White Floating Desk by Tangkula
Tangkula also offers an elegant modern wall-mounted desk that you should check out if you're looking for a functional and beautiful piece of furniture. 
With Tangkula's floating desk, you can save office space while having a large-enough surface to organize all your supplies. 
At the same time, it's sturdy and only uses eco-friendly materials. Therefore, it's the ideal alternative if you want to contribute to the environment. 
Even though Tangkula's option is perfect for some, clients have complained, saying that contacting the manufacturer is impossible. It's one of the reasons why getting a high-quality alternative like Autonomous' tables is always the best idea.
13. Need's Fold-down Floating Desk
Both compact and large spaces could benefit from Need's desk since its classic design fits any style.
Since it has an alloy steel finish, it resists scratches and stains, and it'll last a long time. In addition, it features 14-gauge steel brackets that you can adjust if you want to fold the table and put it out of the way. 
14. Floating Desk in White by Tangkula
Finding an efficient and space-saving table option may take some time, especially if you're on a budget. However, Tangkula's alternative is affordable and functional. 
The brand's white floating desk has a unique feature: it includes a blackboard. Therefore, it's popular among students or workers who love writing to-do lists or motivational phrases to help them get through the day. 
It includes numerous compartments, so you'll get a lot of storage to display your office supplies. Moreover, its surface has an NC coating - it's smooth and scratch-resistant! 
15. Storage Wall-mounted Desk by SUPERJARE
You don't need to compromise the quality of the modern floating desk shelf of your choice just because of its price. Even though you won't get all the features that Autonomous desks offer you, SUPERJARE's option could be useful for you. 
SUPERJARE's contemporary floating desk only weighs eight pounds. It's a multi-purpose table - you can use it to study, work, and more! 
Even though it's a convenient alternative to save space and you won't need much time to assemble it, it doesn't include the tools you need to do it. Therefore, you'll have to buy them, which results in extra costs.
16. Modern Floating Desk by High & Mighty
If you're looking for a beautiful modern floating wood desk that fits your books, documents, trophies, artwork, and office supplies, High & Mighty may have an ideal model. 
It's available in various styles. Therefore, you can choose your favorite one depending on the atmosphere you want to create - do you prefer rustic surroundings or a more contemporary look? It's up to you! 
The mounting hardware you need comes with a High & Mighty contemporary floating desk, which means you won't have to buy anything else. 
al-guid-3e221acf-7fff-0dc5-57cc-fdddc90b5c4f">Nonetheless, customers have said their package was poorly wrapped. 
17. Floating Desk with Drawers by Y&ME YM
Paulownia wood is famous because of its sturdiness and long-lasting life, and it's the primary material you'll have if you buy Y&ME YM's floating desk. 
Regardless of the room you put the desk in, you'll create a rustic and elegant style. It's the ideal piece of furniture to add if you need a table to store pens, notepads, documents, and other knick-knacks.
18. Pmnianhua's Floating Desk with Shelves
The last option on this list is affordable and functional, and it'll do the trick if you want a table that makes your surroundings look different. 
It's a solid-wood desk with a bookshelf. Therefore, bookworms will find it ideal since they'll be able to organize everything they want. 
Furthermore, its corners are round for safety reasons. The screws and brackets are sturdy - you won't have to worry about balance or think about getting another table if you buy this one. 
Nonetheless, it's a very expensive option, and not everyone can buy a desk that'll break the bank. If you want something functional and affordable, Autonomous has some fantastic alternatives. 
Pros and Cons of Getting a Modern Floating Desk
Floating desks are gaining popularity among people who work from home because they allow you to save space. However, before buying one, you need to know the pros and cons of installing a table instead of getting a traditional piece of furniture. Take a look! 
Pros of Getting a Modern Floating Desk
You can save space.

These desks may look much better.

They're easy to install.

The desks boost productivity.
Cons of Getting a Modern Floating Desk
They are smaller in size.

Sometimes, they can be flimsy.

You'll have to set them up.

They're hard to move. 
Final Thoughts
There are many floating desks out there. Now, you understand why getting one could help you take your studying or at-home work to the next level: even though you'll have to assemble the table, these models allow you to save space while also helping you organize your surroundings. 
A modern floating desk is a great addition to any home or office, providing style and functionality. When selecting a desk, it's important to consider size, material, and design factors. With the right floating desk, you can create a workspace that inspires creativity and productivity. Fortunately, Autonomous ticks all the boxes of having the best-floating desks. Hence, check them out.
We hope that you found this read a great resource while making your decisions, and hope that you have a great time using a floating desk. Thanks for reading!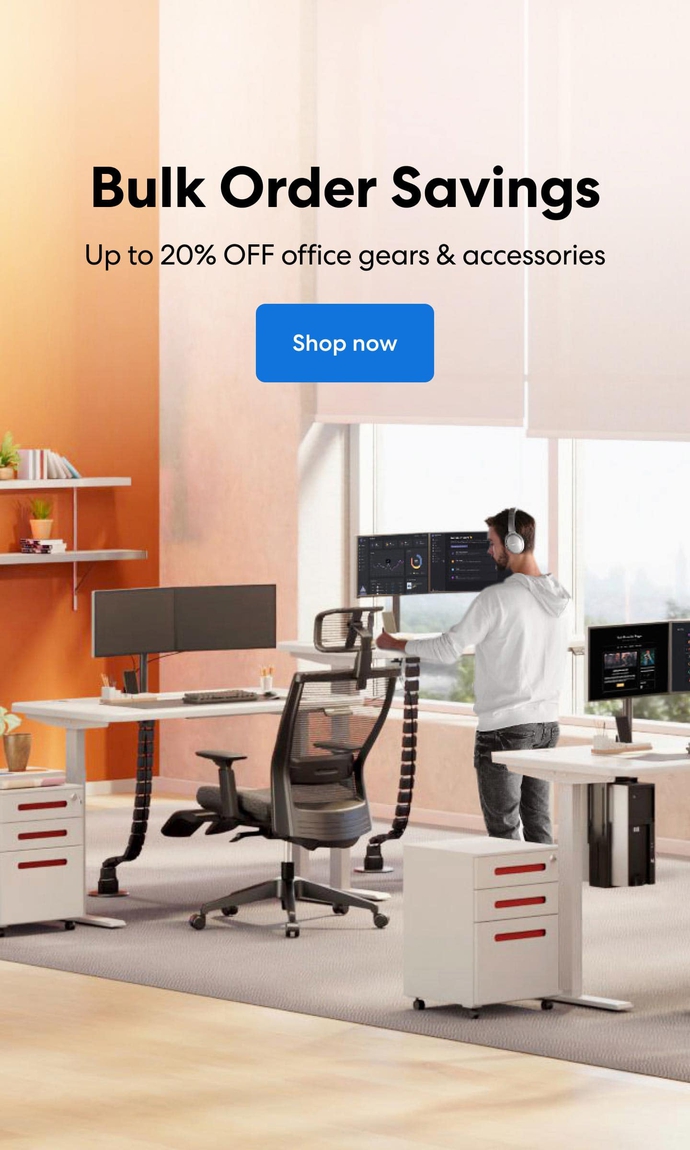 Subcribe newsletter and get $100 OFF.
Receive product updates, special offers, ergo tips, and inspiration form our team.