Remote Working
5 Best Desk Setup Ideas for College Students
18,881 Views
With the global pandemic of Covid-19 still hanging heavy above us with no sign of letting up anytime soon, millions of college students across the country are preparing for their first-ever remote classes. If you're at the very start, deep in the middle, or so close to the freakin end of your college degree. Or maybe it's your children that are having to navigate the totally unchartered waters of learning from home. How can you make sure that learning remotely from home is just as effective as attending lectures and tutorials in person? They say "this is the new norm", perhaps it's time to properly gear up for the long haul?
To promote "A level" study at home, try following some of these simple college desk setup ideas. They will hopefully make at home study for you way more productive.
Tips to Get a Productive College Desk Setup
1. The Perfect Notebook
When was the last time you picked up a pen and wrote long-form on paper? Chances are you don't even remember. Jotting down notes, writing essays, submitting assignments, and now education itself has gone completely digital. The beauty of taking classes remotely is that you're no longer confined within the four walls of the lecture theatre and can pretty much participate and check off your attendance from wherever you feel most comfortable and inspired. Granted there's a strong enough wi-fi signal of course. Take advantage of this "freedom" so to speak and choose a driver that can easily move with you.
The MacBook Air from Apple is an incredibly thin, light, portable laptop, and is now more powerful than ever. The brilliant Retina display has a resolution of 2560 x 1600 for over 4 million pixels. Creating positively jaw-dropping images that take on a whole new level of detail and realism. Text is sharp and clear and True Tone technology automatically adjusts the white point of the display to match the color temperature of your surrounding environment. Web pages, documents, and emails look as natural as the printed page.
The uber-popular powerful laptop weighs only 2.8 pounds, with the available quad-core Intel Core i7 processor delivering up to 2 x faster CPU performance and up to 80 percent faster graphics performance. Up to 16GB of high-performance 3733MHz memory lets you work seamlessly during every hour of study at home, even with multiple apps open. The MacBook Air can also be configured with up to 2TB, providing plenty of room for all your lecture recordings, assignments, study notes, music, and more. Take note though. If you're majoring in graphic design or any subject that requires a lot of power-draining programs such as Photoshop, Premiere, or Final Cut, then we strongly suggest upgrading to the MacBook Pro for some extra horsepower.
2. Level up Your Screen Space
Of course, there are limitations to working with only a single 13-inch display. At times studying for long periods of time from your laptop can feel somewhat claustrophobic and is not ideal for your back and neck health. When it's time for you to knuckle down and burn that midnight oil, or when you need some extra screen space at your desk for study to tackle that next big assignment, a secondary monitor display is an essential part of any productive student desk setup.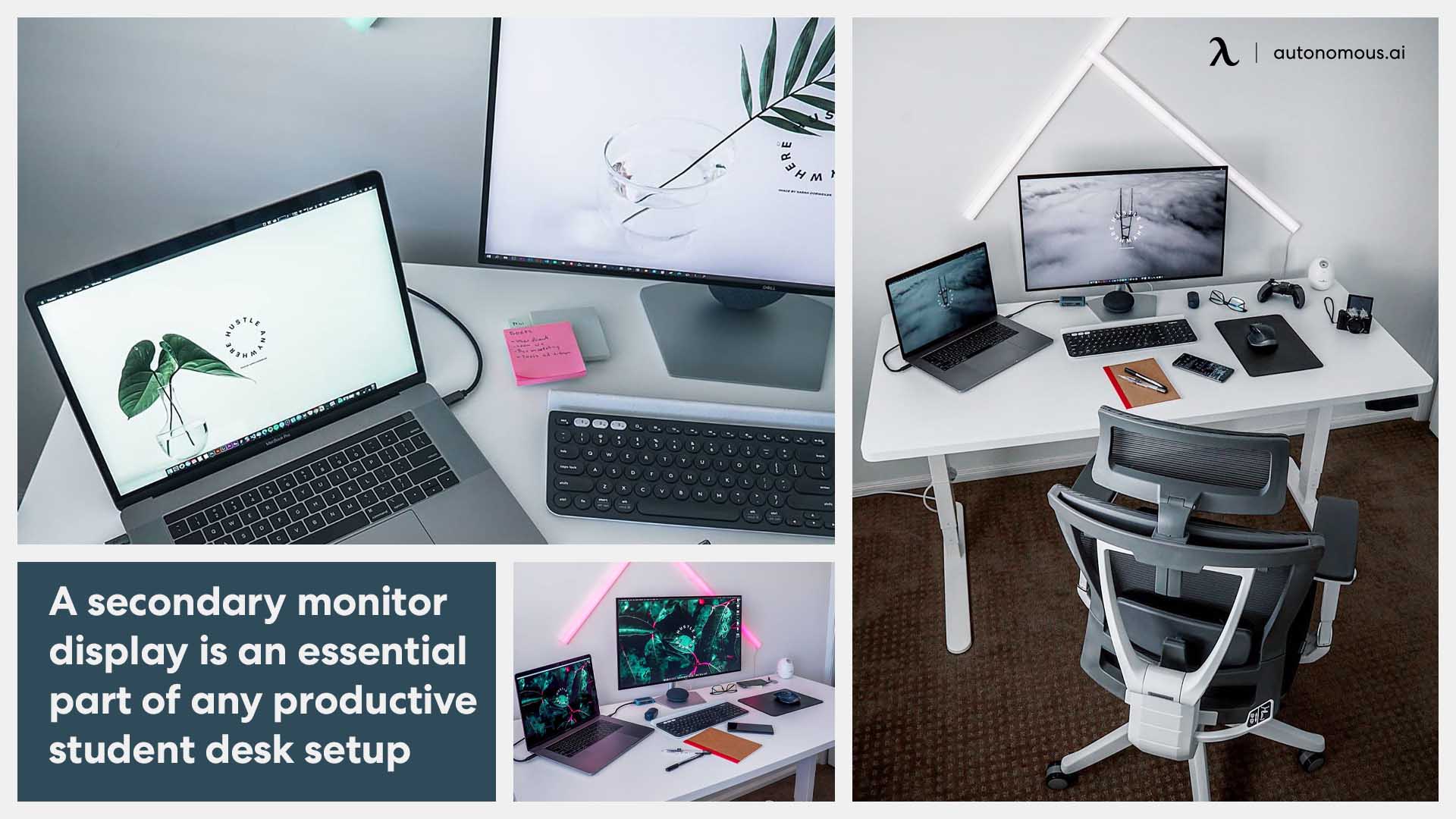 The Dell UltraSharp 24 USB-C Monitor (U2419HC) is 23.8 gorgeous inches of innovative, stylishly thin design with convenient USB-C connectivity. The monitor displays outstanding visuals and superb screen clarity thanks to its Full HD (1920 x 1080) resolution. The UltraSharp display also allows you to see consistent, vibrant colors across a wide viewing angle enabled by its In-Plane Switching (IPS) technology.
The super-thin panel measures a tiny 6.5mm at its thinnest point and its compact base and convenient cable management design free up valuable desk space, helping you maintain mental clarity throughout all of those studies at home courses. The screen can be easily adjusted to support your absolute comfort whilst studying. Pivot, tilt, swivel, and adjust the height of your monitor for the perfect, most comfortable setup all day long. It's also very easy on the eyes. The TUV Certified monitor has a flicker-free screen with ComfortView, a feature that reduces harmful blue light emissions. Designed to optimize eye comfort even over an extended period of time, experience less eye fatigue usually caused by hours of live study at home.
With its convenient USB-C connectivity, you'll be able to declutter your workspace, provide power to your laptop, and simultaneously transmit data, video, and audio all through one single cable. The no-fuss connection means that you'll be able to seamlessly move in and out of the at-home study. Upgrading your screen space is an effective way of maximizing your productivity. In the same way, you might work better with more working desk space, multiplying your screen space can also boost your productivity and workflow. Setting up a dual monitor display as part of your college desk setup can increase your productivity by up to 18%.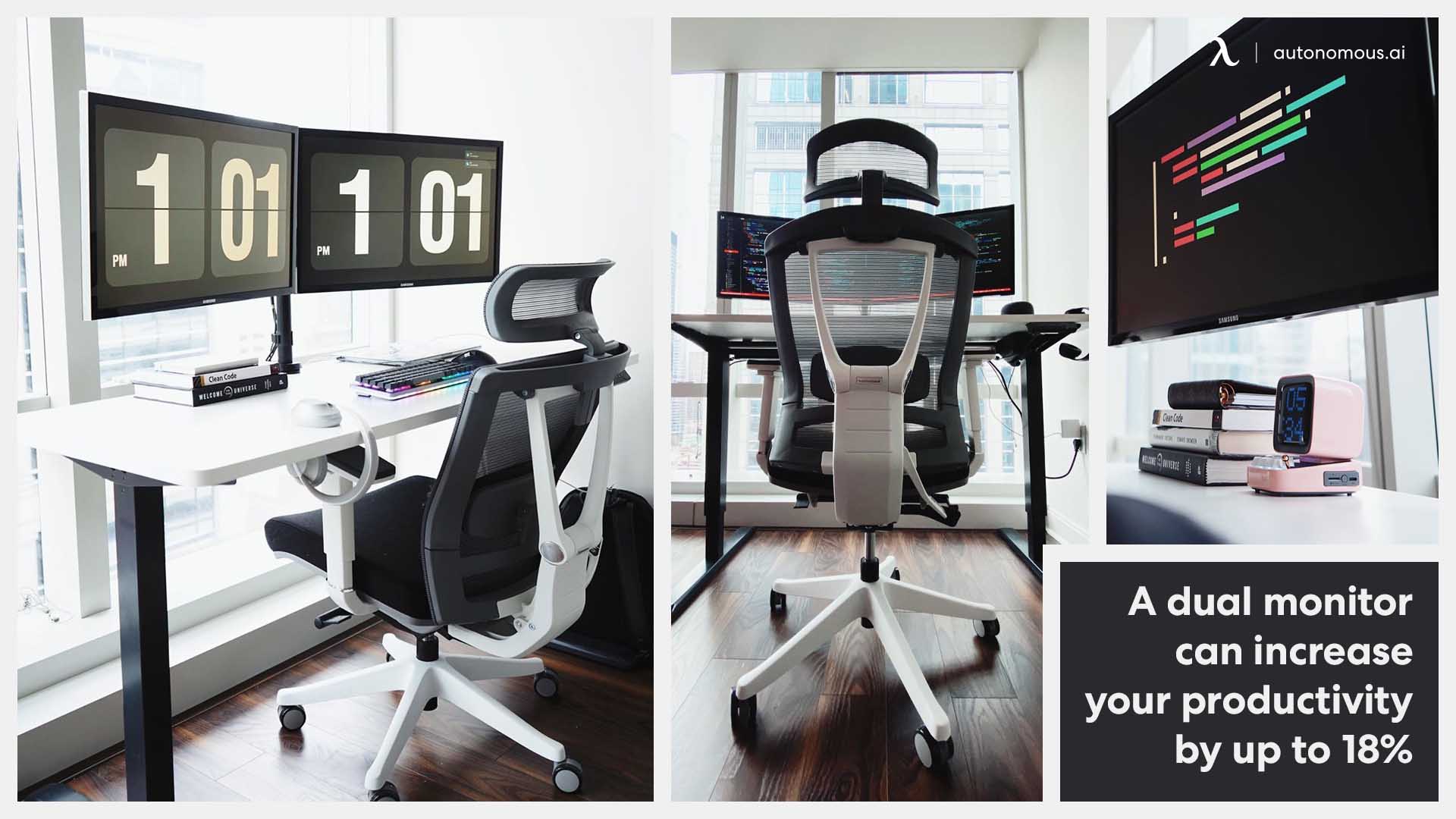 3. Keep Things Ergonomic During Every Study Hour
College can be really challenging, even for the best students. With so many papers to write, so many lectures to listen to, so many group assignments to keep track of, it's amazing how many of us get through it alive. Hours of daily home study will most likely result in a lot of physical and mental slumps. We're only human after all, and our brains and bodies get exhausted. To ensure that you perform at your peak, maintain a smooth study flow, and remain focused during all of your study at home programs, ergonomic furniture can do wonders.
Whether you're in high school or college, SmartDesk Core (Home Office) from Autonomous is the perfect option for all students. The adjustable standing desk is available in two sizes (Classic: 53" x 29" and XL: 70.5" x 30"). The spacious desktop can house all your computer accessories, documents, textbooks, and notebooks that you might need to keep at hand's reach. Best of all, the desk lifts and lowers at the touch of a finger and remembers your preferred heights with 4 programmable pre-settings, so you and your entire student desk setup can move seamlessly between sitting and standing throughout the day at the perfect height every time. Autonomous standing desks are generally much more affordable than comparable electric standing desks from other competitors, making them an excellent choice particularly for budget-conscious students and families.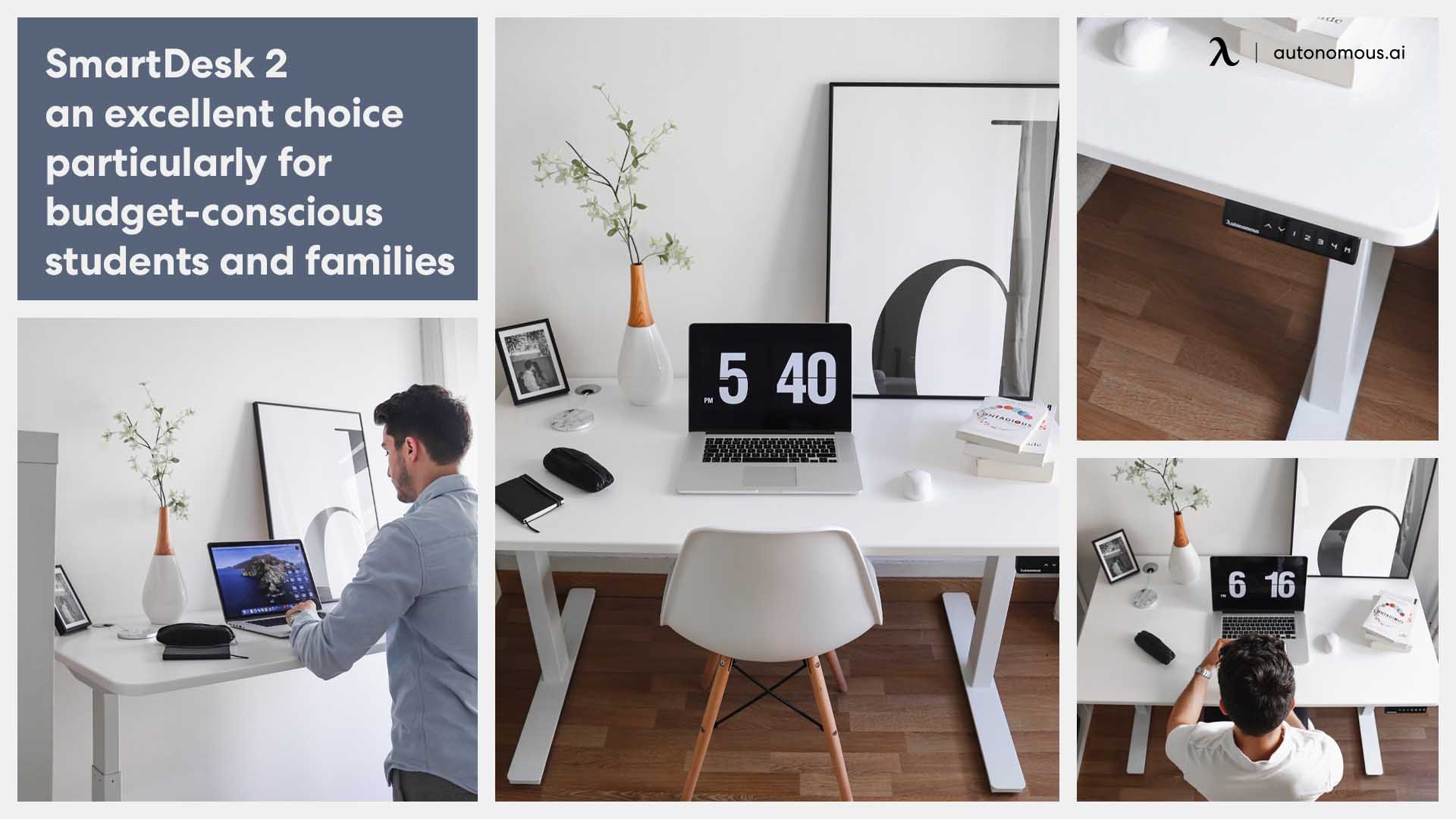 Every good study from the home student desk setup needs a sturdy, comfortable ergonomic chair. Think about it, we spend so much time at our desks working away throughout our high school and college years, it only makes sense to keep yourself correctly supported to keep your lumbar health in check. Back pain and neck cramps are a real issue when it comes to studying remotely at home and can seriously hinder your productivity, performance, and your grades! In order to build the best productive student desk set up for you, it's so important to source a studying chair that is comfortable. A chair that causes discomfort to your back can lead to serious damage to your posture and in the long run not only interferes with your productivity but also your health and wellbeing. 
The ErgoChair Pro (ErgoChair 2) from Autonomous is a high-quality option, again at only half the price of a lot of comparable chairs on the market. Plus it comes in many different color combinations so you can find the perfect chair to suit your unique space and personality. The ergonomic chair provides a fully adjustable seat tilt and seat height to fit perfectly against whatever your body type. And its complete lumbar support and super satisfying headrest makes studying all day (and all night long), a strain-free, stress-free experience. 
If you're suffering from work slumps during remote schooling, here are 6 ways to be more productive.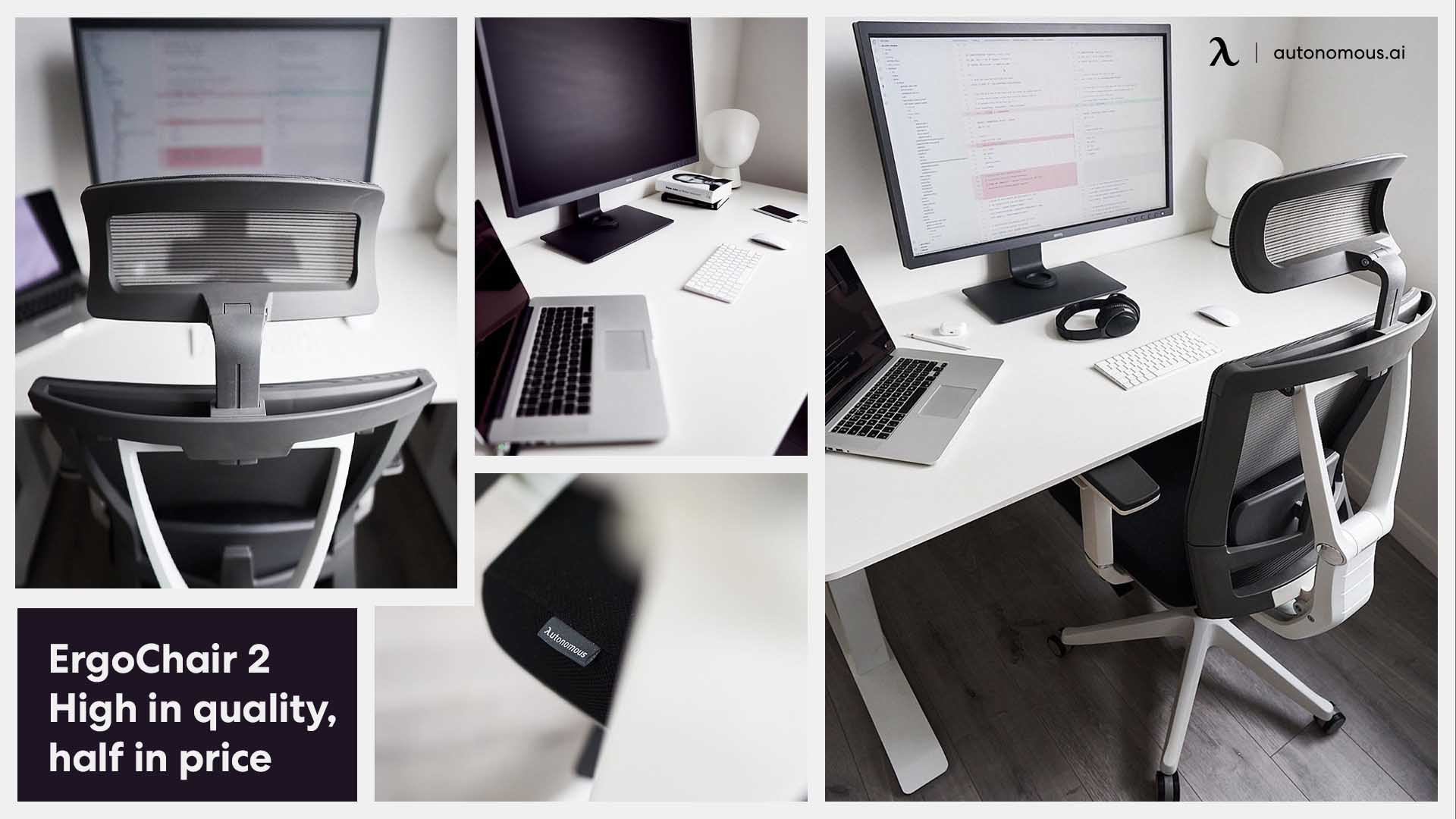 4. Don't Miss a Beat!
"Sorry! Could you say that again?" … we've all been there. It's hard enough as it is to focus during every second of class, even when you're there in person face to face with your teachers. Think about how much more difficult it might be to catch every word via correspondence. The speakers on our laptops are just ok. Sometimes they can be a little muffled or tinny. To really amplify communication between you, your advisors, and your peers, it's a good idea to invest in some quality sound support as part of your student desk setup.
The Soundlink Mini Bluetooth Speaker II from BOSE is wireless and ultra-compact. The outdoor speaker can be taken anywhere and has an impressive Bluetooth transmission range of 30 feet. With its lithium-ion battery, you can enjoy up to 10 hours of big sound and deep bass from one full charge. A great Bluetooth speaker perfect for watching Netflix, casual music listening, and most importantly hands-free phone calls. Its speakerphone feature conveniently connects to your phone, tablet, or laptop to produce loud, clear, and echo-free correspondence calls. With all of the online classes, zoom meetings, and online live tutorials that you'll be knee-deep in every day, this study at home tool has never been handier.
5. Get Yourself Organized
How many times has your Mom demanded that you clean your room? As much as we hate to do chores, there's a reason for keeping things super clean and organized. It's all about that mental clarity yo! You can't possibly be productive when you're drowning in clutter and spend most of your time looking for that damn assignment brief. A disorganized desk is a burden to your productivity, and unnecessary clutter can also be accountable for contributing to your stress levels. In short, the chaos of a hella messy study desk can cause major mental overload and make your habits of unproductive procrastination so much worse.
When creating a study space at home, the key to staying organized is creating a system. All of your school documents, stationery, digital accessories, and textbooks need a designated home. Keep your most important study papers clearly labeled and stored in a simple filing cabinet. Preferably one on wheels for easy transportation. For stationary and other small items that you use on the daily, consider some sort of concealed draw storage that you can add to your college desk setup idea. And if your studies call for lots of tasty techs (or maybe you just love to game in your downtime. No shame!), then a simple cable tray is an absolute godsend when it comes to cable management.  
Remember, your desktop display is just as important as your work desk. A messy desktop filled with hundreds of school documents and research files is likely to cause just as much headache as a disheveled stack of printed documents beside you. Take the time to develop a system of folders and subfolders for each of your electives and name all of your individual files appropriately for easy searching in the future. You'll save yourself tons of time, headache, and stress knowing exactly where to find what you're looking for, for each of your classes. 
Minimalism workspace is a great way of getting yourself organized!
How to Find the Right Desk for Study?
Standing desks give you the best health as you can sit or stand to work. As you have muscular movements, your body reduces the risk of various diseases like obesity, cardiovascular concerns, and more as blood glucose is used up. So, which desk for study is the best for you? As you explore the best desk for study, what are the key considerations you must watch out for?
1. Height range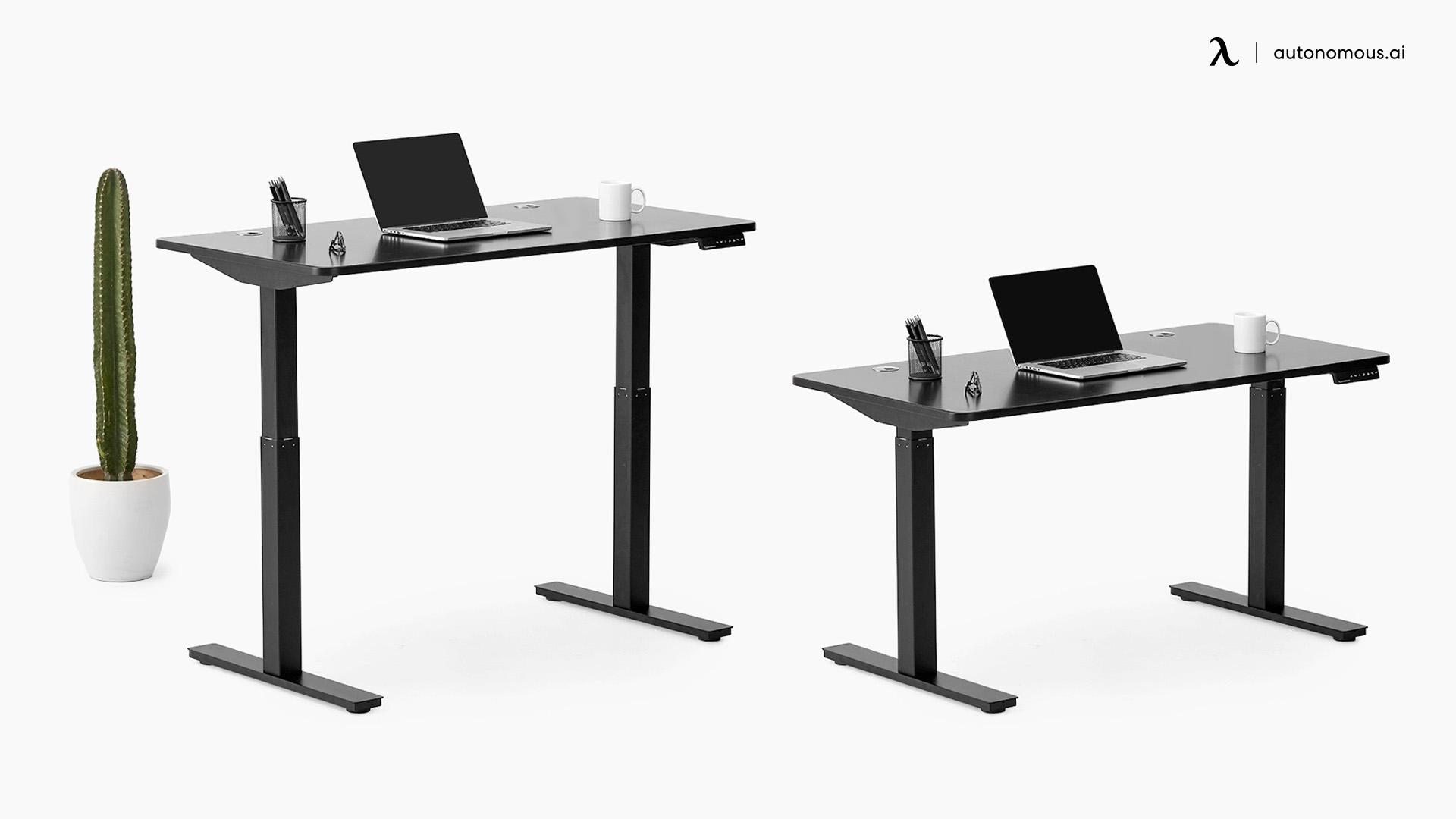 Consider the lowest and maximum height range that is offered by a desk for students. Usually, you would find desks that offer a height range between 25 inches to 52 inches. However, if you are a tall person, you may want to look for a height range greater than 52 inches; and vice versa for short-heighted folks.
2. Speed of climb
When you are in the midst of a call or preparing for one, you need a faster climb speed as the desk is lowered or raised to adjust the height. Therefore, any desks which have lower than 2 inches per second may not be a good investment.
3. Weight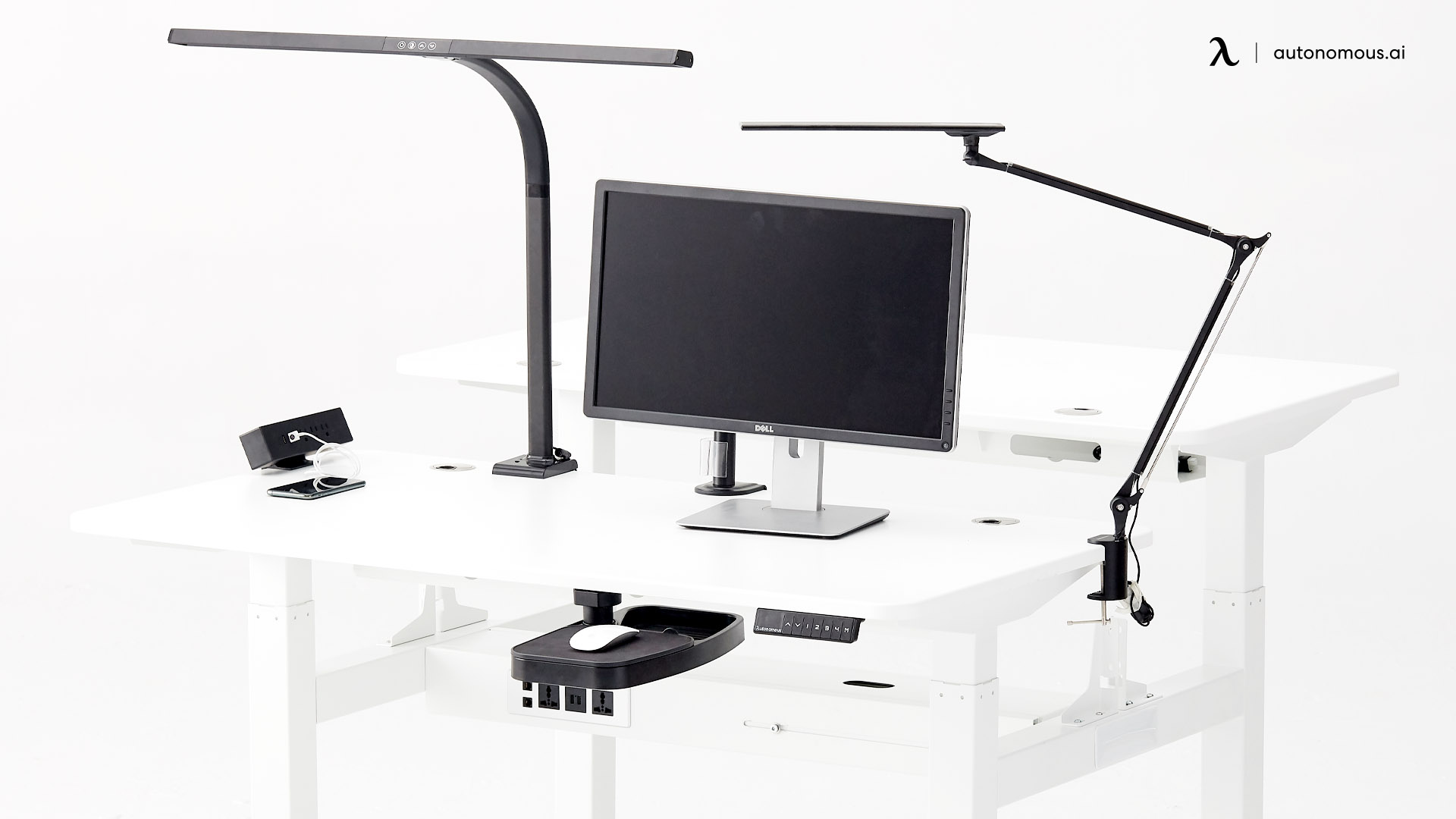 Consider what your requirement of the weight load that you need the table to take is? For example, most companies would offer you between 300 to 400 pounds for a basic computer system, a few books, and computer accessories.
4. Material
While most desktop surfaces are made from wood, look for water, scratch, and heat resistance, making them user-friendly and easier to maintain. For the legs or the frames, choose solid steel frames over wooden ones for durability and sturdiness.
5. Ease of installation
You don't want to be spending long productive hours managing setting up college students' desks. Look out for the accessories and instruction manual that should be included.
10 Best Desks for Students to Promote their Study Experience
As you explore the right study desk, don't miss the best posture to study. This is critical for your good health and overall being.
1. SmartDesk Pro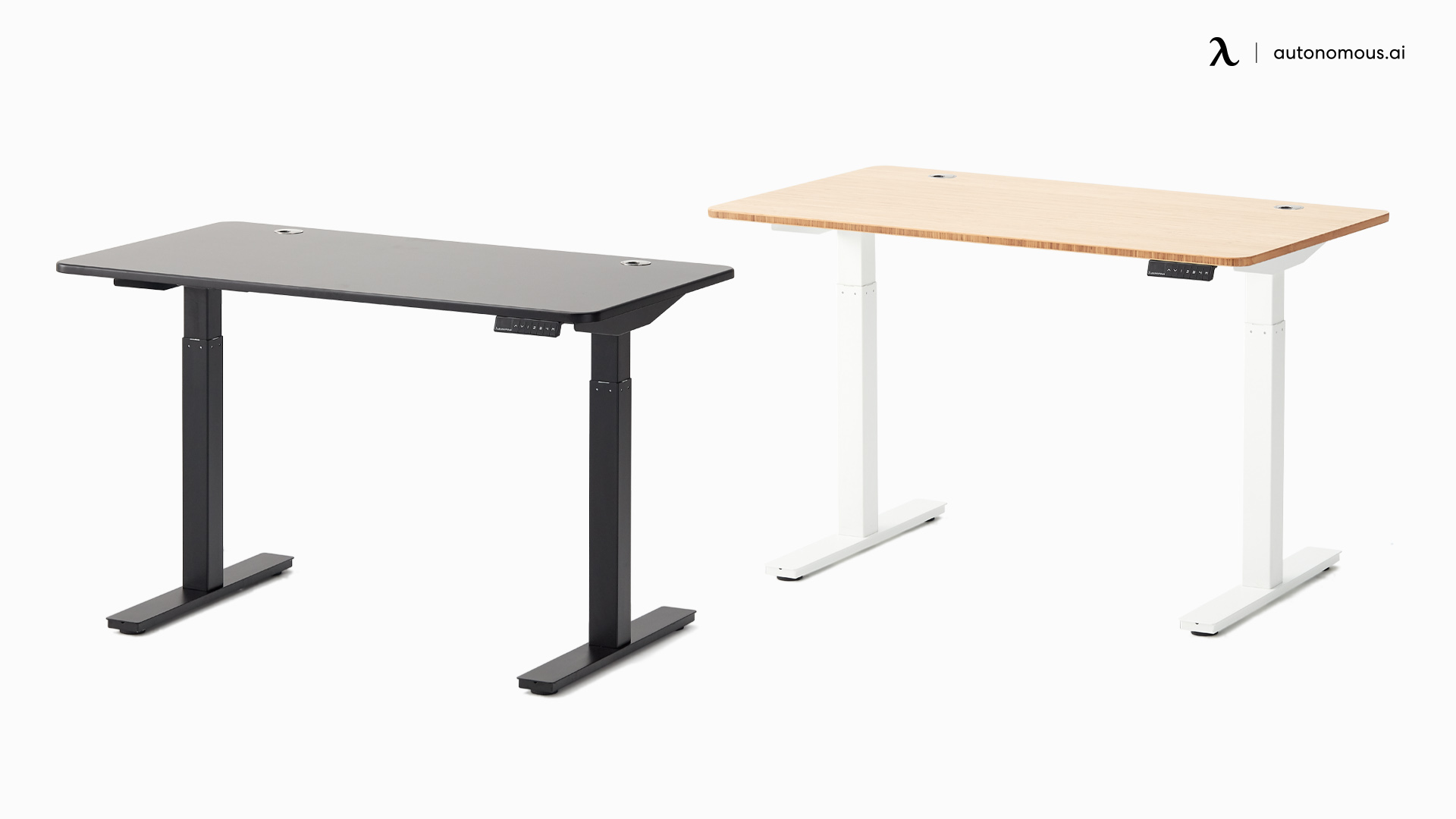 End your search here as you explore the features of the best study desk for students, the SmartDesk Pro.  Most comfortable for students, this sit-stand desk can be raised/lowered for working as you stand or sit. It is available in 14 beautiful desktop prints and colors.  Choose from the regular desktop size of 53" x 29" or pick up the XL size with a dimension of 70"X30".  It offers you one of the best height ranges operating between 26.2" to 52" height, including a one-inch desktop thickness.  Awesome, isn't it?
2. SmartDesk Core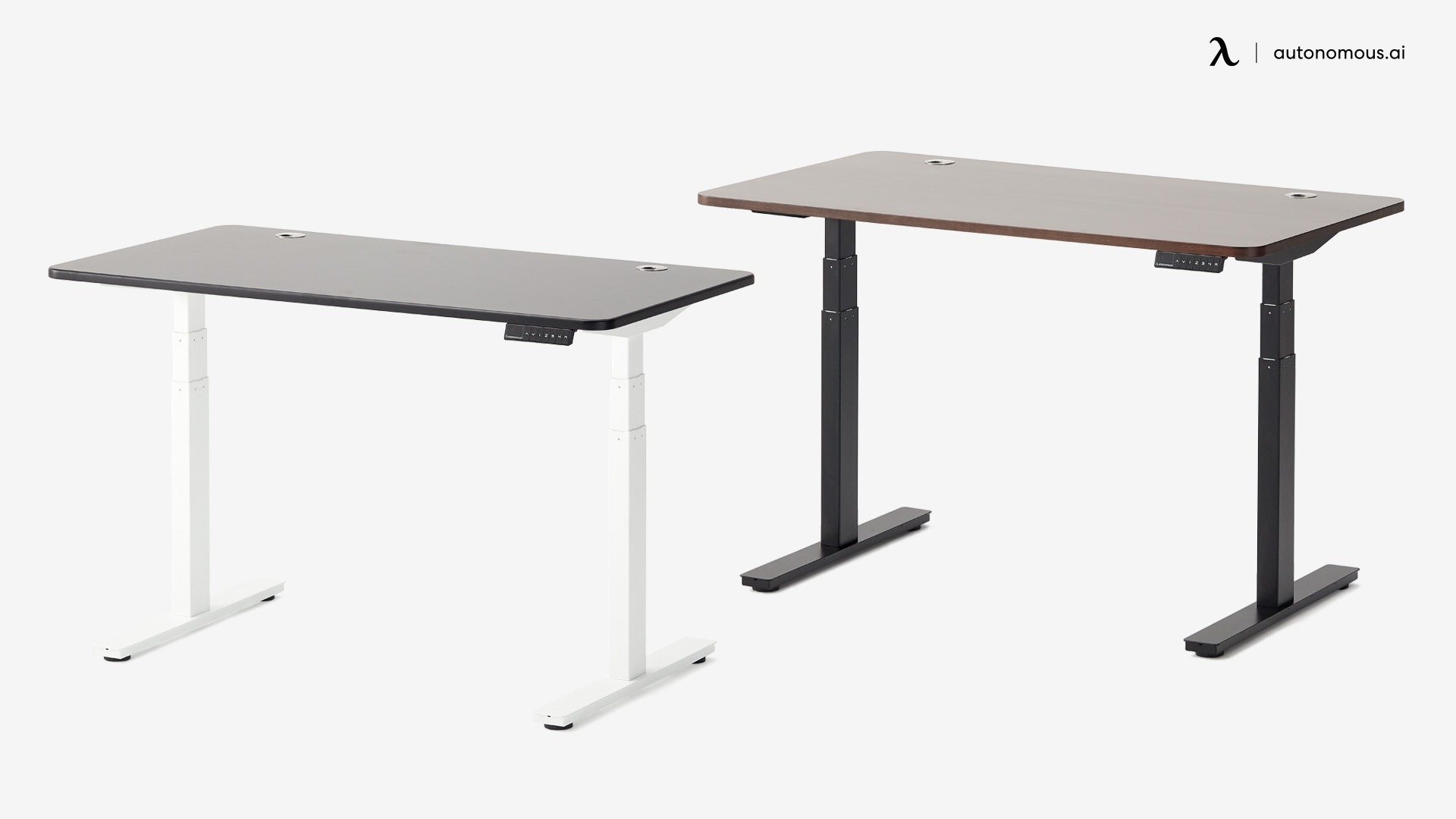 You also have a simpler version of the SmartDesk Pro available from Autonomous, the SmartDesk Core for your college desk setup.  Sit and study at 29.4" of desktop height or raise it to 48 inches, including the one-inch standard desktop specification.  Change the height, or preset four different options for you to quickly adapt to the four programmable setting options included in the packaging.  Two silent electric motors make the transition smoothly and noiselessly. Its solid steel frames can take a weight of up to 265 pounds easily.  So keep your laptop, books, and other material easily as you work with a stronger focus on your studies. Don't miss the 5-year warranty offered by the company. You can always set this up as a corner desk.
3. Uplift V2 Standing Desk
The Uplift V2 standing desk has also been making the headlines for its sturdiness as you explore a student desk setup. It has been designed to provide extra legroom space with the C-Style legs and frame.  Don't miss the simple and easy mounting system, as the solid steel frame comes with 48 threaded holes for your ease.
4. Adjustable Standing Desk by Branch
You cannot miss this standing desk for study by Branch for the extra comfort it provides. With limited choices in color and sizes, it more than makes up for the quality offered. The 48" x 30" desktop gives you ample workspace. With the large depth of the table, you can use more than two monitors.
5. SHW Computer Desk
One of the most economical standings desks for students, the SHW computer desk is light but sturdy enough for movement within the room.  This is a good desk for a minimalist desk setup.  Four pre-programmable settings allow you to choose a desktop height of your choice; no reasons to fiddle and check for the right setting amid a call. Glad, aren't you? Suit yourself for a height range of 28" to 46" as you make yourself comfortable for work.
6. Fully Jarvis EcoTop Standing Desk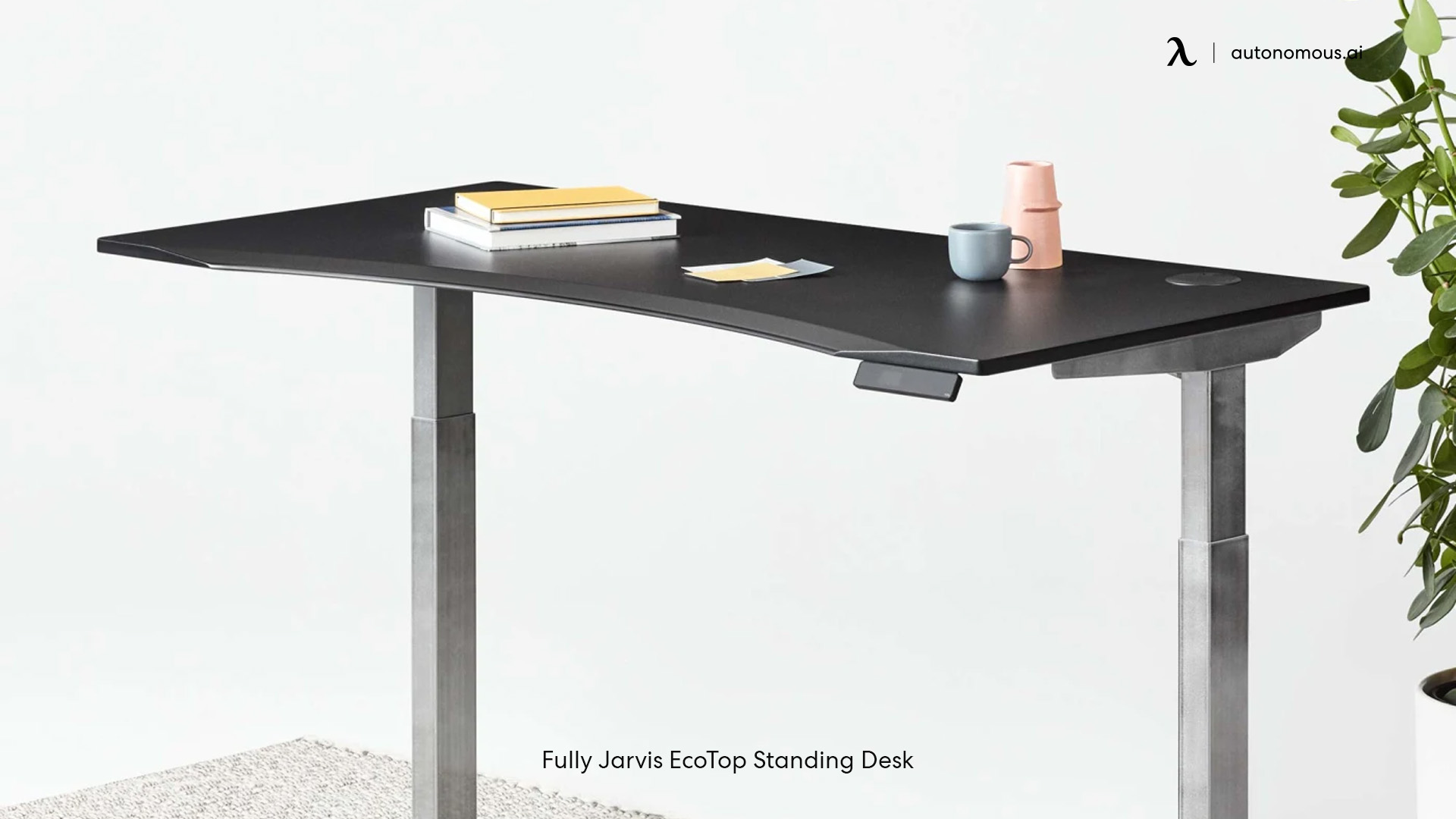 Need an eco-friendly standing desk for study? The EcoTop by Fully Jarvis is your solution. Specially designed using locally crafted wooden fiber from Oregon, this is a top choice. The desktop height ranges from 25.5" to 51.1". In addition, it is equipped with four preset buttons for height adjustment.
7. Electric Standing Desk by Vari
If you have been seeking a stable and sturdy study desk, Vari it is. Easy to assemble and install, this desk offers you a lower height of 25", which can be raised to 50.2" at maximum.  Manage the total heights up to one-tenth of an inch with the four programmable memory settings.  Available in five different finishes that you can choose from as a student, this student study desk comes without a grommet.
8. NewHeights Elegante XT Standing Desk
Probably a lesser-known name, the NewHeights XT is completely made in the USA.  It offers you a maximum range of 27 inches for various needs that you may have.  The 325 lbs lifting capacity is great to manage most of your books and a computer system.  Though available at a premium price, this desk for study offers you a lifetime warranty for the entire unit.
9. IKEA Idasen Adjustable Standing Desk
This desk from IKEA comes with two stage gear that gives you a smooth glide as you adjust the height between 24 to 50 inches.  The easy-to-use study desk by IKEA features low legs or foot designs for your ease. Made from a sturdy metal frame, it does well to stand up to its quality tag from IKEA.  Note that it can take only 165 pounds of weight when maximized.
10. VertDesk v3 desk
If you have been looking for higher stability, the VertDesk v3 beats most other desks in the market.   It has a contemporary crossbar for extra support and thick steel frames that gives you this extra stability.  The VertDesk deploys only the best components in the making of this college students desk, including the single-stage cold-rolled gears. It has a mid-range climb speed of 1.55 inches per second for your ease.
Don't miss our blog on student desk dimensions that can help you choose a perfect study desk for your needs.
FAQs
How should I prepare my desk for studying?
You need to make sure you have the right equipment. You can't set up a proper study space without the right equipment, and making sure you have a suitable office desk and ergonomic is the first thing you should consider.
What makes a good desk setup for study?
The way a desk setup has a major impact on your study. You should have an ergonomic chair, a standing desk, a notebook and great lighting to make your study space feel more bright and cheerful. Don't forget to keep your study desk organized.
Have Fun Kid!
Whatever be your choice, a standing desk for study is the best for your overall good health and well-being. Although the costs may be a tad more than the usual desks, the health benefits offered by a standing desk compensate more than the value of the desk in the longer run. Therefore, our recommendation goes to the SmartDesk and the SmartDesk Core for the best products and value for money they offer.
We spend a good chunk of our lives going through college. And they should be some of the best years of our lives. Take advantage of studying remotely from home and make your learning space completely your own. Those hilarious selfies of you and your friends from last summer, or a framed family photo from your last get together is sure to boost your mood throughout the school week. Fill the room with your favorite scented candle or burn some Palo Santo to heal and clear the mind during your hectic learning schedules. Even a simple poster of your favorite movie can really uplift the space. But if you find yourself getting distracted by all those anime or superhero figurines, then you might want to relocate them to another space so you can focus on your studies. Indoor plants are also a great way of bringing some personality into an otherwise sterile learning space. And if you have NFI about how to take care of a plant, there are plenty of hardy succulent options that take pretty much little to no effort at all!
Here are a few tips for a crash course on indoor plants and add a little green to your learning space to create a fantastic eco-friendly space.
---
Read more...
Ergonomic Guide for Sitting while Working from Home
Subcribe newsletter and get $100 OFF.
Receive product updates, special offers, ergo tips, and inspiration form our team.
WRITTEN BYAutonomous
We build office products to help you work smarter.