College is an exciting and challenging time, as students must adjust to living independently while balancing their social and study time. As a great deal of time is often spent burning the midnight oil while engrossed in study, great care must be taken when selecting furniture for a college dorm room. 
While the ergonomic chair has received much attention, little care is given to the college desk. However, this should not be the case, as the desk you choose could have a significant impact on your concentration and productivity when completing assignments and studying for tests. 
This article discusses everything you need to know about choosing a study desk and provides you with some of the best dorm desks to choose from. 
What to Look for in a College Dorm Desk
At first, glance, choosing a college dorm desk may seem easy. You go to a store, pick out the one you like, and take it to your dorm room. However, it isn't always that simple, and certain things need to be taken into consideration when buying a desk for study purposes. 
1. Size
Getting a great deal on a college desk or having tons of storage space isn't helpful if it doesn't fit in your dorm room. It also doesn't help to have a small desk if you have a lot of books and tech equipment that need to be stored, and vice versa. 
Before deciding on a desk, be sure to take measurements to have a good idea of the school desk dimensions before making a purchase. 
2. Storage
Storage is an important, yet an often-overlooked characteristic of dorm desks. If you prefer a more minimalistic approach and already have shelving for storing files, textbooks, and other supplies, then a simple, minimalist desk should do. 
3. Mobility
If you need a college desk that can move around your dorm room, then consider purchasing one with lockable caster wheels, so it can move when you need it to, and stay firmly in place when you need it to. 
On the other hand, if your desk is bound to be a more permanent fixture, choose something fixed in place. 
The Benefits of Standing Desks for Students
Standing desks aren't just for office workers. Alternating between sitting and standing while studying can also have several benefits for students. 
1. Promotes an Active, Healthy Lifestyle
College students are often required to sit through several hours of classes each day. This can result in sedentary behavior, which has a negative impact on your health. Therefore, when studying or working at a dorm desk, adopting a sit-stand method can improve blood flow, engage muscles, and prevent further inactivity. 
2. Improved Productivity and Focus
Standing helps to get the blood pumping throughout the body, and it brings blood to the brain, which helps it function optimally. Studies have shown that those who alternate between sitting and standing have greater focus and are more productive. 
It can also make you more alert, as you may be tired from a long day of classes, so standing up when you feel tired can give you a boost of energy and alertness. 
3. Better Heart Health
When you're young, you tend to be careless, and it doesn't seem like you could ever fall prey to diseases such as heart disease. However, the choices you make when you're young can have grave consequences later on in life. 
Maintaining a more active lifestyle through a sit-stand method of work with a standing desk can help to keep your heart healthy. 
4. Improve Your Overall Mood
Many students suffer from mental health issues such as anxiety and depression that can have a negative impact on their grades and performance in college. Like a vicious cycle, it tends to repeat itself. The worse the depression, the lower the grades, the worse the depression gets, and so on. 
Studies have shown that students who adopt a more active lifestyle while studying at their desks can actually improve their mental health symptoms. 
5. Reduced Back Pain
Poor seated posture can result in lower back pain, and the last thing you need when studying is excruciating pain in your lower back. While an ergonomic chair can help you with this, it is also important to alternate between sitting and standing to reduce back pain. 
The Best Traditional-sized Standing Desks for Students
To make life easier for you, we have compiled a list of some of our favorite standing college desks that would be ideal for a college dorm room. 
1. Autonomous SmartDesk Core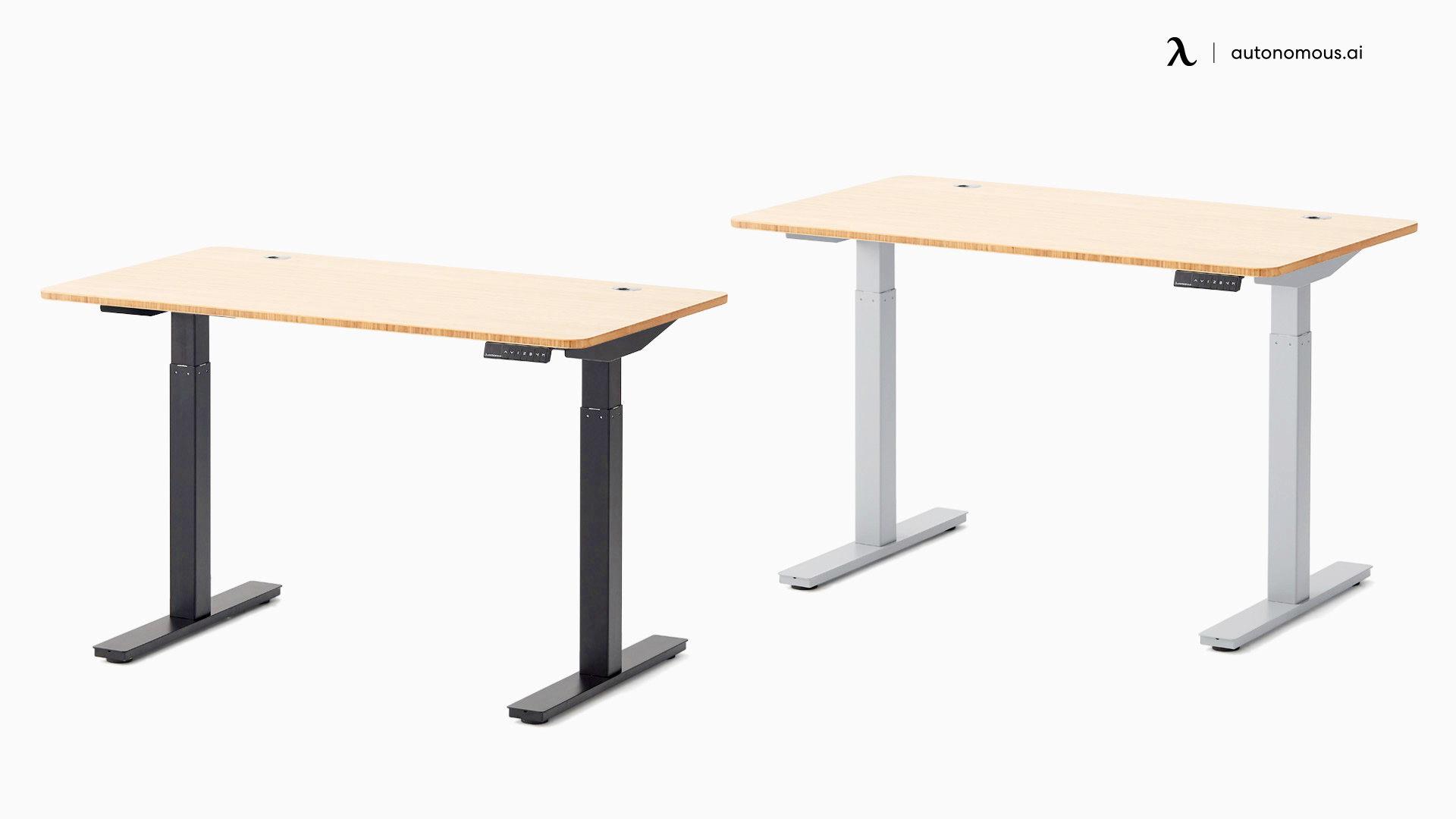 Your college dorm study desk shouldn't be a dreary, dark place that you dread sitting at every day. Instead, it should be personalized to your preferences, so that when it is time to study, you want to spend time using your desk. 
With the Autonomous SmartDesk Core, you can personalize the desktop and frame to match your preferences. Make it bright and colorful with a Happy Desk or Stratford Memories design or opt for a more relaxing Koi Pond or Stress Me Not design. 
There's even a Game United design for the avid gamer, and a Late Night Views design for the stargazer. Whatever your visual preference, you can find it with the SmartDesk Core. The college desk also doesn't hold back on features, either. 
It has a silent dual-motor and four programmable settings, so you can preset your preferred height settings to switch between standing and sitting effortlessly. This college desk has a warp-proof MDF wooden desktop set atop a solid steel frame for durability and long-lasting quality. 
It's also available in two sizes, so you can choose one that's small or big enough for your dorm room. With a height weight capacity of 265 pounds, it is easily the best desk for studying.
2.  The Twillery Co. Electric Standing Desk
If you are looking for an affordable option, you can try this standing college desk from the Twillery Co. It is available in three different finishes, including white, beige/white, and nut brown, and has an LED digital display to tell you the precise height with four programmable memory settings. 
The college desk is large enough to fit two computer monitors, but has a low weight capacity, so it isn't advisable to use it if you intend to stack bulky textbooks on it. It also requires complete assembly, so it could take some time before this college computer desk is up and running. 
3. Inbox Zero Rolling Height Adjustable Desk
This stylish two-tier desk is available in black and white. It has a finished back and comes with a five-year warranty. The tabletop has a fiber-like texture, and the metal frame is powder-coated. Unlike the previous two choices, this desk's height must be adjusted manually using a knob, which does require more time and effort. 
Apart from that, it is modern in appearance. The extra tier of this college desk can be used for storage or display your favorite succulents or desk plants for a pop of greenery. It also has lockable wheels, making it a great choice if you need your desk to move with you. 
4. Inbox Zero Mobile Stand-up Standing Desk
This two-tier college desk has a tilt -mechanism that lets you angle the desktop toward you when studying. It also includes a protective barrier to keep your notes and supplies from falling off while you study. 
The desk is small and compact with an additional tier for storage, making it a suitable desk for college students. However, like the previous entry from Inbox Zero, it is a manual standing desk that uses a lever for adjusting it up or down. It is also an affordable option, but it may not last as long as some of the other college desks on this list, which is something to keep in mind. 
5. Upper Square Sabine Height Adjustable Desk
The electric standing desk from Upper Square is a simple, yet functional standing desk for college students. It has a small storage compartment underneath the desktop for convenient storage with a built-in USB port and a reversible orientation. 
This college desk is also an eco-friendly option with roller glides for smooth movement around your dorm room, and it comes with a five-year limited warranty. 
Larger Dorm Desks with More Storage Capacity
If you require something a little larger with more space for storing textbooks, files, stationery, and other such essentials, here are a few options that you might like. 
1. Autonomous SmartDesk Corner
TThis is one of the best desks for studying you must have. The SmartDesk Corner is the ideal solution for those who need extra space to store tech equipment. This modern corner standing desk has an L-shaped desktop and plenty of space for two monitors, so if you intend to share a desk with a roommate, this would be the ideal choice. 
It is spacious enough to store two monitors and additional devices such as a wireless charging station, a printer, and speakers without becoming too cluttered.  
The modern standing desk isn't just large; it's also functional. It has many features, including a triple motor that moves quietly and efficiently with four programmable memory settings, and a five-year warranty. 
This minimalist desk has an L-shape, so it can fit conveniently into a corner, helping you maximize the usage of your space, and you can add an additional filing cabinet for storing other essential items. 
2. Glidden L-Shape Standing Desk with Hutch
If you need a great deal of storage space for a plethora of books, files, and other items, this L-shaped college computer desk from Upper Square might be just what you're looking for. Most hutch desks are fixed, meaning they do not move up and down to allow you to switch between sitting and standing, but with this desk, you don't need to sacrifice ergonomics for a storage solution. 
This dual monitor standing desk has a smart design that combines a hutch on one side of the desk with a height-adjustable portion on the other side to allow you to maximize the use of your space without compromising on an ergonomic sit-stand way of studying. 
It is, however, a more expensive option, but with all of the extra storage space, it may be a worthwhile investment for your dorm room. 
3. Orren Ellis Thilebrook L-Shaped Gaming Desk
In this stylishly shaped college computer desk, functionality meets modern design. It features a digital display and is completely reversible, so you can configure it to fit in well in your space. 
The dorm desk is resistant to damage from scratches, stains, and wear and tear because it is manufactured from carb phase two-compliant laminated particle board that is carb phase two compliant. 
Remember that this desk is longer than a regular L-shaped dorm desk, so it takes up more space, but this additional space could prove to be valuable for sharing desk space with a roommate. 
It also has a modern standing desk design with two storage compartments underneath the desk for added convenience and functionality.
4. Red Barrel Studio Karyn Reversible L-Shaped Standing Desk with a Hutch
Another great option if you prefer a college computer desk with a hutch is this reversible L-shaped desk for college students from the Red Barrel Studio. It comes in a variety of configurations and includes a standing desk on one side with a hutch for storage on the other. 
The dorm desk and its closed storage compartments have a melamine finish to protect it from scratches, wear and tear, and stains. You're sure to have enough storage space with the desk's closed storage space and a drawer unit. Another great advantage is the homely feel that this desk for college students provides, ideal for making you feel more at home in your dorm room.  
Final Thoughts
Going to college is an exciting, yet nerve-wracking experience, and knowing what furniture to populate your dorm room with can be confusing. Follow this simple guide to get the ideal college desk for your dorm room that promotes a healthier, more active approach to your studies that can keep your body and your mind healthy and happy. 
Choose from our range of home standing desk options to find the one that is perfect for you. We recommend the SmartDesk Core that incorporates fun, functional design with high-quality ergonomic features sure to get you through those tough college years.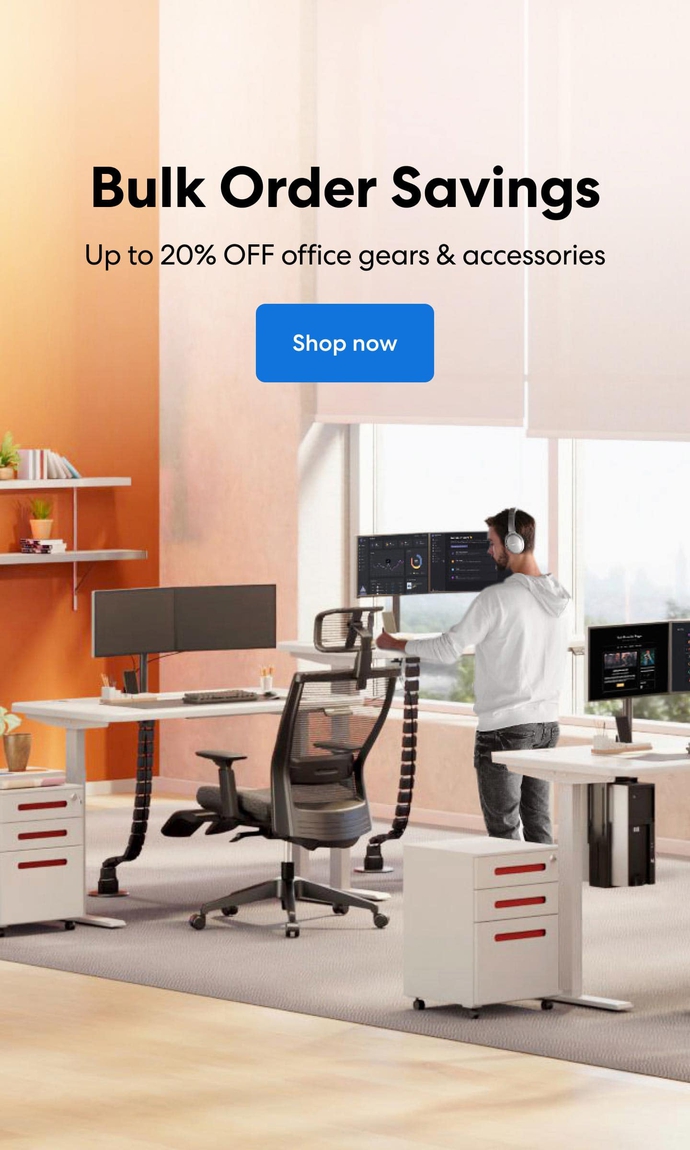 Subcribe newsletter and get $100 OFF.
Receive product updates, special offers, ergo tips, and inspiration form our team.