ApexDesk Standing Desk: Pneumatic Lift Mechanism
Apex Standing Desk: Pneumatic Lift Mechanism
Color: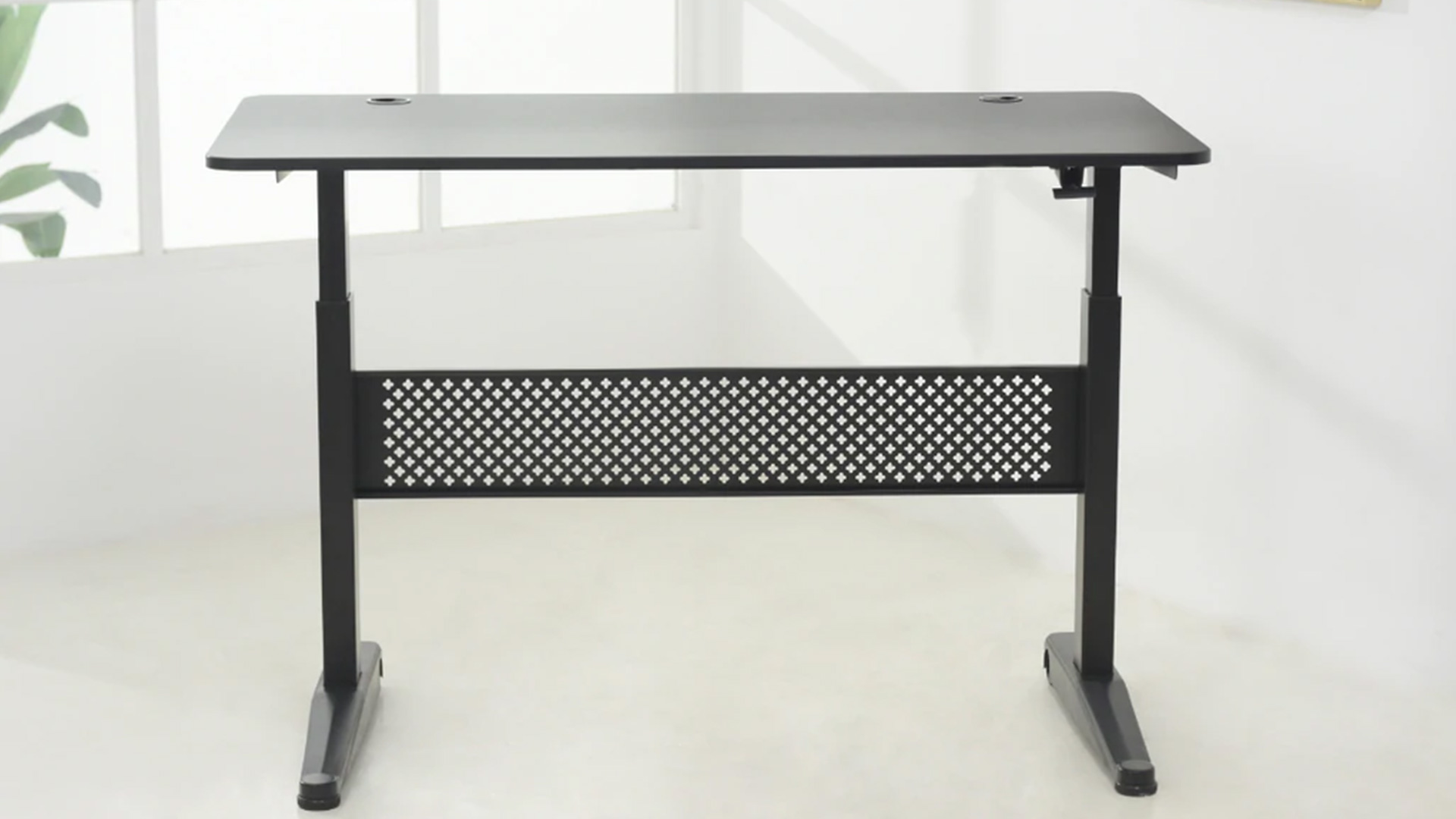 Not available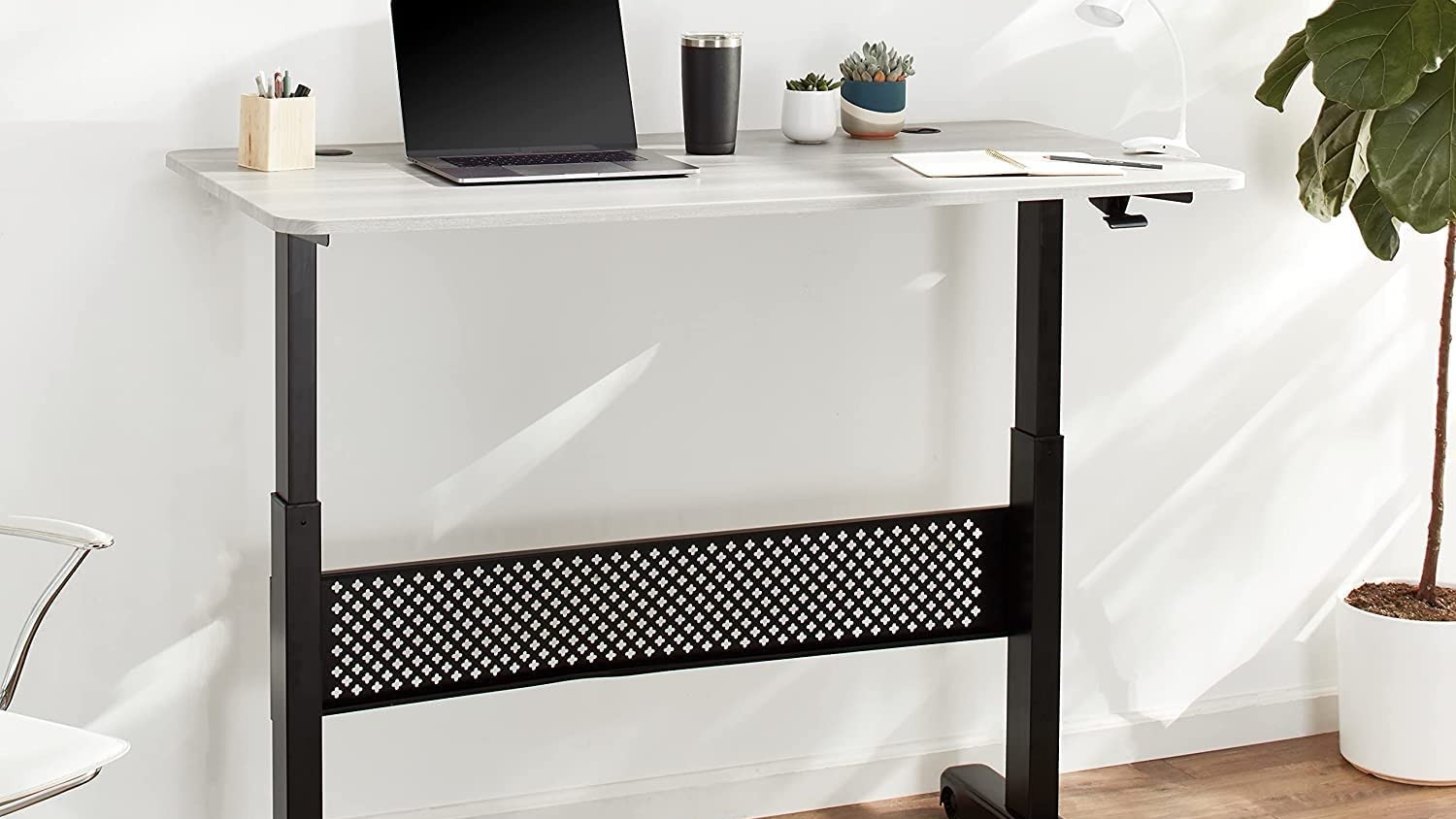 Not available
Buy now
Add to cart
FREE shipping Dec 05 - Dec 07. FREE 30-day returns.
Sold and shipped by ApexDesk
• One Piece Solid Top – 55" x 27" rectangular top is made of MDF with 3D laminate. The top has pre-installed metal anchors for easy installation and can be re-installed multiple times without damage. • Easy Height Adjustment – Fast and quiet height adjustment to any point between 29" and 48". Simply pull the hand lever when raising, and pull the lever and push the top with the other hand when lowering. Height adjustment is like that of an office chair with the desk load capacity of 180 lbs. • Minimal Assembly – The desk comes semi-assembled. Only 6 screws are needed for top and 14 for base to be installed. Average assembly time is 30 minutes. This desk ships in 2 boxes from Los Angeles and may arrive 1 to 2 days apart. The transit time is 2 to 8 days to 48 states.
• 1-year warranty
ApexDesk Pneumatic Standing Desk 55x27 Desktop 29-48" Height Adjustable Simplicity at its best – The AIRLIFT Series Pneumatic Height Adjustable 55" Desk allows users to simply slide the desk up and down without a glitch. With a simple pull on the lever, you can now effortlessly change your desk's height anywhere between 29" and 48". The desk is built to last – steel-constructed frame and reinforced inner tube bearings. It comes with two rolling casters so it's easy to move desk across the floor. The AIRLIFT Series is the perfect solution for a cord-free and mobile space setup. Ideal for offices, classrooms, trade shows, showroom, etc. Pneumatic air cylinder smoothly adjusts heights anywhere between 29" and 48" by hand lever. No power required. 1-inch thick laminate top with ergo shape. Sturdy steel-constructed frame with crossbar. Two rolling casters added on the back for mobility. Easy assembly – most people can assemble it within 15 mins!
Deep dive into specs
About Apex Desk
When it comes to ergonomic office furniture, look no further than Apex Desk. People who spend long periods of time sitting at a desk may find the Apex standing desk useful since the work surface may be adjusted to the user's preferred height. Set the height of your Apex Desk to a level that is comfortable for you when using it in your workplace. A height-adjustable workstation isn't a substitute for taking breaks and getting up and moving about. If you do this often, you may avoid getting tired and keep your body in good condition. One way to prevent the musculoskeletal problems that might arise from sitting in one position for too long is to use a desk whose height can be adjusted. It may also facilitate working while standing, which has been shown to improve both energy and concentration. Using a standing desk in an office can be a unique and effective way to improve your health and productivity while working. Standing desks allow you to alternate between sitting and standing throughout the day, which can help reduce the risk of musculoskeletal disorders and improve overall comfort. To make the most of your mobile height standing desk in the office, it's important to pay attention to your posture and use a comfortable standing desk mat. You should also make sure to adjust the height of your desk so that your keyboard and monitor are at a comfortable height for you. It's a good idea to take breaks and stretch regularly, regardless of whether you are sitting or standing, to help reduce the risk of fatigue and discomfort. We recommend you try the best pneumatic standing desk by Apex Desk, as an Apex standing desk is one of the best in the market.
What is a Pneumatic Standing Desk?
Pneumatic standing desks, also known as height-adjustable desks, include a lift mechanism that makes it simple to go from a seated to a standing position. The popularity of pneumatic standing desks can be attributed to their low price, adaptability, and ease of use. It is common knowledge now that Apex Desk has the best pneumatic standing desk. Pneumatic standing desks are distinguished by a lift mechanism that uses compressed air to raise and lower the desktop. By just pushing a button or pulling a lever, the user may effortlessly change the desk's height from a sitting to a standing position. Pneumatic adjustable height standing desks are popular in the workplace because they allow employees to stand up and move about more frequently than they would at a traditional desk. So if you want the best pneumatic standing desk, you know Apex Desk is your go to.
Better Health - Increased Energy and Productivity:
One of the primary benefits of using a pneumatic adjustable height standing desk is the ability to promote active sitting and improve posture. By switching between sitting and standing positions throughout the day, you can reduce the risk of musculoskeletal disorders, such as back pain and neck strain, which can be caused by sitting in the same position for long periods of time. Many people find that using a pneumatic standing desk can help increase their energy and productivity while working. Standing while working can help improve circulation and reduce fatigue, which can help you feel more alert and focused.
Cost-effective with Apex Desk:
Pneumatic standing desks are generally more cost-effective than other types of standing desks, making them a good option for people on a budget. They are also relatively easy to assemble and can often be adjusted without the use of tools.
Stylish and modern:
Pneumatic standing desks can also be a stylish and modern addition to any office. Apex standing desks are available in a range of colors, sizes, and styles to match any decor, and many come with additional features, such as cable management systems, monitor arms, and keyboard trays, to help create a more ergonomic and efficient workspace.